Work management
Top 15 Work Management Software for 2023
We have entered a new era of business software – the age of end-to-end work management software.
CRM software, project management software, invoicing software, reporting software – we love using our business tools. But according to recent research by HubSpot, 82% of employees are losing hours every week due to managing and navigating different business apps. The countless technologies developed to help us become more productive at work aren't truly making us more efficient.
End-to-end work management software combines the features of the tools your business is using today. This gives you a holistic overview of your company, keeps everyone on the same pages – and saves money from different subscriptions along the way.
Read on: What is Work Management?
Have a look at these 15 Work Management Software, and find one suitable for your company.
---
Every Work Management Software listed here:
Is by a trustworthy provider, with regular updates and high security
Includes CRM, project management, billing, and reporting capabilities
---
1. Scoro
Scoro is a comprehensive solution that combines all the features you might need to manage your business: projects & tasks, contact management, quotes, team collaboration, billing, and reporting.
Top features:
Projects with sub-tasks and deadlines
Real-time KPI dashboard
Shared team calendar & meeting scheduling
Contact management
Time tracking and billing for work
Detailed reports on project progress and finances
Quoting and invoicing with pre-set templates
What's special about this tool: Scoro helps to streamline your entire work progress, so you don't need to use a lot of different tools for every task. All your important information is stored in one central place.
Pricing: From $26 user/month
Try Scoro for free for 14 days
2. StudioCloud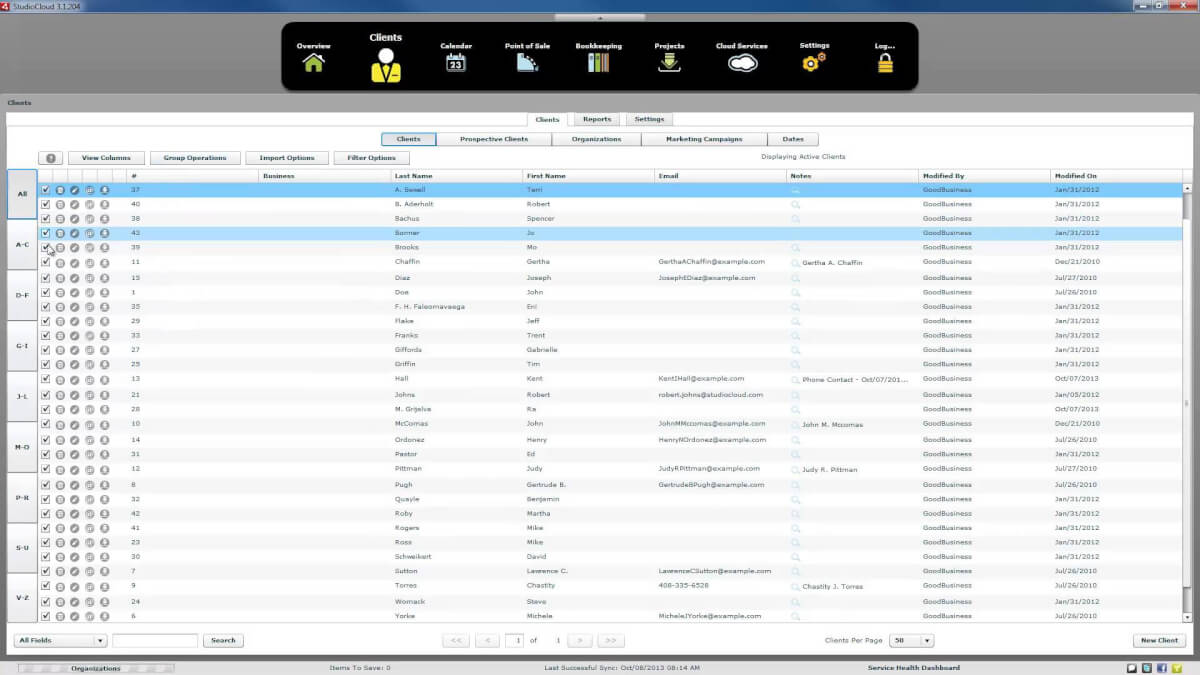 StudioCloud gives you all the features you need to successfully manage your business anytime, anywhere. StudioCloud's all-in-one solution will organize and simplify your work.
Top features:
Manage clients, leads, organizations, partners, and vendors
Schedule clients, events, appointments, employees, locations, and more
Create and send professional invoices and quotes from customized price lists
Create pipelines, deadlines, and tasks for projects, orders, etc.
Send automated, personalized, text and email reminders, payment requests, etc.
What's special about this tool: Are you a one-man band? Then this free software is for you! StudioCloud provides mobility by syncing all of your data between the cloud, your desktop, and all of your internet enabled devices.
Pricing: $65/month for teams of 3+
3. ZOHO WORKPLACE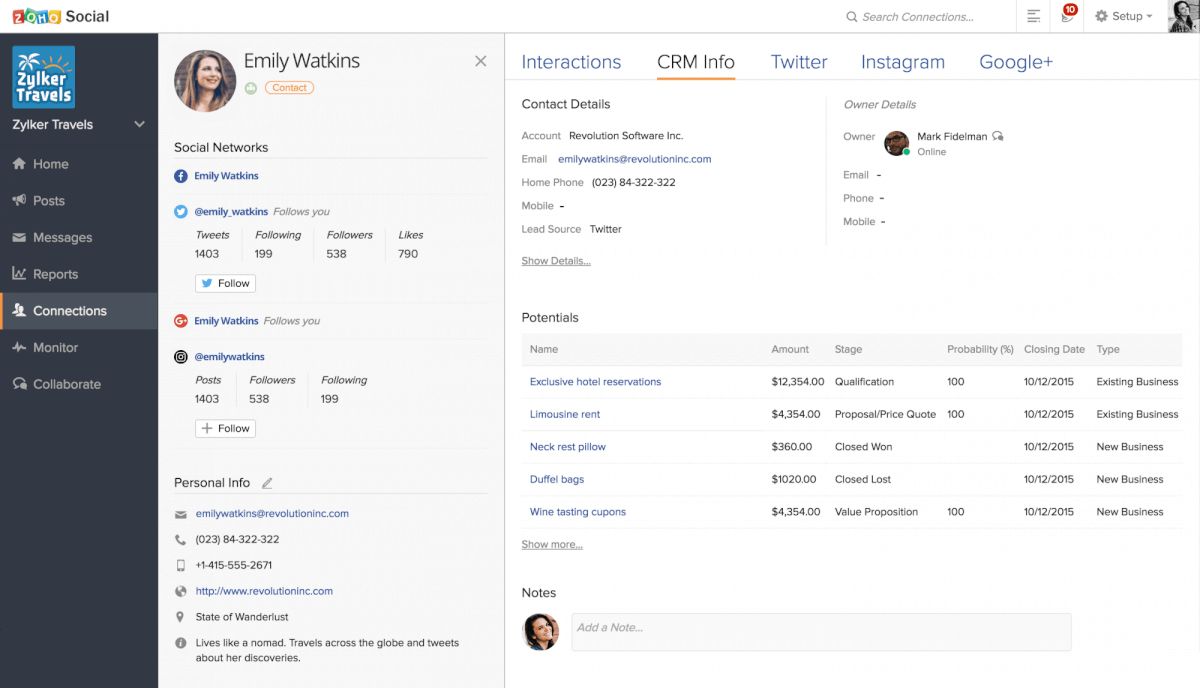 All the tools you will ever need to create, collaborate, and communicate with your teams, in one integrated suite of apps — Zoho Workplace.
Top features:
One place to create and save all your work, upload from email or your desktop, and share.
Get the best of both email and social right in your inbox.
Manage files in the cloud from your phone or tablet.
What's special about this tool: Zoho can be integrated with other Zoho bundles such as CRM, Finance, and Recruit to manage almost every aspect of your agency in one system.
Pricing: From $2 user/month
Check out this Zoho Alternative and 21 best Zoho Alternatives for business management!
4. Odoo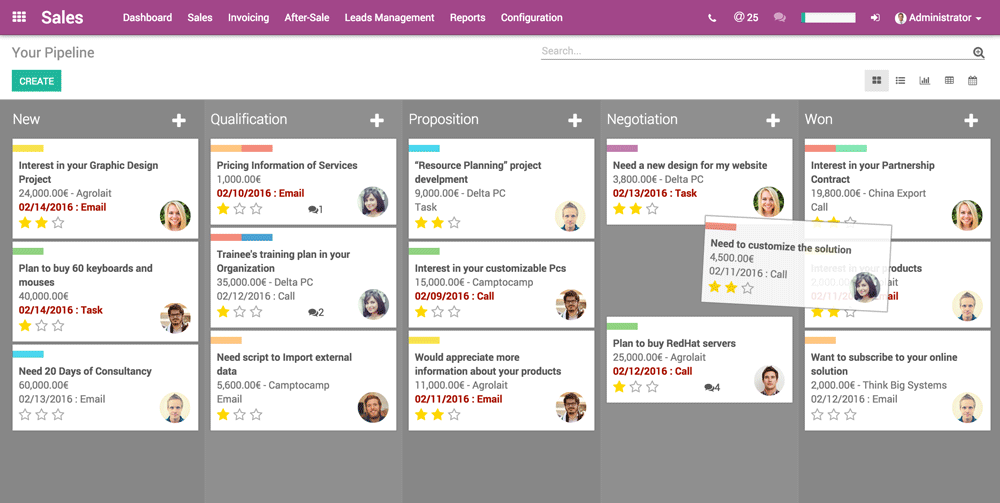 Odoo is a suite of open source business apps that cover all your company needs: CRM, e-Commerce, accounting, inventory, the point of sale, project management, etc.
Top features:
Design custom dashboards to get a picture of your business at a glance
Get accurate forecasts
Automate activities based on your sales scripts: calls, meetings, and quotations
Real-time messaging to enhance collaboration
What's interesting about this tool: Turn sales & purchase orders into invoices in one click and track them through their payment with a sales add-on.
Pricing: From $14 user/month
Read on: 14 Best Odoo Alternatives For Work Management.
5. NetSuite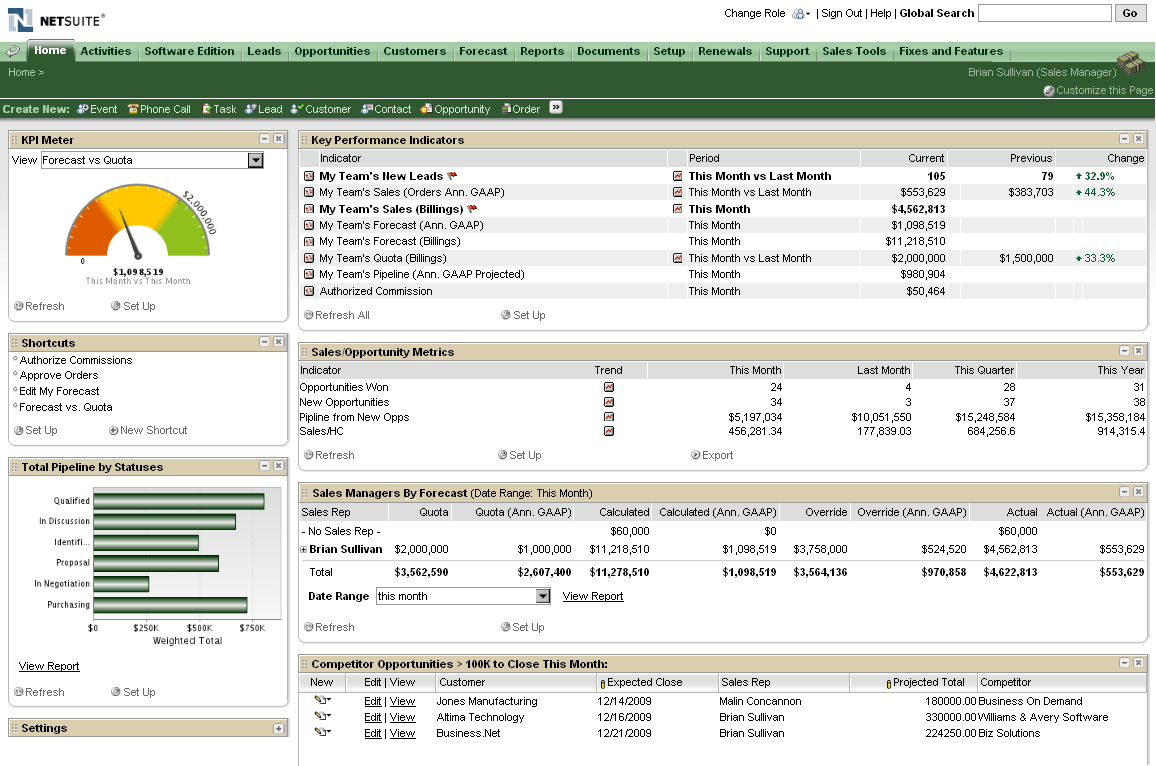 NetSuite is the one unified business management suite, encompassing ERP/Financials, CRM and e-Commerce for more than 40,000 organizations.
Top features:
Streamlines lead-to-cash processes
Elevates productivity across the organization with a 360-degree view of customers
Improves sales performance through forecasting, upsell and commission management and more
Helps you manage global sales and services organizations
What's interesting about this tool: NetSuite is suitable for businesses of every size and any industry.
Pricing: On request
Check out this NetSuite CRM alternative!
6. Podio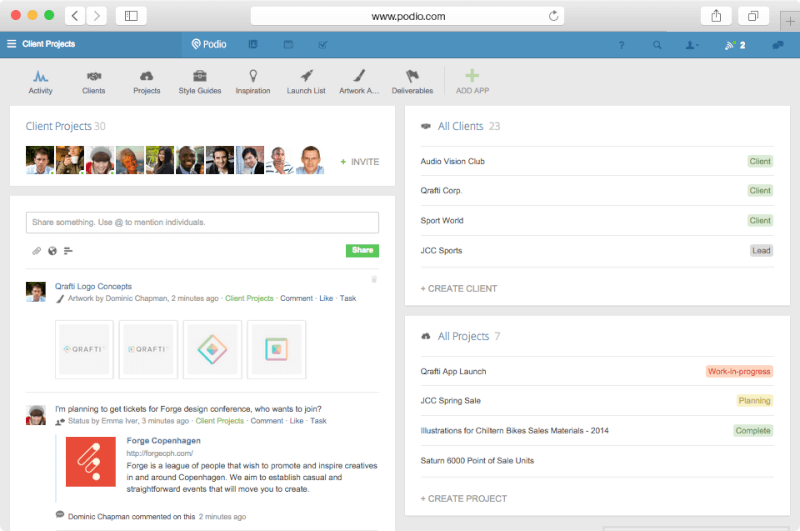 Podio is a flexible and highly customizable online hub for work and team communication.
Top features:
Assign tasks, attach files and discuss details within the solution
Share encrypted & large files
Automate the sales pipelines, project budget tracking, and more
Get an overview of the company with visual dashboards
Automate your workflows
What's special about this tool: Podio's workflows feature enables you to add if-this-then-that logic to Podio apps. For example, instruct your app to create a task or comment, when an item is created or when a particular update is made to an item.
Pricing: From $24 user/month for full suite of features
Everything about your business, one click away
7. Avaza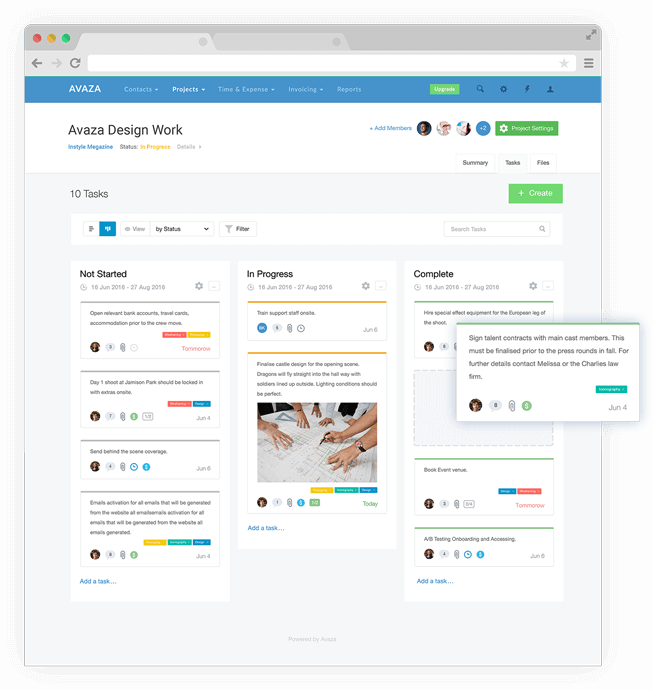 Avaza is a simple project management tool that lets you collaborate on projects with both your team and customers. In addition, you'll be able to track your time and bill your customers.
Top features:
Task management on a cardboard-style interface
Automatic task reminders
Flexible time tracking and timesheet approvals
Sending quotes & invoices in moments
What's special about this tool: Each project in Avaza has a user-friendly email address. Simply forward emails from your Avaza-registered email address to instantly convert these into tasks.
Pricing: Start free with up to 5 projects, $39.95 for unlimited projects
Read on: Best Business Management Software. Reviewed.
8. Bitrix24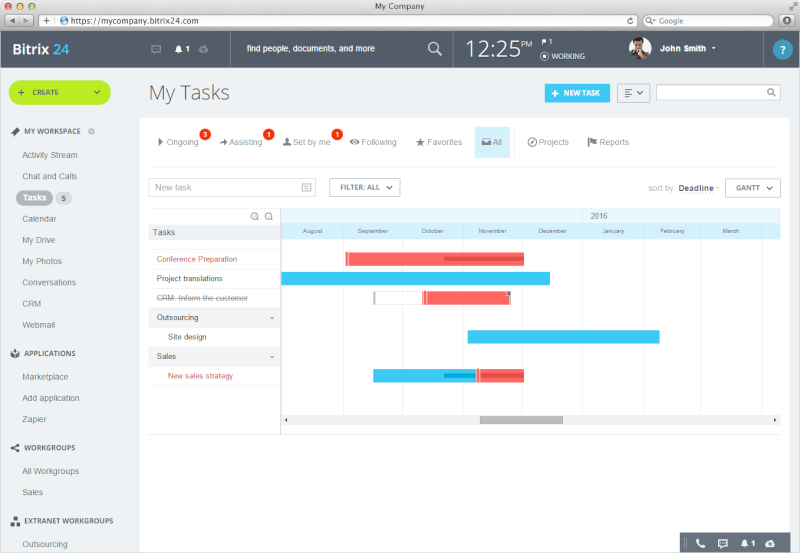 Bitrix24 offers a complete suite of social collaboration, communication and management tools for your team.
Top features:
Social intranet for internal communication
Gantt charts
Employee workload management
Customer relationship management
Telephone integration
What's special about this tool: Bitrix24 has a large set of features, from traditional project management to integrated telephone and HR system, or internal email.
Pricing: Free plan, paid plans with more storage from $39/month
Read more: 27 Amazing Bitrix24 Alternatives For Work Management.
9. Neetrix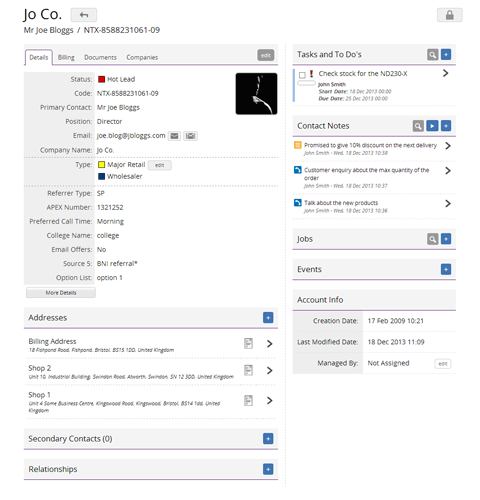 Neetrix gives a complete overview of all the scheduled tasks, jobs, events and actions that are being or have been performed by your entire team, including outsourced contractors.
Top features:
Assign tasks to other staff members and get a notification when they are done.
Tasks can be created against different contacts, jobs, invoices or almost anything else in Neetrix in order to allocate them appropriately.
Build templates for your jobs, predefining all the common tasks and resources required when starting a new job.
What's special about this tool: Generate accurate invoices based on staff and equipment time-sheets as well as tracking what has and hasn't been billed for.
Pricing: From $26/month
10. WORKetc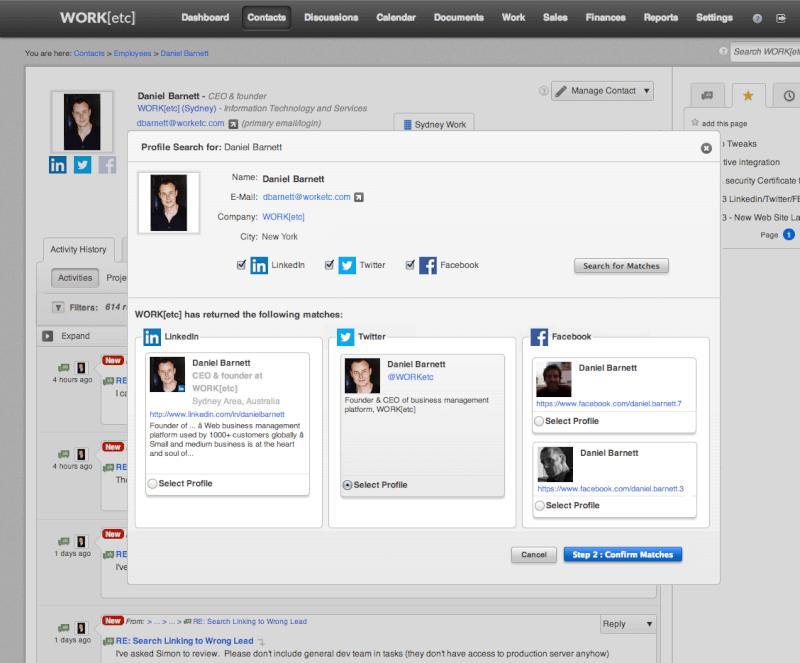 WORKetc has integrated CRM, projects, billing, help desk, reporting, and collaboration.
Top features:
Link timesheets, documents, discussions, notes, contacts and more to your projects
Manage complex project budgets
Automatically capture and invoice all revenue activities across all departments
Use live support, web forms, and email to capture support tickets
What's special about this tool: By integrating support cases directly inside all areas of WORKetc, you can ensure the customer is always looked after. Suddenly your sales people are talking with your customer support people, and project issues can be assigned to the right person.
Pricing: From $49 user/month (first 3 users $65/month)
Check out this WORKetc alternative!
11. ProWorkflow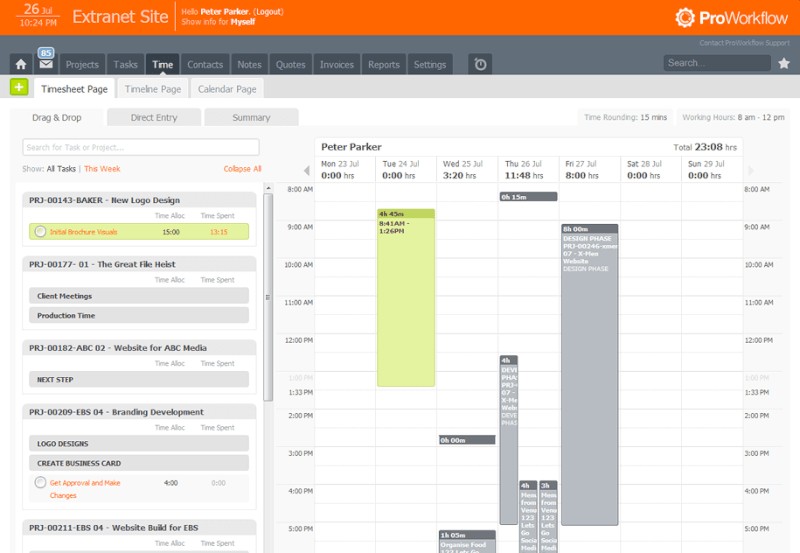 ProWorkflow makes it a breeze to assign staff, track time or reschedule projects.
Top features:
Dashboard for an overview of your workload
Allocate tasks
View workload across teams
Manage contacts
Share files
Manage invoices and quotes
What's special about this tool: Convenient mobile application lets your track time, communicate, and complete tasks on the move.
Pricing: From $22 user/month for teams
Check out this ProWorkflow alternative!
12. Replicon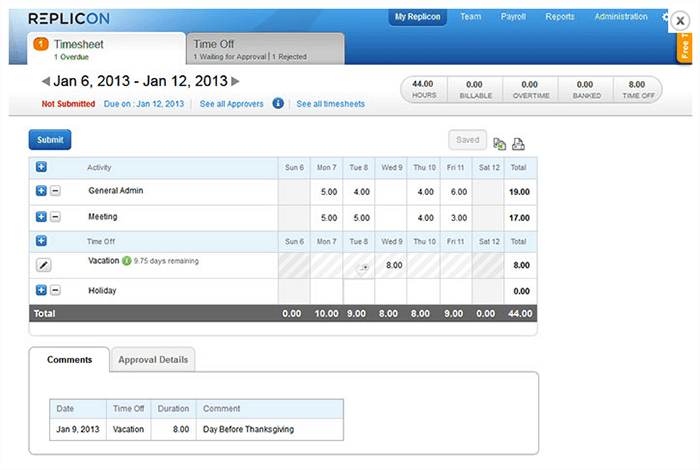 Whether you are looking to manage your workforce, keep your clients happy, or run your business efficiently, Replicon can partner with you to take your company forward.
Top features:
Remote workforce
Visibility into work
Budgeting & labor costs
Shared services management
Labor cost capitalization
What's interesting about this tool: Pay-per-user pricing that makes sense for your budget as you grow.
Pricing: From $15/month
13. Celoxis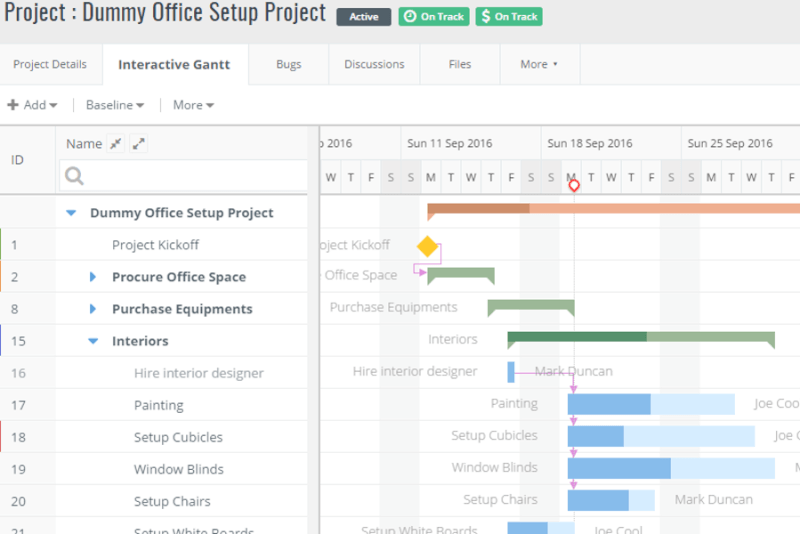 Celoxis offers a comprehensive project management software for enterprises.
Top features:
Advanced scheduling
Gantt charts
Project tracking
Financial management
Reporting analytics
What's special about this tool:
Pricing: From $25 user/month for cloud solution, $450/user for on-premise solution
14. Insightly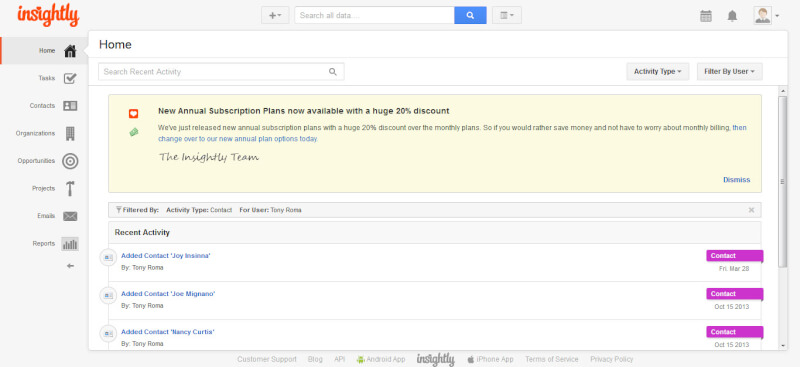 Insightly is a powerful CRM with a project and business management feature set.
Top features: 
Manage leads, contacts, organizations, partners, vendors and suppliers
Track project activity and performance against milestones
Look at your business any way you want with task dashboard, activity sets, reports and more
What's special about this tool: Insightly CRM is tailored for any level of experience – from first time CRM users to sales experts.
Pricing: From $15 user/month for teams
Everything about your business, one click away
15. Clarizen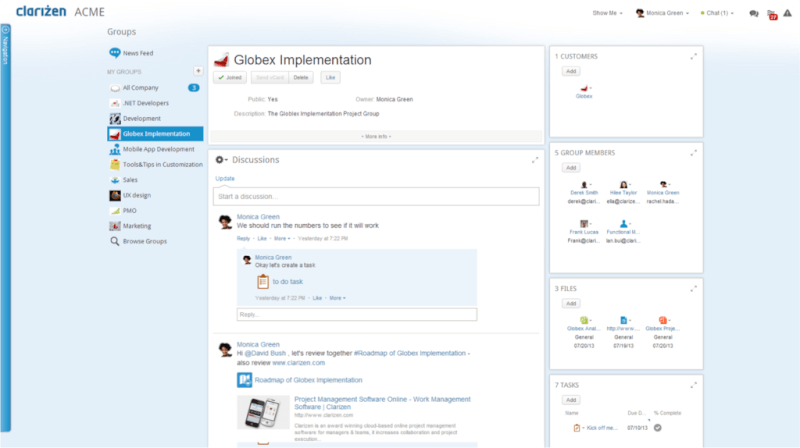 Clarizen's cloud-based project management software has a single goal: to help move your business forward.
Top features:
Unlimited number of projects
Automated and repeatable processes, alerts and workflows
Social collaboration
Budget tracking & expense management
What's special about this tool: Clarizen offers configurable workflows – customize Clarizen to fit how your enterprise does business, not the opposite.
Pricing: From $60 user/month