Work management
What is Work Management? [Ultimate Guide]
You've likely encountered project management in some form in your life – be it at work, school, or in your personal life. The unique factors of project management are that it has a concrete deadline and a singular goal.
More recently the term 'work management' has started to spread. What makes work management different from project management – and how can you benefit from it? In this 5-minute read, we'll go over everything you'd want to know about work management and give you tips on how you can start practicing it today.
Work Management – Another Buzzword?
Gartner, the world's leading information technology research and advisory company, defines work management as a set of services that apply workflow structure to the movement of information and the interaction of business processes and human worker processes that generate the information.
Translation: work management applies to managing individual and team workflows and workload – whether within the scope of a project or related to organizational operations.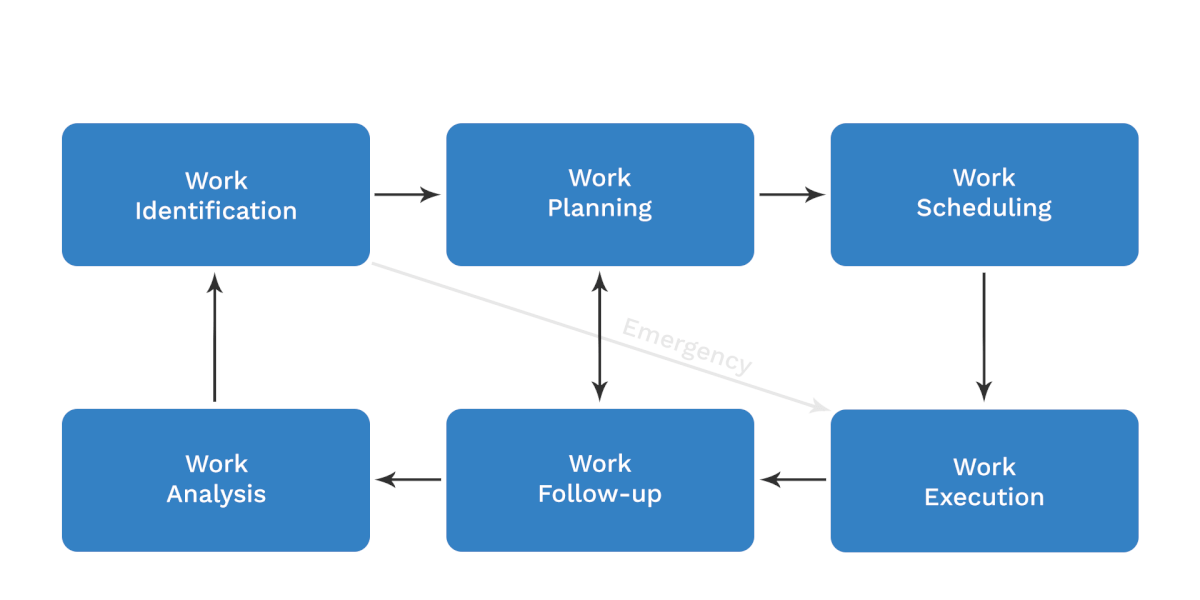 Work management transforms and streamlines crucial business processes by integrating processes and procedures that help the organization:
schedule work more efficiently
meet clients' needs
utilize assets and resources
evaluate performance
These practices result in:
improved business agility
boosted performance and results
minimized redundancy
reduced waste
higher efficiency
Let's Get More Specific!
While most businesses share the basic features of work management, the practice is usually unique to every business. While an agency may focus on the collaboration aspect of work management – a law practice would concentrate on case management and a construction company on resource management.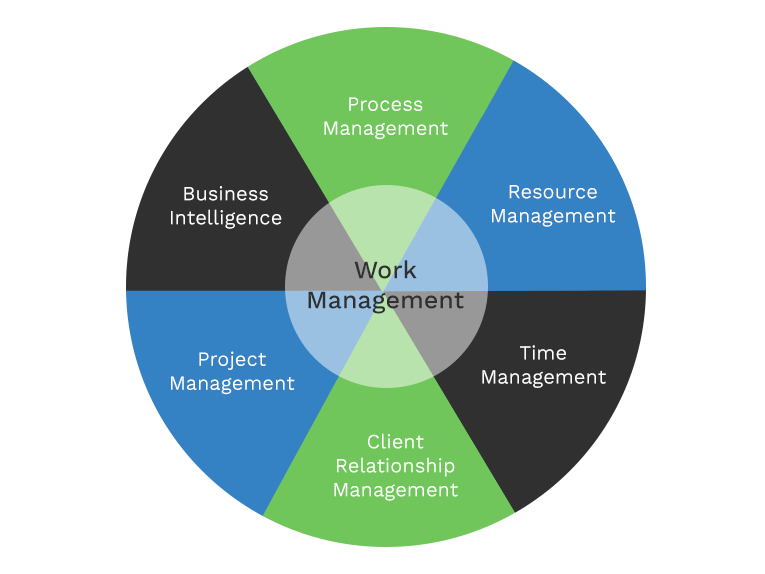 Work management features:
Work management is about integrating a number of different features into one easily comprehensive system, no matter the use case.
Work Management vs Project Management
"Plans are only good intentions unless they immediately degenerate into hard work." ~ Peter Drucker, management consultant, educator, and author
A project is limited in time, unique, and ad-hoc work, with a clear objective defining its success. Project management teams are ephemeral and possess complementary skill sets.
Work management, meanwhile, is a continuous process, where work is repetitive, and the success is based on achieving growth. Work management teams share similar skill sets and are more consistent in time.
The biggest difference between work and project management is that the project management structure is too rigid to be adapted to work that happens outside of projects. Work management practice is more flexible and is best suited when the organization does not revolve solely around projects but also has a lot of operational work to support.
Work Management Software
If you're reading this article, you may be struggling with redundant tasks eating away your productivity. You may also have challenges with team collaboration and sharing information across departments or vendors, or you might be looking for ways to improve communication across project or campaign teams.
You may be using types of project collaboration tools at your disposal such as spreadsheets (Microsoft Excel), document storage and sharing services (DropBox, Google Drive), and a host of other readily available tools that only add to the data silos issues created by non-integrated point solutions.
According to Forrester Research, Inc., information workers use an average of eight applications to perform their jobs. Research from the American Psychological Association cites that the mental blocks caused by switching tasks reduce productivity by 40 percent.
Read on:
Are Your Business Tools Killing Your Productivity [Infographic]
By making work management software accessible to everyone in the organization you can avoid these pitfalls before they arise. Work management solutions fall across the spectrum and range from complete collaborative operations' management to individual work management systems.
Work Management solutions are not vertically focused, but bring value to many departmental roles and functions across the organization. Whether to increase cross-functional or cross-organizational initiatives and collaboration – or to further improve the productivity of teams and avoid the "cognitive switching" drain caused by using multiple solutions to get the job done.
Read on: The Guide to Getting Started With New Software
Is Work Management for My Business?
Work management enables collaboration to take place everywhere in the organization, giving structure to workflow and fostering internal communications.
With its flexible nature, it adapts to all businesses operational workflows and in certain situations can even replace a number of tools used.
While the benefits of adopting a work management framework are evident, it takes a great deal of commitment. The transformation involves examining the entire range of business operations, identifying the strengths and weaknesses of current processes – and improving them.
Everything about your business, one click away