Work management
26 Best Business Management Software (2023 Update)
Business software, by definition, is an application or a system of tools to help companies support, improve, and automate their processes. If matched well with your business needs, business management software will help manage all your core business processes in one system.
But whether a small business or a large enterprise, it's important to keep in mind that any business management software solution should make your work more efficient, not create extra tasks. Unfortunately, 74% of employees say they spend up to an hour a day on data entry and searching for information. That's why you should be extremely attentive and do proper research when selecting the best software to support your business.
The features you are likely to need in your business management software solution:
project & task management
time management & calendar
document sharing & collaboration
sales & CRM
budget, invoice, and expense management
business intelligence and dashboards
accounting and financial reporting
resource management
As you can see, there are various functionalities you might need. But how to put together a fully integrated system, which pulls and pushes your data and enables you to have complete control over your business with only a few clicks? The answer is – you don't have to do it by yourself, choose an end-to-end solution.
---
With so many software providers, from single-feature tools to comprehensive enterprise solutions, it can quickly become overwhelming to choose one. To make the selection smoother and give you a direction, we have reviewed and listed 24 of the best business management software on the market.
Every Business Software listed here:
?Is by a trustworthy provider, with regular updates and high security;
?Is more or less of a comprehensive all-in-one solution or offers various features to choose from;
---
1. Scoro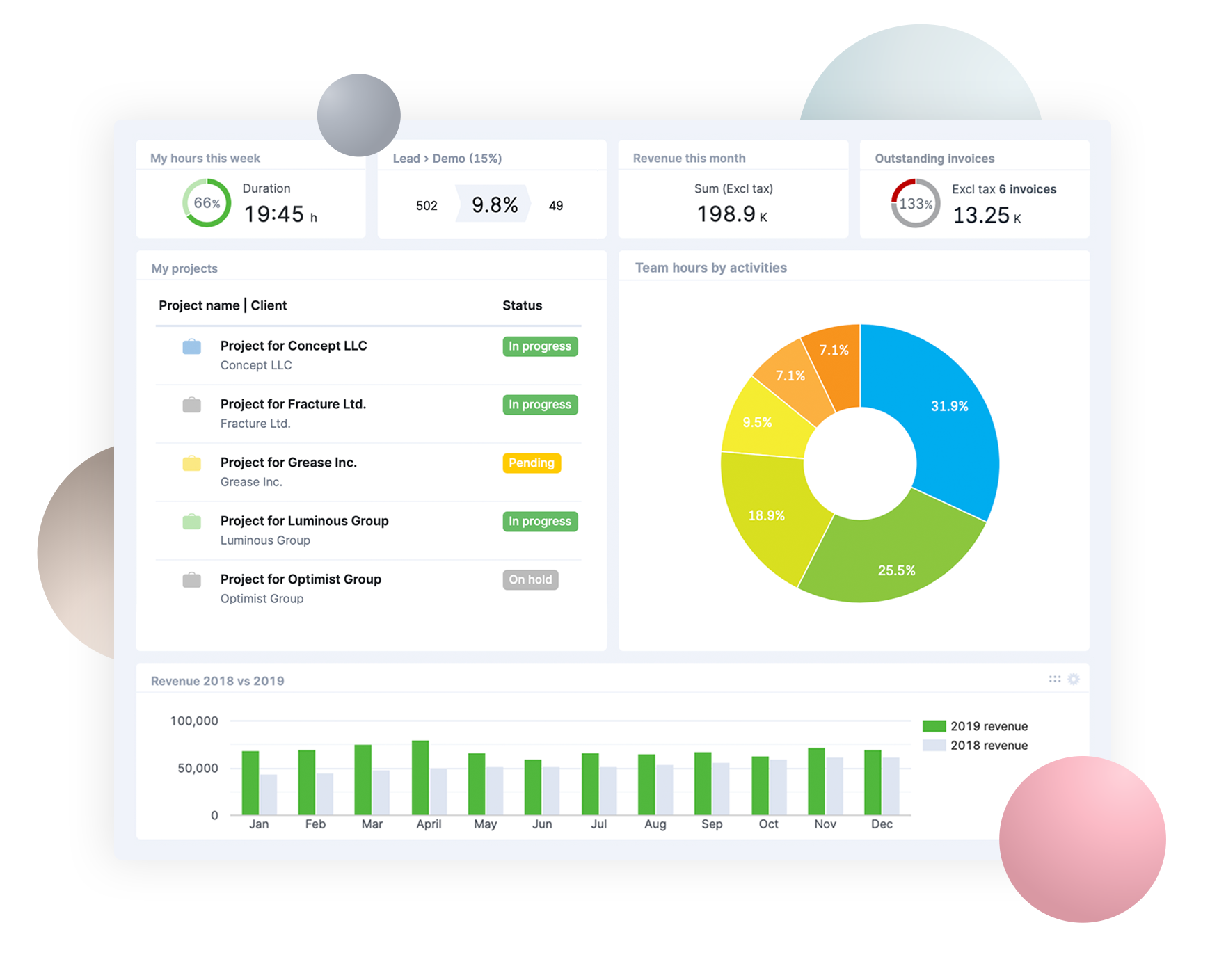 Scoro is a powerful business management solution that combines all the features you might need to manage your company: projects & tasks, contact management, quotes, team collaboration, billing, and reporting.
Top features:
Real-time customizable KPI dashboards
Customer management & sales pipeline
Detailed reports on every aspect of your business
Quoting and invoicing with pre-set templates and automation
Project, task, and time management
Shared team calendar & meeting scheduling
What's special about this tool: Scoro helps to streamline your entire work progress, so you don't need to use different tools for every task. Scoro also has the most advanced business intelligence features – detailed reporting and custom dashboards.
Pricing: From $26 user/month
2. Thryv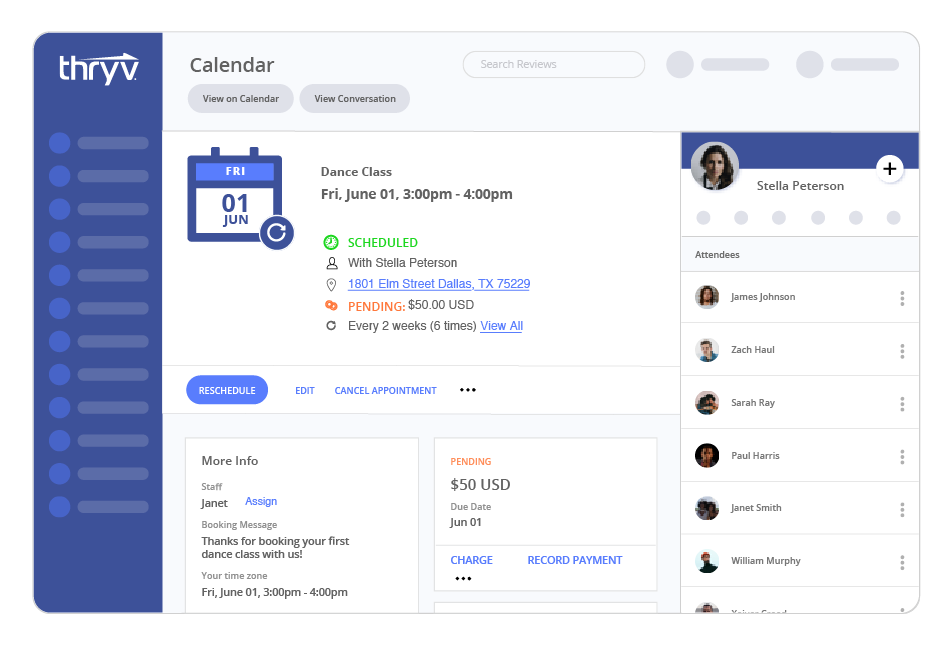 Thryv is an all-in-one business management solution focusing on small businesses. It supports these small businesses in their day-to-day operations, especially in further developing their online presence, streamlining online payment processing, and enhancing customer relationships. It is a cloud-based marketing and CRM software solution
The platform provides reliable and efficient customer support that understands the needs and objectives of small business owners. These experts are available throughout the day.
Top features
The software integrates with a CRM system
Marketing Automation
Automated Reminders
Managing business reputation
Managing business contacts
Managing Billing and Invoicing
Pricing: Thryv's licensing costs are on a customer proposal basis and depend on the number of users and business size.
Check out this list of Thryv alternatives!
3. StudioCloud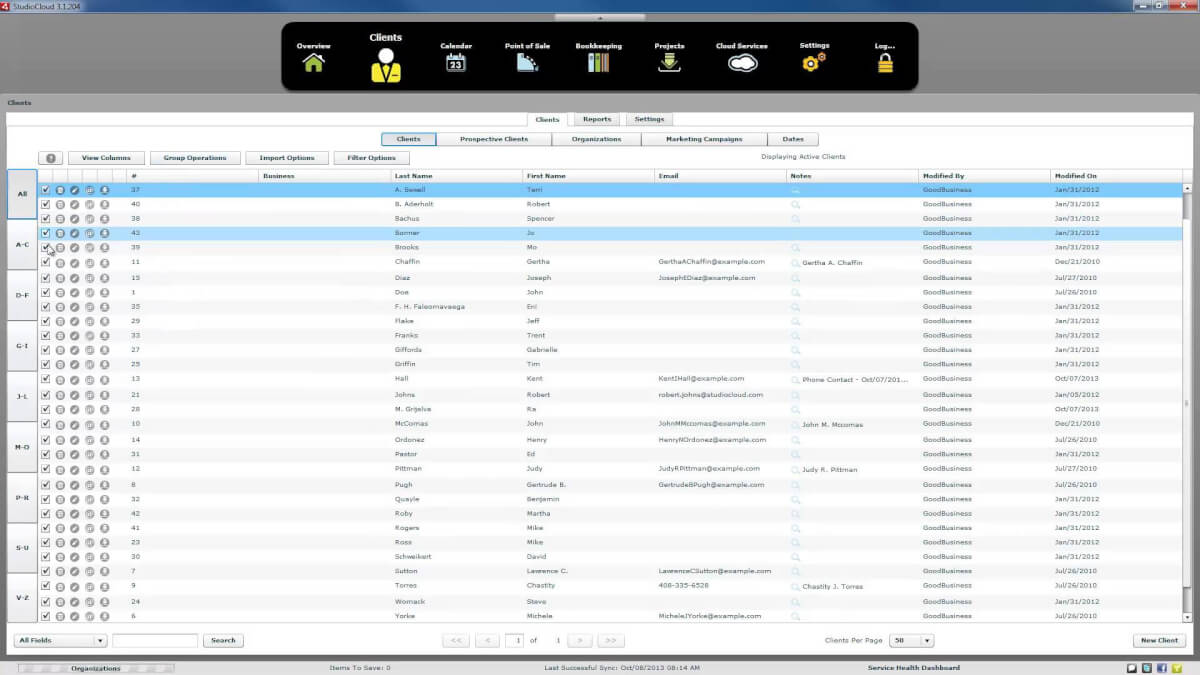 StudioCloud is a solution that gives small businesses all the features they need to manage their work successfully.
Top features:
Manage clients, leads, organizations, partners, and vendors
Schedule, events, appointments, locations, and more
Create and send professional invoices and quotes from customized price-lists
Send personalized text and email reminders, payment requests, etc.
What's special about this tool: Are you a one-man band? Then this software is for you! StudioCloud provides mobility by syncing all of your data between the cloud, your desktop, and all of your internet-enabled devices.
Pricing: $65/month for teams of 3 + (additional cost for every new user account)
4. Zoho One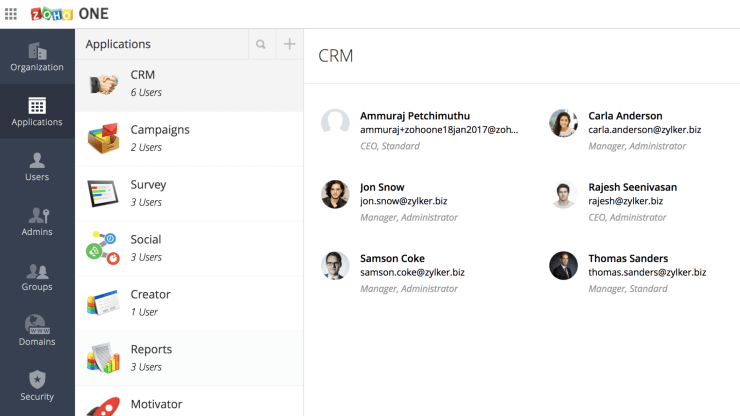 Zoho One — The tools you need to create, collaborate, and communicate with your teams, in one integrated suite of apps.
Top features:
Sales & Marketing – CRM, email integration, online forms, live chat
Collaboration – documents storage and sharing, team chat, online meetings
Finance – accounting, invoices, expense management, inventory management
Create custom applications and automate your personalized business workflows
What's special about this tool: You can integrate 37 of Zoho separate applications such as CRM, Mail, Finance, Creator, Books, Recruit, etc. to manage your business.
Pricing: From $30 user/month
Check out this Zoho Alternative
5. Odoo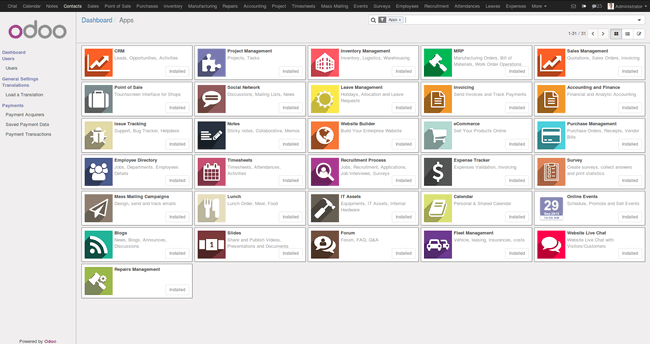 Odoo is a suite of open source business apps that cover your company needs: CRM, e-Commerce, accounting, inventory, the point of sale, project management, etc.
Top features:
Get accurate forecasts
Automate activities based on your sales scripts: calls, meetings, and quotations
Real-time messaging to enhance collaboration
What's interesting about this tool: Odoo focuses mainly on CRM and ERP functionalities. It also has a large application market due to its open-source model.
Pricing: From $14 user/month
Learn more: List of the best Odoo alternatives.
6. Basecamp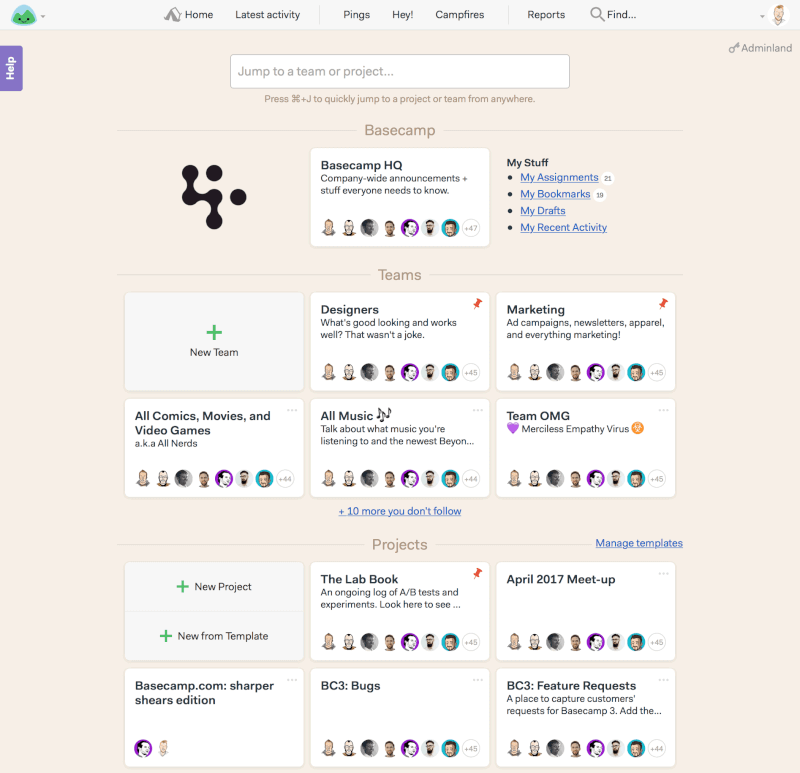 Basecamp is the preferred tool for teams who enjoy its modern social media-like interface and carefree team collaboration features.
Top features:
Projects to manage multiple users' work

Message boards for discussing new projects or ideas

In-app collaboration with the team

Reporting on project performance

Separate dashboard for showing to clients
What's special about this tool: Basecamp is free for teachers and students!
Price: $99/month for unlimited users
7. Accelo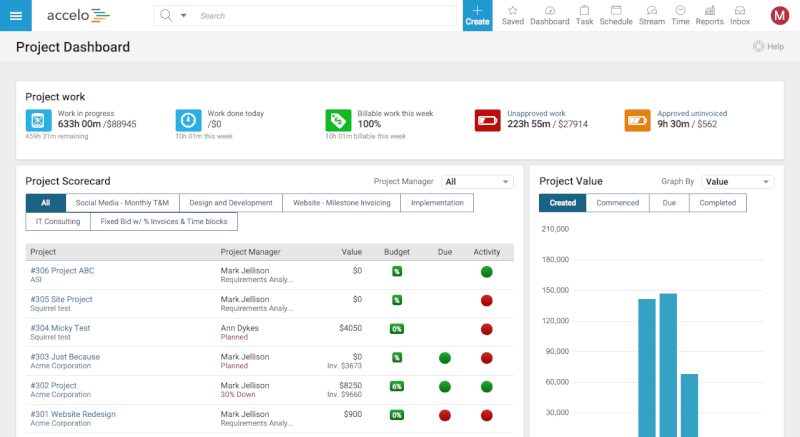 Accelo is a software that's cloud-based and it combines powerful and simple tools for professional services that a company can use to manage business and carry out different projects. The work of the staff will also be made easier and the brand can improve their relationship with their client base.
Currently, Accelo can handle project management, CRM, and customer services, which means it is a suitable solution for difference businesses since they can provide professional services to clients and staff.
Top features include:
• Budgeting, job planning, and time allocation.
• Complete end-to-end project management.
• Integrations to G-Suite for calendar and email sync/visibility.
• Easy schedule views and task management.
• Connecting clients to corporations and projects while also keeping a sightline of broader relationships.
• Limitless customization options for notifications, preferences, permissions, groups, etc.
Pricing: The Accelo software starting price is $24 monthly.
Check out these Accelo alternatives!
8. NetSuite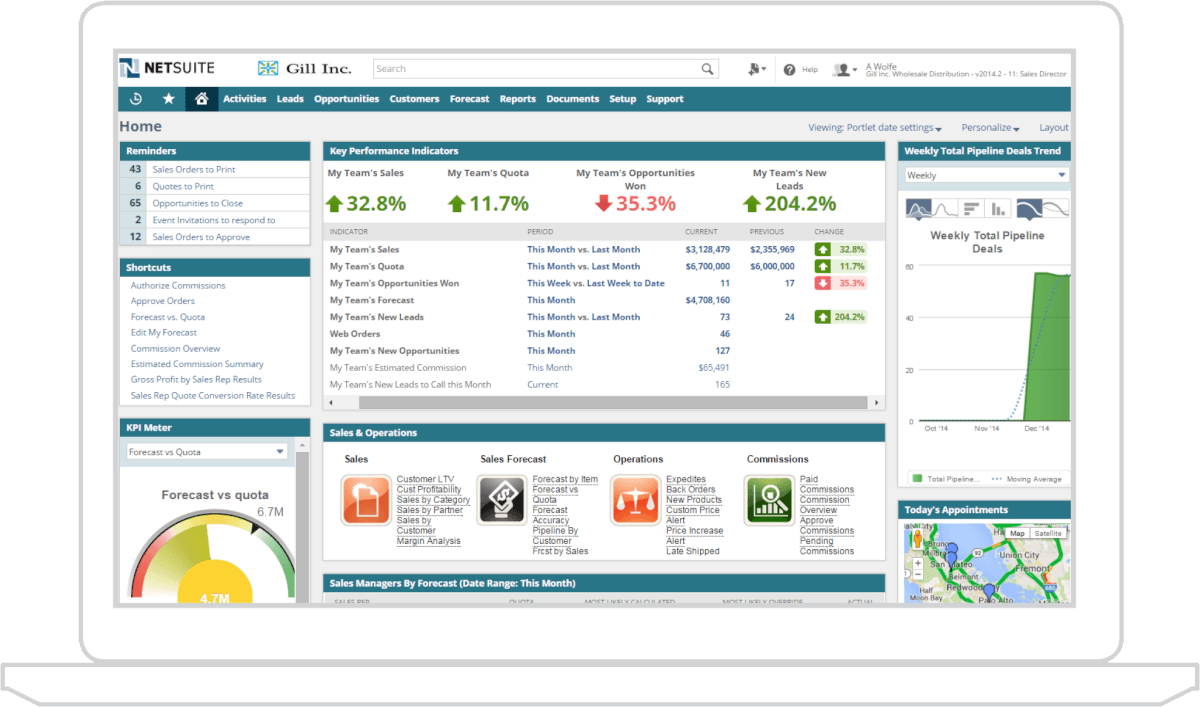 NetSuite is a unified business management suite, providing various tools for ERP, Financials, CRM, HR, and e-Commerce.
Top features:
Multiple currencies and taxation rules, financial consolidation, subsidiary management
End-to-end e-Commerce management (order management, CRM, marketing, and finance)
Services resource planning (resource management, project accounting, timesheet, and expense management)
Business Intelligence (dashboards, reporting, and analysis across the integrated processes)
What's interesting about this tool: NetSuite offers various tool sets –NetSuite CRM, NetSuite OpenAir, NetSuite Global Business Management, NetSuite PSA etc. Be ready to take time and filter out which NetSuite solution could be the best for you.
Pricing: On request
Everything about your business, one click away
9. Proofhub

ProofHub offers a replacement for conventional emailing and a bunch of other tools, integrating multiple project management features under one roof.
Top features:
Assigned user roles

Online team discussions and chats

Task delegation and assignments

Reporting and tracking project history

Secure file storage
What's special about this tool: ProofHub has a simple and well-designed user interface that improves team collaboration.
Pricing: From $20/month (up to 10 projects) to $150/month (unlimited projects)
10. Active Collab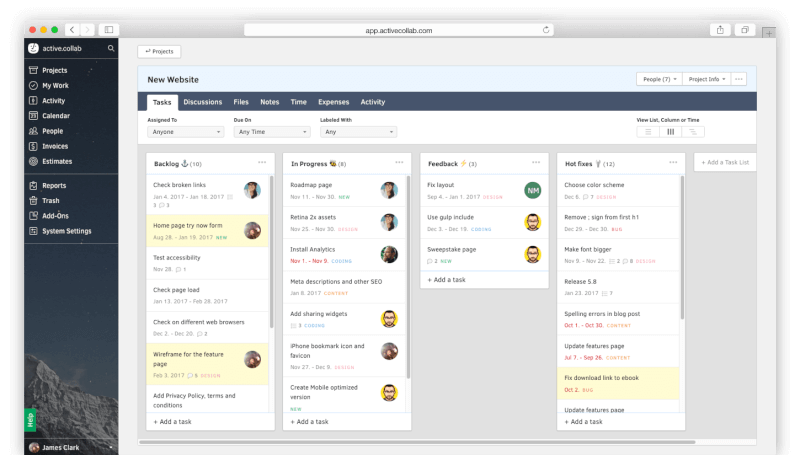 Active Collab helps your team stay organized, and gives you complete control over your work.
Top features:
Time tracking and invoicing
Gantt-like timeline for planning
Kanban cards
Creating tasks with multiple users and deadlines
A shared team calendar for collaboration
What's interesting about this tool: Active Collab is especially great for collaboration, with functions like collaborative text editing and @mentions for communication.
Pricing: From $6.25 user/month for a basic package
11. Clarizen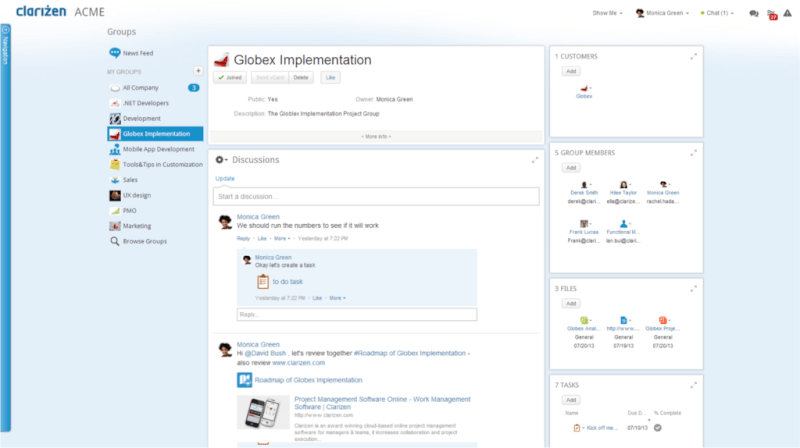 Clarizen's cloud-based work management software that brings together project management, configurable workflow automation, and in-context collaboration for better engagement.
Top features:
Unlimited number of projects
Automated and repeatable processes, alerts and workflows
Social collaboration
Budget tracking & expense management
What's special about this tool: Clarizen offers configurable workflows – customize Clarizen to fit how your enterprise does business.
Pricing: From $29.95 user/month
12. Bitrix24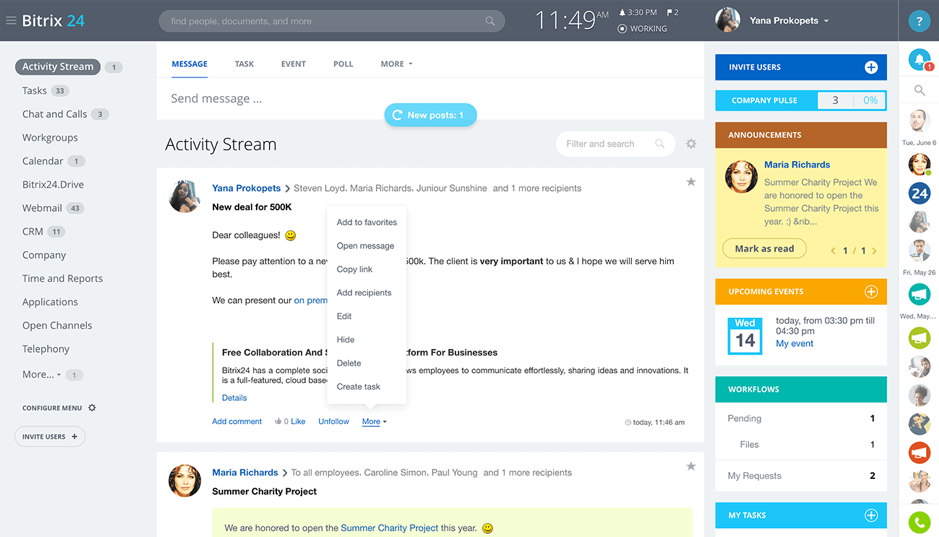 Bitrix24 offers a complete suite of social collaboration, communication and management tools for your team.
Top features:
Social intranet for internal communication for chats and document sharing
Project and work management including time and workload tracking
Customer relationship management including sales funnels, website forms, interaction tracking and marketing automation
Telephone integration – call directly from the CRM and record conversations
What's special about this tool: Bitrix24 has a large set of features, from traditional project management to integrated telephone and HR system, or internal email.
Pricing: Free plan, paid plans with more storage from $39/month
Check out this Bitrix24 Alternative!
13. Insightly
Insightly brings marketing, CRM and project management together into a single platform.
Top features:
Manage leads, contacts, organizations, partners, vendors, and suppliers
Track project activity and performance against milestones
Look at your business any way you want with task dashboard, activity sets, reports and more
What's special about this tool: Insightly is tailored for any level of experience – from first time CRM users to sales experts.
Pricing: From $15 month/user for teams
14. OneSoft Connect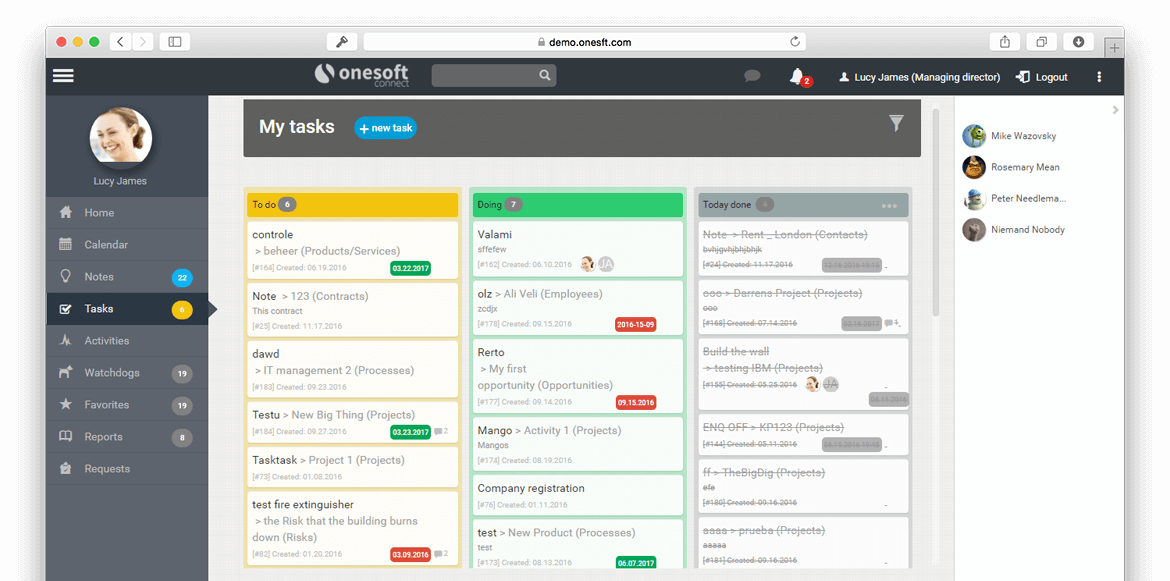 OneSoft Connect helps to simplify your teamwork – organize your customers, relationships, people or projects in one place.
Top features:
HR management – keep records on your employees, jobs and organizational structure
Track all business activities, manage customer relationships, projects, and contracts
Create reminders for important tasks and deadlines
What's special about this tool: OneSoft offers a set of predefined data sheets for essential business needs.
Pricing: Paid plans from $6 user/month
15. WORKetc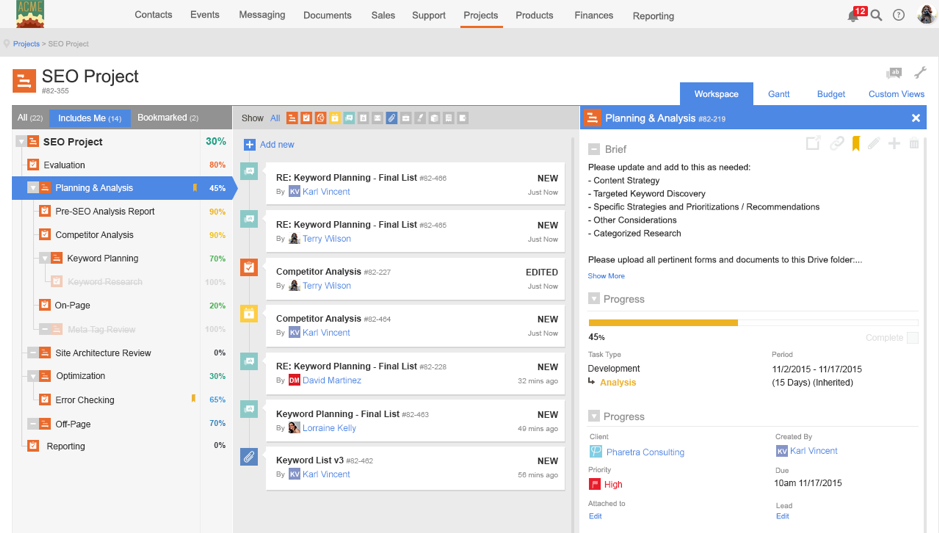 WORKetc is a web-based platform for CRM, project management and collaboration.
Top features:
Link timesheets, documents, discussions, notes, contacts and more to your projects
Manage complex project budgets
Automatically capture and invoice all revenue activities across departments
Use live support, web forms, and email to capture support tickets
What's special about this tool: By integrating support cases directly inside all areas of WORKetc, you can ensure the customer is always looked after.
Pricing: From $49 user/month (first 3 users $65/month)
Check out this WORKetc alternative!
16. BlueCamroo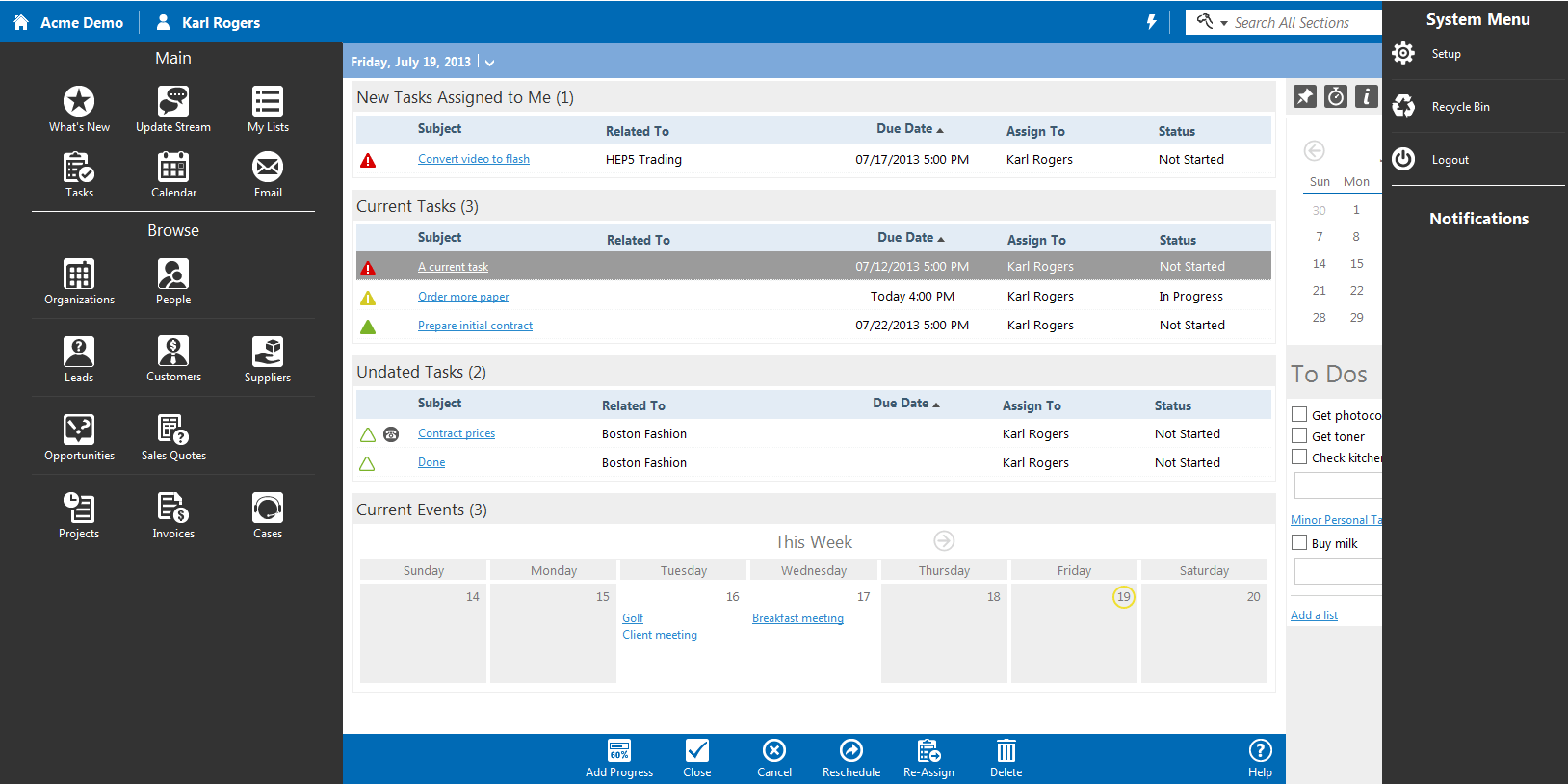 BlueCamroo aims to integrate CRM features with project management. It helps you manage your contacts, sales & projects in one solution.
Top features:
Contact management
Sales forecasting
Visual sales pipeline
Project management – tasks, stages, dependencies
Budgets versus actual costs
Customer Support opportunities
What's special about this tool: BlueCamroo offers a unique Website Builder for websites, landing pages, microsites, and even e-Commerce sites.
Pricing: From $41 user/month for a comprehensive solution
17. Teamleader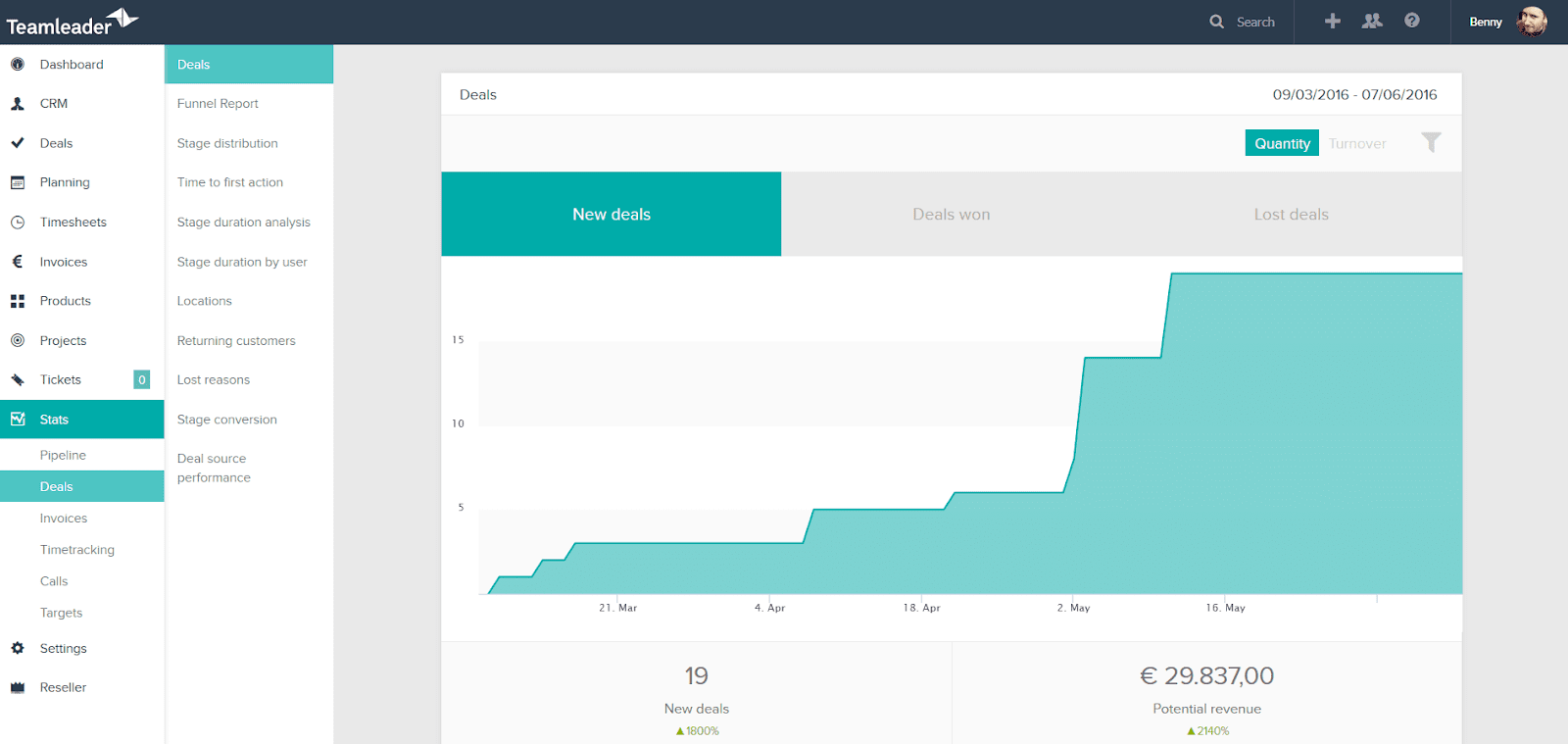 Teamleader helps small and medium enterprises work smarter.
Top features:
Manage all contacts from one place, and build better relationships.

Schedule and track meetings, tasks and events

Send invoices automatically and effortlessly

Handle customer questions and deliver an outstanding customer experience

Manage projects at the click of a mouse
What's special about this tool: Make and record calls directly from the CRM using just your internet connection.
Pricing: Starting from $55 per month for 2 users (additional users $27.50)
18. Deltek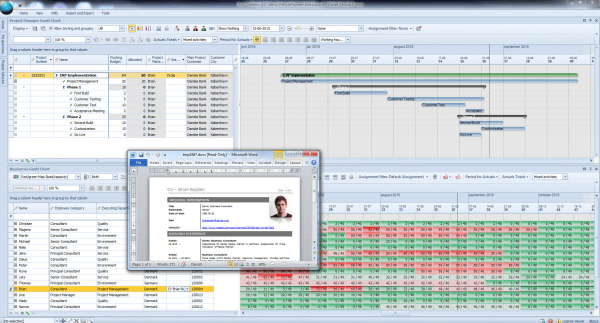 Deltek is an integrated project-centric ERP solution designed to support the entire project lifecycle of professional service companies.
Top features:
Finance management
Time and expense tracking
Job and task management
Client management
Business Intelligence
What's special about this tool: Founded in 1983, Deltek has a long history in software solutions.
Pricing: Per request
19. Teamwork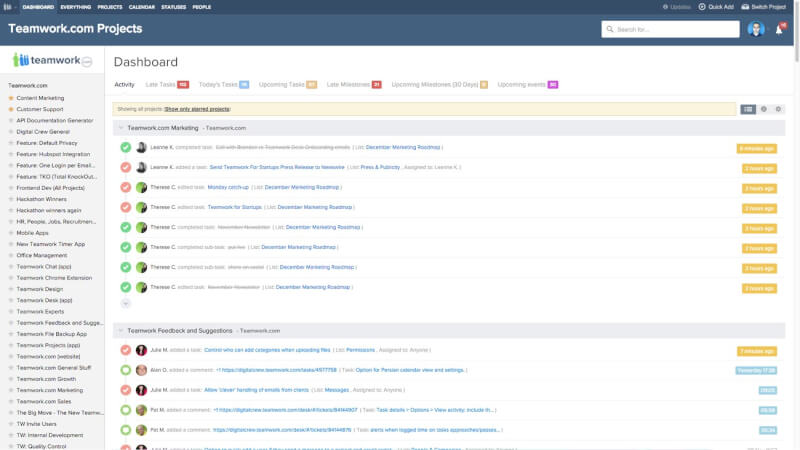 Teamwork enhances team collaboration and helps creative teams to organize their work and tasks.
Top features:
Project planning on Gantt charts
Time tracking and reporting
Task lists with sub-tasks
Milestone management
Comprehensive user permissions
What's special about this tool: The tool integrates with Teamwork.com's other two products; Teamwork Desk and Teamwork Chat.
Pricing: From $49/month
Read more: 16 Best Teamwork Alternatives For Work Management.
20. Frank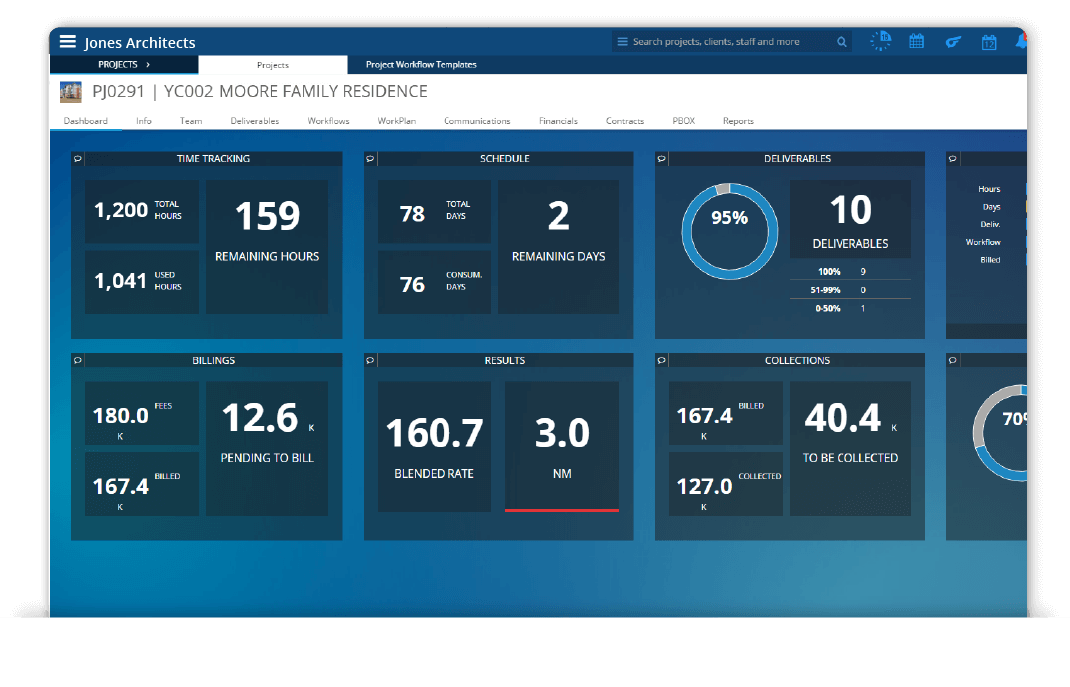 Frank is a wholesome management platform for architecture and engineering studios.
Top features:
Customer database
Project management & documentation
HR management & recruiting
Accounting
Workload, project and resource reports
Vendor qualifications
Project phases, and contractual deliverables
What's special about this tool: Frank is a niche-oriented software for managing complex architecture and engineering projects.
Pricing: Free plan available, paid plans from $150 per month
21. Oracle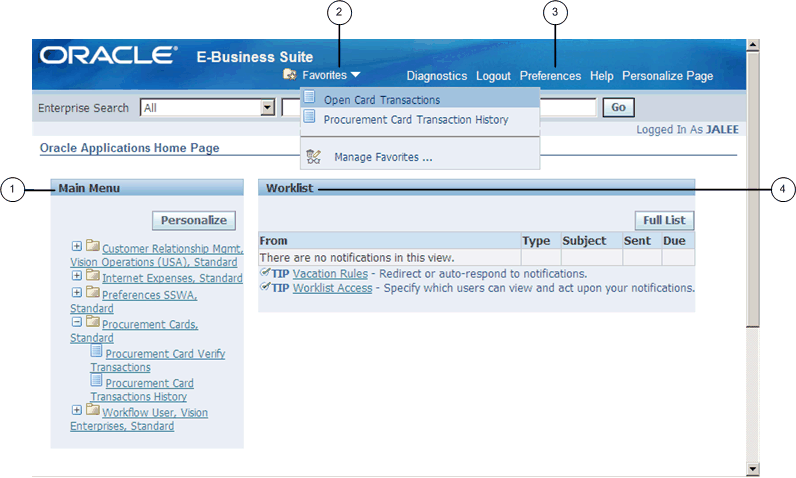 Oracle is a comprehensive suite of connected cloud applications that deliver functionality, analytics, security, mobile capabilities, and social collaboration. Oracle has various products with different focuses.
Top features:
Human Capital Management
Enterprise Resource Planning (ERP)
Customer Experience
Supply Chain Management
Enterprise Performance Management
What's special about this tool: Oracle is the type of solution provider who wants to have it all. It might be overwhelming and confusing to differentiate all the products and features Oracle provides, but you can be sure you'll finally find everything your business needs.
Pricing: Per request
22. Smartsheet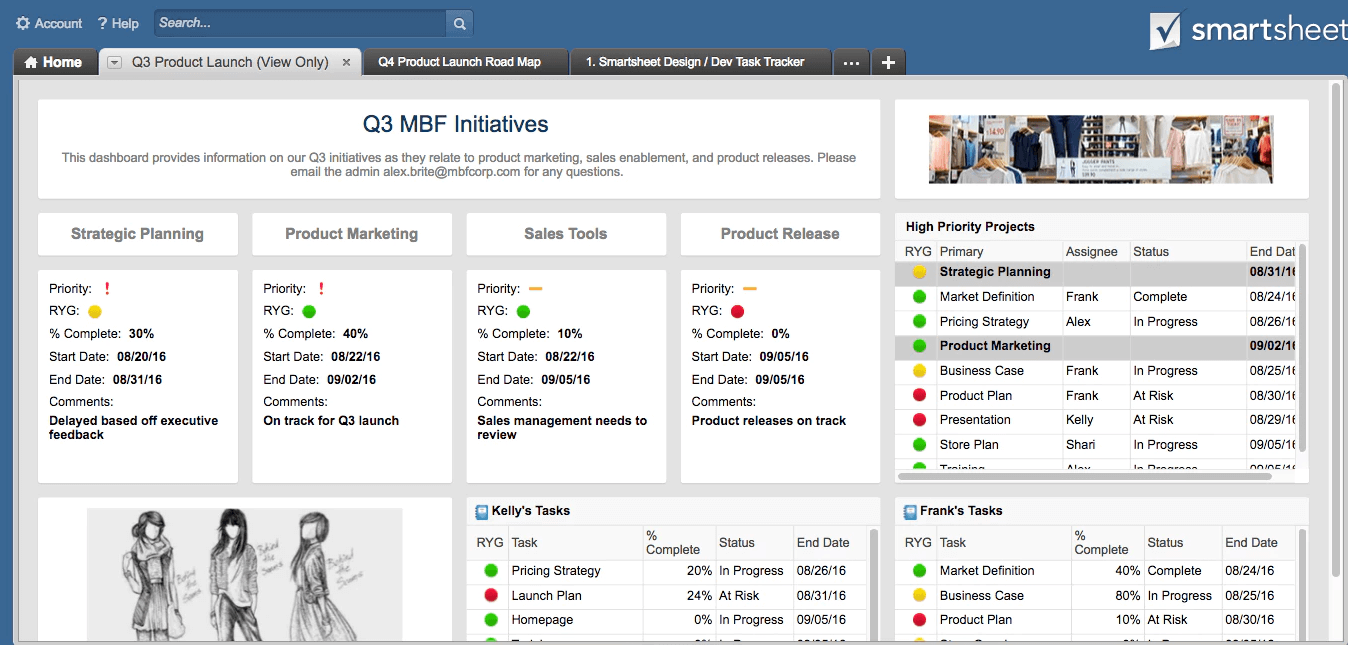 Smartsheet is a great tool for managing and automating collaborative work.
Top features:
Project plans and schedule
Program roll-ups
Resource management
Budget tracking
Strategic planning
What's special about this tool: Smartsheet enables you to create a hybrid, cross-data spreadsheets, and automated workflow
Pricing: From $15 month/user for teams
Read on: 28 Useful Smartsheet Alternatives for Every Team.
23. Paymo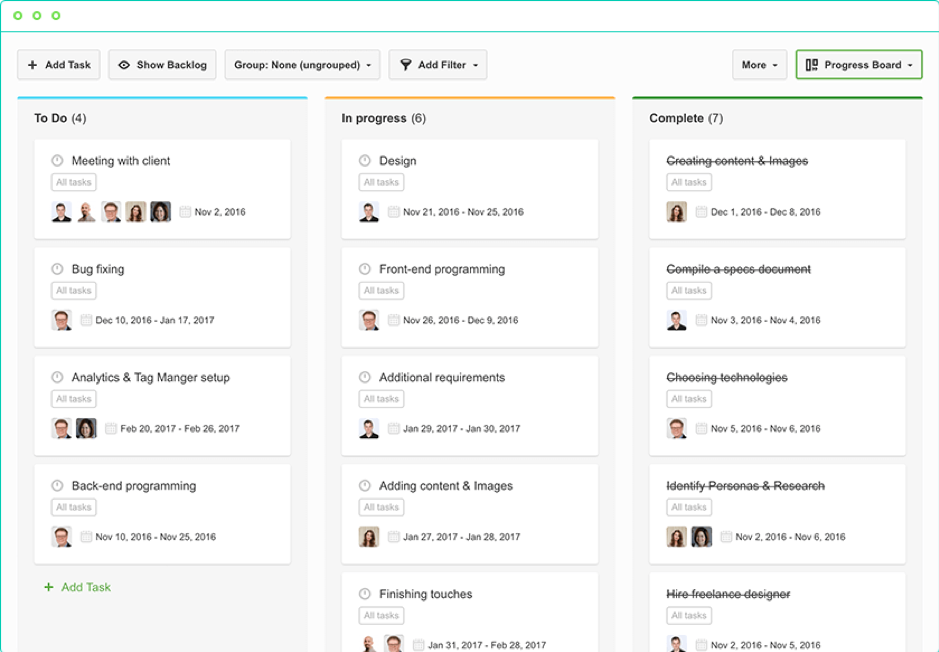 Paymo offers a simple yet powerful tool bringing together project management, work reporting, and time billing.
Top features:
Billing customers for completed tasks
Dashboard to see your team's performance
Integrated project accounting
Thorough work reports
What's special about this tool: With Paymo Plus, you can automate your time tracking completely. All you need to do is download the desktop app, let it track your PC usage, and at the end of each day, categorize all your time entries.
Pricing: Free and paid plans from $8.95 user/month
24. Podio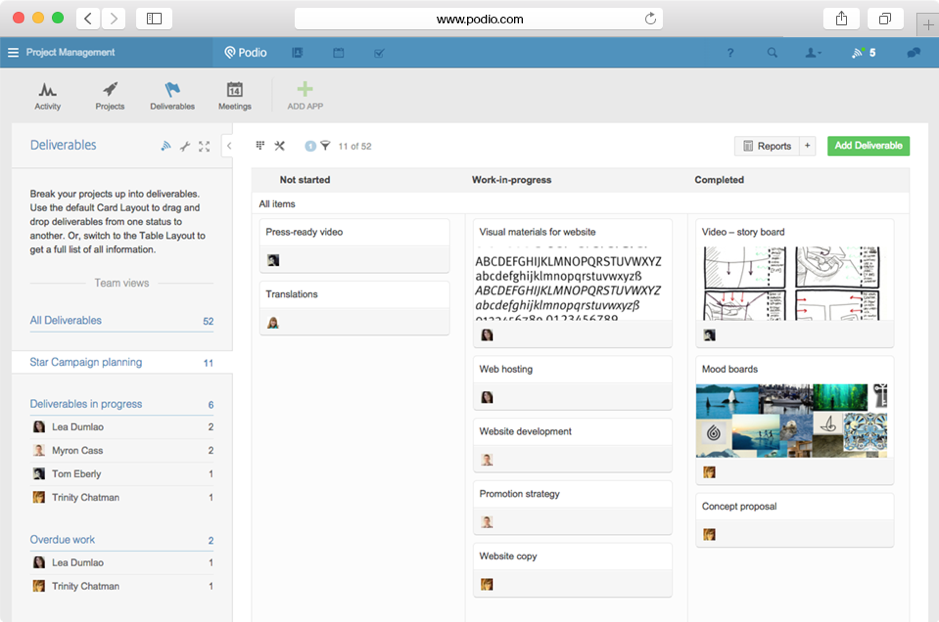 Podio is a flexible and highly customizable online hub for work and team communication.
Top features:
Assign tasks, attach files and discuss details within the solution
Automate the sales pipelines, project budget tracking, and more
Get an overview of the company with visual dashboards
Share encrypted & large files
What's special about this tool: Podio's workflow feature enables you to add if-this-then-that logic to Podio apps. For example, instruct your app to create a task or comment, when an item is created.
Pricing: Free for up to 5 employees, $19.20 user/month for the full suite
25. ProWorkflow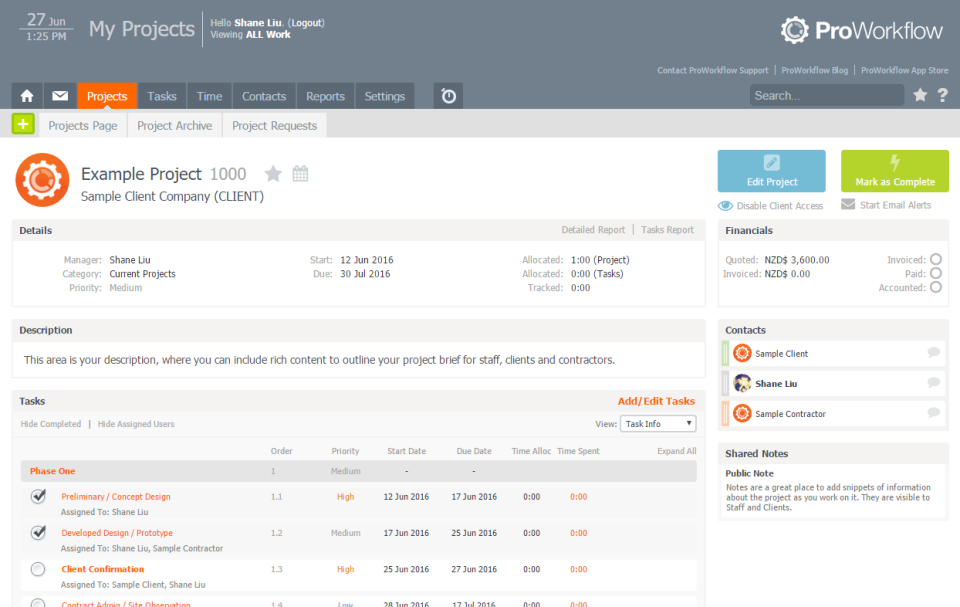 ProWorkflow makes it a breeze to collaborate, track tasks and time and communicate with your team.
Top features:
Dashboard for an overview of your workload
Manage invoices and quotes
Share files
Allocate tasks
What's special about this tool: Convenient mobile application lets your track time, communicate, and complete tasks on the move.
Pricing: From $18 month/user for unlimited projects
26. ClickUp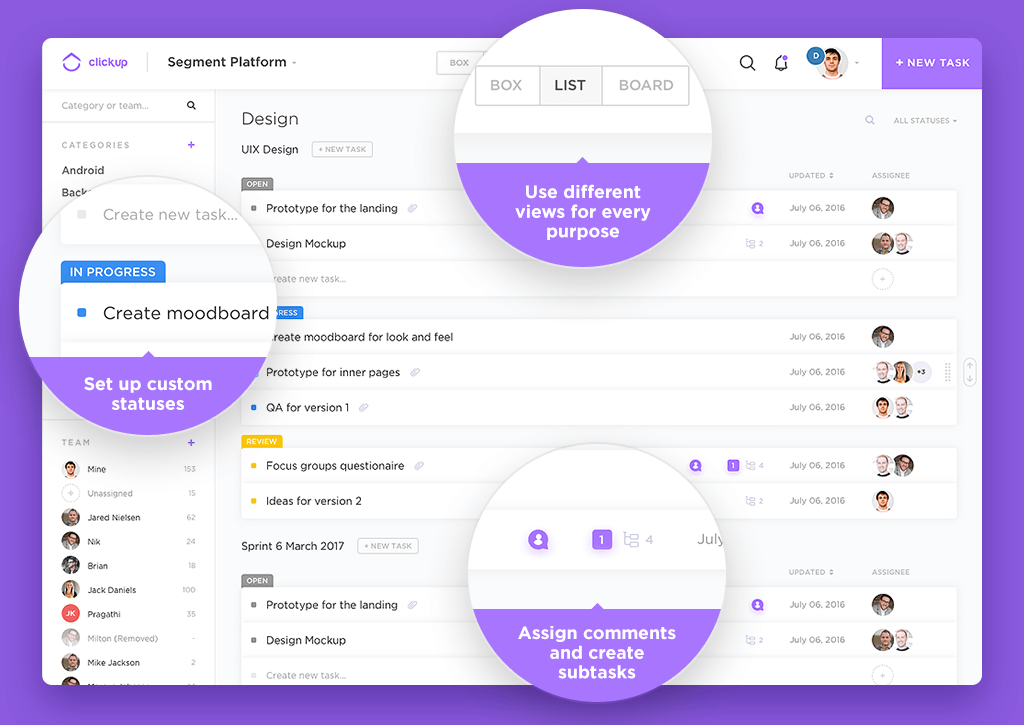 ClickUp is a productivity platform that offers more than just a task manager – allowing teams to use a single place to plan, organize and collaborate.
Top features:
Assign comments, and nothing will fall through the cracks.
The elegant hierarchy will keep projects simple as they grow.
Task tray will allow you to minimize tasks instead of opening multiple tabs.
Tools like 'Smart Search' and 'Smart Estimates' make you more productive over time.
What's special about this tool: Whether you're a manager, developer or anyone getting things done, with ClickUp you can choose between three different ways to view tasks.
Pricing: Free for up to 100 MB, Premium for $5 user/month
---
We hope you found some potential options for your company from this business software list. As a next step, start testing these solutions until you find the most suitable one! And keep in mind that the choice of software really depends on your business nature, company size, workflow, current software, and business processes.
Everything about your business, one click away