Work management
27 Best Bitrix24 Alternatives For Work Management (List of Competitors)
Bitrix24 offers you a single platform for projects, files, messages, contacts and tasks. The software has tools for collaboration, management and communication.
However, there are a number of Bitrix24 alternatives, which include:
1. Scoro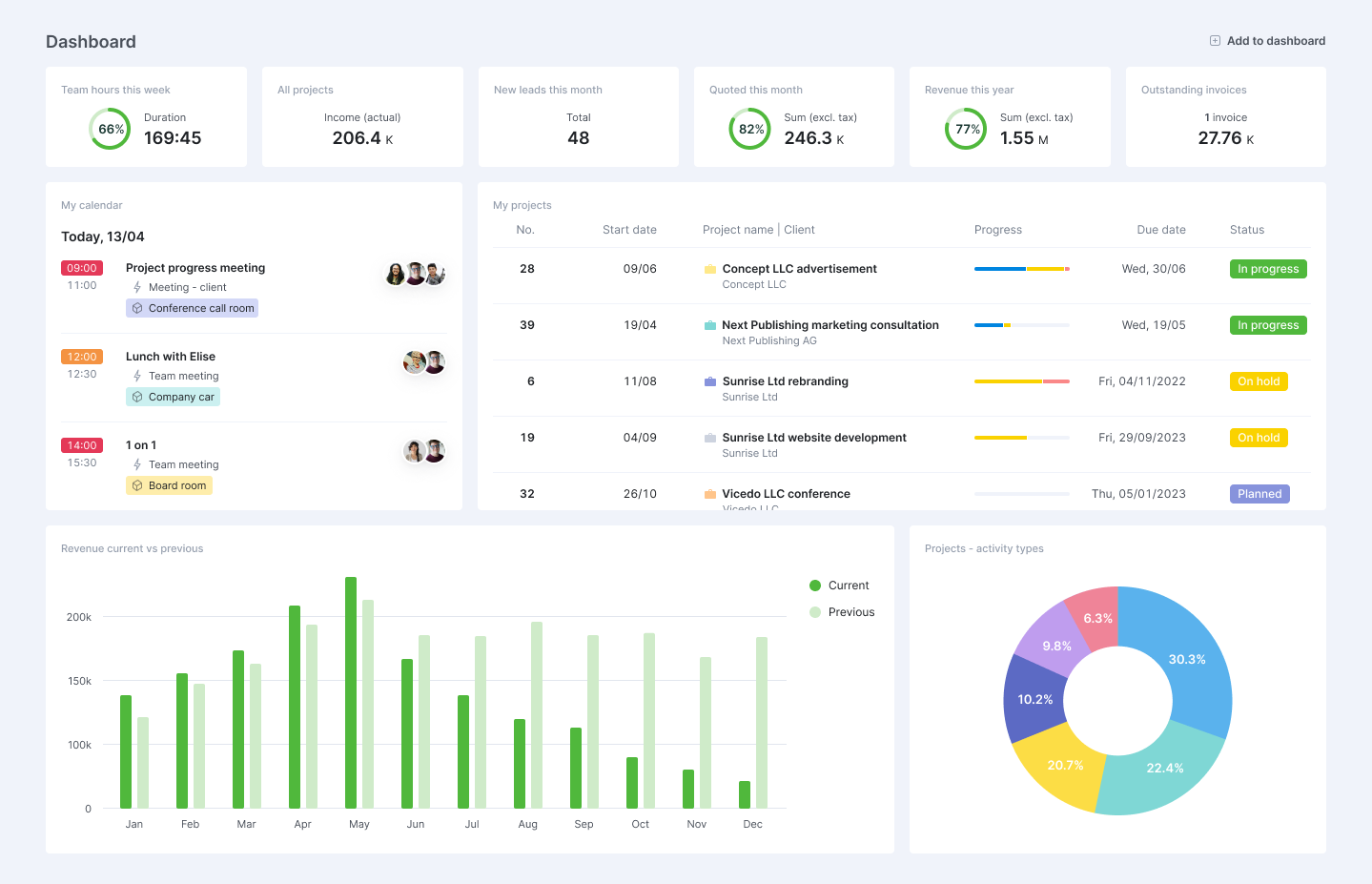 Scoro is a provides businesses with end-to-end work management software, including contact management, projects and tasks, quotes, billing, collaboration and reporting.
What's special about Scoro is that it will help streamline workflow progress; while all your information is stored in one place so you can easily get an overview of each project.
Unlike other software, Scoro shows you an overview of what your team does during their work time and free time. On top of that, the software also shows you how much that time costs depending on the profile of the individual.
With Scoro, you get to understand all aspects of time and money. Every minute should matter, and the only way you'll only get value for your time is by tracking the profitability in time. The software will give you a detailed overview of all planned and completed activities, income and cost, time spent and billed and the optimal utilization.
It has configurable integrations with cloud storage solutions, accounting software and 1,000+ more tools via Zapier. What's more, you can integrate Scoro with the other tools you use. This way, you can still stay connected to the tools you've been using.
Top features
You can assign and delegate tasks to your team members
Get an overview of all your projects, including planned tasks, meetings, time spent, expenses and files
View everyone's schedule in the team calendar and check what they're doing
Compile and send quotes or invoices automatically
Track your business's performance with real-time data
Try Scoro's 14-day free trial.
2. TrafficLive
Deltek's TrafficLive product helps businesses connect and automate the project lifecycle. Deltek offers different software and information solutions that facilitate project intelligence and collaboration. The experts here help businesses perform by maximizing productivity and revenue.
Top features
Project management and resource optimization
Develop your business through finding, hiring and retaining the best talent
Through the project-based ERP, you can measure financial results
Gain visibility and control to make the right business decisions
3. Nifty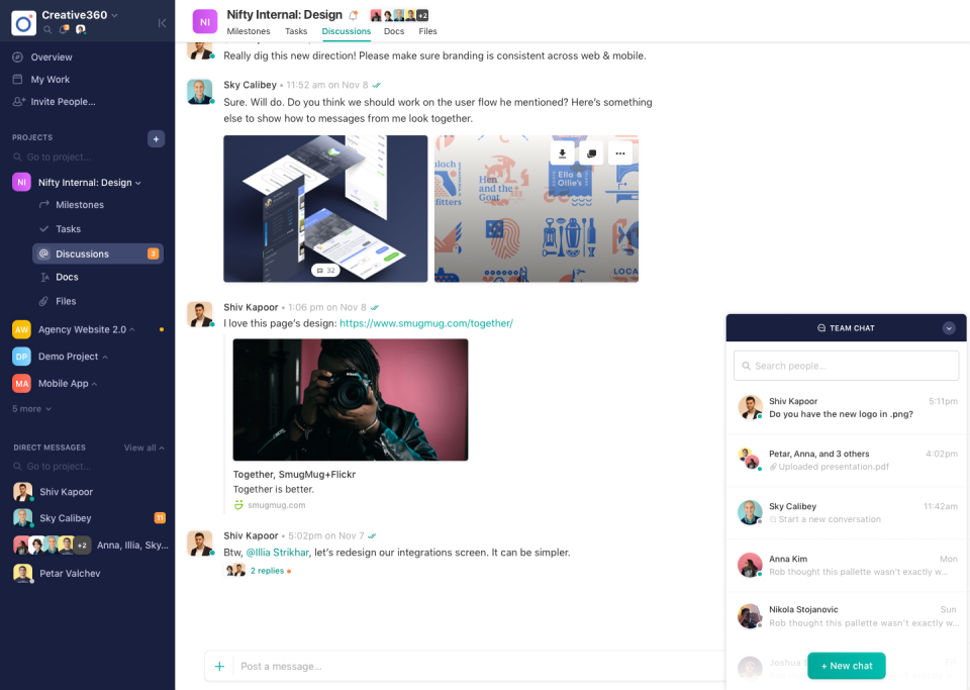 Nifty is one app that brings together a business's team, goals and actions. Through Nifty, you collaborate on tasks by organizing, prioritizing and tracking all the daily work using Kanban, Timeline, List and Calendar views. You can also create docs, wikis and notes for your projects and share them with your team. The tool integrates natively with Google Docs. Note that team alignment and productivity occur when your data is not broken across several tools.
Top features
Native Integrations
Team alignment
Import your CSV and EXCEL sheets
Workflow Automation
Custom Embeds
4. Productive
Productive is a self-funded, profitable platform whose goal is to grow businesses by serving them in the best way possible. Productive helps businesses by consolidating data and capturing the entire business's project lifecycle for successful project delivery.
Top features
Consolidated data in one management system
You can run your projects from prospect to the payment
A single tool for all your budgeting and resource planning
A single source of all your business's financial data, budgets, leads and team communication
5. Ortto
Ortto AI utilizes millions of data points to help businesses predict how their audience will behave. You can write high-performing subject lines and predict what time, day, and type of content will lead to the highest conversions through this tool. The providers keep learning as your business grows to make it better to reach its maximum potential.
Top features
Customer data platform
Audience segmentation
Integrations
Website tracking
Security and privacy
6. Taimer
Taimer OY is part of the Heeros Group, a Finnish software company that develops and sells PSA solutions for business management. Taimer is a software solution that's implemented with the SaaS model. It facilitates the easy use of the software. It also enables implementation as per the customers' needs. The developers of Taimer understand that customers are the most important resource; therefore, their software is based on customers' needs. The software will help your business in several areas, including projects, resources, sales, invoice management and time.
Top features
Project Management
Resource Scheduling
Time Tracking
CRM System
Sales Pipeline Management
7. HarmonyPSA
With HarmonyPSA, you have full visibility of your business. It's now a CloudBlue PSA that integrates all sales, finances and operations in a single system. Everything will be in one place thanks to this PSA solution purpose-built for the modern MSP. It enables the business system to analyze and access data that is required to make better decisions. HarmonyPSA can help you manage your human resources more effectively by gaining ERP-level insights.
Top features
Real-time, profitability insights
Work on any device, on the go
Service desk
Powerful project and resource management
8. Holded
Holded is smart business management software for SMEs. It is a solution in the cloud that helps you manage everything you need in business. You can use the software anytime and anywhere to see how your business is performing. An interesting feature is that you can change work hours using a single click. In short, Holded simplifies daily activities by automating tasks and checking your accounting and invoicing. Thanks to this software, your ledger will stay updated at all times since the process is automatic. You'll also get up-to-date reports from the moment you start using this solution.
Top features
Create invoices in seconds and schedules them instantly
Saves time by automating your accounting.
Simple and efficient tools for all projects
Monitor your inventory in real-time and have full control
Organize and empower your team using the best HR tools
9. Hive
With Hive, you can easily work on a multi-step project. You use project and action templates to make your work easier as you work on your project. The software has proofing and annotation tools that can be used for video proofing. As for your team, you can keep track of what they are doing at all times using timesheets and tracking. You'll find all these features on the project homepage.
Top features
Timesheets and time tracking
Team resourcing
Task management
Multi-step projects made easy
Document and video proofing
10. CMAP
Cmap manages different projects across various industries. It helps give your business clarity in one place. It does so by eliminating all spreadsheets and disconnected software packages. The software then replaces that by giving access to all your data and functionality in a unified system. Cmap developers are focused on offering customers software that makes life easier; therefore, they keep things simple.
Top features
Job costing
Timesheets and expenses
Resourcing and HR
Project management
Reporting and dashboards
11. TeamGantt
Need a Gantt chart for free? TeamGantt has you covered! Top companies like Netflix, Amazon, Intuit and Nike manage their projects using TeamGantt, meaning it's top-rated software. Anyone can access this free Gantt chart maker software online. You can easily plan, schedule, and manage all projects using this free Gantt chart creator. The best part is that you invite teams and clients to collaborate on your project plan or Gantt chart. You can easily create your Gantt chart by dragging and dropping various tasks in your project. The software is easy-to-use, and no training is required. TeamGantt lets you change projects' start and end dates, adjust timelines and reorder tasks in a single click.
Top features
Make a Gantt chart online
Easy collaboration & organization
View workloads and team availability
Calendar and list views
View all your projects on one screen
12. BigTime
BigTime is a project platform meant for professional service firms requiring real-time insight into their projects for long-term success. BigTime offers time tracking, project management and billing that can be customized for firms in accounting, consulting, architecture, government contracting, engineering and law firms.
Top features
Billing and invoicing
Reporting and analytics
Time tracking
Resource management
Project management and workflows
13. Workbook
Deltek Workbook is a management system meant for agencies and in-house teams. The tool makes managing people, projects, and finances easier to focus on other important things. Workbook gives control, insight, and visibility to achieve a digital transformation easily. If need be, you can enhance the solution by connecting online proofing with Deltek ConceptShare. It also has visual dashboards with 300+ built-in reports and filtering dimensions that give you the information you need.
Top features
Visibility into project performance
Get resource transparency
Enable client collaboration
Manage tasks and time
14. TimeLog
TimeLog has been around for 20 years, and the company has offices in Sweden, Malaysia and Denmark. They have a data modelling system; therefore, your business can benefit in many ways for each hour you register. For starters, you can start understanding what each hour is worth, and you can make decisions based on such data. You'll also focus more on the clients and projects that add more value to your business through this. As a result, you gain more control of your business and profit increases.
Top features
Time tracking
Project management
Automated project invoicing
Resource management
Invoicing and finances
15. VOGSY
Using VOGSY you can plan, track and optimize your projects, clients, deals, revenue, and resources within the Google Interface. To ensure things are done properly and on time, you can set tasks for yourself and your team: deals, projects or billing. VOGSY charts also cover several indicators such as resource availability, revenue forecast, and utilization.
Top features
Plan your projects
Monitor your performance
Automate invoicing
Revenue forecast
Subtopics features
16. Kimble
Kimble is a software provider that focuses on Professional Services Automation. It enables teams to make informed decisions and take them on time. This Professional Services Automation software makes organizations start the decision-making process and pick what's best for the organization. As a result, it has an increase in customer satisfaction by optimizing resource utilization, business scalability and profitability.
Top features
Resource Management
Project Management
Sales
Finance
17. Runrun.it
Runrun.it mainly helps you distribute tasks among your team members according to their capacity. The tool helps you view who will be available for new demands visually and simply on the interactive Gantt view. You also keep track of time used on tasks, processes and projects. Runrun.it has AI-enabled widgets that are in-built, or you can build yours independently. These widgets help you with time management and task allocation. All decision-making, communication and files are contained on one platform, and you can rely entirely on the source.
Top features
Integration of everything in one system
Access to a team of consultants
Automate demands
Available on all platforms
Distribute tasks among your team members
18. Workamajig
Workamajig comes in to help creative businesses work more efficiently. The software combines project management, resource management, accounting and task management and CRM. It utilizes all these features to give you insight into what is going on in your business.
Top features
Project management
Resource management
Task management
Business intelligence
Finance and accounting
19. Paymo
Paymo incorporates project management, time billing and work reporting. Something that's special about Paymo is that it has a free and paid version. The paid version is known as Paymo Plus, and with this, you can automate time tracking. The tool also manages your projects' timelines. The interactive Gantt chart breaks down your projects into phases, tasks, and jobs. The interactive Gantt chart is a bar chart that shows your project's schedule, and you can even share it with your client.
Top features
Billing customers for completed tasks
Dashboard to see your team's performance
Integrated project accounting
Tracking the time spent on tasks and projects
Work reports
20. Synergist
Synergist is agency management software that integrates clients, people, projects and finances in one place. You can get real-time data to make informed decisions that maximize agency's performance and profitability. It also creates forecasts and monitors project progress.
Top features
Gantt charts
Estimates and quotes
Project management
Billing plans
Monitor project progress
21. Dynamics
Dynamics 365 gives you more agility in how you deal with customers. With this software, you'll have a portfolio of intelligent business apps that empower your team to deliver optimum operational excellence. It helps you adapt and innovate a hyperconnected business in which everyone has insights and the freedom to use data via business applications. The Dynamics software also has audio and video collaboration solutions to gain actionable, AI-powered insights into your operations. The software has solutions that fit you, and you can tailor and build it using the Microsoft Power Platform, Microsoft 365 and Microsoft Azure. Dynamics 365 is a comprehensive solution that will connect your business.
Top features
Gaining predictive insights
Powerful flexibility
Sales and marketing
Finance
Supply chain
22. Upland PSA
Upland PSA is Professional Services Automation software that makes project execution seamless by improving collaboration. The software automates projects, resources, and billing processes, ensuring that you can achieve more efficient and profitable services. It also forecasts services revenue and monitors your projects' profitability via interactive dashboards and reports.
Top features
Timesheet and expense automation
Resource management
Project management
Project financials
Advanced analytics capabilities
23. Meisterplan
Meisterplan is software that helps companies make the right decisions. The world is so dynamic, and everything is always changing. That means your project plans need to be updated frequently to remain up-to-date. Priorities and employee availability change daily, and you want to get ahead of that. You can also plan long-term capabilities and tasks for your team.
Top features
Scenario planning
Project ranking and scoring
Interactivity and real-time analysis
Capacity planning
Portfolio designer
24. Runn software
Runn software runs teams remotely and ensures there is a built-in culture. It aims to help you deliver all your projects on time and within budget. It acts on feedback fast, giving you enough time to work on your weak points and improve how you run the business. Runn is designed so that you don't have to deal with clunky spreadsheets and broken processes.
Top features
Resource scheduling
Capacity management
Project forecasting
Timesheets
API & integrations
25. Favro
Favro is a project management and collaboration tool for business flow. This tool helps your organization do what you excel at. Through Favro, you can plan your projects regardless of the size. The good news is that it helps you plan the project thanks to the multi-select, indent/outdent and drag/drop features. You can also track the project progress at any level by checking the aggregated summaries. The tool also comes with built-in support for Scrum and Kanban. It's also customizable, so you can design it into whatever you want.
Top features
Plan projects
Built-in support for Kanban or Scrum
A decentralized design
Build compelling reports
Data aggregation
26. MeisterTask
MeisterTask is a task management tool that helps manage your projects by breaking them into workable tasks. Whether you're managing a big task or thinking about digitalizing task management, MeisterTask can help you do so. You'll be able to keep track of who is doing what and when they're doing it. The tool helps you manage tasks in a customizable environment that adapts to your business's needs. This is achieved through the automation of steps in your task management workflow.
Top features
Automation
Project management
Reports
Time tracking
Insights into your team's productivity
27. GanttPRO
GanttPRO is an interactive online Gantt chart maker that facilitates planning and controlling projects simultaneously. Split your projects into tasks, mini-tasks and milestones. After splitting them, organize and schedule them by setting dates and durations.
The chart sets accurate estimates and manages resources appropriately. GanttPRO lets you use different workspaces for your tasks and milestones.
This tool has an automatic project scheduling and drag/drop feature. You can use it for both personal and team projects. You can also delegate the project management to your team members. Starting on the GanttPRO chart is easy, and there is a free trial to help you familiarize yourself with the tool's features.
Top features
Task management
Collaboration
Import and Export
Team and Resource management
Time management