Work management
8 Best Harvest Alternatives For Time Tracking
Harvest is one of the best known time tracking software in the market today. It has strong features such as efficiency in revenue management, powerful time tracking and an easy-to-use interface.
However, depending on the growth stage, size, budget and the specific needs of an organization, Harvest may not always be the preferred option for agency teams.
There are a number of other tools that come with different types of time tracking features, better and broader project management options, and the ability to bring everything together in one platform, rather than using individual tools.
Here are eight great Harvest alternatives that are definitely worth checking out!
1. Scoro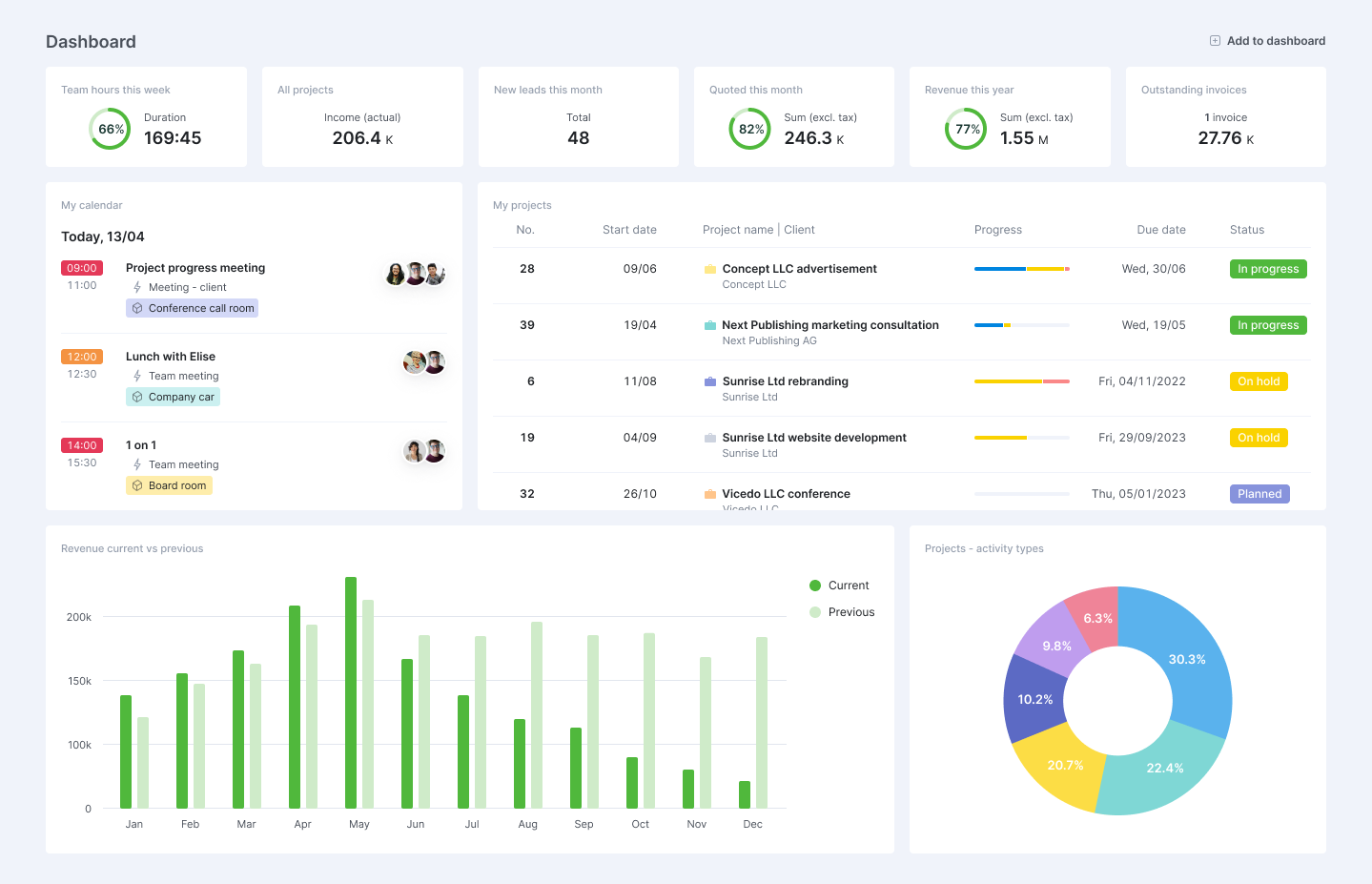 Scoro is a web-based time tracking software that allows you to monitor projects and tasks in progress. You can also track your time spent on particular activities and set reminders for upcoming tasks. One unique feature of Scoro is that it can import data from Excel spreadsheets, so you don't have to re-enter all your data.
The main features of Scoro include:
Task tagging – This feature makes it easy to assign various tasks to specific people in the team. You can also keep track of the assigned tasks to monitor the progress and timelines.
Customizable reports – Scoro can also generate real-time comprehensive company reports, that can be used to assess projects and the state of the company.
Tracking the company's performance – You can easily track the performance of each employee and their contribution towards the company's projects.
Collaborative platform – You can organize your entire team to collectively work together on a specific task at a particular time. This aspect of Scoro not only enhances effective communication among employees, but it also empowers them to work as a team towards meeting the set deadlines.
Scoro understands that every minute counts. It therefore allows you to productivity and revenue management in real time.
Why choose Scoro
Scoro offers an all-inclusive package that saves you the time spent on shuffling through different software. This tools helps you monitor your company's progress, your teams' productivity and monitor project timelines all at the same place.
Pricing
The pricing structure is quite simple: The essential package currently costs $34 per month per user.
You can start Scoro's free trial here.
2. Function Point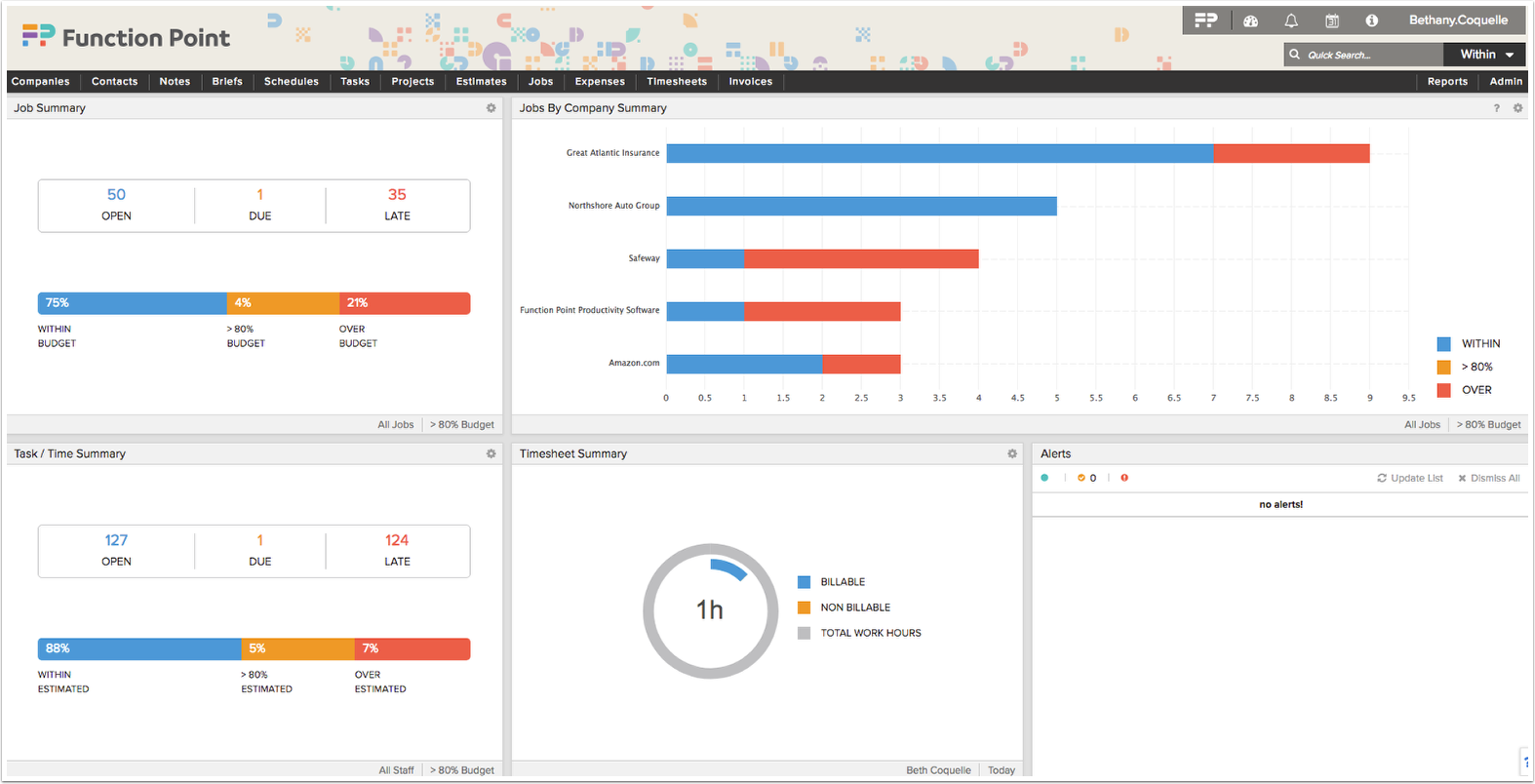 Function Point gives you the power to track time, monitor your projects and manage your budget all in one software. Key features include:
You get detailed analytics on the state of your project and company.
Using the software's analytic tool, you can easily keep track of your profits and projects.
You get the ability to track time, check the budget for each task and manage the billing system for each staff.
Function Point is built for every business size. You can effortlessly manage multiple projects in various teams.
Accurately track time for each staff, and evenly distribute the available tasks for each staff.
Reason to choose Function Point
This software was designed with teams in mind, making it easy for multiple users to collaborate on projects from any location.
Pricing
Get an agency package for your company at only $40 per user, per month.
3. TimeLog

A Free Alternative to Harvest, TimeLog is an entirely free cloud-based time tracking software. It's good with monthly limits for active and inactive employees. The basic time tracking feature of TimeLog is completely free for use. However, if you need additional features such as project and budget management, then you will need to part with a little amount of money.
Timelog's main features include;
Schedules employee tasks.
Employee evaluation. This helps to know if the employees are active or not.
Time entry. Timelog enables an employer to enter data at the required time.
Project management. Timelog enables an employer to manage the business projects
Client management. Using the software timelog, you can easily manage your clients.
Reason to choose TimeLog
If you're managing a team of employees, it helps keep everyone accountable for their time and hours worked.
Pricing
The software offers one of the most affordable time tracking plans in the market. TimeLog is priced at $9 per month for 20 users and includes unlimited storage.
4. Paymo
Paymo is a time tracking software with project management, invoicing, and more features. This makes it easier for you to manage your projects and hold all your staff accountable for the distributed tasks. There is a free package selection that lets you track project timelines, compile invoices and assign tasks. Paymo main features include;
Manage various projects for your business, all at the same time.
Helps in tracking time used to perform each task.
Invoice client in case there are any delays on payments.
Acts as a calendar to quote important business agendas.
Unlimited Users. This means that it can be used by several employees
Reason to choose Paymo
There is no limit to how many people can be added or how many tasks or projects can be managed through this platform.
Pricing
Its pricing is $9 per user per month.
5. Nifty
Nifty is a web application that allows you to log in and track your time online. The interface is simple. Nifty main features include;
Allows file-sharing for all members of the team.
Team Collaboration since more than one employee can use it at the same time.
Email notifications for completed tasks, invoices and time taken to complete a task.
Resource Planning to reduce wastage of resources.
Reminder for uncompleted and allocated tasks.
Reason to choose Nifty
Nifty is a good alternative for many people looking to track time, though it costs more, the software offers top-notch features that some might find helpful.
Pricing
Nifty costs $5/month and $50/year. It also comes with a free trial period if you want to try it before you buy.
6. Hive
Hive is an employee time-tracking application designed to help you get more done in less time. Hive's main features include;
Easy tracking and reporting. Hive is an easy-to-use time tracker that can be seamlessly used to track time for tasks, meetings and calls.
It also has a calendar view to see what projects are coming up in your schedule.
You can also create customize fields for every type of activity.
Hive offers a variety of reports that allow you to analyze your data from different perspectives and make better decisions about managing your team's time more effectively.
It also allows users to send timesheets via email or Slack notifications.
Reason to choose Hive
The main reason to use Hive is that it has a clean and easy-to-understand user interface.
Pricing
Its pricing is $9 per month for 10 projects, $15 per month for 25 projects, $25 per month for 50 projects, and $49 per month for unlimited projects.
7. Runn Software
Runn offers both paid and free versions of its time tracking software. The free version is ideal for those just starting out or needing basic functionality. Its features include;
Simple installation. This means that it's not complicated to install this software.
Workflow management. Runn software ensures work is trickled down accordingly hence ensuring proper workflow.
Manage multiple projects. By using this software, an employer can manage several projects.
Export data. This means that one can export data from another source and fill it in in the software.
Integration with Google Calendar. This ensures you keep track of all important business activities.
Reason to choose Runn software
Runn is affordable. If you are looking for a more robust solution, it may not be within your price range. However, you can try out Runn Lite for free before going pro.
Pricing
There are no hidden fees involved with using Runn, which means you'll only pay once and will receive continued support without any additional payments down the road.
8. ProjectWorks
ProjectWorks offers a simple way to create professional project management software that's easy to use and navigate. Its top well-elaborated features are;
Task Management. The program allows you to add multiple resources for each task, which helps you track progress and assign responsibilities for each step of a larger project.
Resource Management. This aids in using the businesses resources accordingly.
Project Planning; This helps in easier starting of the project.
Document Management lets you upload files directly from your computer or cloud storage service, so you can easily share important documents with team members.
Task Scheduling. This aids in not overworking some employees.
Reason to choose Project works
Project work combines project management, time tracking, and billing. Its particular aims are project tracking, task scheduling, and resource management.
Pricing
Its pricing starts at $19 per month for up to 10 users. The company also offers free trial options so you can try it out before committing to a purchase.
Conclusion
Harvest is a reputable time tracking software that has been in the market for a long time. However, you are looking to more something more extensive and integrated, then we recommend our list of 8 best alternatives for Harvest.