Work management
21 Best Zoho Alternatives for Business Management
Zoho is one of the best-known project management and CRM software with a long list of features. However, it's not always the best solution for a business looking for end-to-end business management software.
According to our Technology Advice, users often switch from Zoho as their business grows. Their needs are no longer met by the free versions of the platform's various tools, and they begin looking for a Zoho alternative.
The good news is that there are a lot of Zoho alternatives on the market. We did the hard work for you and selected 21 of the best solutions. Check out their top features, pricing, and what's special about them – and find a solution fit for your business.
---
Every Zoho alternative listed here:
Is relatively easy to use with little setup time
Has unique features that stand out from other business management tools
Is by a trustworthy provider, with regular updates and high security
---
1.  Scoro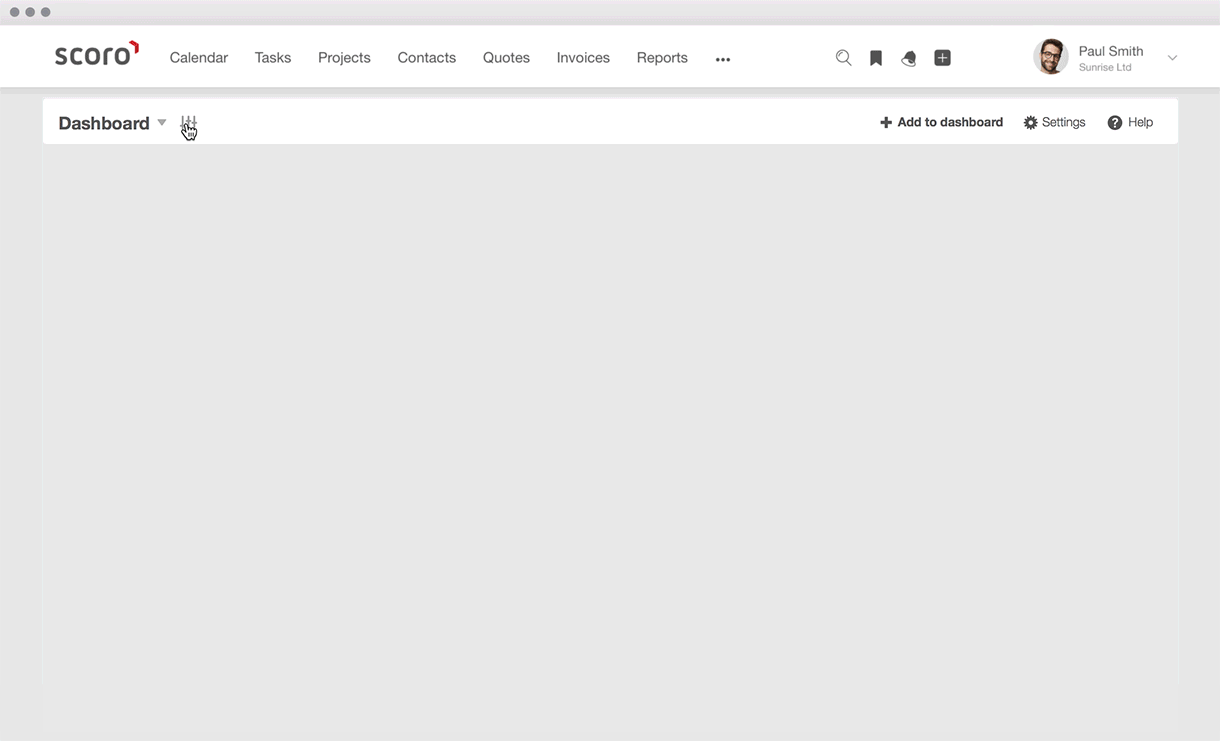 Scoro is a comprehensive solution that combines all the features you might need to manage your business: projects & tasks, contact management, quotes, team collaboration, billing, and reporting.
Top features:
Get a complete overview of any project on one page, including time spent and billed, planned tasks and meetings, invoices and expenses, comments and files.
Assign and delegate tasks within the team.
See everyone's schedule in a shared team calendar and know what they're working on.
Create a company-wide contact base, and manage them in a pipeline view for effective communication and billing.
Compile and send quotes and invoices – and automate overdue reminders.
Track your company's performance and important KPIs on a beautiful dashboard with real-time data.
What's special about this tool: Scoro helps to streamline your entire work progress, so you don't need to use a lot of different tools for every task. All your important information is stored in one central place.
Pricing: From $26 user/month
Try Scoro for free for 14 days
2. Proofhub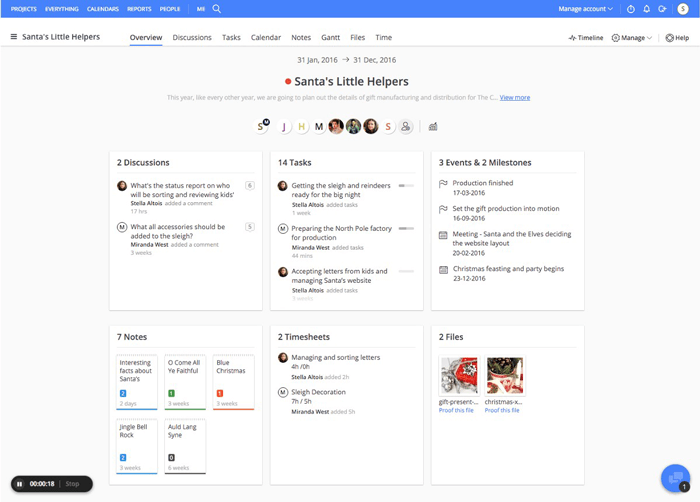 ProofHub offers a replacement for conventional emailing and a bunch of other tools, integrating multiple project management features under one roof.
Top features:
Assigned user roles
Online team discussions and chats
Task delegating and assignments
Reporting and tracking project history
Secure file storage
What's special about this tool: ProofHub has a simple and well-designed user interface that helps the team to collaborate more efficiently.
Pricing: From $20/month (up to 10 projects) to $150/month (unlimited projects)
3. Basecamp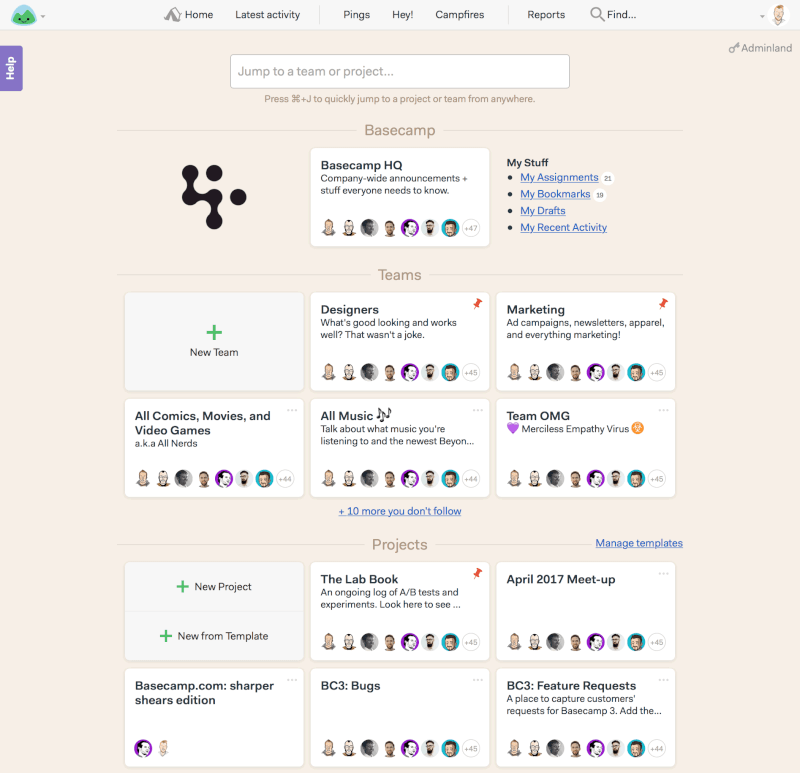 Basecamp is the preferred tool for thousands of project management teams, who enjoy its modern social media-like interface and carefree team collaboration features.
Top features:
Projects to manage multiple users' work
Message boards for discussing new projects or ideas
In-app collaboration with team
Reporting on project performance
Separate dashboard for showing to clients
Email and desktop notifications
What's special about this tool: Basecamp is free for teachers and students!
Price: $99/month for unlimited users
Read on: Basecamp Alternative for Project Management and Collaboration
4. Active Collab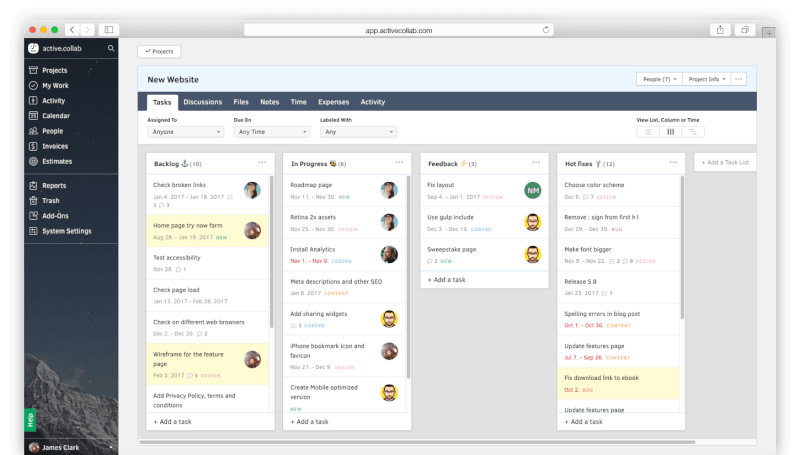 Active Collab helps your team stay organized while you outgrow email.
Top features:
Time tracking and invoicing
Gantt-like timeline for planning
Kanban cards
Creating tasks with multiple users and deadlines
A shared team calendar for collaboration
What's interesting about this tool: Active Collab is especially great for collaboration, with functions like collaborative text editing and @mentions for communication.
Pricing: From $25/month for cloud version, from $499 for self-hosted version
Check out this Active Collab alternative
5. Highrise
Highrise is the just-right, more thoughtful way to keep track of the people, conversations, and tasks that are the lifelines of your business
Top features:
Store important emails
Attach documents and files
Control who sees what with easy privacy settings
Keep track of important tasks
Assign tasks to team members
What's special about this tool: Highrise was designed to simplify your workflow, no more, no less – as simple as that!
Pricing: From $24/month for small teams, from $49/month for larger teams
Everything about your business, one click away
7. Clarizen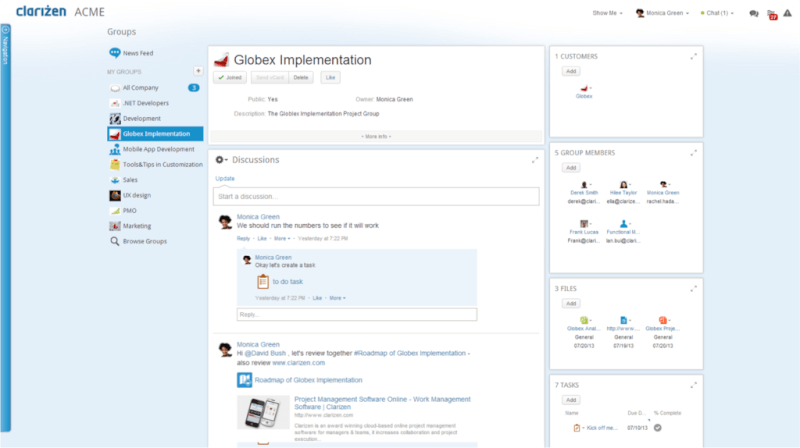 Clarizen's cloud-based project management software has a single goal: to help move your business forward.
Top features:
Unlimited number of projects
Automated and repeatable processes, alerts and workflows
Social collaboration
Budget tracking & expense management
What's special about this tool: Clarizen offers configurable workflows – customize Clarizen to fit how your enterprise does business, not the opposite.
Pricing: From $60 user/month
8. Copper Project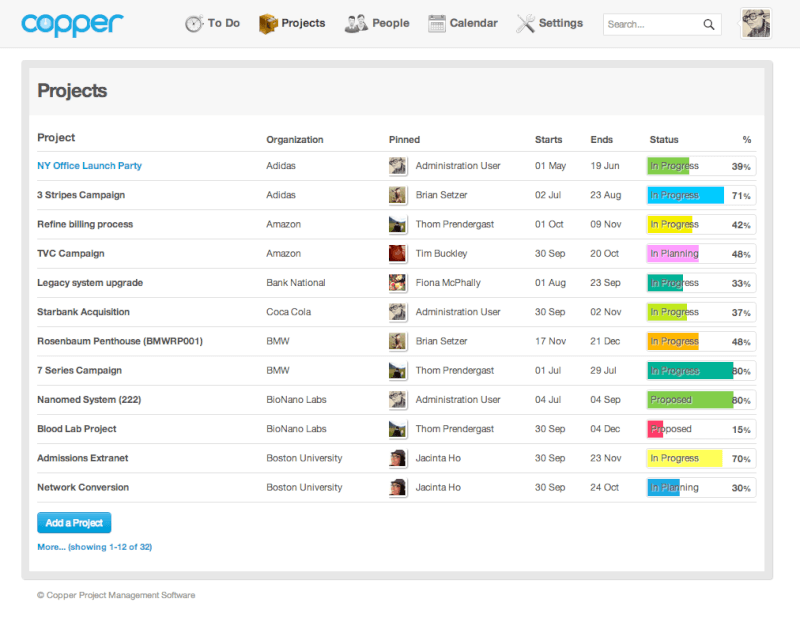 Copper Project simplifies work processes as an affordable and invaluable executive tool, from Large multi-national projects to small home-based ventures.
Top features:
Collaborative project and task views
Project templates
Task timers
File sharing
What's special about this tool: Copper offers simplicity in project resource management and communication.
Pricing: From $49/month
9. Insightly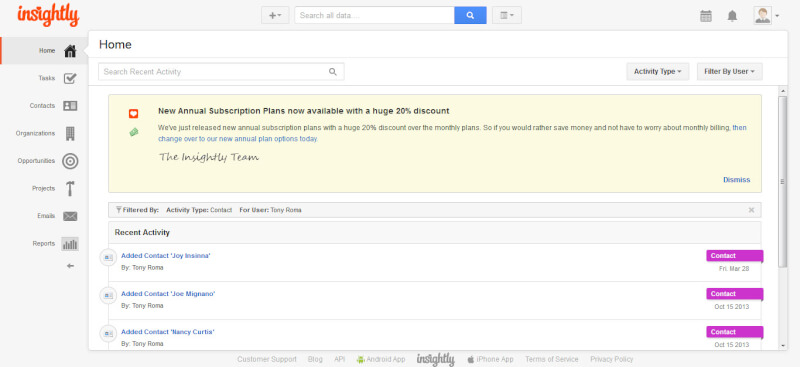 Insightly is a powerful CRM with a project and business management feature set.
Top features: 
Manage leads, contacts, organizations, partners, vendors and suppliers
Track project activity and performance against milestones
Look at your business any way you want with task dashboard, activity sets, reports and more
What's special about this tool: Insightly CRM is tailored for any level of experience – from first time CRM users to sales experts.
Pricing: From $15 month/user for teams
10. Celoxis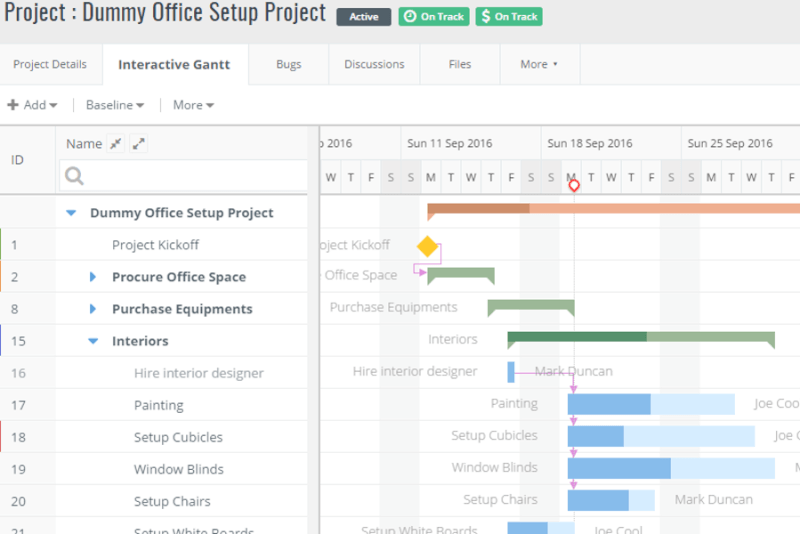 Celoxis offers a comprehensive project management software for enterprises.
Top features:
Advanced scheduling
Gantt charts
Project tracking
Financial management
Reporting analytics
What's special about this tool: Depending on your team's needs, Celoxis offers both SaaS and On-Premise options.
Pricing: From $25 user/month for cloud solution, $450/user for on-premise solution
11. Smartsheet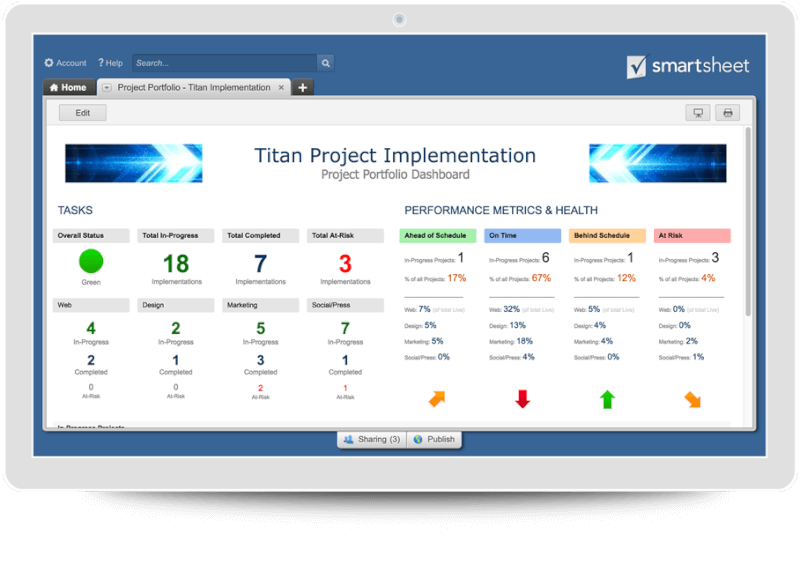 Smartsheet is excellent for managing and automating collaborative work.
Top features:
Project plans and schedule
Program roll-ups
Resource management
Budget tracking
Strategic planning
What's special about this tool: Smartsheet is trusted by over 50% of the Fortune 500.
Pricing: From $15 month/user for teams
Read more: 28 best Smartsheet alternatives for teams.
12. Easy Project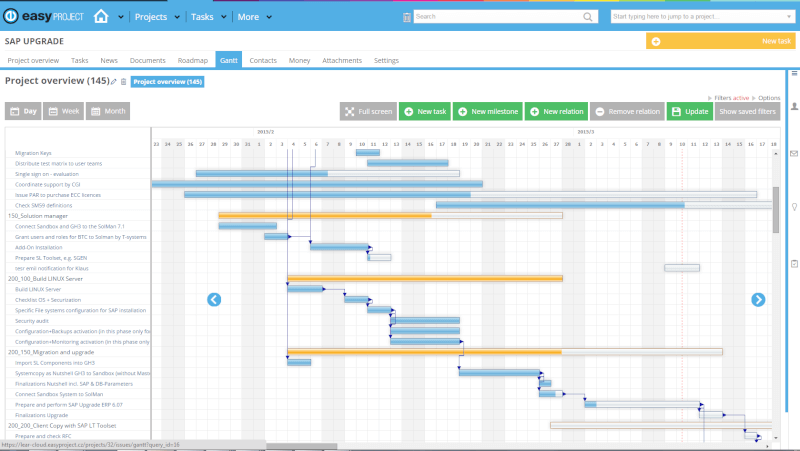 Easy Project is easy, visual and intuitive project management software.
Top features:
Gantt chart
Risk management
Portfolio management
Project templates
What's special about this tool: Easy Project is a fit for a number of different industries, from IT & software development to education or voluntary projects.
13. Advantage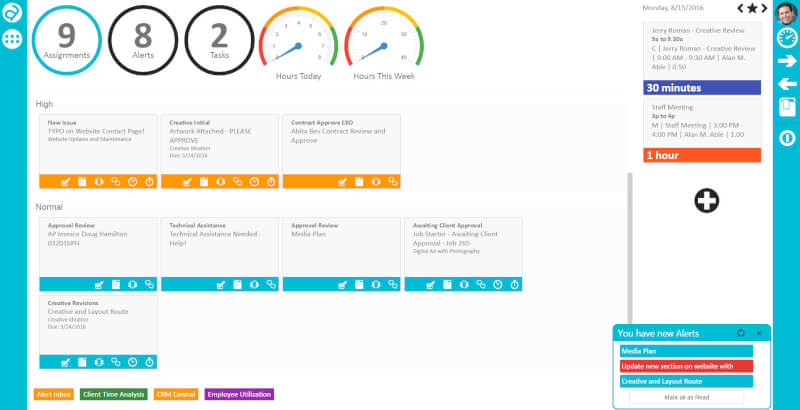 Advantage is a project management software designed for a great user experience – clean interface and simple functionality.
Top features:
Manage time, tasks, and expenses
Automate and expedite work
Manage media
Manage prospect and client activities
Get thorough reports and forecasts
What's special about this tool: Advantage is most suitable for agencies.
Pricing: Upon request
14. Freedcamp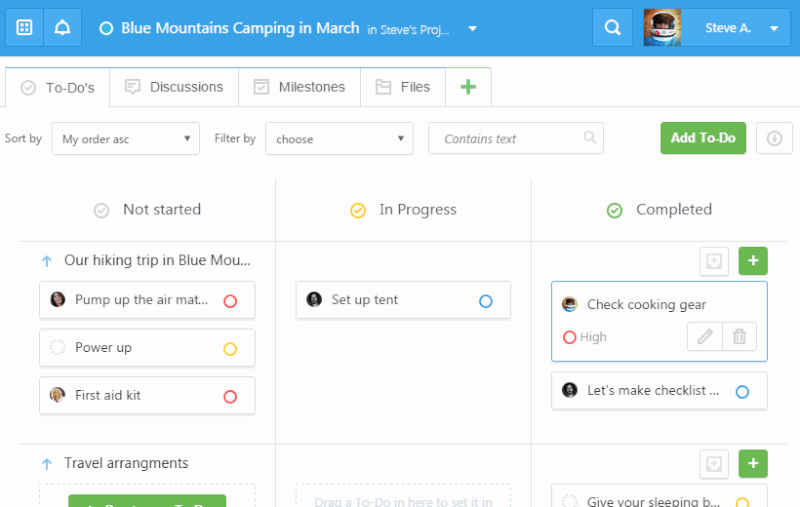 Freedcamp will help you, whether you have wedding plans, organizing a camping trip or leading a work project. Working from home or at the office.
Top features:
Task lists & status management
Shared team calendar
Project templates
Issue tracker
What's special about this tool: Like sticky notes? You're in luck! Freedcamp uses kanban board with sticky notes to manage tasks.
Pricing: Free plan, paid add-ons
15. Teamwork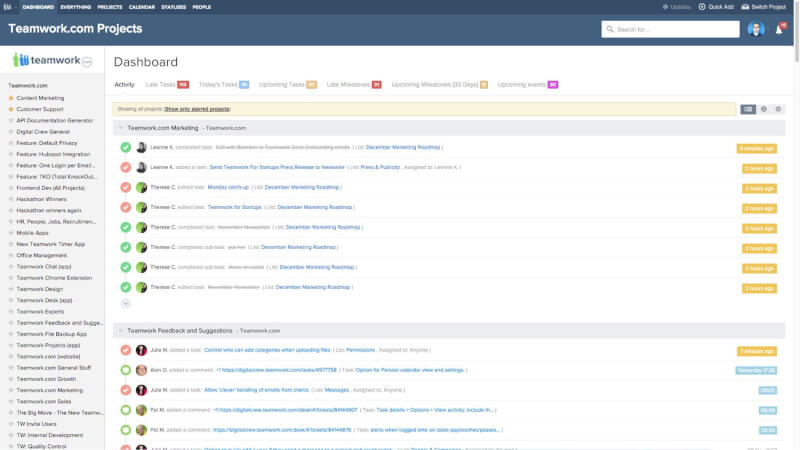 Teamwork Projects enhances team collaboration and helps creative teams to organize their work and tasks.
Top features:
Project planning on Gantt charts
Time tracking and reporting
Customizable features on each project
Task lists with sub-tasks
Milestone management
Comprehensive user permissions
Reporting
What's special about this tool: Teamwork Projects is easy to use and packed with features. The tool integrates seamlessly with Teamwork.com's other two products; Teamwork Desk and Teamwork Chat.
Pricing: From $49/month
Read more: List of Teamwork alternatives.
16. Teamleader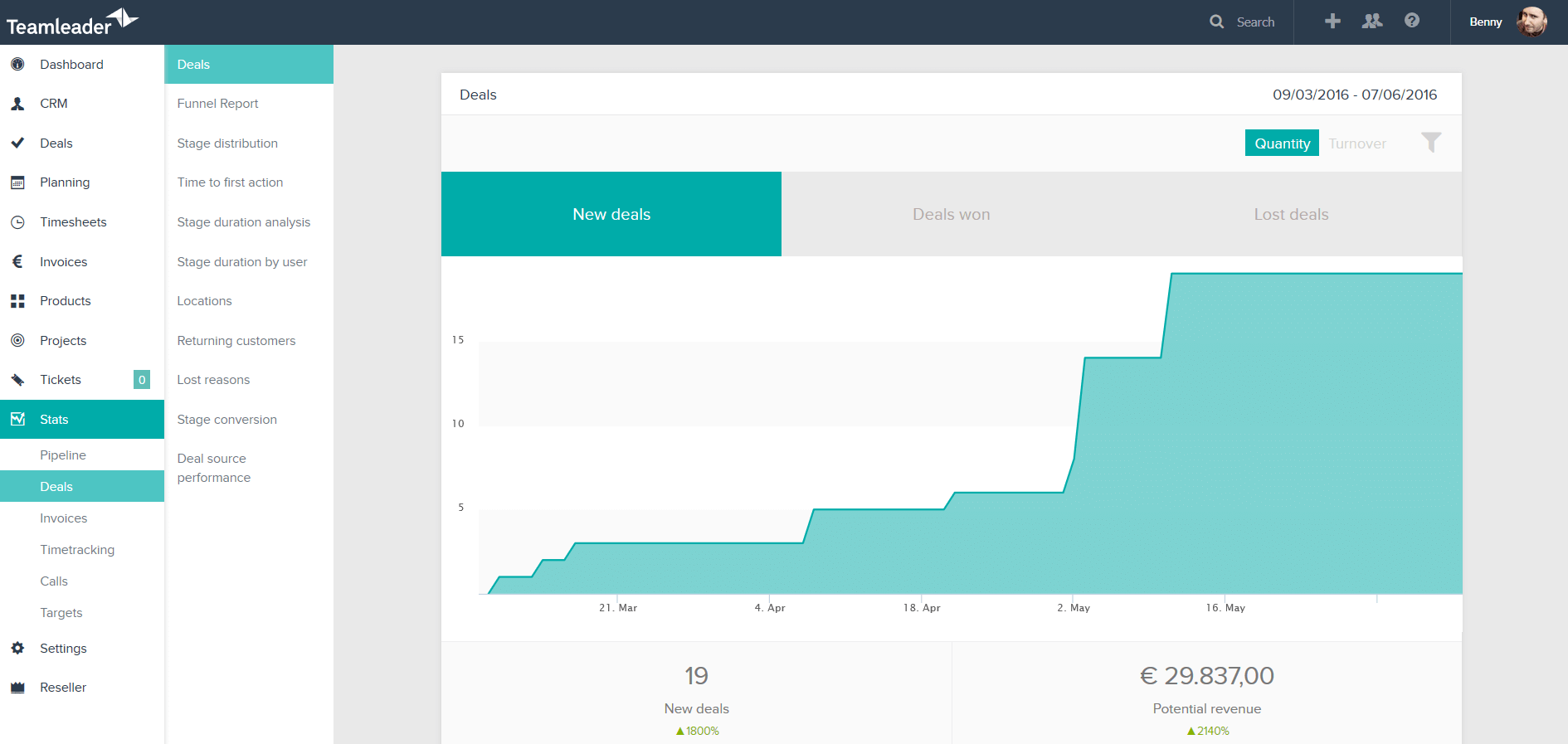 Teamleader helps your SME work smarter.
Top features:
Manage all contacts from one place, get a clear overview, and build better relationships.
Schedule and track meetings, tasks and events for you or other team members.
Send invoices automatically and effortlessly, and keep track of their status in an instant.
Rapidly handle customer questions and deliver an outstanding customer experience.
Manage projects at the click of a mouse, respect deadlines & budgets and collaborate as a team.
What's special about this tool: Make and record calls directly from the CRM using just your internet connection: easy and hands-free.
Pricing: 21$ month/user (invoiced yearly)
17. Avaza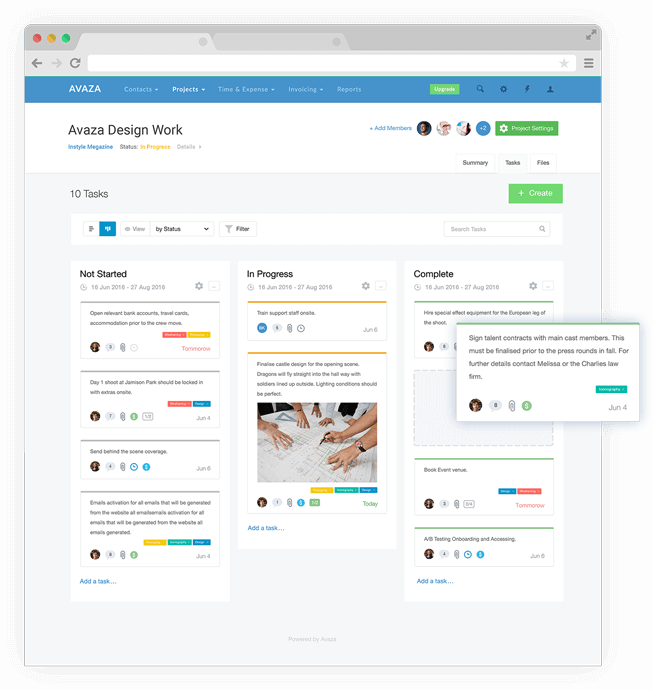 Avaza is a simple project management tool that lets you collaborate on projects with both your team and customers. In addition, you'll be able to track your time and bill your customers.
Top features:
Task management on a cardboard-style interface
Automatic task reminders
Flexible time tracking and timesheet approvals
Sending quotes & invoices in moments
What's special about this tool: Each project in Avaza has a user-friendly email address. Simply forward emails from your Avaza-registered email address to instantly convert these into tasks.
Pricing: Start free with up to 5 projects, $39.95 for unlimited projects
Check out this Avaza alternative
18. Clickup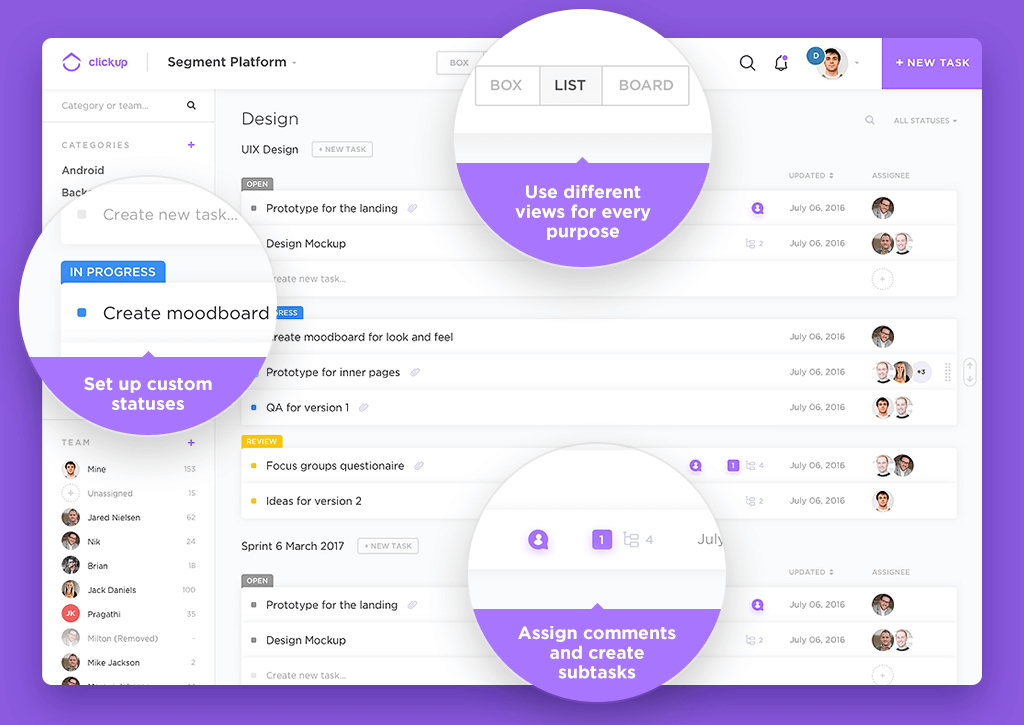 ClickUp is a project management platform that's focused on efficient task management. Built for teams of all sizes and industries, ClickUp's fully customizable features make it a must-have for agile teams that want to keep everything from design to development in one intuitive place.
Top features:
3 different views (Board, Box, List)
Assign comments
52 customizable features for each project (Statuses, Assignees, ClickUps)
Elegant hierarchy to keep projects simple as they grow
Tools like 'Smart Search' and 'Smart Estimates' make you more productive over time
What's special about this tool: ClickUp's beautiful design and unprecedented user experience in an otherwise dull space echoes what Slack did to communication.
Pricing: Free for up to 100 MB, Premium for $5 user/month
Read more: 37 Clickup Alternatives For Work Management.
19. MindGenius (previously Barvas)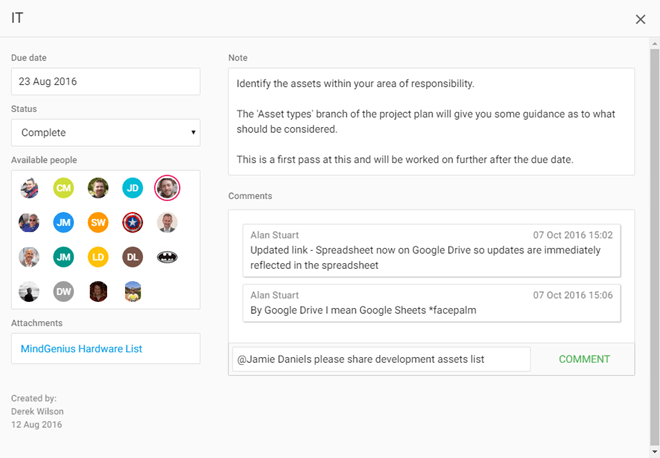 MindGenius is designed for businesses who want to increase personal, team, and organizational effectiveness. It helps you capture and visualize information easily, turning ideas into actionable project plans and tasks.
Dynamic views allow you to switch easily between, planning, Gantt chart, and tasks. Identify dependencies, milestones, constraints, and critical path.
Top features: 
Task management with task board
Mind mapping tools
Internal communication
Shared workspace
What's special about this tool:  MindGenius offers a mind mapping feature that includes the fundamental facts, assumptions, and expectations that your stakeholders need to know and agree on.
Pricing: Different subscription and perpetual models available
20. Microsoft Project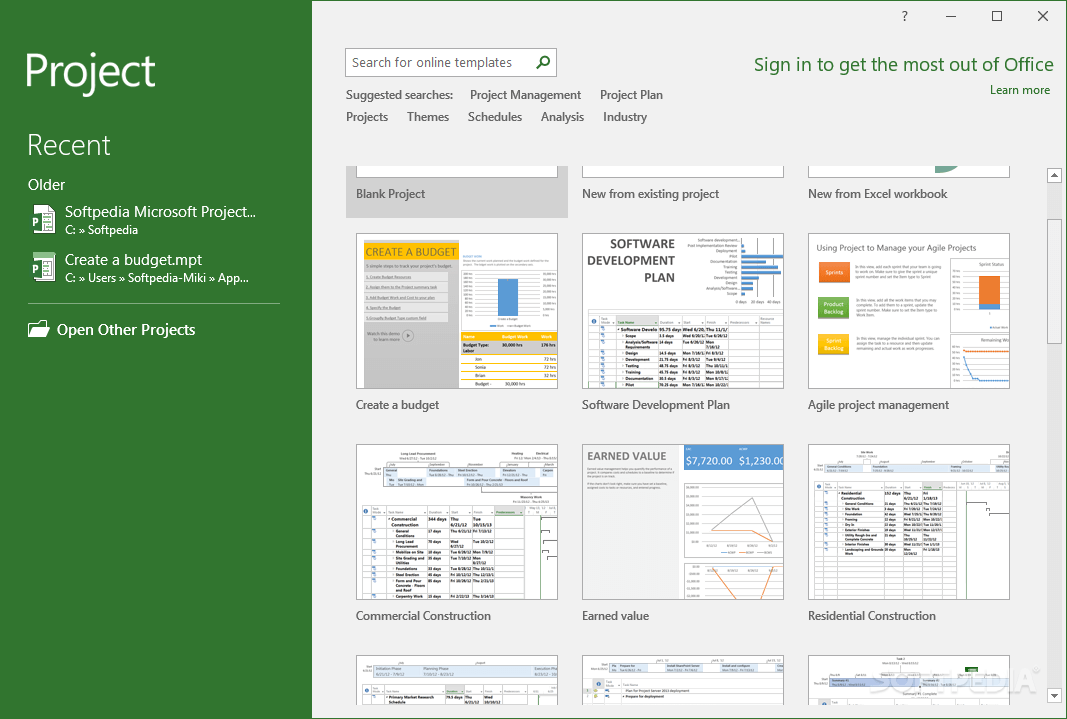 Microsoft Project helps to streamline project, resource, and portfolio management. This project tool is used by 20+ million users.
Top features:
Project scheduling & costing
Resource management
Reporting & business intelligence
Built-in project templates
Project timelines
What's special about this tool:
Pricing: From $30 month/user for cloud platform, from $1,159 for on-premise software (for one PC)
Check out this Microsoft Project alternative!
21. Bitrix24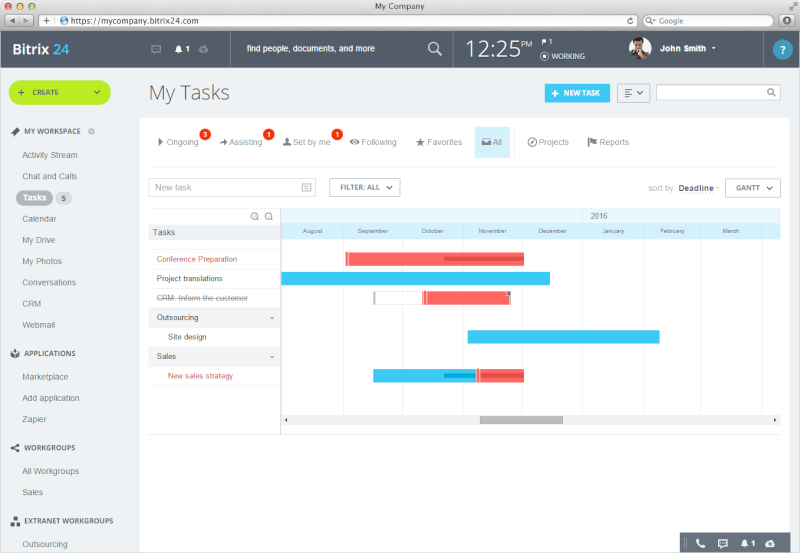 Bitrix24 offers a complete suite of social collaboration, communication and management tools for your team.
Top features:
Social intranet for internal communication
Gantt charts
Employee workload management
Customer relationship management
Telephone integration
What's special about this tool: Bitrix24 has a large set of features, from traditional project management to integrated telephone and HR system, or internal email.
Pricing: Free plan, paid plans with more storage from $39/month
Check out this Bitrix24 Alternative!
Everything about your business, one click away