Work management
16 Best Teamwork Alternatives For Work Management (Competitors List)
Teamwork is an agency-focused work management tool that allows users to see everything in one place, so businesses can manage teams, projects, clients and freelancers. However, there are a number of alternatives on the market that may be more suitable, dependent on requirements.
1. Scoro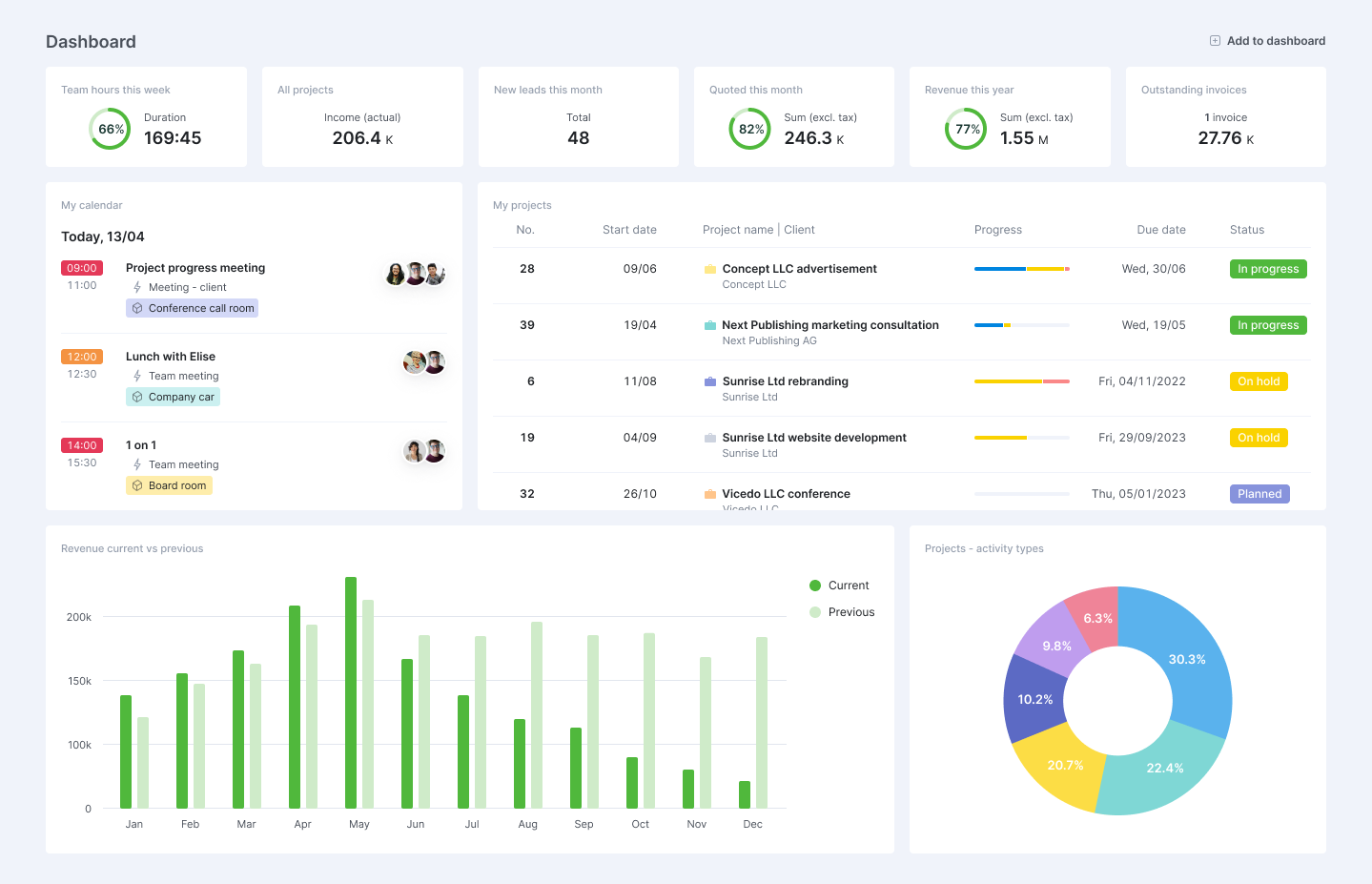 Scoro is responsible for efficiently managing tasks and projects, reporting, billing, quotes, team collaboration and contact management. It is a work management tool for agencies, consultancies and professional services, that combines several features to manage a business and provide a comprehensive solution.
This work management tool helps companies streamline the progress of the entire work; thus, you are not required to utilize various tools for every project and task. All the essential information is put in one core place where you can have an entire overview of different aspects of your company.
Scoro planner enables users to plan and schedule work, giving them an overview of available slots, potential over-bookings, individual workload and reasonable deadlines. Users schedule meetings in a calendar and link projects and clients to give a complete overview to the participants. The Scoro CRM helps users access clients' full overviews on one page comprising communication history, invoices, orders, quotes, projects and contact details. It is possible to filter, search, and sort contacts depending on various categories, activities, configurable tags and locations.
The users can track billable and the hours spent on each project or customer in real-time and transfer them into invoices. In addition, it features an option for custom rates bearing multiple currencies. Team members can issue and send credit invoices, prepayments and sales in a PDF format. It also automatically sends out reminders for late invoices in case of unpaid balances.
Top features of Scoro
Task management comprises the capability to collaborate, track, plan, and report on projects and tasks.
Timesheet tracking – tracking non-billable and billable hours for every task and project
Team collaboration – enables teams to work together and provide updates on their distinct tasks.
Expense and budget management enables setting hourly rates and tracking and linking expenses with a particular department.
Mobile access – users can access Scoro on a tablet or Smartphone.
Try Scoro's 14-day free trial.
2. Function Point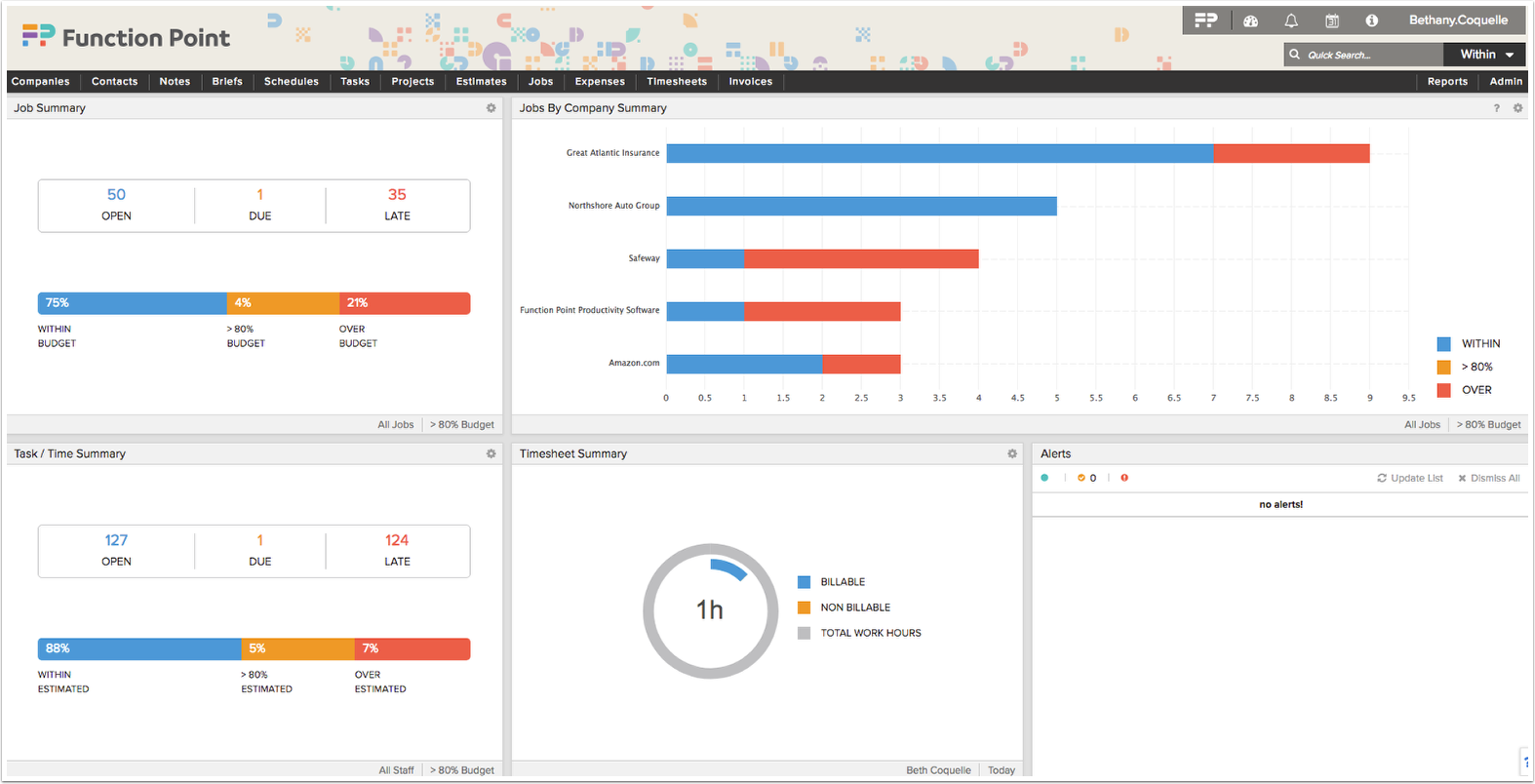 Function point was primarily established to assist marketing teams and creative and professional service agencies in establishing smooth operations by eliminating chaos and disorganization. The web-based software enables agencies to streamline various processes, centralize information, simplify collaboration and convey real-time company data. Additionally, the management solution helps various agencies to deliver pocket-friendly and timely clients' work.
Other functions of this management software include collaboration with internal teams, integration with QuickBooks, forecasting resources, managing client projects and tracking time in a single dashboard. It has financial tools that enable users to manage their finances efficiently across their ventures and avoid wasting time. It has an inbuilt reporting feature that enables the team members to make informed decisions.
Advantages of Function point
Contact integration and CRM solution
Personalized onboarding program
Project tracking and management
Real-time financial reports
Transparent view of agency performance
3. Screendragon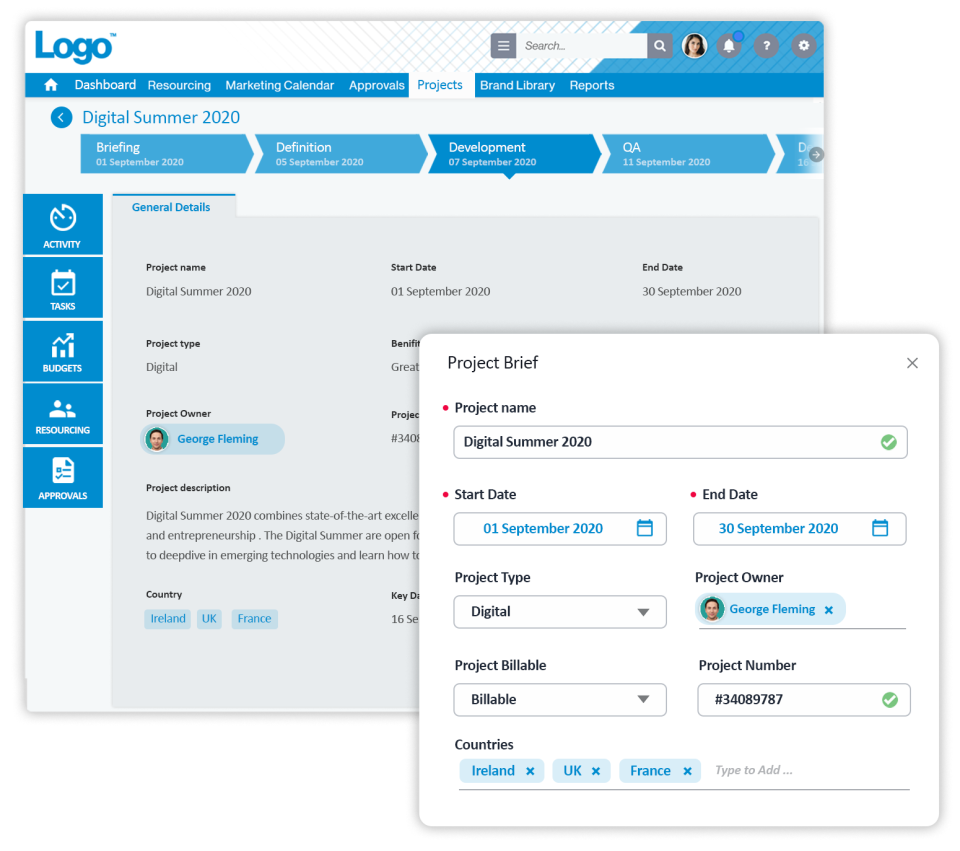 It is a comprehensive work management platform for agency, professional and marketing service teams. It helps to manage processes, people, projects and profits from a centralized point and streamline a company's operations, reduce costs and enhance the market speed. It was primarily established to meet various needs of high-performance agencies considering its high configurable solution. Some of its functions include the ability to speed up approvals, forecast the capacity of resources, and develop scopes and estimates fast.
Screendragon pricing begins at $20 per user monthly. It offers a free dragon, and it does not have a free version. Additionally, it has a powerful reporting feature that creates single projects, massive integrated calendars and budget reports for all projects.
Several features of Screendragon
Customizable branding
Approval process control
Campaign and client management
Billing and invoicing
Advertising management
4. BigTime
BigTime Software is a work management solution that facilitates planning and budgeting, expense and time tracking and invoices. These processes are supported by analytics and reporting that strive to eliminate the guesswork out of capacity planning, utilization and project profitability. BigTime eliminates the need for additional applications and manual tools as it assists leadership teams in focusing on real-time figures by providing standard reports, dashboards and analytics.
Mostly this software is useful to accountants, engineers, architects, IT firms and scientific and management consultants' to track, budget and bill time which is their most essential asset. BigTime offers several features, including project management that enables managers to define tasks and activities, monitor project status and assign tasks. A built-in invoicing and billing feature enables firms to oversee the accounting processes with effective billing rates, automated expense calculations and receipt management.
Pros of BigTime
Good support
Reporting
Time tracking
Manages deadlines
Sends invoices
5. MeisterTask
MeisterTask software is ideal for task and project management. It is a comprehensive management tool that is secure and provides insights into your agency's productivity as it enables you to track the progress of your tasks and projects. It is a perfect choice for efficient and agile teams and personal organization. It is available on mobile devices such as Smartphones, and users can also access it through an internet browser. The software features a flexible Kanban board and other versatile functions that enable an efficient workflow. Its functions range from managing projects and distinct tasks to creating checklists and to-do lists. It provides notifications that assist users in keeping track of their tasks and deadlines while updating them on the progress of other team members.
Features of MeisterTask
Collaboration tools
Document generation and management
Backlog management
Color codes and icons
Dependency tracking
6. Easy Projects
It is a collaborative platform designed to enable average enterprise-level agencies to achieve significant operational enhancements. The easy project features project management solutions such as Kanban board, Gantt Charts, calendars and resources loading simulations that are easy to use and allows users to manage their projects and tasks efficiently.
Users can customize their dashboards to match their interests and tasks. The software platforms also provide a detailed reporting ability that enables managers to analyze and view project profitability and performance, identify bottlenecks and establish easy communication between teams and various departments.
Features of Easy projects
Collaborative tool
Financial overview to plan and track project costs and budgets
Time management and tracking of projects' progress
Reporting
File sharing
7. Paymo
It is a comprehensive tool that brings together time billing, work reporting and project management. Paymo enables users to automate their time tracking entirely, and it is suitable for small and average client-based businesses. This system enables remote work and provides resource scheduling, project planning, team collaboration, time tracking, file proofing and project accounting in a single suite.
Its project management features enable users to develop projects, assign tasks, and save them as templates. It assists users in tracking the progress of projects and utilizes task views such as List, calendar, table, board and Gantt chart to manage their work. Paymo initial pricing is $9.56 per month, and it has a free trial and a free version.
Top features
Bills clients for complete tasks
Dashboard to view the team's performance
Integrates project accounting
Tracks time spent on projects and tasks
Detailed work reports
8. Ortto
It is an online marketing software that helps users develop marketing campaigns and control lead conversions. Its features comprise contact management and capturing leads from several apps, webs or blogs and organizing them into various folders and lists. It provides multi-channel marketing abilities, including in-app, email, traditional mail and SMS communications.
Ortto ensures real-time viewing of user activities and monitors campaign return on investment (ROI) using reporting features. The drag and drop layout enables users to convey tailored messages and automate promotion workflows. Additionally, Ortto collaborates with other apps, including Slack, Zapier, InsideView, Twilio and the SalesForce CRM segment. Ortto has a per-month subscription in two pricing plans – "Base" and "Business".
Top features
Audience segmentation
Marketing automation
Lead generation and management
Customer data platform
Collaborative tools
9. Workbook
It is a management system that provides the best solutions to improve your agency's growth. Workbook streamlines people, projects and finances end-to-end in a one-page cloud-based platform. The system enables real-time control, visibility and insights to achieve a virtual transformation, develop a foundation for business growth, and manage the distributed workforce. The visual dashboards with a filtering scope and over 300 built-in reports enable the users to receive important information. Time management and collaborative features establish strong relations between clients and brand managers because it provides transparency through clients' portals.
Features of Workbook
Complete visibility into project progress and performance
Task and time management
Client collaboration
Resource transparency
Cost and profitability management
10. MeisterPlan
It is a portfolio management system that helps organizations execute their projects and tasks confidently. The people-centric software was primarily designed to assist departments and organizations that face challenges when managing dependencies and resources across various initiatives and teams. Meisterplan dashboard enables the user to fully visualize resources, projects and financial layout in a single interactive viewpoint.
A reporting API enables the managers to communicate to the teams about the portfolio status effectively. It has all features useful in creating, managing and adapting the portfolio and the resource plan. Additionally, it enables its users to make informed decisions on allocations, priorities, capacities and timing to establish an unparalleled alignment and visibility.
Top features
Portfolio management
Project planning
Capacity management
Collaboration tools
Milestone tracking
11. Workamajig
It is a project management system for in house teams and creative agencies. It has features for digital proofing, resource management, collaboration, billing and finance, CRM, and many others on a single platform. The software streamlines projects and tasks in progress to provide visibility into expenses and revenues. The traffic and resource management tools enable users to figure out resource allocation while ensuring that all projects have enough staff. The real-time calendars provide insights into possible bottlenecks, time spent on various projects and if customer feedback is required. Workamajig's straightforward billing workflow enables users to come up with invoices with details such as time, specific rates, materials and markups.
Top features
CRM system
Collaborative tools
Time tracking
Task management
Workflow management
12. CMAP
CMAP is a work management platform that assists professional services companies with resource billing, planning and job costing. This software provides a unified system that enables data generation and functionality by eliminating spreadsheets and irrelevant software packages. It enables the creation of accurate quotes, predicts project profitability and ensures real-time project performance visibility to establish a proactive intervention.
CMAP facilitates more leads, manages pipeline and key accounts, quotes new projects accurately and enables rapid generation of proposals. It offers customized dashboards and a fully equipped suite of reports ranging from project performance to financial forecasting. The software's collaborative nature enables the transformation of data into insights that helps users make informed decisions.
Top features
Document management
Collaborative tools
Billing and invoicing
Resource management
Portfolio management
13. Float
It is a resource management tool that enables task scheduling and real-time project planning. Float has several features, such as team availability management and enabling users to plan project resources depending on employee capacity. Time tracking helps users log time against scheduled tasks, adjust estimates and give out actual hours worked.
Float collaborates with Google calendar, outlook, teamwork, and slack to maximize its functionality and generate seamless operations. The software enables users to predict the budgets to facilitate future planning that depends on the existing resources and capacity. Additionally, the reporting tools help managers to track the team's operation and utilize project data to generate business decisions.
Top features
Resource planning
Forecasting
Track budgets and billable hours
Reporting
Collaborative tools
14. Synergist
It is project management software that provides various tools to assist users in managing expenses and time, scheduling, communication, reporting and job costing. Synergist features a drag-and-drop interface that lets users handle scheduling and some other features aid in planning for projects and jobs.
CRM tools enable users to monitor client interactions and manage connections and job alerts. It has Integrations such as Flowzone, which facilitates document management features and deals with email clients. Synergists reporting tools comprise a drag-and-drop layout, a range of dashboards and scheduling of reports. Pricing is per user per month, and support is offered via email and phone.
Top features of Synergist
Task Management
Collaboration Tools
Projections
Task Progress Tracking
Time and expense tracking
15. Kimble
Kimble's PSA software enables service agencies to make quick better decisions, thus, enhancing customer satisfaction and optimizing profitability, business scalability and resource utilization. It is innovative PSA software that aims to boost team efficiency and collaboration around major services processes.
Kimble integrates perfectly with CRM, enabling predictability, which drives businesses to deliver value to their clients consistently. The CRM tool allows seamless forecasting of existing and pipeline projects. Apart from portfolio management and project collaboration, Kimble provides detailed insights into the progress of various projects, resources and project financials. The users can use the templates to develop user-profiles and break down work structures.
Top features of Kimble
Collaboration tools
Budget management
Capacity management
Customizable templates
Milestone tracking
16. TimeHero
TimeHero is smart project management software that primarily schedules tasks and provides a risk identification tool. The platform has automated updates of daily task lists, approval workflows, task assignments, live Gantt charts, real-time forecasting and integrations via Zapier.
Project templates enable streamlining project scheduling, and connecting events and tasks generates dynamic workflows. TimeHero updates timelines automatically after tasks. It has color-coded task risk features that enable users to identify missed deadlines. The software enables visibility of team member workloads, and the drag-and-drop board facilitates swift task reassignment. It offers communication functionality that allows users to integrate and share files.
Features of TimeHero
Task management
Collaboration tools
Task progress tracking
Time and expense tracking
Projections and notifications