Work management
2023 Guide to Implementing PSA Software
Over two-fifths of knowledge workers (43%) believe they have to switch between too many apps just to get basic work done.
Regardless of sector, it would be an understatement to say that software plays a key role in productivity, collaboration, and communication. We rely on it every day to make our lives easier. But it can also make our lives harder if we're not mindful of how we use it.
When you solve ten different problems with ten different tools, you overload information, and it soon becomes difficult to keep tabs on everything you need to get done. 
This is why Professional Services Automation (PSA) software can be invaluable to any organization looking to take advantage of the variety and depth of features contained within one integrated tool. 
However, it's not always easy to work out which PSA tool is best suited to your team's needs, with each offering its own set of features and benefits. First, you need to assess what PSA means for your business, how it will solve your team's specific pain points, and which tools will best support your business operations. 
In this guide, we will cover:
What is PSA?

What is PSA software?

Key features to look out for

The benefits of using PSA software

A guide to evaluating PSA tools
What is PSA?
PSA (Professional Services Automation) is a term used to describe the process of automating operational tasks, such as sending reminders on outstanding invoices, to allow teams to focus on value-added work that drives the business forward. 
For instance, service businesses, such as accounting and architectural firms, might look to manage their core business processes by automating operational activities. This can include a wide range of activities from timesheets, task management, and resource planning to CRM, quoting and billing. 
The key principles of PSA include standardization, optimization, automation and customization of business operations.
What is PSA software?
By automating manual, mundane tasks, the role of a PSA tool is to do the heavy lifting, freeing up teams to focus on the work that brings the most value.
As well as including a set of built-in features, a good PSA tool will allow teams to seamlessly integrate with existing CRMs, bookkeeping software, and other systems and keep all systems synchronized in real-time. This means you always have access to the data you need within one dashboard, driving productivity and efficiency across the board.
PSA today is mostly delivered via subscription-based cloud SaaS solutions. According to the Professional Services Maturity Benchmark, as the global economy has "shifted to a new "as a service" mindset, service-oriented firms are increasingly bundling hardware, software, intellectual property and consulting into "subscription-based" or "managed services" bundles", which have "built-in support for multi-element contracts and subscription billing from the get-go".
Key features of a PSA tool
The features of a PSA tool can vary from vendor to vendor, but there are some key features that you'll want to look out for when comparing tools. 
Forecasting and visibility
While PSA platforms allow you to manage projects, most still do not offer a comprehensive overview nor the ability to predict the future workload. However, managing revenue and expenditure is arguably the biggest driver of success when running a business. As well as helping you avoid any unnecessary costs, revenue management can also prevent unbilled work from eating into your bottom line. This is why forecasting and budgeting functionality is an essential part of a good PSA.
Instead of spending days fighting with Excel, your PSA tool should be able to use the data you've already collected and generate valuable and accurate forecasts to help you plan ahead.
Project management
An essential part of collaboration is being able to organize and plan your work so everyone knows what needs doing, what the timeline looks like, and who is doing what. This is why it's important to choose a PSA tool that makes it easy to manage this work and reduces data entry friction, whether individual tasks, events, or entire projects. The time invested in data entry will save time in avoiding mistakes and miscommunication and will enable you to analyze your results without anecdotal evidence.
How each tool presents this functionality can vary. In fact, the most significant difference between tools is the ability to gain a complete overview of the allocation of resources, budgets and deadlines across projects. 
Time-tracking and timesheets
Tracking your time using software is the simplest and most accurate way to keep an eye on how long you're spending on different tasks and helps you to identify where time can be saved in the future. Whether you're dealing with internal teams or external clients or suppliers, timesheets are critical to keeping track of your budget and identifying where you're spending the most.  
Most PSA tools will allow you to manually log your time, while others can track your time automatically. This, combined with sophisticated reporting capabilities, allows you to get a clear view of where your and your team's time is being spent. 
Quoting and invoicing
Streamlining the quoting and invoicing process is critical to making sure you can
a) raise a competitive quote quickly and
b) turn it into an invoice in a few clicks, as well as get paid for the work you do in a timely manner.
This is often tied to the timesheets you have logged (see feature above). Therefore, invoicing software should have standard functions such as automated reminders, recurring invoices, and attractive templates.
Resource planning
Similar to forecasting, most PSA tools will allow you to use the data you've already gathered to help inform decisions on future resources. Being able to plan, allocate, and track all of your resources in the same tool as your project management and time-tracking activities makes everything much more straightforward, saving you time in the process. 
CRM
Customer relationship management is a crucial function for many professional services businesses – after all, customers have feelings and preferences, and businesses need to be able to cater to their needs in a respectful and timely manner to retain their loyalty. This is why it's crucial to choose a PSA tool that has CRM built in. An integrated CRM function will prevent your team from having to toggle between different applications, meaning you can manage customer relationships more efficiently. 
Dashboards and reporting
One of the great things about managing all of these different processes in one tool is that you can carry out all of your reporting from one place and cross-reference whatever you need when you need it most. Most PSA tools will come with template reports that you can customize to fit your needs. Whether you need to generate the project, sales, financial, or other reports, you'll have plenty of options to run the data against the metrics that matter the most to you and your business. 
Integrations
Although PSA tools are compelling on their own, as the specific needs of companies are very different, it makes sense to integrate industry or role-specific tools with central platforms instead of trying to accommodate all possible features to one platform. This is where seamless integrations can be beneficial, allowing you to automate interactions and transactions between your PSA and other services you use in a few clicks.
The benefits of PSA
Better visibility
One of the main issues reported by companies is lacking visibility and access to data stored across different tools. For example, the CEO of one of our customers spent about 15% of their time each week requesting reports from the Accounts team and wrangling with spreadsheets to gain an accurate overview of the company's financial health.
Instead, you should be able to see, at a glance, who is doing what, where things are in the process for any given task or project, and what's coming up on the horizon. PSA tools make it easy to get a broad picture of how things are going so that you can drill into each section or functionality depending on what you want to do next.
Less admin
Not all of us enjoy the admin side of work, and although there will always be data to enter or notes to add, this is where PSA tools come into their own. By having everything in one place, you don't have to worry about moving data between tools or updating multiple services every time you make a change to your data or processes. Automating these manual tasks reduces admin, saves on resources and costs, and allows your teams to focus on the work they do best – building client relations and driving value.
Simplifies collaboration
Collaboration in the workplace has always been important, but the surge in remote working has brought collaborative working to the fore. Being able to see what everyone else is doing, comment, and make updates all in one place makes collaboration so much easier. Having this centralized platform is crucial for knowledge management. For instance, if someone suddenly leaves the company or needs to take the day off, it's easy for another team member to pick up where they left off.
Easily scalable
Every company's journey is different, which is why scalability is vital when choosing a tool, especially one that will be integral to your business. It's important that business systems operate as planned and in a repeatable fashion, reducing dependencies on specific team members. Once a PSA solution is used correctly, you can easily delegate projects or scale without losing the level of quality.
PSA tools are designed to scale with your business as you grow and can perform many activities, from helping you onboard a new hire or customer to automating a new task flow. 
Although PSA software pricing will likely vary, you can incorporate as many users or projects as you need, which means you can scale easily. The last thing you want is to grow your business and suddenly realize that the tools you use aren't capable of growing with you.
Audit trail
Not quite as exciting as scaling your company, but just as important – making sure your data has an audit trail is a crucial benefit of using a PSA tool. Being able to track exactly who did what and when makes it much easier to investigate any issues or discrepancies. If you require an audit for certification or qualification, an audit trail is the best way to prove how you carry out your business.
Save time and money
The fact that a PSA platform can replace multiple tools gives you a number of efficiencies you'll benefit from immediately.
For a start, it will house everything you need in one central place. Or, if you are continuing to use different tools alongside your PSA platform, seamless integrations will take care of access, saving time spent on requests and reporting across the organization (not to mention the months of data engineering needed should you decide to create your own bespoke architecture to incorporate and/or connect to all of these disparate systems). 
PSA software today is designed to allow teams to set up their own no-code applications to create unique workflows that solve their individual needs – with each new application available at the touch of a button. New hires will no longer need to go through the agonizing – and time-consuming – process of learning each and every system. They simply learn the tools they are using on a daily basis, and the data is available to the rest of the team automatically.
Evaluating a PSA tool
Now that we've explored the features and benefits of a PSA platform, the next challenge is choosing the right one for you and your organization. There are so many PSA tools available that it can be overwhelming trying to decide which one would fit your needs, as well as your budget. To make this simpler, we've created a step-by-step guide to help you make the right decision.
Step one: Map out your processes and issues
Start by mapping out your company processes, as well as listing all your teams' issues and concerns. Identify who is missing what information and from whom – as well as what might be causing delays or miscommunications. Together, these answers will start highlighting where and how your current processes are falling short.
Carry out a root cause analysis for each issue and map solutions to your processes. By doing this, you will discover what information you will need to have available in which project phase, which routines need to be set up for better collaboration, and which reports are needed to gain an overview of activity and prevent bottlenecks.
Step two: Define your requirements
Before you start trawling through the different tools, it's important to map out your requirements – this will give you a clear idea of the kind of features you should be looking for in a PSA tool. Start by considering all the factors below, which will help you create a wishlist that you can cross-reference with your shortlist in the next step (below).
Company requirements
For instance, service companies in the growth phase will need to integrate tools used in different teams. They'll need to introduce tools to replace the human element (e.g. spreadsheet-based solutions). They'll need to bring all information together in one central place in the least difficult way possible to get the team onboard and motivated enough to use a new platform. Part of this process will be explaining exactly how and why new software will benefit them directly but also the wider team and the customer. 
Features
It's easy to default to wanting as many features as possible, but it's far more important to make sure your PSA tool has the features that will specifically benefit your company the most. An excellent way to identify which features you and your team will need is to look at the tools you already use in case they can be replaced and to ask colleagues what gaps they think you have in your existing system.
Team size
Another important factor you'll need to consider is how many people will need access to the PSA tool. Keep in mind that as companies grow linearly, the lines of communication grow exponentially. By introducing sub-teams, each team can benefit from their own customized tools and settings. 
It might be that you're looking for a PSA tool for management to carry out extensive forecasting and reporting, while other team members might prefer to continue using more basic work management software. In this case, it's important to choose a PSA tool that can provide the level of sophistication needed for team leads while also being able to pull in relevant data from other software automatically.
Most pricing plans vary depending on the number of active users in your team, so knowing this will be critical to getting a realistic idea of how much it'll cost and what your overall budget is. Future team size is also worth considering, as it may be that your company is planning to scale quickly, in which case the costs could mount up quickly.
Budget
A good PSA platform acts in the same way as a good business consultant: they guide your company toward more professional practices and business profitability.

When setting your budget, it's essential to consider PSA as an investment rather than a cost.
Step three: Make a shortlist

Rather than comparing every PSA tool available to you, the best approach is to make a shortlist of the options that look like the best fit for you and your business.
Using software review sites like G2 or Capterra, you can take much of the legwork out of researching and comparing tools. These sites not only capture reviews from real-life users but also give you an overview of the features each tool does or doesn't offer. Using these sites, you can narrow your search to a shortlist of possibilities, giving you a realistic scope for deeper diving into how these tools compare with your requirements.
There are lots of PSA tools available, so try not to spend too much time on each – you can drill down into the finer details in the next step.
Note: When poring over software reviews, it's important not only to look at the score but also the number of reviews and comments. Also, look for comments that describe solving similar problems to the ones you and your team face.
Step four: Compare the shortlist
When you have compiled your shortlist, it's time to look at each option in more detail to see which will be the best fit for you and your team. The best way to do this is to go through each one, comparing what you like about the following:
Key features

User scores from each review site

Pricing
Check out our worksheet template below for inspiration on how to format your shortlist. Once you have all of this information collated, you can compare it with your requirements and make an informed decision on which tool works best for you.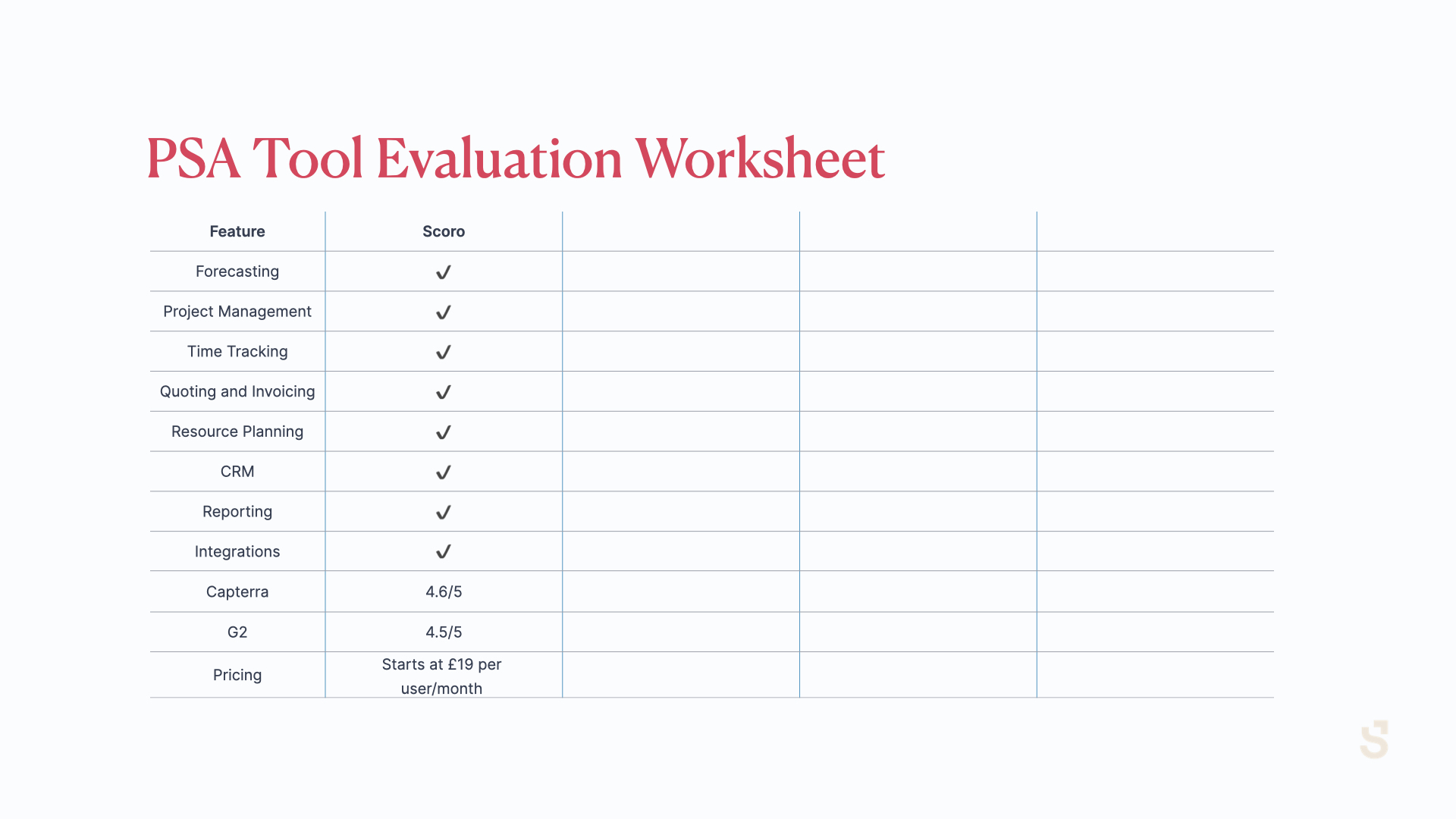 PSA tools are a great way to improve collaboration, boost team productivity, and save time and money. By following the steps outlined above, you should be in an excellent position to find the tool that fits your company and needs the best.
Still not sure where to start? Most PSA tools offer a free trial to try them out before you commit. Start your 14-day Scoro free trial here – no credit card required.

---
How Scoro helped Stratford Group to grow
"Even during the pandemic, we were able to grow. If we didn't have the Scoro system in place, I don't think we could have done it."– Colleen Kelley, President of Management Consulting, Stratford Group
Leading management consultancy Stratford Group went through a very similar process to the one outlined above when they realized that they needed to take their systems and processes to the next level. The company was relying heavily on a mix of various tools to manage the different parts of the business, and none of them was connected. They evaluated their requirements, made a shortlist, and then selected the product that met their requirements the best.
Scoro was able to solve all of the problems they had, including integrating with their bookkeeping software, Quickbooks. On top of offering the best range of features, another reason Stratford Group chose Scoro was that they also felt that the user experience was superior to the other tools on offer.
"The Scoro interface is excellent. And it had to be easy to use to ensure our teams used it! Many other enterprise systems are clunky, but Scoro was one of the most intuitive systems we found."
Since implementing Scoro, the real-time visibility of the different facets of their business has helped Stratford Group to improve their forecasting, brought them closer to their customers, and helped them to continue to grow significantly under difficult circumstances.

---
What other professional services companies are saying about Scoro
"For us, Scoro had the perfect blend of functionality and modern design." 
– Marisa Saliba, Chief Operating Officer, CSA Group
"Scoro really helped us create a sense of unity and a sense of consistency. It helped us eliminate the silos that we were seeing" 
– Monica Fernandez, Chief Operating Officer, Mallol
About Scoro
Scoro is an award-winning work management software for collaborative teams. Thousands of businesses in 60+ countries trust Scoro as a scalable solution for increasing margins and data-driven decision-making across all areas of work – from projects and sales to billing and reporting. Founded in 2013 by Fred Krieger, Scoro now has offices in the UK, US and Estonia. Scoro has been listed in both the Deloitte Technology Fast 50 and Inc. 5000 and has been selected as one of the top software companies in EMEA by G2. For more information, visit www.scoro.com.
Everything about your business, one click away