Bring order to your customer management.
Be more organized.
Manage your leads in a pipeline view and easily drag-and-drop them from one stage to the next.
Get a quick overview.
Get an instant overview of each client, including contact details, quotes, communication history, linked projects, etc.
Manage your teamwork.
Get the tools to manage your sales process, projects, calendar, invoices, and much more.
Save hours of your team's time.
Instead of shuffling between spreadsheets and multiple tools, use Scoro to access all relevant information in one place.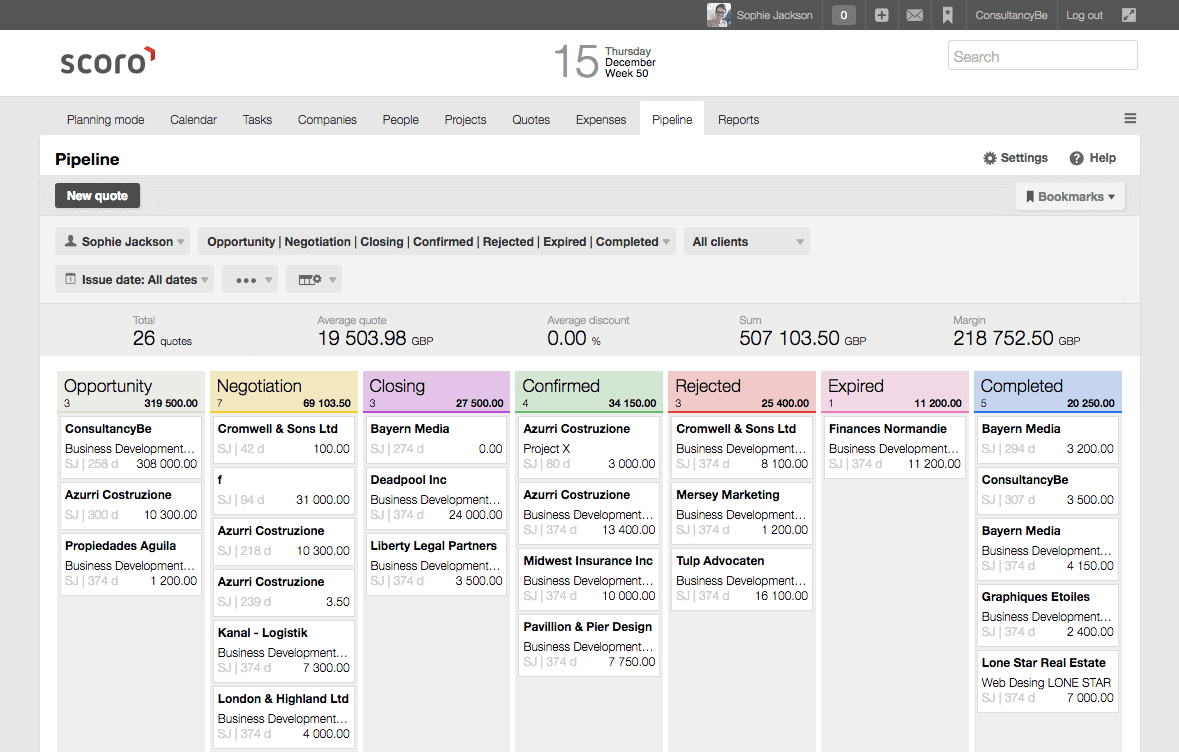 Customers & Sales:
Get a 360-degree view of each client.
Create a company-wide contact base, and manage proposals in a pipeline view for effective communication and billing.
Compile quotes and send these as beautiful PDF-files in just a few clicks.
Connect Scoro with Mailchimp to instantly update your mailing lists and send email campaigns.
Work management
Get things done, faster.
Create, manage, and track an unlimited number of projects.
Divide your work into tasks and subtasks, and assign and delegate tasks within the team.
Schedule meetings and plan tasks hour-by-hour.
Set priorities and deadlines to organize your work.
Manage project budgets and timeline.
Get a 360-degree overview of any project on one page, including time spent and billed, planned tasks and meetings, invoices and expenses, comments and files.
Reporting
Get real-time reports on every aspect of your work.
Add your key metrics and information to a KPI dashboard for a one-click overview of your sales process.
View real-time financial reports on sales, quotes, orders and compare two periods to see trends over time.
See work reports that you can customize by dates, users, projects or accounts.
Track project progress and oversee your scheduled and completed tasks.
Empowering 10,000+ users all over the world.
Instead of using five different tools to manage sales, plan projects, and track finances, you can use a single tool – Scoro.
Thanks to Scoro, you can save more than 50% of the time that you're currently spending on reporting, meetings, and double data entry.
Not interested in changing the way you work? We thought so! You can customize almost any aspect of Scoro to fit your workflow.
Before Scoro, we used five separate applications that left us in the dark regarding the whole business picture.

Jonathan Lee