Work Management
20+ Best CRM Software & Tools. Reviewed.
There's an overwhelming number of customer relationship management (CRM) tools on the market. CRM software can be anything from a simple tool for keeping your contacts to a more comprehensive solution with pipeline and billing features.
Finding the right CRM tool suitable for your company and team can be a headache, so we did the hard work for you and selected 26 of the best tools on the market.
---
Every CRM software listed here:
Is relatively easy to use with little setup time
Has unique features that stand out from other CRM software
Is by a trustworthy provider, with regular updates and high security
---
1. Scoro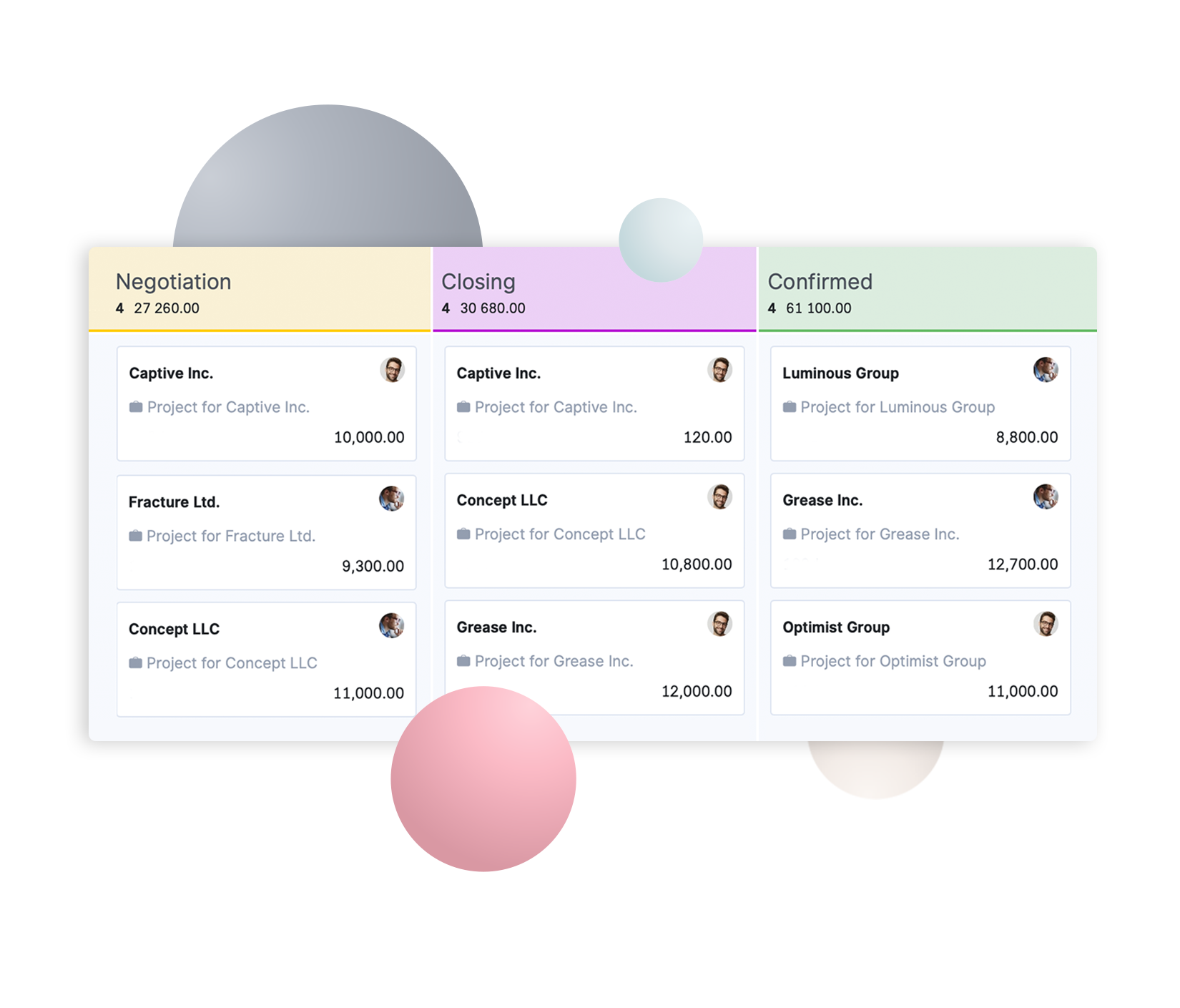 Scoro CRM software helps to coordinate your sales process and improve your team's performance with a wide set of features including sales pipeline management, project & task management, collaboration, billing, and reporting.
Top features:
Manage your leads in a pipeline view and easily drag-and-drop them from one stage to the next
Get an instant overview of each client, including contact details, quotes, communication history, linked projects, etc
Get the tools to manage your sales process, projects, calendar, invoices, and more
What's interesting about this tool: Scoro promises to save more than 50% of the time that you're currently spending on reporting, meetings, and double data entry.
Pricing: From $26 user/month
Try Scoro for free.
2. Sugar CRM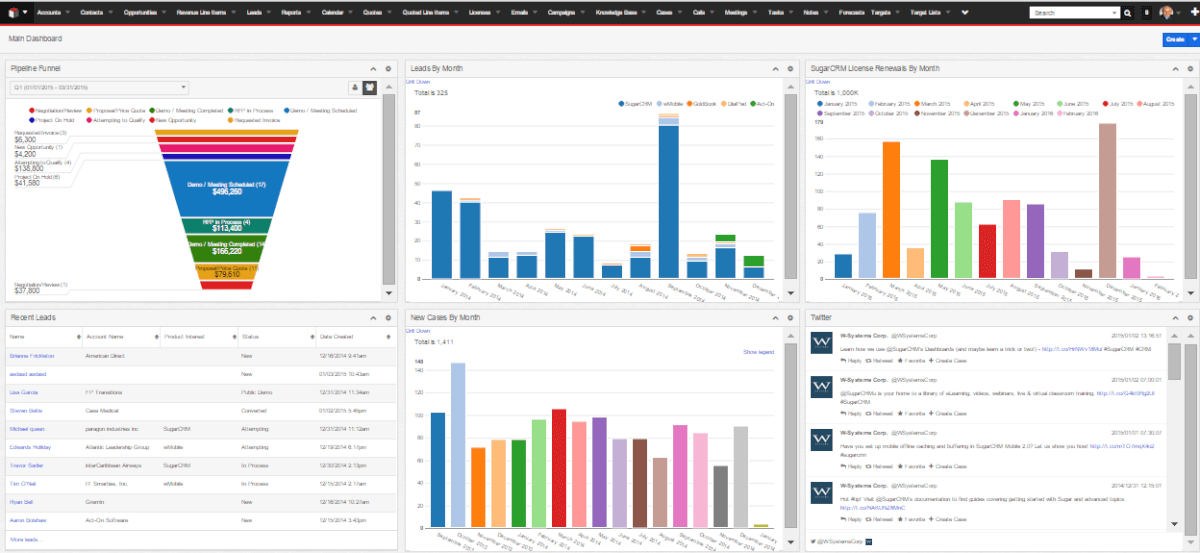 Sugar CRM gives you an overview the entire customer journey and the contextual intelligence needed for a complete customer view and opportunity anticipation.
Top features:
Account management
Opportunity management
Sales collaboration
Pipeline management
Process automation
What's interesting about this tool: Create multiple personalised dashboards to optimise for short-term and long-term goals. Select from a wealth of out-of-the-box, third-party, and custom Dashlets to see every angle.
Pricing: From $40 user/month
3. Salesforce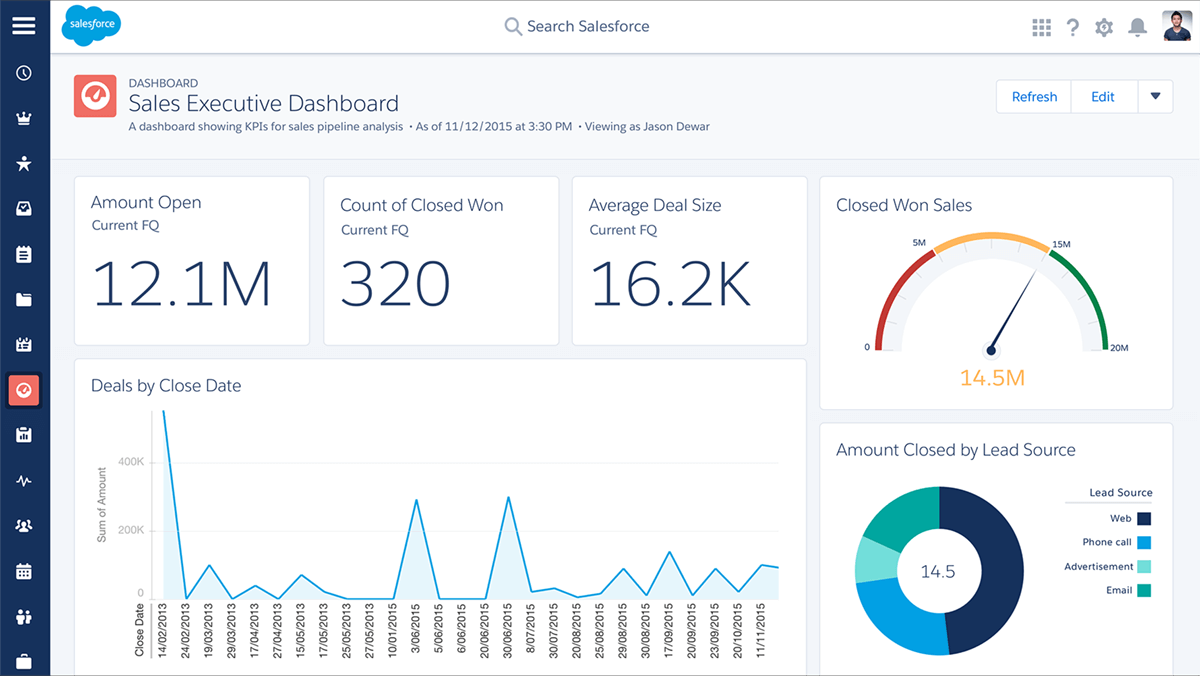 Salesforce connects sales to service, marketing, and beyond — so you can find selling opportunities throughout your business – from leads to customers to advocates.
Top features:
Contact management
Sales collaboration
Lead management
Email integration
Sales forecasting
What's interesting about this tool: Salesforce gives you an accurate view of your entire business with comprehensive forecasts.
Pricing: From $75 user/month for teams of over 5 people
Check out this Salesforce alternative!
4. Pipedrive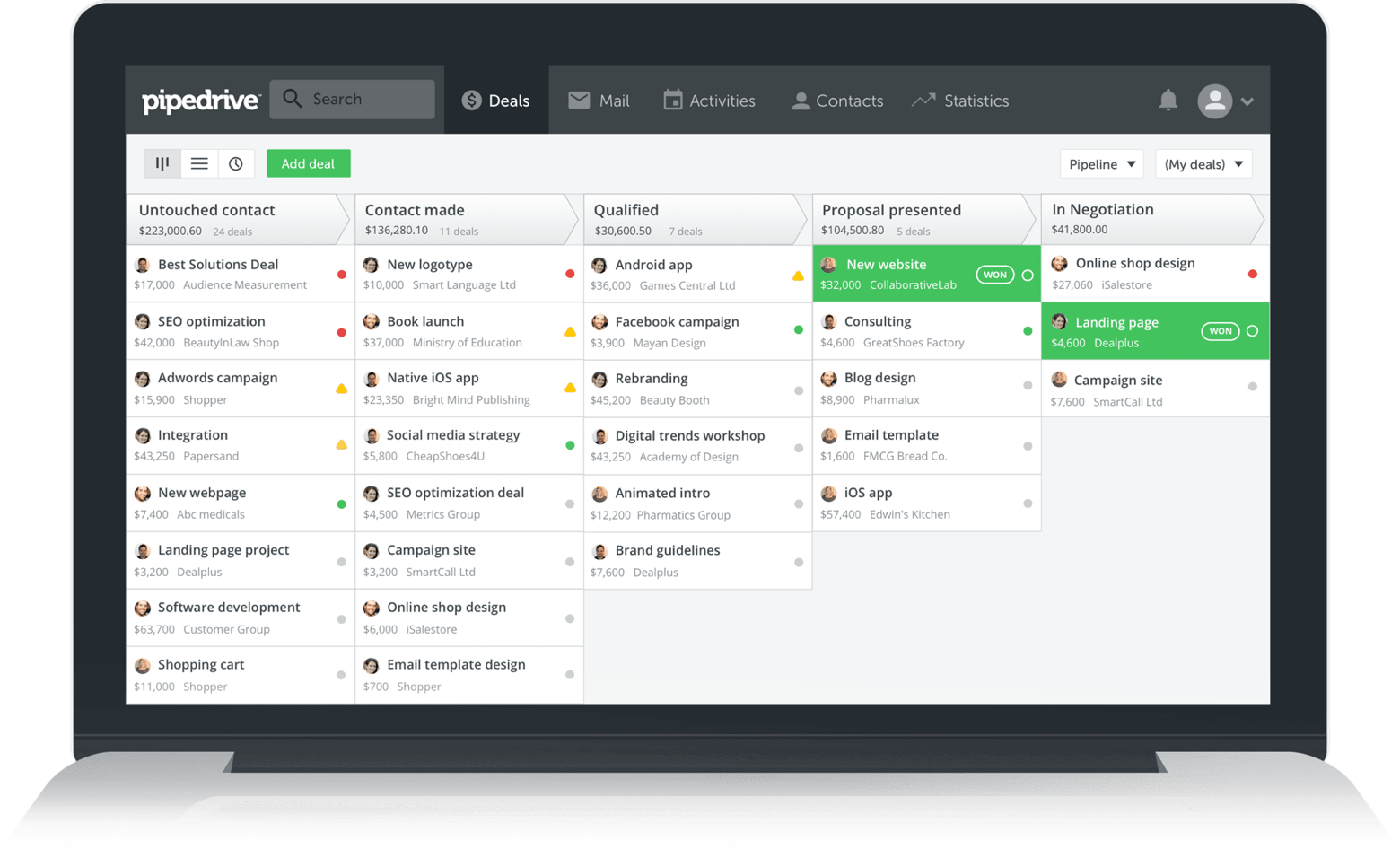 With over 50,000 customers, Pipedrive is the leading sales management tool for small sales teams.
Top features:
Plan your actions so that no deal falls through the cracks
Track everything about your deals, from the conversations you've had to all the people involved in them
The visual pipeline lets you intuitively understand where all your deals are and move them forward toward a deal
What's interesting about this tool: Pipedrive has completely redesigned the world of CRM from a bulky system to an easy-to-use solution.
Pricing: From $12 user/month
5. Highrise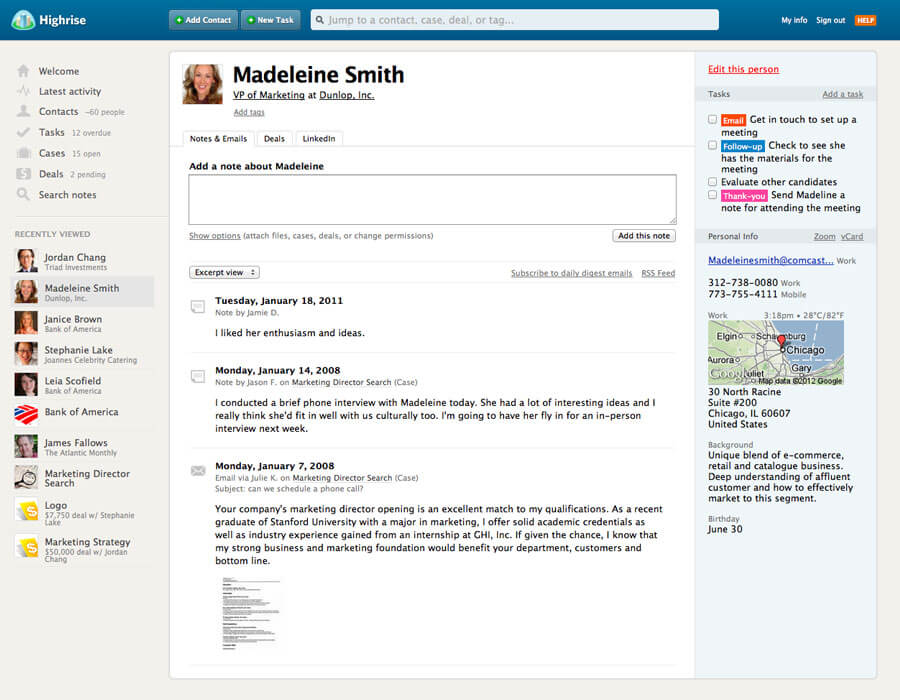 Highrise is the just-right, more thoughtful way to keep track of the people, conversations, and tasks that are the lifelines of your business.
Top features:
Track your follow-ups & set reminders
Share leads with your team
Manage a system of communication
Control who sees what with easy privacy settings
Keep track of important tasks
What's interesting about this tool: Highrise was designed to simplify your workflow, no more, no less – as simple as that!
Pricing: From $24/month for small teams, from $49/month for larger teams
6. Insightly
Insightly is a powerful CRM tool with a project and business management feature set.
Top features:
Manage leads, contacts, organisations, partners, vendors, and suppliers
Track project activity and performance against milestones
Look at your business any way you want with the task dashboard, activity sets, reports, and more
What's interesting about this tool: Insightly CRM is tailored for any level of experience – from first time CRM users to sales experts.
Pricing: From $15 month/user for teams
Everything about your business, one click away
7. Infusionsoft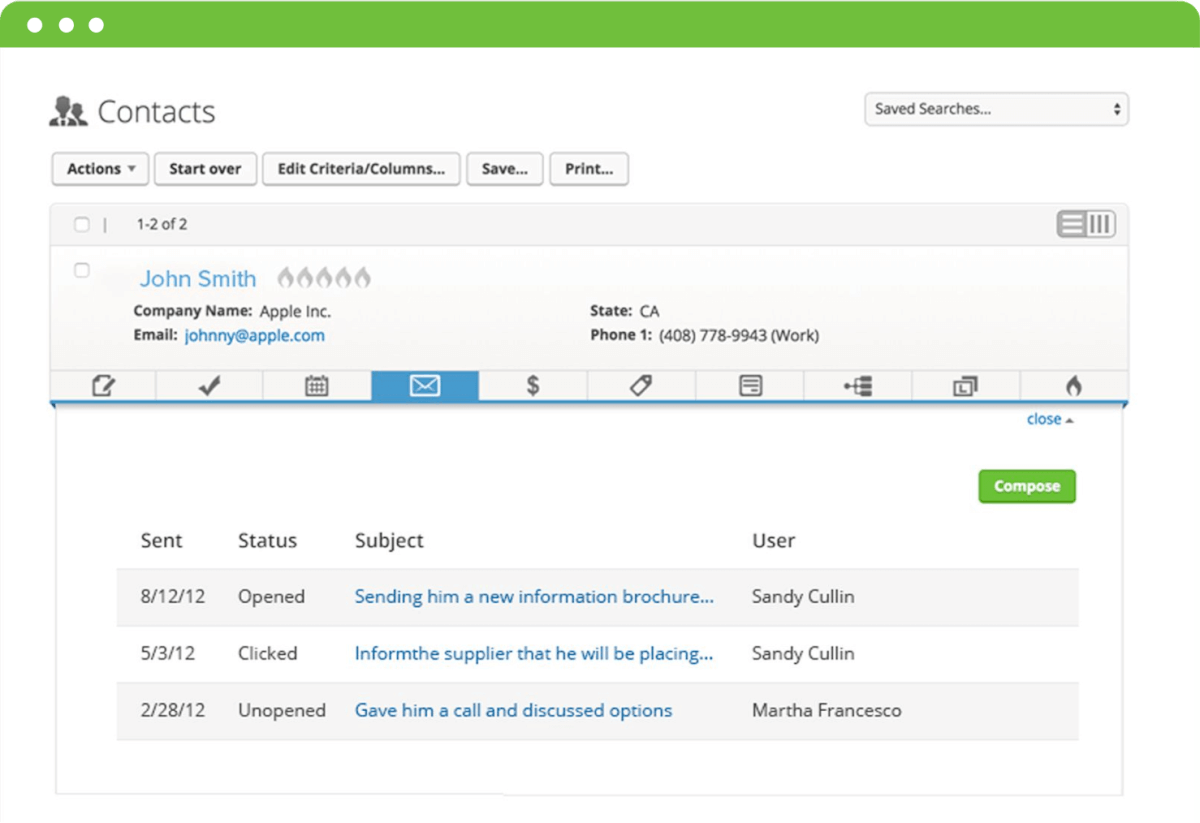 Infusionsoft lets you know the key details about every customer—right down to their last purchase or conversation with you—and impress them with incredible customer service and personalised messages.
Top features:
Import and organise the contacts that come to your business
Collect data about contacts' behaviours, score them based on marketing interactions, and prioritise the leads that are hottest and ready to buy
Track engagement and customise follow-up messages based on unique customer profiles
What's interesting about this tool: If you're looking for smarter ways to scale as you grow, the powerful Infusionsoft platform can help. Manage the everyday tasks that slow you down—automatically.
Pricing: From $199/month for up to 3 users
Read on: New Software Onboarding – The What, Why, and How
8. Freshdesk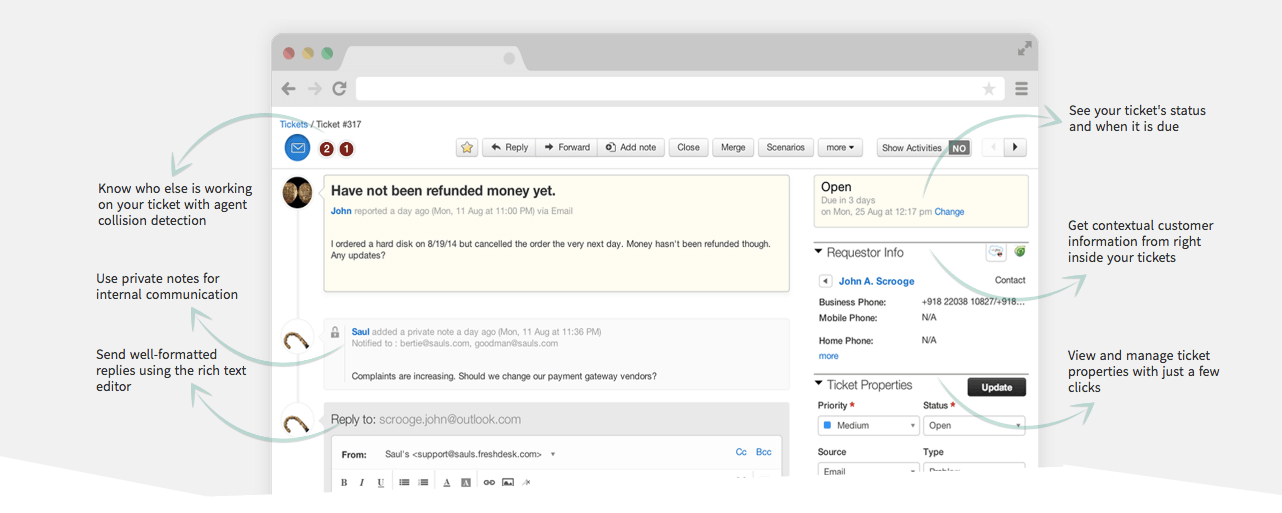 Freshdesk combines customer relationship management with the automated helpdesk. This way, you'll have more insight into your customers and can serve them the best.
Top features:
Powerful ticketing
Customer management
Scheduled reporting
What's interesting about this tool: With Freshdesk, you can help your customers get instant answers by creating a knowledge base that is available whenever they need it. Share your technical documentation, product tutorials, answers to frequently asked questions, and other tips in a single convenient place.
Pricing: From $18 user/month
9. Zoho CRM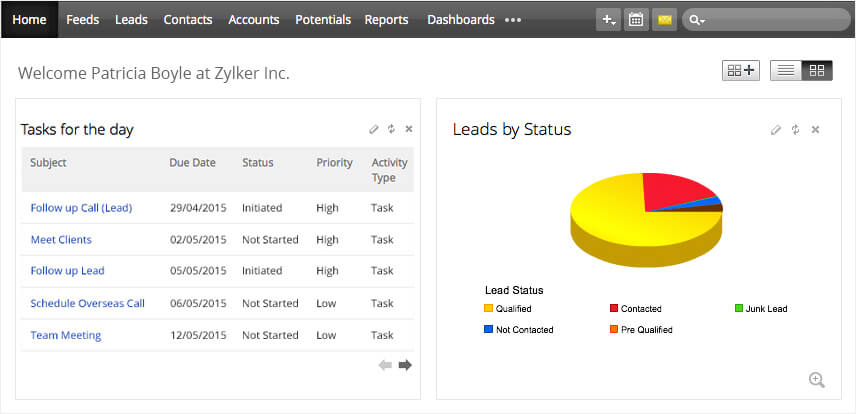 Zoho CRM helps to reach out to prospects at the right moment, engage with them across every channel, and close more deals the smarter way.
Top features:
See your email inside CRM.
Get real-time information about every activity a customer and prospect engages in
Bring social media into your sales process. Monitor trends and discover new leads
What's interesting about this tool: Zoho CRM lets you turn routine tasks into contests and watch your salespeople compete to add the most notes or send the most emails.
Pricing: From $15 user/month
Check out this Zoho Alternative and 21 more best Zoho Alternatives for business management!
10. bpm'online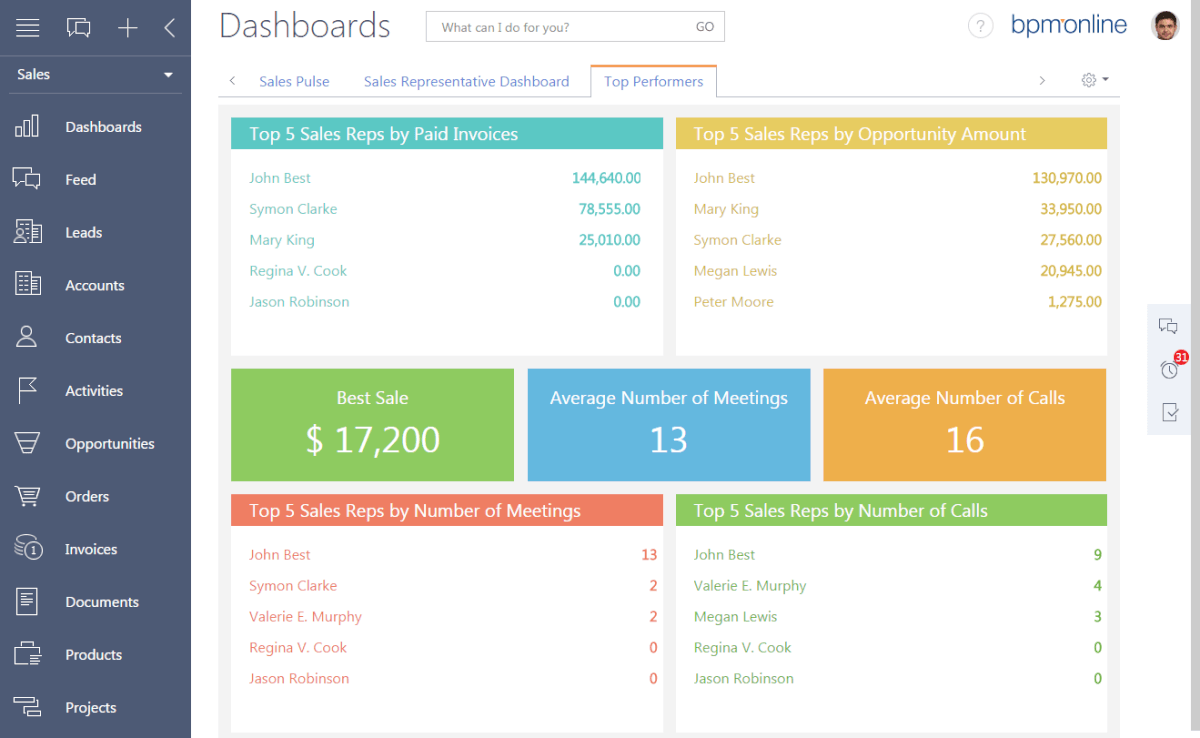 Use bpm'online products to connect the dots between marketing, sales and customer service, efficiently managing the complete customer journey – from lead to order, and to ongoing account maintenance.
Top features:
Account and contact management
Intelligent data enrichment
Communication panel
Lead generation
What's interesting about this tool: The knowledge base takes on features of social networks — users can like posts and share ideas and comments. This helps other users to quickly and easily find the most popular presentation or the most useful answer.
Pricing: On request
11. HubSpot CRM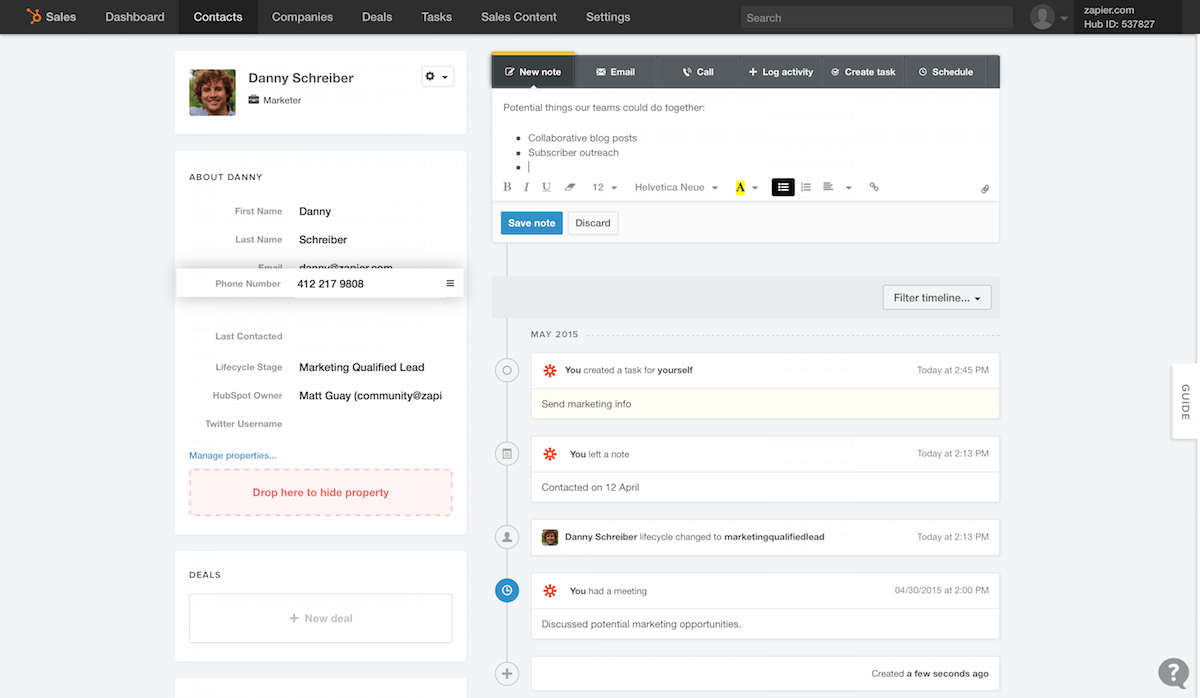 HubSpot CRM makes it easy to organize, track, and grow your pipeline.
Top features:
Manage your pipeline with total visibility
Log sales activity automatically
See everything about a lead in one place
What's interesting about this tool: HubSpot CRM is part of a full suite of sales productivity tools that sync up with your inbox and make every part of selling easier.
Pricing: Free
12. Apptivo
Apptivo helps to increase sales by following through on all prospects and closing deals.
Top features:
Sales pipeline
Conversions
Web lead capturing
Mobile CRM
What's interesting about this tool: Take full control of how each app looks. Customise it by adding or removing existing fields that pertain only to your business.
Pricing: From $10 user/month
13. NetSuite CRM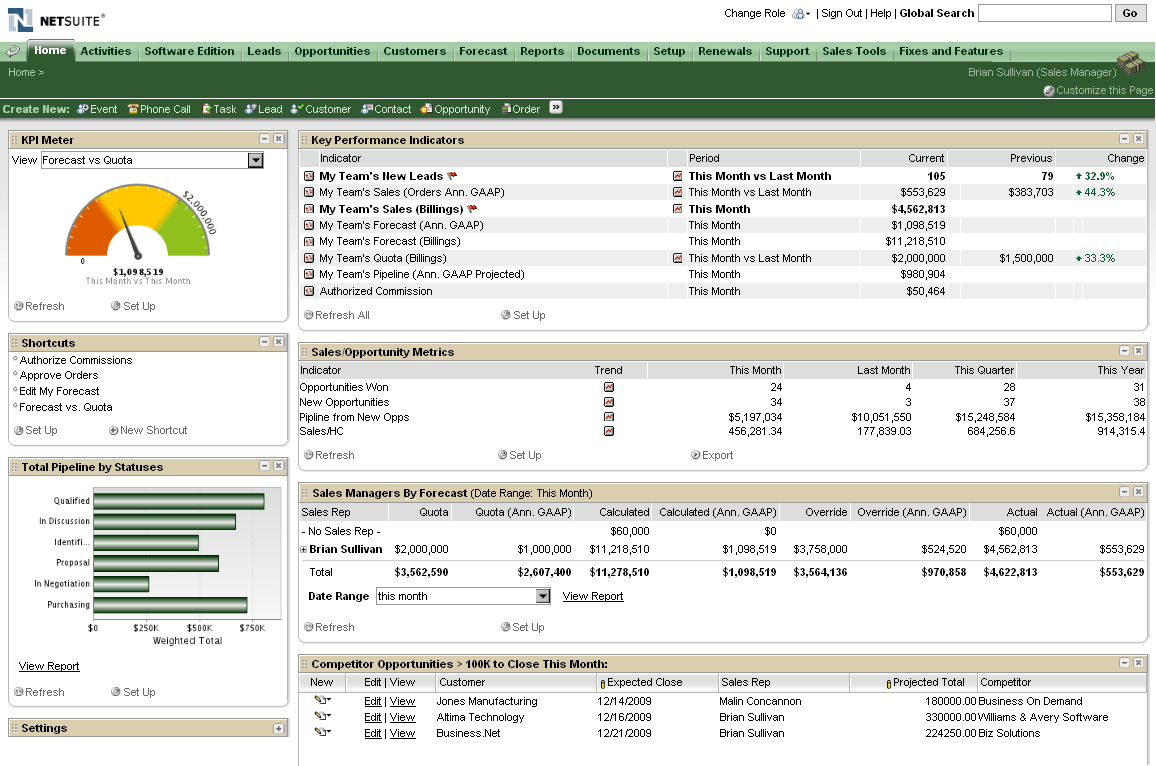 Sales forecasting can often be a mystery to your management team, but NetSuite CRM takes the guesswork out of forecasts with real-time sales data, complete visibility into opportunities, and a rich set of forecasting tools.
Top features:
Streamlines lead-to-cash processes
Elevates productivity across the organization with a 360-degree view of customers
Improves sales performance through forecasting, upsell and commission management and more
Helps you manage global sales and services organizations
What's interesting about this tool: In addition to offering traditional CRM capabilities, NetSuite CRM delivers quotes, order management, commissions, sales forecasting, and integrated eCommerce capabilities.
Pricing: On request
Check out this NetSuite CRM alternative!
14. PipelineDeals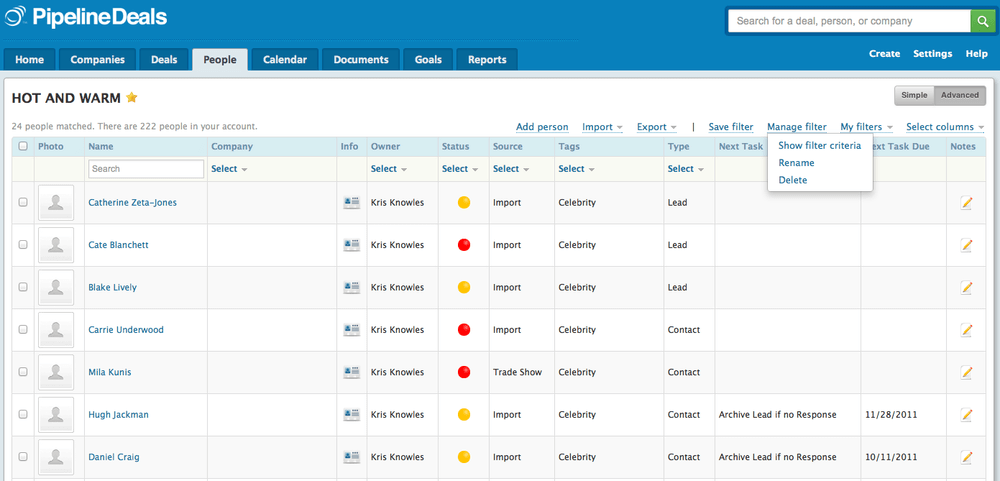 PipelineDeals is designed to make sales professionals more productive. Using a suite of powerful tools, they give salespeople and their managers the ability organise and develop their customer relationships while offering unparalleled visibility into each stage of their sales pipeline.
Top features:
Bring your sales pipeline to life
Manage everything about a deal in one place
Status updates in real-time
Share and store sales documents
Guide your team's sales activity
What's interesting about this tool: Access PipelineDeals when you're in the office, at home or on the road. Download the iPhone or Android apps to access your sales pipeline from your mobile device or tablet.
Pricing: From $29 user/month
15. Base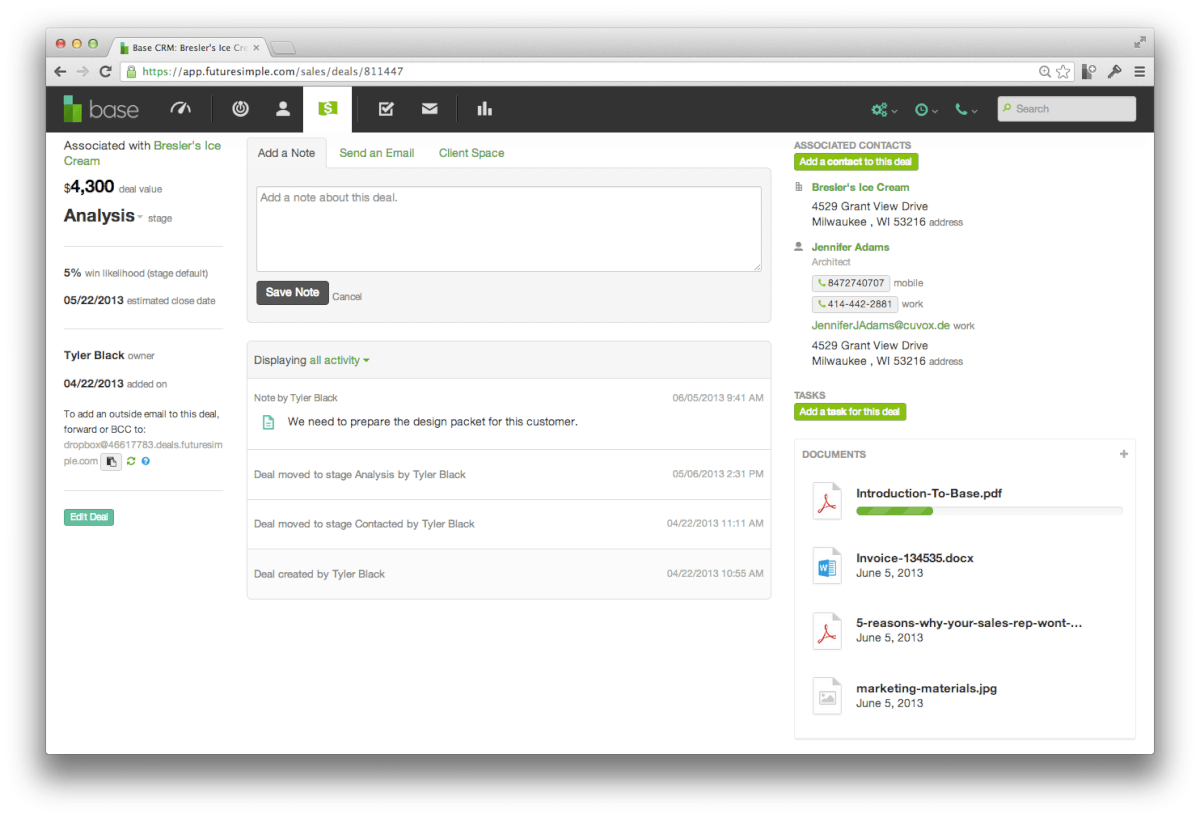 Funnel your leads to Base from your website, a spreadsheet, or a marketing automation platform, and Base will teach you which lead sources convert the best into sales.
Top features:
Lead tracking
Sales management
Customer management
Mobile sales management
Sales reporting and analytics
Sales forecasting
What's interesting about this tool: Base lets you start with all-in-one sales platform and build the best sales stack for your team with add-ons.
Pricing: From $45 user/month (billed annually)
16. Microsoft Dynamics 365
Capture new opportunities across your organisation when you bring people, data, and processes together with Microsoft Dynamics 365.
Top features:
Empower your salespeople with predictive analytics, digital intelligence, and automated lead scoring
Tap into the wisdom and experience of your team with shared meeting notes, events, and custom sales documents created with real-time co-authoring
Help your salespeople zero in on the right leads, contacts, and opportunities as they build out your pipeline
What's interesting about this tool: MS Dynamics brings digital intelligence into each deal, so you can predict customer needs—and meet them with the personal attention that builds relationships and revenue.
Pricing: From $115 user/month
17. Nimble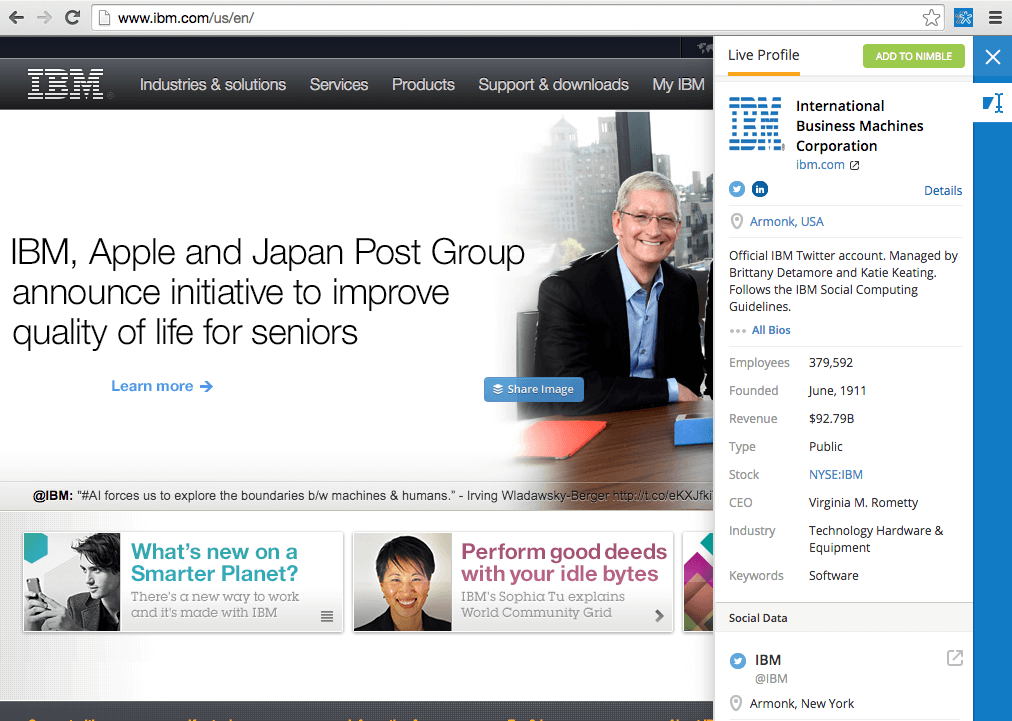 Nimble automatically updates itself with relevant prospect and customer information from dozens of data sources. See details about where your prospects work, where they went to school, where they're from and how you're connected.
Top features:
Contact Management
Sales & Marketing Automation
Deal Pipeline and Reporting
E-mail Tracking and Analytics
Android and iPhone App
What's interesting about this tool: Let Nimble automatically create and update contact details to save time and have more accurate CRM data.
Pricing: $25 user/month
19. Odoo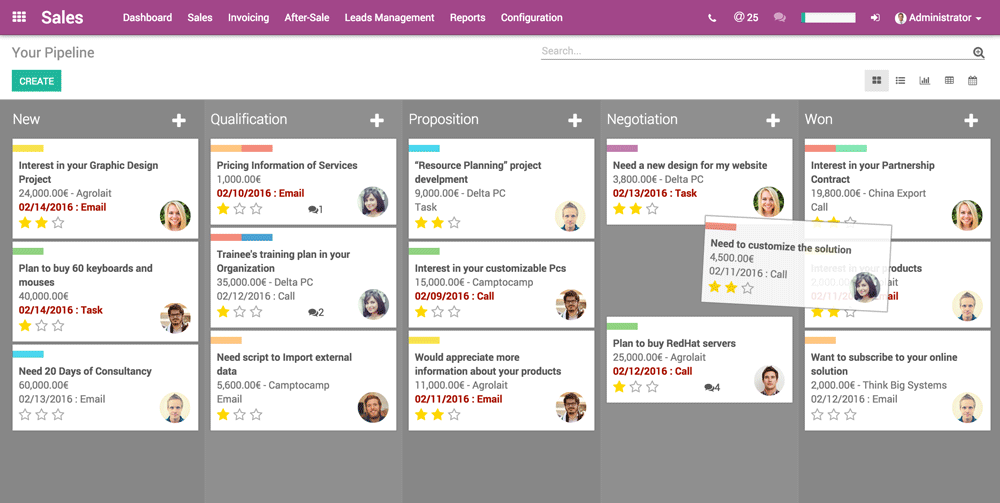 Odoo  is an open source ERP and CRM software with top-notch usability.
Top features:
Design custom dashboards to get a picture of your business at a glance
Get accurate forecasts
Automate activities based on your sales scripts: calls, meetings, mailing, and quotations
Real-time messaging to enhance collaboration
What's interesting about this tool: Turn sales & purchase orders into invoices in one click and track them through their payment with a sales add-on.
Pricing: From $14 user/month
20. Instream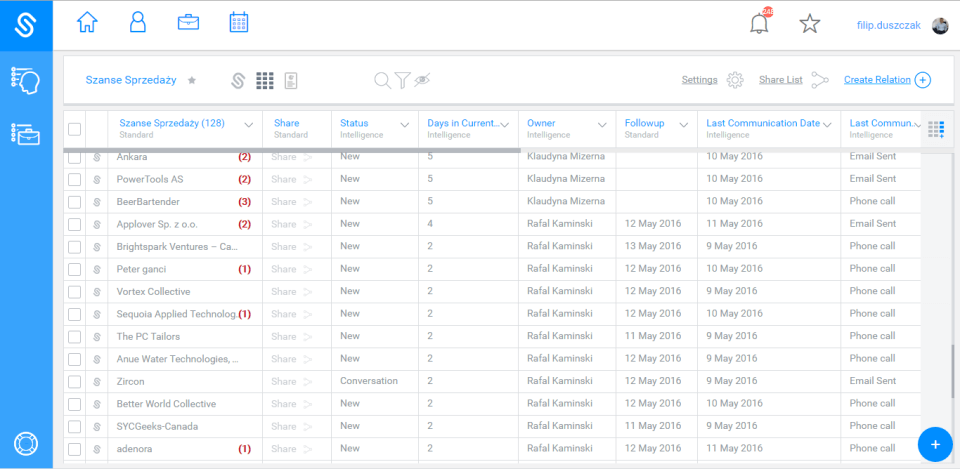 Instream is a sales, contact management and relationship automation tool.
Top features:
Connect your account with LinkedIn and other social platforms to automatically gather all useful information
Manage your contacts regarding all accessible information
Run real-time conversations, and share all information with your team
Manage leads and change them into satisfied clients
What's interesting about this tool: Instream lets you gather information from social platforms.
Pricing: From $10 user/month
21. Less Annoying CRM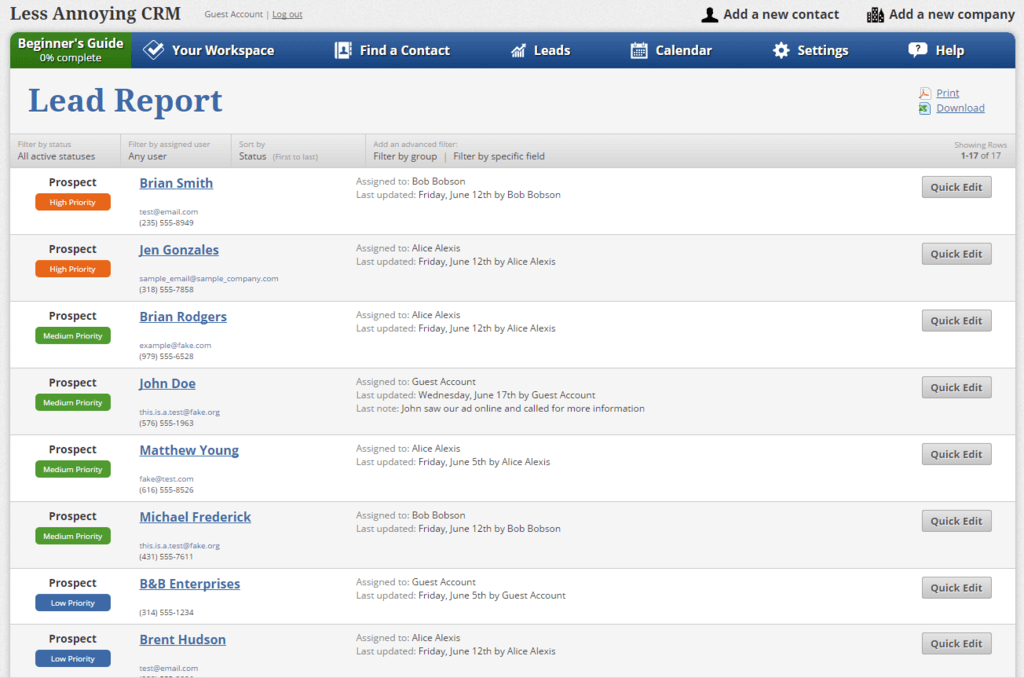 Less Annoying CRM is designed specifically for small businesses. The setup only takes a few minutes.
Top features:
Contact management
Calendar and tasks
Leads and pipelines
Easy customization
What's interesting about this tool: This is a simple CRM for simple processes and small companies. No hassle.
Pricing: $10 user/month
22. Capsule CRM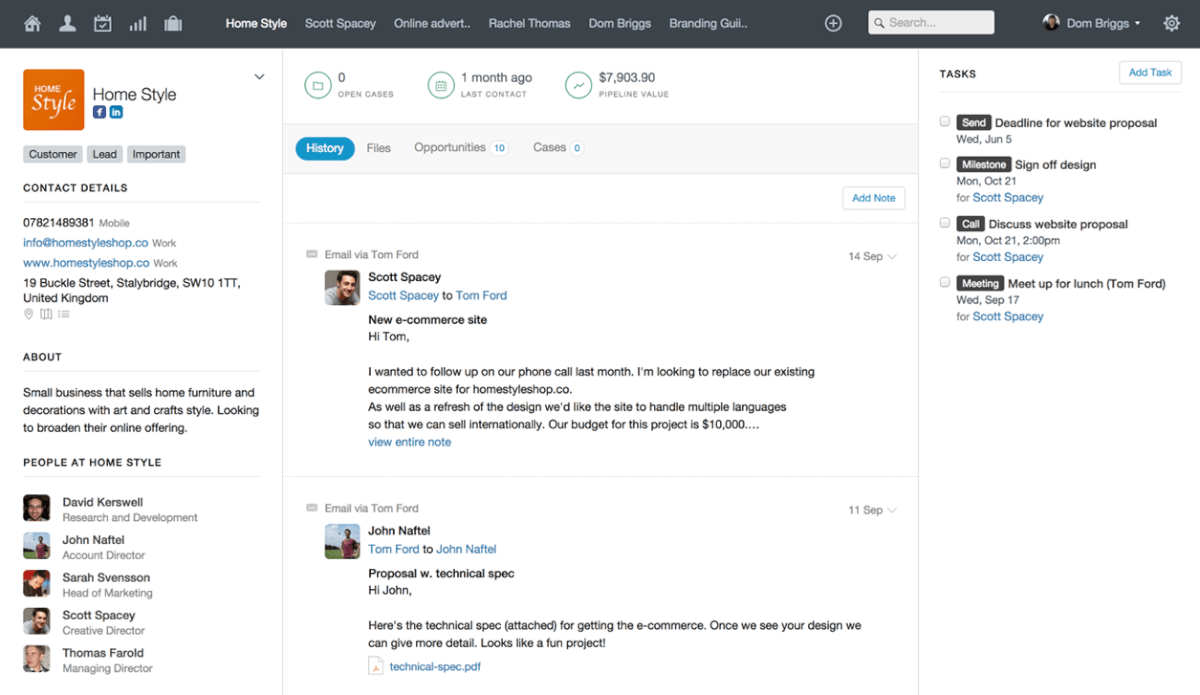 Capsule CRM lets you store and manage all your business contacts in one place. All relationships, not just customers. Manage contacts, leads, customers, vendors, and more.
Top features:
Add notes and store emails
Attach documents, agreements, proposals and other files
Add and complete tasks that need to be done for each contact
Share contacts with co-workers ensuring you all have a single up-to-date view of them
What's interesting about this tool: Capsule CRM gives you a quick summary of opportunities on the go via the sales dashboard, including potential values, where they're up to, and what needs to be done next.
Pricing: From $9 user/month
23. Podio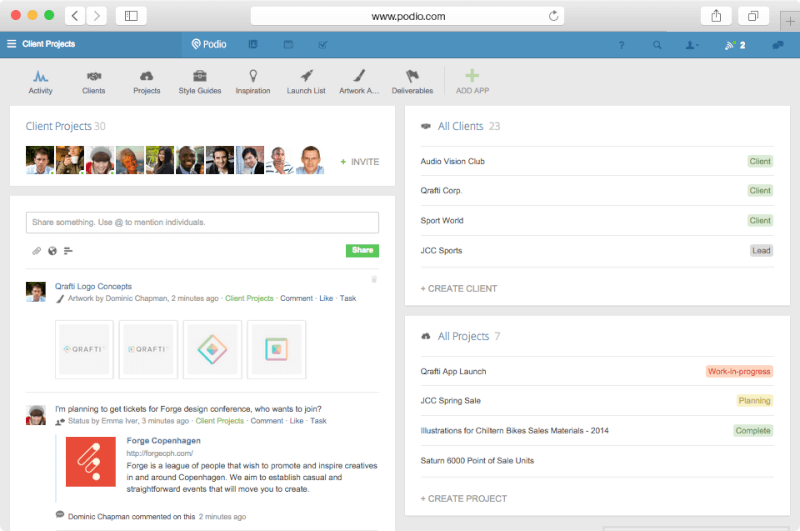 Podio is a flexible and highly customizable online hub for work and team communication.
Top features:
Assign tasks, attach files and discuss details within the solution
Share encrypted & large files
Automate your sales pipelines, project budget tracking, and more
Get an overview of your company with visual dashboards
Automate your workflows
What's interesting about this tool: Podio's workflows feature enables you to add if-this-then-that logic to Podio apps. For example, instruct your app to create a task or comment whenever an item is created or when a particular update is made to an item.
Pricing: From 24$ month/user for full suite of features
24. Freshsales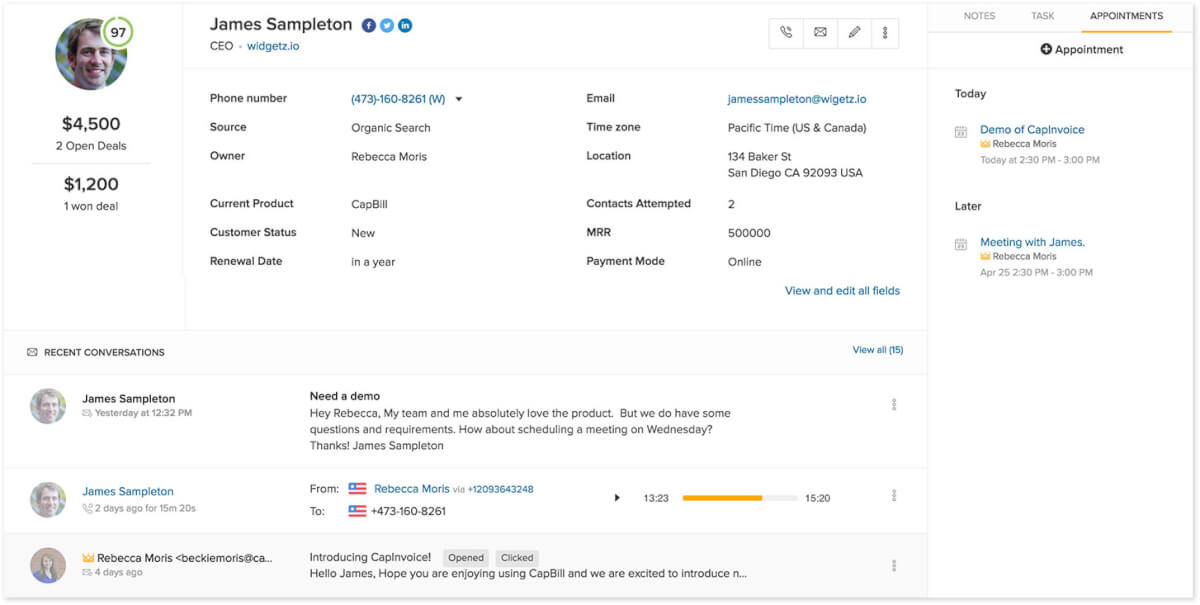 Freshsales is the CRM for high-velocity sales teams.
Top features:
360° Customer view
Lead scoring
Auto profile enrichment
Segment and organise your team
Appointments, tasks, and notes
What's interesting about this tool: Freshsales has a built-in phone – make and receive calls, minus the data entry!
Pricing: Free & paid plans from $15 user/month
25. WorkBook
WorkBook is a software suite for CRM, project and resource management, collaboration and file sharing, forecasting & accounting.
Top features:
Sales pipeline
Client portal
Financial features like budgets, forecasts, and automatic billing
Project and tasks lists
What's interesting about this tool: Not all clients have the same needs. WorkBook lets you choose exactly what modules that suit your needs and only pay for what you use.
Pricing: $19 user/month, minimum 30 users
26. WORKetc
With integrated CRM, projects, billing, help desk, reporting and collaboration, WORKetc is the single cloud computing platform. This means just one software solution for your entire business.
Top features:
Automatically capture and invoice all revenue activities across all departments
Create different workflows and stages for each of your services or products
Create group discussions around opportunities. View Linkedin profiles & Twitter feeds
What's interesting about this tool: By integrating support cases directly inside of all areas of WORKetc, you can ensure the customer is always looked after.
Pricing: From $49 user/month (first 3 users $65/month)
Check out this WORKetc alternative!
Everything about your business, one click away
Further reading: