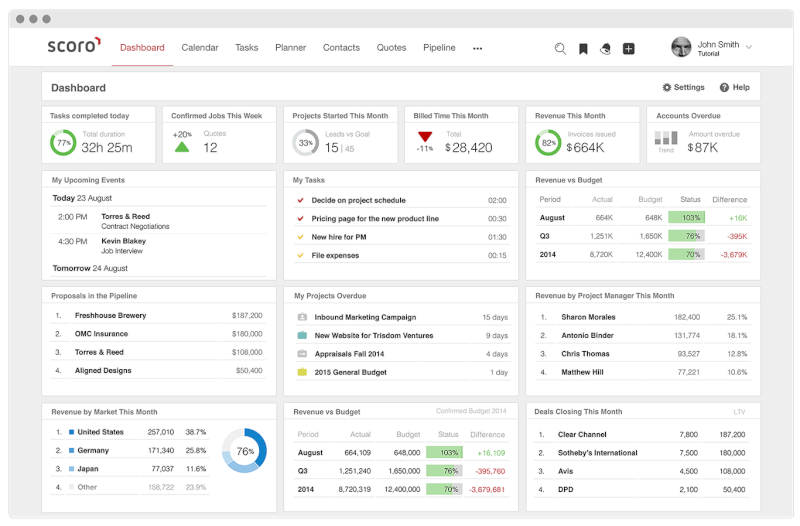 All-In-One Solution
Manage your work, customers, and billing within a single solution.
Get the complete work management toolset that empowers your entire team.
Create a seamless work experience all the way from planning to billing.
Stop shuffling between spreadsheets, emails, and numerous online tools.
Spend less time on time-consuming management tasks.
See your business data come to life on a real-time dashboard and make data-driven decisions.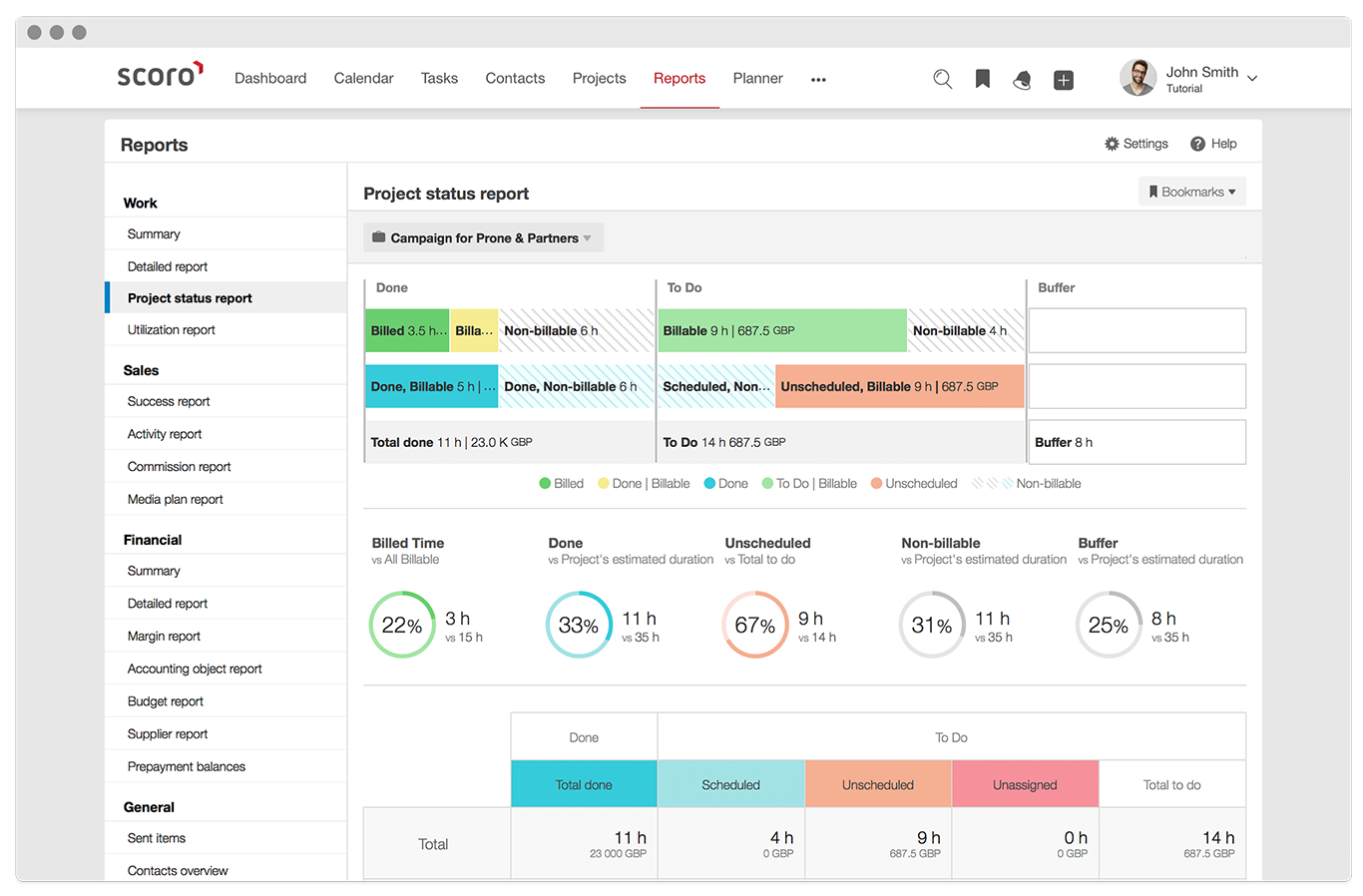 Project Management
See exactly how your projects are doing and what are the next steps.
Manage everything about a project on one page, including time spent and billed, planned tasks and meetings, invoices and expenses, comments and files.
Allocate billable and non-billable work and see how your team is doing, in real time.
Create budgets for projects and compare these against actual results.
Manage your project portfolio by configurable statuses (e.g. in progress, completed) and tags (e.g. type, department, market etc).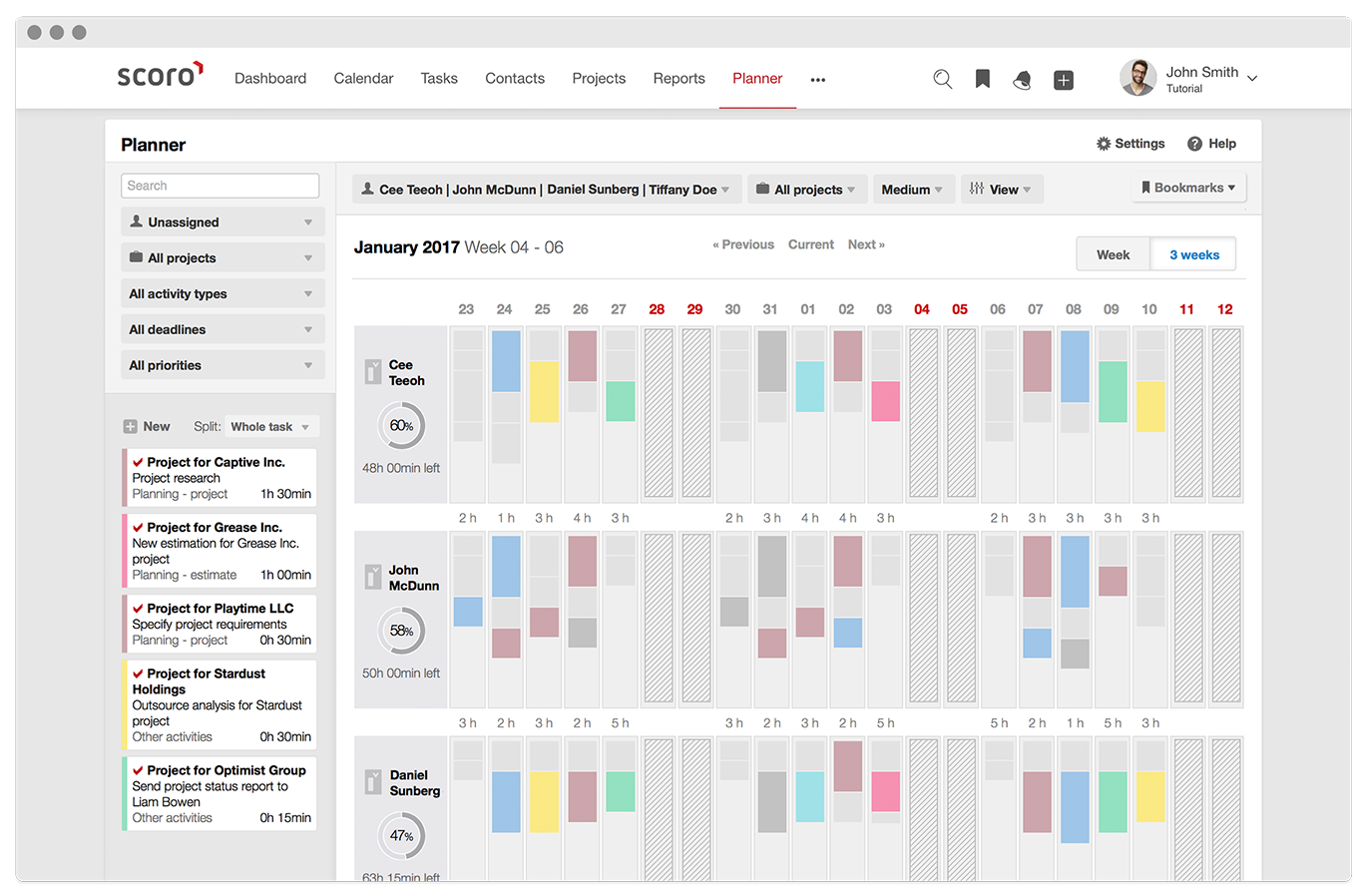 Work Scheduling & Tracking
You're great at planning? So are we.
Let's join forces!
Schedule work and assign tasks with Scoro's Planner. It gives you an instant visual overview of everyone's workload, realistic deadlines, potential overbookings & available slots.
Schedule meetings in a shared team calendar, and link all events to projects and customers for a complete overview.
Everyone can manage their own task lists by priorities, projects, statuses and deadlines.
Say no to timesheets! Everyone's calendar events and completed tasks are automatically added to their work reports.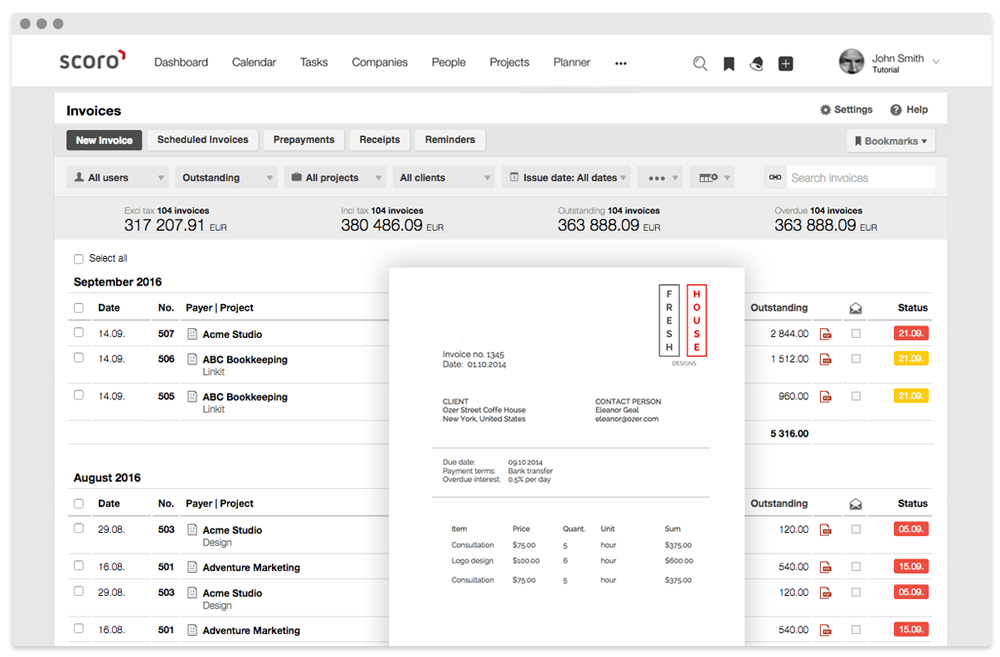 Billing Automation
Let Scoro take care of the routine tasks.
Track both the actual and billable time spent on a project or a client and transfer the hours to an invoice in a few clicks.
Set multi-currency custom rates based on team members, clients or projects. Manage your entire product and service library with custom price lists, margins etc.
Issue sales, prepayment and credit invoices and send these as PDF-files.
Automate late invoice reminders, scheduled and recurring invoicing.
Compare several budget scenarios against actual revenue, costs or profit and get forecasts based on scheduled invoices and booked deals.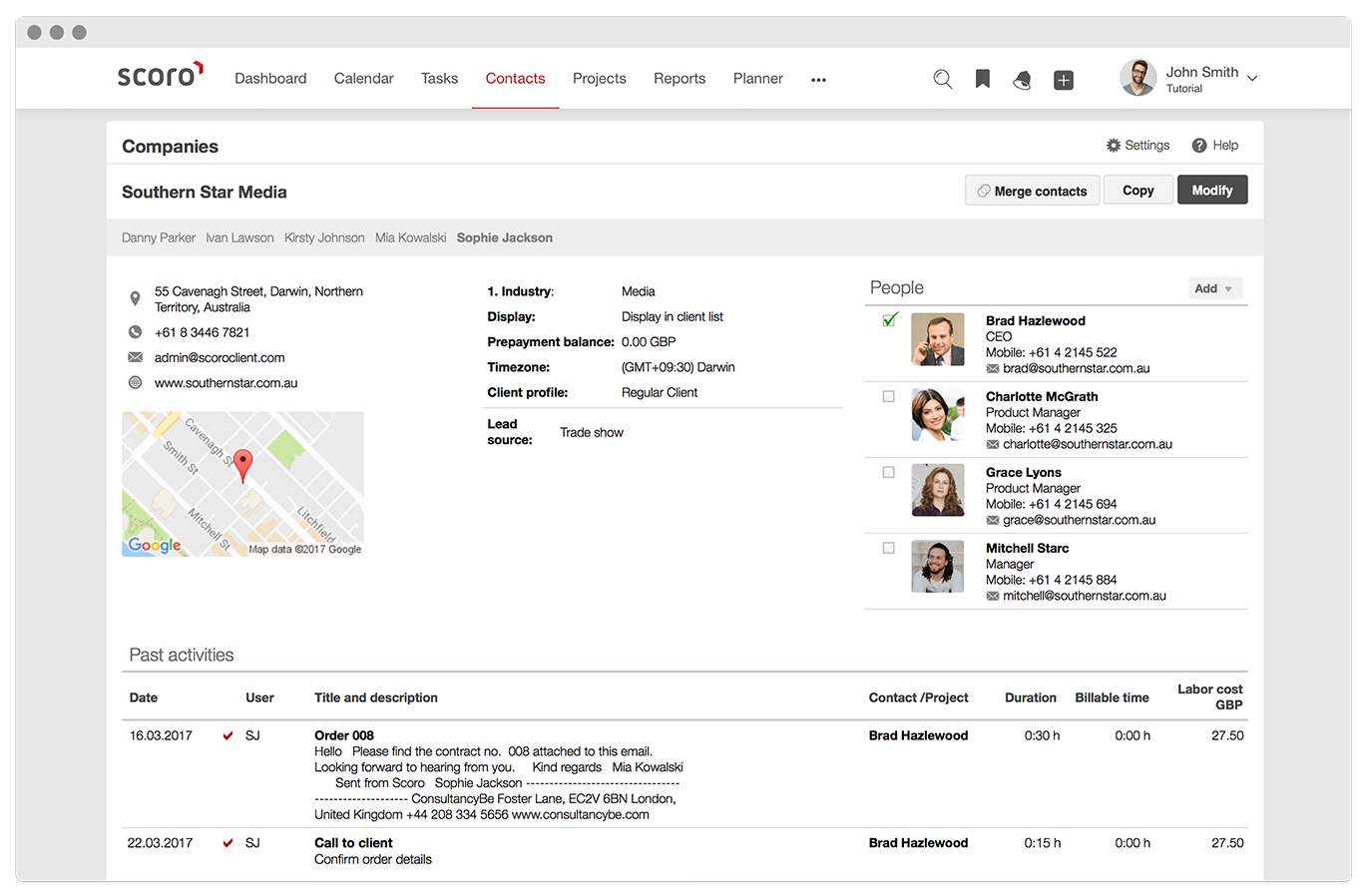 CRM & Quoting
Manage customers and track sales - all in one place.
Get a complete overview of a client or supplier on one page – from the first "hello" to the final invoice. This includes contact details, linked files, communication history, projects linked plus all quotes, orders and invoices.
Search, filter and sort your contacts based on configurable tags, categories, location, latest activity etc.
Get a visual overview of your sales funnel. Drag and drop deals as they move from one stage to another.
Compile quotes and send them as a beautiful PDF-files in just a few clicks.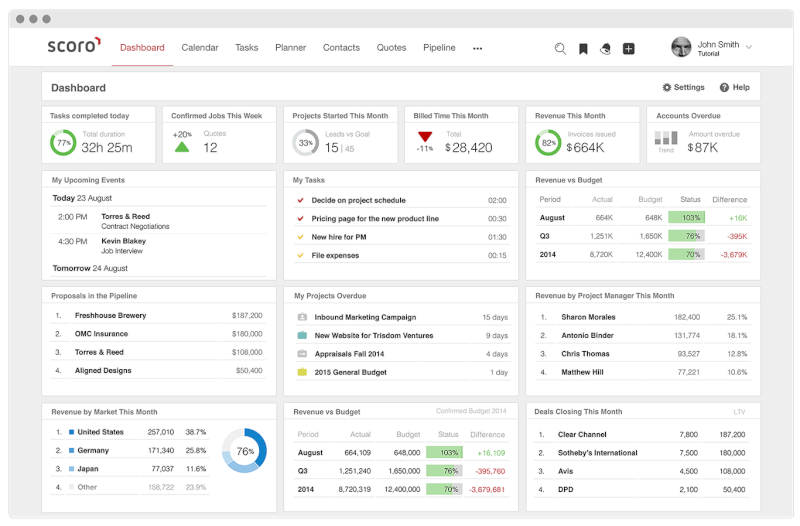 Reporting & Dashboard
Make decisions based on facts
not gut-feeling.
Keep an eye on your KPIs and actionable items - all on one beautiful dashboard.
Know exactly how well your team is utilized, and what their time is spent on.
Get a detailed overview of billable and non-billable work, delegated and unassigned tasks, completed jobs, missed deadlines etc.
See how your projects are doing in real time - what is completed, billed, left to do etc.
View detailed financial reports on actual results with budget deficit and surplus.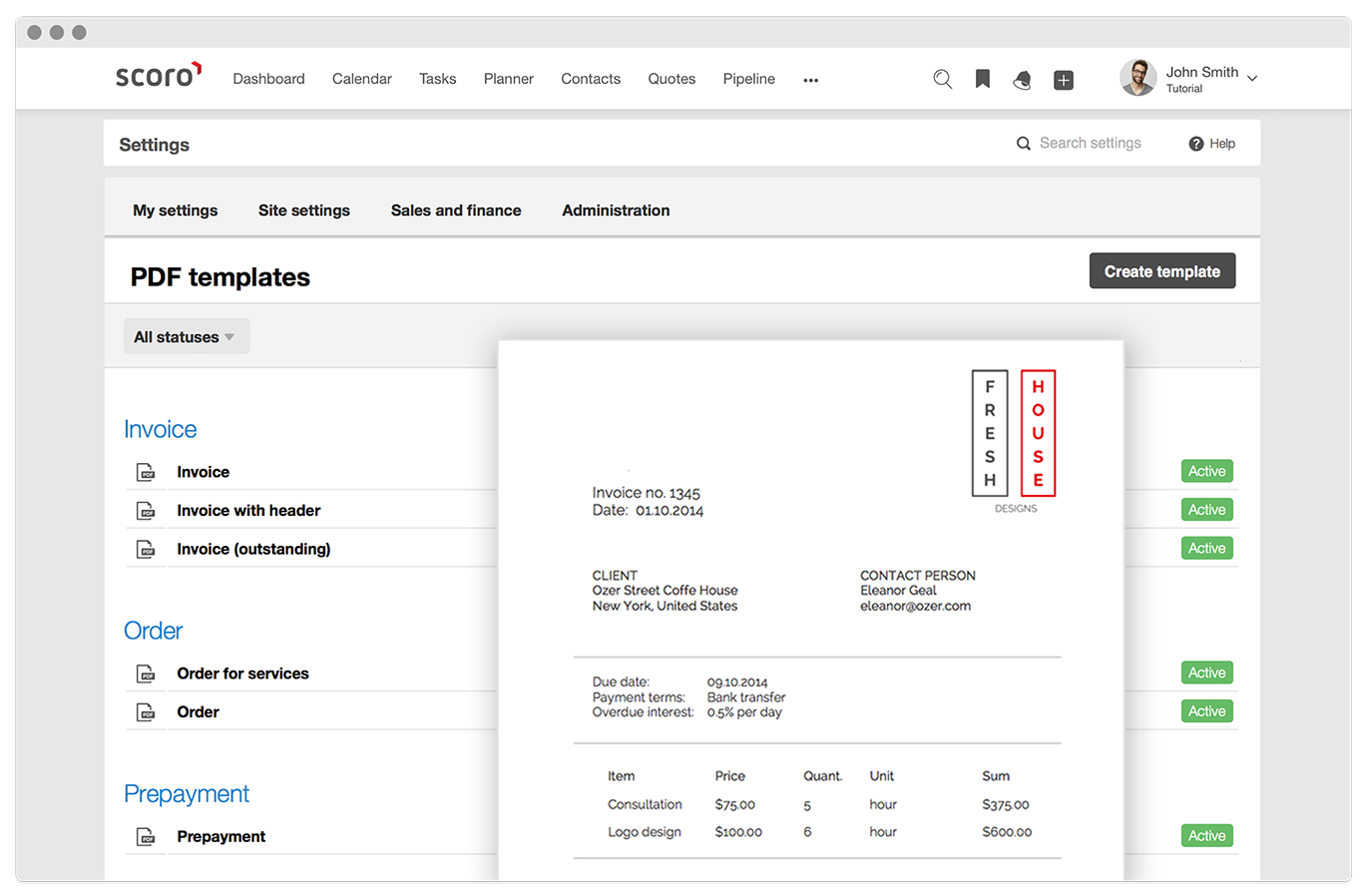 Customization
You don't have to change the way you work (if you don't want to).
Configure activity/product types, tags, statuses and add custom fields to almost any feature.
Set permissions for each user to limit access to specific information or certain projects.
Select PDF templates for invoices, quotes, orders and reports from our library, or create your own.
Use bookmarks to create hundreds of custom views and reports.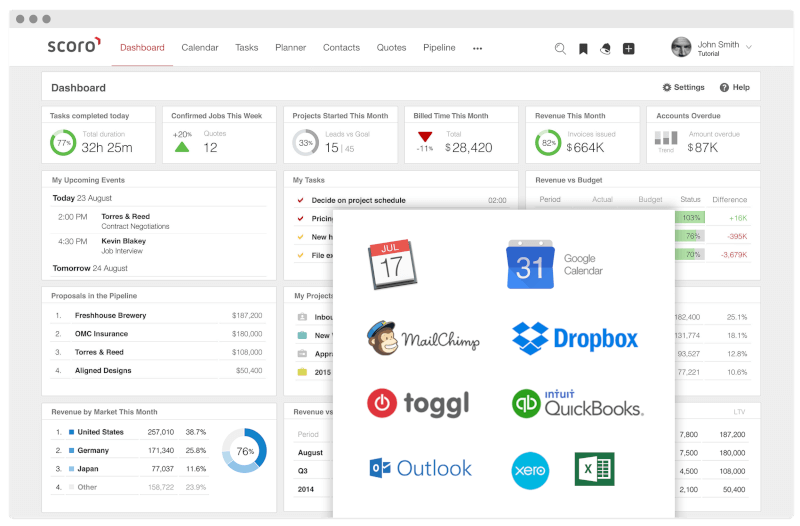 Integrations
Integrate Scoro with your current tools, and get a complete overview.
Synchronize your Scoro calendar with iCal, Outlook, Google and other calendar applications.
Connect your Dropbox account or FTP server to access your files right where you need them.
Connect Scoro with Mailchimp to keep your mailing lists synchronized.
Synchronize financial information with your accounting software via our API.
Use our full-featured API to build integrations with almost any software solution.
Start your free 14-day trial
All features included, no credit card required.