Dashboard
Everything you need to know and need to do on one page
Get an overview of both actionable items and KPIs on one page.
It's not just nice graphs - you can include any list or report in any detail.
Display numbers such as accounts overdue or hours billed as well as detailed lists, such as upcoming calendar events, recently added files, latest orders etc.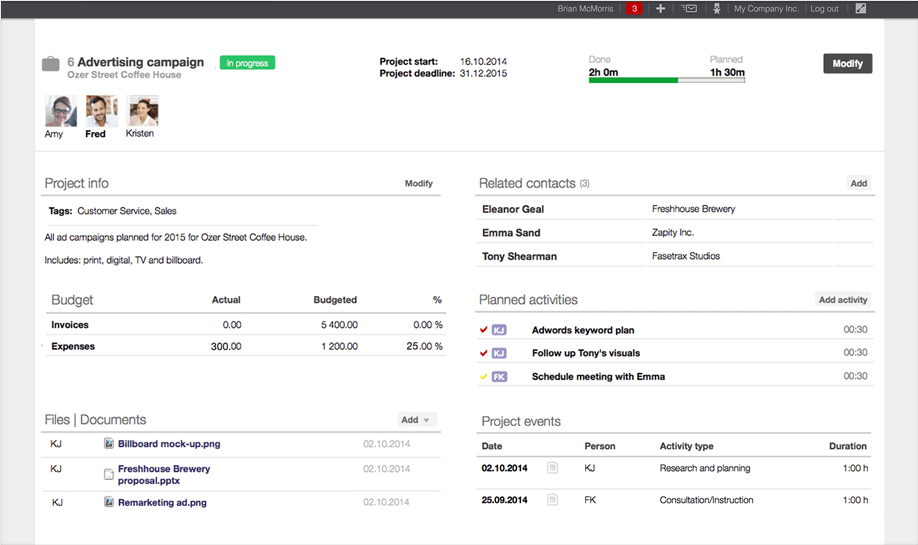 Projects
Projects bring structure to your work
Get a 360-degree overview of any project on one page, including time spent and billed, planned tasks and meetings, invoices and expenses, comments and files.
Manage projects by configurable statuses (e.g. in progress, completed) and tags (e.g. type, department, market etc).
Create budgets for projects and compare these against actual results in real time.
Give your team rights-based access to joint projects.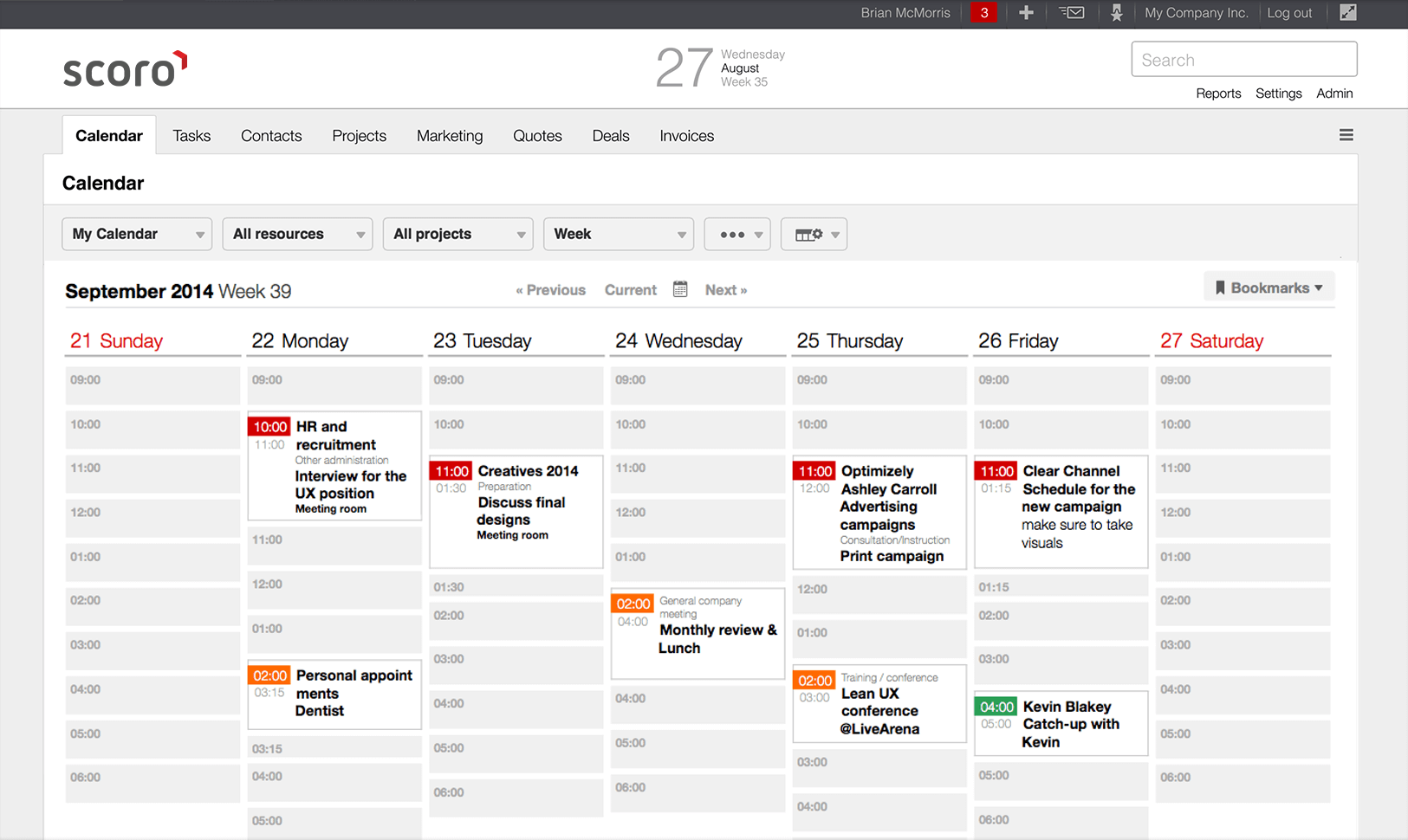 Calendar
A smarter way to manage your time
Get an overview of all calendar events you and your team have planned and completed.
Book meeting rooms, cars, equipment and other resources in just a few clicks.
Link events to contacts and projects for them to appear in the contact or project view.
Everyone's calendar events are compiled into thorough work reports, that you can break down by team member, client, project and activity.
Sync with iCal, Outlook, Google and other calendar applications to have everyone's schedule aligned.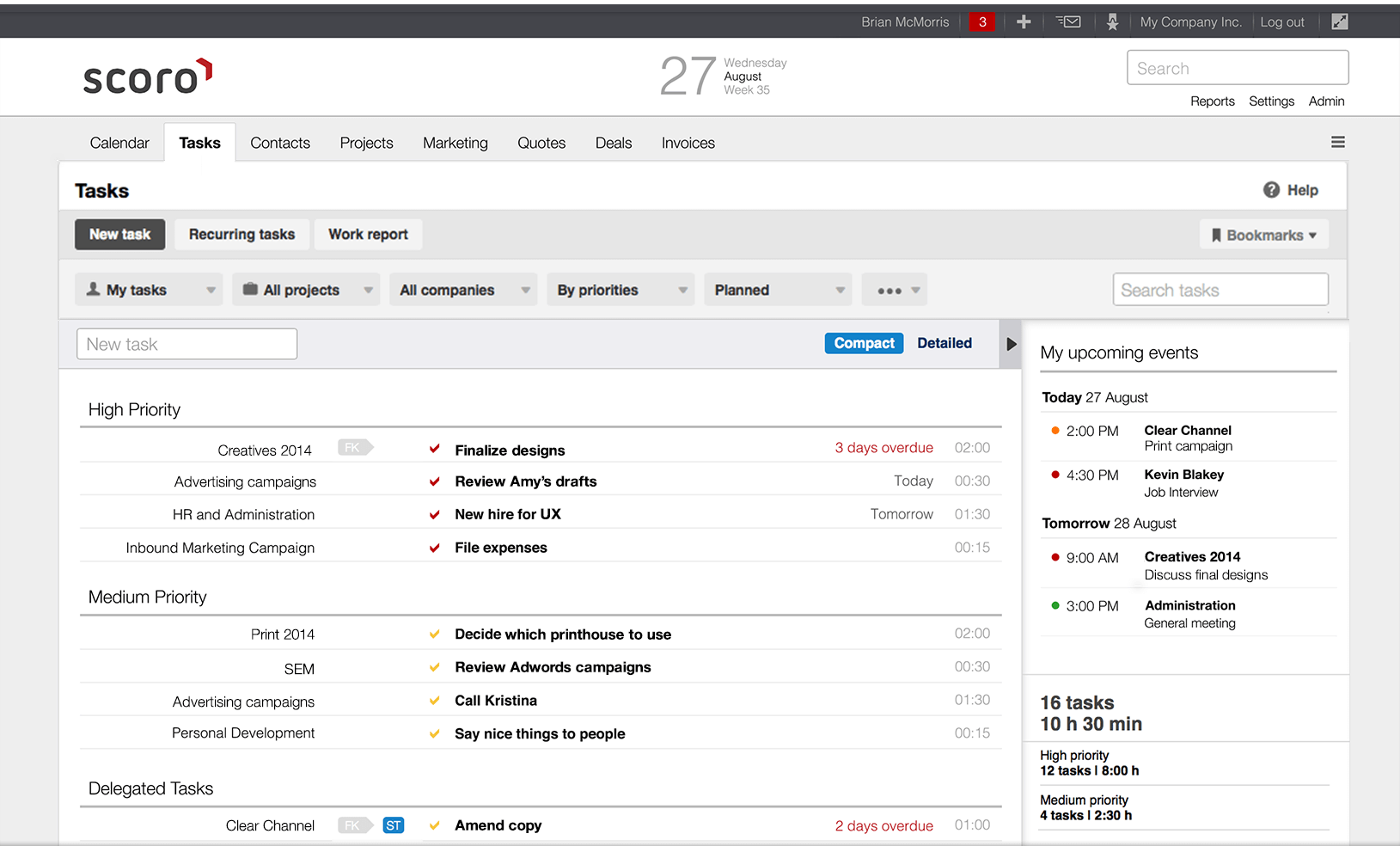 Tasks
Tasks help you get things done faster
Add tasks to yourself and others and link these to projects and clients.
E-mail tasks to your smart inbox and they will instantly appear on your task list. If you forward a client's email, it will be automatically linked with the respective contact in Scoro.
Schedule daily, weekly and monthly assignments and they will automatically pop-up on the task list.
All completed tasks are compiled into thorough work reports, that you can break down by team member, client, project and activity.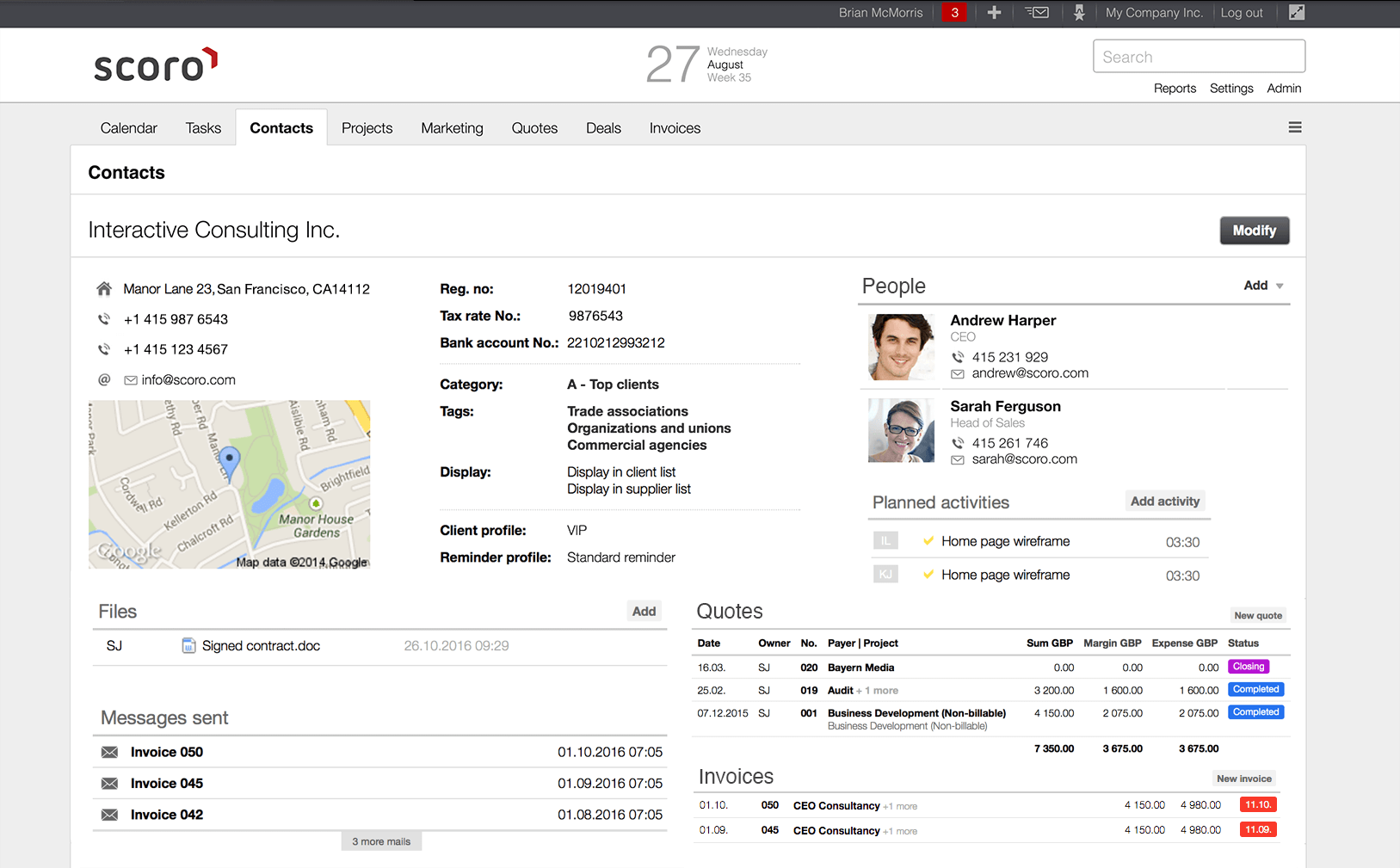 CRM
Your client and supplier relations organized
A complete overview of a client or supplier on one page – from the first "hello" to the final invoice.
This includes contact details, linked files, communication history, projects linked plus all quotes, orders and invoices.
Search, filter and sort your contacts based on configurable tags, categories, location, latest activity etc. Save any of these filtered views as bookmarks for quick access.
Quotes
Track all deals in one place
Compile a quote and send it as a beautiful PDF-file with just a few clicks.
Create an order and issue an invoice based on the same details in a single click.
Get a visual overview of your sales funnel. Drag and drop deals as they move from one stage to another.
Issue similar quotes on pre-saved templates. All the right fields are filled in automatically.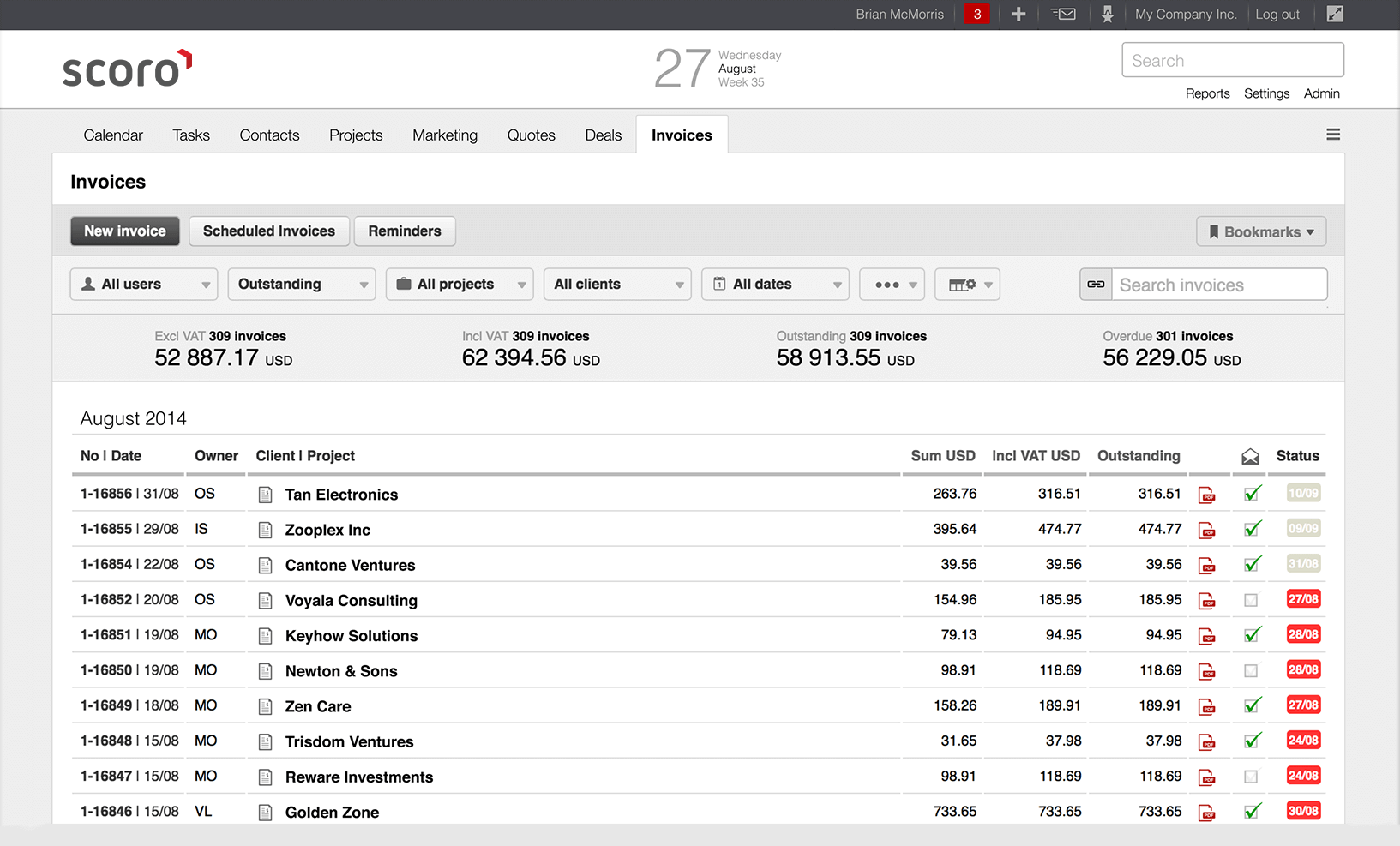 Finance
Billing and expenses made simple


Issue sales, prepayment and credit invoices in any currency and send these as PDF-files.
Track both the actual and billable time spent on a project or a client and transfer the hours to an invoice.
Compare several budget scenarios against actual revenue, costs or profit and get forecasts based on scheduled invoices and booked deals.
Automate late invoice reminders, scheduled and recurring invoicing.
Track expenses including purchase invoices and labor cost.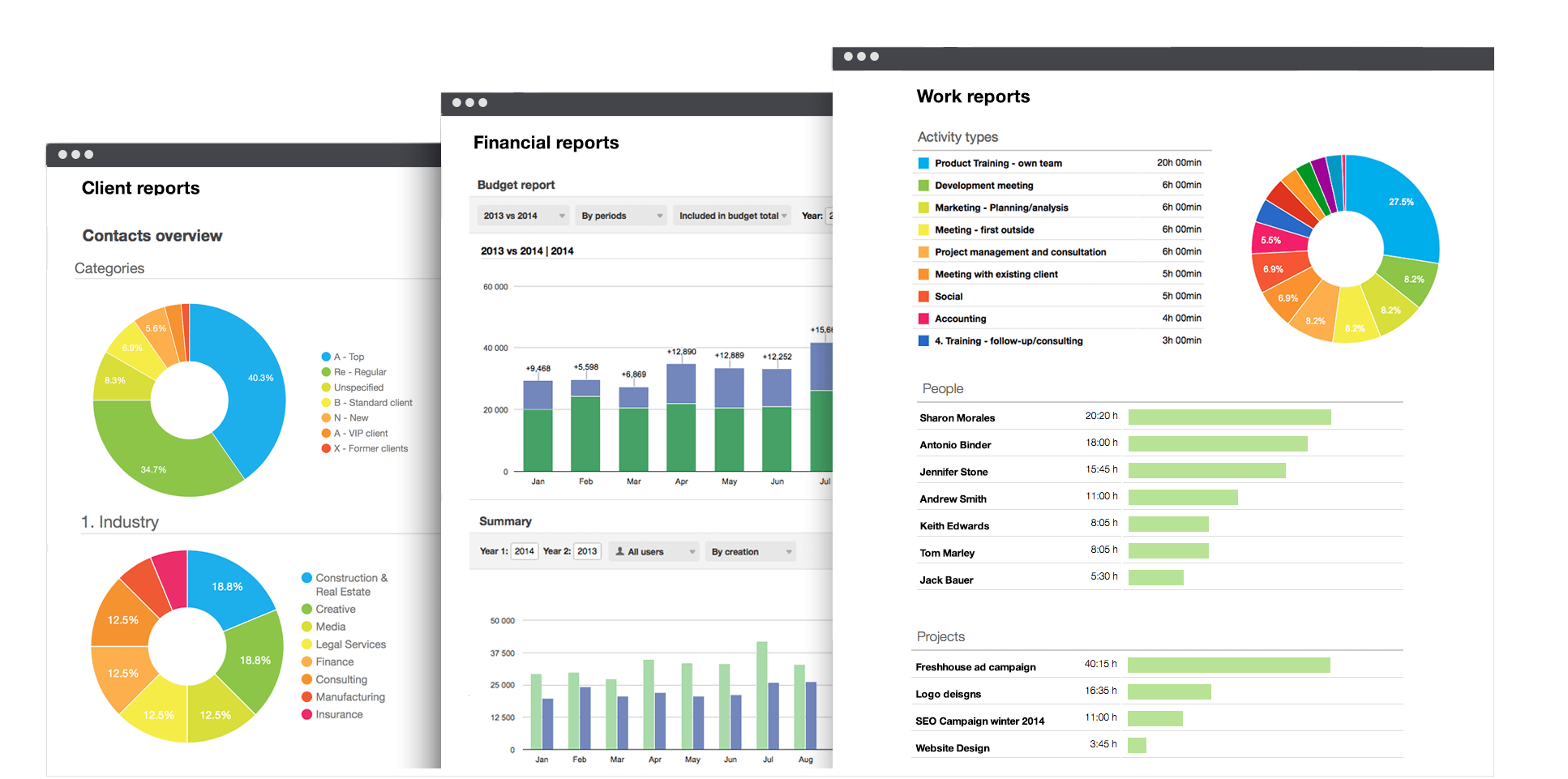 Reports
Advanced reporting in a few clicks
View clickable financial reports on actual results with budget deficit and surplus.
Get a compact overview of time spent or planned broken down in various ways.
Use accounting dimensions, real-time sales margin estimation and customizable tags for advanced reporting.
Filter and group reports in countless ways and bookmark them for quick access. Zoom in on any report to the actual work item or invoice line.
Compare two periods to see trends over time.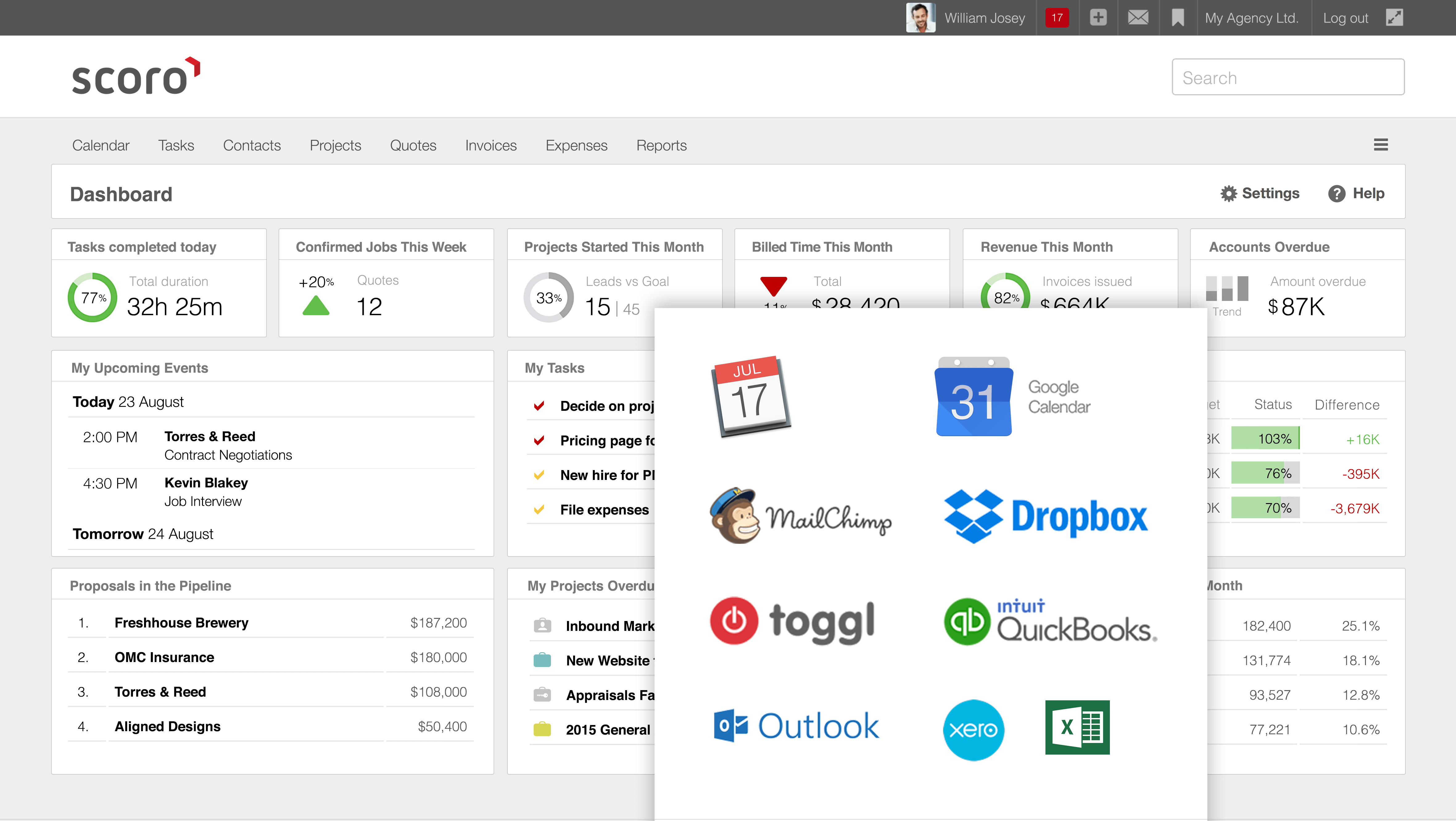 Integrations
Integrate with various tools
Synchronize your Scoro calendar with iCal, Outlook, Google, MS Exchange and other calendar applications.
Connect your Dropbox account or FTP server to access your files right where you need them.
Connect Scoro with Mailchimp to instantly update your mailing lists and to view info on opens, clicks and unsubscribes in Scoro.
Synchronize financial information with your accounting software via our API.
Use our full-featured API to build integrations with almost any software solution.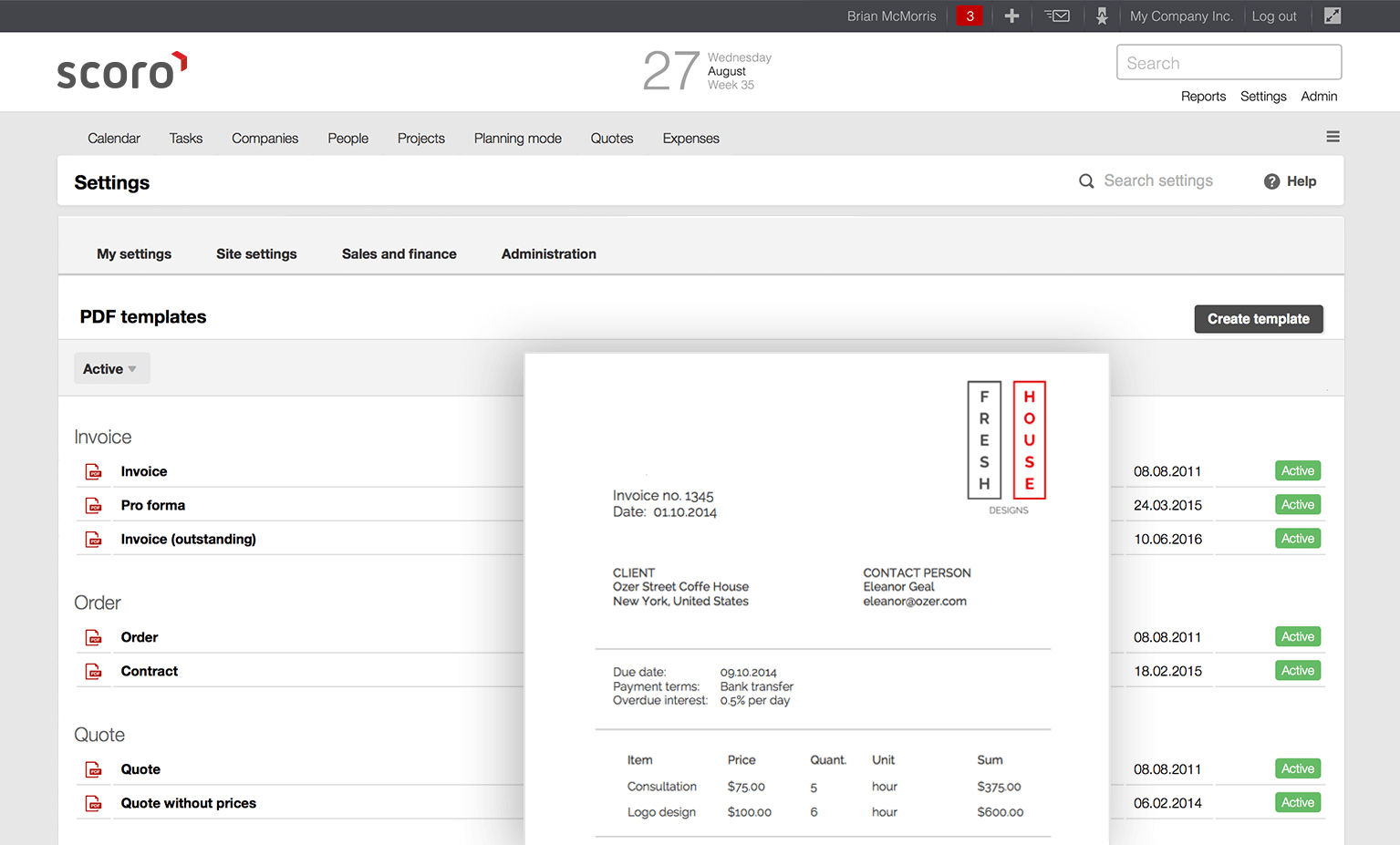 Customization
Customize any aspect of your site
Configure tags, categories, activity/product types and add custom fields to almost any feature.
Customize PDF templates with a point-and-click interface for invoices, quotes, orders and reports.
Set permissions for each user to limit access to specific features or certain projects.
Use bookmarks to create hundreds of custom views and reports.
Start your free 14-day trial
All features included, no credit card required.