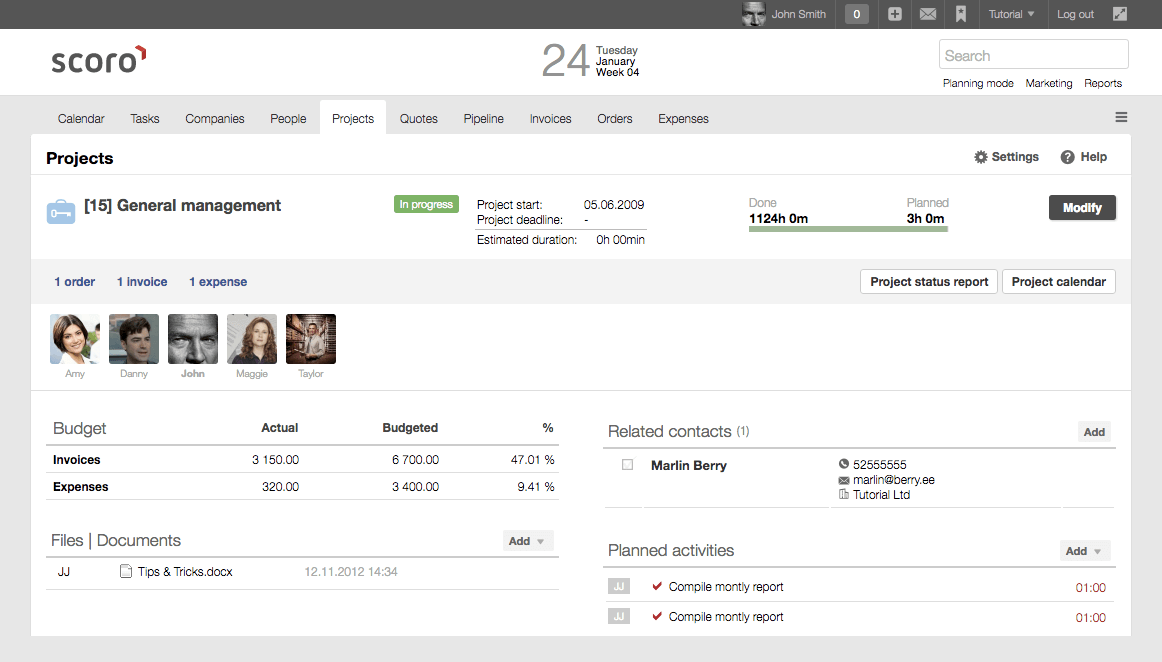 Project Management
Plan & manage your work more efficiently.
Create and manage an unlimited number of projects.
Divide your work into tasks and subtasks, and delegate tasks within the team.
Set priorities and deadlines to each task.
Schedule all your meetings in a shared team calendar.
Plan your team's work hour by hour with project planning feature.
Track the time spent on tasks & projects, see work reports, and bill your customers accordingly.
CRM & Quotes
Forget about messy spreadsheets.
Create and send quotes as beautiful PDF files.
Turn the work on your quotes into manageable tasks.
Manage all your contacts in Scoro, and link projects and quotes with contacts.
Get a visual overview of your sales funnel. Drag and drop deals as they move from one stage to another.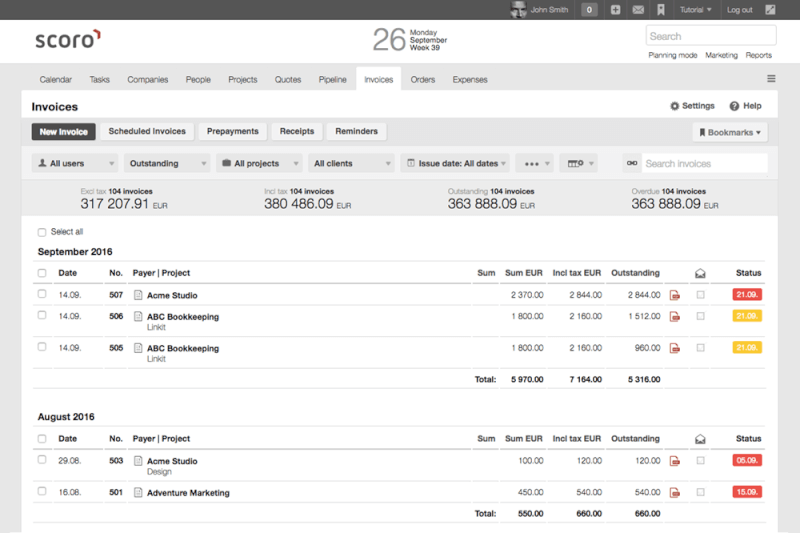 Billing
Forget about messy spreadsheets.
Create invoices based on your quotes and work reports.
Issue sales, prepayment and credit invoices in any currency, and send these as PDF-files.
Automate late invoice reminders, scheduled and recurring invoicing.
Set custom rates based on users and projects.
Create invoices faster with templates from our PDF library.
View real-time financial reports on project budgets, sales, quotes, and orders.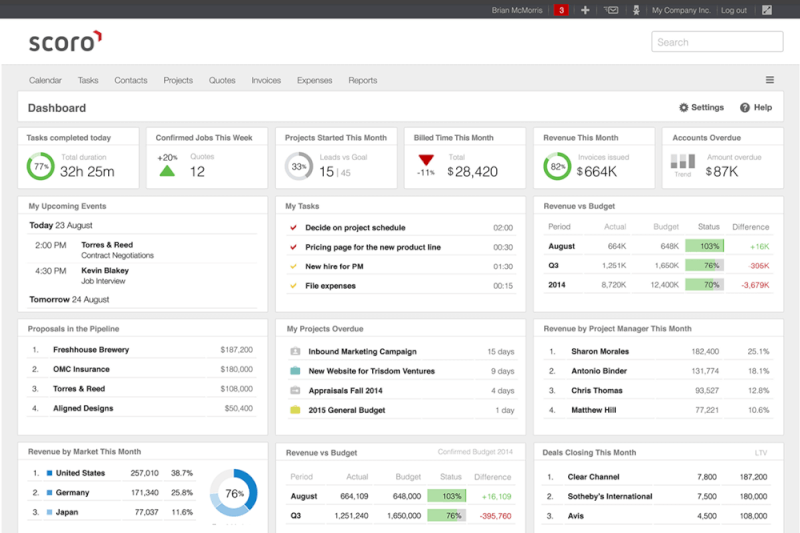 Reporting & Dashboard
Increase your revenue with data-driven decisions.
See work reports on completed tasks and projects, and know how your team's time was spent.
Get project progress reports that show how much work has been planned or completed, and the time left unscheduled.
Use a real-time KPI dashboard to see all your important information on one page.
Include metrics and lists about your scheduled meetings, upcoming tasks, time worked/week, sent invoices, etc.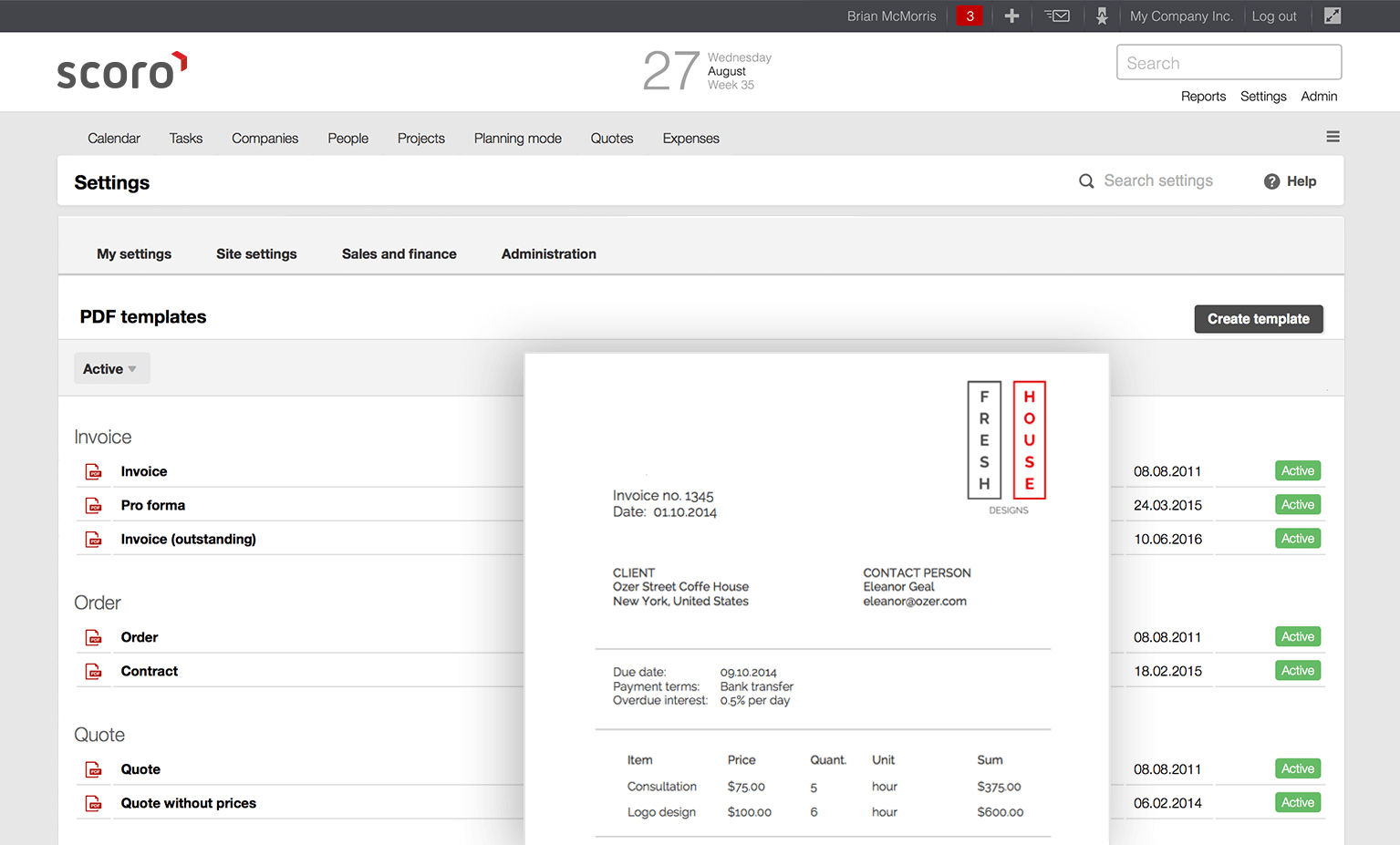 Customization
The most customizable project software.
Set permissions for each user to limit access to specific information or certain projects.
Customize PDF templates with a point-and-click interface for invoices, quotes, orders and reports.
Configure tags, categories, activity/product types and add custom fields to almost any feature.
Use bookmarks to create hundreds of custom views and reports.
Get 14-day free trial
No credit card required. It's 100% free to get started.
Start your free 14-day trial
All features included, no credit card required.