Scoro
How to Manage Your Company's Resources with Scoro
THE PURPOSE of work management is to bring together people, processes, and tools in order to reach goals more efficiently. Therefore, one of the most important elements of work management is managing the resources.
Sometimes even the perfect project plan fails. Having real-time transparency into the allocation of your resources will help you make important decisions faster – and improve your estimation and execution of future projects.
Using these Scoro's features for managing your company's resources makes project planning, progress tracking, and coordinating your team's work more accurate, data-driven and stress-free.
Read on: 23 Tips That Will Change The Way You Think About Resource Management
1. Never over-schedule or under-utilize your team again – The Planner
Accurate business predictions mean saved time and money. This is important for the managers and employees, but also clients.
Wouldn't it be nice to keep track of and plan your team's time, so you'd know exactly how your team members are utilizing their time and which tasks and projects they are working on? Scoro's Planner makes it super easy to assign new tasks to your team members and see who's overbooked – or who could take on another task or two.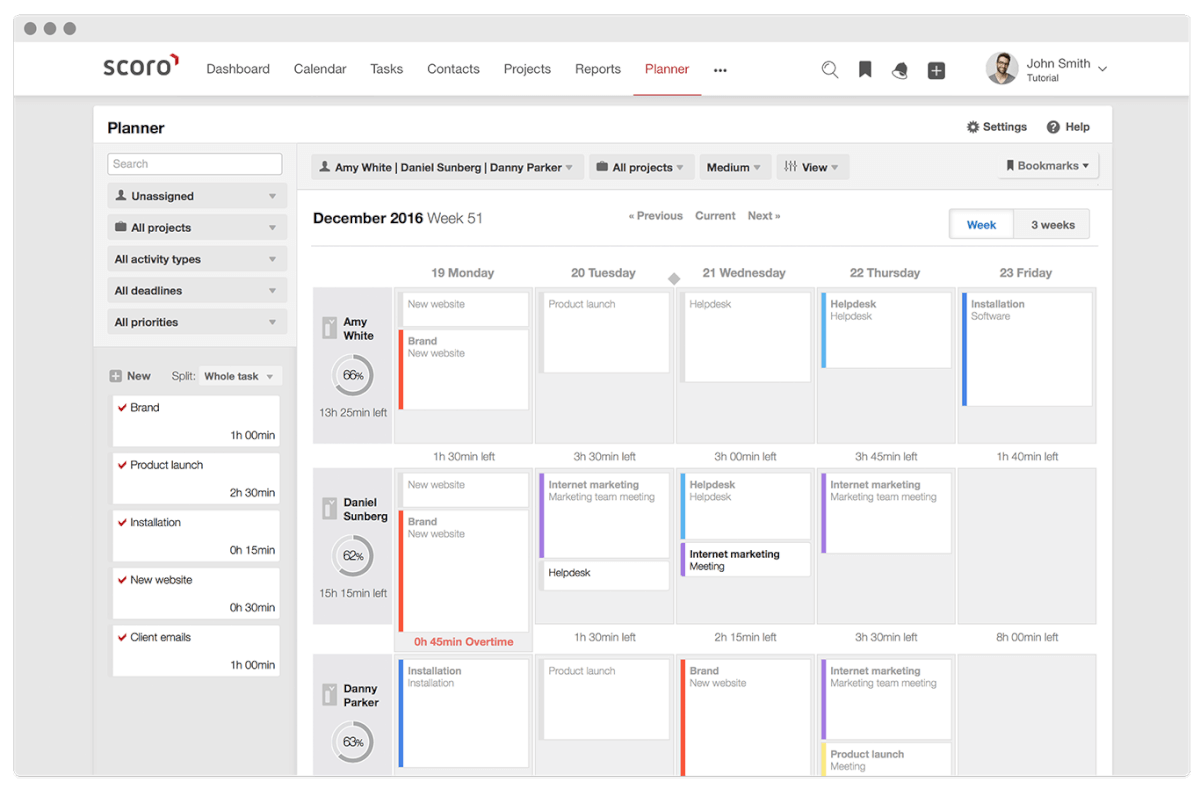 You can view the Planner in a week view, or use the three weeks view to plan ahead and compare coming weeks to the previous one.
The filters in the Planner allow you to choose whose schedule you wish to see. You can also filter by projects, activity types, deadlines, and priorities.
Tip: If most of the team members work for eight hours a day, but one of them for six hours, a visual indication in the schedule will show exactly whether a person's working hours are limited.
In the case of a high priority task, you can activate the Domino-mode. This will prioritize work and postpone everything else in the schedule.
2. Understand which projects, tasks, and meetings are the most profitable – Time Tracking
Timesheets are popular among businesses that bill their clients on an hourly basis. But employee time tracking can also provide valuable insight for companies with a different business model.
Keeping a log of a personal and a team's progress helps to improve motivation as everyone can see the effect of their work. Moreover, you'll be able to analyze which tasks are the most productive, while reducing procrastination during your days at work.
Read more: 16 Time Tracking Best Practices to Get More Out of Your Time
When every employee sends unorganized time-tracking notes to the manager, it might take more than a day to make sense of the data. Project managers spend hours on reviewing and documenting everyone's work because everything is scattered between emails and spreadsheets. Scoro's Time Entries automate the documentation process entirely! You'll never lose important data and even better – it can be found with a quick Control + F formula.
The Time Entries feature allows you to divide a task into several subtasks, and mark the time spent on each entry. There can be an unlimited amount of time entries under a task with various activity types, descriptions and assignees.
The duration of the time entry is incorporated in the actually spent time of the task, and billable hours (if the Billable Hours function is active) of the task are calculated the same way.
Planned and completed time entries are automatically visible in the work report.
As you take up time tracking in your company, the first few months might bring about more hassle than benefits. But trust us. You'll be able to prioritize and delegate much more efficiently in the future!
3. Create to-do lists, assign tasks and get real-time updates on your projects – The Task List
Manage your team's collaborative task lists, and effectively work with your team to get things done. Scoro's Task List is shared with your whole team. You can delegate tasks, see who is working on what, link tasks to clients or projects, and assign deadlines.
You can easily add tasks to yourself and others in Scoro or via email. Once scheduled, daily, weekly and monthly tasks will automatically pop up on the list.
Read on: Top 21 Work Management Software for Efficient Work Management
Tasks are assigned to the creator by default, but you can change it, or mark it as Unassigned and assign it to someone else later on. A project manager can, for example, add unassigned tasks for the entire team and the team members can pick those tasks for themselves.
Save time by using the Recurring Tasks functionality, and skip manually adding recurring tasks.
A Task Board enables you to manage your tasks in a pipeline view. You have a visual overview of all the tasks, sorted by companies, projects or users – much like a kanban board.
Tip: With the Smart Inbox feature, you can add tasks via email. For example, a team member sends you an email about something you need to do. Instead of going to your Scoro site to add a new task manually, you can send the email to your smart inbox address, and a task will be added to your task list automatically.
Read on: What is Work Management Software?
4. Manage multiple calendars and resources with an ease – The Calendar
Scoro's Calendar gives you a clear overview of all the events you and your team have planned. Book meeting rooms, cars, equipment and other resources in just a few clicks and link contacts and projects to events. This way, the whole team has an overview of the availability of the resources.
Scheduled events can be linked to a company, contact person, project, and finances. Completed events will automatically be added to work reports.
If the event is for more than one team member, include the participants and the event will be added to their calendars.
If the event occurs daily, weekly or monthly, add it as a recurring event, set the interval and the events will appear in the calendar automatically.
You can sync your Scoro calendar with Outlook, Google Calendar or iCal to have an instant overview of your every scheduled event.
5. See how team members are performing across the organization – The Utilization Report
You can officially eliminate the last spreadsheet from your team's time management. With Scoro's Utilization Report, you'll see exactly how much of your team's time is scheduled, available, and used efficiently.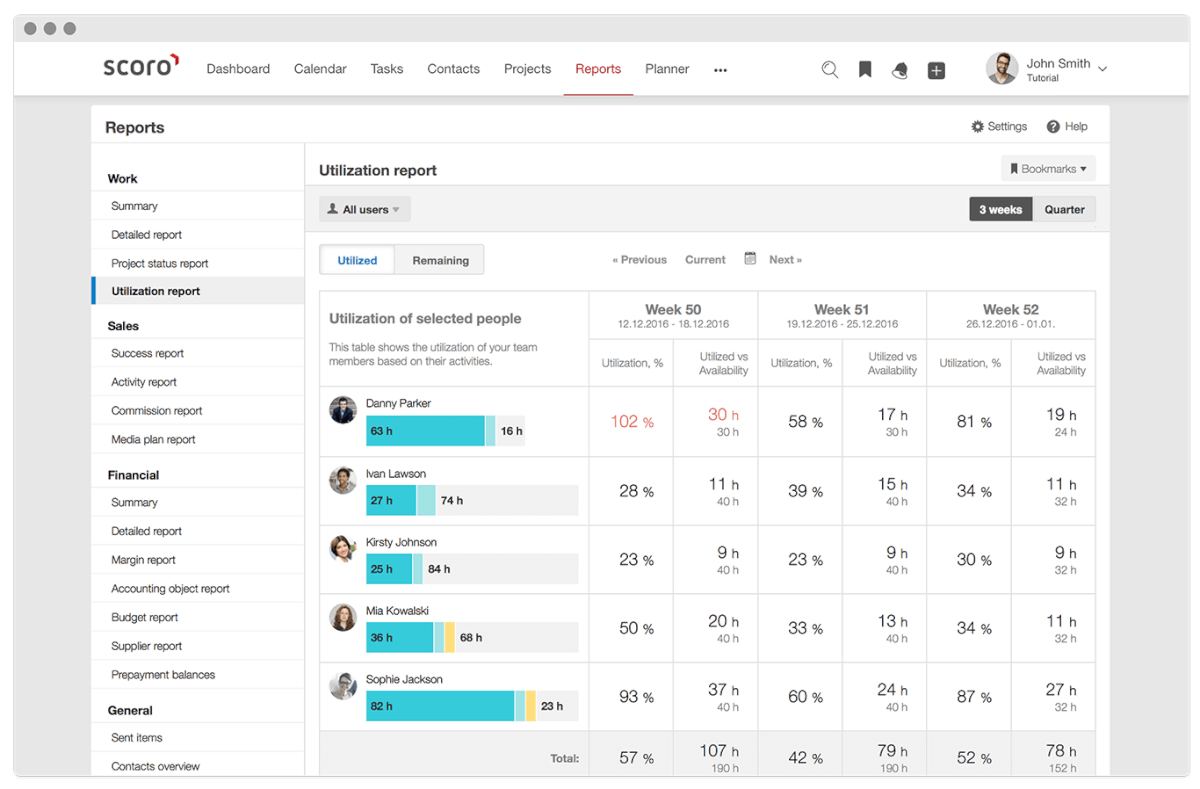 To get better and better at forecasting, compare your team members' workload for the next three weeks or see, how much work has been scheduled for the next quarter.
Moreover, the Utilization Report is great for checking, how much time each team member has for working on specific activities or with certain clients.
You can reference this report when it comes to determining important employee events such as promotions, bonuses, when to hire, or when to let an employee go.
6. Spend less time on reporting and get more insights – The Work Report
Keeping your employees engaged is the key to growing your company and reaching higher profits. But how to evaluate your team's engagement and work results?
In Scoro, we've seen great success by regularly reviewing our team's work reports. But it's not just our own team – many of our partners and clients have also seen the benefits of tracking and evaluating their team's work.
By going through a work report review each month, you'll be able to reduce the inefficiencies and ensure that everyone's highly engaged in their daily work.
The Summary Report is based on the activities of employees. You'll have information about activities done for projects, contacts, and resources with temporal summaries. It gives a great overview of how much work has been done.
The Detailed Work Report gives a more advanced overview of all the events in the calendar and all the tasks that have been marked done (or a time entry under a task is marked as done) during a selected period.
Everyone can see their own work report. In order to see reports of others, the administrator can grant permissions for user roles.
The report can easily be saved into a CSV or PDF file and sent via email with a few simple clicks.
Work reports can be filtered by users, the statuses of events, tasks and time entries, time periods, projects, contacts, resources and activity types, and grouped by various conditions, such as time, contacts, and projects. Additionally, you can also distinguish between work and personal activities.
Read on: 4 Key Insights You'll Find in Your Work Reports Today
Keep in mind:
People are your most valuable resource
Transparency is the key
Trust data, not your gut feeling
Interested in trying out Scoro for yourself? Get a 14-day no strings attached free trial!