Work management
15 Best Employee Timesheet Software For Agencies
TIMESHEETS PLAY AN IMPORTANT ROLE in work management. For instance, tracking billable time to charge customers, assessing if the result is worth the input, calculating payroll and other expenses.
Fortunately, logging in your work time is nowadays much easier thanks to countless online timesheet tools and applications. In addition to time entries, you can also track your work with a timer, get detailed work reports and generate automated and professional invoices.
Timesheet apps can be divided into mainly two categories – simple apps for time tracking and comprehensive work management solutions, which also provide various other features. So, it's up to you – integrate the simple app with your other tools or choose end-to-end business management software, which combines several features you need.
Here's a list of 15 timesheet software and tools to consider.
1. SCORO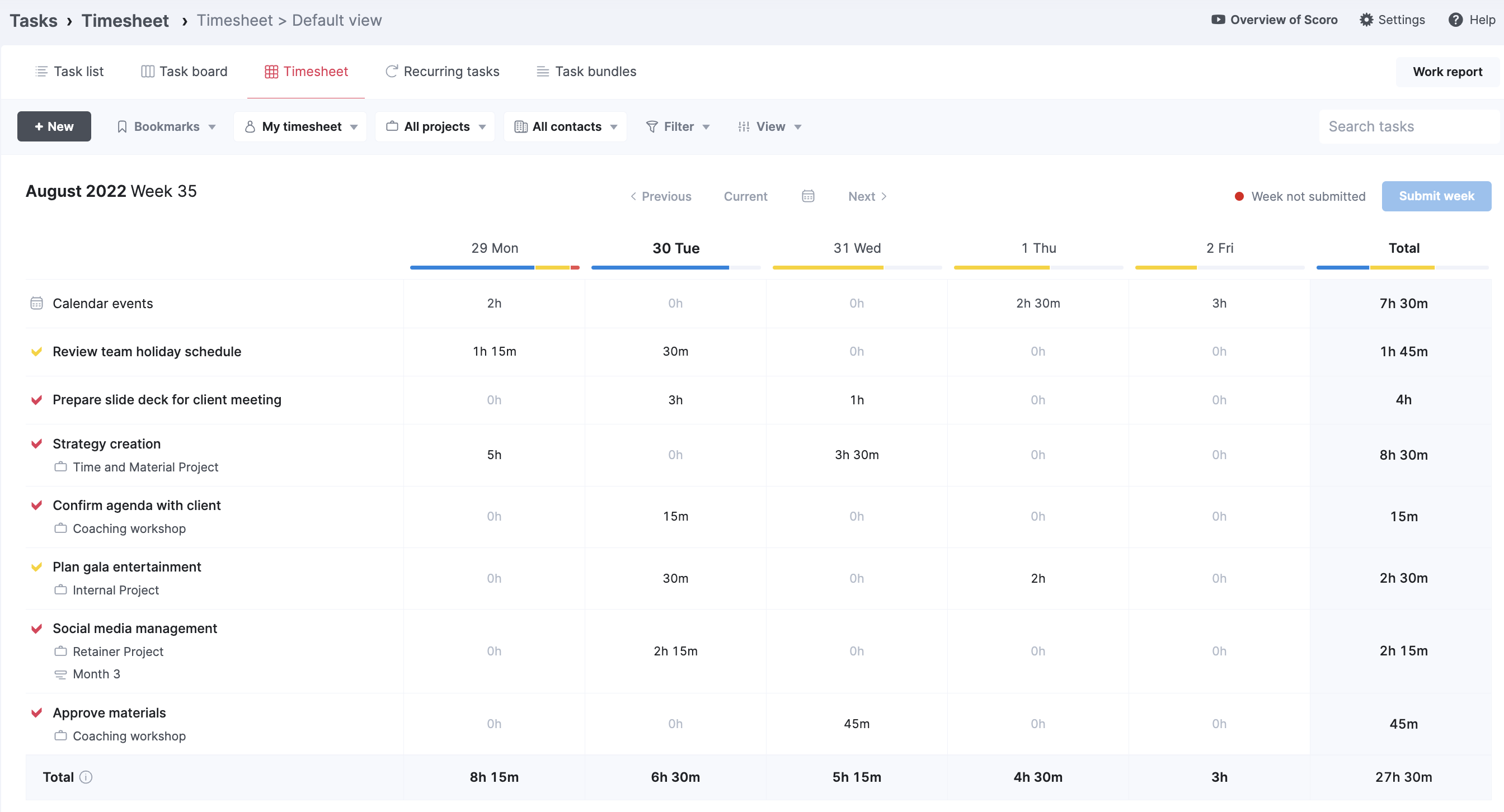 Scoro gives you all the tools you need for efficient time tracking, team collaboration, reports and billing. But there's more to Scoro – it serves as an all-in-one business management solution where you can manage projects, clients, and finances. Work in a creative, digital, PR, or advertising agency, Scoro can replace all your current tools and you'll end up paying a lot less.
Top features:
Time tracking and time billing
Real-time dashboards
Time & work reports
Reporting on sales performance, finances, etc.
CRM
Billing automation
Quoting & invoicing
Project & task management
Highly customizable
Wide range of integrations available

What's interesting about this tool: Scoro enables you to do much more than track time and log work. Scoro combines work management with project management and CRM, enhancing team collaboration and making it easy to manage all your business processes in one place.
Pricing: From $26 month per user. Try Scoro free for 14 days.
2. BEEBOLE

BeeBole Timesheet is a timesheet and business intelligence app for small, medium and big companies. With BeeBole Timesheet, managers can track employees time to control costs and monitor budgets.
Top features:
Daily, weekly and monthly timesheets
One-click timer
Entries approval and lock
Configurable permissions, reports, budgets and currencies

What's interesting about this tool: BeeBole Timesheet appeals to companies of any size because of its easy and yet extremely configurable reports and modules. The mobile app also works offline and it's compatible with every device. It's worth mentioning that BeeBole is available in 8 different languages.
Pricing: $5.99/month per user with volume discounts available. Free trial for 30 days.
3. HARVEST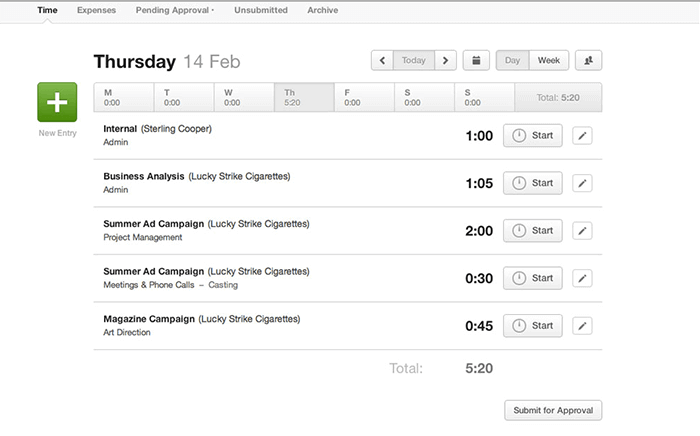 Harvest is one of the best-known timesheet tools on the market. With its simple interface and light feature-set, Harvest makes it super easy to log your work time for fast online invoicing and correct expense tracking.
Top features:
Time tracking from any browser, Mac, iPhone, or Android
Creating estimates and invoices based on the time worked
Real-time reports on time spent
Integrations for tracking time across all your favorite project management tools

What's interesting about this tool: Harvest is a time tracking  software rather than a team collaboration software. It is focused on doing one thing and doing it well.
Pricing: Free and paid plans from $12/month per user. Free trial for 30 days.
4. TOGGL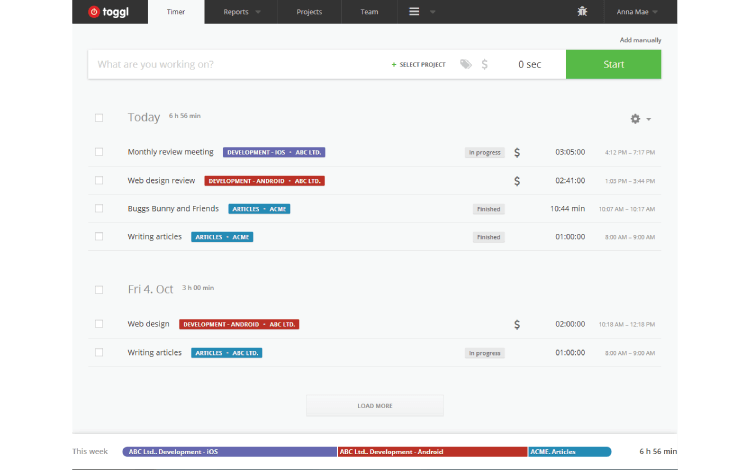 Toggl is a no-hassle time tracking and employee timesheet software that integrates with tens of different project management systems. It is the perfect add-on to your existing tools, helping you to know exactly where your time has been spent.
Top features:
Work timer
Unlimited projects and subprojects for accurate time tracking
Reports featuring team progress
Online & offline time tracking

What's interesting about this tool: Toggl integrates seamlessly with your favorite productivity tools such as Trello Time Tracking Tool, Scoro, or Asana.
Pricing: Plans from $9/month per user. Free trial for 30 days.
Read on: What is Work Management Software?
5. AVAZA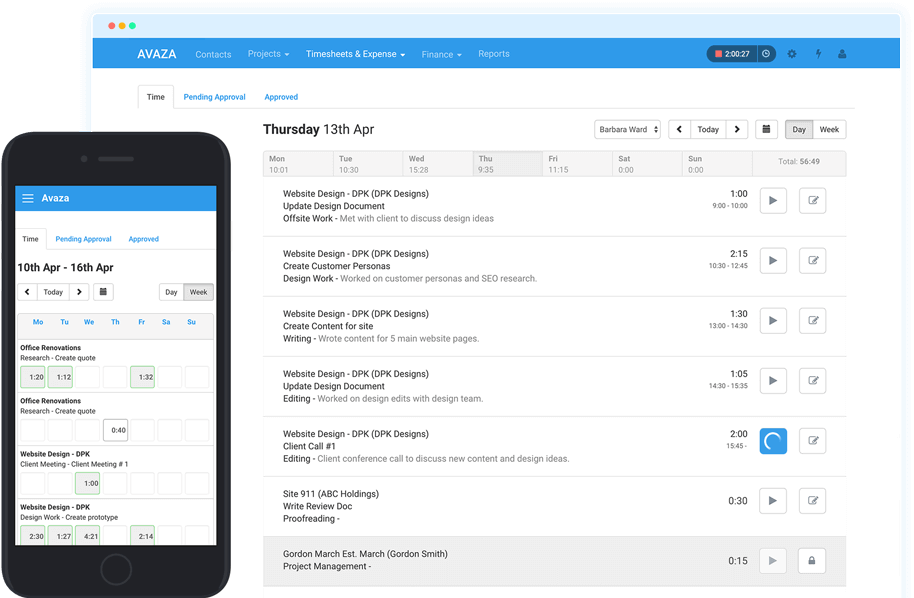 Avaza time tracker lets you start a timer on your phone, stop it on your tablet or any other device, and always keep track of the hours spent on a particular task.
Top features:
Time tracking on the go
Time entries on invoices
Timesheet approvals
Expense tracking & transparent billing

What's interesting about this tool: In addition to timesheets, Avaza offers a list of automation, and project management features.
Pricing: Free for up to 5 projects, from $9.95/month per user for larger teams.
Read on: Review Your Agency's Workflow in 6 Steps
6. REPLICON
Replicon is a comprehensive multi-feature solution that helps companies to track the time spent on work and have a complete overview of their workforce.
Top features:
Time tracking and timesheets
Time clock (timer)
Project budgeting and expense management
Analytics on time usage
Multiple billing rates for different users

What's interesting about this tool: Replicon appeals to large organizations, looking to manage their employees' time more efficiently. The tool helps to get a comprehensive overview of every minute spent at work.
Pricing: On request. Free trial for 14 days.
7. CLICKTIME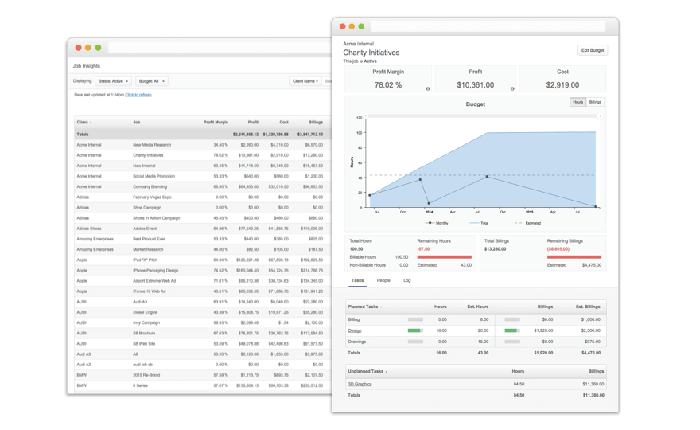 ClickTime helps businesses track both billable time and employee time usage. You'll get complete control over your project budgets and receive accurate timesheets.
Top features:
Online timesheets and billable time entries
Time tracking with stopwatch
Dynamic billing rates
Analyzing project profit, costs, and billings
Reporting on employee and project performance
Forecasting the time needed for tasks
What's interesting about this tool: ClickTime gives you more insight into your time usage than some rather simple timesheet tools. It is focused on improving your team's workflow and helps to plan your budgets and time more efficiently.
Pricing: From $16/month per user. Free trial for 30 days.
8. ZOHO PROJECTS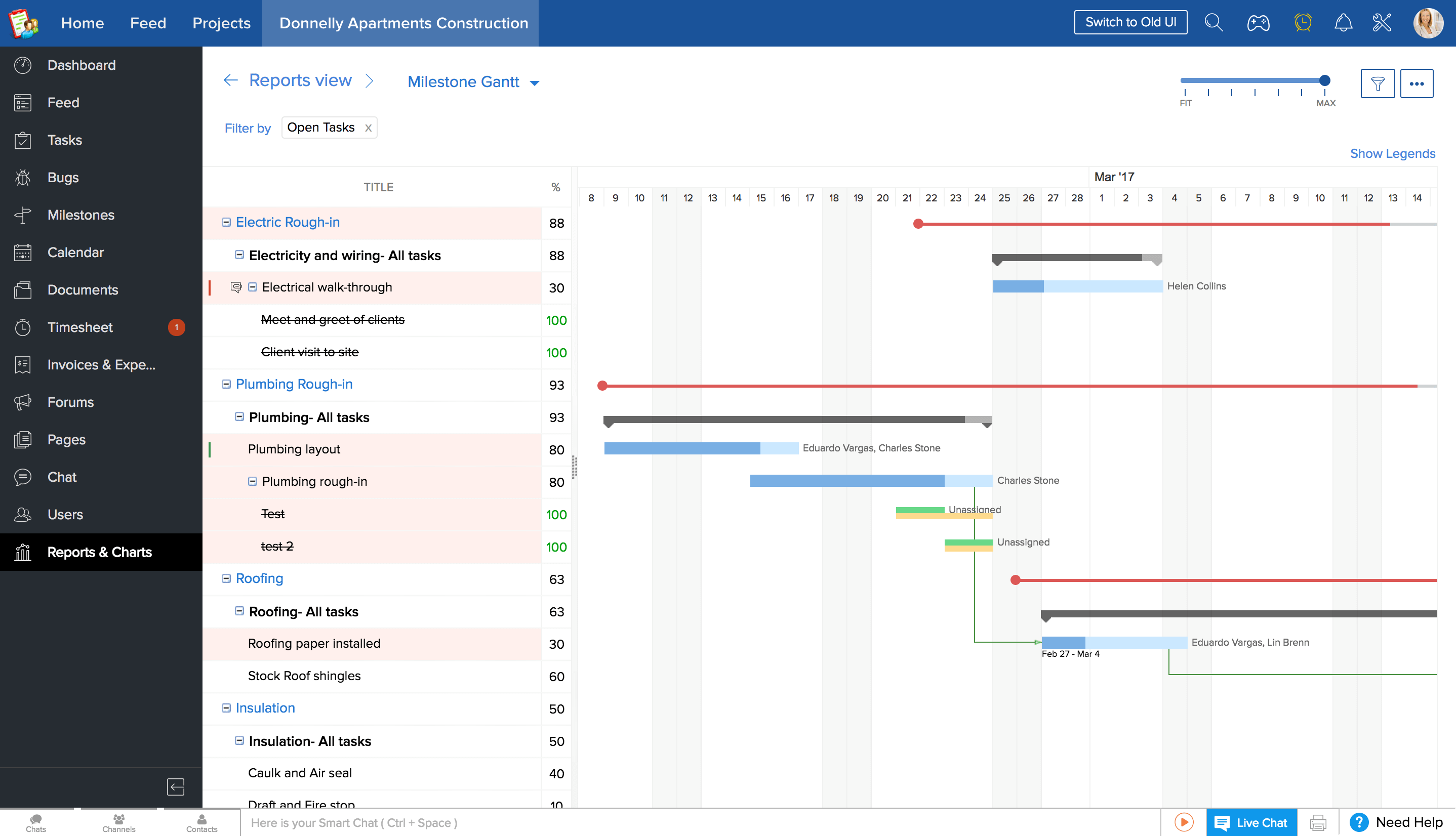 Zoho Projects offers time tracking functionalities that streamline the performance of a project, calculates task time and exports timesheet data. It also integrates with Zoho Invoice or Zoho Books for sending invoices with ease.
Top features:
Timesheets record the start and end date of tasks
Log time daily or weekly based on your project
Record billing hours
Export timesheets in various formats
Create invoices and bill clients
Timer for tasks

What's interesting about this tool: Zoho provides much more than just time tracking and billing. You can also choose from various other functionalities such as Zoho CRM, Zoho Recruit, Zoho Desk and Zoho Creator.
Pricing: Free solution with limited features, paid solution from $25/month.
Check out this Zoho Alternative and 21 best Zoho Alternatives for business management!
9. FRECKLE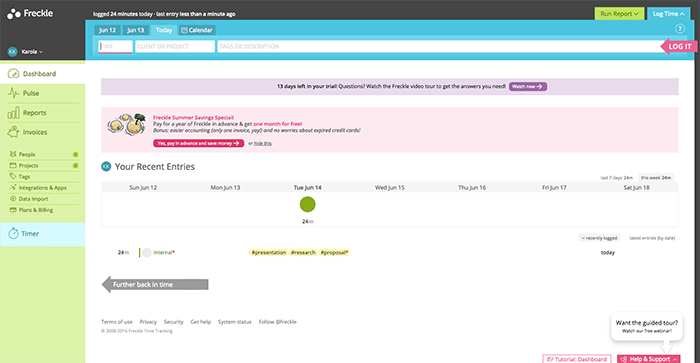 Freckle's mission is to make time tracking fast, easy, and almost fun so that your team would do it with pleasure.
Top features:
Time tracking
Time sheets (can be exported)
Dashboard that shows your time expenditure
Categorizing people and running reports
Invoicing and billing for the time worked
Mac timer app, iPhone app, mobile web app

What's interesting about this tool: Freckle uses tags to track projects and to navigate between billable and non-billable tasks. This makes adding time entries a quick and easy process.
Pricing: From $25/month for five users. Additional users $10/month. Free trial for 14 days.
Everything about your business, one click away
10. PAYMO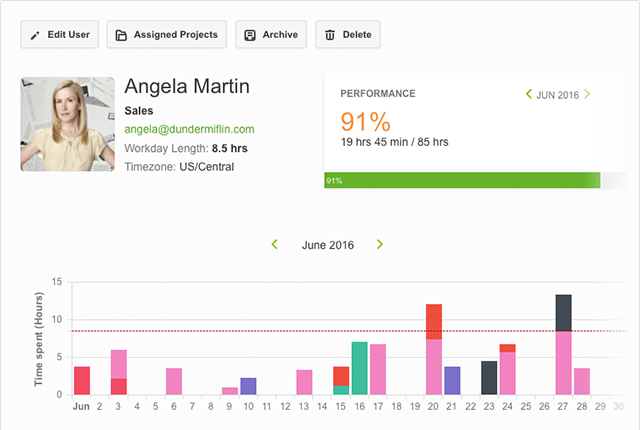 If you're looking for a simple yet powerful time management tool, Paymo might have the answer. The tool brings project management, work reporting, and time billing under one roof, making it easier to get an overview of your team's performance.
Top features:
Automatic time tracking
User performance and stats
Dashboard to see your team's performance
Billing customers for completed tasks
Mobile and desktop apps for accurate time tracking
What's interesting about this tool: With Paymo Plus, you can automate the time tracking completely. All you need to do is download the desktop app, set it up, and at the end of each day, categorize all your time entries.
Pricing: From $4.95/month per user. Free trial for 15 days.
11. TICK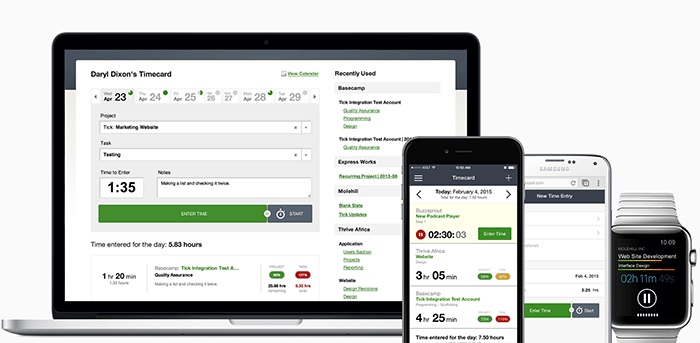 Tick is a straight-forward time tracking app that helps you make the most out of your time.
Top features:
Time cards & instant budget feedback in the time card
Running timers to track the time worked on tasks
Mobile apps and browser extensions for time tracking
Integration with QuickBooks for sending invoices
Integration with all 3 Basecamp versions
What's interesting about this tool: Tick permits to track time to hit budgets for customers that do value billing. Integrate Tick with QuickBooks and automate your billing and calculate payroll.
Pricing: Free plan and paid plan from $10/month. Free trial for 30 days.
12. JOURNYX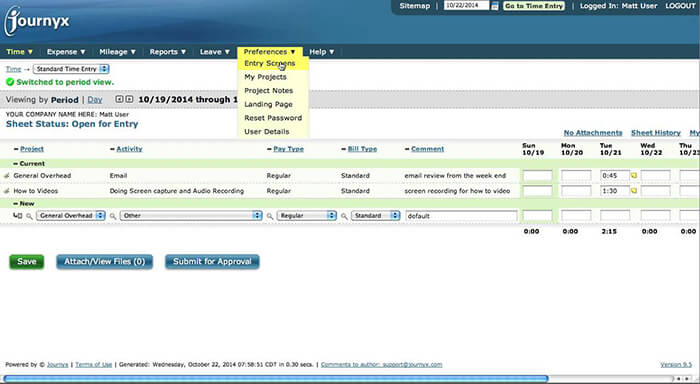 Journyx makes up for its average user experience with a wide set of features for time and expense tracking, resource scheduling, and Gantt Charts.
Top features:
Monitoring time worked and time off
Tracking resource usage across projects and non-project activities
Reviewing schedules in real time
Accounting for billable and non-billable time and expenses
What's interesting about this tool: Journyx has customizable dashboards that let you monitor the exact information you need to know. It is also the perfect tool for those who like old-school software interfaces.
Pricing: On request.
13. TEAMWORK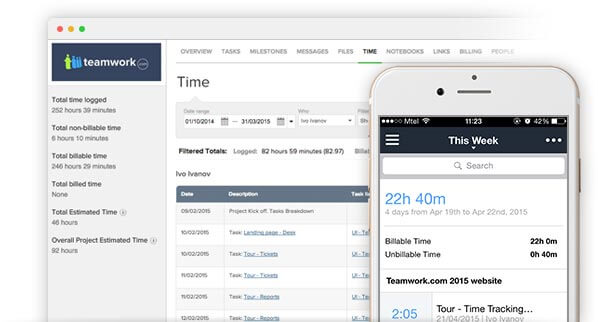 Teamwork lets you estimate the time you think you'll need to complete tasks and then log your actual time against it. Soon you'll become very accurate in your estimates, and you'll know exactly how long it takes to complete certain tasks!
Top features:
Estimating and tracking time spent on a project
Custom time reports with export options
Tracking time on the go
Sending invoices based on the time worked
What's interesting about this tool: Teamwork is more than just a timesheet software – it also lets you manage projects and is beta testing team collaboration tools such as Teamwork Chat.
Pricing: Free plan and paid plan from $69/month. Free trial for 30 days.
Read more: Comprehensive list of Teamwork alternatives.
14. HUBSTAFF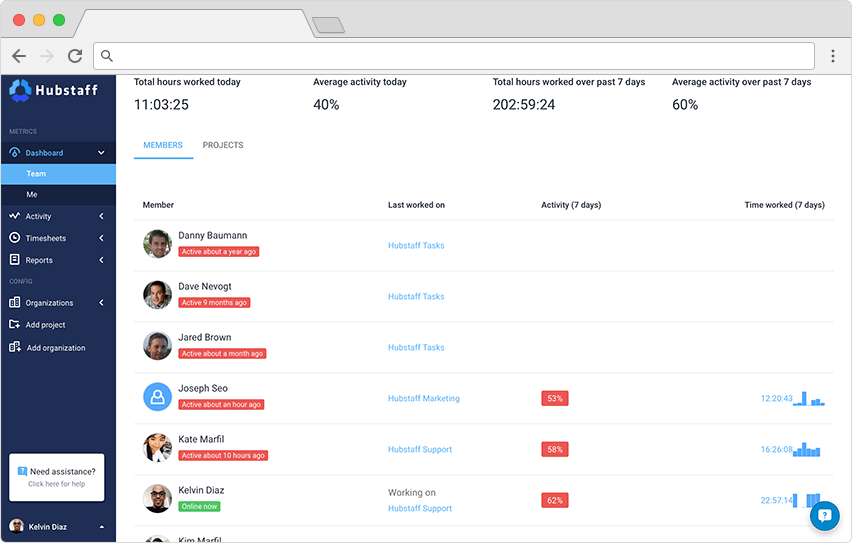 Hubstaff is an automatic online timesheet tool to easily pay employees for work completed. It has over 30 integrations to smoothly plug it into your current tools.
Top features:
Automatic and manual time tracking
Activity view with optional screenshot-taking
Customizable reports
Timesheets and online payments
The option to integrate Hubstaff with numerous other apps

What's interesting about this tool: Hubstaff lets you take screenshots and measure activity levels so you can monitor your remote employees. The mobile app also lets you track time working or driving and offers fleet or employee location tracking via GPS.
Pricing: From $5/month per user. Free trial for 14 days.
15. TIMESHEETS.COM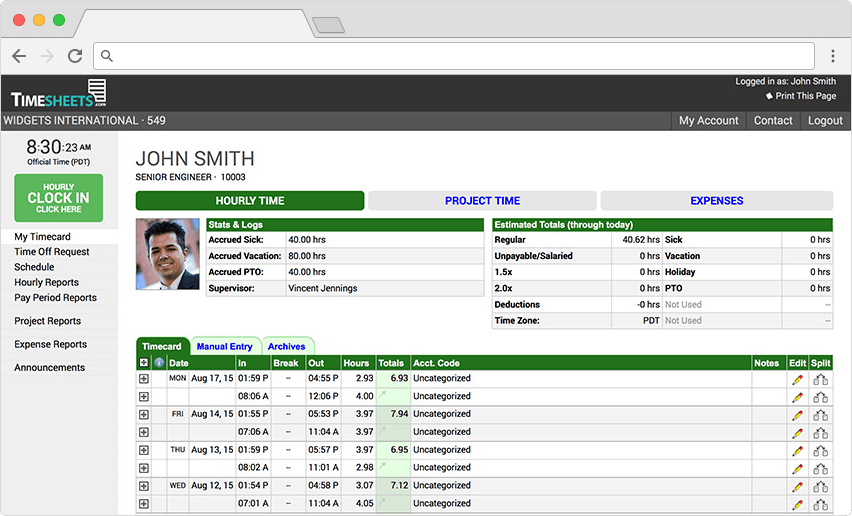 In addition to quoting capabilities, Timesheets.com is a simple timesheet tool, which allows you to track time with timers or insert data manually. In addition, you can get reports and set different bill rates per employee.
Top features:
Hourly time clock
Billable time tracking and job costing
Requests, calendar, usage, and reporting
Track time and expenses on mobile
Reimbursable expense tracking

What's interesting about this tool: If you are a freelancer, make sure to check out this tool – they offer a free solution for you.
Pricing: Free plan and paid plans from $9/month. Free trial for 30 days.
---

The choice of software really depends on your business nature, company's size, workflow, current software and business processes. Keep testing new solutions until you find the most suitable one!
Further reading