Customer stories
Online Marketing Agency Saves 15+ Hours Every Week with Scoro
Stramark is an online marketing agency from the Netherlands founded in 2008. They work with their customers on a range of online marketing activities – from understanding customer journeys to helping potential clients find their way to your product or service quickly and easily.
Stramark Needed to Improve Their Business Processes
For many years, Stramark used a combination of tools and processes to manage their business. But with the growing need to improve their business processes, a simple CRM and project management solution was implemented. Replacing some of the tools they previously used, their main challenges remained unsolved:
Information was scattered around – Using too many tools meant that information was spread across different apps, resulting in a lot of manual work, overflow of emails and constant double-checking.
Inefficient time-management processes – Without a clear understanding of everyone's workload, it was tricky to align the team's activities and to plan the work for the months ahead.
No real-time overview – Having no overview of the business processes made it difficult to work proactively and to see when something needed to be improved. "When we were using Teamleader, I was convinced that my work was profitable. Unfortunately, it wasn't. And it took the admin office months before they could report back to me," says Wouter Blom, Online Marketing Consultant.
Realizing the limitations of the existing platform, Stramark began looking for an end-to-end solution that would solve these key issues. They did a lot of research and tried different options, but none of them offered an easy-to-use and comprehensive solution.
With Scoro, they quickly felt it might be the right platform for their business. Enabling Stramark to manage every aspect of their business from a single place, they quickly realized the benefits it could bring. "Scoro stood out because it was designed specifically for the professional service industry. It was an end-to-end solution with an intuitive interface, says Wouter.
Everything about your business, one click away
Ideal Business Management Software for Service Companies
Together with Scoro's onboarding specialist, Stramark quickly managed to implement Scoro in their company. "One of the greatest benefits of having an expert helping with the implementation is the time it saves for us," says Wouter. "It also takes a lot of pressure off my shoulders, having a specialist explain how everything works to the team."
"With a comprehensive system like Scoro, there are endless possibilities. And there are processes you cannot anticipate. That's why it's crucial to work with the onboarding team who can guide you through every step." – Wouter Blom
Today, everyone in the Stramark's team is using the Scoro platform for their work, and they take advantage of almost every part of the software:
However, the unique and beneficial features are reports and customizable dashboards, which have enabled everyone to become more proactive. The whole team has quick access to data, such as planned vs actual hours, hours billed (and comparison across months), overdue invoices, quoted last 30 days, as well as contribution margin.
"We have built a transparent business, and most numbers are now available to everyone. It makes it possible to grow the team and the number of clients without extra management hours," says Wouter.
Scoro has Enabled Stramark to Improve Efficiency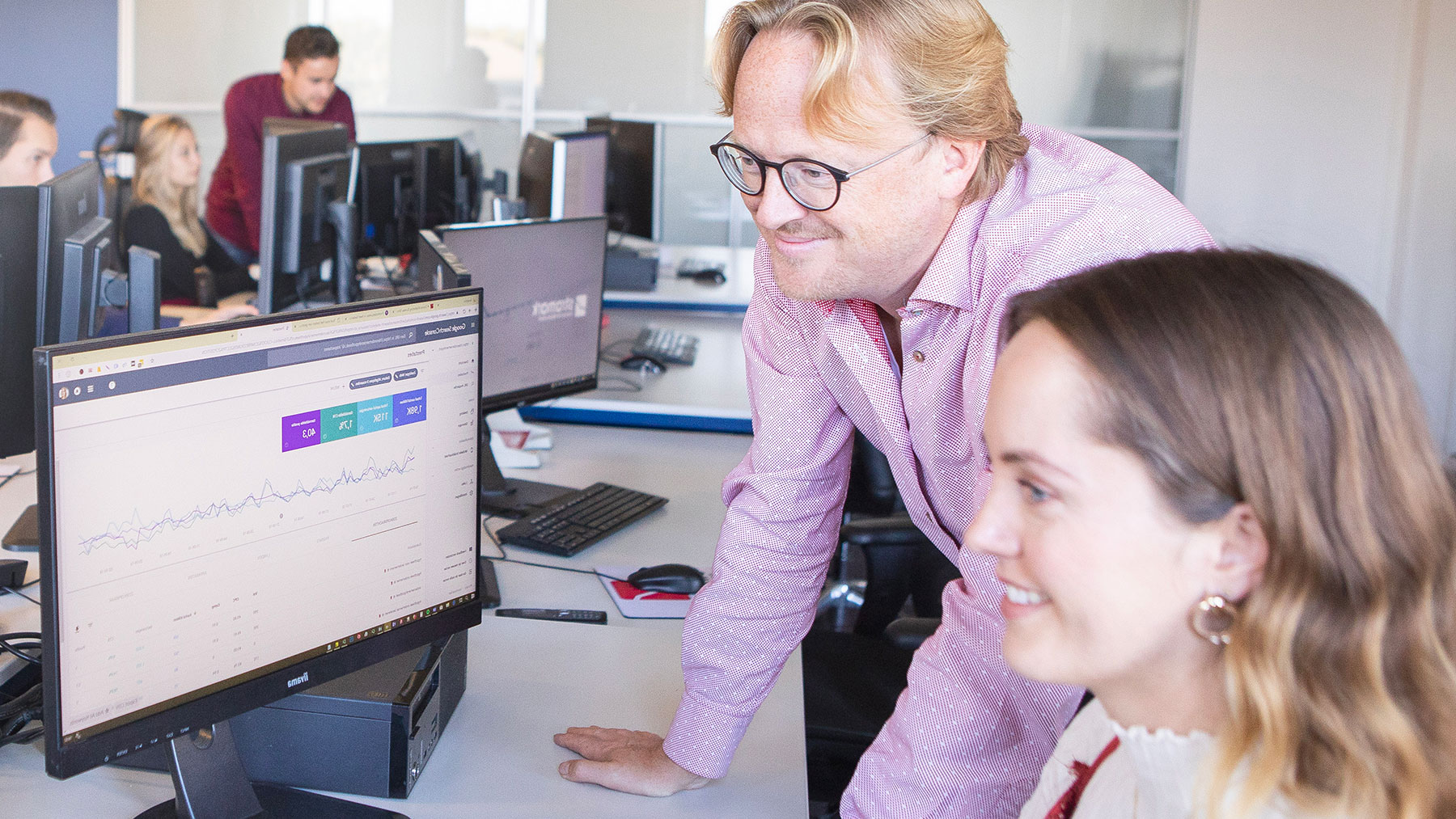 Scoro's platform has immensely improved the way Stramark works and eliminated a lot of frustration for the whole team – everyone has a clear understanding of what has to be done. Further, it has enabled everyone in the company to be more proactive and focus on their priorities.
Besides eliminating frustrations and enabling proactive workflow, Scoro has proven to be an invaluable software solution for Stramark. Other key benefits include:
Increased team efficiency. Team can work more autonomously because everyone knows their own responsibilities. Consultants have the freedom to create and change their schedule, and they don't have to rely on their managers to make a weekly plan.
Better use of time. As consultants can work more independently, managers don't have to spend hours in meetings and waste time on micromanaging people. Instead, they can spend their time on the most important things, such as development and strategy.
Improved business overview. Thanks to the real-time information, everyone in Stramark has a clear understanding of the business. Key stakeholders can see immediately when the goals are not met, or some processes need to be improved.
Increased quality and fewer errors. Stramark has managed to further enhance the quality of their work by at least 10%. "Having all the information gathered into a single solution, we can assure that we bill our clients with greater accuracy and this, in turn, ensures that our clients get at least 10% more value."
"With Scoro, our consultants have become the rulers of their time and planning. More than that, they are now saving around 2 hours every week." – Wouter Blom
Everything about your business, one click away