Work management
19 Best Invoicing and Billing Software That Get You Paid On Time (2023 Update)
Let's face it – invoicing can be a pain. Creating invoices, sending them out, and having to follow up on unpaid bills can take up a lot of time. What's more, recurring invoices could cost you money without you realizing it. Online invoicing software is an excellent alternative to the old accounting systems.
With business invoice software, you can manage all the processes more effectively and, as a result, save a ton of time and money. There are plenty of options available that enable you to send out personalized invoices easily. Also, to make sure you get paid on time, without losing track of the payments that you are owed.
But with such an abundance of online invoice software available, which one should you choose? We have tested out a lot of free and paid solutions and selected our top 19 recommendations to make the decision a bit easier for you.
1. Scoro
Scoro is an all-in-one business management and invoicing software that helps you streamline your entire invoicing process. Compile beautiful invoices, automatically send payment reminders – and get paid faster.
Top features:

Easily create and send customized sales, prepayment, and credit invoices and quotes.
Set up recurring payments and spend less time on monthly billing.
Set up automated overdue reminders, and get paid on time.
Get a complete overview of each client's or project's profitability.
View all the vital information on a real-time dashboard: sent invoices, monthly estimated revenue, etc.
What's interesting about this tool: Scoro gives you the tools to manage every aspect of your business – projects, clients, and invoicing. Instead of switching between spreadsheets and emails, you'll save countless hours by managing everything within a single solution.
Pricing: From $26 user/month.
2. QuickBooks

QuickBooks is an easy cloud accounting software that helps you organize your finances in one place. You can create and send custom online invoices from any device.
Top features:

Create & send custom invoices, sales receipts, and estimates
Schedule recurring payments to save time
Track sales, expenses, and profits
Track and manage your sales tax
Transact in multiple currencies
Create purchase orders
Track project or job profitability
What's interesting about this tool: The QuickBooks Online Mobile app automatically stores your data in the cloud and syncs across your devices, making it easy to manage your business on-the-go.
Pricing: From $10.36 user/month. 

3. Freshbooks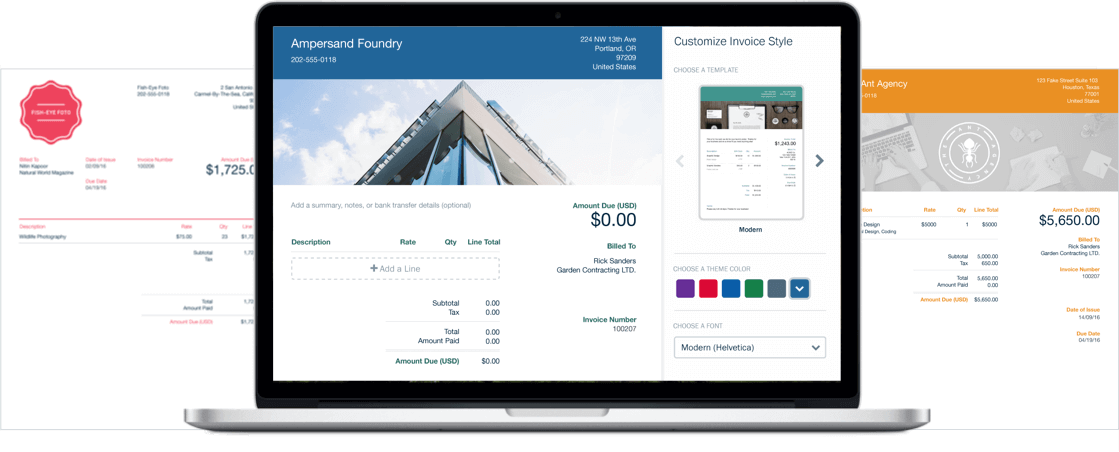 FreshBooks is an invoicing, time tracking, and expense-tracking software geared towards small businesses and freelancers.

Top features:

Customize and send unlimited invoices, including automated recurring invoices.
See when a client has received, viewed, and paid an invoice.
Set-up automatic late payment reminders and fees.
Easily accept online credit card payments.
Create and send professional looking estimates.
Get business insights with simple reports and dashboards.
Work on any device – computer, tablet, or mobile.
What's interesting about this tool: With FreshBooks, you can track and log time by project and clients, and easily collaborate with your team.
Pricing: From $15 user/month.
4. Zoho Books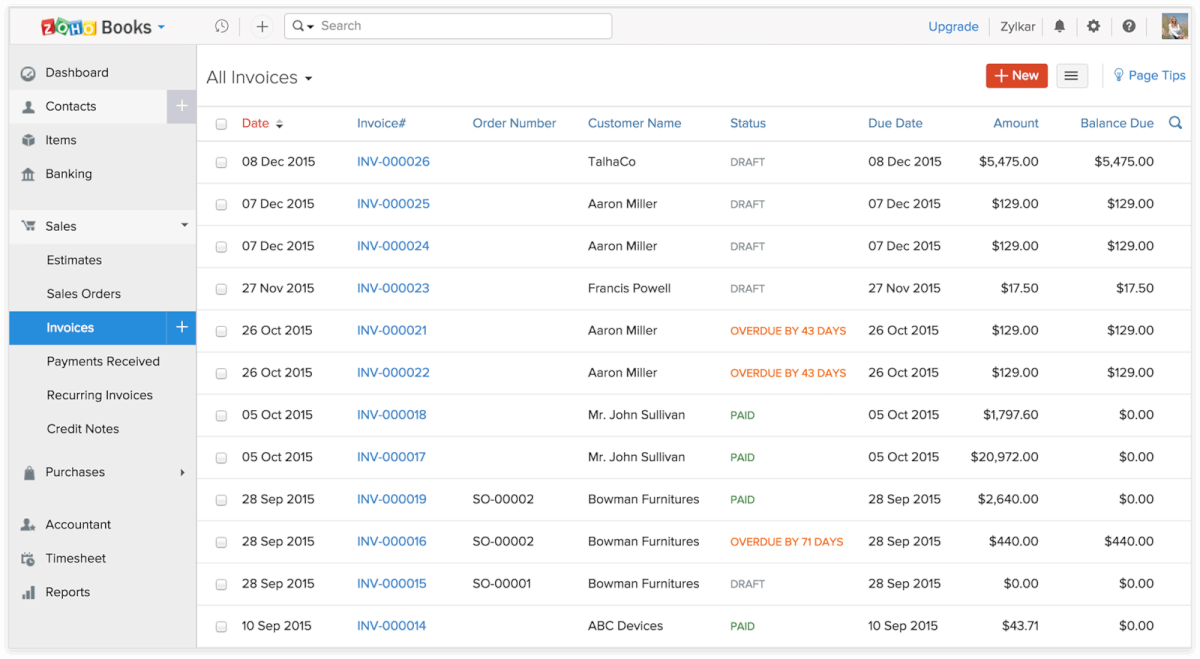 Zoho Books is simple online accounting software that covers all the basics: create and send invoices, track expenses, sync bank accounts, create reports, and do accounting on the go on all devices. But it also offers a full set of accounting tools that grows with your business.
Top features:

Send professional invoices, set up automatic recurring invoices, and accept online payments in a simple, fast and convenient way.
Track and categorize expenses, and bill them to your clients all from one place.
Connect Zoho Books to your bank account and get a real-time update on your cash flow. Monitor transactions and categorize them instantly.
Stay on top of your finances with powerful accounting reports like P&L, Balance Sheet, and Cash Flow Statement.
Enable inventory tracking and manage goods as they come in and go out.
What's interesting about this tool: Most accounting solutions require an accountant or accounting knowledge to measure and analyze financial metrics. But not in the case of Zoho invoices. For a quick real-time view of the health of your business, a glance at the dashboard would suffice.
Pricing: From $10 organization/month. Free trial for 14 days.
Check out this Zoho Alternative!
5. Xero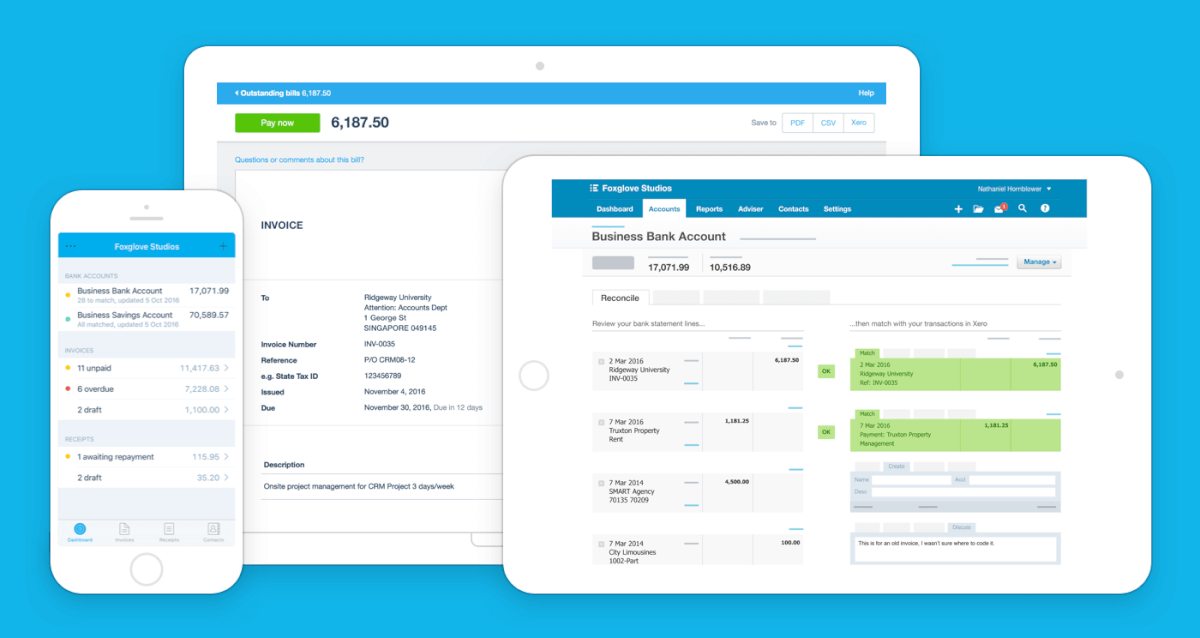 Xero is accounting software with all the time-saving tools you need to grow your business with unlimited users and 24/7 support. Xero also prides itself on its security and reliability.
Top features:

Easy invoicing: create professional custom-designed invoices.
Set up repeating invoices.
Automate invoice payment reminders and get paid faster with tailored emails to your customers.
Accept payments online with a debit or credit card, or with PayPal, right from the invoice to keep cash flowing.
Invoice on your mobile: Create and send invoices straight from your phone or tablet right when you finish a job.
Let your customers pay you online with a debit or credit card. Or with their PayPal account.
What's interesting about this tool: With Xero, you can also bulk-invoice customers – that saves you a lot of time. What's also interesting is that you get notified when invoices are opened!
Pricing: From $20 user/month.
Find out more about Scoro's Xero integration.
6. Sage 50c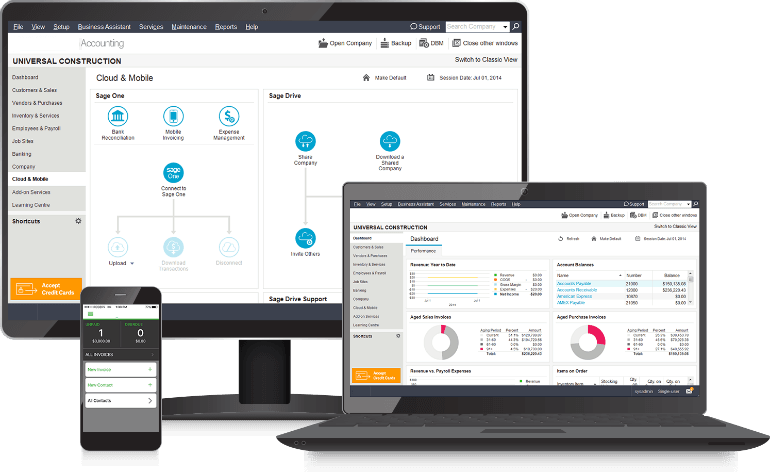 Sage, a leading provider of business management software and services to small and medium businesses, has been around for over 25 years. Sage 50c was released in 2016. It is accounting software that combines the familiarity of using a desktop-based product with the anytime, anywhere access to data that a cloud-based solution provides.
Top features:

Create, edit & send invoices directly from your software.
Track your cash flow by linking directly to your bank account, record sales, and receipts in real time.
Create professional quotes.
See powerful reporting and dashboards.
Track Project income, expenses and profit.
Trade in multiple currencies.
What's interesting about this tool: Sage 50c combines the power and productivity of a trusted desktop solution, with secure online access and Microsoft Office 365 integration.
Pricing: From $192 user/year. Free trial for 60 days.
7. Wave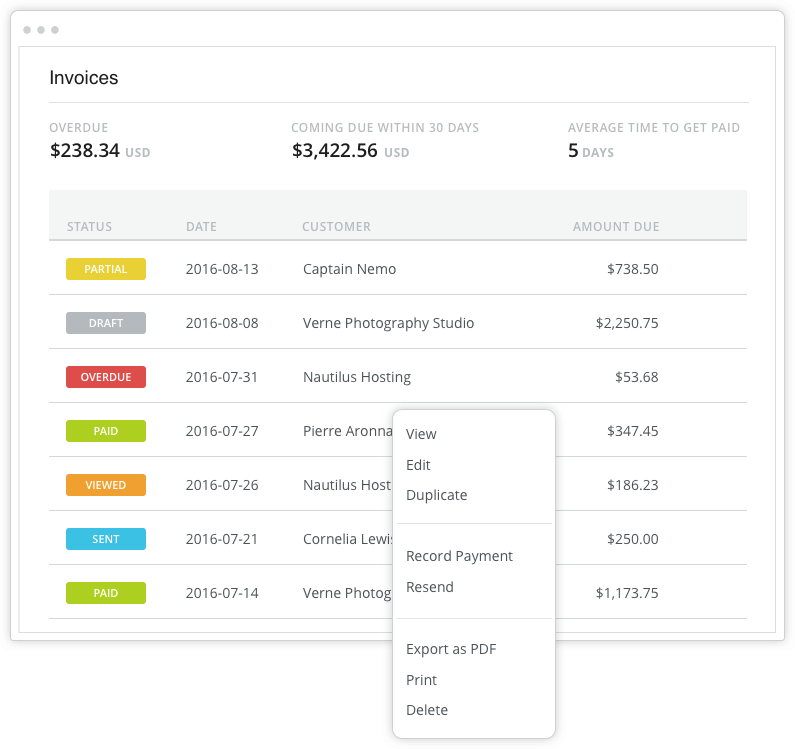 Wave is a free cloud-based invoicing software, where you can keep track of all of your payments, bills, and expenses in one place. Best suited for small businesses (1 to 9 employees).
Top features:

Create and send professional customized invoices, estimates, and receipts in seconds.
Schedule recurring invoices to automate your billing.
Automatic payment reminders to nudge your customer to pay on time.
Track the status of your invoices and payments so you can know when to expect money in your bank account.
Accept credit cards to get paid faster. Most invoices paid by credit card get paid in 2 days or less.
Track income and expenses, with receipt scanning tools and bank connections.
What's interesting about this tool: With free apps for iOS and Android, you can send your invoices the second the work is done, wherever you are. Wave invoice, accounting, credit card payments, and payroll – all these tools all "talk" to each other, so everything is instantly up to date.
Pricing: Free
8. Invoice2go


Invoice2go is another basic yet efficient online billing software. A great choice if you need simple and easy-to-use invoicing software without additional functions.
Top features:

Create a customized invoice with our range of templates.
Invoice tracking: see precisely when your clients view your invoices.
Payment reminders: spend less time tracking down unpaid invoices.
Charts & reports: See how your business is performing and who owes you money.
Expense tracking.
Accept debit and credit cards.
What's interesting about this tool: With Invoice2go on your smartphone, you can create and send invoices instantly. All your information is synced across your devices, so you'll always have what you need.
Pricing: From $21 user/year. Free trial for 14 days.
9. OneUp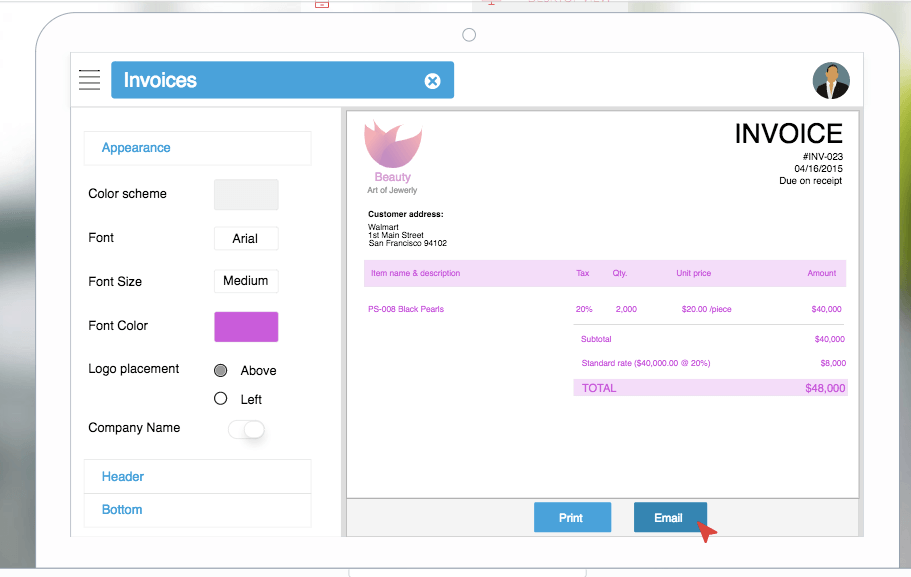 OneUp is a cloud-based accounting / invoicing software for medium-to-large businesses as well as smaller ones where the financial side is run by someone with a good working knowledge of accounting. It allows you to take care of your accounting, invoicing, inventory, and CRM directly from your mobile or laptop.
Top features:

Create, customize, and send invoices in a click.
OneUp synchronizes with your bank and automates 95% of your accounting.
When your invoice is ready, use OneUp's built-in email system to put it directly in your customer's inbox
Customer Payments screen shows what invoices are due soon.
Get automatic notifications by email just before customer payments are due.
For each customer, you can check in on Customer 360° views for a one-glimpse understanding of their activity.
What's interesting about this tool: With OneUp you can also create a quote, convert it into an invoice and send it to your client in just a few clicks.
Pricing: From $9 user/month. Free trial for 30 days.
10. SliQ Invoicing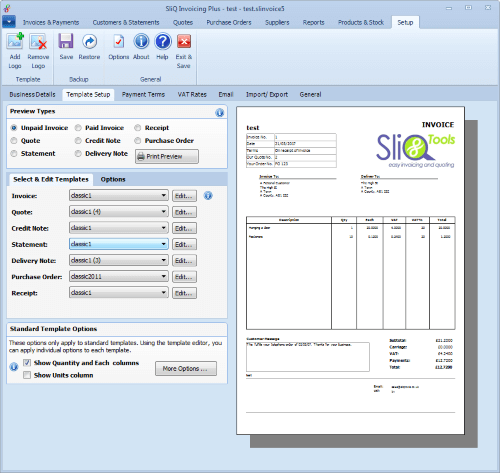 SliQ is an invoicing and quoting software designed to create, send, and track professional invoices, credit notes, purchase orders, delivery notes, quotes, and customer statements, helping you get paid accurately and on time.
Top features:

Automate billing with recurring invoices.
Automate invoice and quote numbering.
Email invoices to customers.
Include PayPal buttons for quicker payment.
Track payments and send receipts and reminders.
Stock control/product database facility.
Create your own reports.
What's interesting about this tool: If you prefer desktop software to online services, SliQ is a good choice for billing and invoicing. Note that SliQ is for Windows users only.
Pricing: From $27.50 one-off payment with no recurring fees.
11. BillQuick Online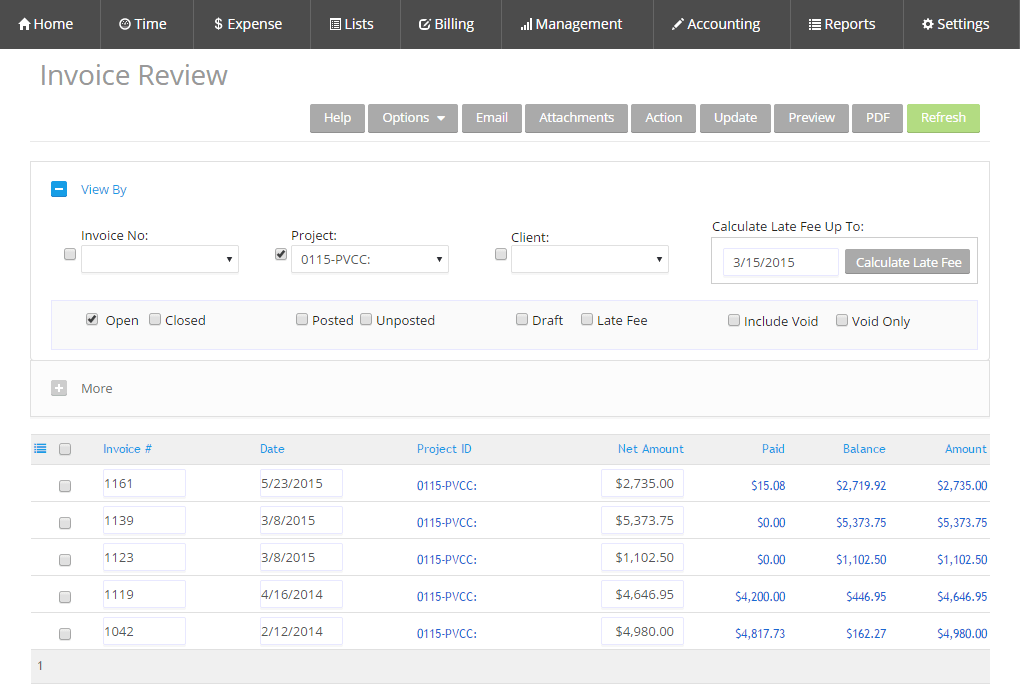 BillQuick Online is designed for professionals on the move. Whether you're working remotely at a client's office, project site, or home office, you can submit time and expenses while managing your projects and billing anytime, anywhere.
Top features:

Feature-rich invoicing: 180 templates, batch processing, automatic PDF creation, and ability to edit processed invoices
Create many invoice types: percent complete, retainer, recurring, fixed, hourly, phased, joint, and more.
Automatic billing follows standard billing rules and automatically creates a project invoice for review on any frequency.
Email and print invoices in a click, one at a time or in batches, and link attachments like receipts and pictures to any invoice.
What's interesting about this tool: In addition to invoicing, BillQuick has project management and time tracking functionalities. BillQuick Online is compatible with all major browsers for PC, Mac, and smartphones.
Pricing: From $19.95 user/month
12. FinancialForce Billing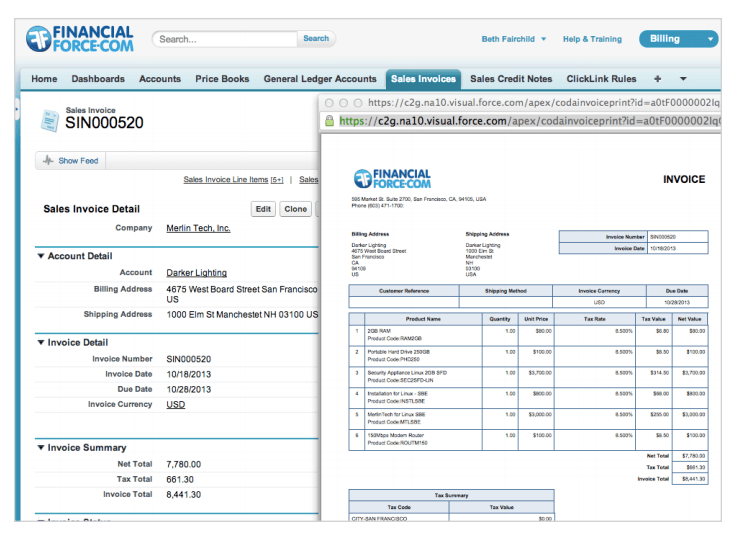 FinancialForce billing generates invoices directly from the data you've already prepared on the Salesforce Platform and transforms your billing into a streamlined, efficient, error-free process, raising customer satisfaction and improving your cash flow.
Top features:

Create invoices from opportunities, quotes, or custom objects.
Give Finance, Sales & Service teams a 360° view of any customer.
What's interesting about this tool: FinancialForce billing provides an efficient way to connect your CRM, billing, and ERP systems. Because the invoices are created directly from CRM, there are no CRM/Billing discrepancies.
Pricing: Upon request
Read more: 29 Financial KPIs for Your Online Dashboard
13. Chargebee
Chargebee is primarily catered for companies that offer subscription services. It provides all the nuts & bolts for managing subscriptions, recurring payments, invoicing, and much more, with one elegant API layer.
Top features:

Create beautiful and comprehensive Invoices.
Chargebee will make taxes easy.
Built-in metered billing support lets you charge your customers for what they use.
Spoil your customers with payment options – cards, checks, direct debit, online wallets.
Also, get subscription management, reporting & analytics functionalities.
What's interesting about this tool: Chargebee supports several client libraries for your developers to work with: Net, Ruby, Python, PHP, Node.js, Java.
Pricing: From $249 per month
 14. WORKetc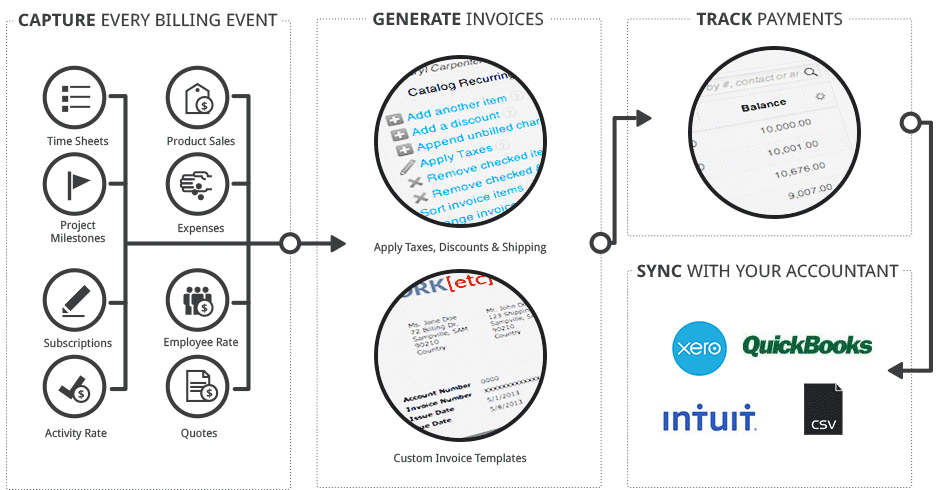 With integrated CRM, projects, invoicing, help desk, reporting and collaboration, WORKetc is a single cloud computing platform.
Top features:

Automatically capture every billable event.
Create professional invoices and quotes by using custom templates.
Time-tracking and invoicing.
Payment tracking.
What's interesting about this tool: WORKetc is an integrated business management tool. Invoicing keeps your business alive but integrated business management software can also make your business grow.
Pricing: From $78 for two users/month
15. Harvest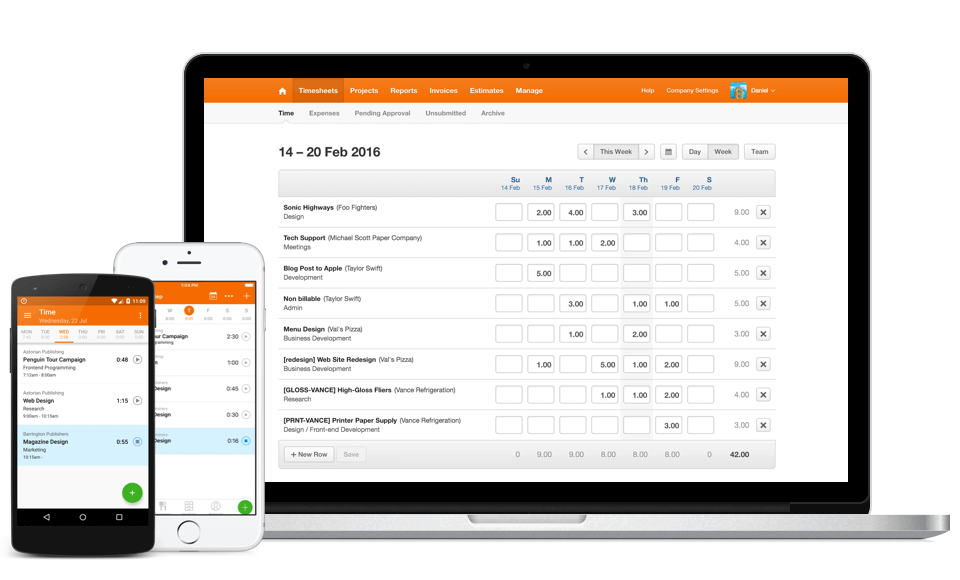 Harvest is primarily a time tracking and time billing software that allows you to turn your work hours into invoices. You can automatically pull the billable time and expenses you've tracked into invoices. You can also manually create a free-form invoice.
Top features:

All-in-one solution for invoicing, time tracking, expenses and projects.
Send invoices with just a few clicks and see when clients view them.
The Stripe and PayPal integrations let your clients pay for invoices in just a few seconds.
Automatic payment reminders for clients.
What's interesting about this tool: You can get a bird' s-eye view of all the invoices you've created and zero in on any open invoices you need to follow up on. The invoice graph gives you an overview of your revenue for the year, and the filters let you report on a particular client or timeframe.
Pricing: From $10.80 user/month
16. PaySimple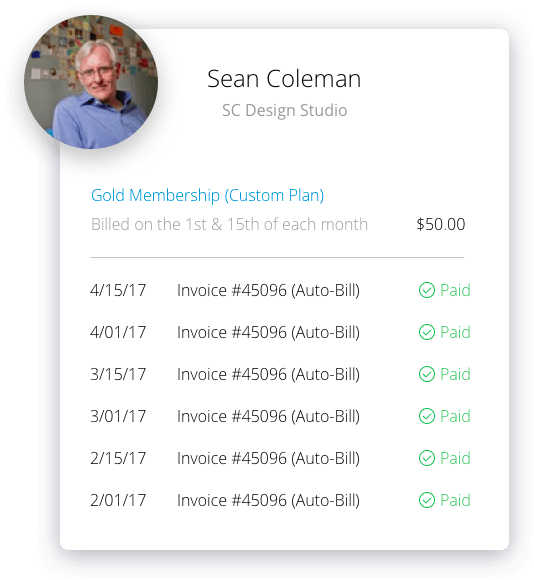 PaySimple provides a suite of cloud-based software to help you accept payments, bill customers, track customer information, and set up recurring payment systems – all completely customizable and without any specialized knowledge needed on your part.
Top features:

Easily create and send customized invoices and recurring invoices.
Include online payment forms right in your email template with click-to-pay buttons.
Subscription billing.
A real-time dashboard for invoice tracking.
Automated reminders and receipts for outstanding Invoices.
What's interesting about this tool: With PaySimple, you can analyze cash flow and trends – electronic invoices and online payments are automatically tied to customer profiles so you can easily pull customer reports and analyze trends in purchase behavior.
Pricing: Upon request
17. Zervant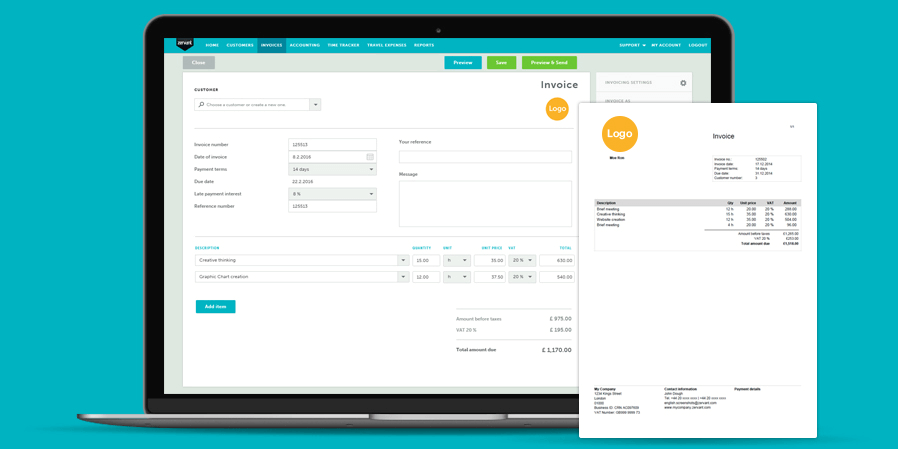 Zervant is an invoicing software specifically aimed at small businesses, freelancers and sole traders. This software is designed to be as user-friendly as possible, and no prior finance or invoicing management experience is required to get acquainted with the system. It takes under 30 seconds to create invoices and you can send as many as you want, it's completely free.
Top features:

Easily create and send invoices, quotes, and estimates
You can send your invoices any way you like: paper, email or as a PDF attachment
Recurring invoices
Credit and delivery notes
Payment reminders
Receipts
What's interesting about this tool:
In 2016, the Finland-based fintech startup Zervant was chosen as the most promising fintech startup in the Nordic countries.
Pricing: Free plans available, paid plans from $8 month
18. KashFlow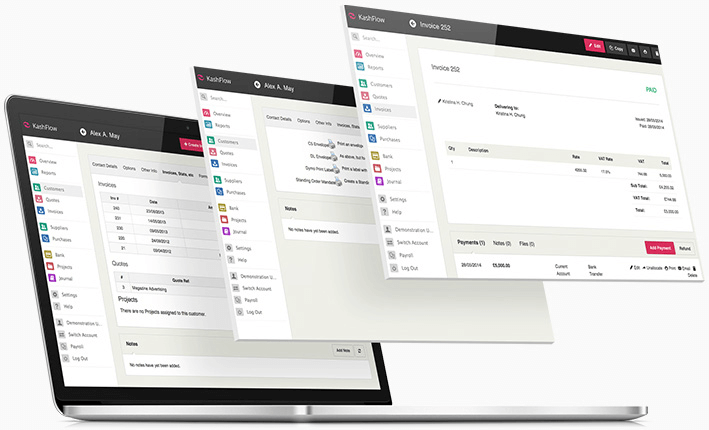 KashFlow is accounting and invoicing tool that's easy to use and jargon-free. KashFlow is intuitive and easy to learn, quick & easy to set up.
Top features:

Customize, edit, email or print your invoices and set up recurring invoices.
Quote to invoice in one click.
Set up automatic invoicing and reminders.
You can link your invoices to one of our partners (such as PayPal) and your customers can pay you immediately with one click.
Automated reminders for unpaid invoices, at intervals of your choice.
What's interesting about this tool: KashFlow is designed to help running a small business (and larger companies) easy, without you needing any accounting or bookkeeping knowledge.
Pricing: From $22 user/month for businesses
 19. Bill.com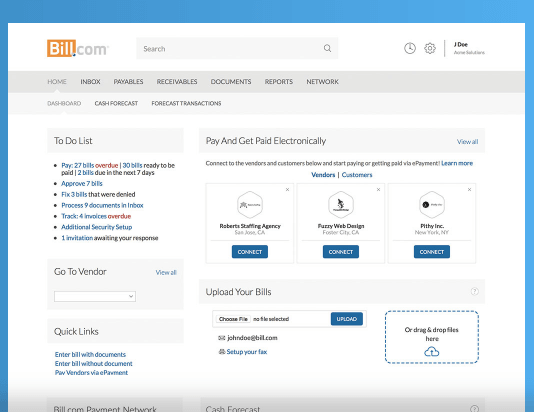 Bill.com brings small-to-medium businesses a simple online invoice payment, custom invoicing services, unlimited document storage, workflow collaboration, and the ability to access back office from anywhere via any mobile device.
Top features:

Choose the fast electronic payment method you prefer – ACH or credit card.
Send the invoice electronically from Bill.com, or send a paper invoice in the mail.
Customers can view and pay invoices online.
Customers get an email a few days before their payments are due.
Online payments go straight into your bank account.
Recurring invoices and overdue notices go out automatically.
Set up automatic transfers for recurring invoices.
Unlimited document storage
What's interesting about this tool: Bill.com has a calendar feature that shows when deposits are coming in and when payments are due. You can instantly see what is coming in and what is going out.
Pricing: From $39 user/month
Read more: How to Deal With Overdue Invoices And Get Your Money Faster
---
Having reviewed more than 30 different online invoice software, here are our TOP 5 picks:
Scoro
QuickBooks
FreshBooks
Harvest
OneUp
Naturally, the choice of billing software really depends on your company's workflow and accounting processes. Keep testing new solutions until you find a perfect one!
Everything about your business, one click away