Work management
Project Life Cycle: 5 Phases of Project Management
Accomplishing a project is never easy. From the sheer number of tasks that need to be completed to meeting the expectations of clients and stakeholders, there's so much to think about before being able to mark a project as complete. Understanding the different phases of project management and applying them to all projects helps managers achieve consistent results.
What is the project management life cycle?
By definition, a project management life cycle is a framework comprising a set of distinct, high-level phases required to transform an idea or concept into reality in an orderly and efficient manner.
In simple terms, a project management life cycle is a framework that assists project managers in completing projects successfully. It enables them to narrow down projects' focus and finish all their projects on time, on budget, and with minimum surprises.
Besides, breaking down the entire project life and treating all project phases separately helps project managers to:
ease communication between stakeholders and project teams;
make sure goals are achievable with the available resources;
help mitigate risk and keep the project on track.
Five project management phases
There are no hard and fast rules regarding the number of phases that project managers should use. Besides, it often depends on the scope of the project.
The most common approach to modern project management was proposed by the Project Management Institute (PMI), which outlined 5 project phases:
Initiation
Planning
Execution
Monitoring
Closure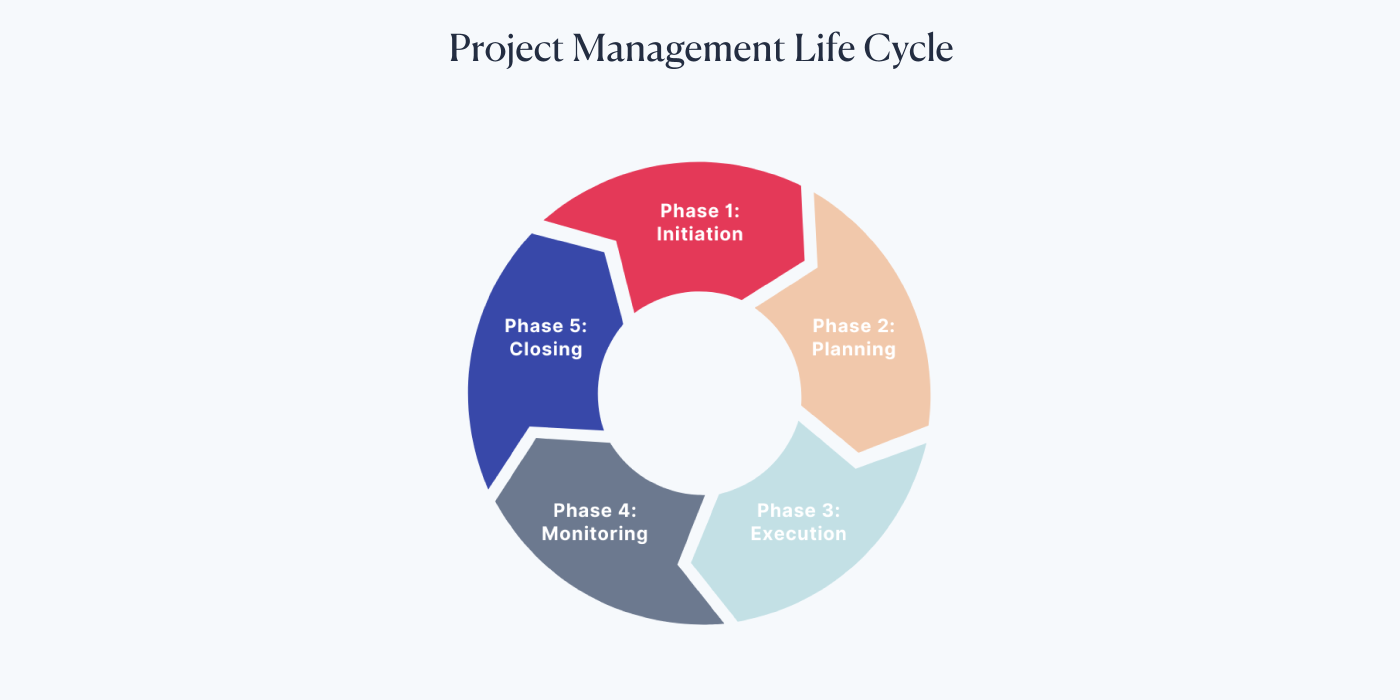 Phase 1: Project initiation
The purpose of the initiation phase is to determine whether the project has value and is feasible. This is the point where brainstorming takes place, ideas are explored, and preliminary research is done.
At the end of this phase, project managers have a clear understanding of the main objectives and the resources needed to complete a project.
Deliverables
During this phase, project managers typically put together the following documents:
Business case – A document that outlines the need for the project and the potential (financial) benefits.
Feasibility study – Evaluation of the project's goals, timeline, and costs to determine if the project should and could be executed.
Project brief – Brings stakeholders, teams, and anyone involved in the project on the same page and communicates the reasons and approach for a project and the process used to manage it.
Phase 2: Project planning
Once the project is confirmed, it's time to put together a detailed plan that guides the team throughout the project and helps to ensure that projects are delivered on time and budget.
Project managers usually organize a project kickoff meeting to lay out the goals, schedule, and processes to the entire team. At the end of this phase, every team member should have a clear understanding of the project goals, timeline, and personal responsibilities.
Deliverables
Communication plan – A simple document describing how the team and stakeholders will communicate throughout the project.
Risk analysis – It's always good to be prepared for unexpected, and a risk analysis enables you to be proactive in these moments and ensure the project stays on track.
Project plan – A blueprint for the project that defines how a project will be executed and monitored.
*Work breakdown structure – For more complex projects, a work breakdown structure is beneficial, as it gives an uncluttered view of all the work that might get lost in a project plan.
Gantt chart – A visual representation of the project that also illustrates the dependencies of every project.
Scoro's tip corner: If you don't want all your work to be wasted once the project takes off, we would recommend choosing an agile Gantt chart that enables you to keep track of progress from start to finish.

Read on: Scoro Introduces the First Real-Time Gantt Chart
Phase 3 & 4: Project execution and monitoring
The execution and monitoring phase usually takes place simultaneously. However, they are considered separately to emphasize the importance of monitoring and avoid scope creep, the uncontrolled expansion of project scope without adjustments to time, cost, and resources.
Project managers' main activities include resource management, work tracking, and progress overview. They need to assess the team effectiveness, proactively identify and prevent project bottlenecks and ensure that all the project 'cogs' are moving without any friction.
Deliverables
Team meetings – Regular meetings will help your team stay on track. However, it's important to have clear agendas to maintain productivity and avoid any time being wasted.
Stakeholder updates – Keeping stakeholders up to date with project progress is a great way to avoid misunderstandings and ensure that stakeholders' expectations are met.
Quality assurance – To avoid any bottlenecks at the later stages of the project, it's vital to review all deliverables before sending them to the next phase.
Progress reports – These reports give an overview of the current state of the project and usually include an update on what's been accomplished and what's next.
KPI reports – Keeping an eye on KPI (key performance indicators) is essential to ensure the project is on track.
Phase 5: Closing
You might think this phase only means presenting the final delivery and declaring the project over, but it actually goes far beyond that. The closing stage offers you the opportunity to lay the foundation for further cooperation with the stakeholders and your team.
Deliverables
Project delivery — this goes beyond simply handing over the deliverables; as a project manager, you should also ensure that the product owners, customers, and stakeholders are satisfied with the project's outcome.
Dissolution of the team — as a project manager, you need to ensure that the team members are ready to embark on a new project.
Celebration of achievement — this is an important step for team-building purposes because it allows everyone to celebrate a job well done and encourages every team member to participate in the next ventures.
What happens after project completion?
Even after project completion, there's still a lot that can be (and absolutely should) done. It's important to take some time to reflect on the work that was completed.
A great way for this is a retrospective meeting where the entire team can discuss what went well and what could have gone better. By recording the outcomes, it's easier to use previous projects' mistakes and successes to build a stronger foundation for future projects.
The secret to managing projects successfully
Understanding the project life cycle and breaking projects into project phases is a good start. But with 60% of project managers handling 2-5 projects simultaneously, it's not enough anymore to manage them in separate spreadsheets or, worse, rely on sticky notes. It's important to find the right tools.
A comprehensive project management solution that unites project planning, resource management, team collaboration, time tracking, and reporting helps project managers complete every project successfully.
Read on: 14 Best Business Budgeting Software & Tools
Everything about your business, one click away