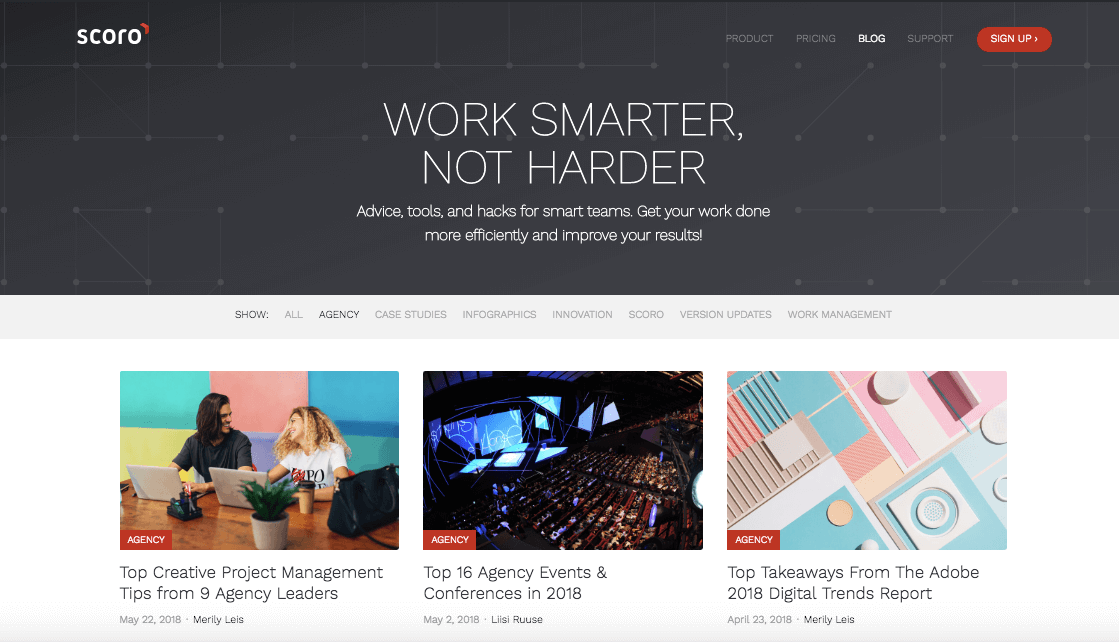 Work management
20 TOP Productivity Blogs of 2019
WHY DO WE love productivity blogs so much? It has something to do with the mix of promising tips and the knowing that we're constantly moving towards our best self.
Productivity blogs not only teach us new hacks, they also change the way we live, work, and communicate. And as some like to point out, they're just another form of procrastination, an excuse for lazy people to dream about being high-achievers while not working for their goals.
Be it as it may, people love productivity tips.
And to give the best bloggers applause for their laudable ideas, we decided to launch a list of the most inspiring productivity blogs in 2019.
The TOP Productivity Blogs 2019 list only includes blogs that fulfill the following standards:
They provide high-quality insights
Publish original content
Offer actionable advice
Deserve people's trust
So rest assured that any blog you'll find in this list will be worth your time and help you to become more productive. (But it ONLY works if you put the advice to good use!)
1. Barking Up The Wrong Tree
In addition to coming up with a witty blog name, blogger Eric Barker is doing an awesome job digging in popular science articles. Barking Up The Wrong Tree blog brings you science-based answers and expert insight on how to be awesome at life. Only visit this blog if you have 30 minutes to spare – the articles are irresistible to click.
Must-reads:
Neuroscience Of Meditation: How To Make Your Mind Awesome
How To Make Your Life Better By Sending Five Simple Emails
5 Weird (But Effective) Ways You Can Conquer Chronic Procrastination
2. Michael Hyatt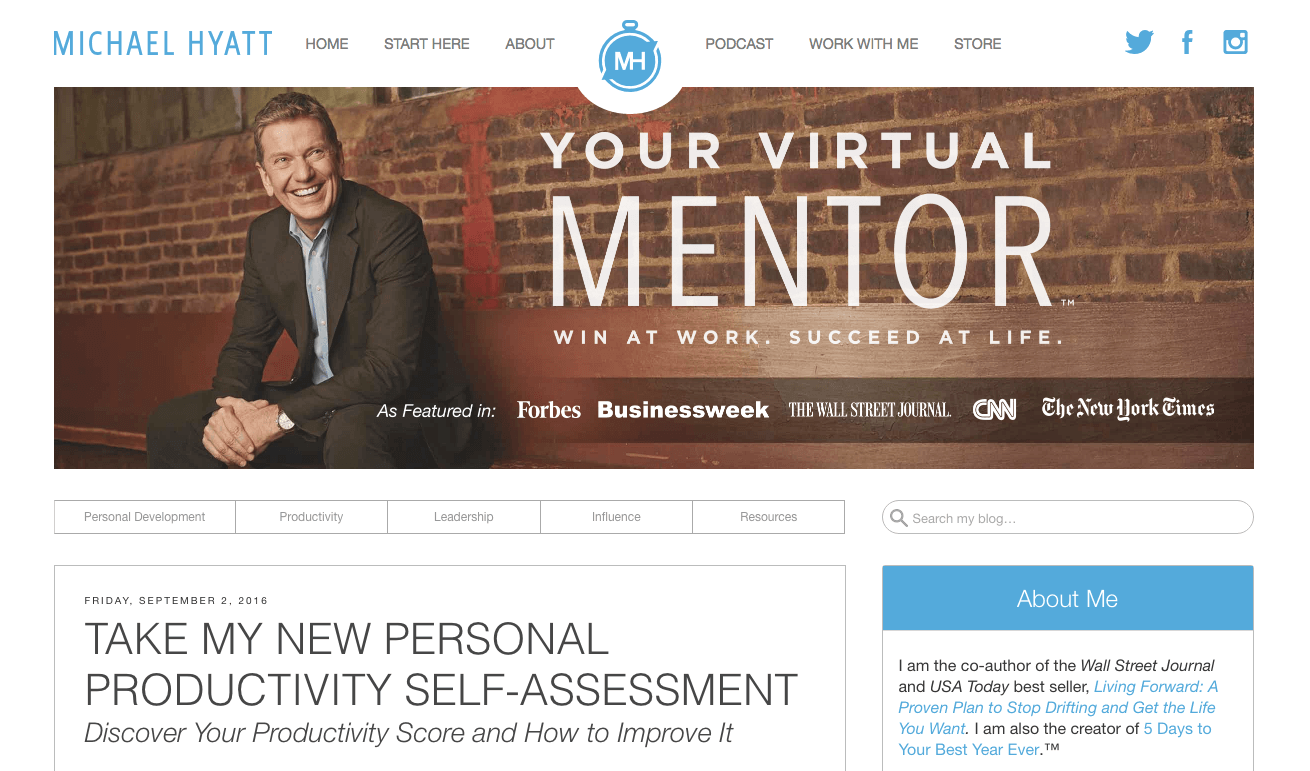 In his blog, Michael Hyatt, the bestselling author of Platform: Get Noticed in a Noisy World, shares top-notch advice for improving one's career and advance in life. He also hosts Lead to Win podcast dedicated to groundbreaking strategies that help you win at work, succeed at life, and lead with confidence. In his own words: "My goal is to help you live with more passion, work with greater focus, and lead with extraordinary influence."
Must-reads (and must-listens):
7 Steps To Getting Unstuck And Becoming More Productive
How To Become Better Than You Ever Thought Possible 
3. Work Smarter, Not Harder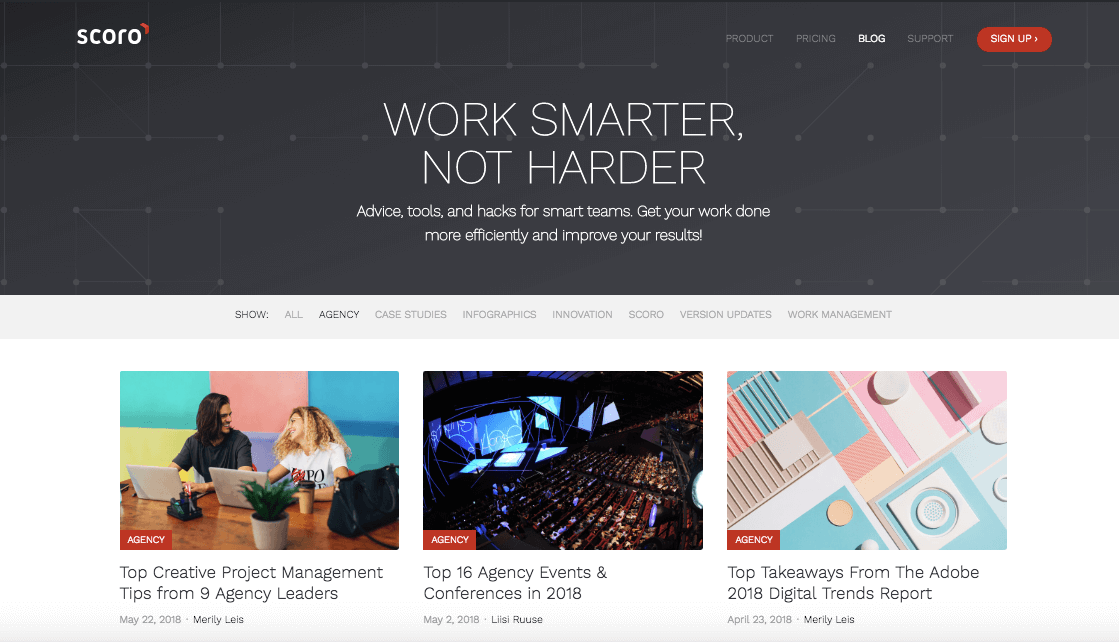 The Work Smarter, Not Harder blog has set the goal of helping people make the most out of their days at work. The blog represents a perfect mix of personal productivity hacks and advice on improving teamwork. If you're managing a team or looking to advance your productivity skills, make it a weekly habit to check out this blog.
Must-reads:
6 Steps to Increase Productivity at Work (and Finish the Day Earlier)
Why, How & Where Our Time Gets Lost at Work [Infographic]
4 Ultimate Hacks to Get into the Flow (And Enjoy You Work)

4. Zen Habits
The best-selling author Leo Babauta created Zen Habits to chronicle to share what he's learned while changing a number of habits. Now, he shares his insight and zen with over a million blog readers. Visiting Zen Habits is like a quick trip to a quiet haven in the midst of a busy day – the clear blog design reminds you to pause, breathe, and reflect on your day.
Must-reads:
A Mindful Shift of Focus
Meditation for Beginners: 20 Practical Tips for Understanding the Mind
Overcoming the 10 Biggest Obstacles to Creating
Read on: 15 Cult Business Blogs Everyone Should Read in 2019
5. James Clear
Author James Clear writes about behavioural psychology, habit formation, and performance improvement. In his own words: "I write about how small habits can change our lives, and society, for the better." You can get lost in his articles for hours and come back to full consciousness as a new better person, ready to tackle the day's challenges.
Must-reads:
How to Master the Invisible Hand That Shapes Our Lives
The Evolution of Anxiety: Why We Worry and What to Do About It
How to Create a Chain Reaction of Good Habits
Read on: 12 Best Browser Extensions for Higher Productivity
Infographic: Are Your Business Tools Killing Your Productivity?
7. The Muse
For more career-oriented productivity junkies, this is THE blog to follow. The Muse presents authentic advice by career coaches and bloggers for becoming your better self at work, and move up on the career ladder.
Must-reads:
The Trick to Having the Life You Want Is to Start Purposefully Designing Your Days
10 Ways Successful People Spend Their Time After Work
The 6 Things You Should Never Sacrifice for Your Job—No Matter What
Read on: Our Top 10 Articles of 2018 to Kickstart Your Year
8. 99U
As the legendary inventor, Thomas Edison famously said, "Genius is 1% inspiration and 99% perspiration." 99U has set out on the journey of empowering creative people in their daily life and work. One of the perks of reading this blog is feeling overwhelmed with creative inspiration, ingenious illustrations, and fascinating interviews.
Must-reads:
How to Work Alone – 4 skills needed when you work in solitude
A Science-Backed Guide to Taking Truly Restful Breaks
Nick Campbell: The Unexpected Benefits of Sharing Everything You Know
9. Farnam Street
Farnam Street is an online intellectual hub that helps you get an edge, avoid problems, and live a smarter life. The articles center around smart decision-making and developing a success-oriented mindset. If you've ever wondered what the greatest minds of our time think about life and productivity, this is your chance to read up.
Must-reads:
The Buffett Formula — How To Get Smarter
Charlie Munger on the Value of Thinking Backward and Forward
F. Scott Fitzgerald offers a list of things to worry about and things not to worry about
10. Marc And Angel
Marc and Angel Hack Life blog is run by two professional coaches with an original take on personal development. Marc and Angel both share a great passion for inspiring others to live to their fullest potential, and they honestly feel best when they are inspiring others to be their best. So are you ready to become your best self?
Must-reads:
12 Things Enormously Successful People Refuse to Do
7 Powerful Mantras to Stop You from Overreacting and Arguing with People
12 Little Known Laws of Happiness (That Will Change Your Life)
11. Jonathan Fields
Praised author Jonathan Fields has set on the journey of inspiring possibility and helping people live a more meaningful, connected, and vital life. He also hosts the Good Life Project podcast. Business jargon left aside, he's a truly ingenious guy sharing his experience and life lessons with the world – you'll like him!
Must-reads:
What if Nobody Was Looking? – We talk about self-awareness as this gorgeous thing. But, it has a dark side…
The Content Delusion (Or, Why You Still Need To Hustle)
Before You Blow Up Your Life, Do This
12. Mark Manson
As Mark himself puts it: "I write personal development advice that doesn't suck." In his blog, he covers topics such as self-knowledge, happiness, and habits. Head to his blog if you're looking for a fresh take on life and productivity, not to be found anywhere else on the web.
Must-reads:
Everything You Wanted To Know About Procrastination But Were Too Lazy To Figure Out
The Future of Self
63 Steps To Survive The Worst Moments Of Your Life
13. Maria Forleo
The host of the award-winning show MarieTV, and the author of world-class online training programs, Marie Forleo injects inspiring ideas to our generally dull days. She's a real energy bomb, so a mood uplift from watching her celebrity interviews is guaranteed!
Must-reads (and must-watches):
Sleep Revolution: Transform Your Life One Night At A Time W/ Arianna Huffington
12 Ways To Make Work Meaningful — No Matter What You Do
How To Find The Work You Were Meant To Do
15. Tim Ferriss
Timothy Ferriss is an angel investor and a bestselling author. He's been listed as one of Fast Company's "Most Innovative Business People" and in many other prestigious lists. His blog is the Golden rulebook for any aspiring entrepreneur covering topics from productivity to leadership.
Must-reads (and must-listens):
5 Morning Rituals That Help Me Win The Day
How to 'Waste Money' To Improve the Quality of Your Life
What's Important to You? – interview with Ryan Holiday
16. Unclutterer
Sometimes, less is more. The same rule applies to our homes and workplace – clean and simple environment boosts productivity. Unclutterer is all about decluttering our lives – getting rid of stuff and living more mindfully.
Must-reads:
The power of 15-30 minutes per day
Dealing with I-might-need-it-some-day thoughts
When procrastination can be a real problem
17. Becoming Minimalist
In 2008, Joshua Becker and his family decided to become minimalist and intentionally live with fewer possessions. They cleared the clutter from their home and lives. Becoming Minimalist blog explains how decluttering can help us improve our lives and leave more time for things that truly matter in life. After a busy week of work, their Inspiring Simplicity reading list is exactly what you'll need.
Must-reads:
Why Saying You Want Change is Not Enough
8 Reasons Successful People Are Choosing to Wear the Same Thing Every Day
The 10 Most Important Things to Simplify in Your Life
18. Dumb Little Man
Blogger Jay White started the Dumb Little Man blog to share his personal experience as a salesman. Today, the blog has contributors all over the world, featuring smart lifehacks and productivity tips. If you're into list posts, check it out!
Must-reads:
How to Massively Increase Your Reading Comprehension
5 Things to Remember When you're about Give Up
5 Fears You Might Not Realize Are Holding You Back (And What To Do)
19. Pick the Brain
Pick the Brain diverges from traditional "self-help" by taking a broader approach. Rather than sticking to a small set of topics, the site covers anything related to self-improvement. If you're into science-backed facts and actionable productivity tips, this is the blog to read.
Must-reads:
Three Powerful Mindfulness Tips That Can Change Your Life
5 Ways to Unwind From Office Induced Stress
5 Little Known Tips That Will Motivate You Immediately
20. Lifehack.org
Probably the best-known lifehack and productivity site, Lifehack.org covers everything from the best summer recipes to mindfulness. Put simply, it helps you to become better in every aspect of life.
Must-reads:
52 Amazing Ways to Give People What They Want
Science Says Silence Is Much More Important To Our Brains Than We Think
8 Real Life Examples Explaining How Living Alone Can Speed Up Your Personal Growth
Over to you:
Know a blog that deserves to be included in this list of TOP Productivity Blogs 2019? Let us know in the comments section!