Work management
17 Great Monday.com Alternatives & Competitors for Work Management
Monday.com is a centralized platform for teams to manage every detail of their work, from high-level roadmap planning to specifics tasks. It's very well known due its extensive advertising campaigns.
However, there are a number of other alternatives that could suit organizations better, depending on their specific requirements.
1. Scoro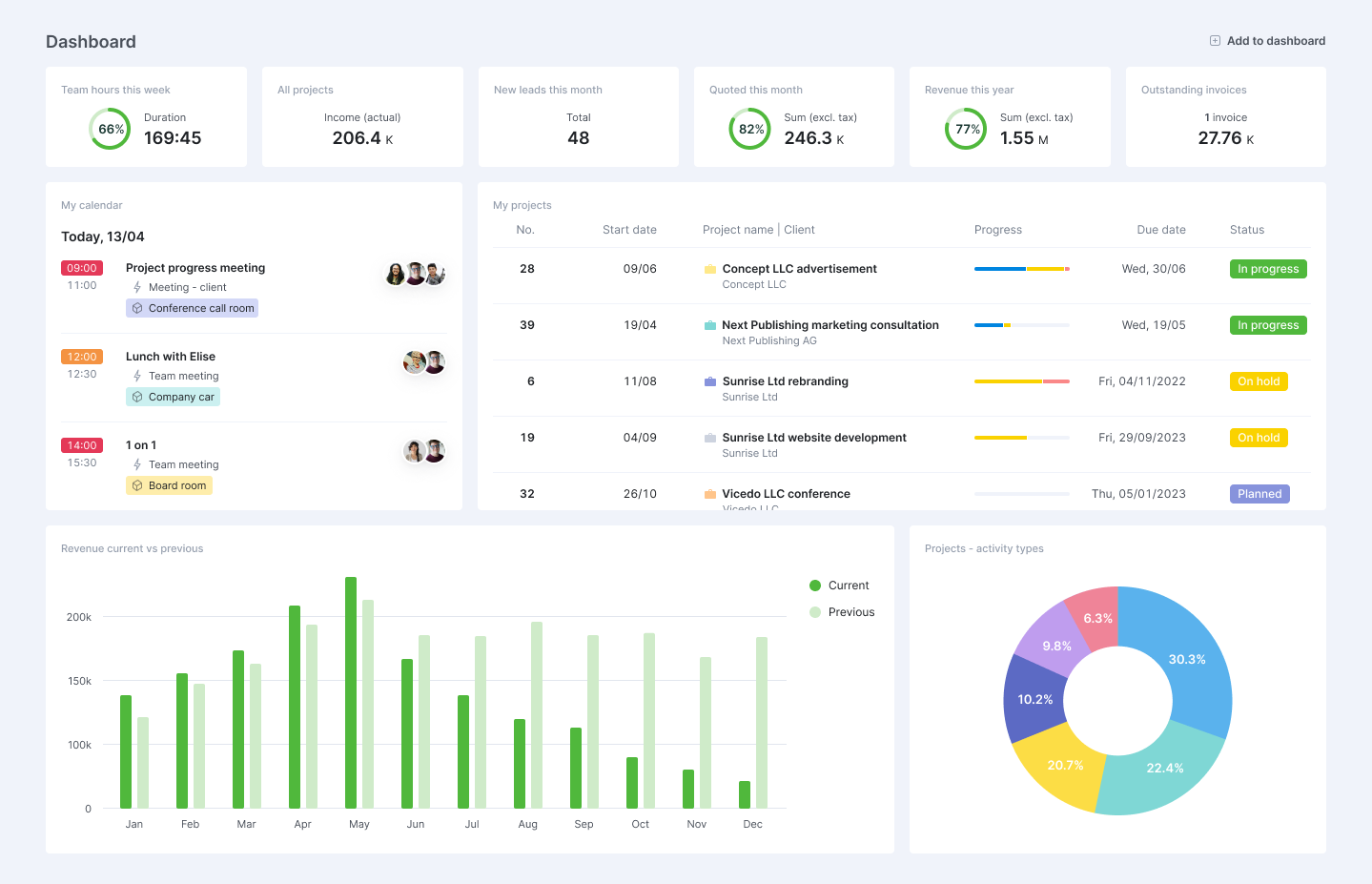 Scoro is work management software that helps agencies, professional service firms, and consultancies in streamlining their projects with utmost ease. The software plans and track projects, optimizes utilization, automates billing, and even simplifies quoting for you.
With Scoro, there's no need for multiple apps to get things done. You will be able to carry out everything right from one end-to-end software platform.
Why is Scoro unique from other types of work management software?
Time is money. And with Scoro, you can track what your team is spending their time on and how much that time is worth. While other types of work management software will only tell you what your employees are spending their time on.
Other reasons why Scoro is unique include:
You can control all your business aspects from one place
You do not have to waste your time switching between management tools. Scoro is your one-stop-shop for everything work management. From here, you will be able to track all your projects, daily activities, and sales.
Effective time management
Distractions and ad hoc tasks are now a thing of the past. With Scoro, you can manage your time holistically, and you will know what you need to work on and when you can work on it. You also can experience how the changes can delay your plans in an updated view.
Easy to use interface
Scoro will enable you to pick the way you want to do things no matter where you are located. You can now empower your team and collaborate with them efficiently on effective work management software.
Understand every aspect of both money and time
By tracking profitability, you will be able to make every minute matter. You can track profitability in real-time and thus, cover any billing scenario.
You can integrate Scoro with tools you are already using.
Scoro has high configurable interactions that support some of the most popular accounting software, storage, and other tools essential in automating business practices.
Pricing:
The Essential Package goes for $26 per month per user.
Try Scoro's 14-day free trial.
2. BigTime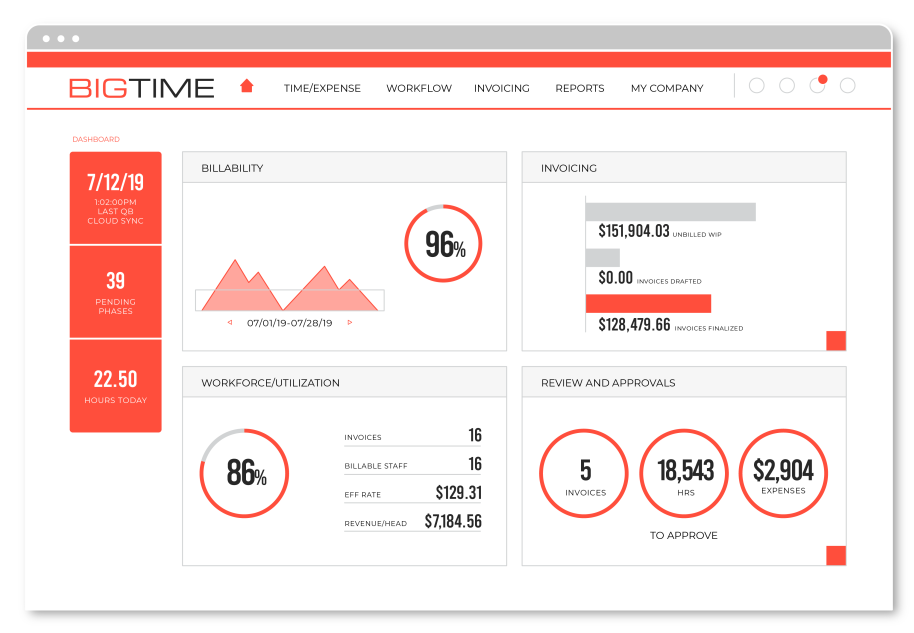 This is a professional service management software that supports the entire firm. With BigTime, you can support projects, payments, and every aspect of your work.
Top features:
Time tracking
You can be able to track your expenses and submit time. Furthermore, with intuitive data entry, timesheets are a walk in the park.
Invoicing and billing
Sending custom invoices can be such a hassle. With Bigtime, you can make invoices speedily and send them with ease.
Manage your resources optimally.
You can now assign the proper personnel at the right time without worrying about over or under scheduling.
Keep track of your cash flow easily
Advanced project management features
What is unique about this tool?
With BigTime, you can be able to see your entire business in real-time with its technologically advanced dashboard, reports, and analytics.
Pricing:
You can purchase this software for just $10 a month, $30 for the Pro plan for a month, and $40 p.m on the premier package.
3. Projector PSA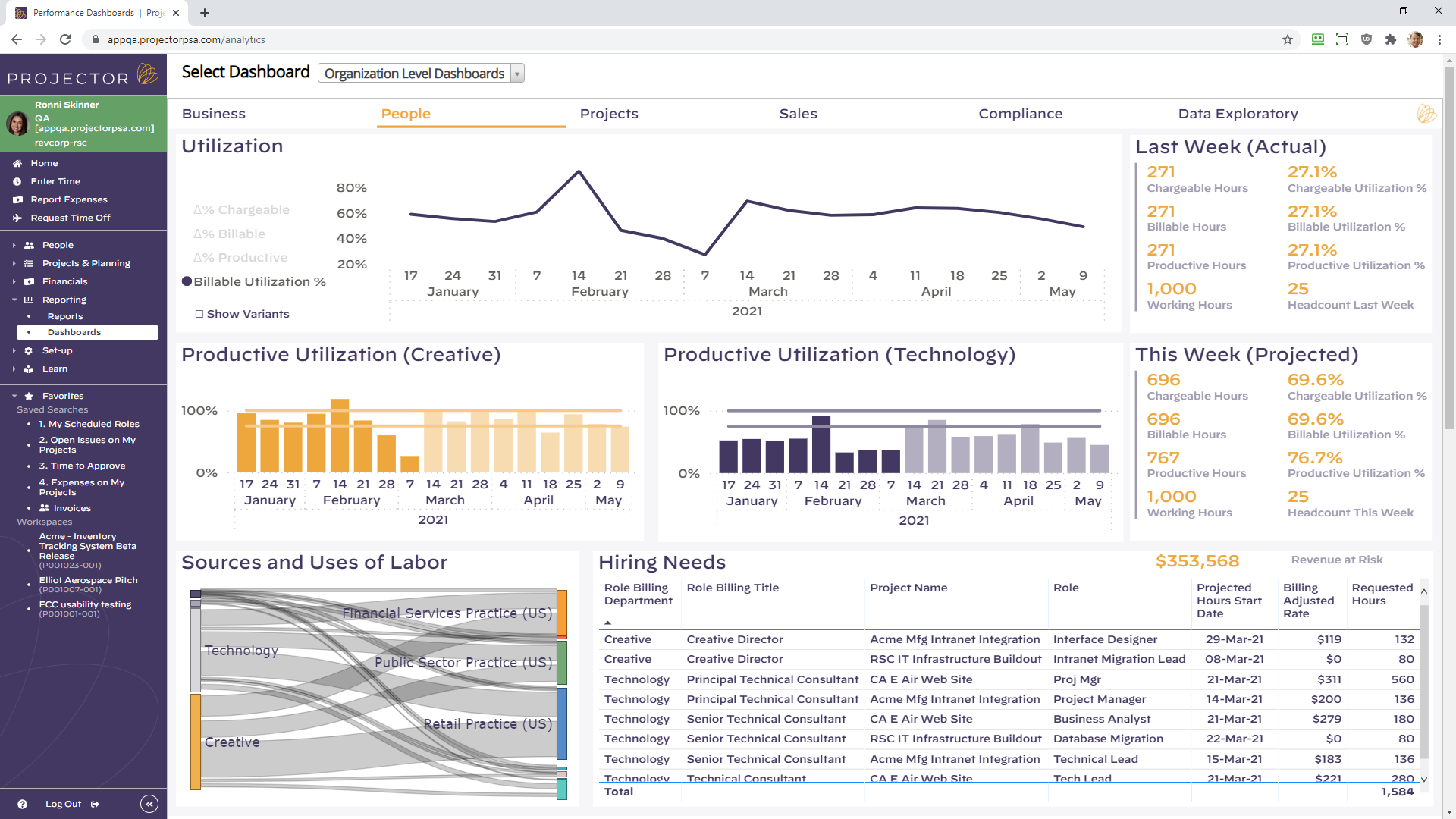 This is an intelligent, professional services automation software. With Projector's automation software, you can streamline service delivery and enhance project profitability and resource utilization. Projector gives teams the ultimate real-time visibility that any business requires to grow.
Top features:
Project accounting. You can be able to bring clarity to your primary sources of revenue with their project accounting features.
Meet your milestones with the project management feature
Schedule your resources properly and transform the daily operation into insights
Be able to plan ahead with business intelligence capabilities
It is flexible and supported thus can integrate well with other tools
What is so special about this tool?
The robust integrations that seamlessly connect with other systems you already have are a significant aspect of this tool.
Pricing:
$15 for the Team package, $25 for the professional package, and $30 for the enterprise deal.
4. Float
This great resource management platform can plan your team's best work. With Float, you can schedule, plan and track all your projects from one place.
Top features:
Manage your team's availability with Float's automated features. You can schedule time off, import public holidays, and set custom work hours.
You can set milestones and add project phases. This will optimally manage your project.
Generate reports and can be able to forecast project deliverables
Direct integrations that enable the user to connect with existing workflows
Calendar integrations ensure you keep your schedule up-to-date
What is so special about this tool?
You can sync your project management tools and commence scheduling resources to tasks.
Pricing:
Resource planning – $6 pm
Resource planning and time tracking – $10 pm
The Plus Pack – $6 pm
5. TimeHero
Here is a new way to manage, schedule, and automate work from the convenience of one location. TimeHero is not your usual software. It helps you track and manage everything that you and your team need. Additionally, it is capable of adjusting plans automatically, thus, if the schedule changes, the priorities also change, and therefore work gets done on time.
Top features:
An intelligent project management tool that automatically adjusts based on the availability of personnel
Powerful time tracking tool
Adaptive workflow
Automated task scheduling
Enables you to plan work derived from other apps
What is unique about TimeHero?
They have AI-powered project management tools that notify you when milestones are falling behind and provide you with tools to refocus them.
Pricing:
Basic plan- $4 pm
Professional plan -$10 pm
Premium plan- $22 pm
6. Nifty
This powerful work management tool allows you to plan and manage workflow effectively. With Nifty, it is time to stop switching roadmaps, chats, docs, tasks, and calendars. You may now embrace the era of convenience. Find all your apps in one place.
Top features:
Automate tracking of project milestones
Create a clear plan of action for your projects
Balance employee workloads
Set goals and timelines
Integrates natively with Google Docs
What is unique about Nifty
Nifty integrates fully with Zoom. Thus, you can establish a knowledge hub by encouraging members to share ideas via Zoom and other conference calls.
Pricing:
Starter package – $39 pm
Basic plan – free
7. Screendragon
Screendragon is a cloud software to manage your employees, projects, and processes all in one location.
Screendragon enables a business to simplify and scale their operations for growth
Top features:
The software is flexible and customizable
Can scale up to 1000 users
Is secure
Can integrate with over 1000 other tools
Rated 5-star on Gartner
What is unique about Screendragon?
Screendragon is a big organization. Thus, they are a lot more nimble. This enables them to be closer to their clients.
8. Vogsy
Vogsy is software that enables you to track, optimize and plan your resources, all within the comfort of your Google Interface. With Vogsy, you can keep track of your clients, deal with them, and create quotes. You can then match your resources to track progress.
Top features:
Efficiently plan your projects with Vogsy's robust work breakdown structure
Allocate tasks
Optimize the use of your resources
Vogsy automated sensors monitor and keep track of deliveries
Automated invoicing services
What is unique about Vogsy
You can easily connect your sales, finances, productivity, and security tools with Vogsy.
Pricing:
Basic plan – free for all users
Lite plan – $11 pm
Full – $23 pm
Super – $35
9. Function Point
This is an all-in-one agency management software designed to elevate your organization's productivity and profitability. Function Point is efficient in all its aspects as you never have to worry about inconsistent data collection in your organization. You can easily collect and store data.
Top features:
Analytic tools that ensure greater profits
Detailed insights that give the user an understanding of the organization's health
Tracks activities and how your employees spend their time
Project management tools
CRM and estimating
What is special about Function Point
They are a creative agency software that empowers you to effectively manage projects, adjust budgets and ensure work is well distributed.
Pricing:
5-9 users – $47 pm
10-29 users – $42 pm
30-49 users – $40 pm
50+ users – call them for pricing
10. EasyProjects
Say goodbye to spreadsheets, shared drives, emails, and multiple tools because Easyprojects is your go-to project and resource planning software. Easyprojects allows you to display your project data into Gantt charts, tables, and other easily readable formats.
Top features:
Easyprojects integrate easily with Microsoft teams
The client portal allows stakeholders to track progress
You can easily share files and collaborate
Customizable and flexible
Personalized implementation plan. The experts work with you to define a personalized path
What is special about Easyprojects?
You can make better predictions on the businesses' path with the advanced business intelligence features that enable more accurate budget and revenue management.
Pricing:
For teams, it is $24 pm
Enterprises can contact Easyprojects for pricing
11. TimeLog
This SaaS platform enables you to run all your projects operations seamlessly. With TimeLog, you can manage your time, resources, projects, and invoicing from one place.
Top features:
Resource management tools that optimize productivity
Time tracking features
Project management tools that keep you updated on progress
Real-time reporting
Automated invoicing
What is special about TimeLog?
The service has templates that power up your projects from start to finish. You gain access to budget control, invoice templates, and contract management.
Pricing:
Professional plan – €40 pm
Starter- €10 pm
Growth – €20 pm
Enterprises can contact TimeLog for a quote
12. Cloudblue PSA
Formerly known as HarmonyPSA, CloudBlue PSA is a SaaS platform that integrates sales, business operations, and financial aspects in one system. With CloudBlue PSA, you can see everything using a single pane of glass.
CloudBlue PSA is all about combining world-class project management with a sophisticated service desk.
Top features:
Unrivaled flexibility
Real-time profitability insights
Great customer care service
Work on any device
Powerful project and resource management tool
What is unique about CloudBlue PSA?
Their highly automated billing tools ensure your sales and finance teams save time and increase productivity.
Pricing:
Annual price – $65
The all-inclusive price that supports five users – $200 pm
13. Deltek Workbook
This software is built specifically for in-house teams and agencies and makes managing projects and your finances more manageable. Agency veterans developed Deltek Workbook. It is a system that provides some of the best practice solutions that enable your agency to grow.
Top features:
Complete visibility into project performance
Effectively manage your tasks and time
Full resource transparency
Client portal that allows for collaboration
Competent financial planning and accounting
What is unique about Workbook
The software's ability to integrate easily with other tools means you get the most out of the existing tools you already used. You can configure Workbook with other tools.
Pricing:
Contact customer support for a quotation.
14. Dynamics 365
Dynamics 365 is a platform developed by Microsoft Corporation. With this software, you can stay innovative and quickly adapt to new business environments. It gives you helpful insights that ensure you have the freedom to thrive by connecting your teams, data, and processes to intelligent business applications.
Top features:
Dynamic 365 marketing – enables collaborative content creation with MS Teams
Dynamics 365 sales – putting data to work by allowing flawless collaboration to drive sales.
Excellent customer service – the client gets personalized services across the calendar
Innovative enhancements and usability improvements to the schedule board
Dynamic 365 finance enables you to manage your finances seamlessly
What is unique about Dynamic 365?
Dynamics 365 has excellent project management features ranging from resource usage, estimating, and onboarding to ensuring you meet set targets.
Pricing:
First time client on the app – $1500 pm
Subsequent months – $1000 pm
15. Taimer
This efficient work management tool enables you to focus on selling, reach your targets, and deliver the projects on time and within the budget. Taimer has core features that are necessary to manage service-based business sales, resources, and other dynamics. With Taimer, you get to save time and optimize productivity.
Top features:
Time tracking
Financial report generation
Advanced project management tools
Automates and simplifies complex sales processes
Manages invoices and expenses in one place
What is special about Taimer?
It offers customizable and scalable SaaS solutions that freelancers and multi-company entities can use.
Pricing:
Sales CRM – €16.50 pm
Enterprise – €32.90 pm
Onboarding and training services – €790
16. MeisterTask
This is a good task management software that provides overview progress of work in progress while enabling you to track the item from conception to completion. If you use Kanban-style project boards, MeisterTask integrates seamlessly and allows you to digitize workflows and understand task progress.
Top features:
Save time by automating repeated steps in your task management workflow
Keep the productivity high and meet your deadlines with MeisterTask's powerful time tracking component
Use the templates to perform repeated tasks, so you do not start from scratch
Add a statistics-driven dimension to your project, which will provide helpful insights
Gantt-style Timeline feature assists project managers to be efficient and keep teams aligned
What is special about MeisterTask?
With Meistertask, you can assign and schedule tasks in the calendar view to know where the bottlenecks are and efficiently ensure the deadlines are met.
Pricing:
Basic – free
Pro – $4.19
Business – $10.39
17. Holded
This cloud-based solution has everything you need to manage your business. More than 80,000 companies are using Holded, and they all leave excellent reviews because they are satisfied.
Conversely, Holded makes managing your business more efficient and more straightforward while streamlining and simplifying all the billing processes involved so that you can focus on what truly matters.
Top features:
With the Receipts app, you can take a photo of an invoice, scan it, and Holded will automatically record all expenses
File your taxes with Holded
Schedule billing
Keep track of your cash flow easily
Generate remittances automatically after selecting invoices
What is special about Holded?
You can securely connect your Holded account with over 300 banks and reconcile your invoices.
Pricing:
Basic- €25 pm
Standard – €49 pm
Advanced – €79 pm
Premium – €159 pm