Work management
25 Best Team Management Software For Maximizing Team Productivity
TEAM MANAGEMENT SOFTWARE enhances collaboration and work coordination, but also boosts your team's productivity and work quality. Sometimes using simple tools, such as time tracking apps or task boards, can go a long way. Sometimes you need a more holistic solution to get all the aspects of your team management under control.
Managing your team isn't only about to-do lists and time allocation. Depending on the size of your team and the nature of your work, you can combine multiple software features to enhance the teamwork and store important data about your projects, customers, tasks, and other activities and resources.
The features you might need to maximize your team's work results:
Work scheduling – assigning and prioritizing tasks, shared calendar
Communication & collaboration – chats, document sharing
Project management – adding work and tasks to collaborative projects and tracking the progress
Data storage – centralized access to information about your customers, contacts, team, business, important news, etc.
Reporting & analytics – work & project reports, time tracking, dashboards
In general, you'll have two choices:
Try to combine various single-feature tools into an integrated team management system.
Use one comprehensive software solution, which already provides you all the features you need.
The challenge? There are hundreds of single-feature tools and simplistic apps, but not so many end-to-end solutions. We have done our best to find the great options from both worlds.
Here are our 25 top picks for team management software solutions.
1. SCORO
Scoro is a comprehensive solution that combines all the features you might need to manage your business: projects & tasks, contact management, quotes, team collaboration, billing, and reporting. All your important information is stored in one central place, which makes it easy to manage your team even remotely or on-the-go.
Top features:
Work & meeting scheduling, shared team calendar
Task & project management with unlimited number of projects
Communication & file sharing
Real-time customizable KPI dashboards
Contact database and management
Time tracking and billing for work
Detailed reports on every aspect of your work – from project progress to finances
Quoting and invoicing with pre-set templates
What's special about this tool: Scoro helps to streamline your entire work progress, so you don't need to use a lot of different tools for every task. You will probably end up solving more challenges than expected – Scoro surprises with a very wide set of functions.
Pricing: From $26 user/month
Try Scoro for free for 14 days
2. SLACK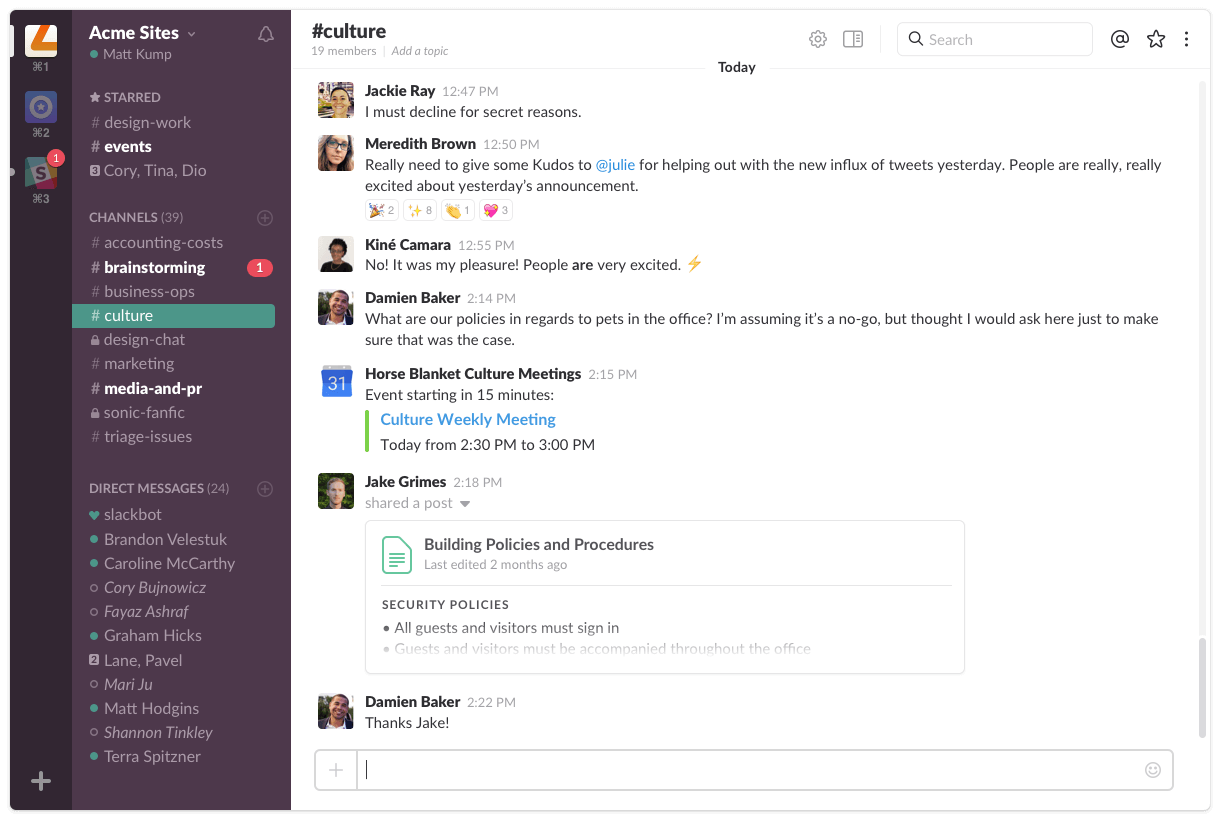 Slack is the perfect team collaboration tool for teams who need to be in constant communication. By creating Slack channels and setting up notifications, you'll boost your team's productivity and get a better overview of all your tasks and projects.
Top features:
Team communication and chat
Integrate with Google Drive, Box or Dropbox to share files
Set up reminders
Highlight words to be notified as they appear in conversations
Use @everyone tag to send a message to the entire team
Use Slack bots
What's special about this tool: In addition to popular chatting features, Slack has many shortcuts and hacks that help to increase the productivity levels of your team collaboration.
Pricing: Free plan available, paid plans from $8 user/month
Read on:
Top Team Collaboration Mistakes, And How You Can Avoid Them
Workplace Chat Is Killing Our Productivity
3. ZOHO WORKPLACE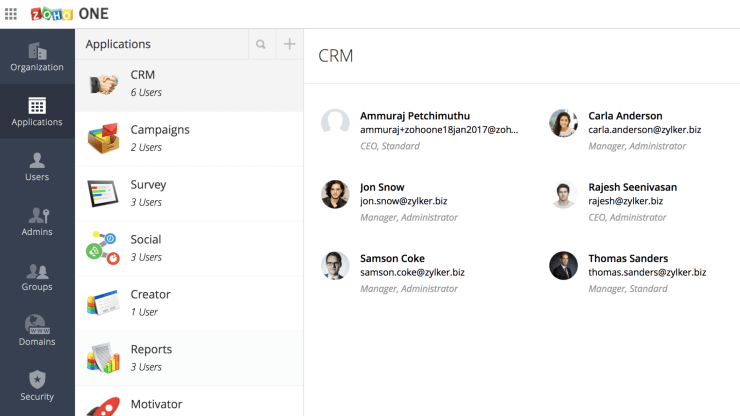 All the tools you will ever need to create, collaborate, and communicate with your teams, in one integrated suite of apps — Zoho Workplace.
Top features:
One place to create and save all your work, upload from email or your desktop, and share
Get the best of both email and social right in your inbox
Manage files in the cloud from your phone or tablet
What's special about this tool: Zoho can be integrated with other Zoho bundles such as CRM, Finance, and Recruit to manage almost every aspect of your team in one system.
Pricing: Free plan available, paid plans from $2 user/month
Check out this Zoho Alternative and 21 best Zoho Alternatives for business management!
4. PODIO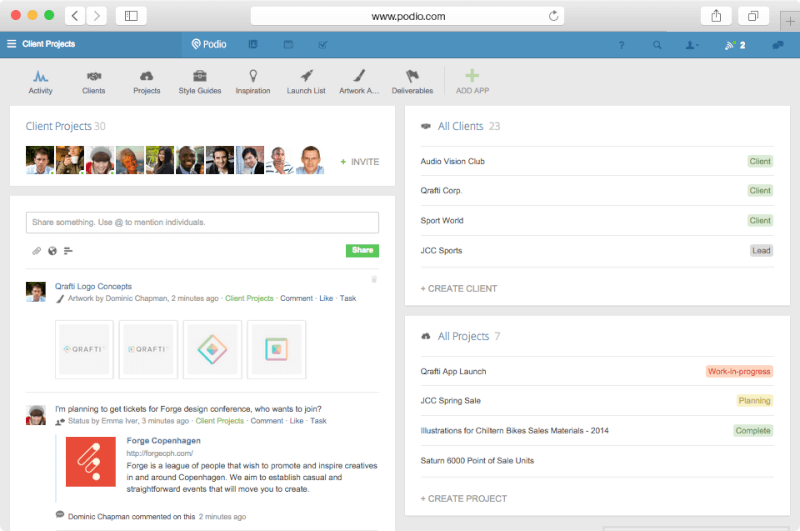 Podio is a flexible and highly customizable online hub for work and team communication.
Top features:
Assign tasks, attach files and discuss details within the solution
Share encrypted & large files
Automate the sales pipelines, project budget tracking, and more
Get an overview of the company with visual dashboards
Automate your workflows
What's special about this tool: Podio's workflows feature enables you to add if-this-then-that logic to Podio apps. For example, instruct your app to create a task or comment, when an item is created or when a particular update is made to an item.
Pricing: From $9 user/month
Read on: How Data Can Help Understand How Your Employees Work
5. BITRIX24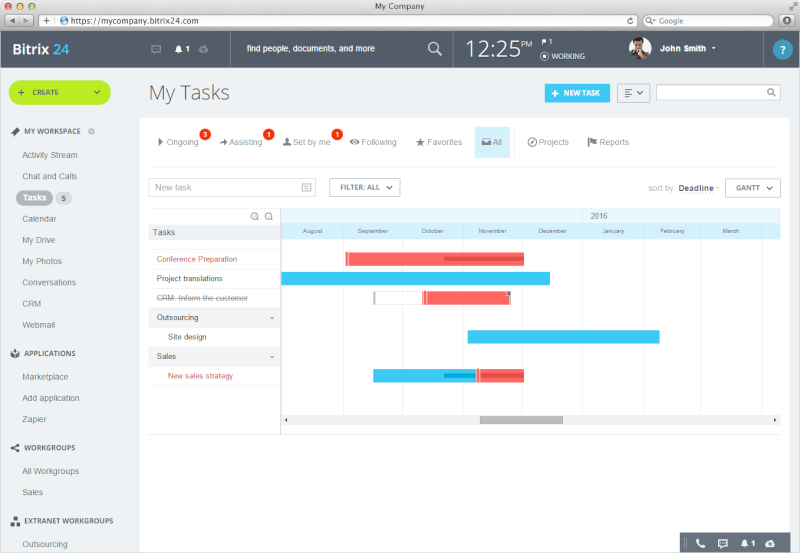 Bitrix24 offers a complete suite of social collaboration, communication and management tools for your team.
Top features:
Social intranet for internal communication
Gantt charts
Employee workload management
Customer relationship management
Telephone integration
What's special about this tool: Bitrix24 has a large set of features, from traditional project management to integrated telephone and HR system, or internal email.
Pricing: Free plan available, paid plans from $39/month
Check out these Bitrix24 Alternatives!
6. NEETRIX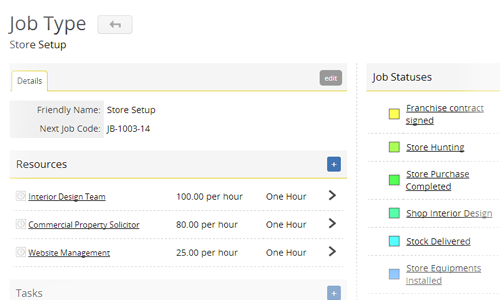 Neetrix gives a complete overview of all the scheduled tasks, jobs, events and actions that are being or have been performed by your entire team, including outsourced contractors.
Top features:
Assign tasks to other staff members and get a notification when they are done
Tasks can be created against different contacts, jobs, invoices or almost anything else in Neetrix in order to allocate them appropriately
Build templates for your jobs, predefining all the common tasks and resources required when starting a new job
What's special about this tool: Generate accurate invoices based on staff and equipment time-sheets as well as tracking what has and hasn't been billed for.
Pricing: From $12/month
Read more: How to Deal With Overdue Invoices And Get Your Money Faster
7. PROWORKFLOW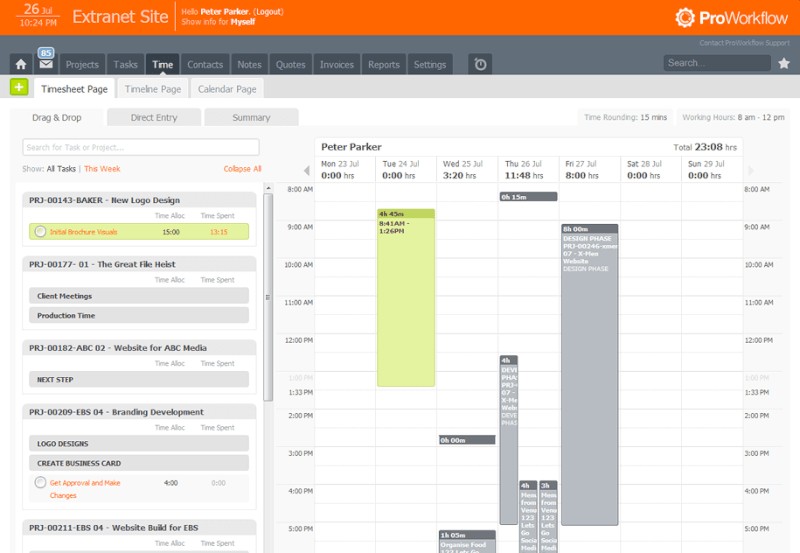 ProWorkflow makes it a breeze to assign staff, track time or reschedule projects.
Top features:
Dashboard for an overview of your workload
Allocate tasks
View workload across teams
Manage contacts
Share files
Manage invoices and quotes
What's special about this tool: Convenient mobile application lets your track time, communicate, and complete tasks on the move.
Pricing: From $22 user/month
Check out this ProWorkflow alternative!
8. REPLICON
Whether you are looking to manage your workforce, keep your clients happy, or run your business efficiently, Replicon can partner with you to take your company forward.
Top features:
Remote workforce
Visibility into work
Budgeting & labor costs
Shared services management
Labor cost capitalization
What's interesting about this tool: Replicon is highly focusing on time management – or time intelligence, according to their phrasing. They are dedicated to expanding the importance of time tracking across all business functions.
Pricing: From $12 users/month
Read on: Review Your Agency's Workflow in 6 Steps
9. HARVEST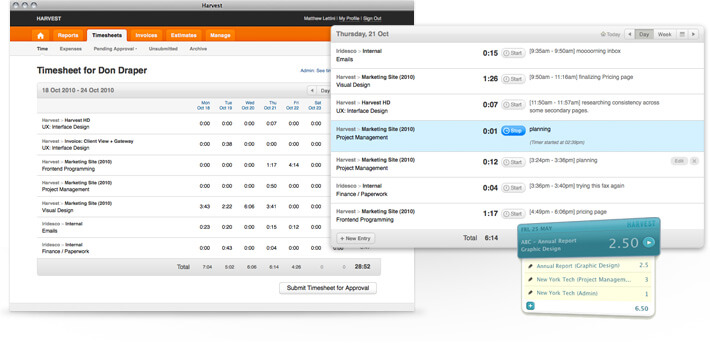 Harvest is one of the best-known timesheet tools on the market. With its simple interface and light feature-set, Harvest makes it super easy to log your work time for fast invoicing and correct expense tracking.
Top features:
Time tracking from any browser, Mac, iPhone, or Android
Creating estimates and invoices based on the time worked
Real-time reports on time spent
Integrations for tracking time across all your favorite project management tools
What's interesting about this tool: Harvest is a time tracking tool rather than a team management software. It is focused on doing one thing and doing it well.
Pricing: Free plan available, paid plans from $12 user/month
10. TOGGL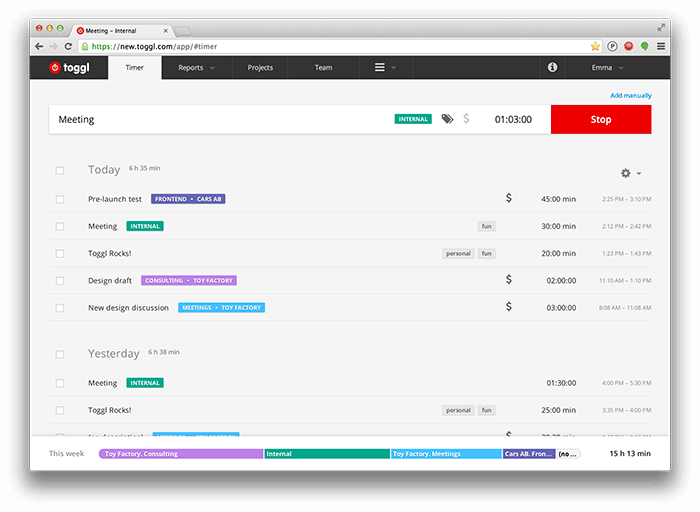 Toggl is a no-hassle time tracking and employee timesheet software that integrates with tens of different project management systems. It is the perfect add-on to your existing tools, helping you to know exactly where your time has been spent.
Top features:
Work timer
Unlimited projects and subprojects for accurate time tracking
Reports featuring team progress
Online & offline time tracking
What's interesting about this tool: Toggl integrates seamlessly with your favorite productivity tools such as Trello Time Tracking Tool, Scoro, or Asana.
Pricing: Plans from $9 user/month
11. TEAMWORK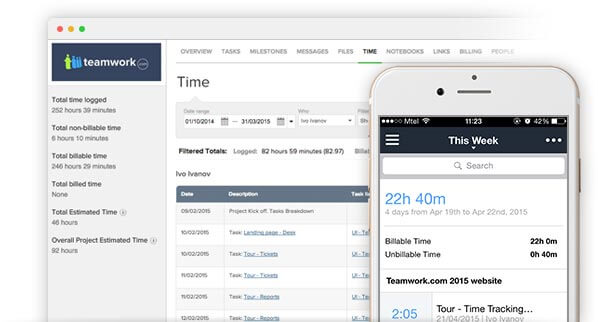 Teamwork lets you estimate the time you think you'll need to complete tasks and then log your actual time against it. Soon you'll become very accurate in your estimates, and you'll know exactly how long it takes to complete certain tasks!
Top features:
Estimating and tracking time spent on a project
Custom time reports with export options
Tracking time on the go
Sending invoices based on the time worked
What's interesting about this tool: Teamwork is more than just a timesheet software – it also lets you manage projects and is beta testing team collaboration tools such as Teamwork Chat.
Pricing: Free plan available, paid plans from $9 user/month
Check out this list of Teamwork alternatives!
12. HUBSTAFF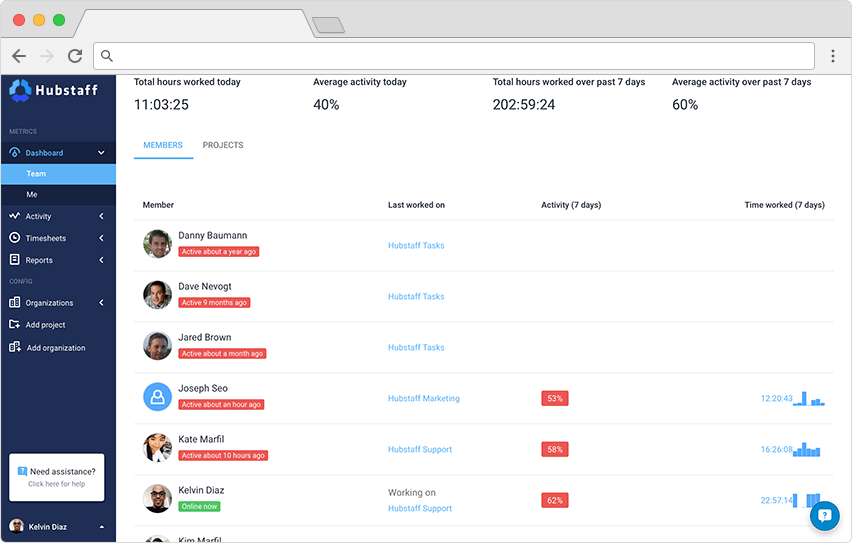 Hubstaff is an automatic online timesheet tool to easily pay employees for work completed. It has over 30 integrations to smoothly plug it into your current tools.
Top features:
Automatic and manual time tracking
Activity view with optional screenshot-taking
Customizable reports
Timesheets and payments
The option to integrate Hubstaff with numerous other apps
What's interesting about this tool: Hubstaff lets you take screenshots and measure activity levels so you can monitor your remote employees. The mobile app also lets you track time working or driving and offers fleet or employee location tracking via GPS. Many companies use Hubstaff to check on their remote workers and to deliver payments based on the time worked.
Pricing: From $5 user/month
13. ASANA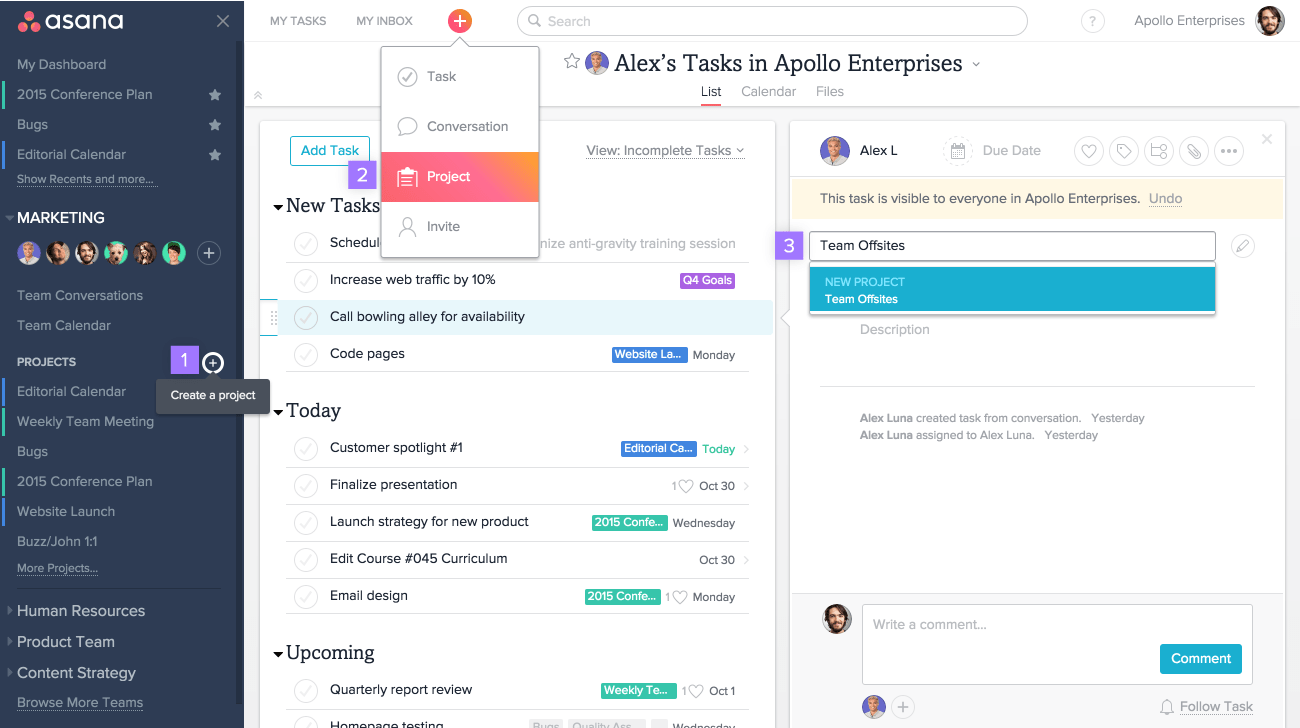 Asana combines elements of project management, file storage, and collaboration, and helps to manage projects across a team without email.
Top features:
Break your work down into tasks, and assign it to team members
Organize your tasks into projects for roadmaps and timelines
Review milestones, and check your team's progress
Get notified about projects updates
Use project dashboards to get a quick overview
What's special about this tool: Asana is a really easy-to-use tool with a simple layout. If you're a small team with not too complex projects, check it out.
Price: Free plan available, paid plans from $9.99 user/month
14. TRELLO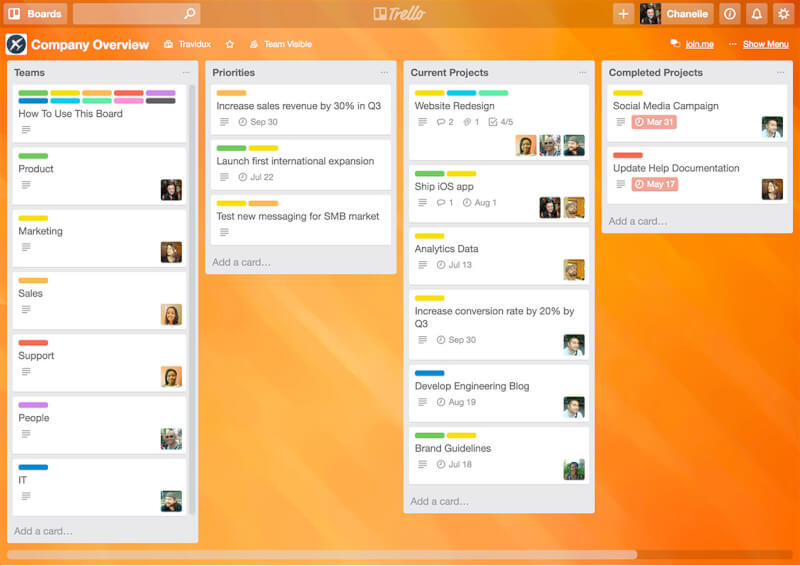 Trello is known for visualizing project tasks on a cardboard-like dashboard that's great for managing short and quick everyday assignments.
Top features:
Simple task management on a cardboard
Creating unlimited task lists
Image and file sharing
Organizing lists by dates or priority
Commenting and collaboration
What's special about this tool: From startups to Fortune 500 companies, Trello is the most visual way for teams to collaborate on any project.
Pricing: Free for personal use, paid plans from $9.99 user/month
Check out this Trello alternative!
15. ACTIVECOLLAB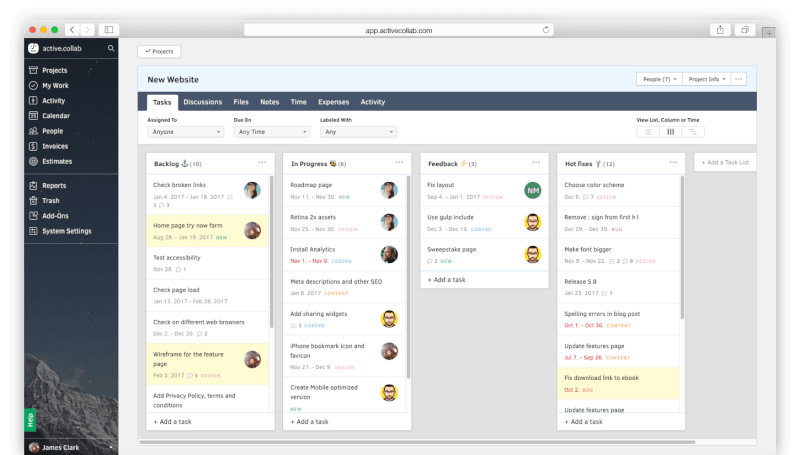 ActiveCollab combines time billing with project management, making it easier to plan and track creative projects. Moreover, this tool provides features for team collaboration and real-time communication.
Top features:
Creating tasks with multiple users and deadlines
Filtering tasks by users, dates, and labels
Commenting on tasks and mentioning colleagues
Gantt-like timeline for planning
A shared team calendar for collaboration
Time tracking and sending invoices
What's interesting about this tool: ActiveCollab improves the team's collaboration and makes it more fun. Every user can set a custom theme for their platform for quick personalization.
Pricing: From $5 user/month (minimum 5 users)
16. FLEEP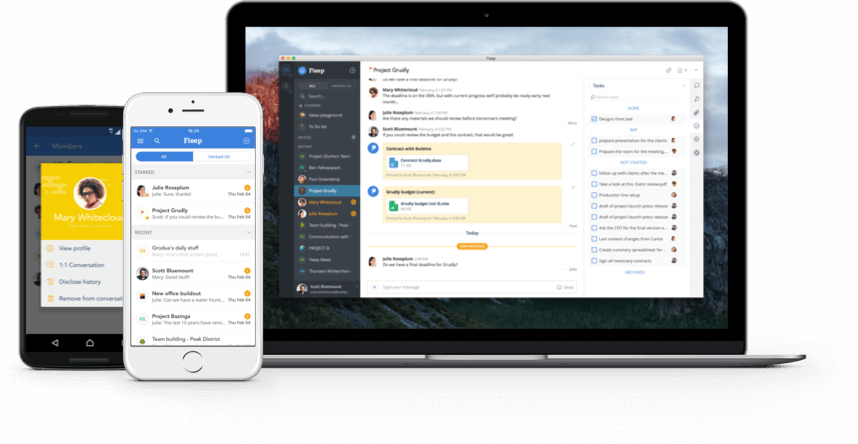 Fleep is next generation messenger built for ultimate project collaboration: chatting with team members and scheduling lightweight tasks. If you're tired of countless email conversations that take hours to conduct, you should give Fleep a try.
Top features:
Chatting with team members and partners
Email compatibility – non-users receive ordinary emails
Pin important messages to the side of each conversation
Sharing files and integration with Google Hangouts
Integration with Google Hangouts
What's special about this tool: Fleep delivers a channel for seamless collaboration via Fleep itself, email, Google Hangouts, so you never need to leave the tool to get your messages across to other people.
Pricing: Free plan available, paid plans from $5 user/month
17. NOTION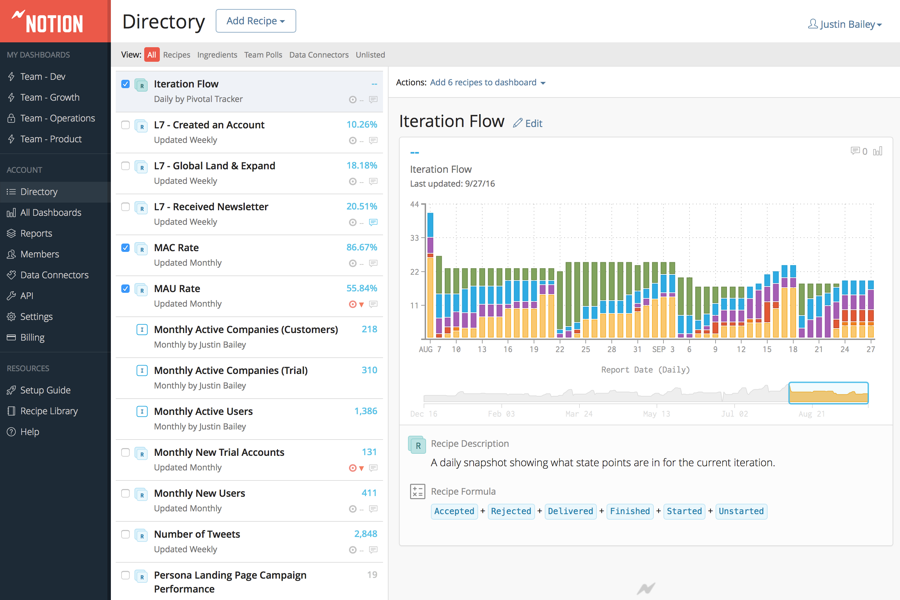 If you're looking for a completely new team management experience, you need to try Notion. This tool helps to plan and discuss projects, share everything with the team, and keep track of all ideas. If you like to use Slack, you can integrate it with Notion for a faster and streamlined communication.
Top features:
To-do lists
Weekly planner
Taking notes + sharing files
Commenting on anything
Planning projects
Personal weekly checklist
Serves as a shared whiteboard
What's special about this tool: "Notion is like the LEGO set for collaboration software (or Minecraft, if you are from a younger generation). It lets you assemble workflows that work best for your team, as easy as using a text editor." – Ivan Zhao, Co-founder of Notion
Pricing: Free up to 5 users, paid plans from $8 user/month
Check out these Notion alternatives.
18. EVERNOTE BUSINESS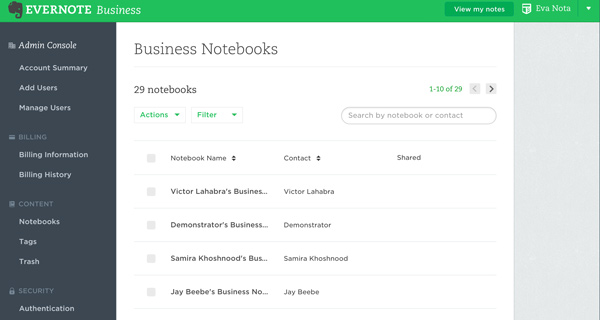 Evernote Business is similar to the note-taking app Evernote, only that it makes it possible to share your ideas with a large team. This team collaboration tool resembles a huge virtual whiteboard that lets everyone contribute their ideas and knowledge.
Top features:
All features of Evernote Premium
Collect, save, and share documents
Search inside PDFs and Word docs without opening them
Presentation mode
Idea boards
What's special about this tool: Evernote Business lets every team member contribute their best ideas in a matter of seconds. Later, the entire team can review all the topics using the presentation mode.
Pricing: From $14 user/month
19. PROOFHUB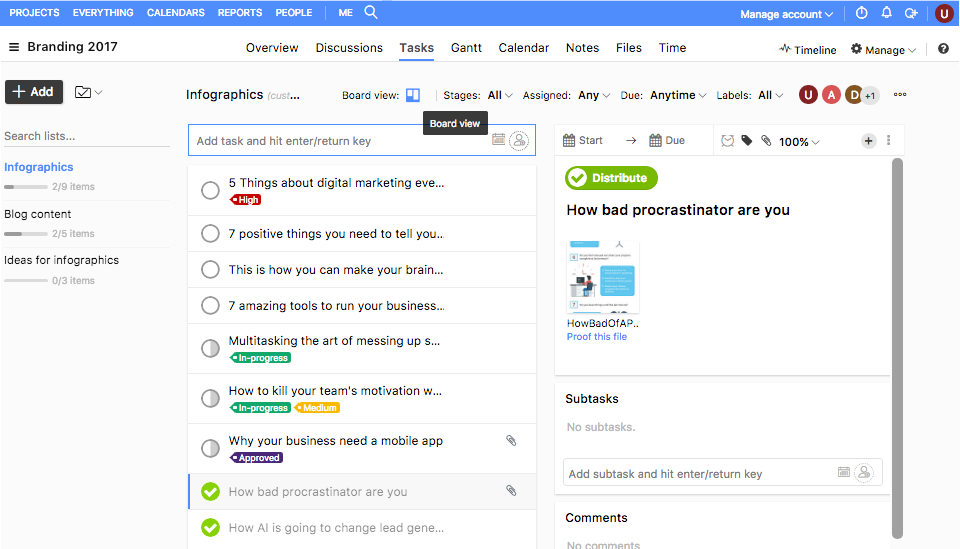 ProofHub makes it easier to share and discuss ideas across the entire team. Moreover, it serves as a simple business management software with task management features.
Top features:
Assigned user roles
Online team discussions
Sharing and saving files
Task dependencies and delegating
Reporting and tracking projects
What's special about this tool: ProofHub is easy-to-use and improves the way your team collaborates. Getting used to this new tool takes about one day.
Pricing: From $50/month
20. YAMMER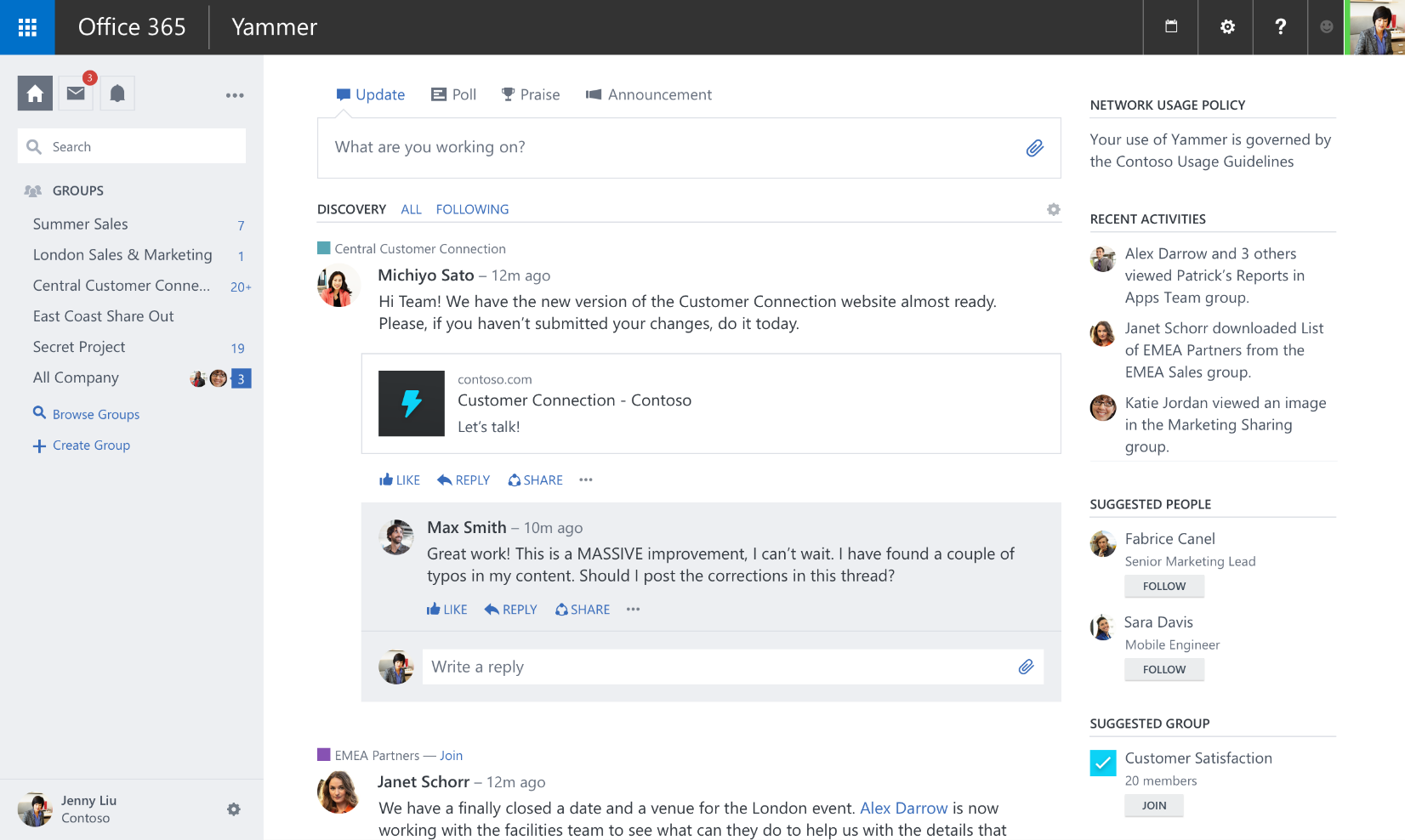 Yammer is a widely used enterprise network tool. It gives you a platform to communicate and collaborate privately with your colleagues.
Top features:
Signing up with company emails
Team chat and collaboration
Sharing documents
Chat groups
Public and private chats
What's special about this tool: Instead of using their personal email accounts, employees can be added by their corporate emails. You can also safely collaborate with partners and customers using Yammer's External Groups.
Pricing: N/A
21. MICROSOFT PROJECT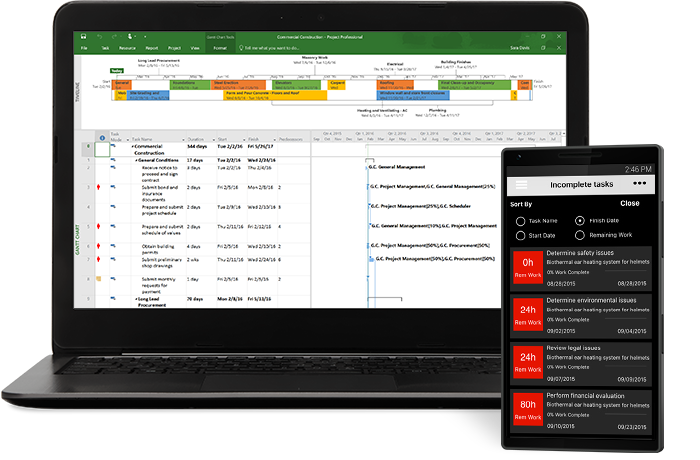 Microsoft Project helps to streamline project, resource, and portfolio management. Integrated planning tools help you keep track of projects and stay organized.
Top features:
Project scheduling & costing
Resource management
Reporting & business intelligence
Built-in project templates
Project timelines
What's special about this tool: This project tool is used by 20+ million users – it is one of the most known project tools. But it does not mean it is the most modern one.
Pricing: From $30 month/user for cloud platform, from $589.99 for on-premise software (for one PC)
Check out this Microsoft Project alternative!
22. BASECAMP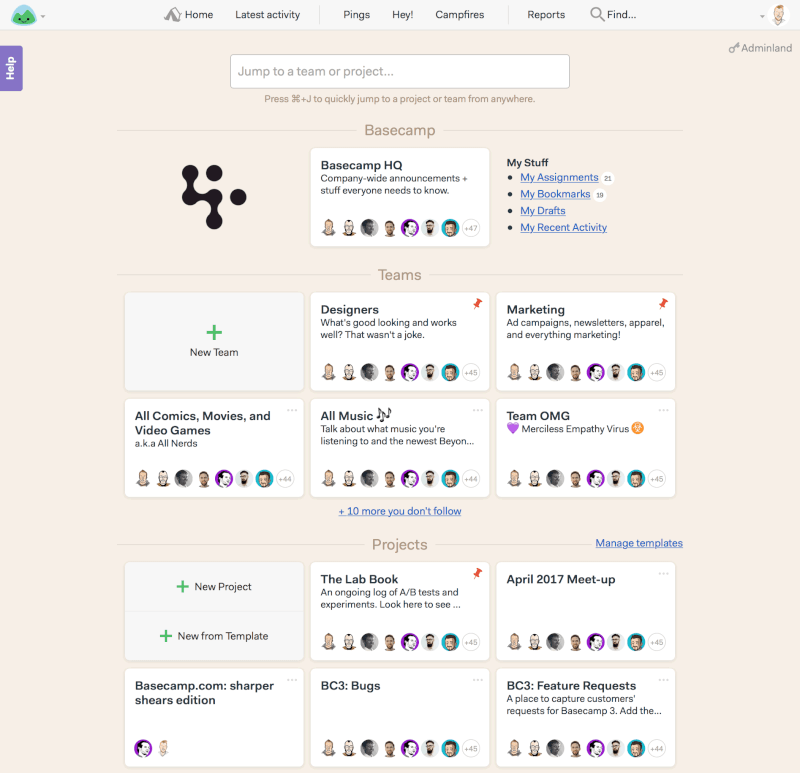 Basecamp is used by thousands of project teams around the world. It makes it easy to manage the project while sharing them with clients for quick feedback on small changes and updates.
Top features:
Reporting on project performance
Separate dashboards for client collaboration
Message boards for discussing projects and ideas
Email and desktop notifications
Projects with multiple users and tasks
In-app team collaboration and commenting
What's special about this tool: Basecamp takes only 10 minutes to set up and is easy-to-use. It provides the minimal amount of features needed for efficient project management.
Pricing: Fixed plan $99/month for unlimited users
Read on: Basecamp Alternative for Project Management and Collaboration
23. BRIGHTPOD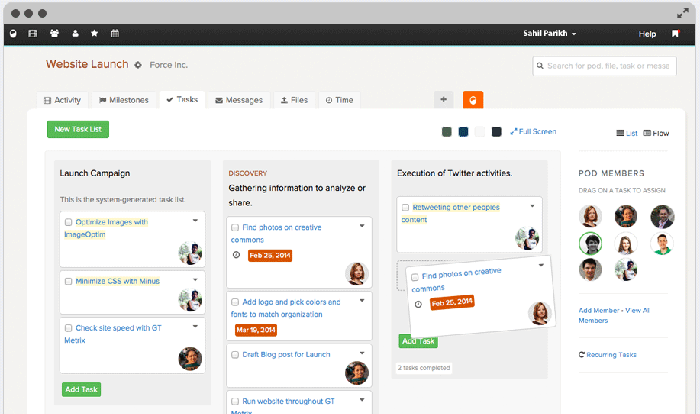 Brightpod is a project management tool with features that allow users to create projects, called Pods, which are complemented with tasks and milestones.
Top features:
Editorial calendar
Projects with tasks, priorities, and milestones
Cardboard layout for task management
Time-tracking
Individual dashboards for team members
File-sharing
What's special about this tool: When creating a project (or Pod) with Brightpod, you can use a Pod template for a faster project setup. Moreover, your team will get a more customized project experience.
Pricing: From $29/month
24. TEAMWEEK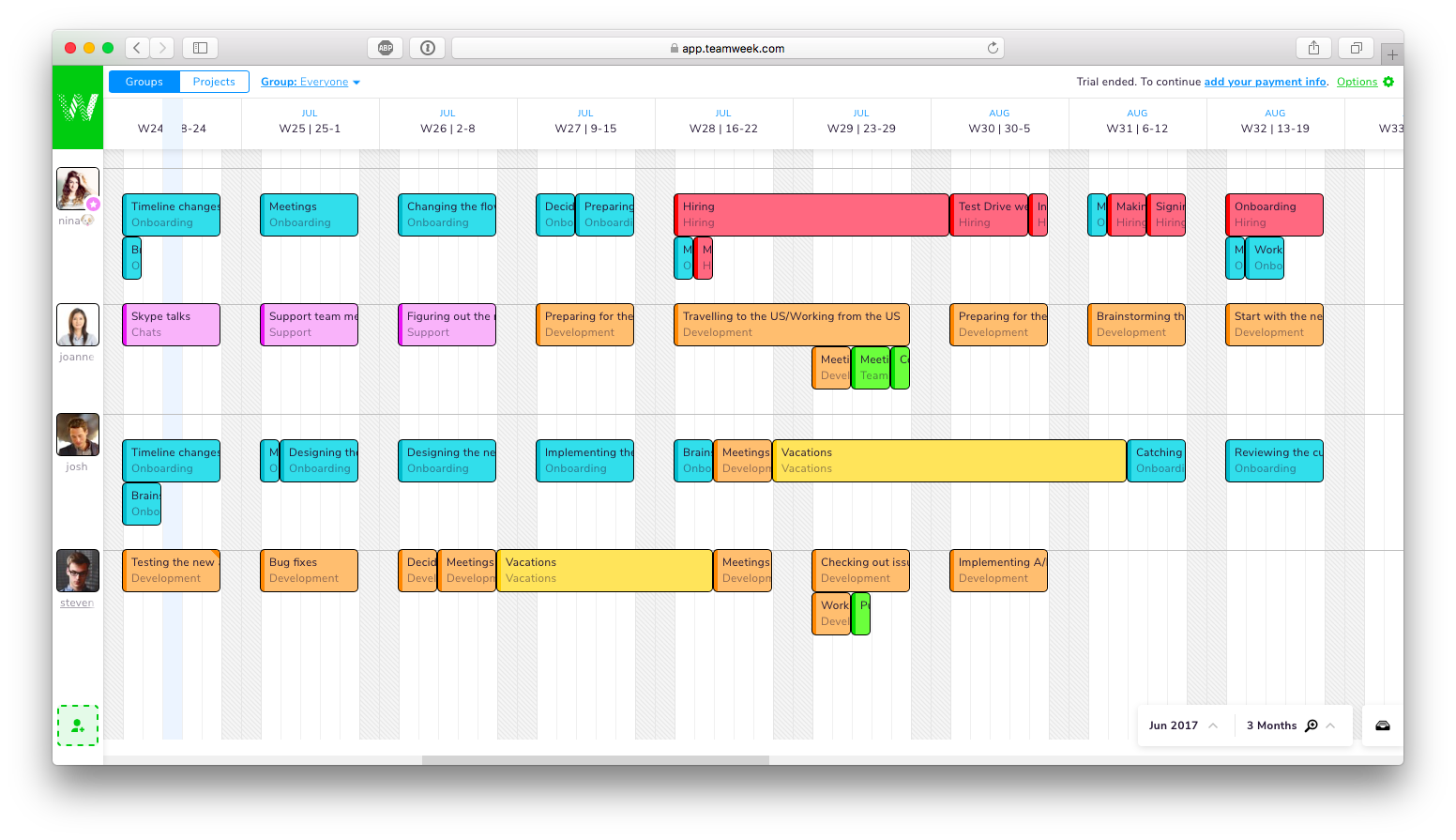 Teamweek is a timeline-based project management tool that lets teams schedule their upcoming tasks and meetings into a shared calendar. It gives a quick and accurate overview of your team's work and upcoming projects.
Top features:
Simple Gantt-chart interface
Scheduling work well into the future
Drag-and-drop task management
Project management
Seeing team members' availability
What's special about this tool: Teamweek serves as an add-on to more comprehensive project management tools, making time-scheduling super easy. If you need a tool for scheduling your team's availability, check it out.
Pricing: Free plan available, paid plans from $34/month
25. LIQUIDPLANNER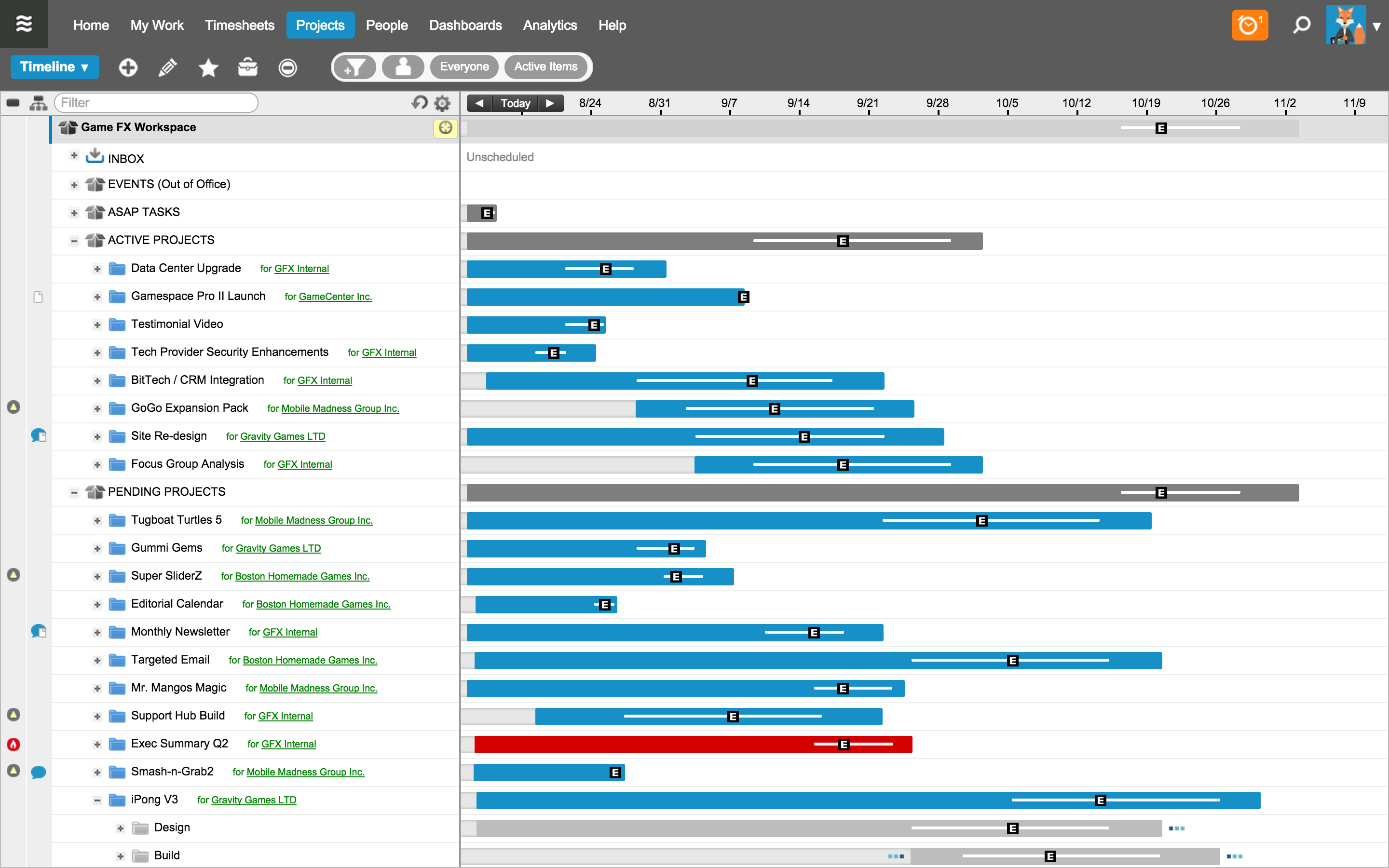 LiquidPlanner is a collaboration tool that combines project management and time-tracking, making it easier to communicate with team members and share ideas.
Top features:
Estimating a realistic range of time to complete tasks
Commenting on tasks and schedule
Task-specific collaboration boards
Resource management/scheduling screen
Adding notes to projects
What's special about this tool: LiquidPlanner has an interesting methodology for project management – it helps teams to set realistic deadlines based on best-case and worst-case scenarios.
Pricing: From $9.99 user/month
Read on: 3 Ways To Improve Team Collaboration And Succeed With Team Management Software
What's your take on team management software – are you already using a solution or looking for one? Any tips are welcome!