Work management
20 Best Resource Management Tools for Your Business
Effective resource management can be the difference between sizable and non-existent profit margins. And one of the best ways to optimize your organization's performance on this front is through resource management software. But with so many solutions out there, it can get overwhelming quickly.
This comprehensive list of resource management software will provide valuable insight into what might work for your company. Every solution on this list:
Has unique features that stand out from other resource management tools;
Is by a trustworthy provider and offers regular updates.
What is resource management and why it's important?
Resource management is defined as the process of using the company's resources (e.g., equipment, money, time, and employees) in the most efficient way. And in the scope of project management, it refers to the planning, tracking, and optimizing the utilization of resources for successful project completion.
Project resource management is important because it:
gives an overview of everyone and everything involved in your project;
ensures successful timelines by analyzing each resource;
makes the planning process more transparent;
helps you act proactively in the event of any problems occur.
1. Scoro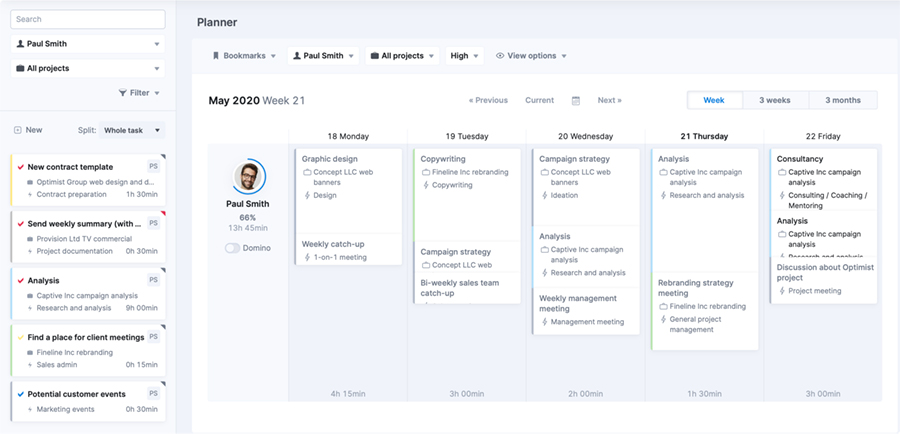 Scoro provides turnkey software solutions to help streamline the many facets involved with resource management. These include planning time and work, scheduling resources (e.g., meeting rooms and tools), and giving you an instant visual overview of everyone's workload.
Top features:
Real-time customizable KPI dashboard
Project progress reports
Time tracking and billing for work
Preset templates for quoting and invoicing
Contact management
What's Special About this tool: Scoro is straightforward when it comes to usability – but it's intricately designed to manage all aspects of your business in one place. Furthermore, this software has reporting capabilities that far eclipse anything on the market.
Pricing: Starting at $26 per month.
Try Scoro for free for 14 days
2. Meisterplan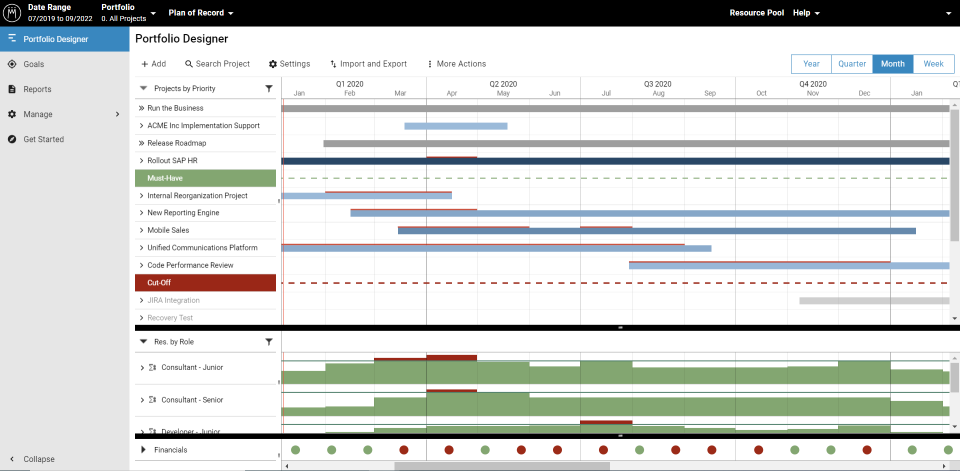 Meisterplan is an interactive resource management software dedicated to helping management align its project portfolio to strategy.
Top Features:
Scenario simulation that allows you to react to changing circumstances
Resource conflict resolution
Portfolio-level planning features
What's Special About this Tool: With interactive and fast scenario simulations, you can quickly react to changes and make informed decisions.
Pricing: Starting at $199 per month.
3. Float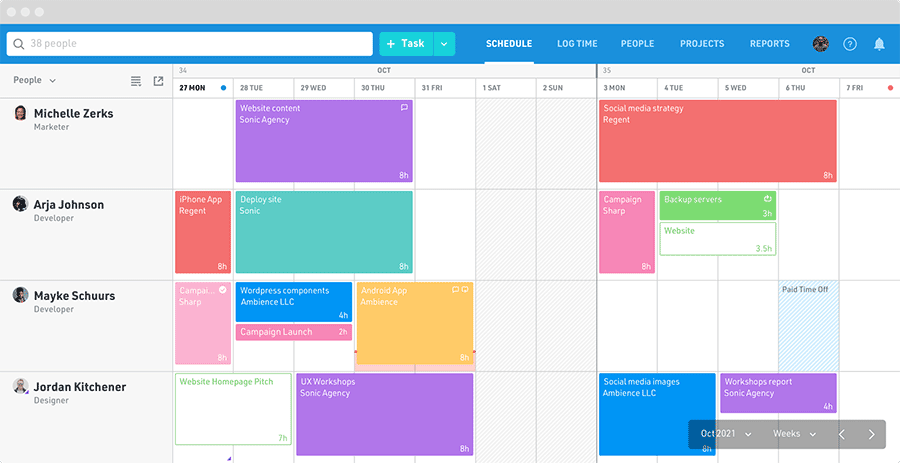 Float helps teams plan projects, schedule resources, and oversee their capacity. Fast scheduling and easy-to-use editing tools make resource planning intuitive and straightforward.
Top features:
Sets projects based on time and fees
Incredibly fast interface
Drag-and-drop reassignment tool
An accurate, single view of resources
What's Special About this Tool: Float's integrations connect seamlessly with your existing tools and apps. With Jira or Teamwork, you can sync and schedule your projects.
Pricing: From $5 person/month for basic resource management
4. LiquidPlanner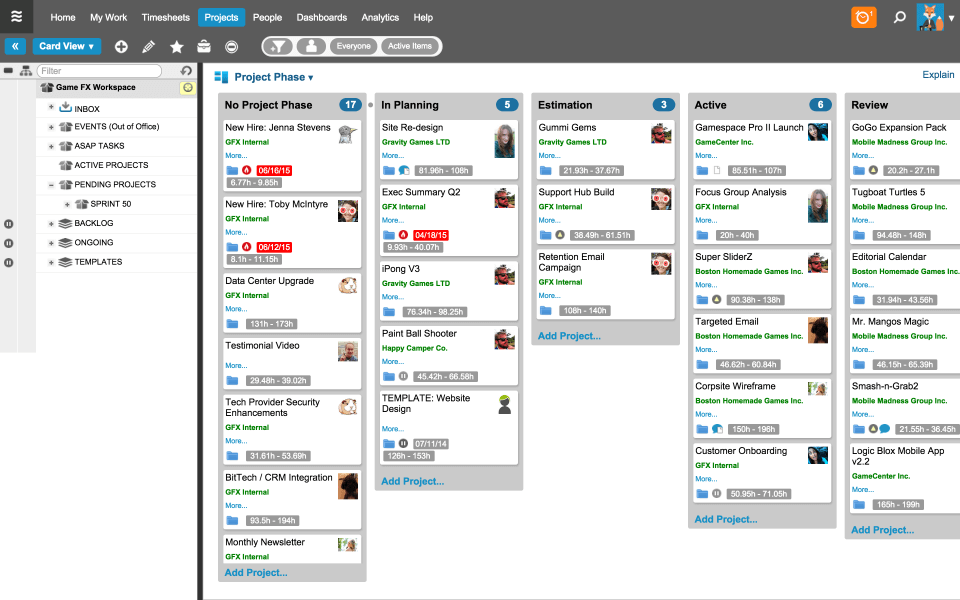 LiquidPlanner is used by many manufacturing, development, and technology teams because it provides an excellent way to plan and execute work.
Top Features:
Project management dashboard
Predictive resource-based technology
Scheduling technology that allows teams to focus on the right work at the right time
What's Special About this Tool: While it's primarily a project management tool, LiquidPlanner takes a resource-based approach to how it schedules and prioritizes. It even accounts for unpredictable scenarios.
Pricing: From $45 user/month
5. Resource Guru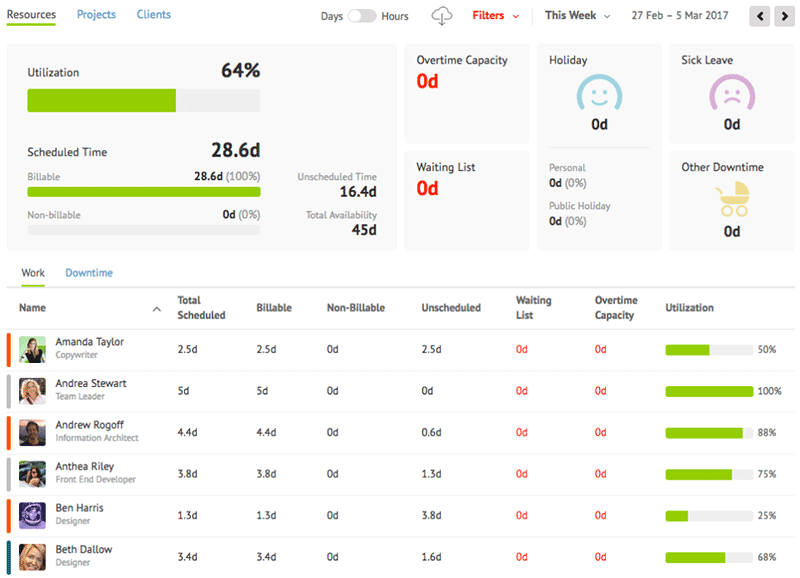 By purchasing Resource Guru, you'll benefit from a highly responsive solution that allows you to schedule people, equipment, and a wealth of other online resources.
Top Features:
Visibility of the full team on one calendar
Drag and drop scheduling
Offers a "leave management" solution to handle vacations, sick days, and maternity leave
Provides a clash-management system that prevents overbooking
What's Special About this Tool: Resource Guru is incredibly diverse with its offerings, but its in-depth reporting allows users to monitor utilization rates and plan capacity. Moreover, there's no need to install software—nor do you need to train your team on how to use this savvy resource management tool.
Pricing: From $2.50 person/month + extra for non-human resources
6. ClickTime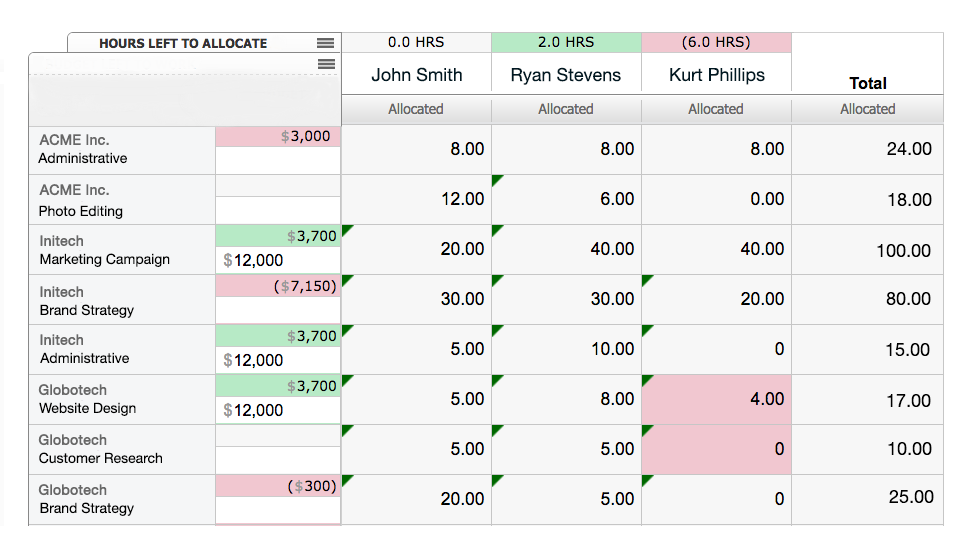 ClickTime improves your tracking, planning, and management of your employee's time. It helps you enhance operations and boost employee productivity through its straightforward timesheets that can be accessed anywhere.
Top Features:
Real-Time answers from crucial workplace functions
Customized time tracking solutions depending on the client
Budget management tools
What's Special About this Tool: Whether on a laptop or phone, you can easily track time, approve employee hours, or dive into dashboards and reports.
Pricing: From $24 person/month for resource planning
7. Kimble PSA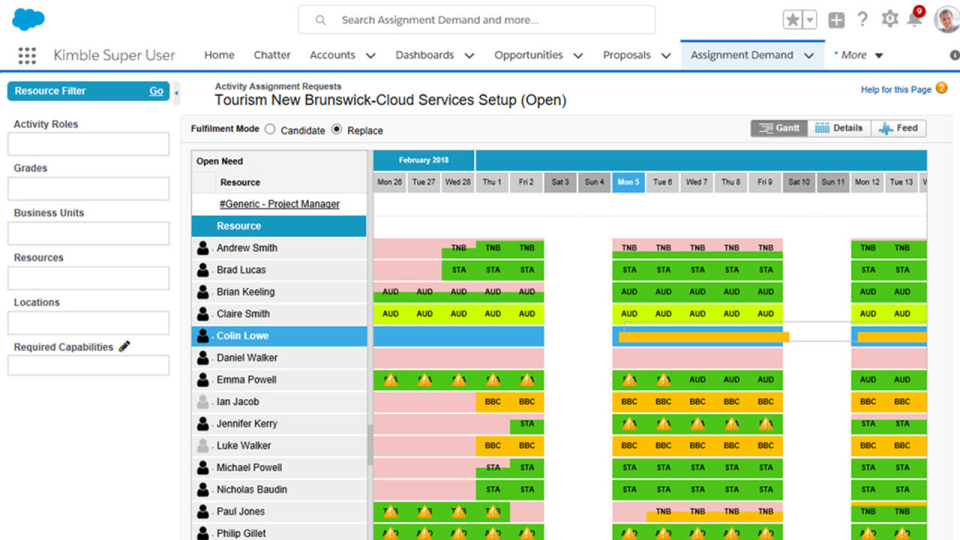 Kimble PSA helps professional services organizations run their businesses better, optimizing resource allocation, profitability, and business scalability by aligning teams around essential processes.
Top Features:
Factors in future pipeline capacity
Comprehensive availability management tracks absences and free time
Balances required skills with available resources
Geolocation and detailed assignment schedules
What's Special About this Tool: Kimble aims to maximize its users' billable utilization. It does this by clarifying the right person for open assignments and what's needed to successfully satisfy future demand.
Pricing: Only available upon request.
8. Epicflow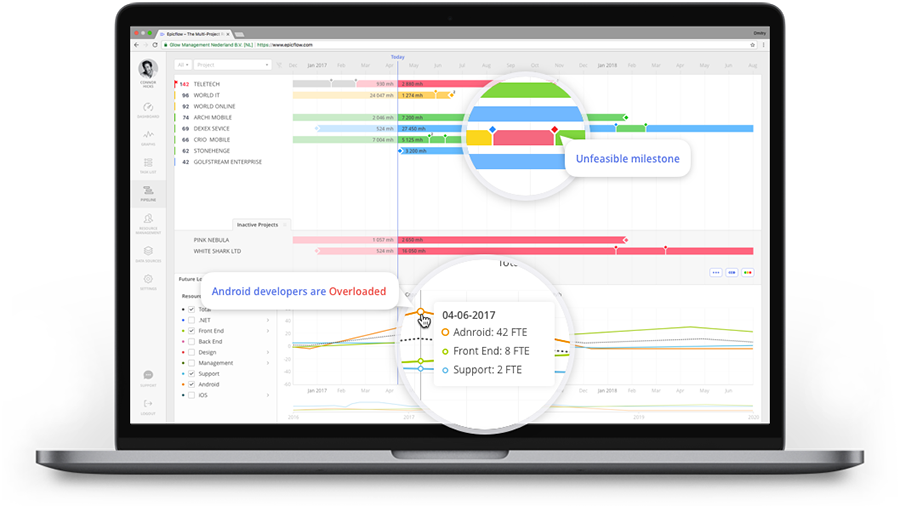 Epicflow has designed an add-on meant to resolve resource conflicts, prioritizing workplace tasks depending on the highest demand.
Top Features:
Comprehensive resource overview
Resource load-tracking
"What-If analysis" and predictive algorithms that detect potential bottlenecks
Integrates with workplace tools of your choosing
What's Special About this Tool: Epicflow's historical load graph provides a ratio of your load alongside your team's output. This feature helps you accurately analyze their performance.
Pricing: Only available upon request.
9. Active Collab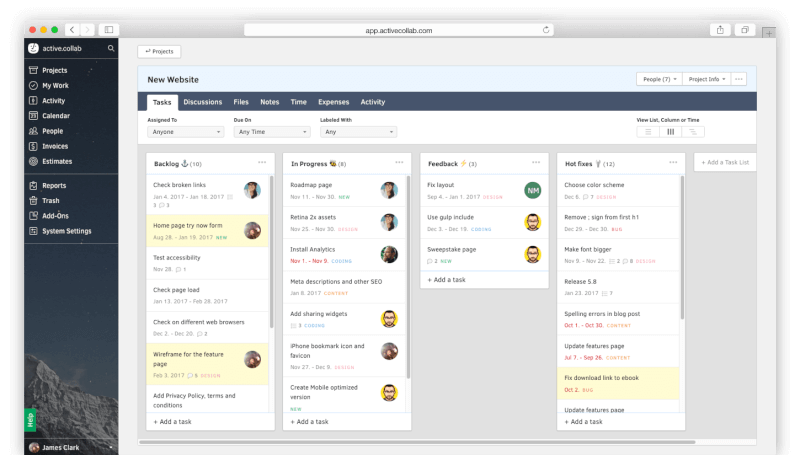 Active Collab Workload offers a real-time overview of what people are working on – see each person's capacity and deliver a workload schedule that fits their strengths and availability.
Top features:
Create tasks with multiple users and deadlines
Filter by users and teams
Split assigned work into tasks
Track time and billing
What's special about this tool: Active Collab improves the team's collaboration and makes it more fun.
Pricing: From $6.25 user/month
10. Precursive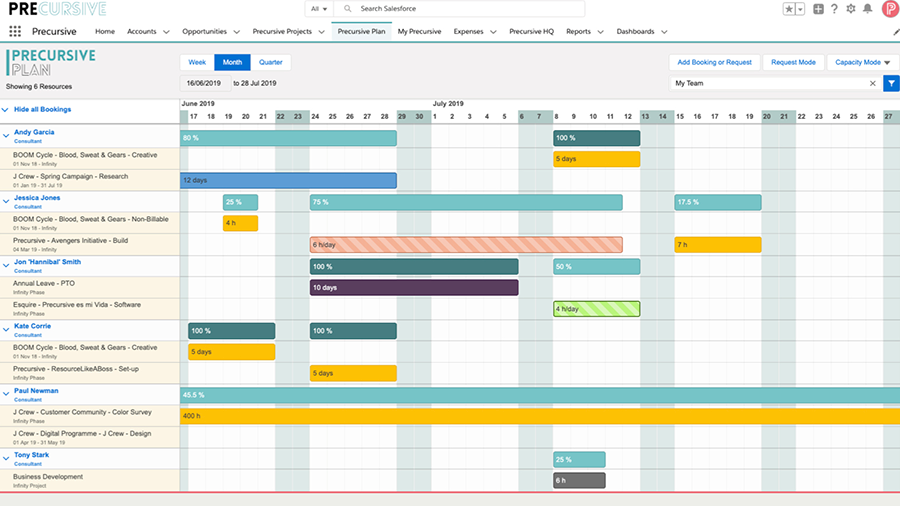 Precursive is a resource management app combining scheduling, timesheets, and reporting in one easy-to-use space.
Top Features:
Allocate work quicker and more successfully with resource scheduling
Real-time project accounting to manage budgets, costs, and margins
Reporting and analytics to make more informed decisions
What's Special About this Tool: Precursive offers optimal flexibility and boasts a highly responsive and helpful support team ready to help as soon as you make a request.
Pricing: From $60 per month for a package with resource management.
11. Hub Planner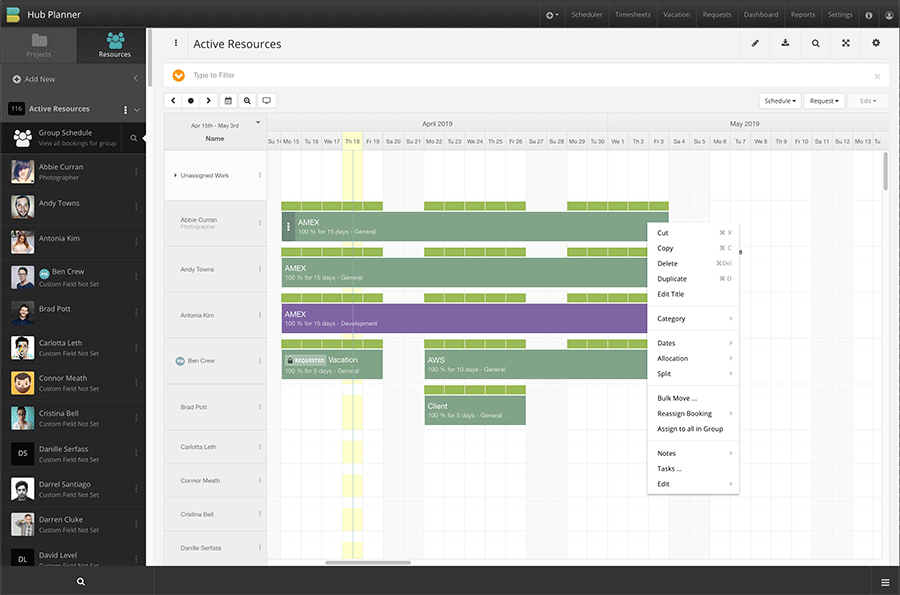 Hub Planner's resource management is only one of many business functionalities found in the solution. This versatile workplace tool is ideal for small, medium, and enterprise-level businesses.
Top Features:
Timesheets
Drag-and-drop resource scheduling
Vacation management
Resource requesting
What's Special About this Tool: Hub Planner has many pluses, but its analytic reports and dashboards are worth checking out.
Pricing: Starting at $7 per resource per month.
12. Klient PSA (previously Krow)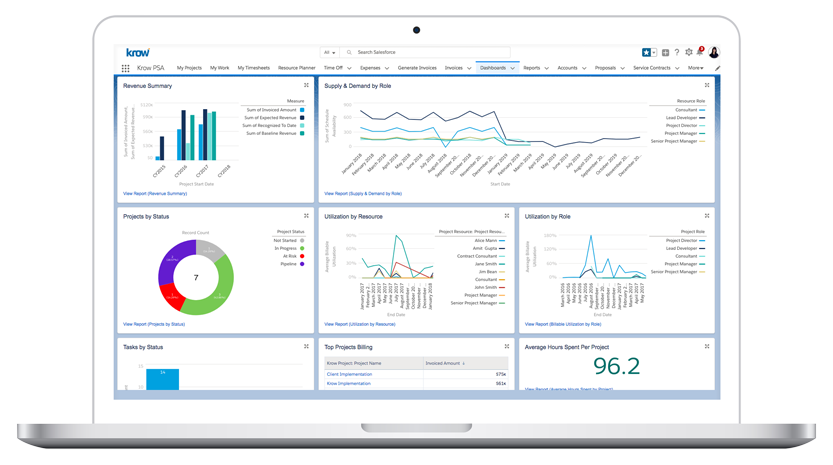 Klient PSA's goals are for customer-centric purposes. Still, its robust resource management capabilities pay significant dividends with onboarding and implementation. 
Top Features:
Built-in status reports and customer health checks

Resource schedule tracking

Seamless scheduling with the press of a button
What's Special About this Tool: The resource planning capability of Klient is one of many moving parts, but it's been intuitively designed to bolster it's standing as a PSA.
Pricing: Starting at $29 per month.
13. Binocs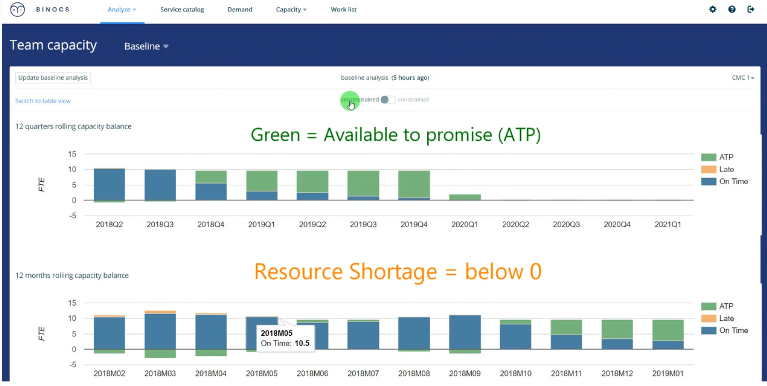 Binocs resource management software optimizes and streamlines resource utilization based on updated capacity and demand data.
Top Features:
Scalable and secure technology that can support companies as they grow
Dedicated master data management screens
A single data source that lets everyone work from the same set of information
What's Special About this Tool: Binocs is continually tweaking, adjusting, and adding features to keep up with client demands. They'll work with you to adapt their product based on your unique set of needs.
Pricing: Available upon request.
14. eResource Scheduler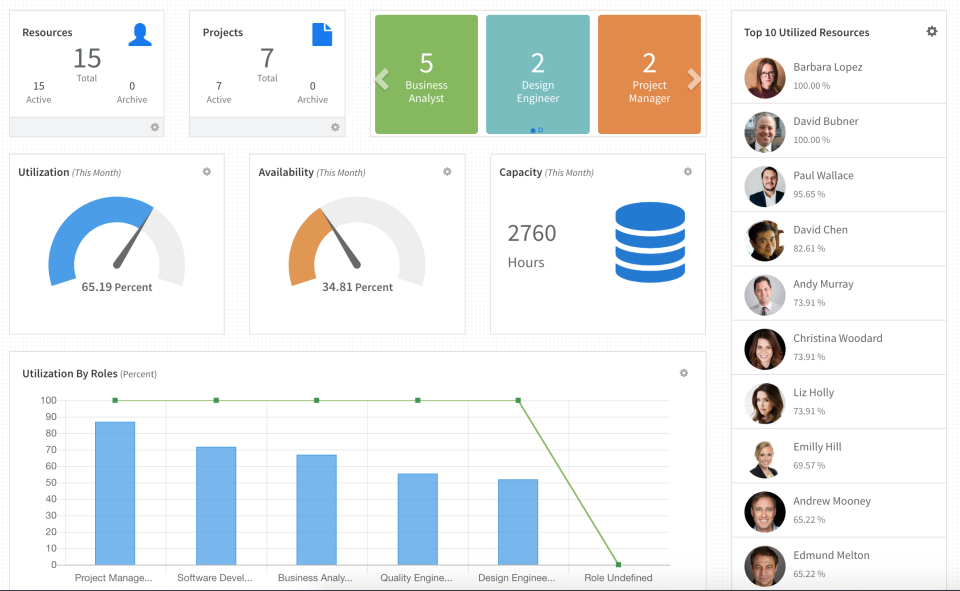 eResource Scheduler enables and empowers organizations to efficiently schedule & plan their resources on projects, events, and jobs.
Top Features:
Cloud-based resource scheduling
Configurable fields, forms, filters, and views
Gantt chart view and drag and drop features
Profoundly insightful utilization & availability reports
What's Special About this Tool: eResource Scheduler boasts a dashboard with informative widgets that present critical numbers and data. It does so in graphs that are easy to digest and understand.
Pricing: Starting at $4 resource/month.
15. ONEPOINT Projects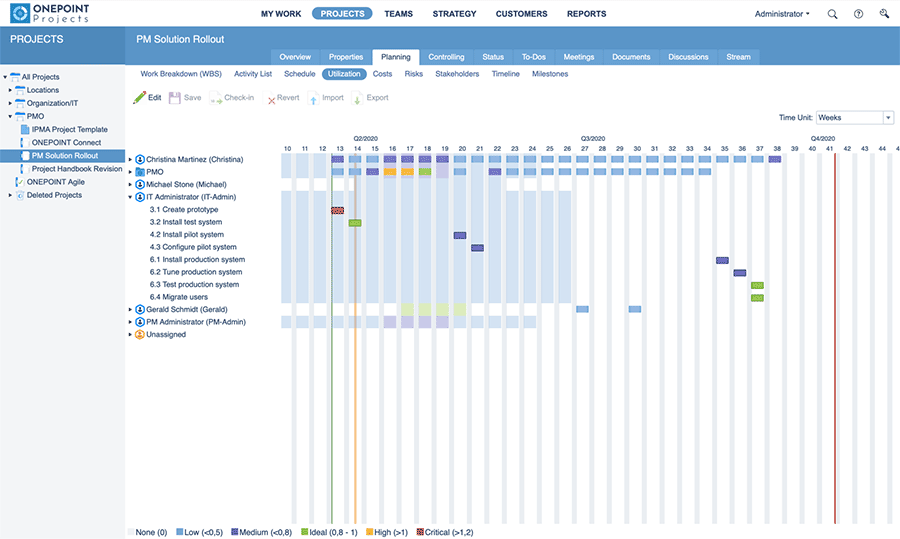 ONEPOINT offers project-oriented organizations features that increase portfolio transparency, shorten project lead times, and enhance resource utilization.
Top Features:
Visual resource leveling is based on an overall resource utilization view
Graphical utilization views
A resource histogram
Drag-and drop what-if planning allows you to move projects in time or hide them for each scenario
What's Special About this Tool: When using ONEPOINT, breaking out resourcing for the different phases of the project is convenient and straightforward.
Pricing: Free options for small teams, paid plans from €23.90 person/month.
16. Ganttic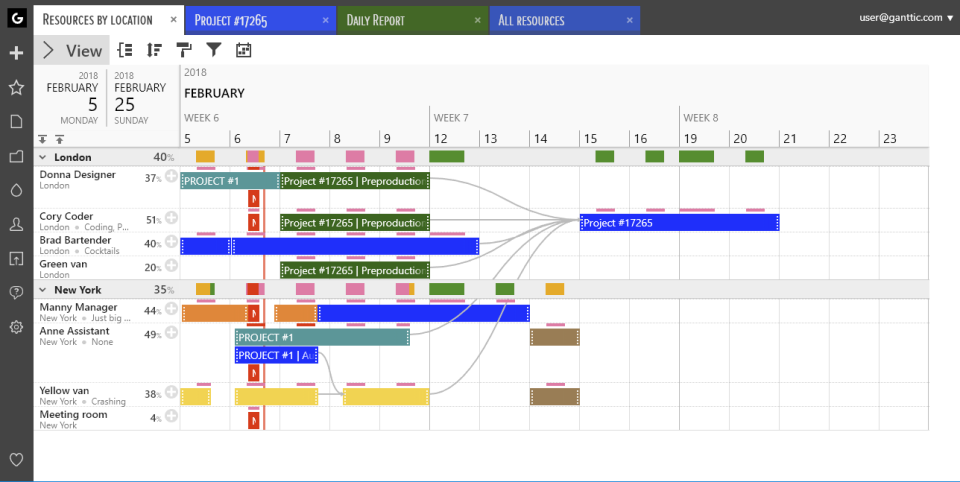 Ganttic is a resource planning software for scheduling people, projects, facilities and equipment. Its flexible interface makes it easy to customize the tool to your needs.
Top Features:
Track task, project and resource history
Advanced task timing for accurate time tracking
Drag and drop tasks and create dependencies
What's Special About this Tool: You can sync Ganttic with Google Calendar and leave notes in the app to collaborate with your team.
Pricing: Free options, paid plans from $25 per month
17. Journyx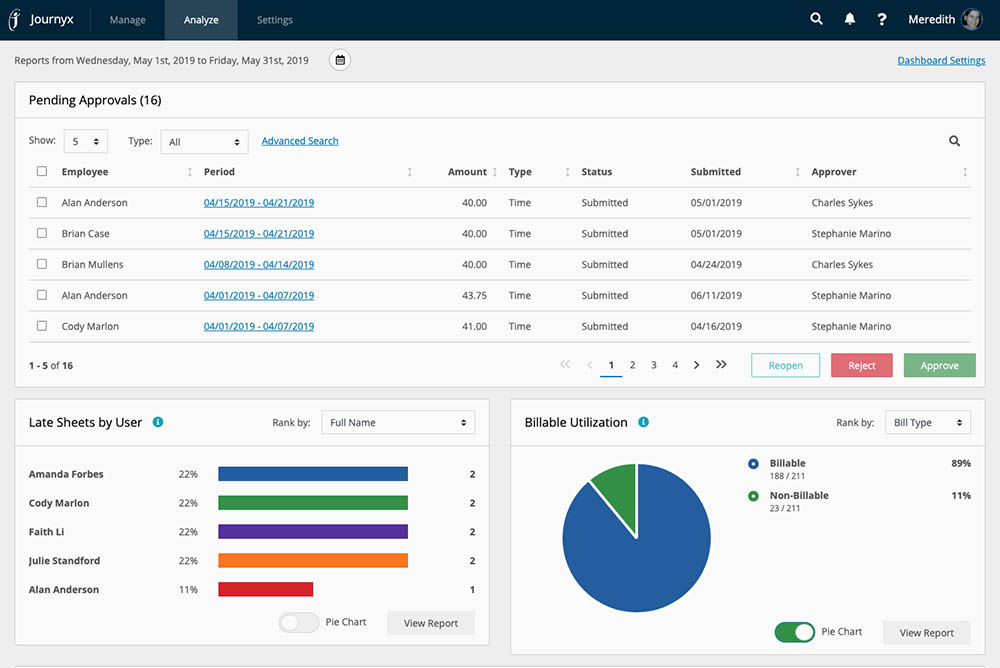 Journyx is an enterprise resource management, allocation, and scheduling software solution that will improve your project cost accounting by estimating and tracking at the resource level.
Top Features:
Quick access to critical reports
Dynamic project-tracking dashboards
Integrates with Microsoft Dynamics, Microsoft Project, QuickBooks, and many more programs
Mobile time tracking
Real-time data projections
What's Special About this Tool: User-friendliness is at the forefront of advantages which come with using Journyx PX. It's said to be one of the more straightforward timekeeping apps on the market.
Pricing: From $12 user/month
18. Kelloo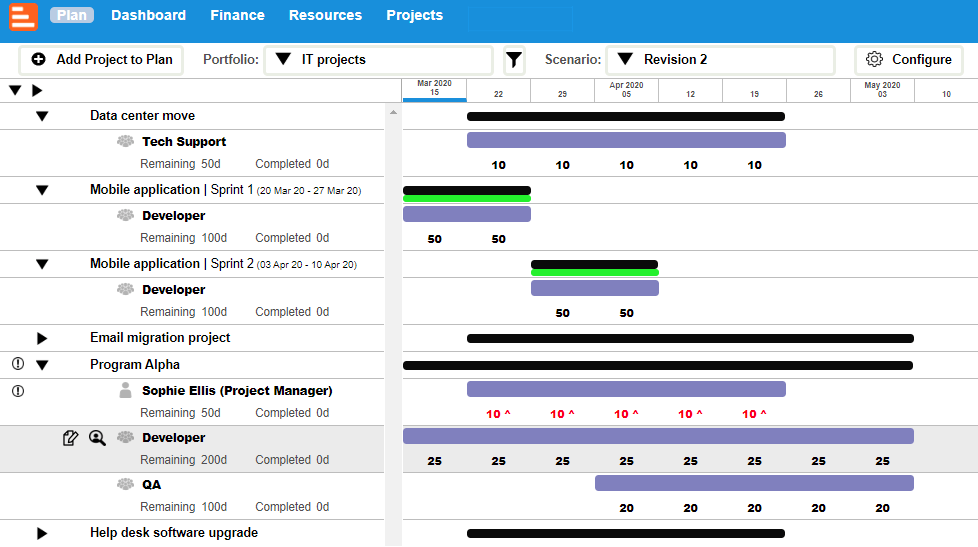 Kelloo is a portfolio level resource planning solution that's uncomplicated to use and seamless to implement.
Top Features:
Capacity planning that forecasts and models resource needs
Scenario modeling helps you decide whether it's wise to take on new work
Resource conflicts can be identified across multiple projects
What's Special About this Tool: One of the more enticing features offered by Kelloo is the resource heat map that shows utilization rates. It is color-coded to display which resources are being overutilized and which can be further allocated.
Pricing: Starts at $137.50 per month.
19. Resource Hero
Resource Hero's mission is to help its users save time on data entry and report generation. It also wants organizations to utilize resources more effectively and obtain potentially profitable business insights.
Top Features:
Real-time employee availability
Weekly hour forecasts with a spreadsheet-like interface
Daily, weekly, and monthly views are available to add notes for forecasting
Automated Salesforce security access to control who sees what
Target rates and utilization can be individualized for specific employees
What's Special About this Tool: Resource Hero is a one-stop-shop solution that offers businesses a multitude of tools, including one with good resource management capabilities.
Pricing: From $11 person/month.
20. Retain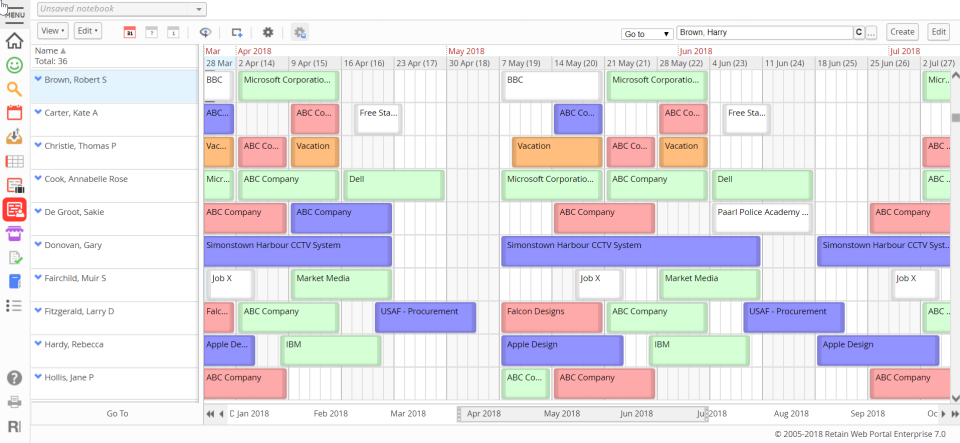 Retain is a resource planning and scheduling platform which gives an instant overview of the allocation of projects to individual staff members.
Top Features:
Drag and drop booking capabilities
A duplication tool that saves time on bookings
Demand forecasting creates scenarios and ghost bookings to help predict future scenarios
What's Special About this Tool: Retain's solution allows organizations to customize their own metrics so that the data they receive is relevant to their unique specifications.
Pricing: Available upon request.