Work management
12 Best Professional Services Automation Software in 2022
Professional Services Automation (PSA) is a strategy that many companies have adopted to make service operations more efficient and people more productive. If you're also looking to implement comprehensive PSA software in your company, take a look at our selection of the 12 best solutions on the market.
Professional services automation is a type of software application suite that provides a service business with the functionality it needs to manage core business processes. It enables the tracking, planning, management, and billing of services provided by independent contractors and services organizations.
Benefits of professional services automation software
Effective use of PSA tools can help organizations improve productivity, operational efficiency, financial margins, and billable utilization. More specifically, it helps:
Streamline resource allocation. These solutions make it easy to distribute machinery, people, and other resources to places where they can add the most value.
Manage projects with greater efficiency. With professional services automation software, users can easily track expenses, time, and progress on various projects from start to finish.
Automate administrative tasks. These tools reduce unnecessary data entry points and can be used to automate all kinds of time-consuming processes, including financial reporting, project planning, and workflow management.
Simplify client collaboration. Manage all aspects of client relationships, including contact and project details in a single solution.
Gain access to real-time data. PSA software centralizes all service processes and automatically records data to transform it into powerful insight and useful reports.
Read on: Professional Services Company Improves Business Processes with Scoro
Professional Services Automation Software Features
When choosing the best solution, it's essential to understand which features are most beneficial for your business. And although every tool comes with a set of different features, these are some of the most common features present in most PSA solutions:
Project management
Portfolio management
Resource management
Project accounting
Sales and marketing
Collaboration
Best Professional Services Automation Software
1. Scoro
Scoro's easy-to-use digital workspace enables you to manage your entire business with ease, streamline workflows to ensure high service quality, and simplify task management for end-users with one holistic toolset.
Top features
Real-time Gantt chart
Highly customizable KPI dashboards
A full overview of your projects, clients, and finances
Automated reporting
What's special about this tool: Scoro's highly customizable KPI dashboard gives you a real-time overview of every aspect of your work and automated reporting enables you to grow your business with actionable insights.
Pricing: Free 14-day trial available, paid plans from $26 user/month
2. BigTime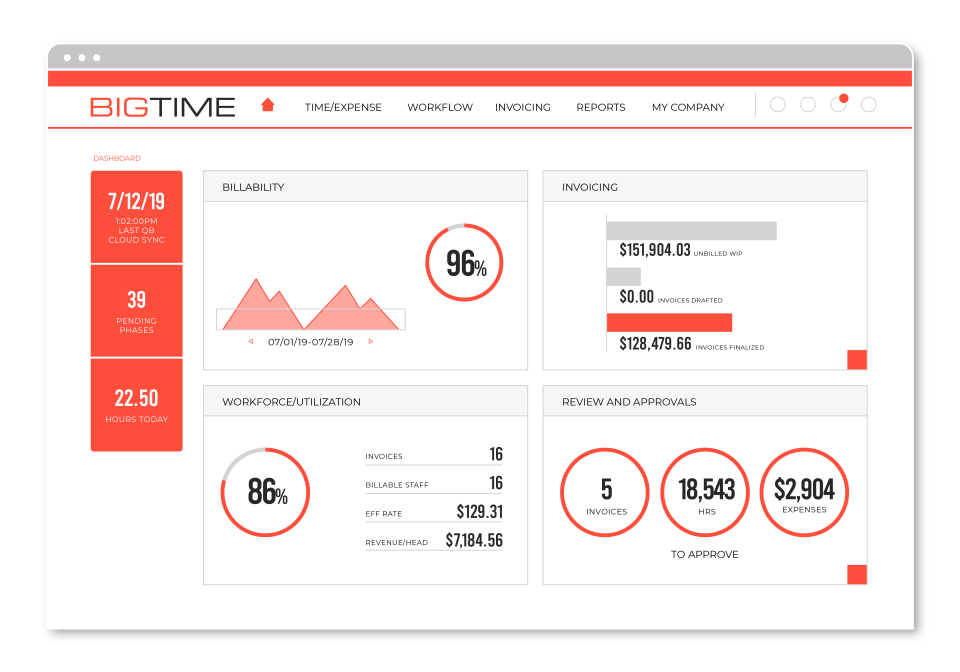 BigTime is an online time and billing solution designed to serve professional service firms like accounting, engineering, government contracting, legal, and IT services.
Top features
Time and expense tracking
WIP management
Task & workflow management
Invoicing and billing
What's interesting about this tool: With BigTime it's easy for project leads and team managers to review any time and expense entry to correct inaccuracies before they pollute the system.
Pricing: Free trial available, paid plans from $10 user/month
3. Bitrix24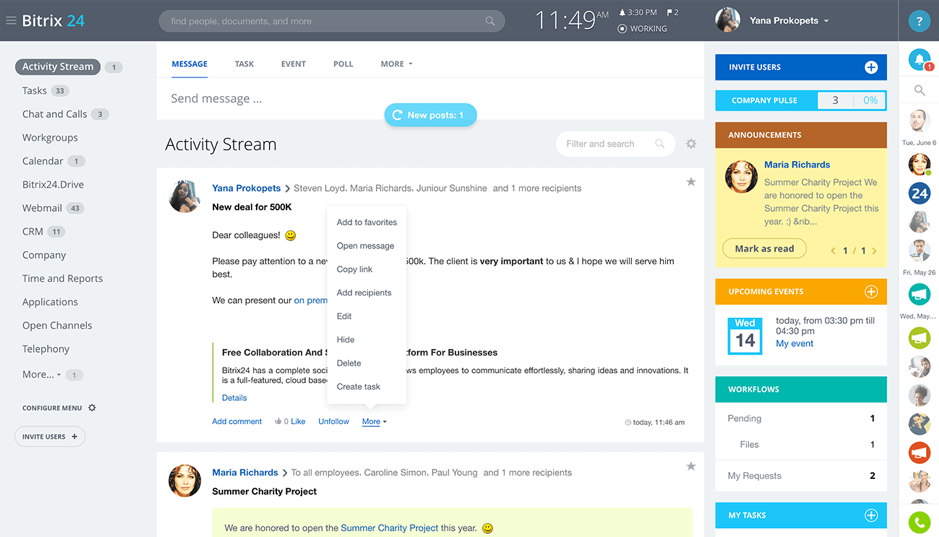 Bitrix24 is a professional services automation software suite that offers a complete suite of social collaboration, communication, and management tools for your team.
Top features:
Gantt charts
Workload management
CRM
Telephone integration
What's special about this tool: Bitrix24 has a broad set of features, from traditional project management to integrated telephone and HR systems or internal email.
Pricing: Free trial available, paid plans from $12 user/month
4. Easy Projects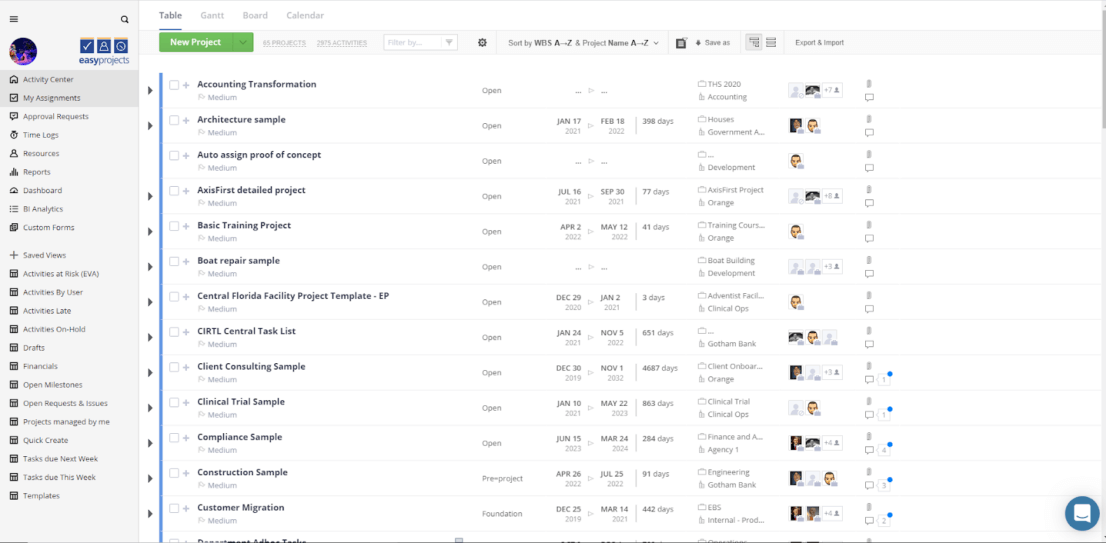 Easy Projects is ideal for fast-moving and growing businesses that are looking to automate their processes – track progress, resources, timelines, budgets, and profits all within a single platform.
Top Features:
Task management
Gantt chart
Detailed reporting
Ready-made templates
What's special about this tool: With Easy Projects, you can import Excel and MS Project files.
Pricing: Free 30-day trial available, paid plans starting from $24 user/month
5. Kimble PSA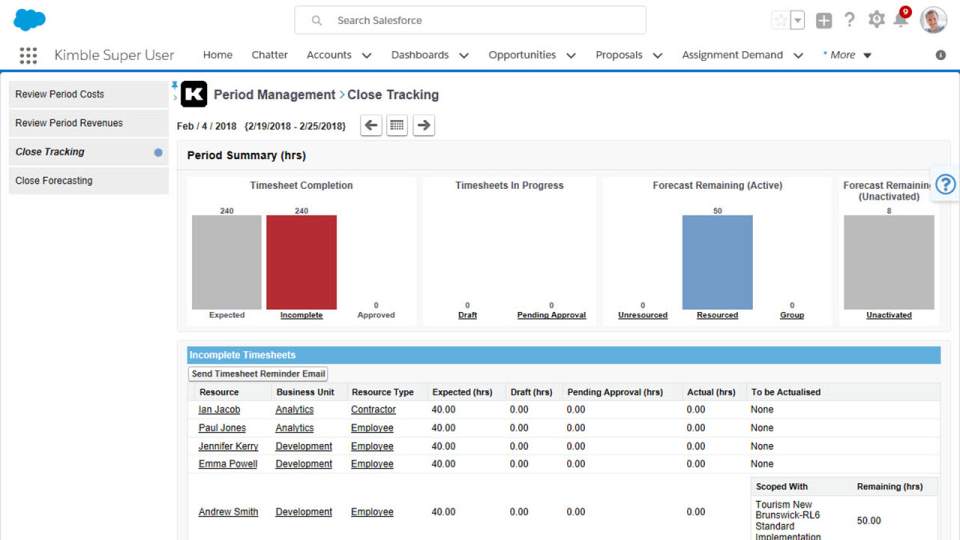 Kimble PSA is a cloud-based platform that streamlines business processes and helps organizations make better decisions.
Top features
Resource management
Project plans
Foresight analytics
Predictive timesheets
What's special about this tool: Kimble PSA is fully integrated with CRM, which means that you can get seamless forecasting of both existing and pipeline projects.
Pricing: Demo available, paid plans from $35 user/month
6. Wrike
Wrike is a professional services software for better collaboration and overall project efficiency. It gives users plenty of ways to visualize the same data and helps them see opportunities they may have otherwise missed.
Top features
Project management
Auto-assigning tasks
Performance tracking and reporting
Real-time communication
What's special about this tool: Wrike facilitates T&M, fixed-cost, and retainer billing processes by automatically exporting time to your financial systems.
Pricing: Free trial available, price on request
7. Clarizen One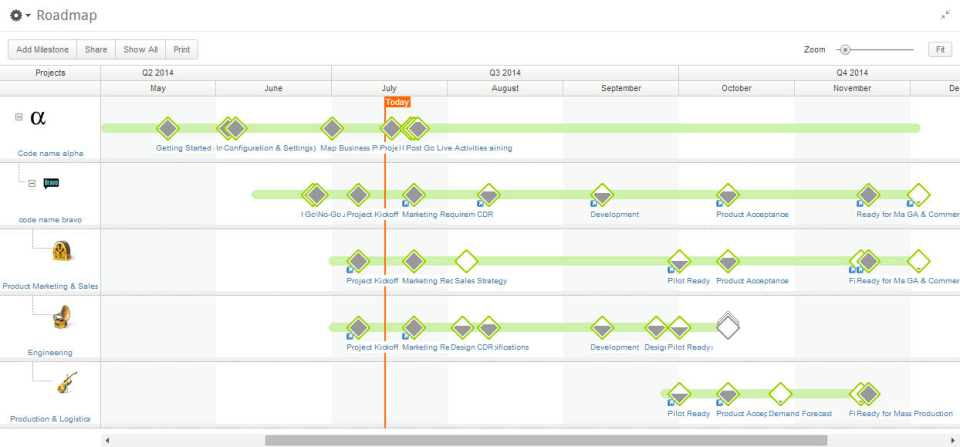 Clarizen One is enterprise project and portfolio management software that connects work across the enterprise by bringing together project management, workflow automation, and collaboration.
Top Features:
Customized reporting
Salesforce integration
Time and expense tracking
Centralized document management
What's special about this tool: Clarizen offers configurable workflows that enable business agility.
Pricing: Price available on request
8. Workfront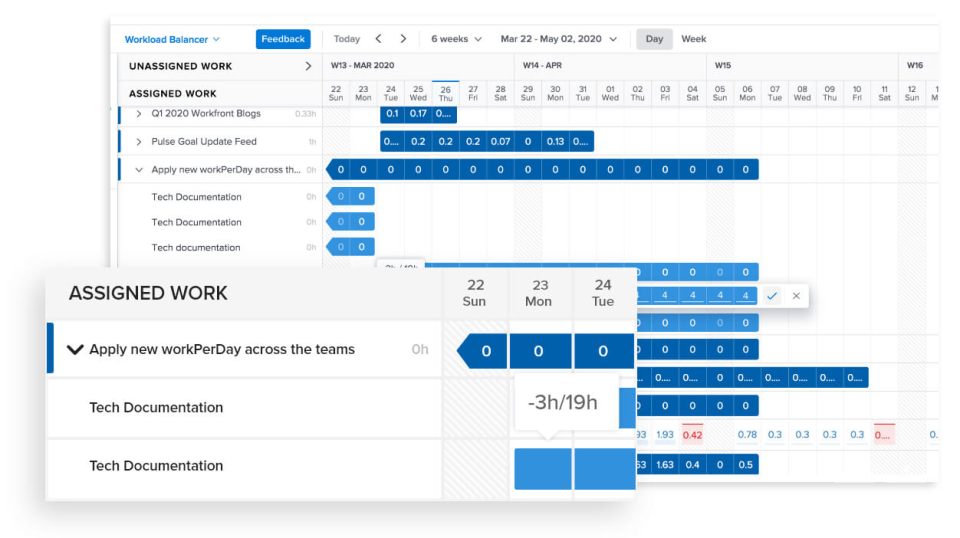 Workfront is a professional services automation software that can transform your creative and marketing operations by unlocking organizational productivity. With this tool, you get one view of the entire project, and you can streamline processes with automated workflows, reporting, and custom forms.
Top features
Automated workflows
Reporting
Custom forms
Real-time visual reports and dashboards
What's special about this tool: Workfront delivers out-of-the-box integrations with many of the tools you already use.
Pricing: Multiple plans available, price on request
9. Forecast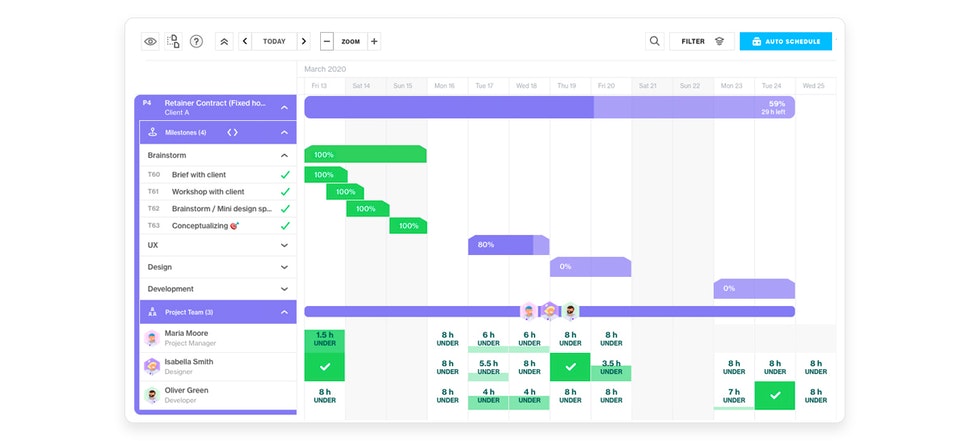 Forecast is another full-suite platform that is powered by AI and makes it easy to improve financial and operational performance in an organization.
Top features
Customizable reports
Work automation
AI-driven timesheet suggestions
Resource management
What's special about this tool:  Forecast uses machine learning to allow managers to estimate task duration and allocate team members based on availability.
Pricing: Free trial available, paid plans from $29 user/month
10. Monday.com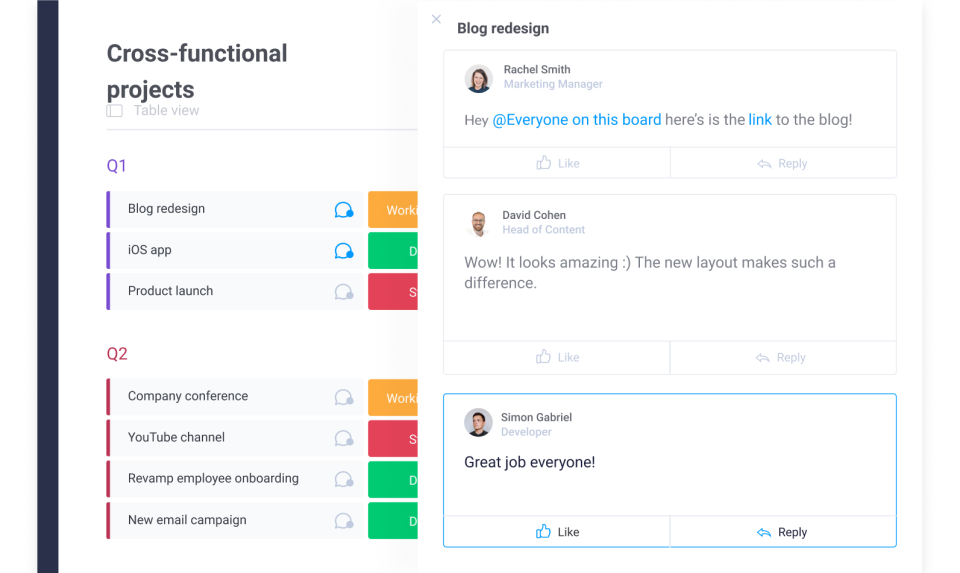 One of the most popular collaboration apps out there, Monday.com also comes with integrated PSA features. Features like workflow automation, Gantt charts, and Kanban boards help teams handle just about any type of project.
Top features
Multiple project visualization tools
Customizable workflows
Integration with various platforms
Easy to build project boards
What's special about this tool: Monday's interface is intuitive and color-coded, making it easy to set priorities, statuses, and deadlines for various tasks.
Pricing: Free trial available, paid plans from $12 seat/month
Read on: Scoro Introduces First Real-Time Gantt Chart
11. HaloPSA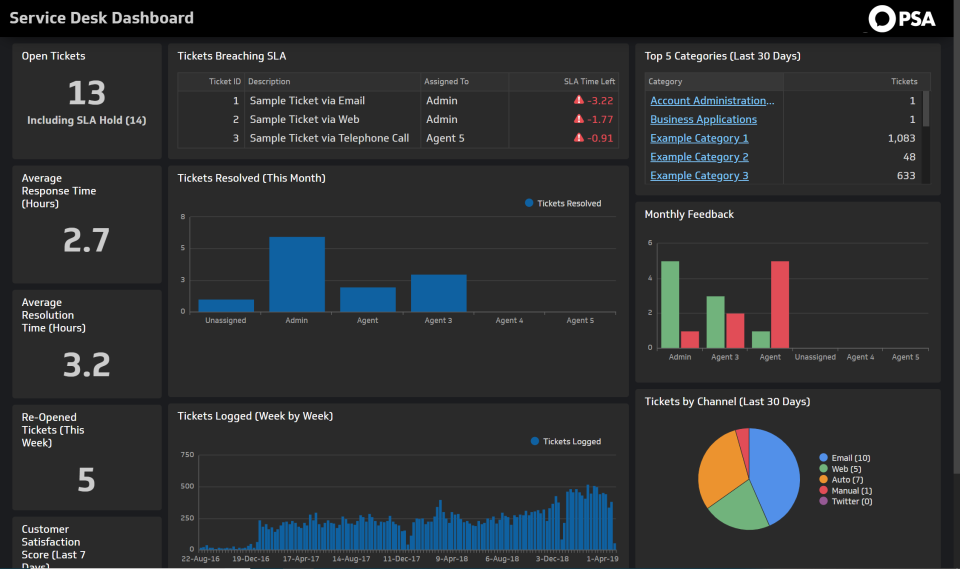 HaloPSA is an all-inclusive solution that has an integrated PSA platform. It's highly customizable and makes it easy to communicate in real-time with team members and clients.
Top features
Advanced reporting
Remote access
Asset management
Tracking and billing
What's special about this tool: Easily manage incidents and meet SLAs through HaloPSA's incident management.
Pricing: Free trial available, paid plans from $40 user/month
12. Polaris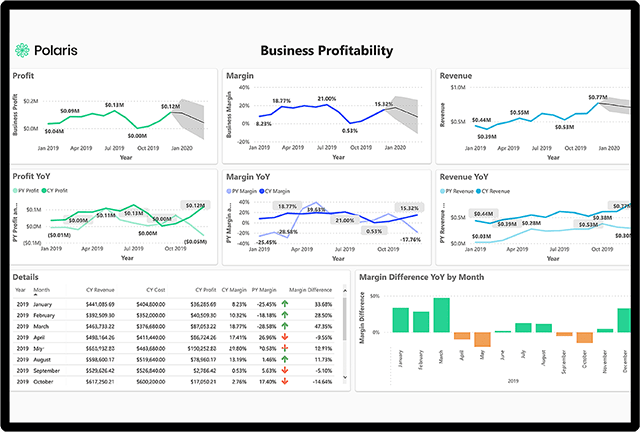 Polaris enables teams to align their workflow in a single unified platform. This helps them remain on top of resource management, project delivery, billability, and profitability. The rapid implementation ensures that your organization gets up and running quickly and the configuration is highly flexible.
Top features
Billing and invoicing
Client Portal
Portfolio Management
Time & Expense tracking
What's special about this tool: Polaris is very easy to set up and the hassle-free configuration makes it stand apart from many other PSA tools.
Pricing: Free trial available, paid plans starting from $16 user/month
Everything about your business, one click away