Work management
9 Best Accelo Alternatives & Competitors For Work Management
Accelo seeks to eliminate the need for cumbersome tools and hectic processes in business management. While it is a strong performer, there are several alternatives that may be more suitable dependent on a company's specific need.
1. Scoro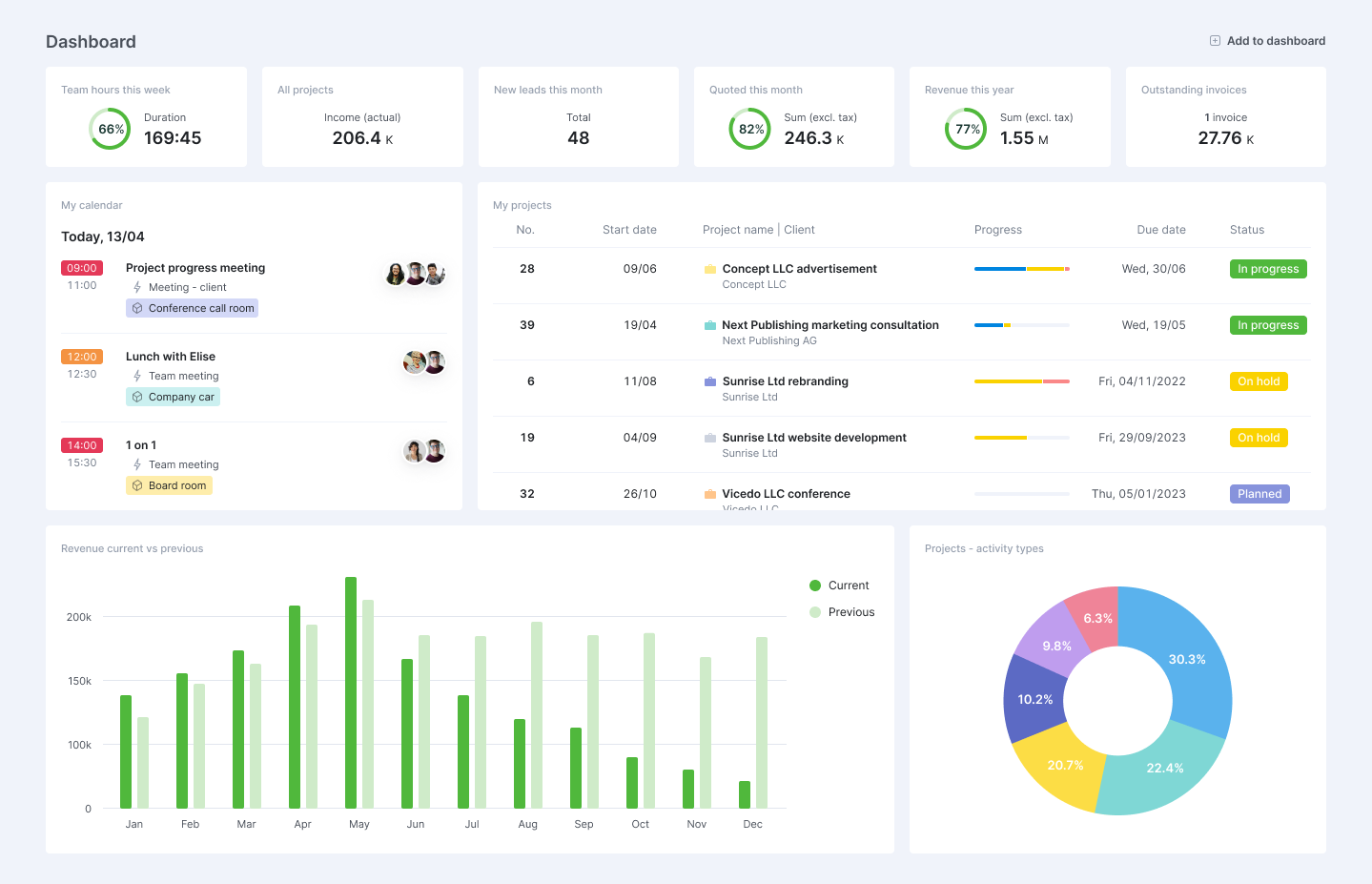 Scoro is one of the best work management tools on the market. It eliminates the need for dozens of apps and software for getting things done in an organization. In simpler terms, Scoro helps manage all aspects of an organization or business from a single place. Therefore, it is the go-to work management software for agencies, professional service organizations, and consultancies. With Scoro, you can streamline projects, automate billings, optimize resource applications, and simplify quoting processes.
Using Scoro as the control hub for your organization will help you track all aspects of your business, like sales and productivity, to increase profitability and success. One of the top features of Scoro is the time management tool. It helps your business eliminate distractions and manage time. You can use this tool to determine what needs to be done and the appropriate time it should be. It also allows you to monitor the impact of delays on your plans by offering a real-time view.
Another feature of Scoro is the collaborative software. This tool promotes teamwork through end-to-end management. This allows collaboration on small and massive projects. The tool also allows you to track the progress of projects. Scoro offers an integration feature to integrate your existing tools with Scoro. This means that you do not have to give up other tools that your organization cannot do without. This feature gives you a complete outlook of real-time results of employing other Scoro features. It also allows you to monitor risks, create reports, and analyze processes in a single click.
Furthermore, Scoro features finance tools that help with billing, invoicing, and monitoring revenue. This tool helps with strategy creation to ensure profitability or increased revenue. These tools apply in several industries, like management, legal, information, marketing, building, and construction.
Top features:
Time management
Project management
Sales and CRM tools
Finance management
Integration tools
Try Scoro's 14-day free trial.
2. Runn Software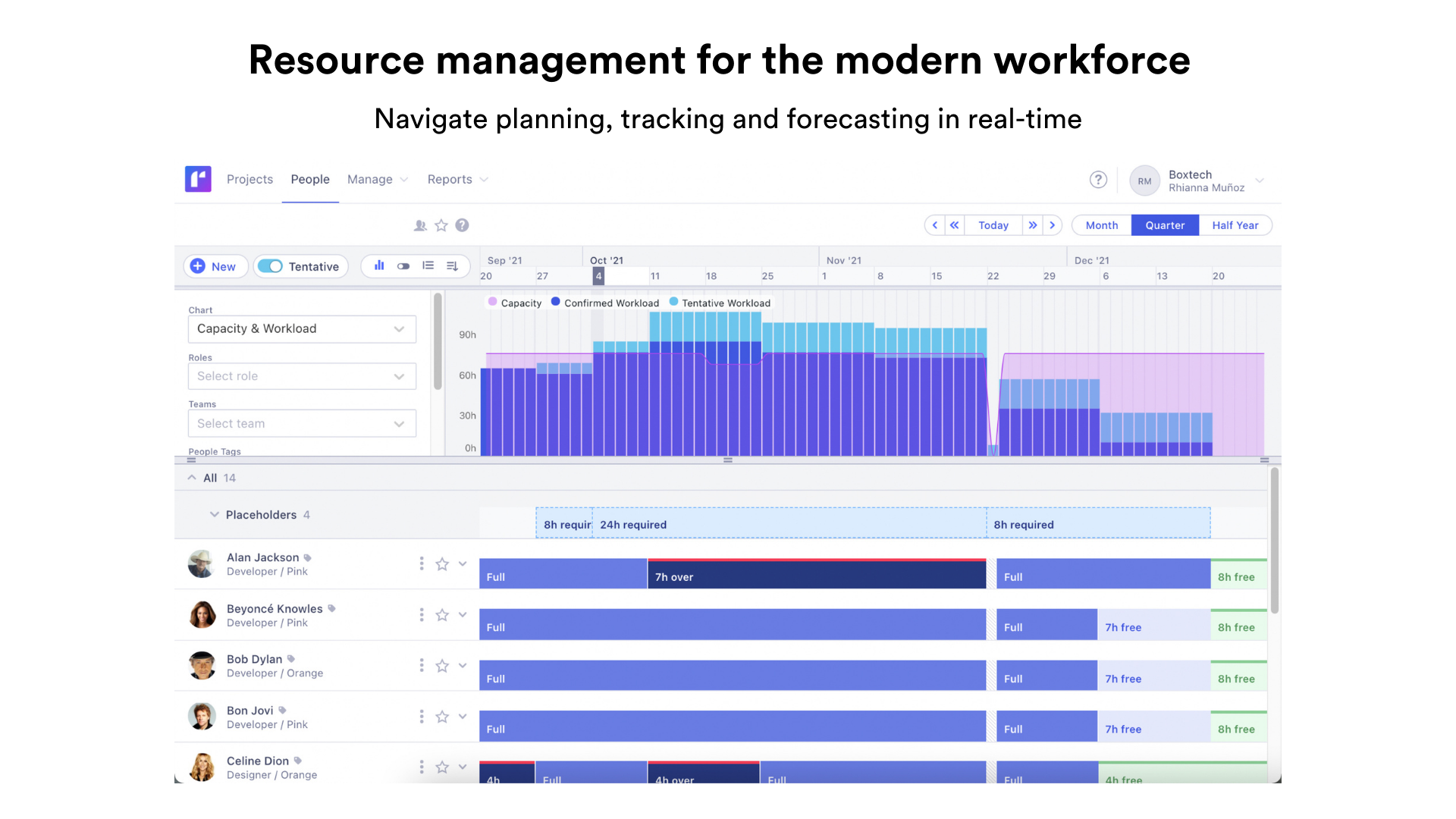 Runn Software is the IT software for quickly scheduling tasks for teams. It eliminates the need for clunky Excel spreadsheets. Perhaps the best thing about this software is that it provides easy and efficient creation of projects. With Runn Software, you do not have to worry about trivial matters like people's availability. Instead, you can focus your attention on things that matter.
Additionally, with Runn's capacity management tool, you get an accurate picture of your team's workload. All this from a single shared view. Run also has forecasting software to make plans with confidence. Furthermore, you can coordinate Runn Software with other tools to keep your business running efficiently.
Top features:
Resource scheduling
Project planning and forecasting
Capacity management
Timesheets and reporting
Integrations and API
3. Productive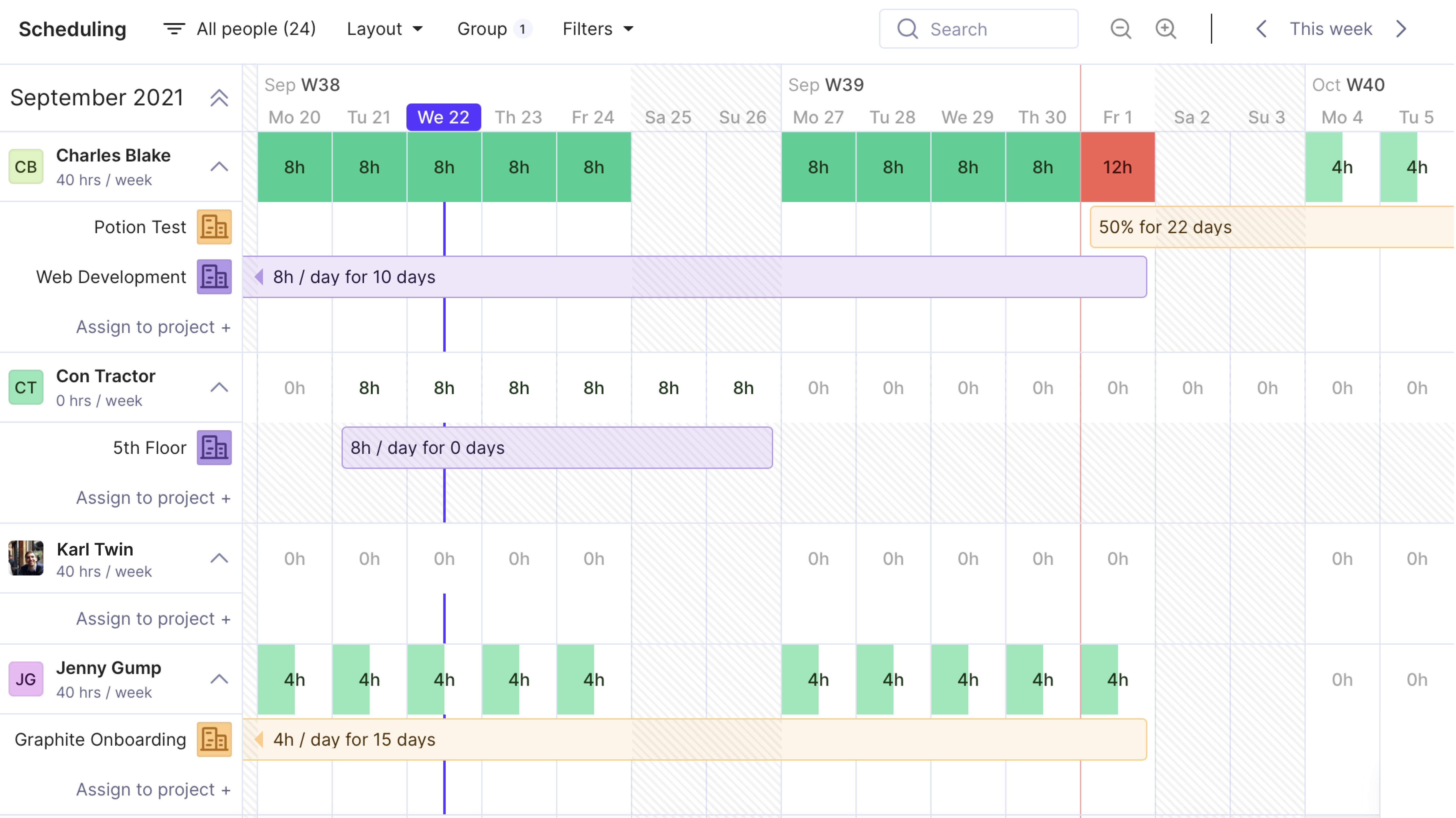 This is the go-to work management tool for agencies and organizations of all sizes, types, and sectors. Productive is a scalable platform for agencies in various fields and industries. It is designed to help management grasp all operations to increase profitability. With Productive, you can run projects from prospects, payments, and other elements in between the life cycle of your projects and tasks. Additionally, Productive allows you to use one tool for challenging financial tasks like budgeting for projects and allocating resources.
Top features:
It is an efficient and transparent tool for budgeting, team communications, leads, and financial data
Forecasting for better planning and decision-making
Financial management, billing, and budgeting
Project management
Sales and resource allocation and planning
4. HarmonyPSA
Harmony Professional Service Automation software is a leading platform for providing full business flexibility. It is the go-to work management software for integrating sales, operations, and finance in a single system. It provides a single pane of glass where you can see every entity in your business and make informed decisions. HarmonyPSA ensures added value and business administration through maximum process automation. With HarmonyPSA's report tool and dashboards, you can get real-time insight into your business for system analysis. You can also access data and use it for better decision-making. It is vital to mention that HarmonyPSA was recently renamed to CloudBlue PSA.
Top features:
Unrivalled flexibility and application in multiple industries
Applicability on any device on the go
Dashboards for real-time performance graph trends
Incredibly automated billing and invoicing
Powerful project and resource management
5. Float
Float is a resource management platform designed to help you plan your team's best work. It helps you plan, schedule, and track the progress of your projects in a single place. It is regarded as top resource management software with more than a thousand users. Float can be applied by teams of between 5 for 5000 or more employees. It is applied by agencies, consultancies, architecture firms, and IT firms.
Top features:
Resource scheduling for task scheduling and making updates in real-time
Project planning tools for creating timelines and allocating resources with precision
Capacity management tools for managing your team's availability automatically
Forecasting and reporting tools
Budgeting and financial management for increased transparency and profitability
6. Kimble
Kimble is a Professional Automation Service (PSA) software that helps agencies make better decisions, increase customer satisfaction, and optimize resource utilization. It is also a great tool for increasing business profitability and scalability. With Kimble's numerous apps and tools, you can transform your agency, making it more efficient and increasing its revenue. Kimble's PSA tools are guaranteed effective.
Top features:
Resource management to help reduce waste and allocation
Financial management; billing, revenue, and recognition
Fully integrated CRM that allows for seamless forecasting of existing and pipeline projects
Reporting and dashboards for better business analysis and data collection
Selling and scoping for increased sales and service and decision-making. Project management for better plan fulfillment and business outcomes
7. MeisterTask
This is an ideal task management tool for projects. It is a secure tool that aligns your team and their respective tasks. You have the perfect link between planning and getting something done with an effective task management tool. MeisterTask provides an overview of the progress of your work through tracking projects from conception to completion. With MeisterTask, you have access to Kanban-style project boards for digitalizing workflows and gaining clear overviews of task progress. This enables the better organization and faster accomplishment of tasks.
Top features:
Digitalized task management
Dashboards that allow you to view everything in one place
Personal boards for creating priorities and agendas
Notifications for projects and upcoming tasks in a customizable interface
User-friendliness and flexibility
8. TeamGantt
This is one of the best work management tools on the market. TeamGannt brings Gantt Charts online, differentiating it from other work management tools. For this reason, it is applied by some of the most renowned brands like Amazon, Nike, and Netflix for their project management processes. Another reason for its popularity is its innovative and unique take on project planning.
Top features include:
The Gantt Chart creator tool helps with the planning, creation, and management of complex projects
Better collaboration and communications between teams thanks to Gantt Chart software
Gantt Chart allows collaborations with clients and teams from different departments
GantTeam allows for effortless switching between Kanban board, calendar, and Gantt Chart views
A faster and more efficient way of making Gantt Charts online using drag and drop
9. GanttPRO
GanttPRO is also a fantastic alternative for the Accelo work management tool. Some leading business software review platforms regard GrattPRO as a top-rated management tool. This online project management solution saves time on writing offers to clients through automation. Additionally, it helps simplify setting up projects on high-logic levels.
With GanttPRO, you can plan and manage several projects simultaneously. It allows you to split your projects into tasks, minor tasks, and milestones. This makes managing several projects simpler than you may assume. GanttPRO also offers a learning center for all new users. It is worth mentioning that GanttPRO is an online project management solution based on the popular Gantt Charts.
Top features:
It is an incredible resource management tool
It helps with automation
It is a great solution for budgeting
Its reporting software makes it a great addition to any company
It is a great production management software