Manage creative projects with ease
Plan & track
Manage projects, schedule tasks & meetings, book resources, and track your work progress.
Collaborate & deliver
Manage your quotes and accounts, collaborate with your team, and share files with creative CRM.
Bill & report
Log your time and bill for completed work in a few clicks. No timesheets or emails involved.
You'll be so much more organized and efficient.
Save hundreds of hours by automating boring tasks and find information without shuffling between spreadsheets and emails.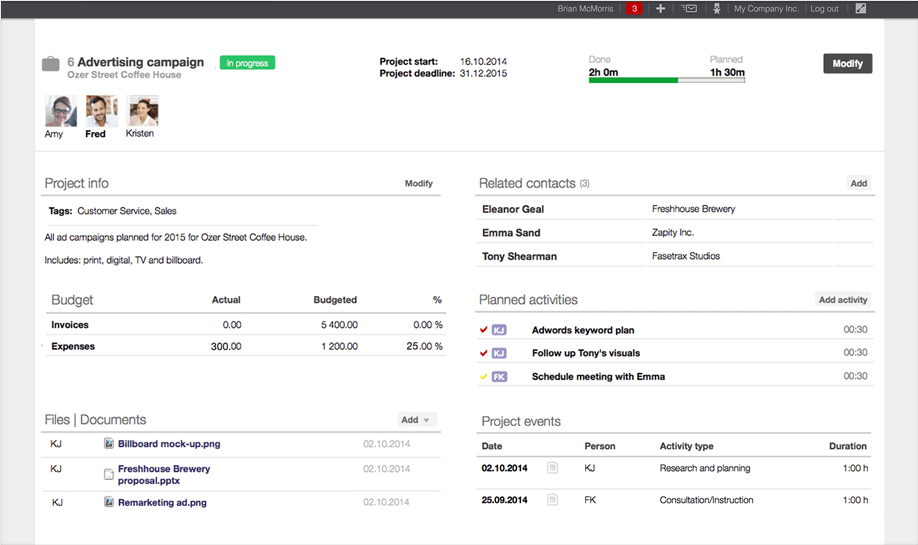 PROJECT MANAGEMENT
Bring more structure to your work.
Create and manage an unlimited number of proposals and projects.
Track projects with ease: see your quotes, scheduled tasks and meetings, time spent and billed, related invoices and files.
Give your team rights-based access to joint projects.
Set budgets for projects and compare these against actual results in real time.
Link your meetings and tasks with projects and client profiles for a quick overview.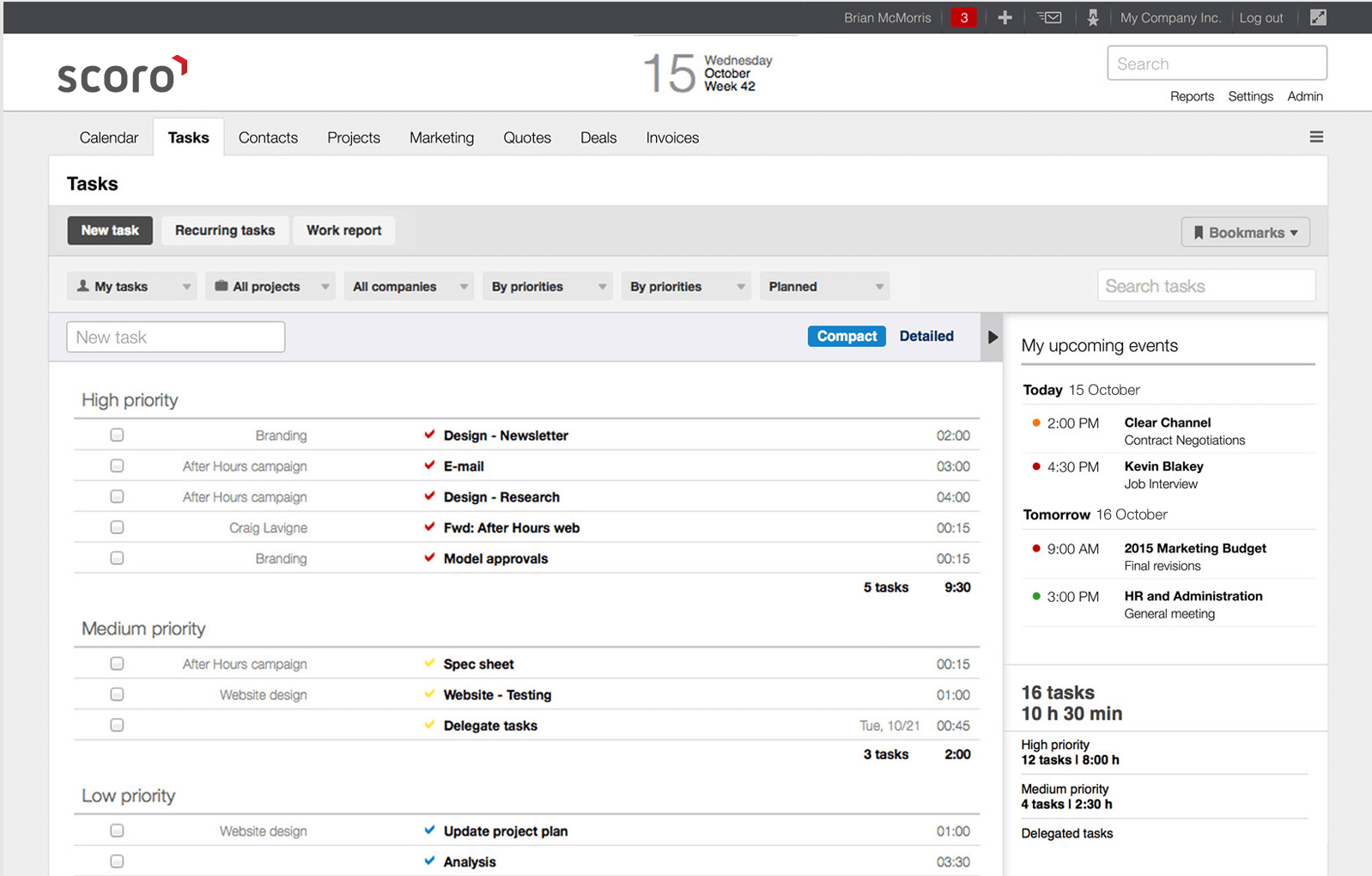 WORK & TIME MANAGEMENT
Plan and use your time more efficiently.
Create and delegate tasks with deadlines, priority levels, planned time, and much more.
See everyone's schedule in a shared team calendar and check the tasklist to know what they're working on.
Track every minute worked by logging both actual and billable time spent on tasks, projects, and meetings.
All completed tasks are compiled into thorough work reports, that you can break down by team member, client, project, and activity.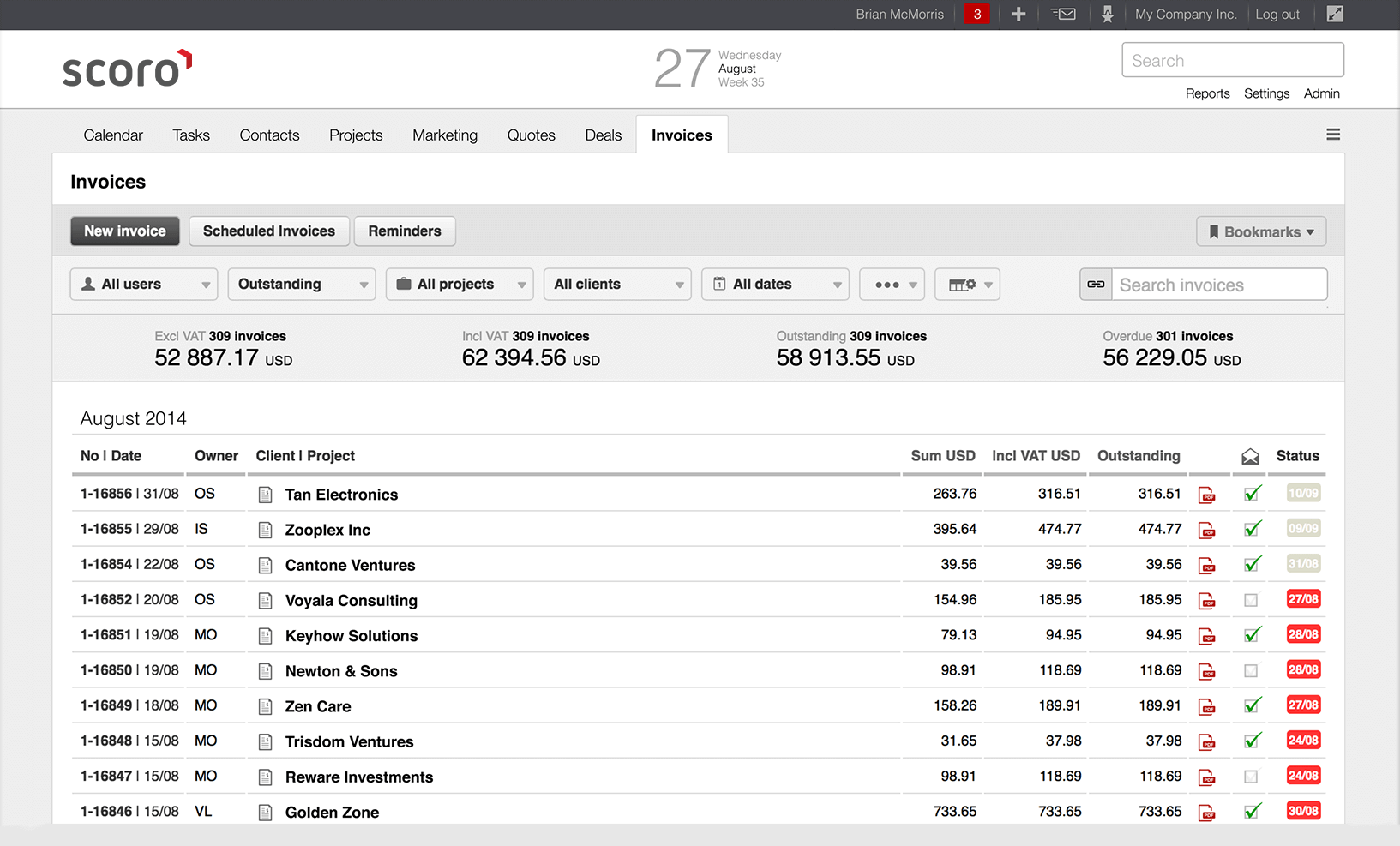 WORK reporting & BILLING
Say goodbye to messy timesheets and save countless hours.
Get a complete overview of each client – projects & files, communication history, and sent proposals & invoices.
Set multi-currency custom rates based on users, clients or projects.
Compile and send invoices based on your quotes and work reports in a few clicks by using pre-designed PDF templates.
Automate late invoice reminders and recurring invoicing, and keep track of your budgets.
Empowering 10,000+ users in 30 countries.
Thanks to Scoro, you can save more than 55% of the time that you're currently spending on reporting, meetings, and double data entry.
Scoro helps to manage every aspect of your creative agency – quoting, projects, clients, and billing.
Instead of switching between five different tools, you'll save countless hours by managing everything with a single solution.
Scoro's highly customizable solution matches perfectly with our company's structure and gives a real-time overview of our work, sales and finances.

Bart de Wilde