Work Management
Top 10 Marketing KPIs That Everyone Should Measure
Marketing KPI is a measurable value that indicates how well specific marketing strategies and projects work.
According to the CMO Council; in 2015, marketers were expected to spend $540 billion globally on advertising.
That's a lot of money.
No matter how small a business you run, if you invest your resources in marketing, it has to be done efficiently.
To make sure all your marketing resources won't go to waste, you need a reliable analysis and tracking system. One of the easiest ways to monitor your marketing achievements is to set up a KPI dashboard with relevant business metrics.
See the list of 10 easily trackable digital marketing KPIs that every business should measure and attain a complete control over your marketing performance.
Read on: What is a KPI
1. Monthly new leads/prospects
Every marketer likes to keep track of the number of monthly new leads. In a way, this marketing metric is considered to be the principal indicator of the marketing team's work performance.
However, the monthly new leads KPI should be taken with a grain of salt.
Not all leads are of high quality and turn into customers. That's why it is necessary to accompany the monthly new leads KPI with additional metrics that display the number of high-quality leads.
2. Qualified leads per month
Monitoring the number of monthly qualified leads helps to evaluate whether your marketing endeavors are well-targeted and attract the right audience.
Here are three steps of lead qualification that you should follow:
Marketing qualified leads (MQL) – this category includes all the leads that the marketing team considers worthy of the sales team's time.
Sales-accepted leads (SAL) – prospective leads that have been submitted by the marketing team and accepted by the sales team.
Sales qualified leads (SQL) – leads that have the potential of becoming paying customers. The sales team will commit to contacting the leads in this category and will devote more time to converting them to clients.
Use a pipeline management tool to get a quick overview of your marketing and sales funnels and manage your leads in a more organized way.
3. Monthly lead-to-customer conversions
There is no use of attracting new leads if they won't turn into customers. So make sure to track the lead-to-customer conversion rate with great care.
The monthly lead-to-customer marketing KPI can answer these three questions:
How well-targeted are your leads? – a low lead-to-client conversion rate indicates that you should step up your lead targeting game
Are your value propositions and sales slogans aligned with your actual product? – if you catch new leads with false promises, they will soon realize it and walk away
Is your sales process efficient? – if you attract many highly targeted leads but fail to convert them to customers, it might be time to review your sales process
Here's a graph by Marketo that shows the average conversion rates for various marketing channels:

Did you notice that the two highest-converting channels were the ones based on trust? Take it as a hint to optimize your marketing activities accordingly (prefer long-term commitment to short-term gains).
The cost-per-lead is also an important sales KPI as it helps to evaluate your sales team's performance.
Read on: Best KPI Dashboard Software & Tools. Reviewed.
4. Cost per qualified lead
In addition to measuring your average cost-per-lead, step up your game and evaluate the effectiveness of your lead acquisition by monitoring the resources spent on attracting qualified leads.
Cost per qualified lead can be a considerably higher sum than the regular cost-per-lead.
You can lower the expenses by allocating your marketing resources to highly targeted campaigns instead of fishing in the waters unknown.
Here's an interesting fact: B2B companies have a significantly higher cost per lead ($43) in comparison to B2C companies ($15).

By comparing the cost-per-lead to the cost-per-conversion (CPC) metric, you can evaluate whether various marketing activities pay off the effort, time, and resources spent to attract new leads.
Read on: KPI Reporting – 62 Tips, Hacks, and Tools to Succeed
5. Cost per conversion (CPC)
This marketing KPI indicates how much it costs to acquire a new customer. To calculate the CPC, sum up all the monthly marketing-related expenses and divide it by the number of monthly new leads.
Note that your lead-to-customer conversion time might be longer than one month. If this is the case, you should track your CPC with a 2-month time gap.
Compare your cost-per-lead with the customer average lifetime value to see whether your marketing activities are justified.
If your CPC is higher that the average lifetime value of a client, you're losing money instead of increasing revenue.
To evaluate the effectiveness of marketing channels, calculate the monthly cost of time and resources spent on a lead acquisition source, i.e. Adwords campaigns, blog content, social media management, etc.
6. Customer Lifetime Value
Every marketer should be aware of their customer lifetime value. This marketing metric is crucial when it comes to adjusting campaigns and allocating resources to various marketing channels.
Measure your customer lifetime value month-over-month to see whether the average deal size and the customer lifetime stay the same or increase/decrease.
7. Monthly website traffic
In addition to all website traffic, monitor the number of visits to various landing page categories such as your homepage, product pages, pricing page, blog, landing pages, etc.
The easiest way to monitor your monthly website traffic is by using Google Analytics. Create a dashboard to get a quick overview of month-over-month website data.
You should also measure the traffic from search engines to see whether the organic search is bringing new visitors to your site. Use this marketing KPI as an indicator of your website's SEO-performance.
Read more: How to grow your blog's organic website traffic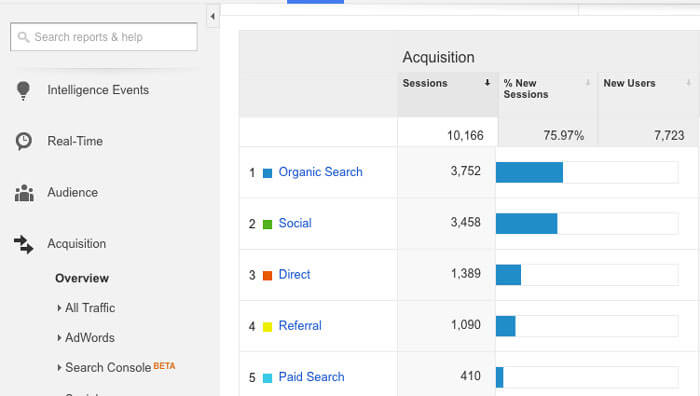 8. URLs receiving organic visits
The more targeted keywords you have, the more visits you'll receive.
In fact, it is not THAT simple. You need your keywords to rank in the top 10 of SERPs (search engine response pages. Position #1 on SERP gives you the average click-through-rate of 32.5%, rank #11 results in a 1.0% CTR.
Check the number of URLs with organic search traffic and use it as an indicator of your SEO performance. Here's what a search traffic report looks like in Moz: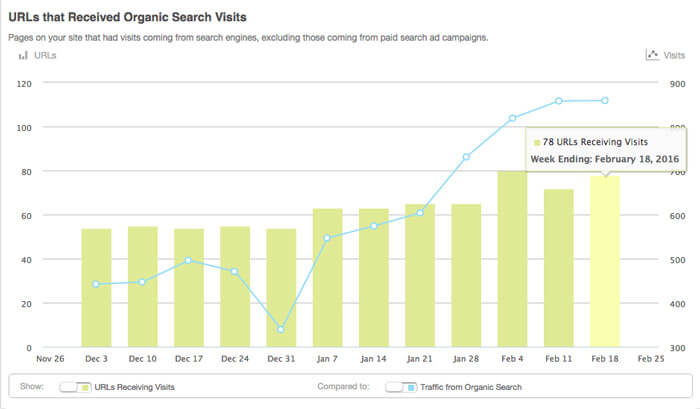 9. Blog engagement rate
With content marketing becoming increasingly popular, almost every company runs a blog, hosts webinars or publishes e-books.
As you publish articles month over month, you should be aware of the rate of engagement between your blog posts and your audience.
The engagement rate indicates how many people actively engage with your posts (via sharing and liking them).
By using tools such as BuzzSumo (they also have a super helpful browser extension), you can keep track of all the social media shares a specific content page has received.
Use the blog engagement rate as an indicator of your content marketing performance. But don't forget that attracting qualified leads is just as important as engaging with different audiences.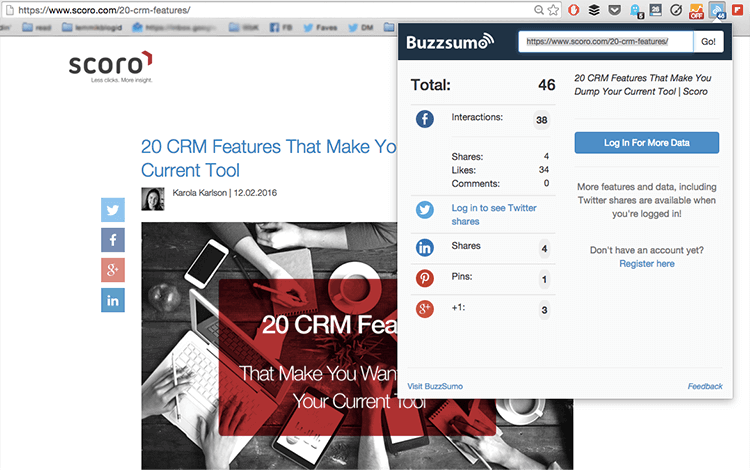 10. Retention rate and attrition rate
Behind these complex terms hides a pretty straightforward question: how good are you at keeping your customers happy and committed?
The retention rate marketing KPI shows the number of customers who keep using your product over a long time period and make repeat purchases.
To understand the average retention rates of various applications, see this graph by Flurry.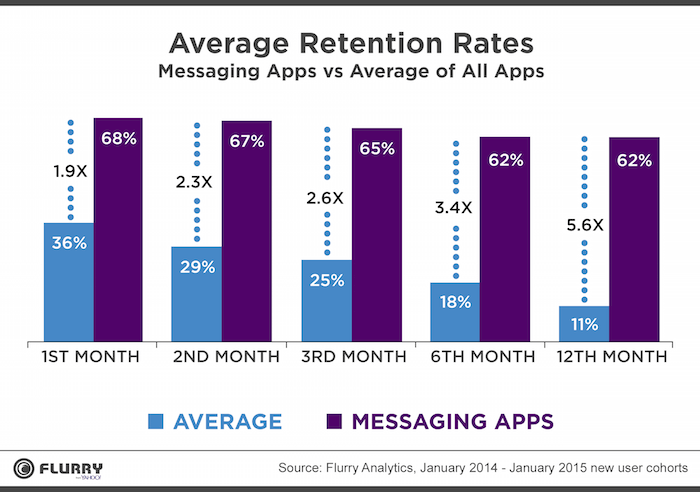 The attrition rate, also called churn, shows the percentage of customers stop buying your products or services.
A high churn rate might indicate poor user experience and bad customer service, leading to bitter memories of your brand and products.
Make sure to keep your attrition rate high and churn rate low!
A few final words:
Alright, folks. Now that we've discovered the benefits of tracking KPIs, it is time to set up a business dashboard and start monitoring your key metrics.
To help you do that, we've collected all the best articles and guides to this one list: The Complete Resource to Understand and Create Informative KPI Dashboards. Get it, read it, use it.
Want more? See the ultimate list of digital marketing matrics (with over 35 business KPIs)
Everything about your business, one click away