Work management
32 Team Collaboration Tools To Check Out Right Now
What's the best team collaboration tool? There's no right or wrong answer to this question. It depends on the size of your team, the type of projects you're working on, and your team members' collaboration needs. And these are only a few most popular factors.
Often, teams need to test multiple collaboration tools before finding the one, and only that fills all their requirements. If you haven't tried a new tool for some time, now is a good time to do it. Up next, you'll find the top 32 team collaboration tools. See the top features of each tool, and read what makes them unique compared to other software.
1. Scoro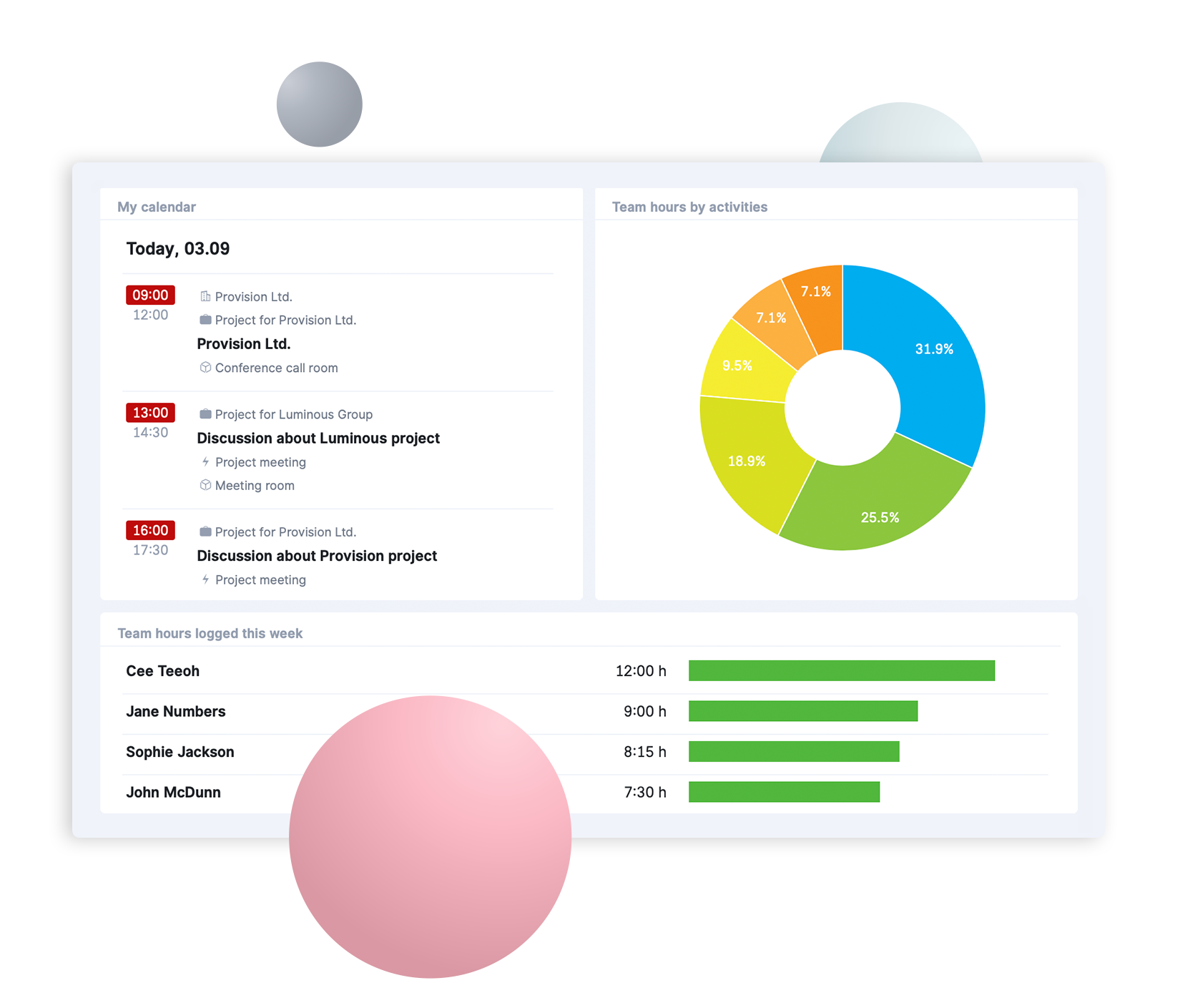 Scoro is the most comprehensive project management tool you can find. It has features for everything from project planning to collaboration to billing your clients for completed work. But there's more to Scoro – it serves as all-in-one business management software where you can manage all your tasks, projects, client base, and finances.
Top features:
Project & task management
To-do lists, notifications, and reminders
Assigning and delegating tasks
Reporting on work, sales performance, budgets, etc.
Invoice templates and automated monthly billing
Time tracking and billing
What's special about this tool: Scoro is the perfect remote employee management software, combining team collaboration tools with efficient project management and billing, making it easy to manage your entire company in one place.
Pricing: From $26 user/month
2. Notion


If you're looking for a new team management experience, you need to try Notion. This tool helps to plan and discuss projects, share everything with the team, and keep track of all ideas. If you like to use Slack, you can integrate it with Notion for faster and streamlined communication.
Read on: Remote Work Is The Future – How Can You Benefit From It?
Top features:
To-do lists
Weekly planner
Taking notes + sharing files
Commenting on anything
Planning projects
Personal weekly checklist
Serves as a shared whiteboard
What's special about this tool: "Notion is like the LEGO set for collaboration software (or Minecraft, if you are from a younger generation). It lets you assemble workflows that work best for your team, as easy as using a text editor." – Ivan Zhao, Co-founder of Notion
Pricing: Free up to 5 users, Pro plan $5 user/month
3. Slack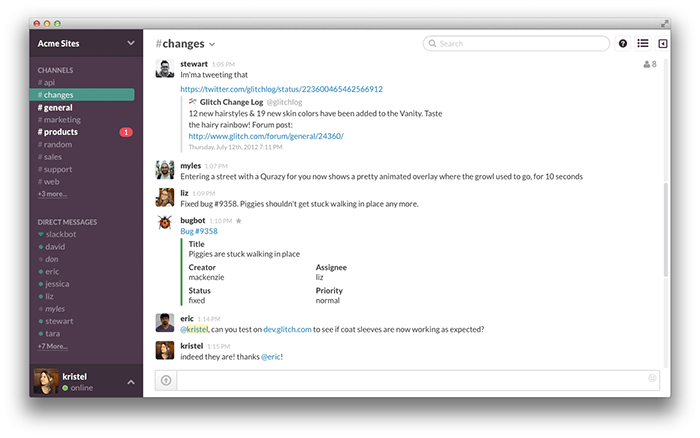 Slack is the perfect team collaboration tool for teams who need to be in constant communication. By creating Slack channels and setting up notifications, you'll boost your team's productivity and get a better overview of all your tasks and projects.
Top features:
Team communication and chat
Integrate with Google Drive, Box or Dropbox to share files
Set up reminders
Highlight words to be notified as they appear in conversations
Use @everyone tag to send a message to the entire team
Use Slack bots
What's special about this tool: In addition to popular chatting features, Slack has many shortcuts and hacks that help to increase the productivity levels of your team collaboration.
Pricing: Free basics, Standard plan $8 user/month, Plus plan $15 user/month
Read on: Top Team Collaboration Mistakes, And How You Can Avoid Them
4. Evernote Business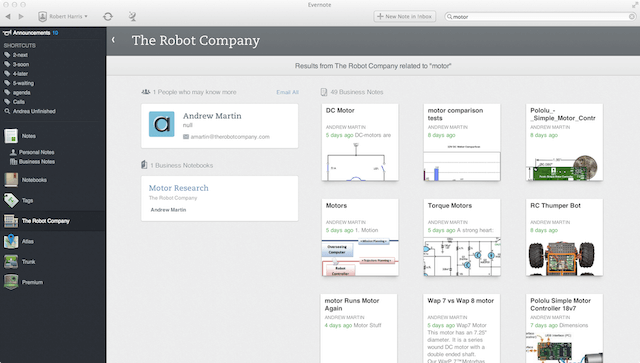 Evernote Business is similar to the note-taking app Evernote, only that it makes it possible to share your ideas with a large team. This team collaboration tool resembles a huge virtual whiteboard that lets everyone contribute their ideas and knowledge.
Top features:
All features of Evernote Premium
Collect, save, and share documents
Search inside PDFs and Word docs without opening them
Presentation mode
Idea boards
What's special about this tool: Evernote Business lets every team member contribute their best ideas in a matter of seconds. Later, the entire team can review all the topics using the presentation mode.
Pricing: €12 user/month
Read more: 30 Best Team Management Software For Maximizing Your Team Productivity
5. ProofHub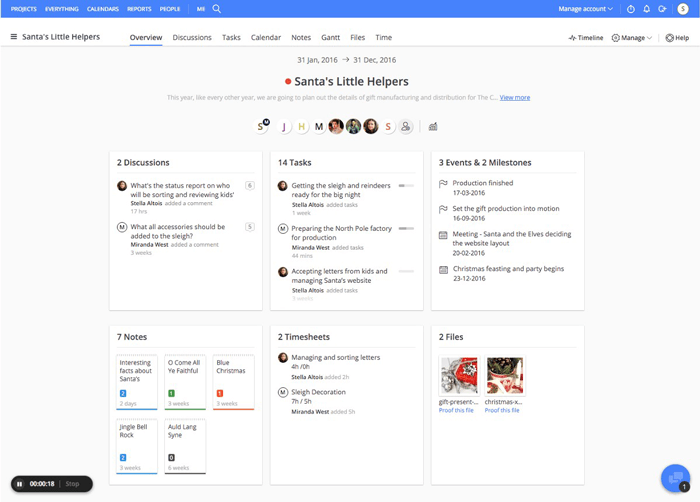 ProofHub makes it easier to share and discuss ideas across the entire team. Moreover, it serves as a simple business management software with task management features.
Top features:
Assigned user roles
Online team discussions
Sharing and saving files
Task dependencies and delegating
Reporting and tracking projects
What's special about this tool: ProofHub is easy-to-use and improves the way your team collaborates. Getting used to this new tool takes about one day.
Pricing: Individual plan (up to 10 projects) $20/month, Startup plan (up to 40 projects) $50/month, Unlimited plan (unlimited projects) $150/month
Read on: 43 Best Project Management Software and Tools
6. Concept inbox

Concept inbox is cool collaboration software for creative teams and their partners and clients. It helps to streamline the entire creative process from planning to prototyping to approved designs.
Top features:
Prototyping high-quality web, mobile and tablet apps
Commenting on designs and ideas
Real-time annotations and comments
Sharing videos, design image files, and PDFs
Real-time collaboration
Discussing work with clients or stakeholders
Version control
Creative project history
What's special about this tool: Concept inbox is the perfect tool for design teams working closely with clients. Getting approvals has never been easier.
Pricing: Starter plan (up to 3 projects) $14/month, Unlimited plan (unlimited projects) $25/month, Small team plan (up to 5 users) $49/month
7. Cage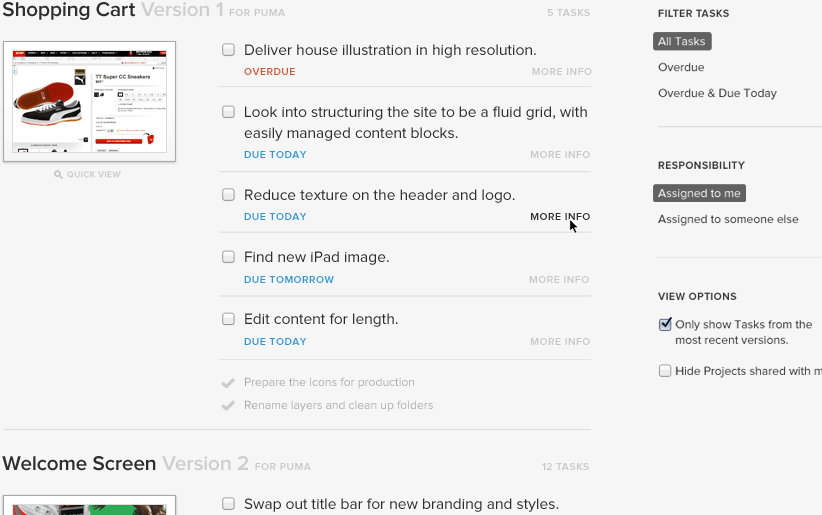 Cage is all about improving the way creative teams collaborate and work. It helps your team to manage projects, comment on all important aspects, and have team discussions on the video.
Top features:
Manage and create projects
Make notes and comments
Keep track of revisions
Get approvals from clients
Manage your projects, clients and work on a dashboard
Assign tasks
Have video conversations
Password protection for your projects
What's special about this tool: Cage combines project management and efficient collaboration. For example, you can plan projects and organize video calls by using a single collaboration tool.
Pricing: Personal plan (for individuals) $24/month, Basic plan (for small teams) $49/month, Plus (for up to 20 users) $89/month
Read more: 3 Ways to Improve Team Collaboration and Succeed With Team Management Software
8. Prezly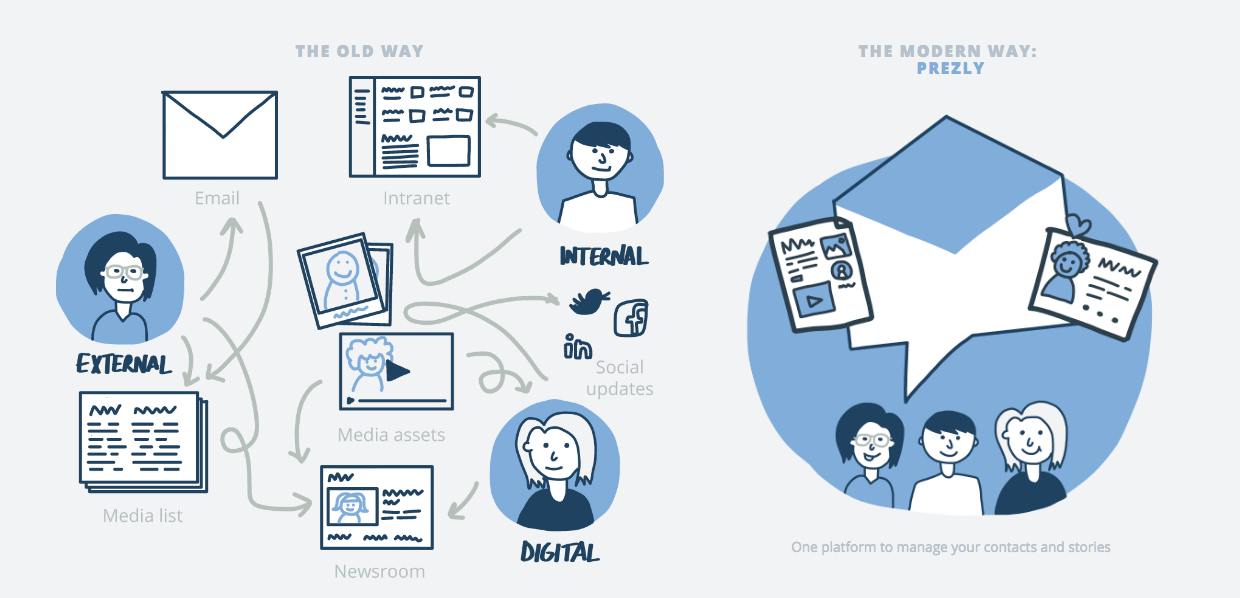 Prezly helps corporate communication teams speed up their workflow with a platform for newsrooms, contact management, and outreach. It streamlines the way you manage your stakeholder collaboration, making it easier to deliver projects fast.
Top features:
Keep track of your brand's stakeholders
Reach stakeholders quickly with beautiful multimedia emails
Create attractive and multifunctional online newsrooms
What makes this tool unique: Prezly is focused on collaboration with partners and clients. You can manage the entire communication history and client base in one place and never lose track of important contacts.
Pricing: From $150/month.
9. Microsoft Project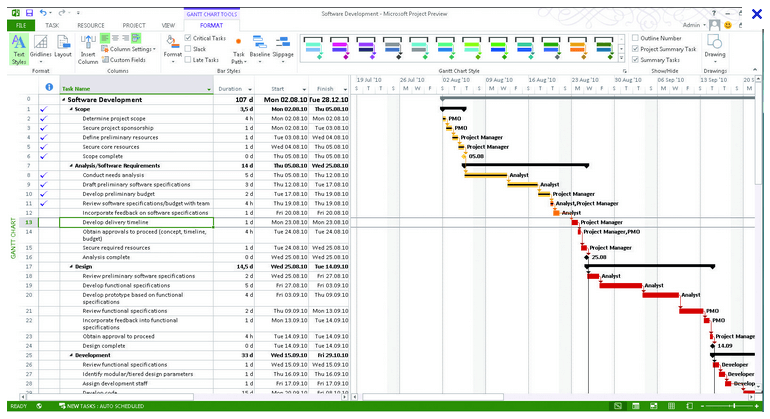 Microsoft Project helps to streamline the project, resource, and portfolio management. This project tool is used by 20+ million users.
Top features:
Project scheduling & costing
Resource management
Reporting & business intelligence
Built-in project templates
Project timelines
What's special about this tool:
Pricing: From $30 month/user for cloud platform, from $1,159 for on-premise software (for one PC)
Check out this Microsoft Project alternative!
10. Fleep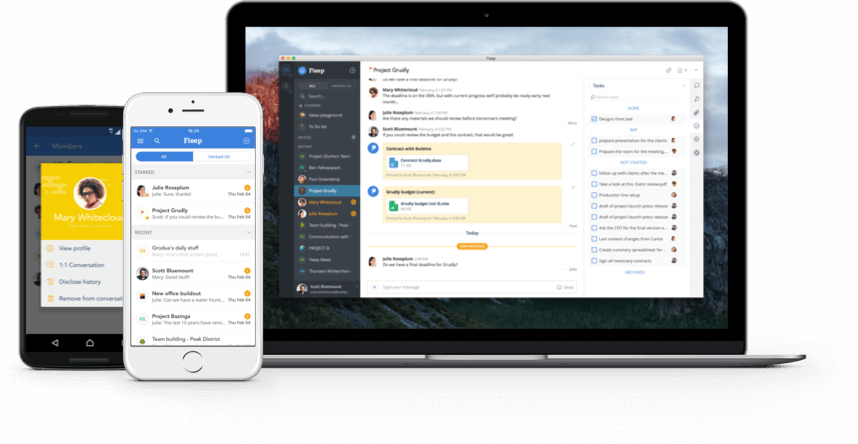 Fleep is a next-generation messenger built for ultimate project collaboration: chatting with team members and scheduling lightweight tasks. If you're tired of countless email conversations that take hours to conduct, you should give Fleep a try.
Top features:
Chatting with team members and partners
Email compatibility – non-users receive ordinary emails
Pin important messages to the side of each conversation
Sharing files and integration with Google Hangouts
Integration with Google Hangouts
What's special about this tool: Fleep delivers a channel for seamless collaboration via Fleep itself, email, Google Hangouts, so you never need to leave the tool to get your messages across yo other people.
Pricing: Free, Premium €1 user/month (advanced file-sharing and premium support)
Read on: 7 Stories That Prove The Importance Of Teamwork
11. Skype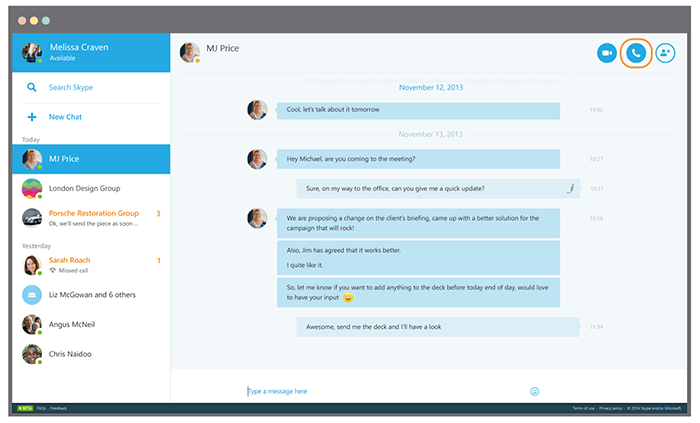 Skype is the best-known collaboration tool that facilitates online video calls. What makes Skype so popular is its useful combination of video chat and messaging. And it's fairly inexpensive compared to other communication tools.
Top features:
Video chat
Messaging
Conference calls
Chat groups for various teams
Notifications based on mentions
What's special about this tool: Skype enables video calls with up to 250 people. If you work as a small team of fewer than 25 people, conducting video calls is even simpler (and free).
Pricing: Free (Up to 25 people on group audio calls), Skype for Business from €1.7 user/month
Read more: How to Improve Your Project Management With Scoro in Six Steps
12. appear.in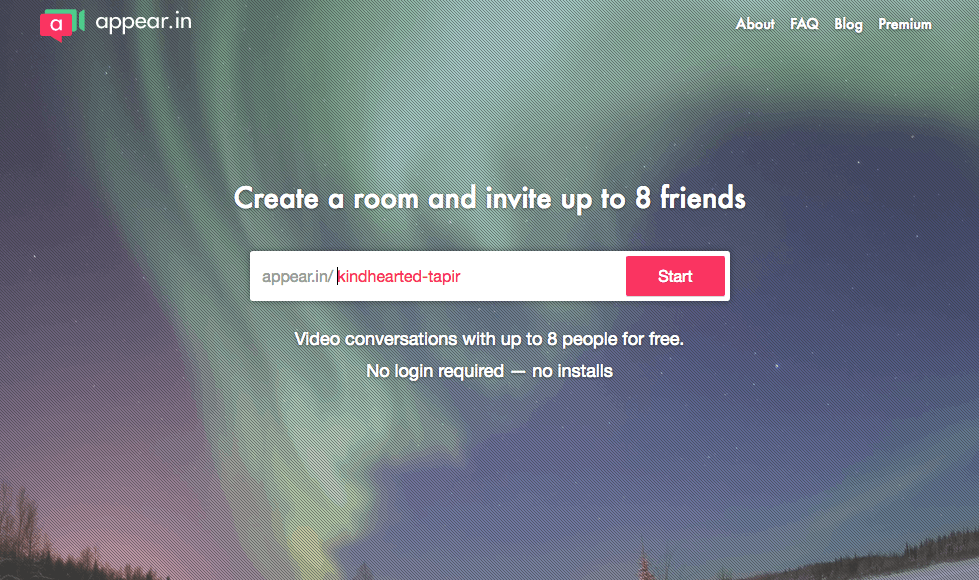 Similar to Skype group chats, appear.in lets you create online meeting rooms for video calls. It's a great tool for teams that already use a chat collaboration tool but also need a tool for online video calls.
Top features:
Send messages and links in text chat
Claim your own personal video room
Set a custom background image of the room
Lock the room for private conversations
Share your screen
What's special about this tool: Instead of adding all your group members to an online video call service, you can simply create an online meeting room and share the link with all participants.
Pricing: Free up to 8 people, Premium coming soon
13. Yammer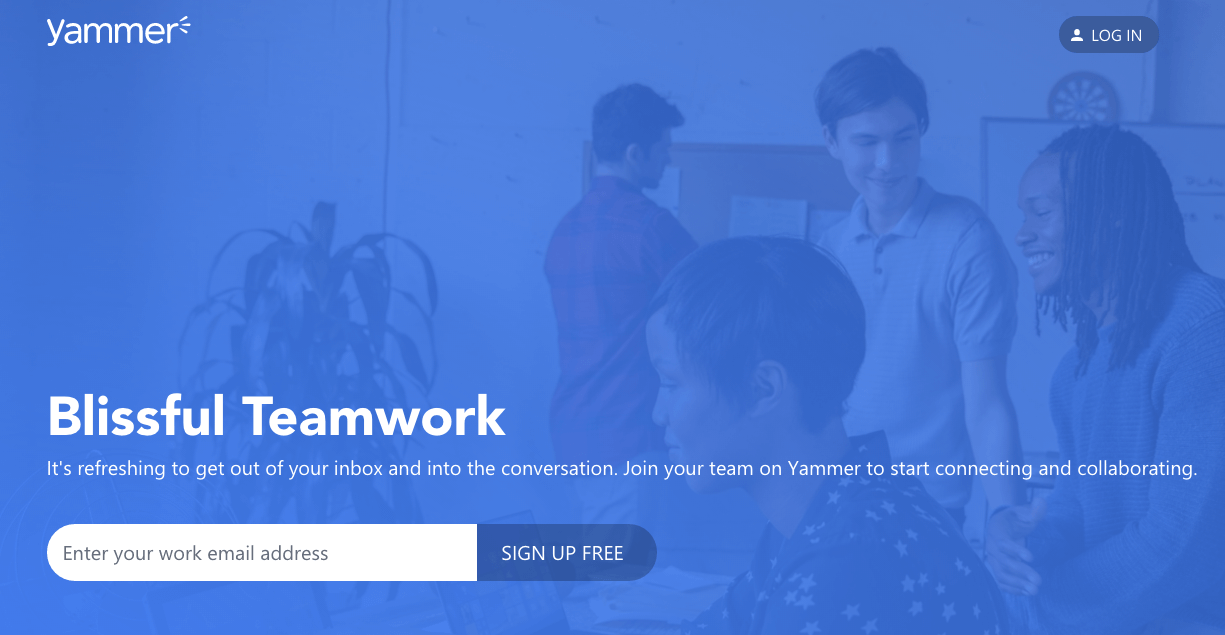 Yammer is a widely used enterprise network tool. It gives you a platform to communicate and collaborate privately with your colleagues.
Top features:
Signing up with company emails
Team chat and collaboration
Sharing documents
Chat groups
Public and private chats
What's special about this tool: Instead of using their email accounts, employees can be added by their corporate emails. You can also safely collaborate with partners and customers using Yammer's External Groups.
Pricing: N/A
14. Mural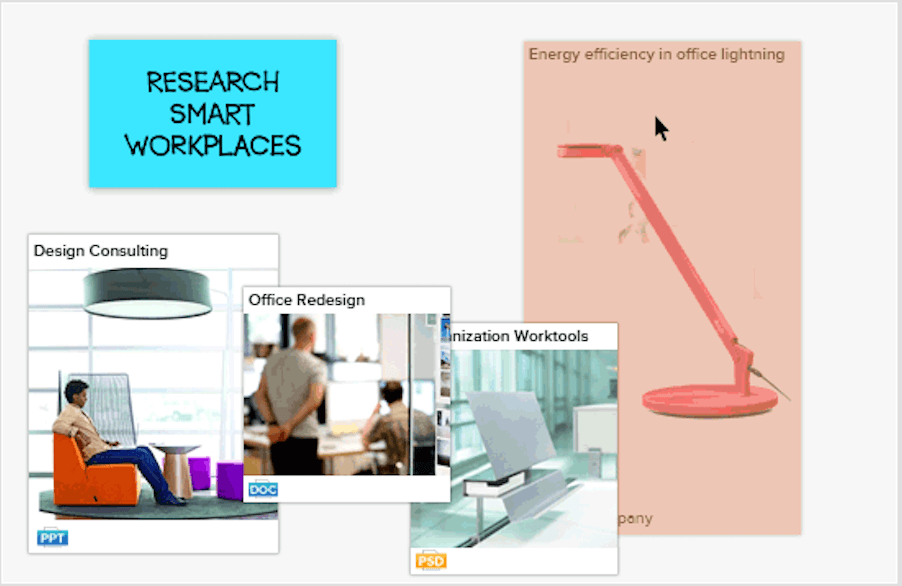 Mural brings clarity to your teamwork by giving you tools for sharing ideas and seamless collaboration. It helps to communicate ideas more clearly and deliver the idea so that everyone understands it.
Top features:
Visually organize your thoughts
Drop your ideas on a shareable canvas
Share files
Live conversations
Add comments to team members' ideas
Voting for better decision-making
Real-time activity feed
What's special about this tool: Mural gives you the full package that you need for seamless and productive team collaboration. It is a great tool for remote creative and design teams.
Pricing: Startup plan (up to 5 members) $29/month, Business plan beginning from $1500/year
15. Ideaflip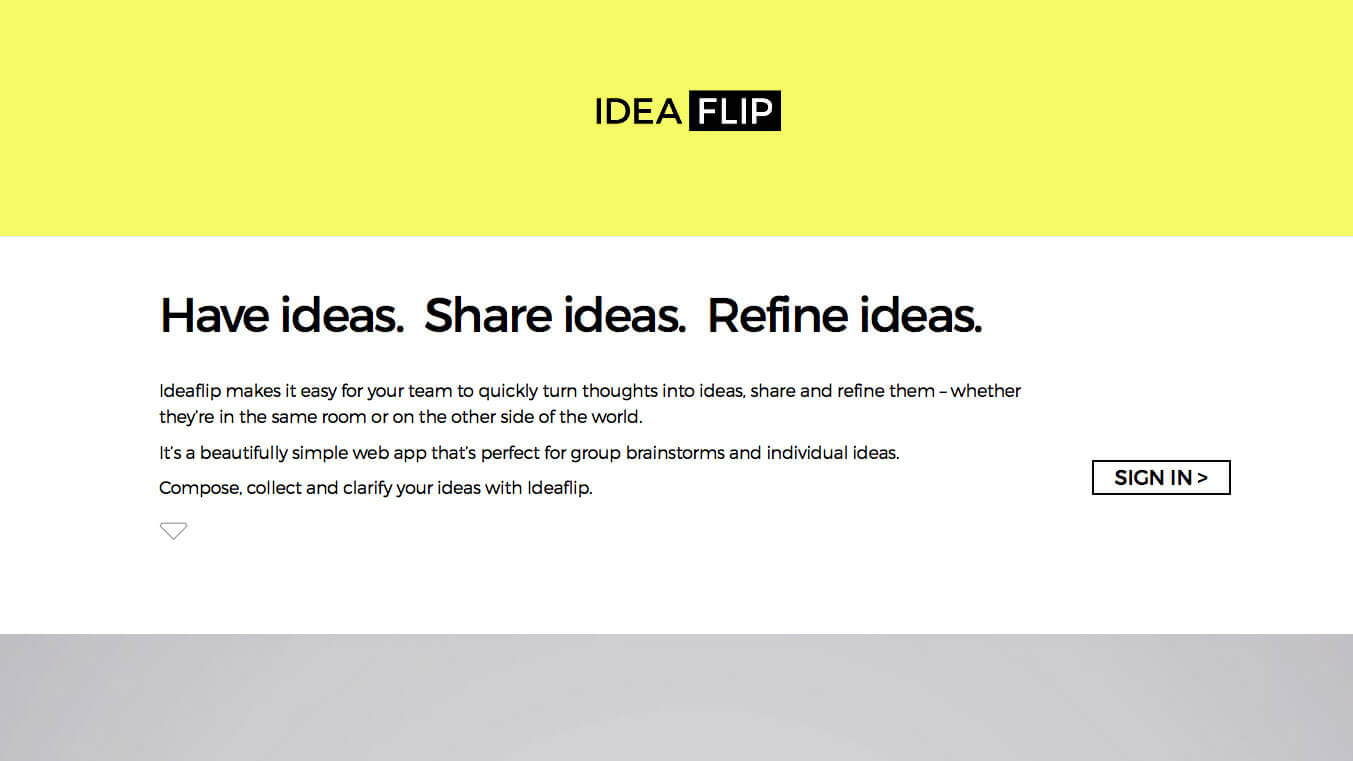 Ideaflip makes it easier for your team to turn thoughts into ideas, share them, and refine them – whether you're all in the same room or on the other side of the world.
Top features:
Brainstorm as a group
Use a simple online whiteboard to explain your ideas
Comment on each other's ideas
Upload PDFs and CSV files
Export in PDFs
What's special about this tool: Using Ideaflip is fun. Although it might not be as effective as Slack, it certainly boosts your team's creativity and encourages people to share more new ideas.
Pricing: $16/month
16. Scribblar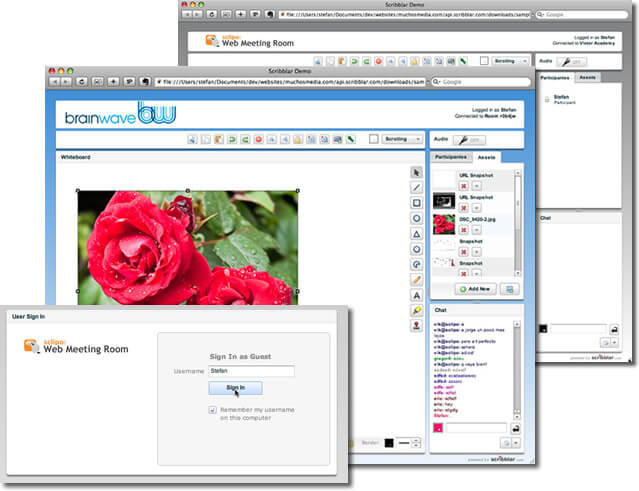 Scribblar takes creative brainstorming and artwork revision to a whole new level. This collaboration tool lets you create online collaboration rooms to chat with your team and discuss your projects.
Top features:
Chat, audio, virtual whiteboards
Can be used for teaching sessions
What's special about this tool: Scribblar lacks the agility of many popular team collaboration tools, but it can be used as a tool for organizing remote training sessions.
Pricing: Starter plan $16/month, Standard plan $24/month
Everything about your business, one click away
17. Basecamp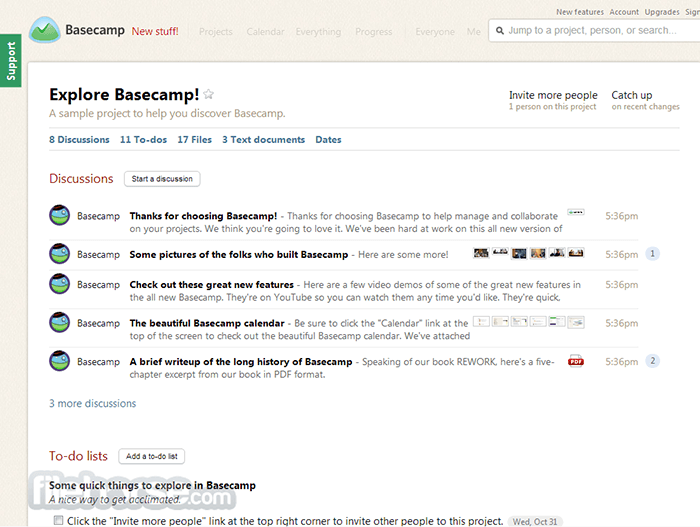 Basecamp is used by thousands of project teams around the world. It makes it easy to manage the project while sharing them with clients for quick feedback on small changes and updates.
Top features:
Reporting on project performance
Separate dashboards for client collaboration
Message boards for discussing projects and ideas
Email and desktop notifications
Projects with multiple users and tasks
In-app team collaboration and commenting
What's special about this tool: Basecamp takes only 10 minutes to set up and is easy-to-use. It provides the minimal amount of features needed for efficient project management.
Pricing: $29/month for unlimited users
Read on: Basecamp Alternative for Project Management and Collaboration
18. Float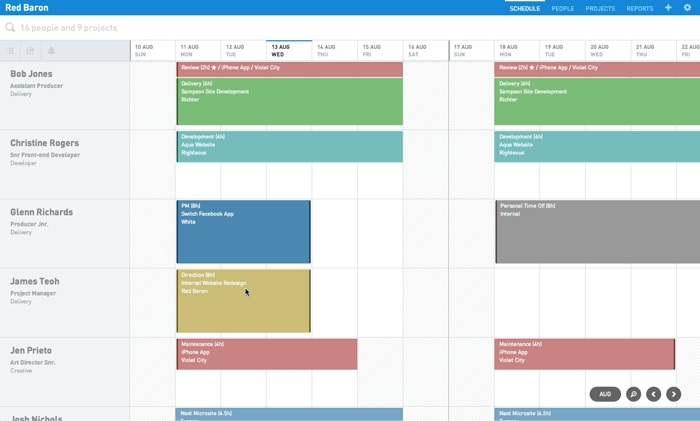 Float makes it easier to keep track of everyone's schedule while bringing more clarity to project management.
Top features:
Task scheduling and project planning
Planning on a visual interface
Setting individual availabilities
Simple reporting on work
What's special about this tool: While Float is a perfect tool for anyone who needs to keep track of the team's schedule. Individual availability tracking makes it easier to notice when someone's out of work and needs new tasks assigned to them.
Pricing: up to 10 people $29/month, up to 30 people $55/month, up to 100 people $250/month,
19. Brightpod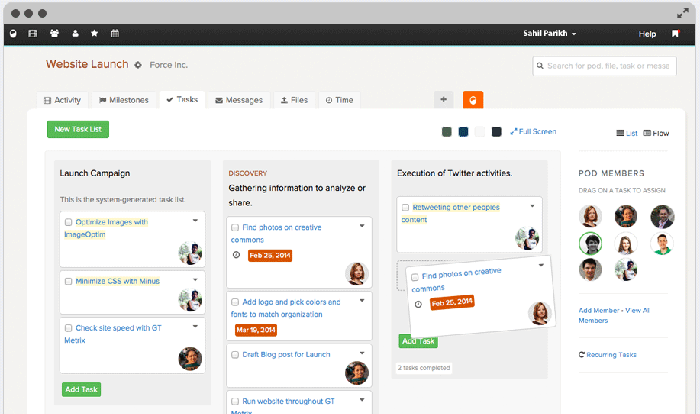 Brightpod is a project management tool with features that allow users to create projects, called Pods, which are complemented with tasks and milestones.
Top features:
Editorial calendar
Projects with tasks, priorities, and milestones
Cardboard layout for task management
Time-tracking
Individual dashboards for team members
File-sharing
What's special about this tool: When creating a project (or Pod) with Brightpod, you can use a Pod template for a faster project set-up. Moreover, your team will get a more customized project experience.
Pricing: Professional (up to 15 projects)l $29/month, Studio (up to 45 projects) $59/month, Agency (unlimited projects) $100/month
20. FunctionFox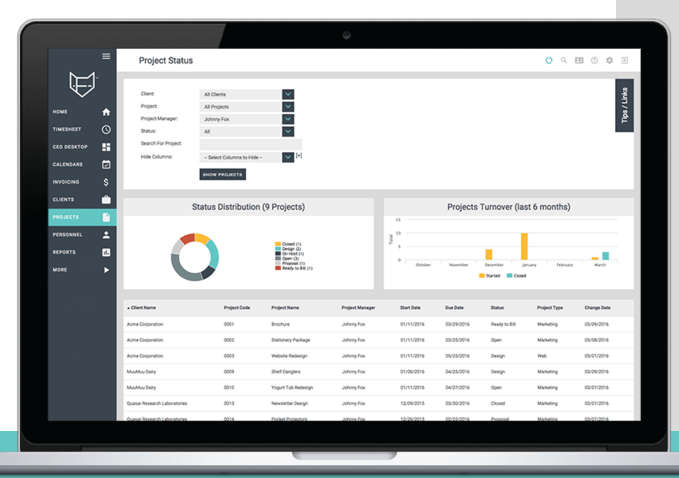 FunctionFox has many helpful project management features, such as milestone tracking and budget comparison. It also has a nice user interface, making it pleasant to use.
Top features:
Scheduling meetings and tasks
Interactive real-time reports
Projects with tasks and milestones
Comparing estimated budgets with actual figures
To-do lists and time-tracking
Read on: Business Budgeting Software
What's special about this tool: FunctionFox lets users create visual dashboards that can be customized according to personal preferences. This way, you always have an overview of your team's work progress.
Pricing: Classic plan $5 user/month ($35/m for 1st user), Premier plan (advanced project management) $10 user/month, In-House plan for creative teams $15 user/month
21. Nutcache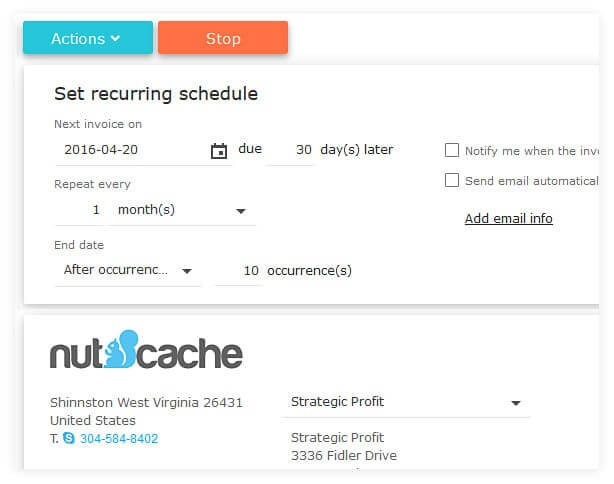 If you're a small project team that bills clients based on time worked, Nutcache might be your next go-to tool. In addition to project management, you can also bill clients with this tool.
Top features:
Time tracking and billing
Collaborating with your team
Managing projects and tasks
Expense management and budgeting
Linking projects with clients
What's interesting about this tool: Nutcache has an easy-to-use user interface, so it takes less time to get used to the product.
Pricing: Free up to 20 users (limited features), $6 user/month for project management features, $15 user/month for unlimited features
22. Teamweek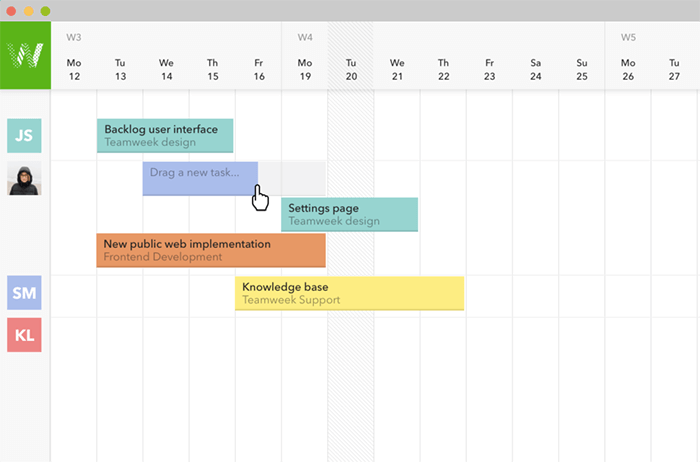 Teamweek is a timeline-based project management tool that lets teams schedule their upcoming tasks and meetings into a shared calendar. It gives a quick and accurate overview of your team's work and upcoming projects.
Top features:
Simple Gantt-chart interface
Scheduling work well into the future
Drag-and-drop task management
Project management
Seeing team members' availability
What's special about this tool: Teamweek serves as an add-on to more comprehensive project management tools, making time-scheduling super easy. If you need a tool for scheduling your team's availability, check it out.
Pricing: Free
23. Active Collab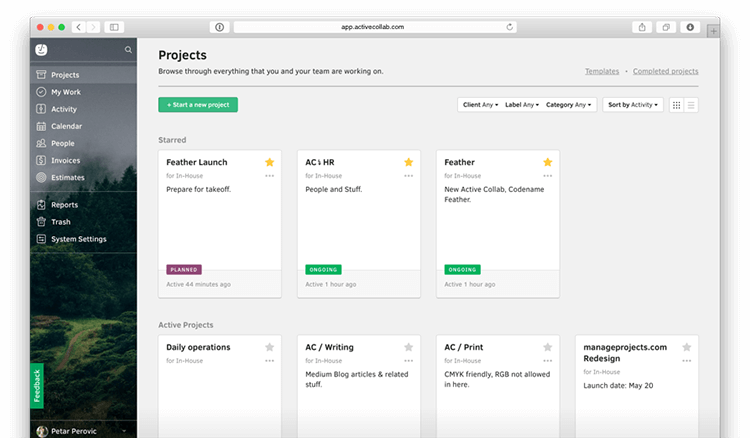 Active Collab combines billing and project management, making it easier to plan and track your team's projects. Moreover, you'll get features for team collaboration and real-time communication.
Top features:
Commenting on tasks and mentioning colleagues
Gantt-like planning feature
Creating tasks with multiple users and deadlines
Filtering tasks by users, dates, and labels
A shared team calendar for collaboration
Time tracking and billing
What's special about this tool: Active Collab improves the team's collaboration and makes it more fun. Every user can set a custom theme for their platform for a quick touch of personalization.
Pricing: 5 members $25/month, 15 members $49/month, 30 members $99/month, 60 members $199/month, unlimited members $299/month
24. Toggl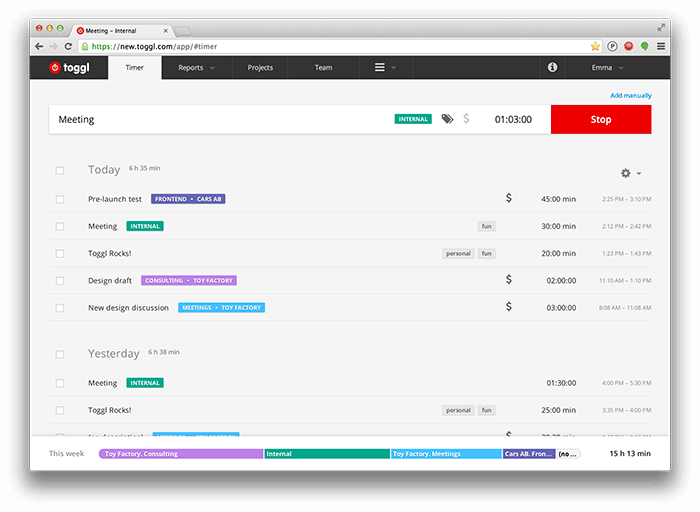 Toggl is a no-hassle time tracking software that integrates with tens of different project management tools. It is perfect for companies with many departments and teams and makes the project manager's life a lot easier.
Top features:
Unlimited projects and clients
Instant overview of your billable time and team progress
Professional reports delivered directly to customers or team managers
Real-time time entries and collaboration
Offline time tracking & mobile functionalities
Integration with your favorite productivity tools
What's special about this tool: Toggl is completely focused on time tracking, which means that they're perfect at it.
Pricing: PRO plan (for time tracking) $10 user/month, PRO PLUS plan $20 user/month, BUSINESS plan $59 user/month
25. Harvest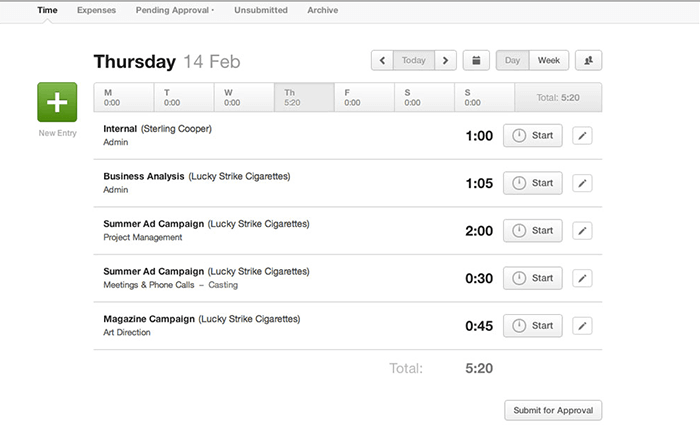 Harvest is one of the best-known time billing software on the market. Your team will get up to speed fast and can track their time, however (and wherever) they want—on their laptop, iPhone, Android, or even on the Apple Watch. Simple and quick time entry means there's no excuse not to track, and you'll have the data you need to bill accurately and budget wisely.
Top features:
Time tracking from any browser, computer, or mobile
Creating estimates and invoices based on the time worked
Real-time reports on time spent
Expense logging
What's special about this tool: Harvest is an excellent tool for teams thanks to its timesheet approval function that lets team managers view and approve team's time and expenses.
Pricing: Solo plan (up to 3 users) 1st user $12 /month + $10/month for each additional user, Basic plan (5 to 9 users) 1st 5 users $49 /month + $10/month for each additional user, Business plan (for 10+ users) 1st 10 users $99 /month + $10/month for each additional user
Read more: 40 Productivity Tips Used by High-Achievers [Infographic]
26. FreshBooks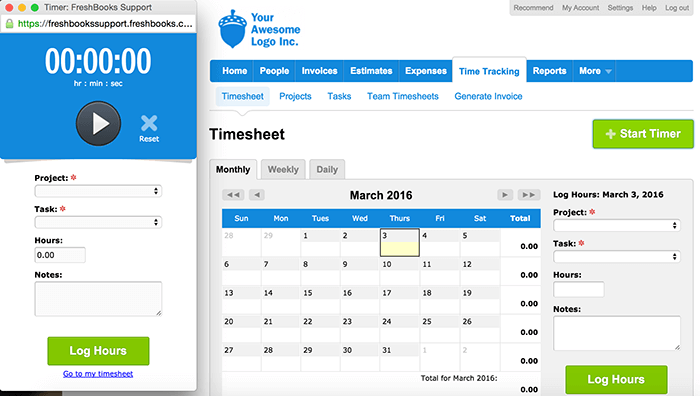 FreshBooks wants to make your accounting job easier and less intimidating, providing you with the tools for invoicing, expense tracking, and time management. You can automate most of your billing activities and have more time for projects and meetings.
Top features:
Time tracking and billing for work
Automatically importing and categorizing expenses from bank accounts and credit cards
Upload and share files
Track spending with expense reports
Reports on received payments and billing history
Keep tabs on project progress and get feedback from your team
What's special about this tool: FreshBooks is one of the leading cloud accounting systems for small businesses.
Pricing: Evergreen plan $29.95/month (bill up to 200 clients), Mighty Oak plan $39.95/month (bill an unlimited number of clients)
27. Paymo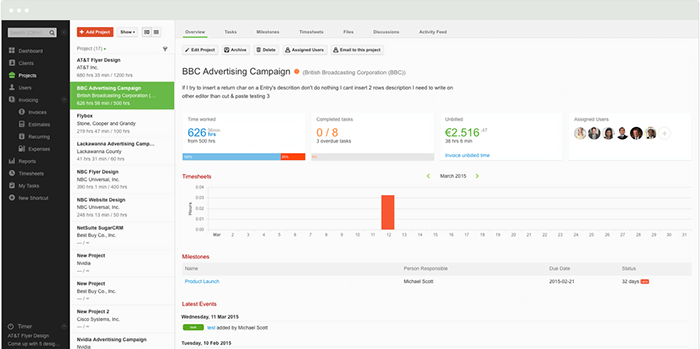 If you're looking for a simple yet powerful time tracking tool, Paymo might have the answer. The tool brings project management, work reporting, and time billing under one roof, making it easier to get an overview of your team's performance.
Top features:
Tracking the time spent on tasks and projects
Thorough work reports
Dashboard to see your team's performance
Billing customers for completed tasks
Integrated project accounting
What's interesting about this tool: With Paymo Plus, you can automate the time tracking completely. All you need to do is download the desktop app, set it up, and at the end of each day, categorize all your time entries.
Pricing: $8.95/user per month + project accounting add-on for $9.95 per month
28. Hubstaff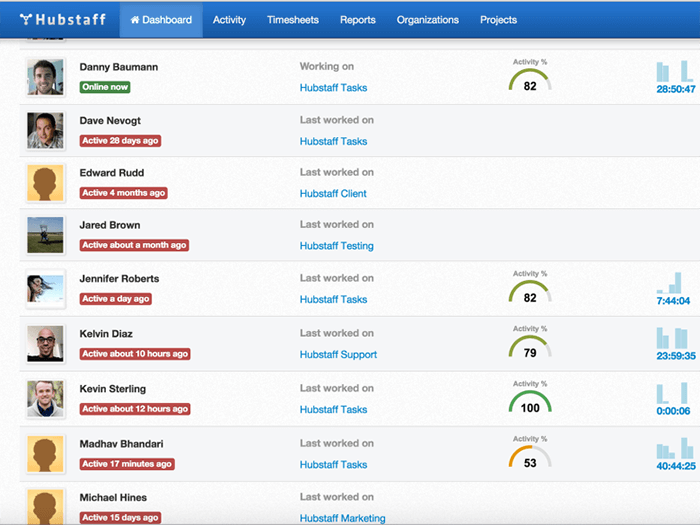 Hubstaff helps to track the time spent on work and your team's leisure time. It's a great option for organizations looking to track all the time spent at work (not just the time spent on tasks).
Top features:
Tracking the time spent on tasks with screenshots
Tracking the time spent on websites + desktop apps
Reporting on the team's time usage
Billing clients for projects
Making payments to employees based on the time worked
Keyboard & mouse activity level data
What's interesting about this tool: Many companies use Hubstaff to check on their remote workers and to deliver payments based on the time worked.
Pricing: Basic plan $49/Month for 10 users, Premium plan $99/ Month for 10 users ($0.99 per user)
29. BillQuick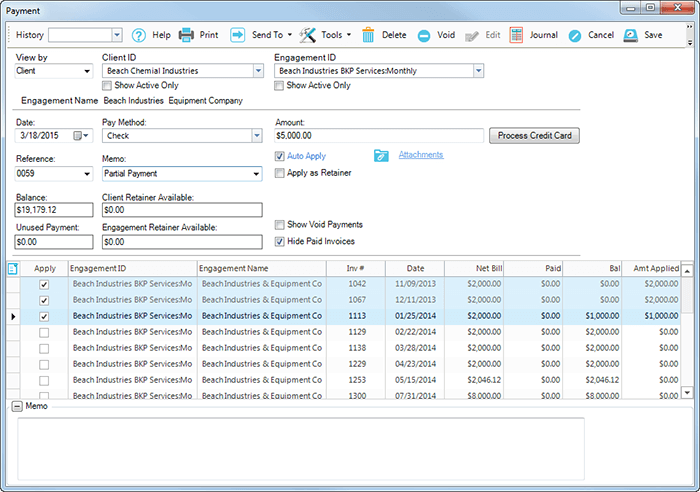 BillQuick has built a tool that's easy to use even when you're not around your computer. In addition to time tracking, it provides a comprehensive set of time management features such as invoices and an overview of all expenses.
Top features:
Tracking time off, overtime, compensation time, vacations, etc.
Project management and work reporting
Generating invoices and billing clients
Running multiple timers concurrently
Attaching pictures, documents, and web links to time and expense records
Emailing invoices as PDFs
What's interesting about this tool: BillQuick has a tool called Employee Workload Forecaster that lets you see the tasks assigned to each team member.
Pricing: Professional plan $19.95 user/month, Enterprise plan (unlimited features) $24.95 user/month
30. ClickTime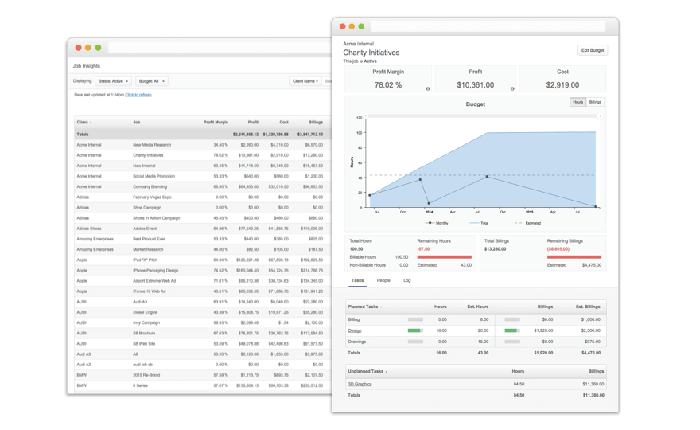 ClickTime helps businesses track both billable time and employee time usage. You'll get complete control over your budgets and receive accurate timesheets.
Top features:
Online timesheets and billable time entries
Time tracking with a stopwatch
Dynamic billing rates
Analyzing project profit, costs, and billings
Reporting on employee and project performance
Forecasting the time needed for tasks
What's interesting about this tool: ClickTime is focused on improving your team's workflow and helps to plan your budgets and time more efficiently.
Pricing: Corporate plan (time tracking + budgeting) starts at $12 user/month (max 200 users)
Read on: 16 Best Employee Timesheet Software for Efficient Time Management
31. LiquidPlanner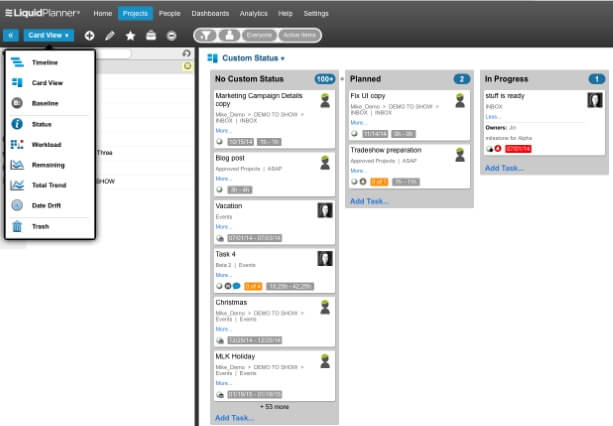 LiquidPlanner is a collaboration tool that combines project management and time-tracking, making it easier to communicate with team members and share ideas.
Top features:
Estimating a realistic range of time to complete tasks
Commenting on tasks and schedule
Task-specific collaboration boards
Resource management/scheduling screen
Adding notes to projects
What's special about this tool: LiquidPlanner has an interesting methodology for project management – it helps teams to set realistic deadlines based on best-case and worst-case scenarios.
Pricing: Standard plan (up to 50 projects) $29 user/month, Professional (includes dashboards and up to 300 projects) $39 user/month
32. Teamwork Projects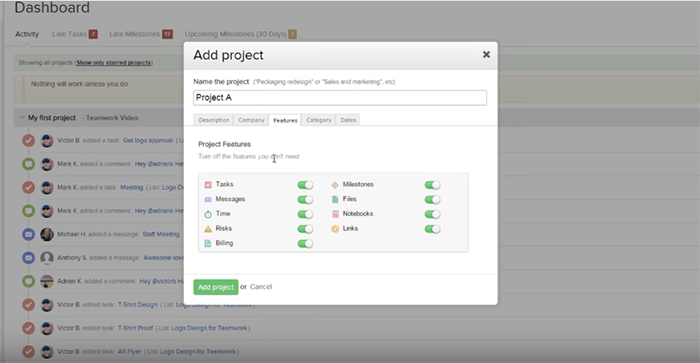 Teamwork Projects enhances team collaboration and helps creative teams to organize their work and tasks.
Top features:
Project planning on Gantt charts
Task lists with milestones and sub-tasks
Time tracking and reporting on time spent
Customizable features on each project
Comprehensive user permissions
Attaching files to projects
Reporting
What's special about this tool: Teamwork Projects is easy to use and feature-rich. The tool integrates seamlessly with Teamwork.com's other two products; Teamwork Desk and Teamwork Chat. This means you can manage your entire business using just one software tool.
Pricing: Startup plan (up to 15 projects) $24/month, Small Office plan (up to 40 projects) $49/month, Office plan (up to 85 projects) $99/month, Business plan (up to 500 projects) $249/month
Check out these Teamwork Projects Alternatives.
Everything about your business, one click away
Further reading