Work management
9 Super Helpful Business Tools in a Startup Founder's Toolset
AS AN ENTREPRENEUR, suffice it to say that some tech and non-tech tools help me to run, operate, manage, and monitor my business successfully.
Using these apps has created more time in a day. I can attend to other aspects, issues, and my personal life. Here's a list of such life-saving… or let's say, business- and time-saving tools.
1. Scoro
Scoro combines project management with CRM and billing so that you need one tool instead of five different ones.
Scoro helps to streamline your entire work progress, so you don't need to use a lot of different tools for every task. All your important information is stored in one central place.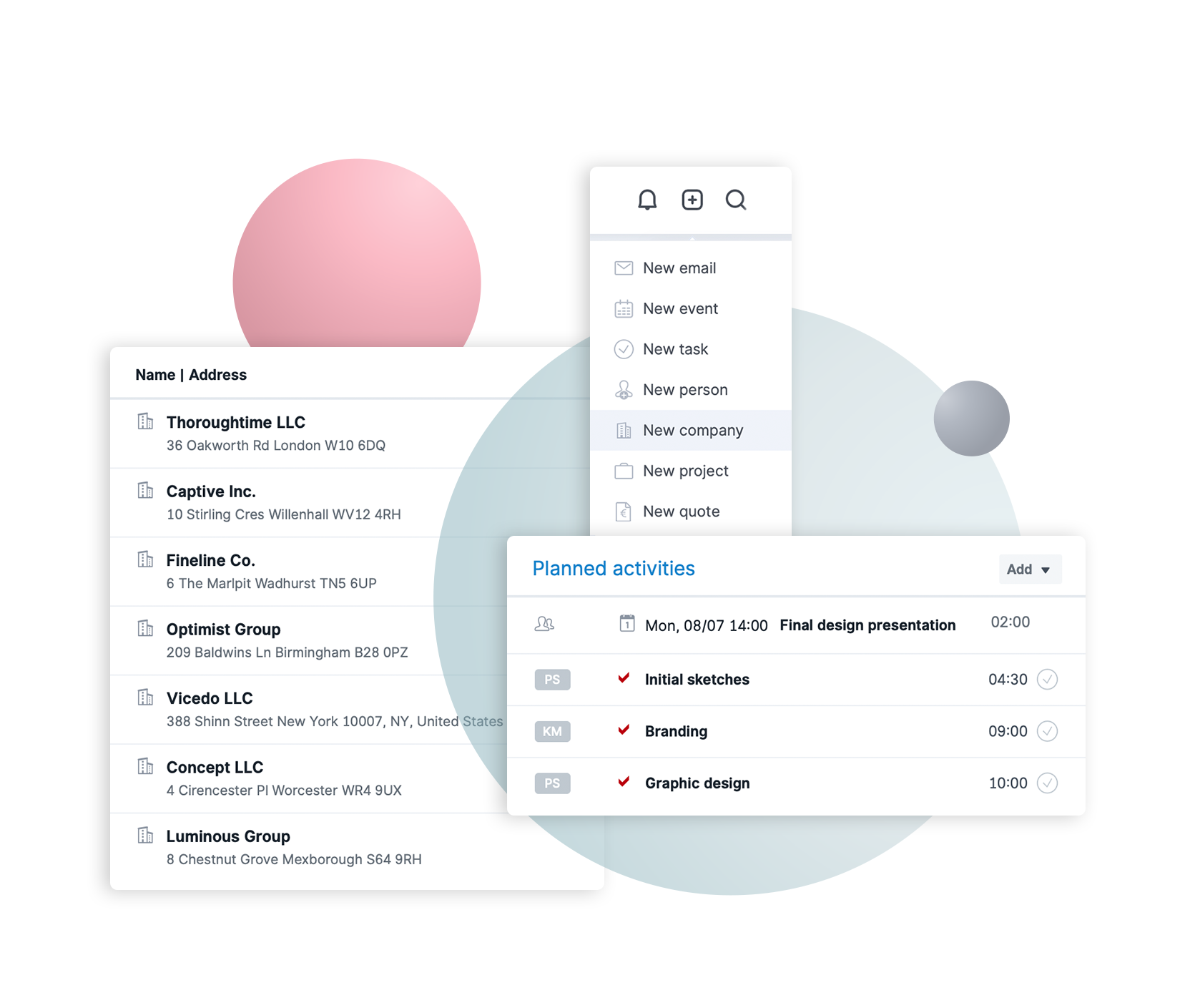 2. QuickBooks
QuickBooks is an accounting and bookkeeping software package that's customized mainly for small to medium businesses. Developed by Intuit, QuickBooks has many amazingly convenient features.
I use it to handle the payroll, online banking activities, revenue management, expense tracking, invoicing and more.
The application is a one-stop app for all my accounting needs, and I have never felt the need to supplement it with other accounting tools. I like to have a record of in-depth and clear reports to refer to whenever I need. This tool allows me to do just that.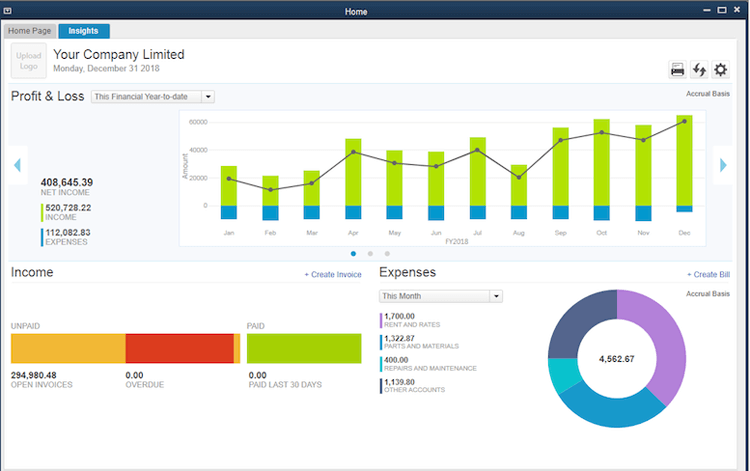 Read on: 19 Best Invoicing Software to Save You Time and Money
3. Google Analytics
Being a profoundly online business, Google Analytics is easily the soul of my company's performance measurement.
We regularly track our results and measure our KPIs through Google Analytics. For example our website's bounce rate, visits and visitors, campaign tracking, online event performance and much more.
Google Analytics has a very efficient segmentation feature which allows us to analyze the reports in every possible way. For example, I can see how many views I have from a particular geographic location. I can also analyze how many visitors finished reading our posts or commented on them etc.
This segmentation feature allows me to examine closely every business parameter and regularly re-adjust my strategy.
4. Dropbox
You probably already know all about this amazing storage app, but I still have to emphasize how useful it can be for an entrepreneur.
In my company, Dropbox is the home for all user, consumer and employee information. It is a cloud storage software which helps you to save all information – both business and persona –l in the cloud space.
The thing about running a startup is that there are so much information and details to store. Losing even a single contact sheet results in a huge loss. But it is impractical for startups to invest in an automated record-keeping system.
This is where Dropbox comes to the rescue. This tool allows us to operate almost paperless. At the same time, the information is more secure than ever and being constantly uploaded to the cloud.
Did you know that close to 90% of Excel spreadsheets contain errors? There are several business processes that desperately need an Excel alternative for success.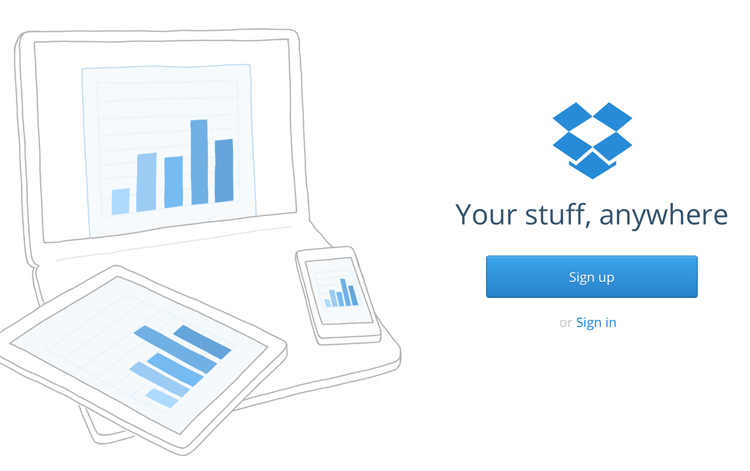 5. Rapportive
Rapportive is a tool created mainly for online businesses where all the leads come from online activities.
What Rapportive does: once you put in the email ID of a person, all their social media accounts, status and feeds are presented as a list.
Before I started using Rapportive at work, we used to spend a considerable amount of time on researching our contacts and prospects. With this tool, all that manual work is out of the door.
We frequently use the tool to get to know more about our potential customers, and we break the ice by following them on social media. We're able to instantly form an online acquaintance and build a stronger online network.
Here is what I love the most about Rapportive – the tool works in sync with Gmail and is very easy to use. All you have to do is to insert the email ID of the person.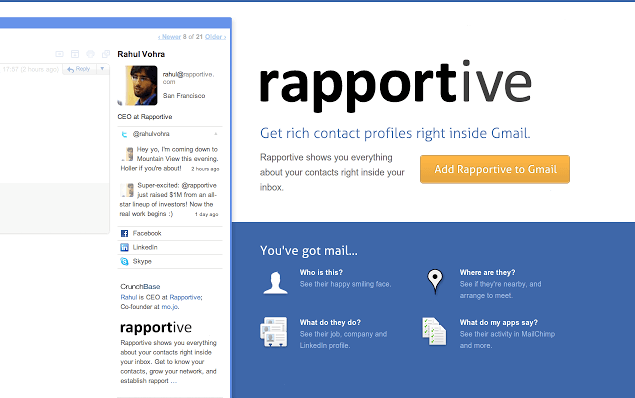 Read on: 15 Cult Business Blogs Everyone Should Read in 2017
6. MailChimp
MailChimp is no underdog in email marketing. With the advent of online marketing, it can get really difficult for us to focus on various aspects of online marketing. Including social media marketing, blog marketing, email marketing etc.
I discovered that MailChimp is of great help in simplifying the art of email marketing. We use it to manage campaigns, add new subscribers to our newsletters, create email drafts and measure the results of email campaigns.
MailChimp's mobile app has an amazing, crisp and clear interface, making it very easy to monitor and refer to our campaigns even when travelling or working remotely. Another great aspect is that the software requires very little knowledge of email marketing. It guides you to run a better email marketing campaign.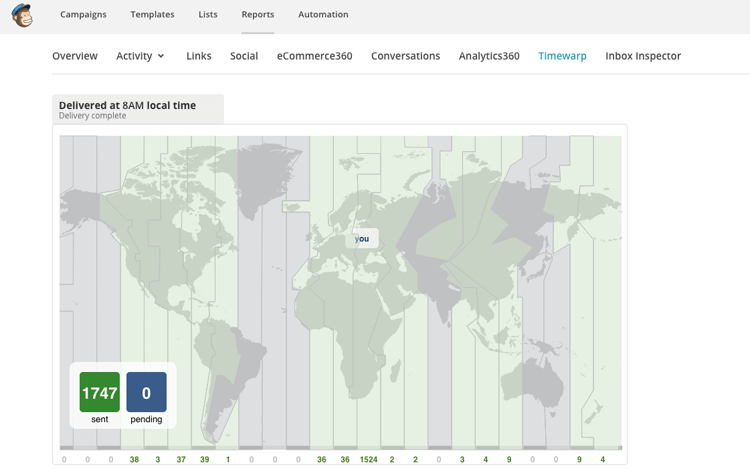 7. Evernote
A tool which I recommend to manage not only your work but also your life. With Evernote, you can take notes, create to-do lists, manage your time, set alerts and more.
As an entrepreneur, there is a lot going on every single day. There are so many details to attend to. When I use Evernote, my day gets so much more organized. Evernote's app is structured to lower the chance of forgetting something important.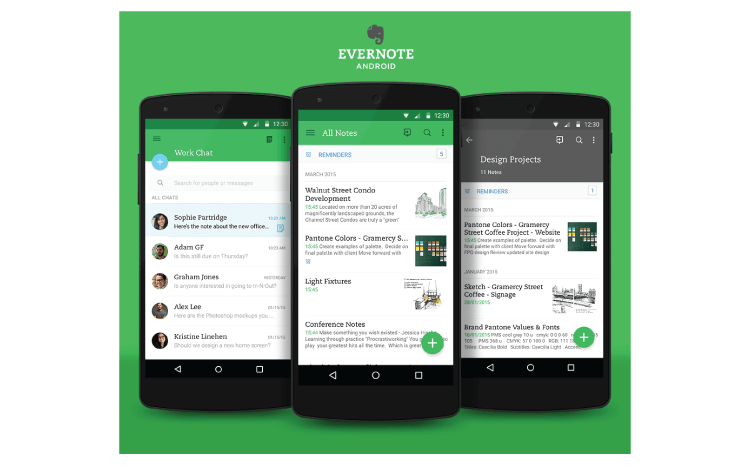 8. Tweetdeck
In our startup, we use tweets and Twitter engagements mainly to generate leads. Hence, Tweetdeck is a perfect tool for us. It allows you to track, organize and engage with your audience on desktop and mobile devices. Tweetdeck has become a very handy tool to manage our marketing on Twitter.
In short, the app is a social media dashboard. It allows me to customize the feeds that pop up on my dashboard. Also, it helps me to prioritize feeds from customers and prospects and respond to their tweets as quickly as possible.
Tweetdeck lets you schedule your tweets. That way you can send the tweet whenever you think it will reach the maximum audience.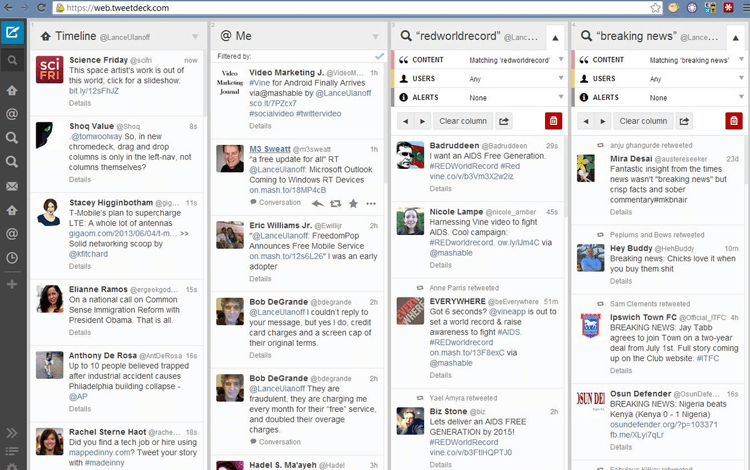 9. Hiver
Now, this is a tool I've worked years perfecting, so of course, it is in my list of favorites!
Anyway… getting to the point, Hiver is a collaboration tool which helps to streamline workflows in a team, delegate and monitor tasks to an employee, share an entire email thread without having to CC others, share your contacts list across the team and more.
The tool has become an integral part of our everyday business operations – If I want to assign a new task to an employee, all I have to do is to insert a label such as 'Task: employee name.' Once the task is done, the employee can add another label 'Task: done' and I will know that the task is finished. It is that simple and efficient.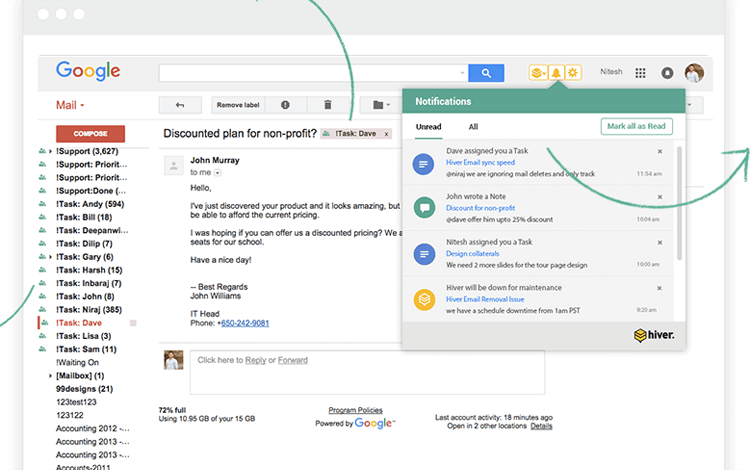 Final thoughts
This article was just a small consolidation of many, many business management software that I have used in the course of running my business.
One thing I would like you to know is this – many tools become obsolete as your company grows or as your priorities change. As they say: only change is constant. So I suggest that you experiment with some business tools and figure out what works the best for you. Always be ready to update your business with time.
Everything about your business, one click away