Work Management
19 Useful Smartsheet Alternatives for Every Team
Smartsheet is a great work execution platform for teams of different sizes to plan, manage, automate and report collaborative work. It combines a familiar spreadsheet format with work management and collaboration capabilities and includes projects and task lists, customer information, and sales pipelines, to name a few.
However, for teams looking for software that offers an end-to-end solution, there might be other alternatives to consider. For one, Smartsheet doesn't provide a full set of project management features, nor does it currently offer any time tracking feature. As such, if you need to manage all aspects of your projects and/or business in one place, there are some great alternatives to consider. To make the decision process easier for you, we have gathered together our best picks. Check out their top features, pricing, and find a solution that fits all your business needs!
---
Every Smartsheet alternative listed here:
✨ Has a set of unique features that stand out from other tools
💫 Is a trustworthy provider, with regular updates and high security
🌟 Is relatively easy to use with reasonably short setup time
---
Work Management Software
These more comprehensive solutions are the best option for teams that prefer to manage the majority  (if not all) of their work in a single platform. This way, everyone will have a better overview of the projects and there is no need to shuffle between dozens of different apps and software.
1. Scoro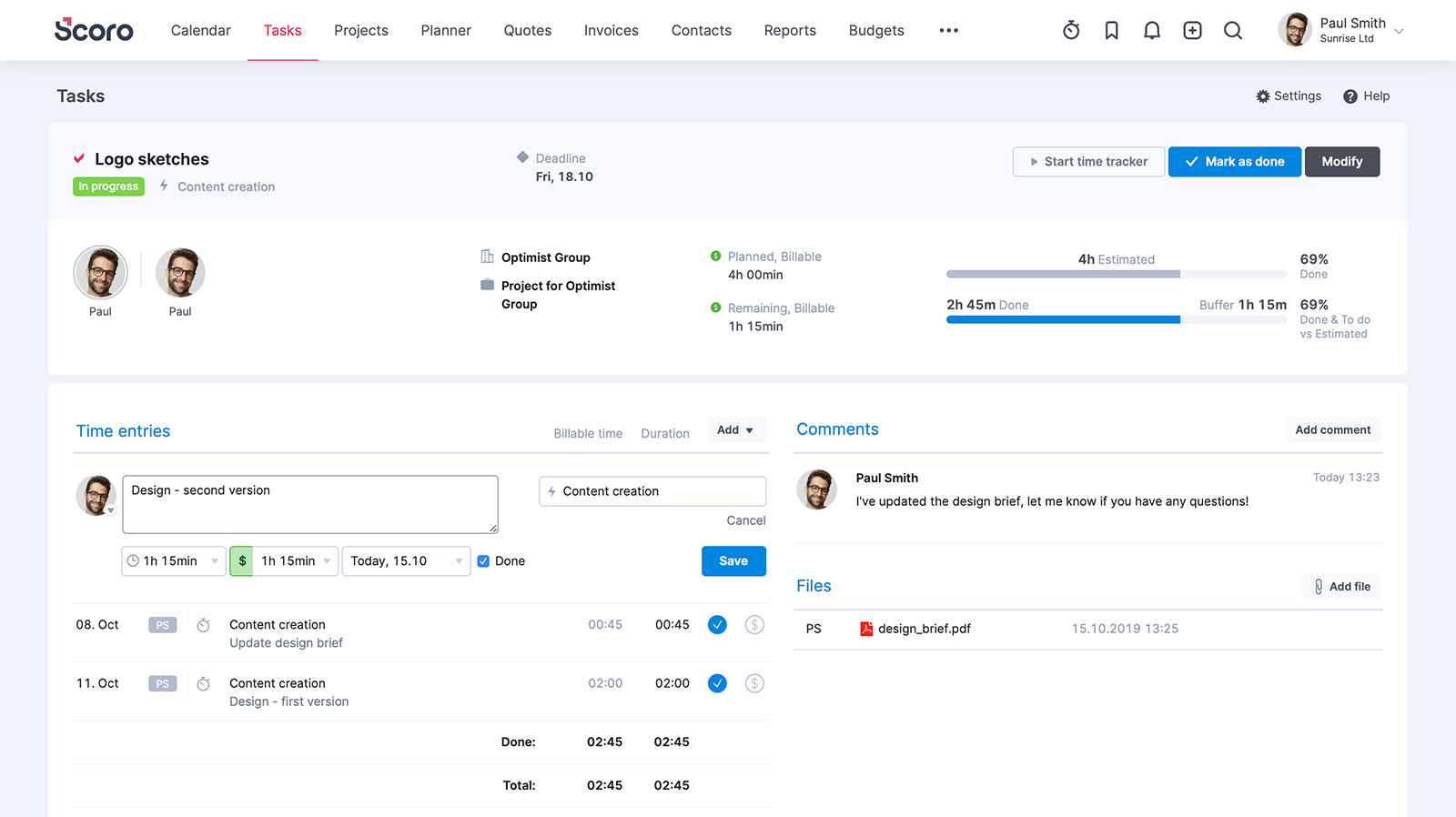 Scoro is a powerful end-to-end solution that combines all the features you might need to manage your business. It includes projects & tasks, contact management, quotes, team collaboration, billing, and reporting.
Top features:
Manage every aspect of your project on one page (including time spent & billed, planned tasks & meetings, invoices and expenses, comments and files).
Allocate billable and non-billable work and see how your team is doing in real-time.
Create budgets for projects and compare these against actual results.
Track your company's performance and important KPIs on a beautiful dashboard with real-time data.
What's special about this tool: Scoro helps to streamline your entire work progress, so you don't need to use a lot of different tools for every task. All your essential information is stored in one central place.
Pricing: From $26 user/month
Try Scoro for free for 14 days
2. Proofhub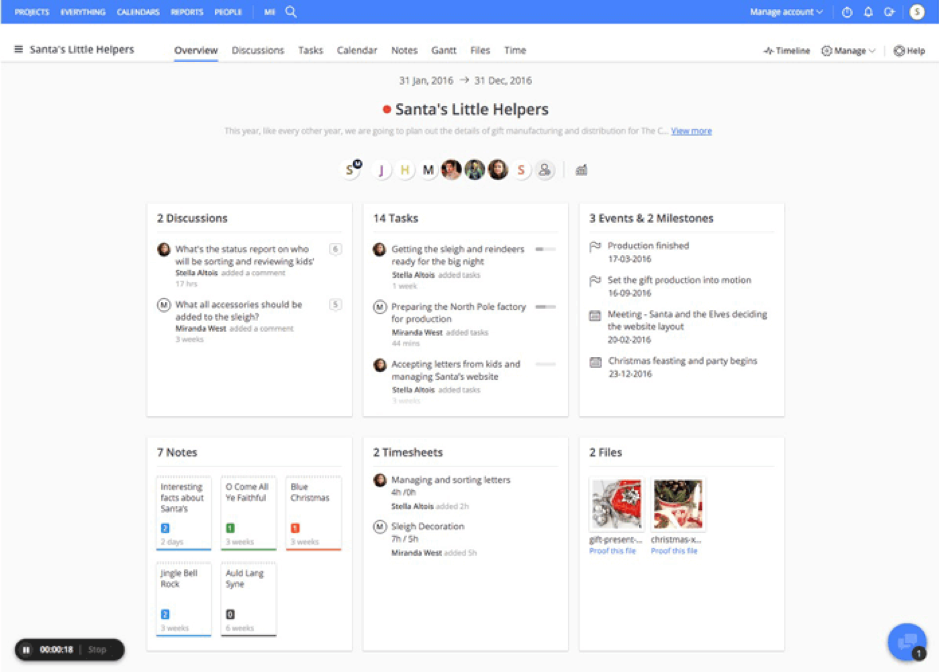 ProofHub is a SaaS-based work management software that offers a replacement for conventional emailing and other tools, bringing project management and team collaboration under one roof.
Top features:
Assigned user roles
Online team discussions and chats
Reporting and tracking project history
Secure file storage
Task delegation and assignments
What's special about this tool: ProofHub has a well-designed user interface that helps the team to collaborate more efficiently.
Pricing: From $45/month (up to 40 projects) to $150/month (unlimited projects)
3. Mavenlink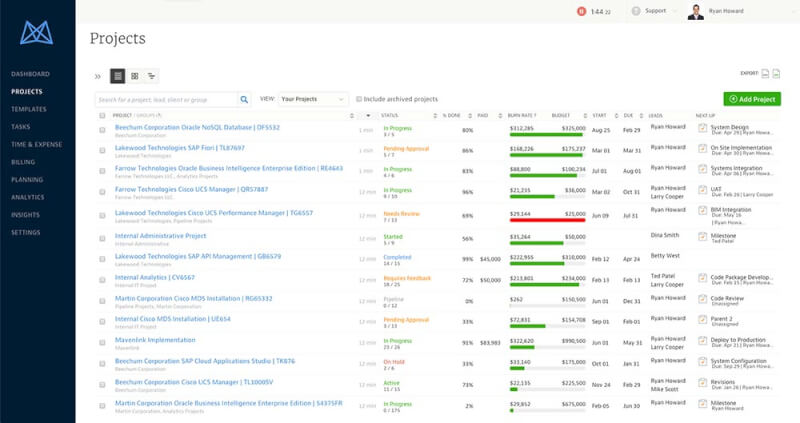 Mavenlink is a work management software that brings your project management, time tracking and resource planning together into one solution.
Top features:
Customizable templates
Project and task management
Resource planning
Time & expense tracking
What's special about this tool: Create project templates that you can reuse after a successful project.
Pricing: From $39 month/user for teams
Read on: 20 Steps Towards Operational Efficiency in Your Agency
4. Asana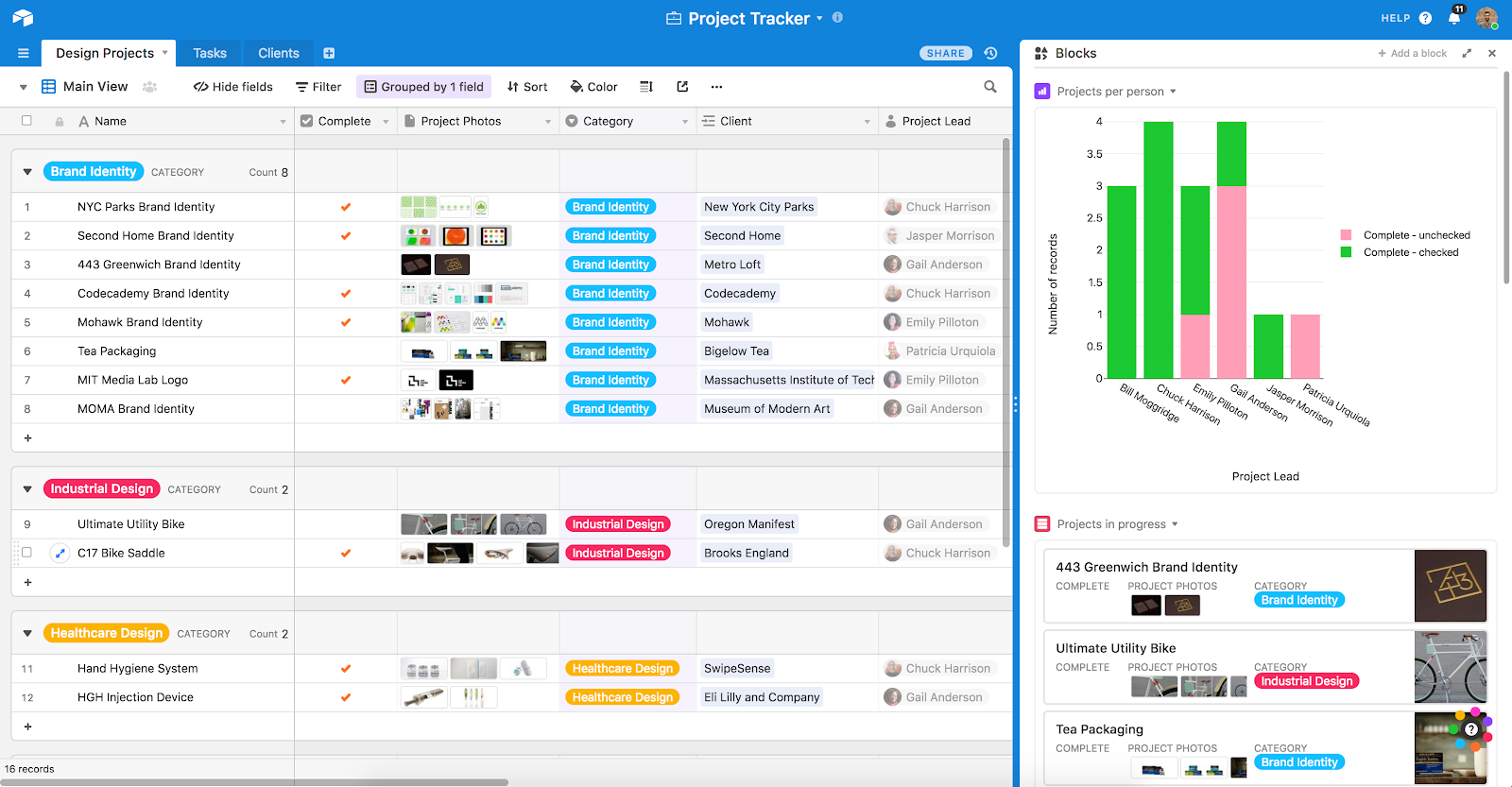 Asana combines elements of project management, file storage, and collaboration and helps to manage projects across a team without the need for endless email threads.
Top features:
Break your work down into projects and tasks
Share projects with your team
Assign tasks to team members
Get notified of projects updates
Use a mobile app to access Asana from everywhere.
What's special about this tool: Asana is an easy-to-use tool perfect for small teams with not too complex projects.
Pricing: Free for up to 15 members, Premium from $10.99 user/month
Check out this Asana alternative!
5. Celoxis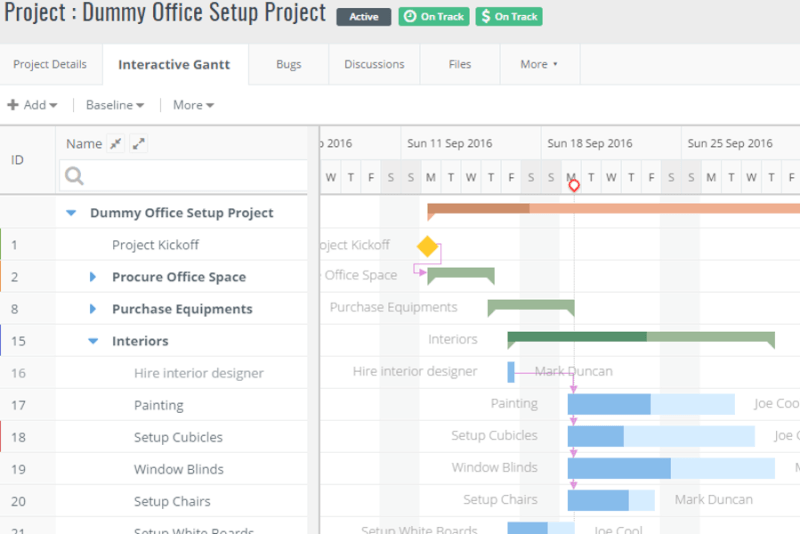 Celoxis offers comprehensive project portfolio management software for enterprises.
Top features:
Advanced scheduling
Interactive Gantt charts
Project tracking
Financial management
Reporting analytics
Different custom field types
What's special about this tool: Celoxis offers both SaaS and On-Premise options for teams based on their specific needs.
Pricing: From $21.25 user/month for cloud solution, $450/user for on-premise solution
6. Bitrix24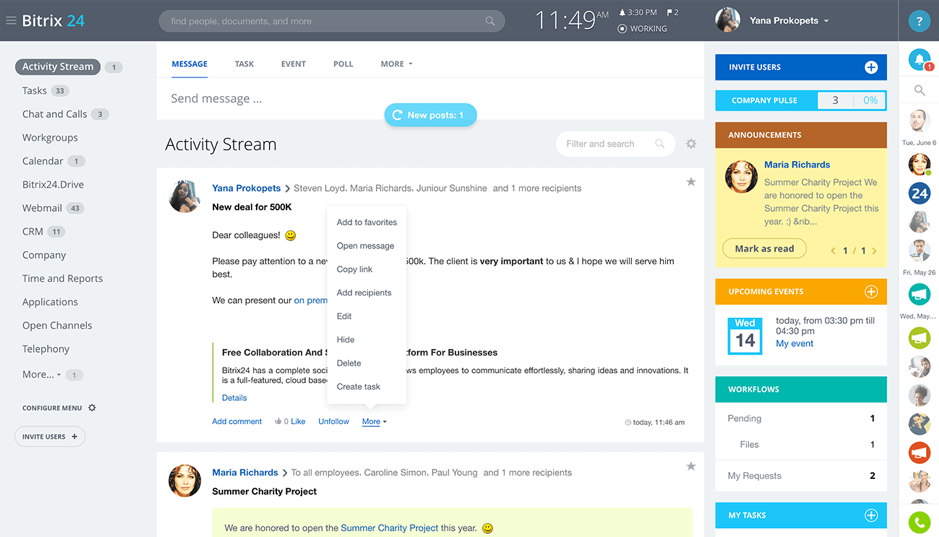 Bitrix24 offers a complete suite of social collaboration, communication and management tools for your team.
Top features:
Social intranet for internal communication
Gantt charts
Employee workload management
Customer relationship management
Telephone integration
What's special about this tool: Bitrix24 has a broad set of features, from traditional project management to integrated telephone and HR system, or internal email.
Pricing: Free plan, paid plans with more storage from $48.30 per month
Everything about your business, one click away
Project Management Software
In case you are only looking for an excellent project management solution, then it might be worth your time to check out the following alternatives.
7. ZOHO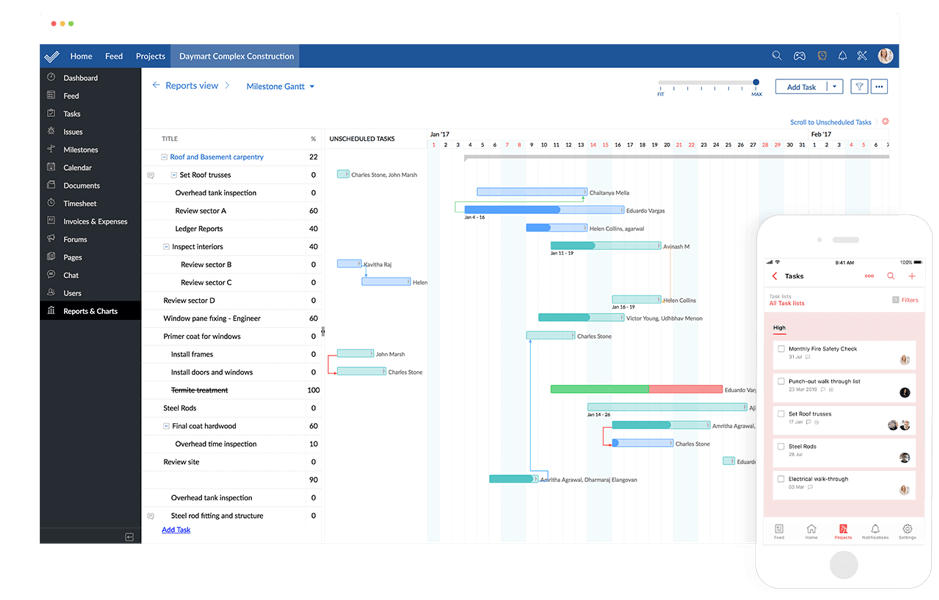 Zoho project management software equips you with all the tools you need to create, collaborate, and communicate with your teams.
Top features:
Manage and organize projects with milestones and task lists.
Manage files in the cloud from your phone or tablet
Collaborate seamlessly with your team and clients with the collaboration tool.
Use Gantt chart for a better overview.
What's special about this tool: Zoho projects can be integrated with other Zoho bundles such as CRM, Finance, and Recruit for better work management.
Pricing: Free plan available, paid plans from $24 user/month
Check out these Zoho Alternatives for business management!
8. Microsoft Project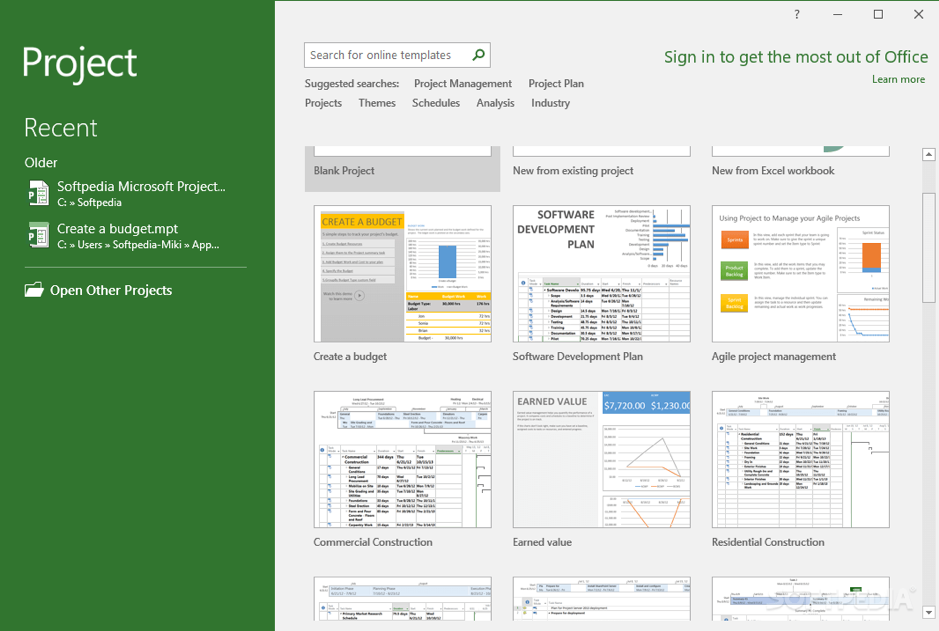 Microsoft Project helps to streamline the project, resource, and portfolio management. Integrated planning tools help you keep track of projects and stay organized.
Top features:
Project scheduling & costing
Resource management
Reporting & business intelligence
Built-in project templates
Project timelines
What's special about this tool: Microsoft Project provides you with templates and shortens the time you spend on putting things in place.  
Pricing: From $8.25 a month/user
9. Teamweek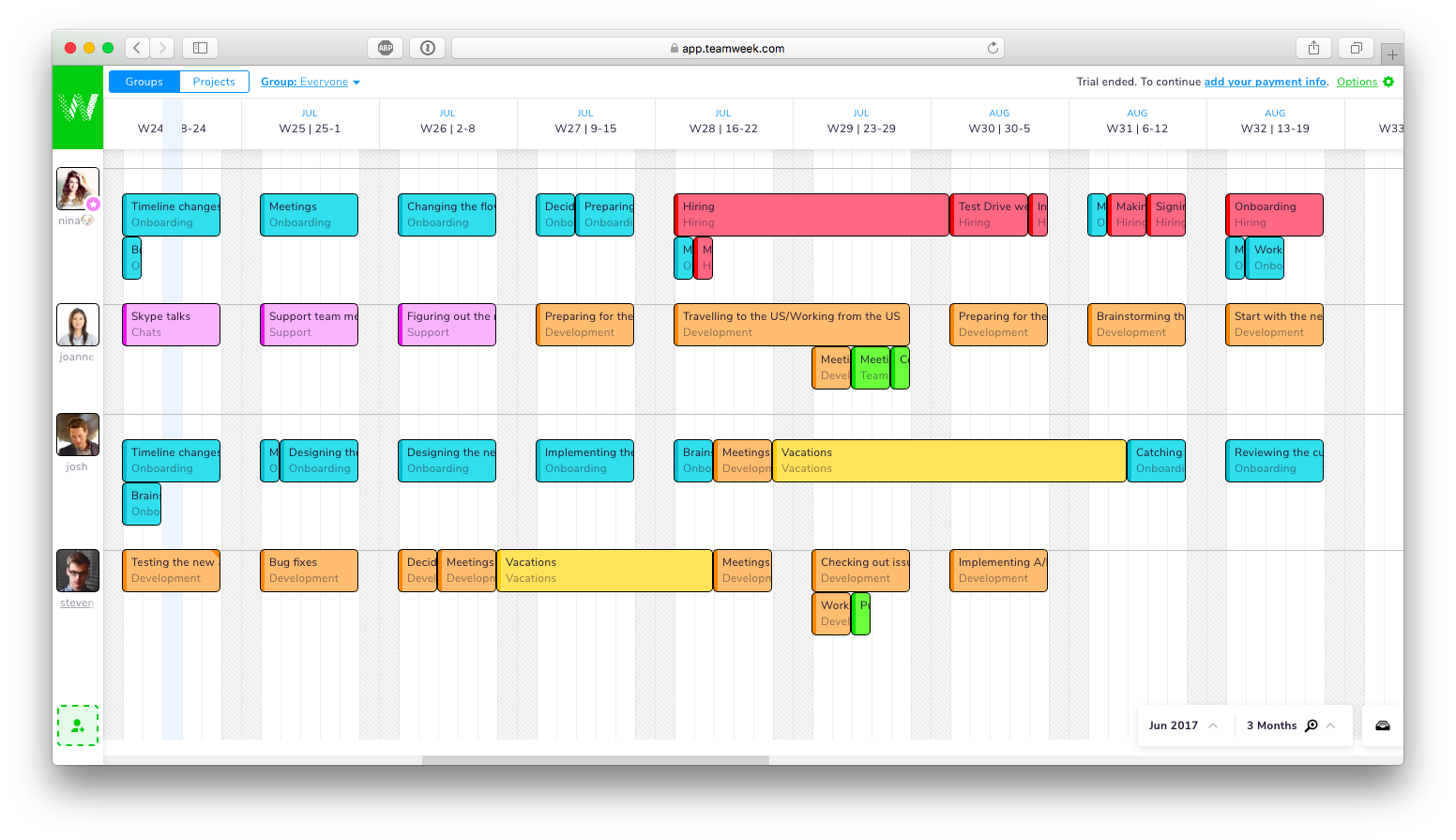 Teamweek is a timeline-based project management tool that gives a quick and accurate overview of your team's work and upcoming projects.
Top features:
Simple Gantt-chart interface
Shared calendar for scheduling upcoming tasks and meetings
Overview of your team's schedule to deliver projects on time
Drag-and-drop task management
Forecasting for new clients and projects.
What's special about this tool: Teamweek serves as an add-on to more comprehensive project management tools, making time-scheduling super easy. 
Pricing: Free plan for up to 5 people, paid plans from $35/month
Read on: Potential Pitfalls in Software Adoption – And How to Avoid Them
10. Insightly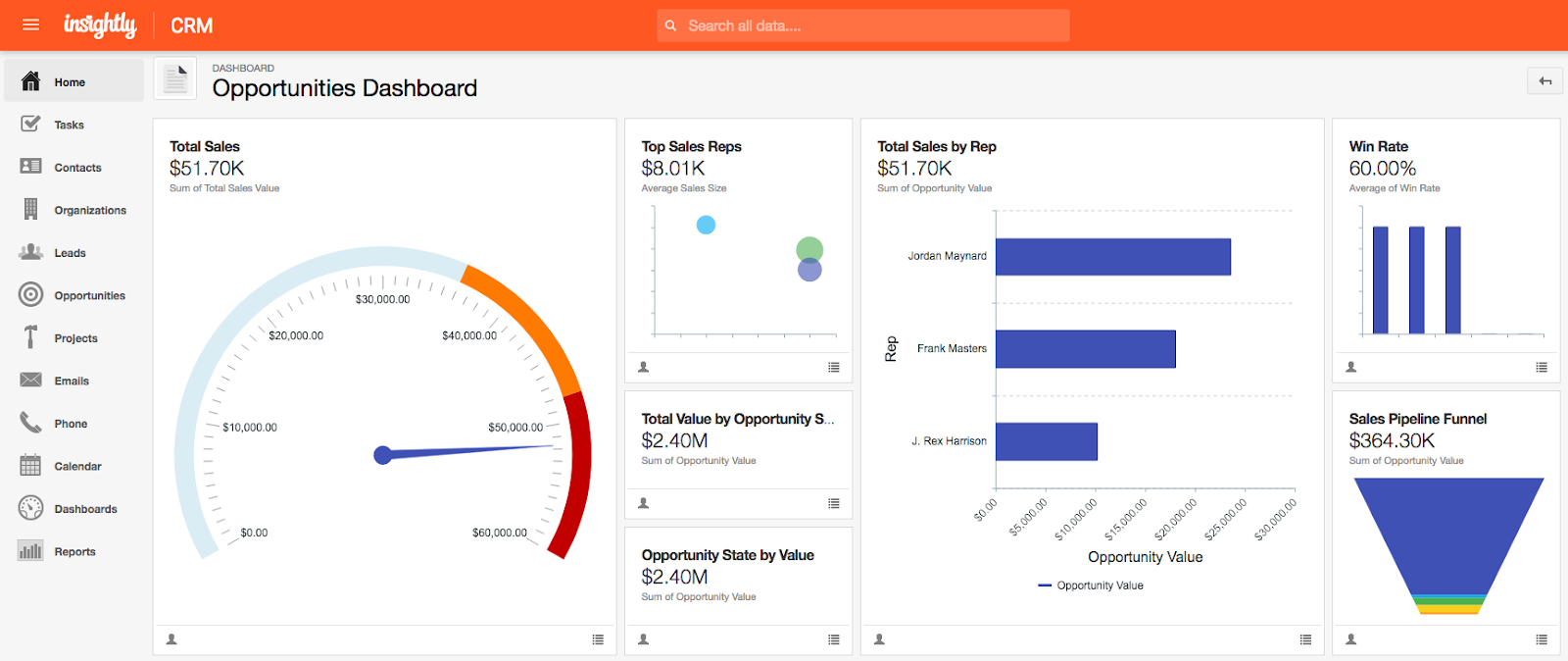 Insightly is first and foremost a CRM tool for teams that includes a set of different project and business management features.
Top features:
Manage leads, contacts, organizations, partners, vendors and suppliers
Track project activity and performance against milestones
Look at your business with task dashboard, activity sets, reports, etc.
What's special about this tool: Insightly CRM is tailored for any level of experience – from first time CRM users to sales experts.
Pricing: From $29 month/user for teams
11. JIRA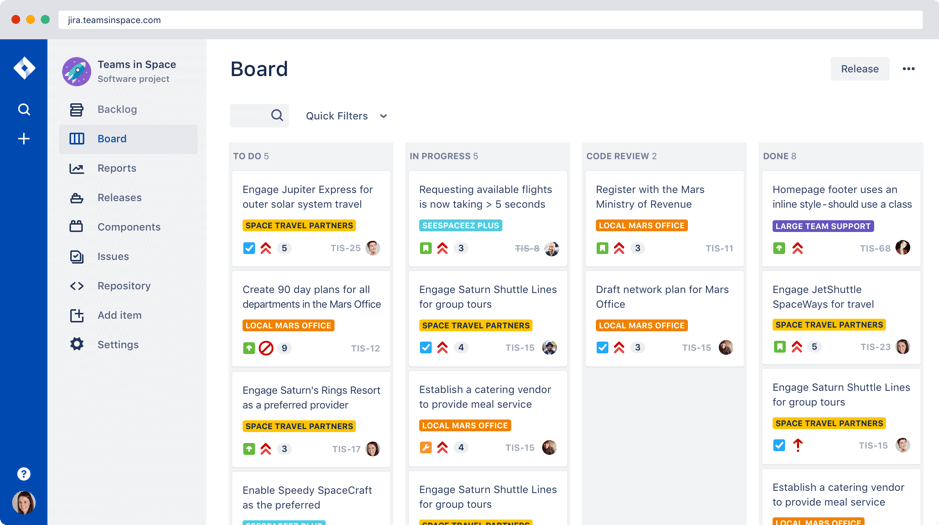 JIRA is a cross-platform issue and bug tracking software with advanced project management capabilities and features. 
Top features:
Create user stories and issues, plan sprints
Distribute tasks across your software team.
Prioritize and discuss your team's work
Centralize your team communication
See real-time reporting on your team's work
What's special about this tool: JIRA is designed for software development teams, making it the perfect IT project management tool.
Pricing: Starting from $8 per month (up to 10 users)
12. GanttPRO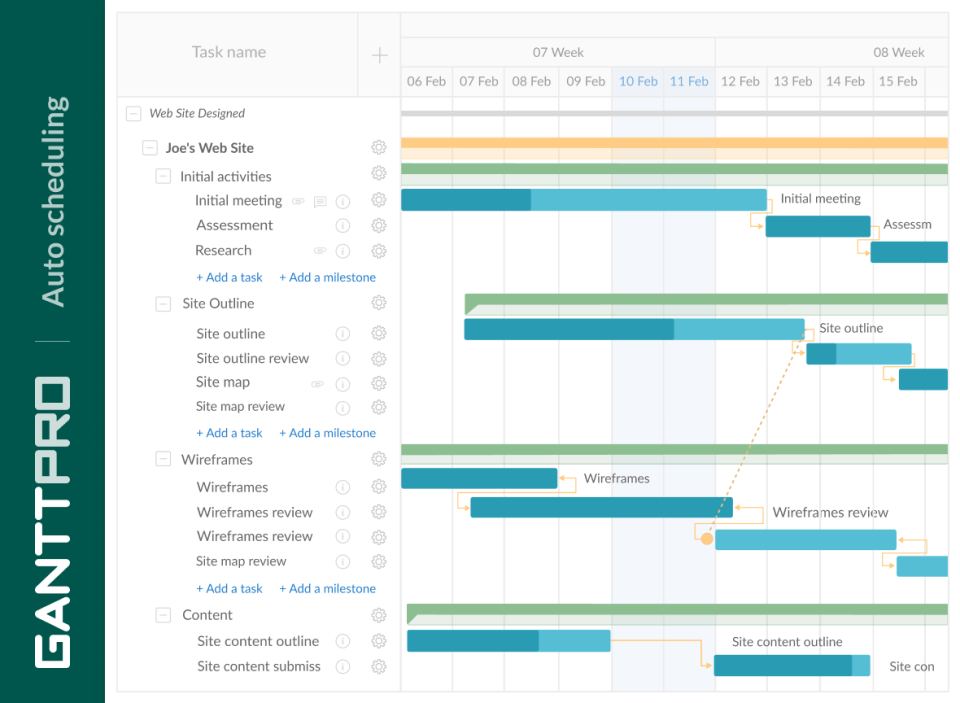 GanttPRO is a cloud-based task & productivity manager that expands on the basic premise of a Gantt chart, offering enhanced visualization and functionality that suits a variety of business processes.
Top features:
Deadlines and milestones
Bulk change requests
SSO/SAML sign-on
Multi-factor authentication
What's unique about it: GanttPro offers an intuitive timeline visualization, so you never lose any detail.
Pricing: Free version available, paid plans from $8.90 user/month
13. Paymo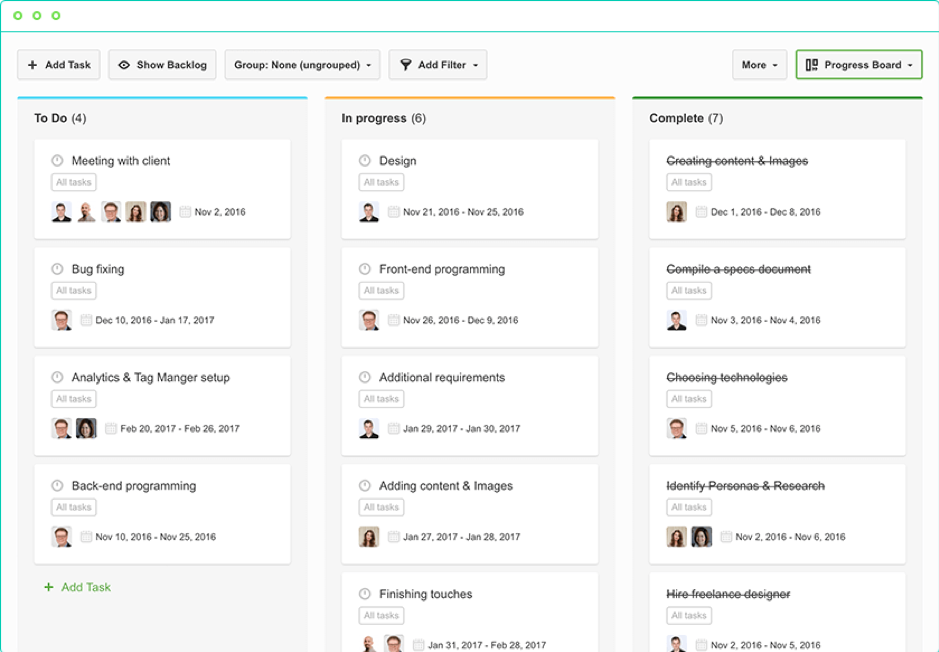 Paymo offers a simple yet powerful tool bringing together project management, work reporting, and time billing.
Top features:
Billing customers for completed tasks
Dashboard to see your team's performance
Integrated project accounting
Tracking the time spent on tasks and projects
Thorough work reports 
What's special about this tool: With Paymo Plus, you can automate your time tracking completely. All you need to do is download the desktop app, let it track your PC usage, and at the end of each day, categorize all your time entries.
Pricing: Free and paid plans from $9.56 user/month
Collaboration & Team Management Software
These six alternatives add considerable value to teams that are looking for an effective way to collaborate with their team.
14. Basecamp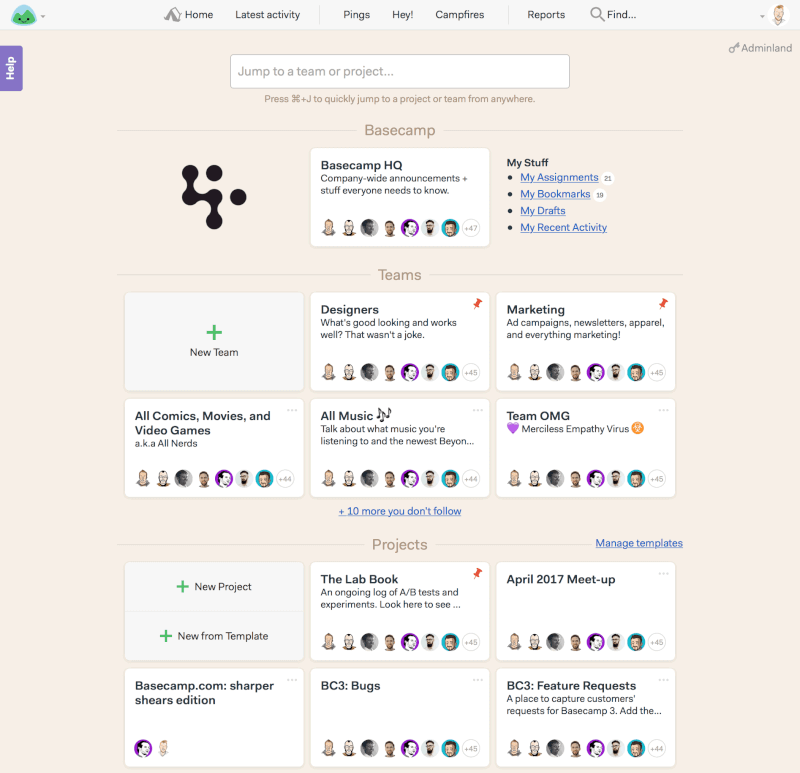 Basecamp is the preferred tool for project management teams who enjoy its modern social media-like interface and carefree team collaboration features.
Top features:
Projects to manage multiple users' work
Message boards for discussing new projects or ideas
In-app collaboration with the team
Reporting on project performance
Separate dashboard for showing to clients
Email and desktop notifications
What's special about this tool: Compared to many other project management alternatives, Basecamp doesn't charge you per person. It also has exclusive deals for teachers, students and non-profits.
Price: $99/month for unlimited users
Check out this Basecamp alternative!
15. Liquidplanner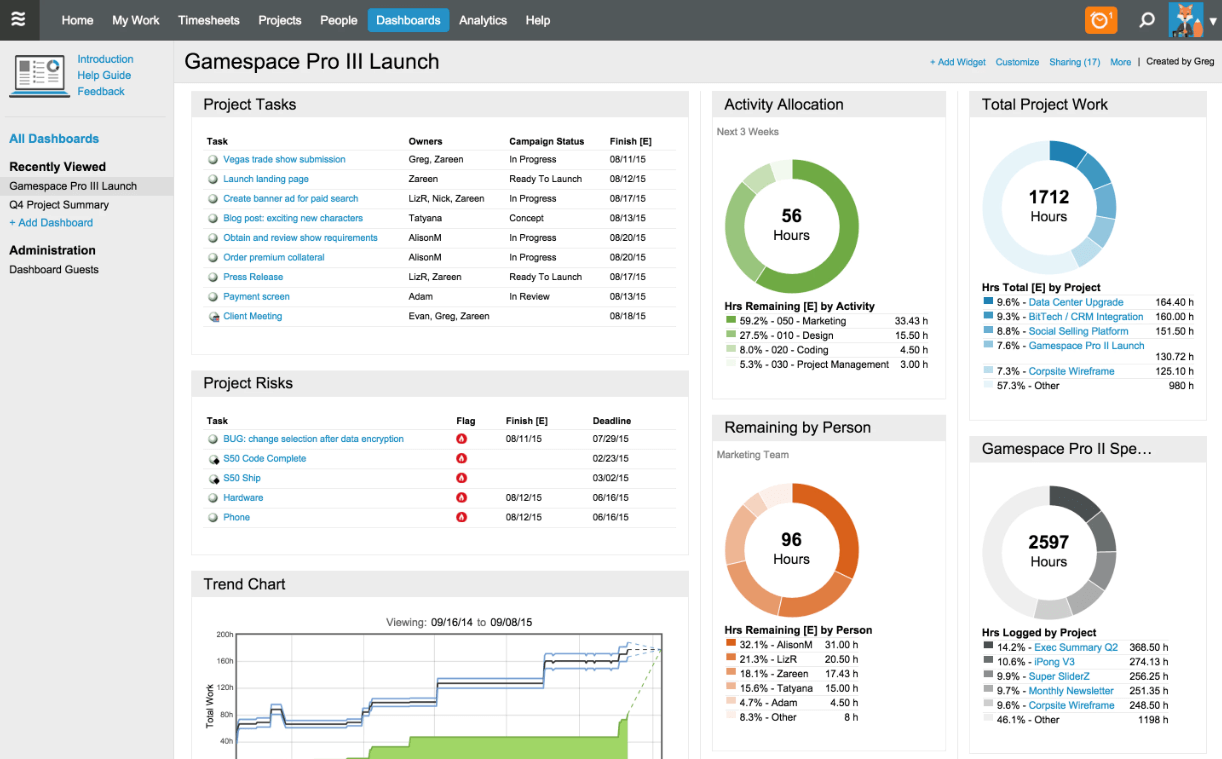 LiquidPlanner is a collaboration tool that combines project management and time-tracking, making it easier to communicate with team members and share ideas.
Top features:
Estimating a realistic range of time to complete tasks
Commenting on tasks and schedule
Task-specific collaboration boards
Resource management/scheduling screen
Adding notes to projects
What's special about this tool: LiquidPlanner has an interesting methodology for project management – it helps teams to set realistic deadlines based on best-case and worst-case scenarios.
Pricing: From $45 user/month (minimum 5 users)
16. Podio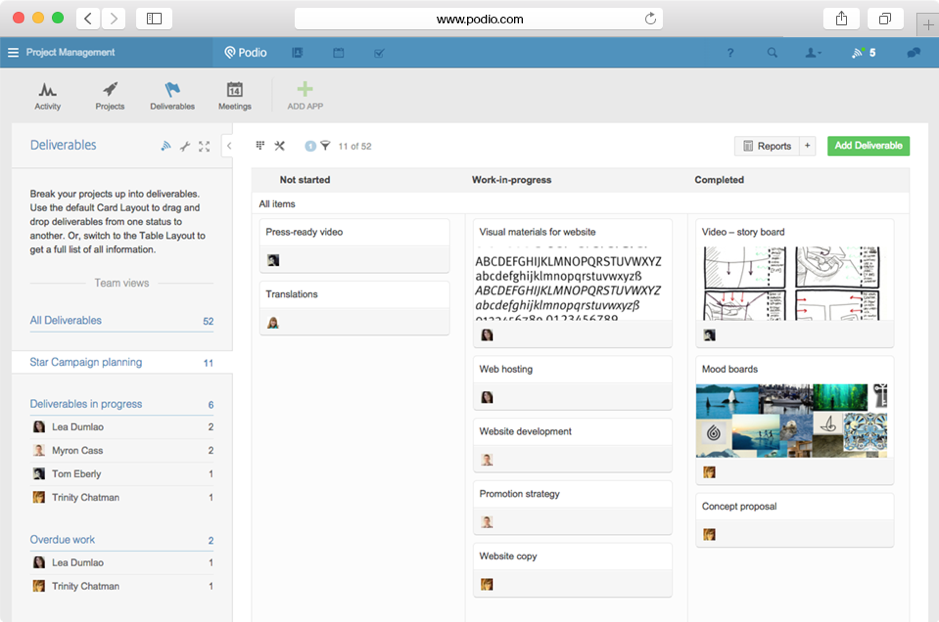 Podio is a flexible and highly customizable social work platform for work and team communication.
Top features:
Assign tasks, attach files and discuss details within the solution
Share encrypted & large files
Automate the sales pipelines, project budget tracking, and more
Get an overview of the company with visual dashboards
Automate your workflows
What's special about this tool: Podio enables you to add if-this-then-that logic to Podio apps. For example, instruct your app to create a task or comment, when an item is created, or a particular update is made.
Pricing: From 19.20$ month/user for a full suite of features
17. Slack
Slack is the perfect collaboration tool for teams who need to be in constant communication.
Top features:
Team communication and chat
Integrate with Google Drive or Dropbox to share files
Set up reminders
Highlight words to be notified as they appear in conversations
Use @everyone tag to send a message to the entire team
What's special about this tool: In addition to popular chatting features, Slack has many shortcuts and hacks that help to increase the productivity levels of your team collaboration.
Pricing: Free plan available, paid plans from $6.90 user/month
Read on: Team Collaboration Mistakes and How to Avoid Them
18. Avaza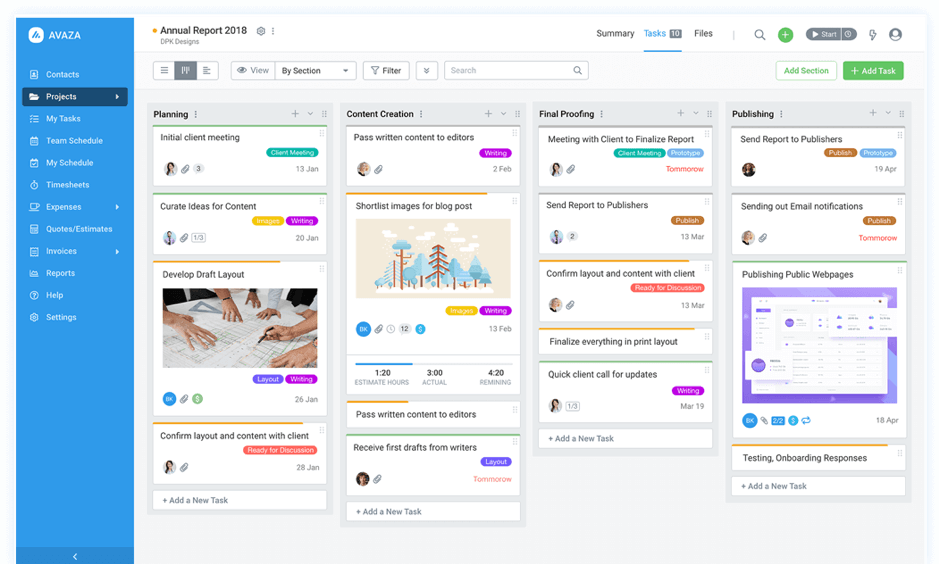 Avaza is a simple project management tool that lets you collaborate on projects with both your team and customers. Besides, you'll be able to track your time and bill your customers.
Top features:
Task management on a cardboard-style interface
Automatic task reminders
Flexible time tracking and timesheet approvals
Sending quotes & invoices in moments
What's special about this tool: Each project in Avaza has a user-friendly email address. Simply forward emails from your Avaza-registered email address to instantly convert these into tasks.
Pricing: Start free with up to 5 projects, $39.95 for unlimited projects
19. ActiveCollab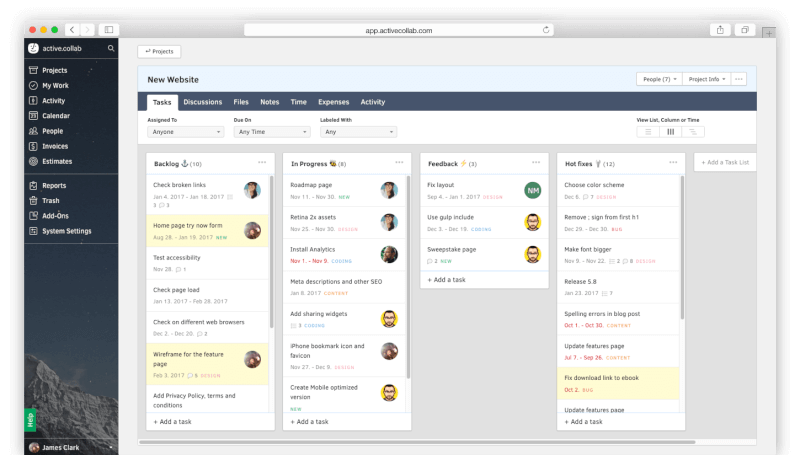 ActiveCollab is a project management and collaboration tool that helps your team stay organized in your daily work.
Top features:
Time tracking and invoicing
Gantt-like timeline for planning
Kanban cards
Creating tasks with multiple users and deadlines
A shared team calendar for collaboration
What's interesting about this tool: ActiveCollab includes many beneficial collaboration features such as file sharing, subscriptions, reminders and project notes, real-time communication and discussions. 
Pricing: From $6.25 user/month for annual billing