Product
May 2017 Version Update: Improve Your Work Results With Scoro's New Features
RECENTLY WE'VE BEEN ON A ROLL – something new and exciting has been cooking and we just have to share a bite.
We decided to build a new Purchases module to Scoro. In addition, a state-of-the-art (not to mention truly useful) pipeline report, a brand-new ratio metric, and a number of smaller, as beneficial tools.
Hungry for more? Read all about Scoro version 17.2.
Pipeline Report
We've created a brand-new pipeline report that'll easily become THE tool for every stellar salesperson. This report gives you visibility into the future of your sales funnel.
Set a probability percentage for quotes under each status in your sales pipeline. When creating a new quote for a customer, also set an estimated closing date for the quote – how soon you think you'll be able to close the deal.
Based on the probability percentage multiplied by the quote sum, the report creates a simple overview of your estimated sales results. Now you can be so much better at forecasting and you'll always know whether there are enough opportunities in your sales pipeline. That way you can effortlessly stay on track (even better, far ahead) and make sure your business is running smoothly.
Advanced pipeline management is included in Scoro Premium and Ultimate packages.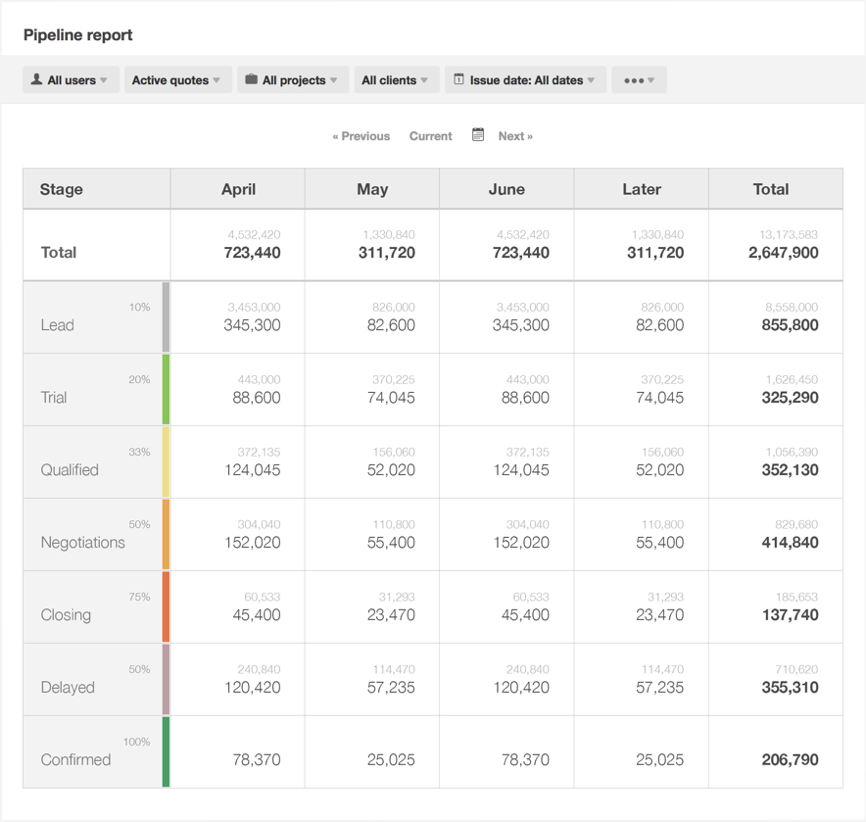 Ratio metric
You can now add another valuable metric to your dashboard. Instead of keeping an eye on just one or another KPI, compare valuable data in one metric that says it all.
Just calculate the ratio between the numbers of interest and compile their results in one dashboard metric. Set a benchmark and see how you're doing. For example, compare billed time vs total time spent on specific tasks. Or, see your client meeting success rate by viewing side by side the number of meetings held and contracts signed during a certain period.
Benefit from these smart metrics – find out, which areas could use some improvement and make the needed changes. Simple as that!

Purchases
Over time, there have been many requests for a tool that would make purchase tracking in Scoro simple and fast.
The new Purchases module in Scoro allows you to turn a quote, confirmed by your customer, into a purchase order for a supplier with just a couple of clicks. A purchase order clearly states the types, quantities, and agreed prices for products or services.
Keep track of exactly what you've already ordered and how much each product costs, how many units you're still waiting to receive and how many more you need to purchase.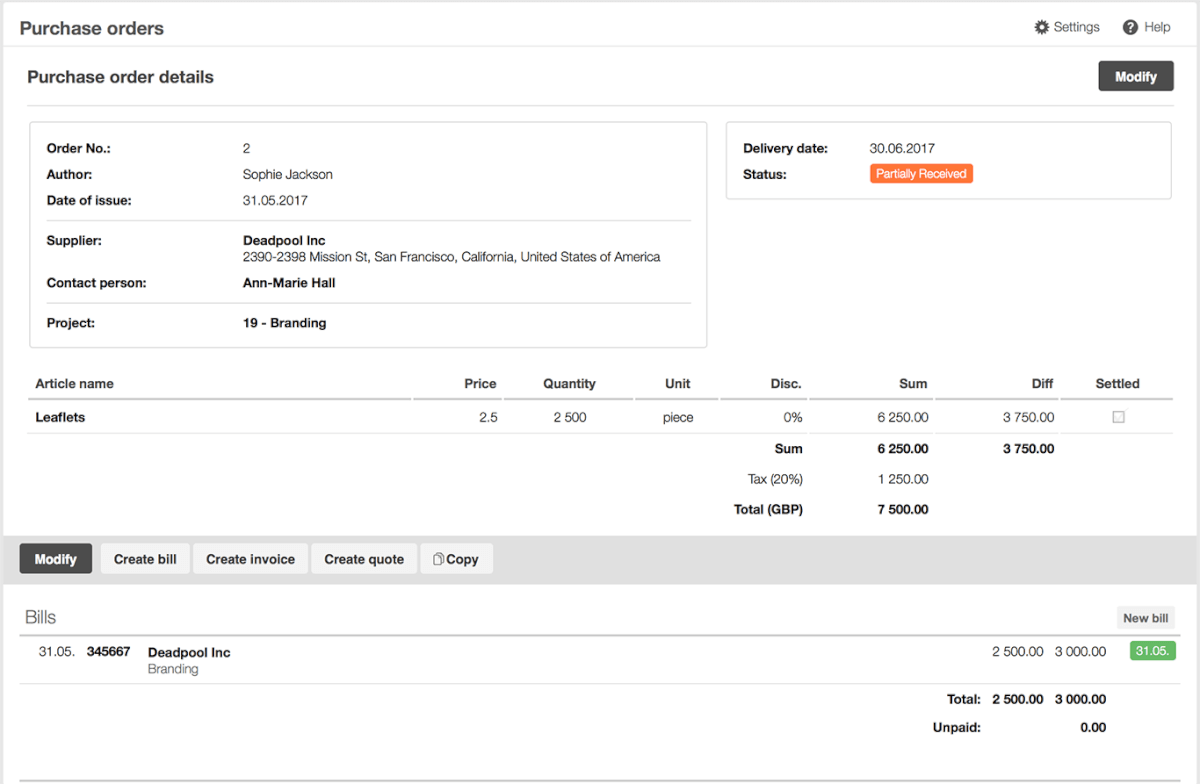 Work and Projects Settings
Work management is the heart of Scoro. For some reason, we've kept multiple very (yes, very!) important settings under Calendar and Task settings.
Well, we decided they are quite essential and need to be out in the light, where they easily catch your eye. So, we've relocated these settings under the name Work and projects.
Coming soon
Dashboard and bookmarks library
Google Docs integration
Zapier integration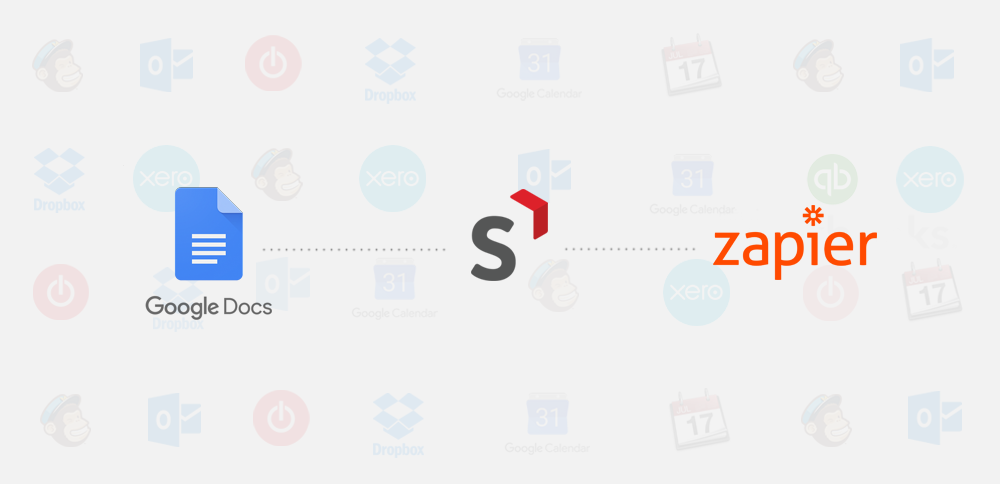 We're all about work in Scoro. Want proof? See the full list of updates in version 17.2:
Tasks
Task list. "Time spent", "Duration" and "Progress" columns added to the task list. "Time spent" column shows the total duration of time entries marked as Done. The "Duration" column shows the actual planned duration of the task. The customizable Progress column shows a mini progress bar on every task line, so you can see how far along a task is without having to open the task.
Mass commands added with the possibility to mark tasks as Done in the task list and choose the correct date. So far, the task was marked as Done with today's date.
We improved the filtering and grouping options of the task list.
Task board. Possibility to add a time entry to a task from the task board, no need to open the task.
Smart inbox. A new setting under Settings > Calendar and Tasks > General. If the checkbox "Use activity confirmations" is ticked, you can also tick the option "Mark tasks sent through smart inbox as confirmed". As a result, tasks sent to task list through Smart inbox are confirmed by default.
Task bundle + recurring tasks. Possibility to use custom fields added by a user to their Tasks module. So far, when adding tasks to task bundles, or creating recurring tasks, there was no option to use the custom fields already added to the Tasks module.
Time entries. A new, clear overview of time entries in the task view.
Notifications. When the person responsible for a task is changed, the user who used to be responsible (and the new user, for that matter) now gets a notification about the changes.
Work
Quote to tasks. Visual improvements to the "Quote to tasks" flow, which makes the feature all the more natural to use. Plus, you are now able to change the person responsible for the task. We also added checkboxes to quote lines, so you can now pick and choose, which services on the quote you wish to turn into tasks for your team.
Calendar. Addition to recurring events times. "Half year" added to the list of date ranges.
Projects list. Mass commands added with the possibilities to:
Assign a project manager
Add members (also includes "Remove other members" that removes all members except the project manager)
Assign tags (also includes "Remove all tags")
Assign status
Assign deadline
Add task
Add task bundle
Planner. Possibility to edit time entries right there in the Planner when they're already scheduled. Until now Planner didn't show other user's tasks if a user didn't have the right to modify other user's tasks/time entries. Now, a user without the right to modify can still see everyone's tasks in the Planner.
Comments. Possibility to drag and drop pictures under comments, instead of attaching the picture files. Plus, you can now also reply to sub-level comments.
Billing expenses. You can now also bill the customer for the expenses made in addition to the time spent on a project.
Detailed work report. Possibility to display non-billable hours. So far, only planned billable hours and billable hours were displayed.
Utilization report. Now, the report always shows full time – hours and minutes. So far, time was floored in the report, so the result wasn't as exact as we would have liked it to be. We also added a tooltip when hovering over the bars in the report to make things even more clear.
Sales & CRM
Standard quotes: PDF preview. We've added the possibility to see what the quote will look like with your logo, different fonts, etc. PDF preview button added to standard quotes.
Scheduled invoices. An option to set an accounting period to scheduled invoices. The time period is calculated from the invoice date.
Quotes. Quotes can now be marked as Completed in any stage. So far, quotes needed to be marked as Confirmed to do so.
Finance
Subheadings. We've replaced the "Duplicate" button on sales documents with a Plus-button with three options:
"Add subheading" – a new subheading row is created above the current row.
"Add row" – a new empty row is created below the current row.
"Duplicate" – a new product row is created below the current row with all the information pre-filled based on the current row.
Also, it's now possible to add a comment to a subheading.
Invoice reminders. We've added a dynamic field "Total unpaid sum from overdue invoices", that takes the total unpaid sum of every overdue invoice into account.
General
Dashboard. Possibility to use new bookmarks on the dashboard:
Budget report for individual users
Margin report
Sent items
Files
You can now display all relevant columns in the tasks widget in addition to the name and duration of a task.
User initials. We've limited user initials to three letters. Honestly, it just looks better.
Settings. "Day" is now a default system unit. This means you can now set how many hours one working day consists of. This logic also works in "Quote to Tasks" – when using the unit "Day", it's automatically converted to relevant hours.
Product filter. We've limited the product group levels to four. This helps to keep your product base more clear.
Photo galleries. Galleries are going on a well-deserved rest. We're keeping all your galleries active for another six months, so there's plenty of time to make copies of all your photos.
Okay, it's time to go and see the new version of Scoro for yourself!
We do our very best to make Scoro better every day, so we really appreciate your feedback. Let us know what you think at [email protected].
Want to learn more tips to use Scoro to its full potential? See these guides:
Essential Hacks To Apply To Your Calendar And Task View
How To Improve Your Project Management With Scoro In Six Steps