Life at Scoro
Let's Join Forces and Bring Structure to Work
Scoro's aspiration has always been to design business management software that would gather everyone's business needs together into one powerful solution. With our product, we are powering toward a future in which teams are able to move away from fragmentation and work more efficiently together. We see the power in collaboration, and for that reason, we also want to partner up with you to bring Scoro to even more clients.
Today, we are excited to announce that Scoro has launched a new Partners Program. This program is designed for companies who understand the business and can guide teams to improve their workflow. Thus, whether you are a top-notch consulting, technology or an implementation service provider, we want to join forces with you and bring Scoro to even more businesses.
How can Scoro help teams to become proactive, efficiently manage resources and make better data-driven decisions? By eliminating the fragmentation that teams are currently facing due to shuffling between more than 10 different applications to get work done. Scoro combines these tools into a seamless end-to-end solution.
And whether it's for all the recognition and awards that Scoro has received over the years – or the highly personal customer communication – thousands of clients from more than 60 countries trust and use Scoro's business management software daily. They share our mindset and have different reasons behind opting for Scoro.
Everything about your business, one click away
See what our clients are saying:
"Scoro is ideal for all those companies that wish to take a complete order of the work of their employees and clients, as well as to carry out a detailed tracking of expenses."
"Scoro is the most intuitive and easy-to-use CRM system that gives you a global view of your sales situation. You can manage your customers, responsibility, projects and the team in a very interactive way. It works perfectly, and the support is excellent, worth a try."
"Scoro has allowed us to finally unify all aspects of operations on one platform. Its seamless integration from initial client contact to the final invoice. The UX/interface is natural and intuitive, and version updates always include a value-add."
"Cross-department integration has improved dramatically, as a consequence our efficiency has increased by leaps and bounds, we're able to move through production with greater speed and increase cash flow and profitability. All team members in all departments are continuously looped in throughout the life of the project and access to the right information at the right time is available to stakeholders."
Continue reading: UK Consultancy Saves 30% Time on Managing Daily Work
What is Scoro's partnership program?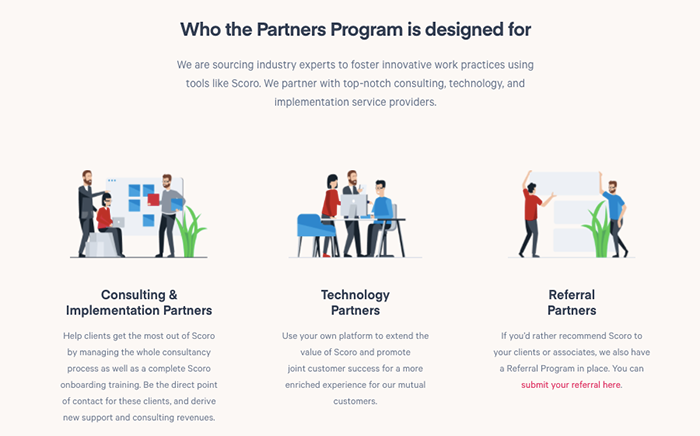 As a partner, you will play an essential role in helping teams bring structure to their work by providing sales, configurations, implementation, and training to your clients. Our partnership program comes with three different options, offering you the opportunity to act either as technology, consulting and implementation, or a referral partner.
Consulting & Implementation Partners – Help clients get the most out of Scoro by managing the whole consultancy process as well as a complete Scoro onboarding training. Be the direct point of contact for these clients and earn from your existing consultancy services on top of that.
Technology Partners – Use your own platform to extend the value of Scoro and promote joint customer success for a more enriched experience for our mutual customers.
Referral Partners – If you'd rather recommend Scoro to your clients or associates, we also have a Referral Program in place. Get in touch to learn more.
Why become Scoro's partner?
Whether you're considering a business partnership as a way to grow your company and revenue or to gain more exposure, Scoro's partnership is an excellent opportunity. We've quickly become front-runners in our sector, and we've a competitive edge over other software providers with our end-to-end solution.
Becoming Scoro's partner also comes with many benefits, such as training and support but also commission. To find out more about the benefits of joining, please visit our Partners Program page and get started immediately. You can also book a demo to find out exactly how Scoro is bringing more structure to every team.
Read on: