Work Management
21 Remote Team Management Tools & Software in 2019
Remote teams, made up of people in different locations around the world, are on the rise. A recent survey found that 34% of the business leaders said that more than half of their company's full-time workforce would be working remotely by 2020.
The appeal of forming virtual teams is clear. Working remotely increases productivity, reduces stress and is more cost-effective than working from an office.
But remote teams are hard to get right. It's hardly ever just about the WiFi connection. It's about the right leadership, the right team, and the communication between them. To make it easier for their employees to have flexible work arrangements, many companies are implementing new tools and resources to replace the office touch points with technology.
There is a variety of online tools available, helping you ensure that your remote employees are on track, assisting them to reach their top performance levels, and keeping the company culture alive.
Up next, you'll find 21 remote work management and team collaboration software, each improving your daily communication and performance.
Read on: Remote Work Is The Future – How Can You Benefit From It?
Scoro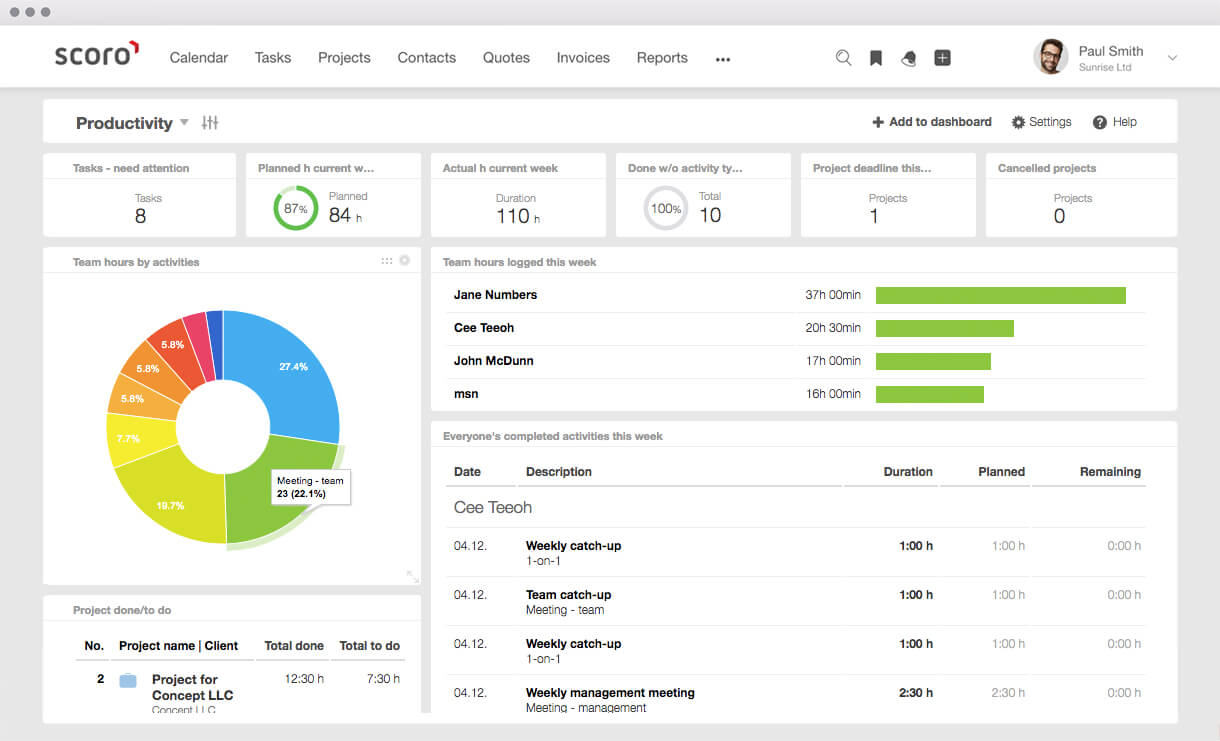 Scoro is an online work management software that combines the tools to help you manage projects, billing, sales, support, and even employee collaboration. Not only can you manage your remote teams at Scoro, but you can also run your entire business from home, at the office or on the road.
iDoneThis

iDoneThis lets you document your daily achievements, collects them from every teammate, and sends out a morning recap of all the team's happenings in your inbox. Tracking your personal achievements is as rewarding as staying in touch with your remote team.
PukkaTeam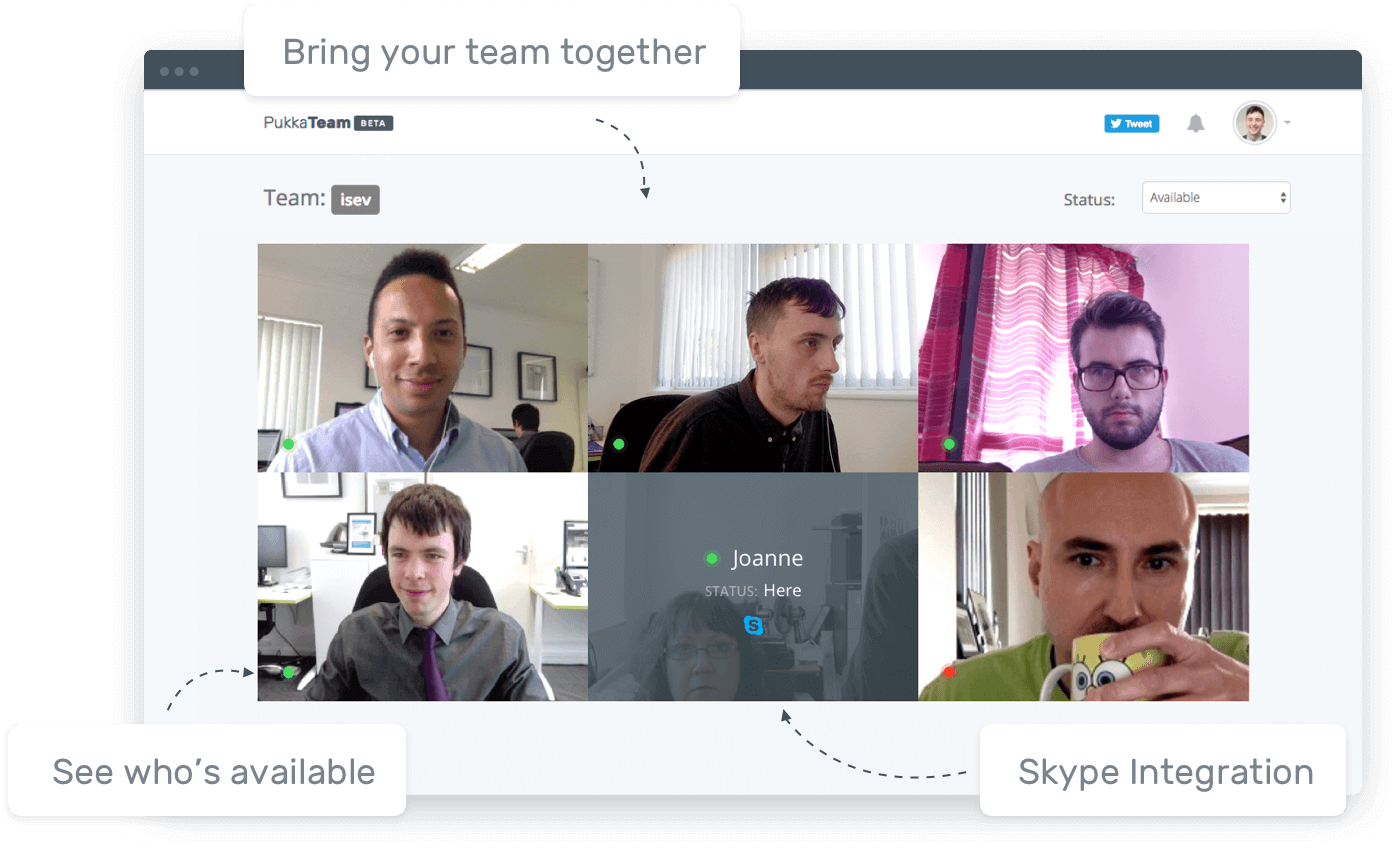 PukkaTeam is the virtual water cooler – a video chat tool that helps you stay in touch with your team by taking a screenshot of everyone every few minutes (or only when you feel like it). This way, your colleagues can quickly see what you're up to. It might seem like a strange tool, but PukkaTeam is less about the official communication and more about creating a kind of visual connection with the people you spend your whole day typing to.
Wunderlist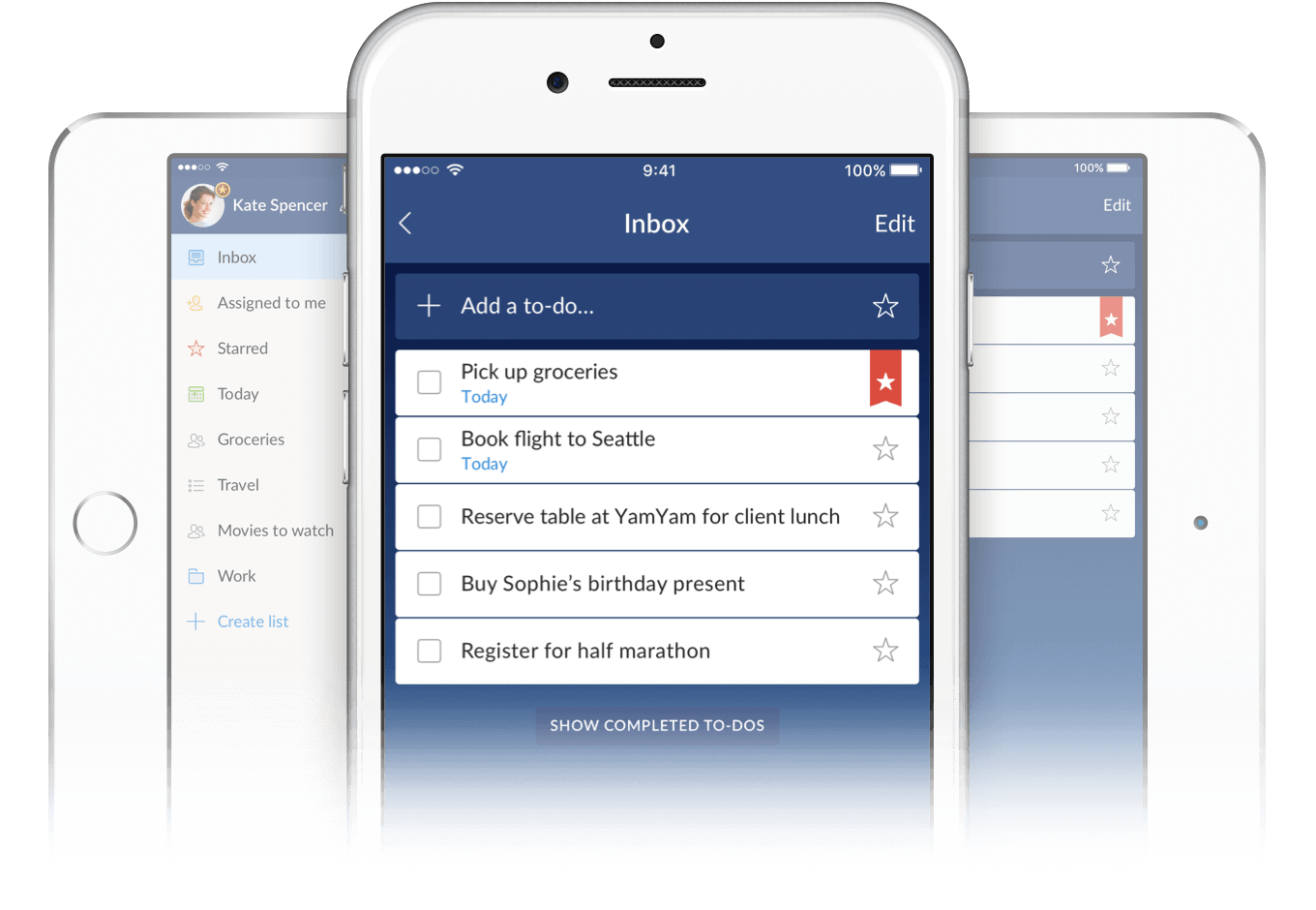 Wunderlist lets you set up and share personal to-do lists and reminders with a mobile and web app. You can add items in a snap and set reminders for each. And the name is a play on "wanderlust"—a desire to see new things and experience new places—which seems to fit quite well with the digital nomad lifestyle.
Read more: 12 Proven Tips for Effective Meeting Management
Google Hangouts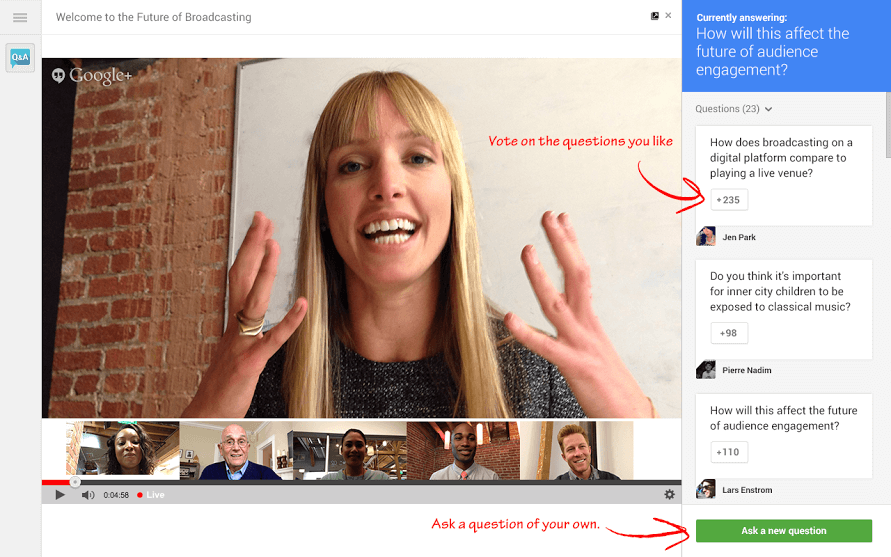 Google Hangouts brings conversations to life with free group video calls. Up to 15 people can gather on a video call and share their screens or their files.
Read on: 43 Best Project Management Software and Tools
Every Time Zone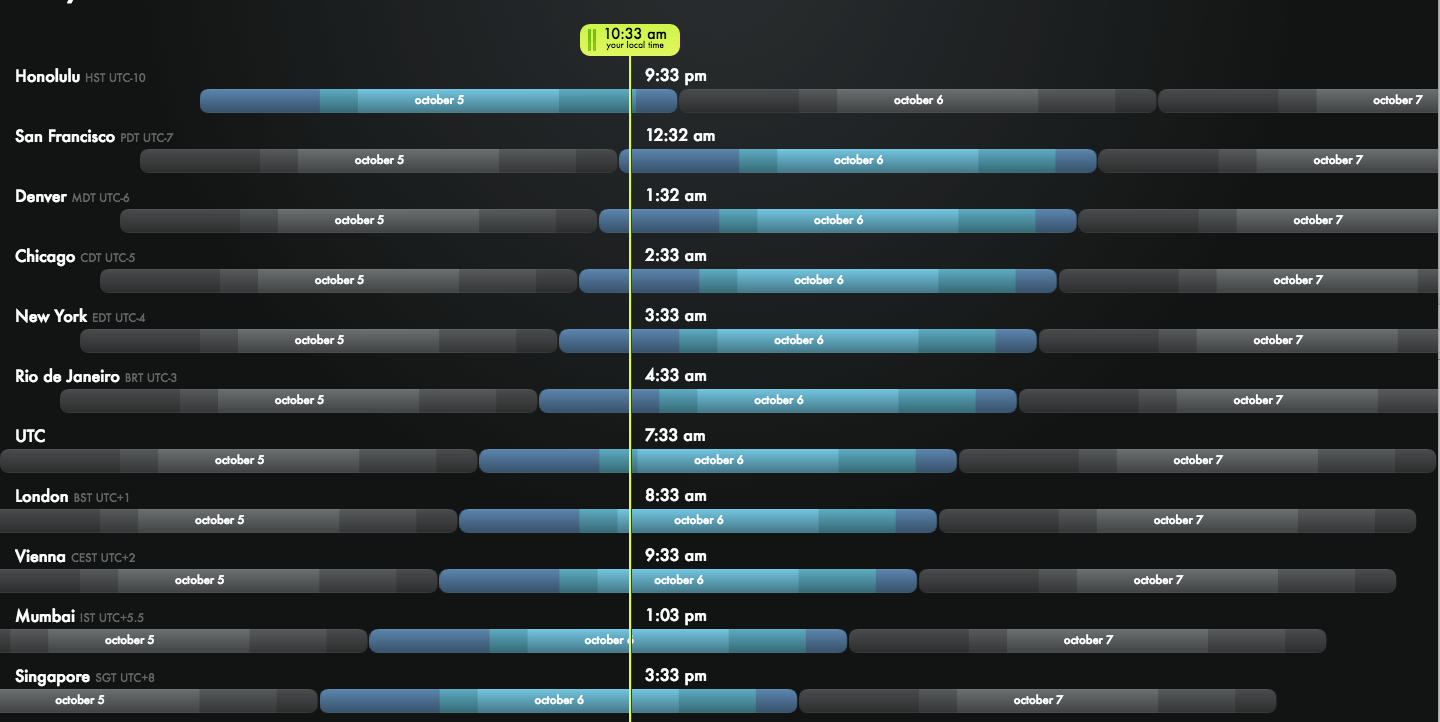 Every Time Zone helps you coordinate time slots across oceans and continents. Choose a time, and see where it lands in everyone else's day to gauge the right work hours.
ScreenHero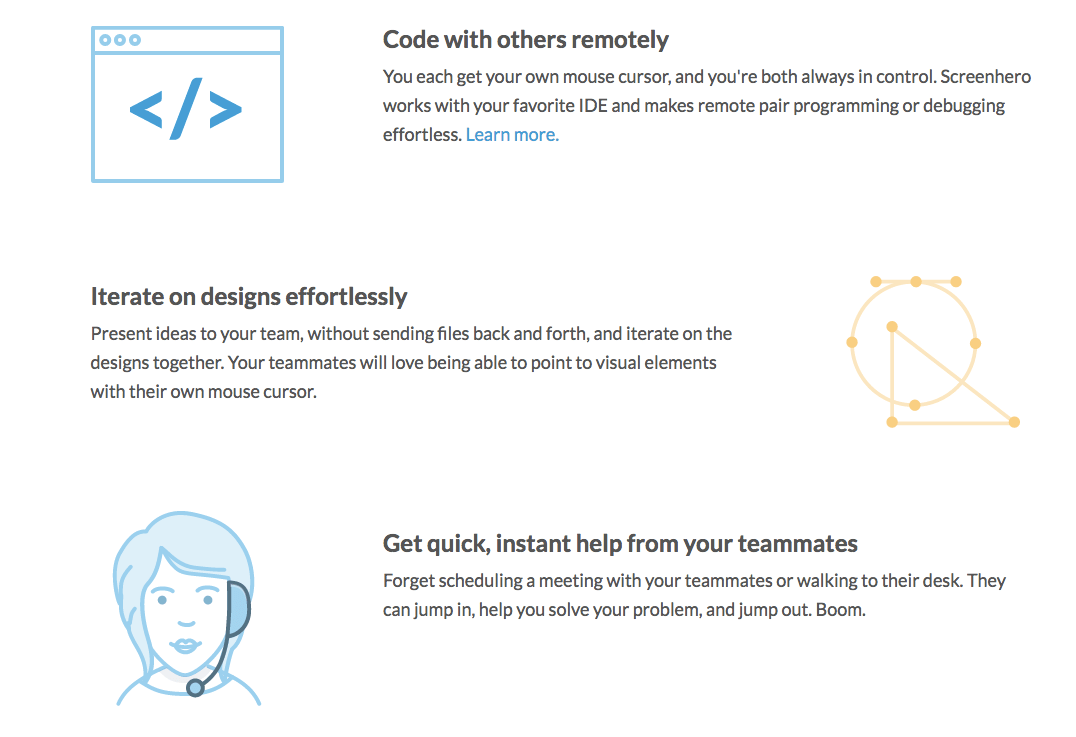 When you work in an office, you can pull someone over to your desk to take a peek at your screen. When you work remotely, you can use ScreenHero. Share your screen with anyone who needs the access, and save time on simply explaining something.
Slack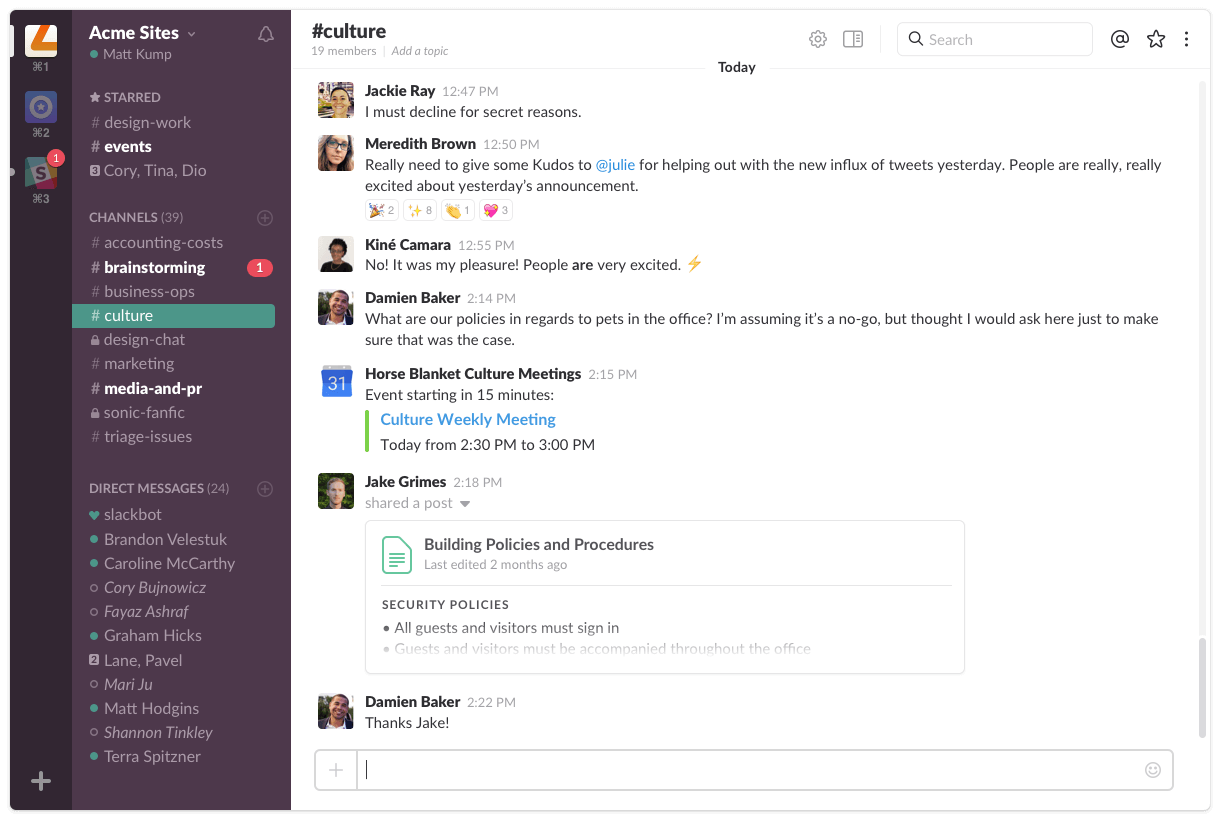 Slack brings all your work communication together in one place – it's the closest thing to a virtual office. It provides real-time messaging, archiving and search for teams. You can also sync all your other remote tools with Slack, so you receive all your platform notifications in one place.
Dropbox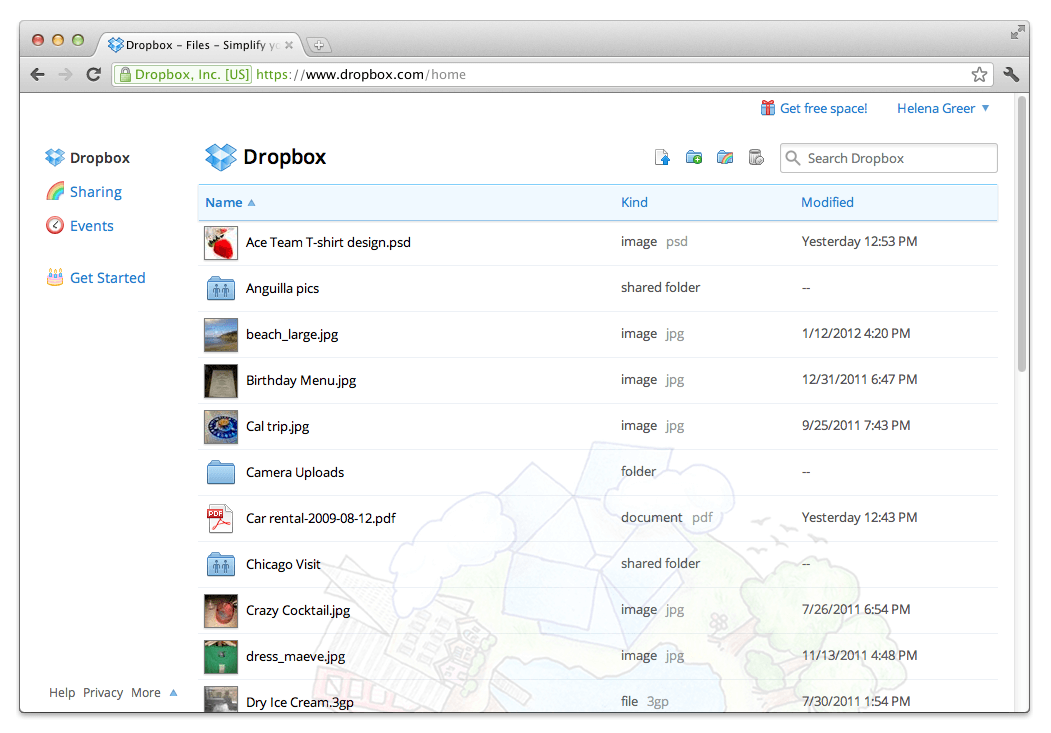 Virtual storage system for virtual teams. Dropbox keeps your files safe, synced, and easy to share.
Jell

Jell is like a social network for virtual teams. It offers one central place where team members can stay up to date with each other by sharing daily plans, accomplishments, challenges, and long-term goals.
GitHub Wiki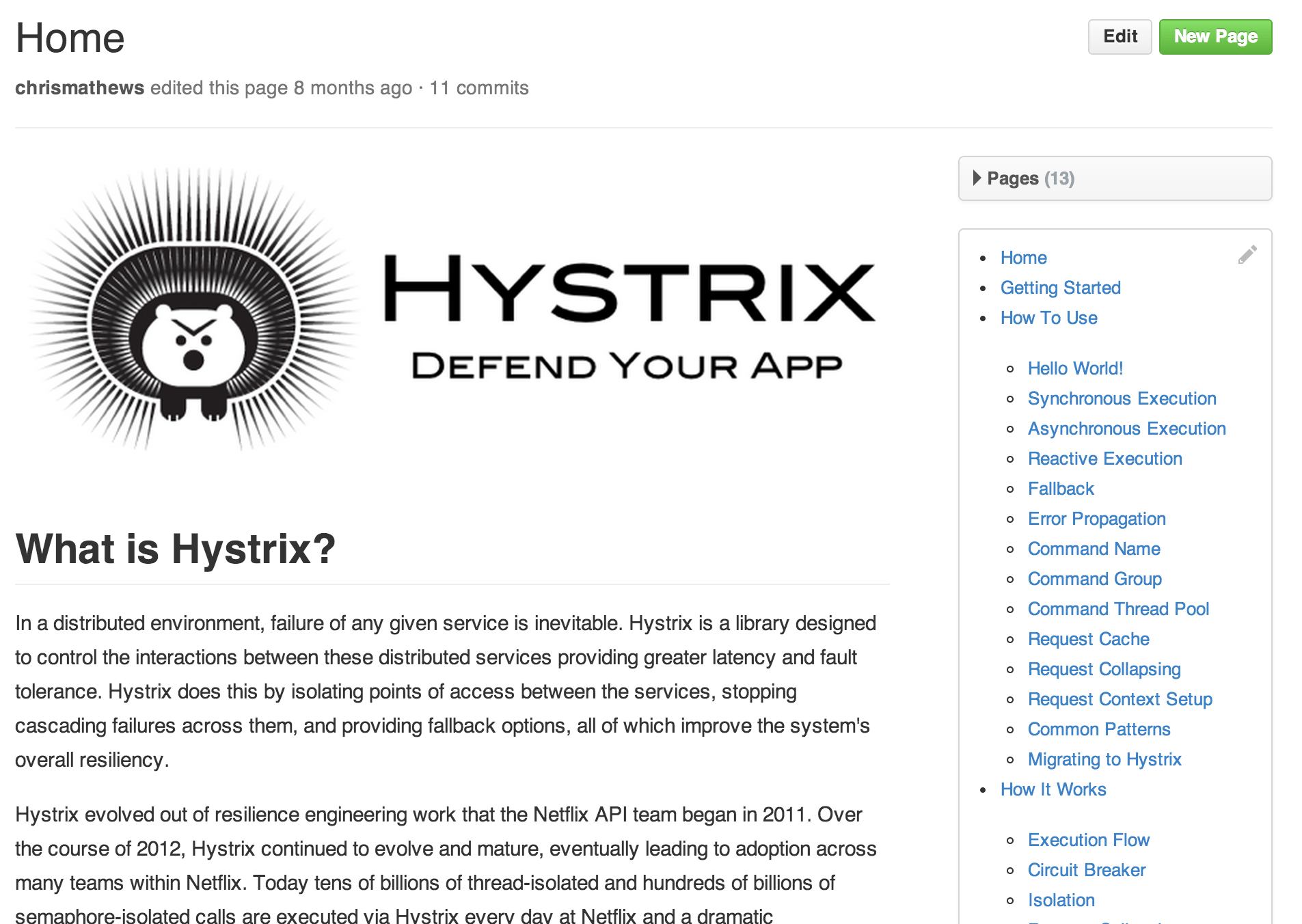 GitHub Wiki is a place in your repository where you can share long-form content about your project, such as how to use it, how it's been designed, manifestos on its core principles, and so on. It's a helpful resource for new employee onboarding.
Skitch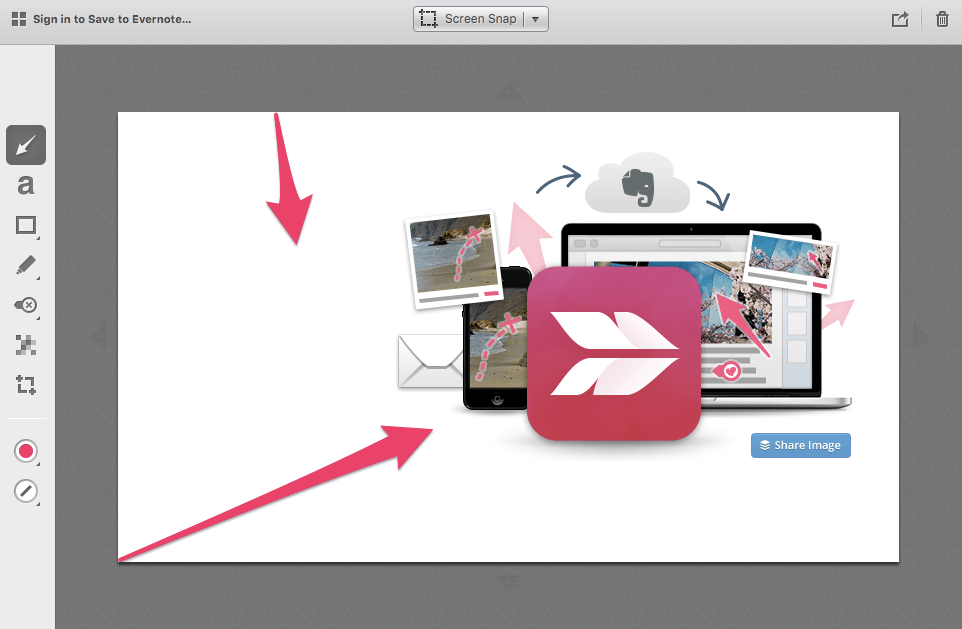 It's hard to articulate exactly what you mean when you're not standing face-to-face with somebody. Skitch lets you get your point across with fewer words using annotation, shapes, and sketches so that your ideas become reality faster.
Trello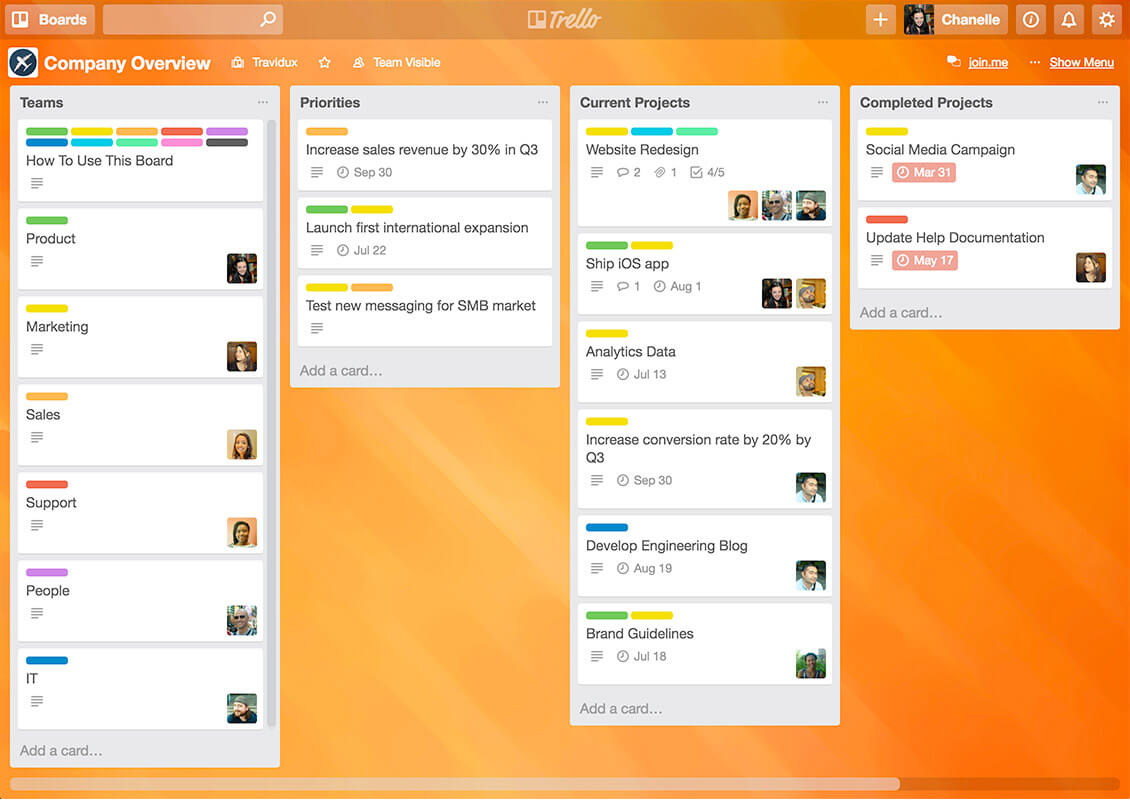 It's important to keep the flow of information about what's happening individually, on a team, and in the company transparent and available for everyone. Trello gives your team a perspective on all projects – from HR to marketing, to IT and beyond.
Check out this Trello alternative!
Pivotal Tracker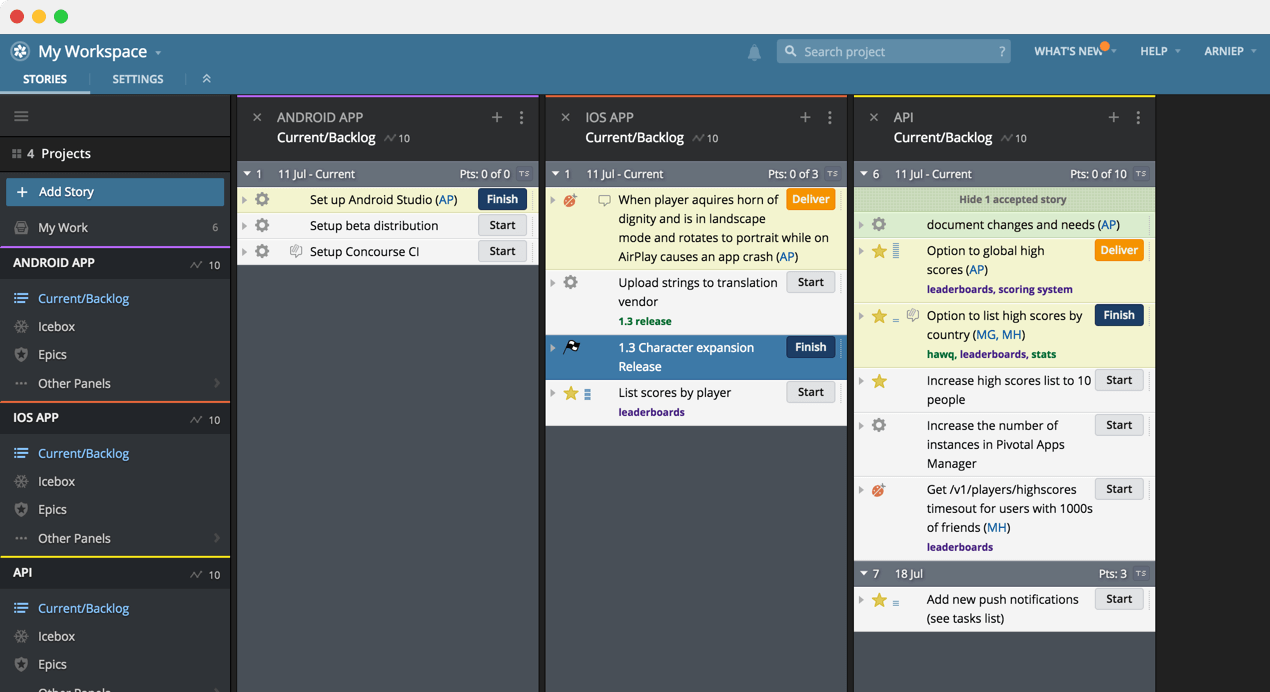 Pivotal Tracker is a lightweight, agile project management tool, ideal for software teams. It allows businesses to break projects down into small, actionable tasks that contribute to the completion of an entire project. This will ensure your clients' needs are fulfilled and encourage open communication.
Bubbl.us
Mind maps are great tools for a brainstorming process, making them even more valuable for remote teams. Bubbl.us lets you easily create colorful mindmaps to print or share with others.
Toggl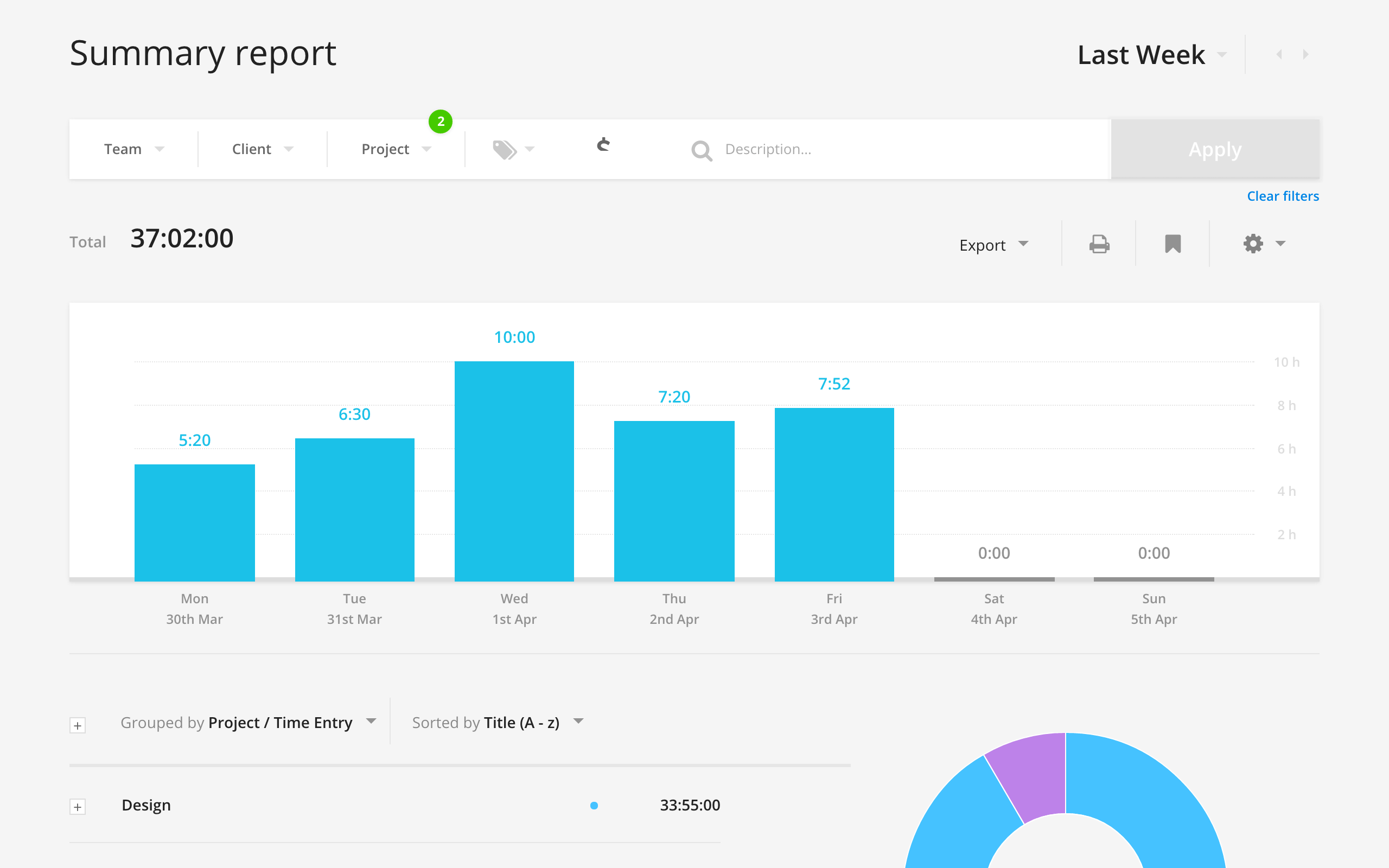 Toggl is a simple online timer with a powerful timesheet calculator. It will boost your team's performance by measuring the real time spent at work, with a possibility to assign different tasks or project to each period.
Read on: 16 Best Employee Timesheet Software for Efficient Time Management
Freshdesk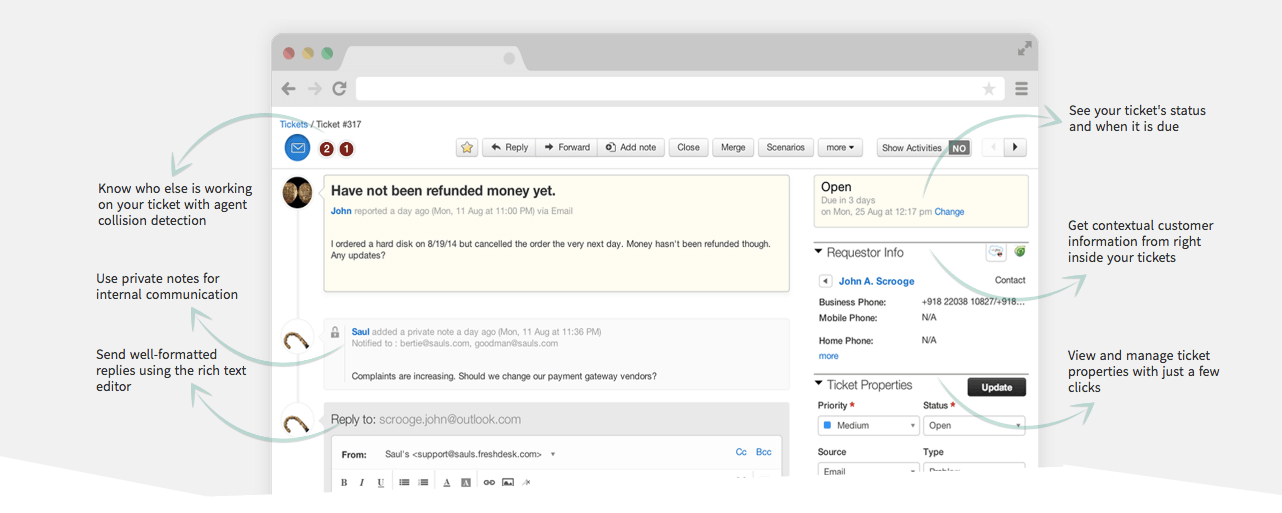 One of the greatest benefits of having a remote support team is the fabled "24-hour coverage." Freshdesk, a cloud-based customer support software, will allow you to have just that, with emails handled by employees in London, Tallinn, Helsinki, or a handful of other places where your team lives and works.
1Password
1Password allows your team to share all the necessary passwords with one another. Create vaults for the different teams and share these vaults with anyone who needs access while having an extra layer of protection as a security measure.
Quip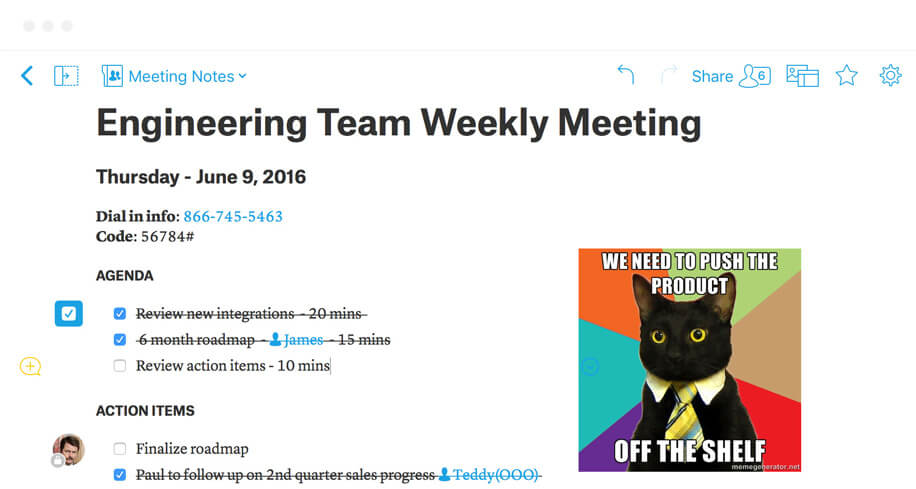 Quip is a real-time document sharing and editing platform allowing your team to share and work on public documents. It offers a helpful notification tool – just mention someone in the document, and Quip will ping them. Conversations are also displayed alongside the material, making it easy for newcomers to catch up.
GoToMeeting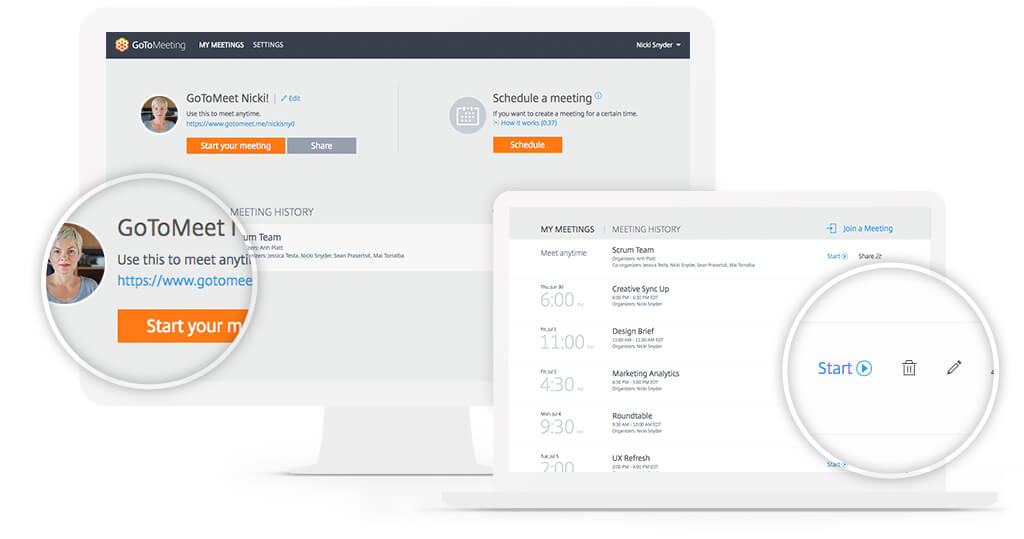 GoToMeeting is the go-to software for reliable online meetings. Screen sharing is easy, and the call quality is excellent!

Now, it's time to make your remote team the most productive community you've ever worked in!
What kind of remote employee management tools and software does your team use?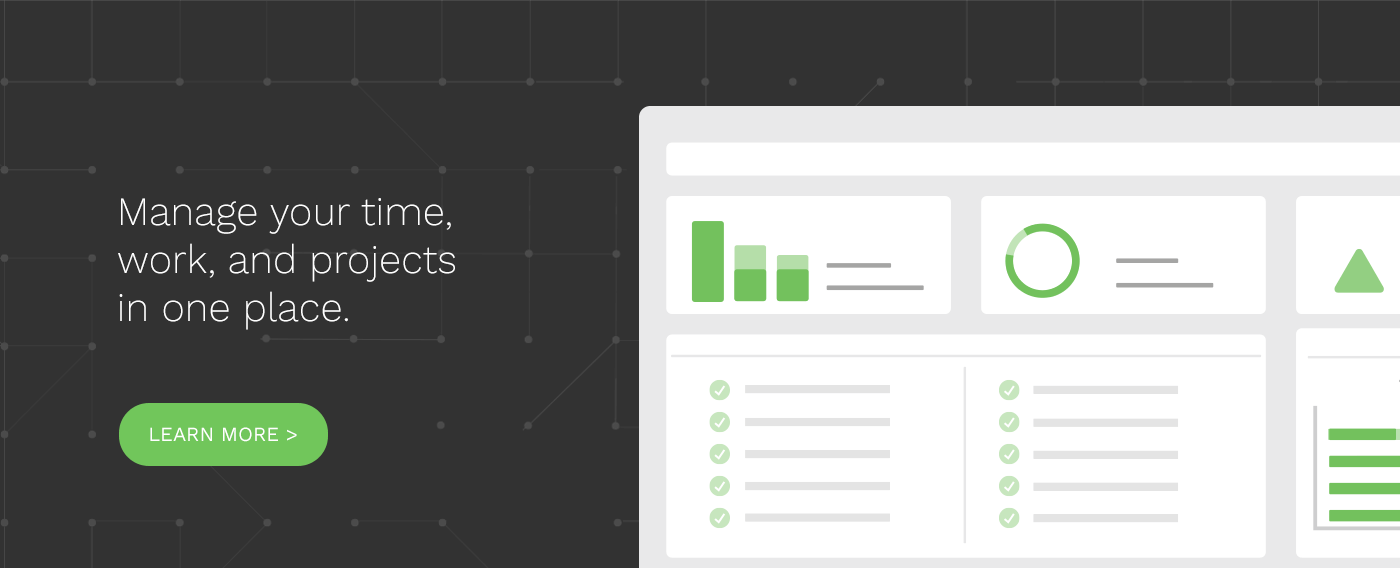 ---
Further reading