Work management
23 Best Software For Remote Work and Remote Team Management [2023 Update]
Remote teams, consisting of people working in different locations around the world, are on the rise. A recent survey found that over the last decade, remote work has grown 91%. With the current pandemic forcing even more companies to work remotely, it's clear that businesses around the world need a great remote work software to manage remote teams.
Remote teams are hard to get right, and it's hardly ever just about the Wi-Fi connection. It's about the right leadership, the right team, and the communication between them. To make it easier for their remote workers, many companies are implementing new tools and resources to replace the office touch points with technology.
But with so many tools and software, it's essential to get it right. That's why businesses need to invest some time to find one that can streamline their remote work processes, not make them more cumbersome. And with the right tools, the benefits of remote work can outweigh the benefits of working from the office.
Working remotely is reported to increases productivity, reduces stress, and is more cost-effective than working from an office.
Read on: Remote Work Is The Future – How Can You Benefit From It?
How to choose the right remote work software?
Good remote working software should help you ensure your remote employees are on track, assisting them in reaching their top performance levels, and keeping the company culture alive. Although remote working tools are all slightly different, the best technology for working remotely will include:
project & task management
time management & calendar
file sharing & collaboration
resource management
Up next, you'll find 23 remote work management and team collaboration software, from more comprehensive ones to cool one-feature tools,  that all help to improve your daily communication and performance.
1. Scoro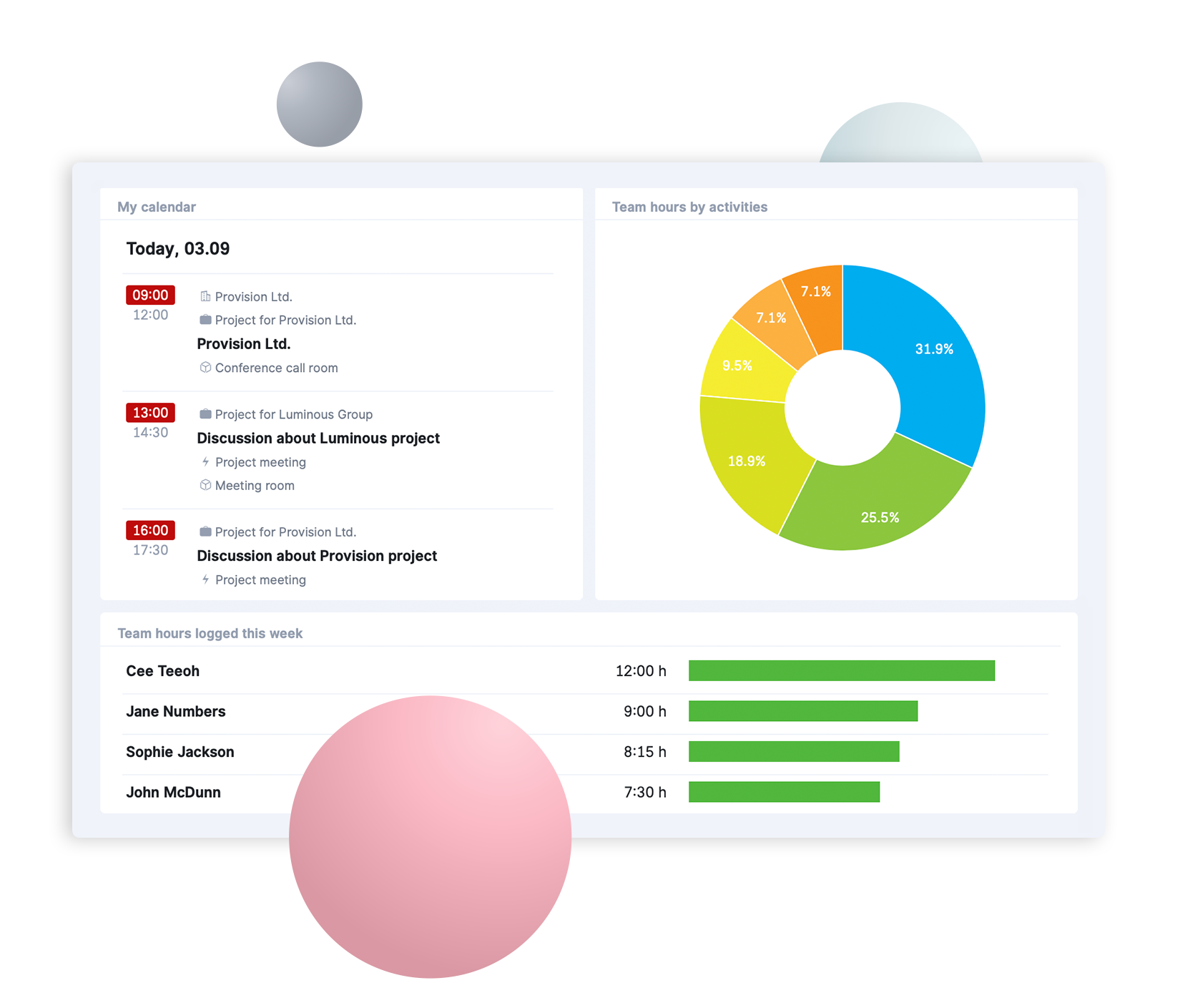 Scoro is an online work management software that combines the tools to help you manage projects, billing, sales, support, and even employee collaboration. Not only can you manage your remote teams at Scoro, but you can also run your entire business from home, at the office, or on the road.
What's interesting about this tool: Scoro combines time tracking with project management and CRM, enhancing collaboration and making it easy to manage all your business processes in one place.
2. YouTrack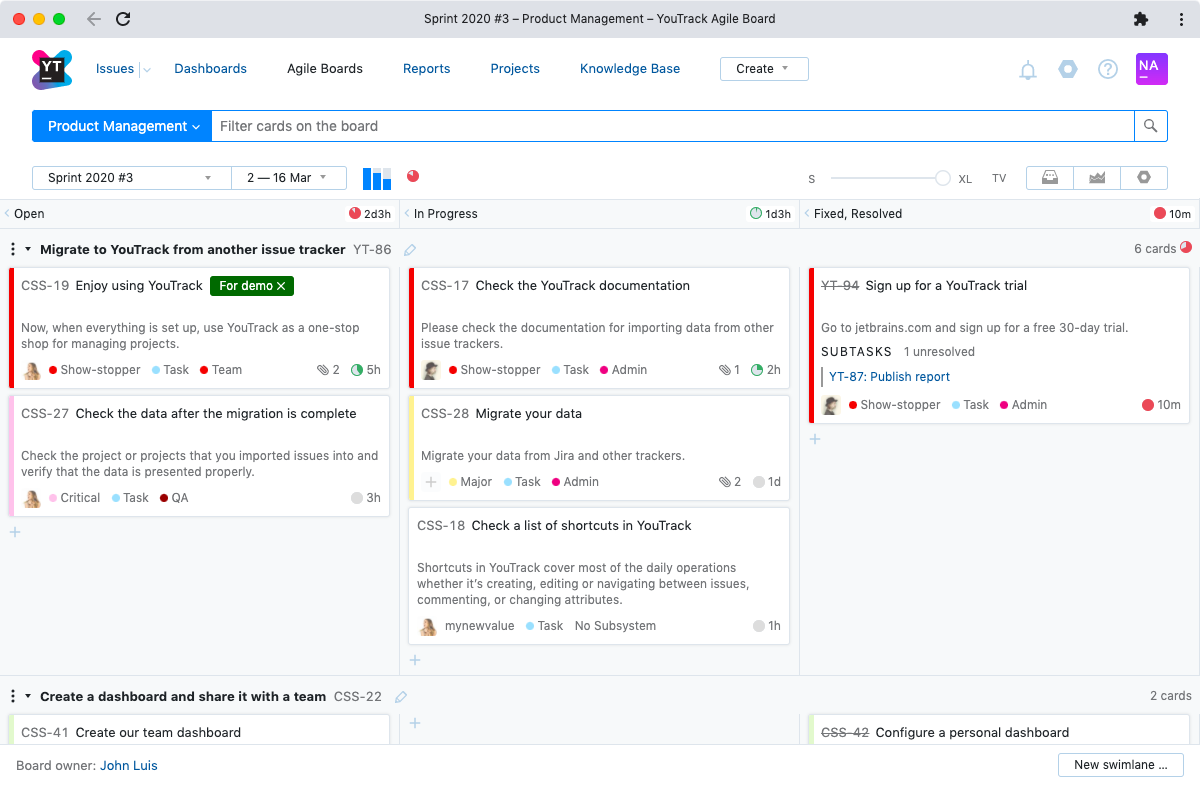 YouTrack is a project management and issue tracking platform for agile teams. It enables you to track tasks and bugs, plan sprints, and create workflows. Unlike many other issue trackers, YouTrack can be customized so your issues will suit your project's specific needs.
What's interesting about this tool: YouTrack includes a project collaboration tool where you can add project plans, team policies, and meeting notes.
Read on: Best Project Management Software and Tools
3. Pivotal Tracker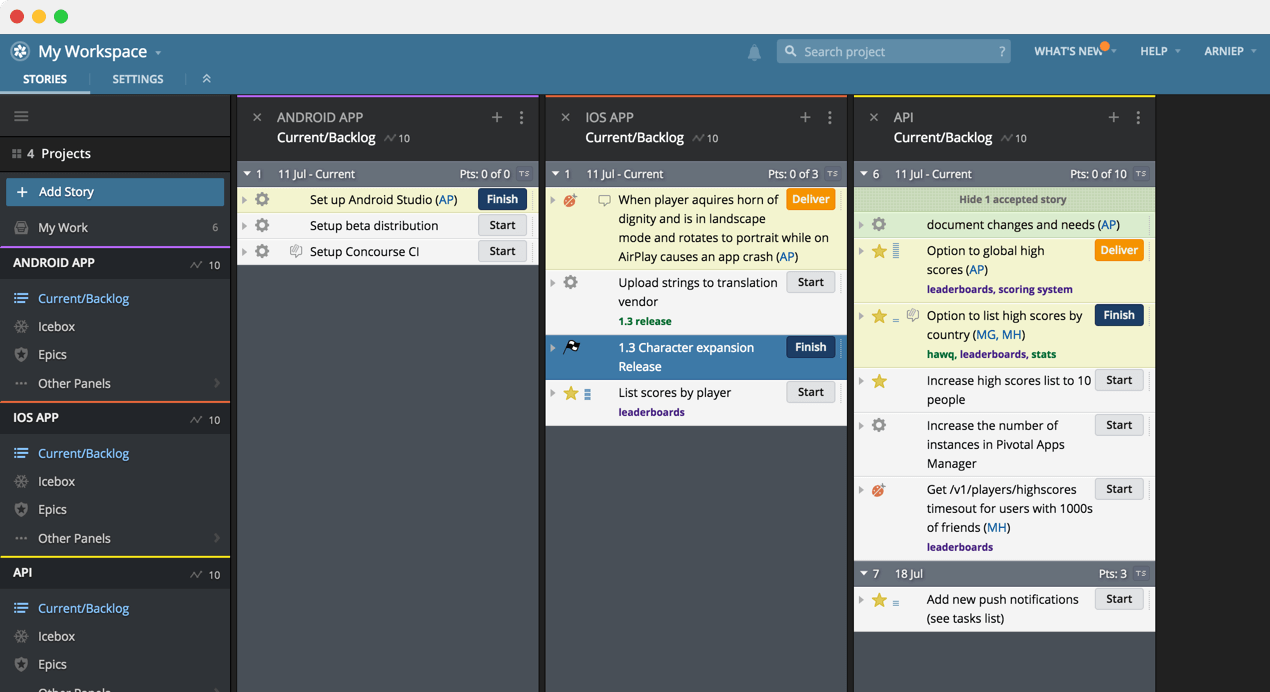 Pivotal Tracker is a lightweight, agile project management tool, ideal for software teams. It allows businesses to break projects down into small, actionable tasks that contribute to the completion of an entire project. This will ensure your clients' needs are fulfilled and encourage open communication.
What's interesting about this tool: You can use multi-project workspaces to view your projects side-by-side and juggle various responsibilities on one screen.
4. Fleep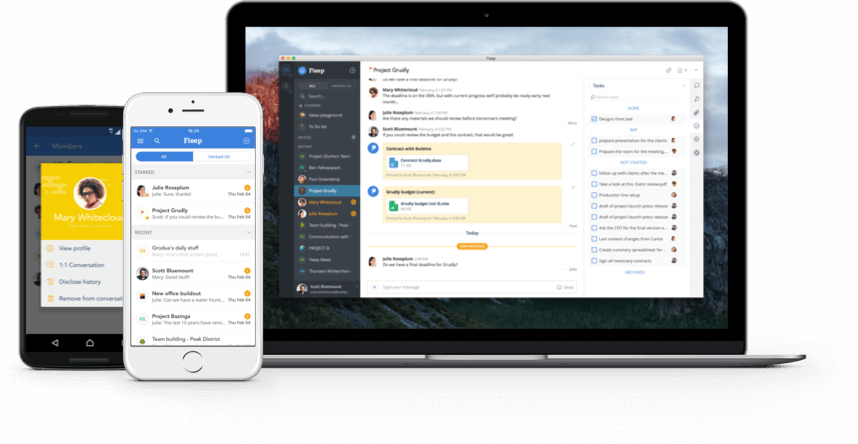 Fleep is a next-generation messenger built for ultimate project collaboration: chatting with team members and scheduling lightweight tasks. If you're tired of countless email conversations that take hours to conduct, you should give Fleep a try.
What's interesting about this tool: Fleep delivers a channel for seamless collaboration via Fleep itself, email, Google Drive, so you never need to leave the tool to get your messages across to other people.
5. iDoneThis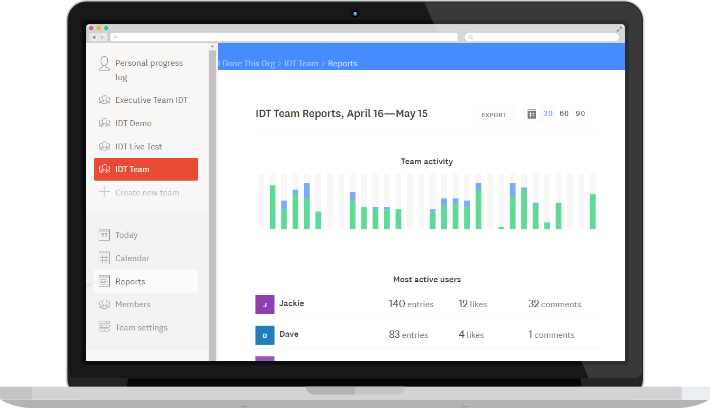 iDoneThis lets you document your daily achievements, collects them from every teammate, and sends out a morning recap of all the team's happenings in your inbox. Tracking your progress is as rewarding as staying in touch with your remote team.
What's interesting about this tool: It easy to run more effective and productive teams with iDoneThis daily check-ins and powerful progress reports.
6. Paymo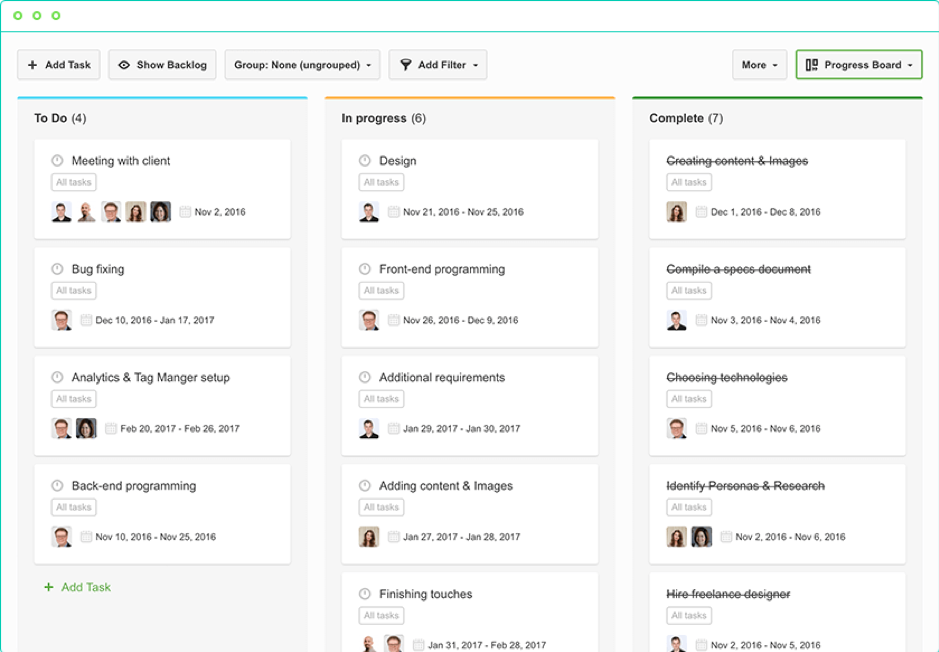 Paymo offers a simple yet powerful work management tool for small businesses and remote teams,  bringing together project management, work reporting, and time billing.
What's interesting about this tool: With Paymo Plus, you can automate your time tracking completely. All you need to do is download the desktop app, let it track your PC usage, and at the end of each day, categorize all your time entries.
7. LiquidPlanner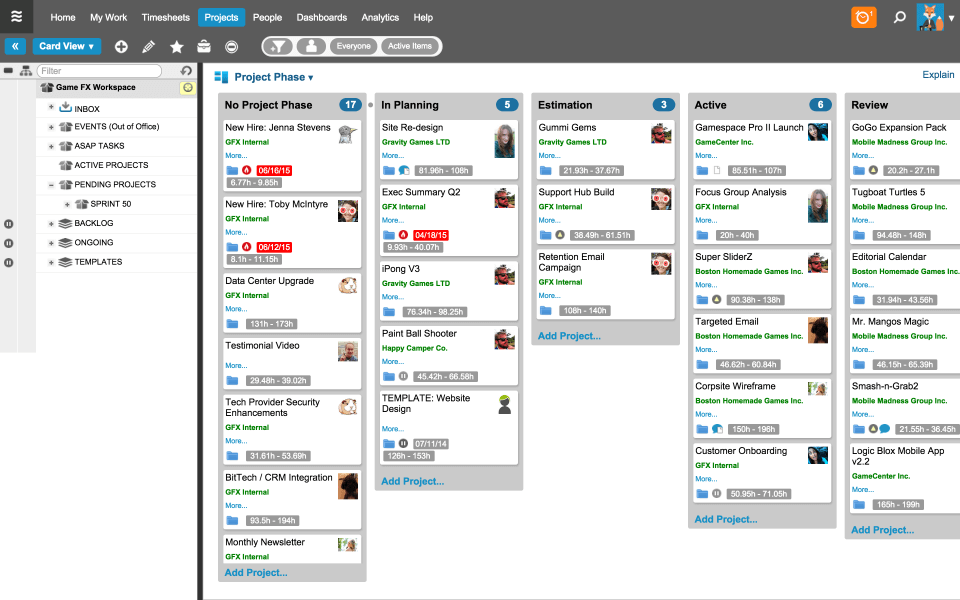 LiquidPlanner is a collaboration tool that combines project management and time-tracking, making it easier to communicate with team members and share ideas.
What's interesting about this tool: LiquidPlanner has an interesting methodology for project management – it helps teams to set realistic deadlines based on best-case and worst-case scenarios.
8. Yammer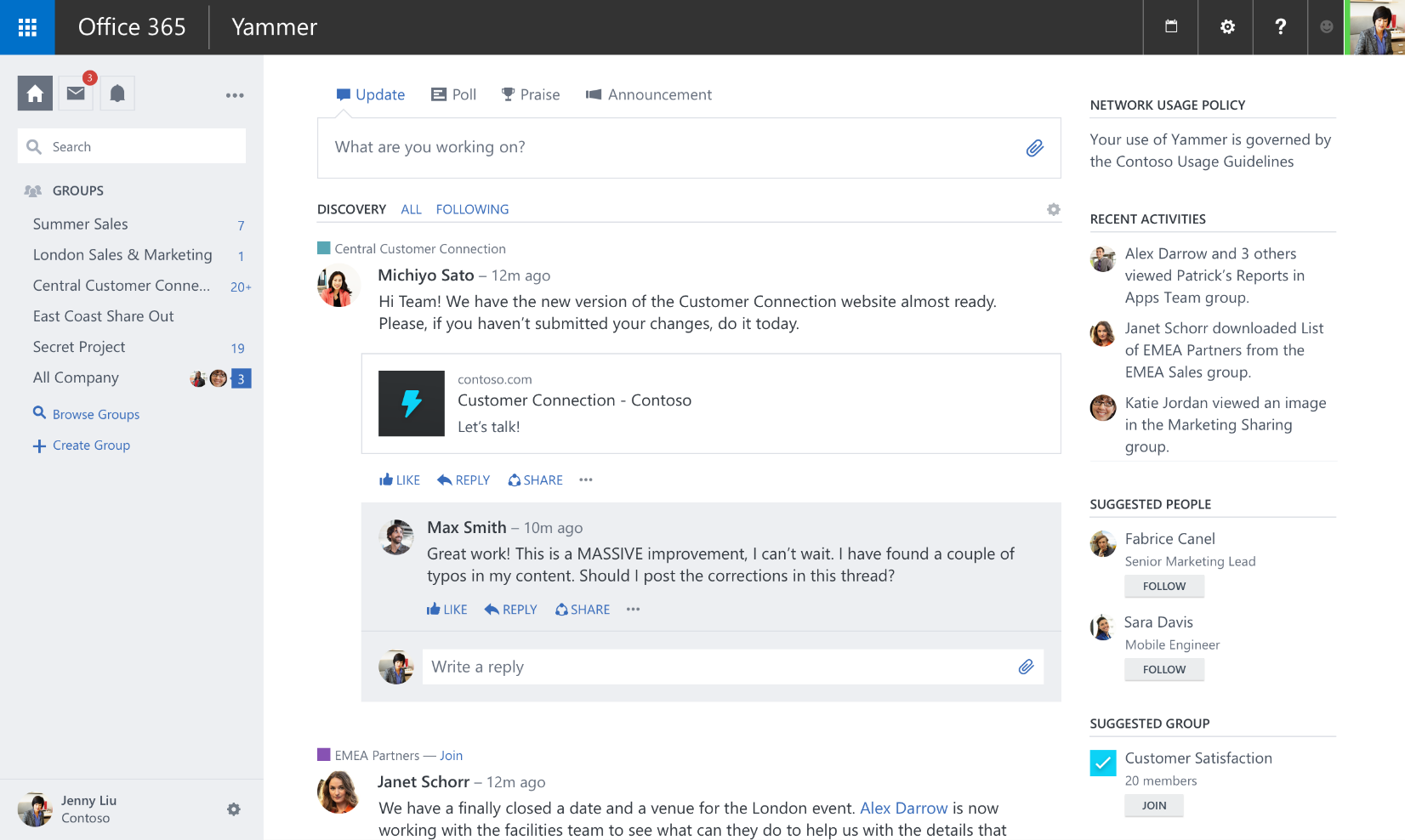 Yammer is a widely used enterprise network tool. It gives you a platform to communicate and collaborate privately with your colleagues.
What's interesting about this tool: Instead of using their email accounts, employees can be added by their corporate emails. You can also safely collaborate with partners and customers using Yammer's External Groups.
9. ProWorkflow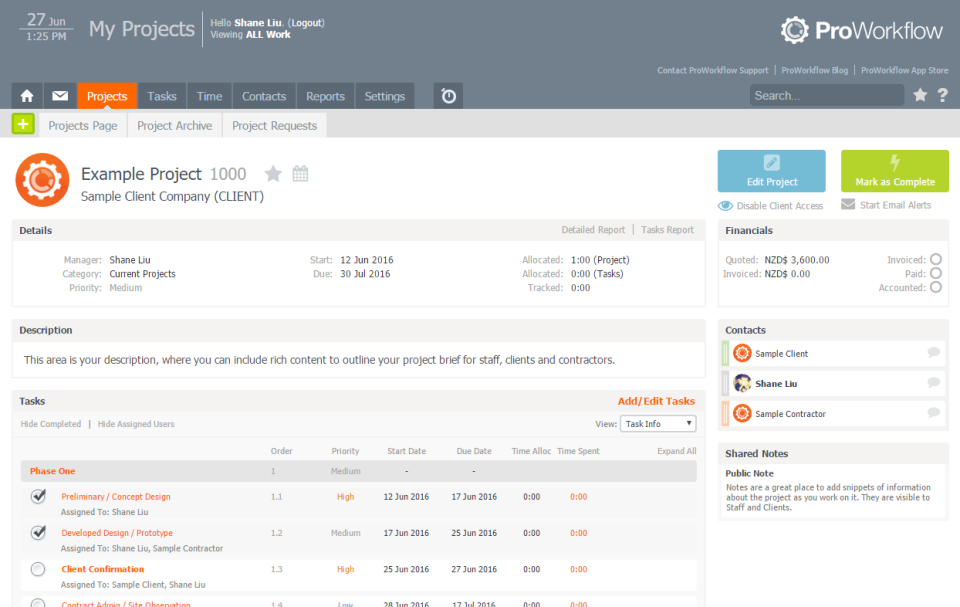 ProWorkflow makes it a breeze to assign staff, track time, or reschedule projects. It helps both small and large teams achieve clear visibility and accountability on projects, tasks, billing, and reporting.
What's interesting about this tool: Convenient mobile application lets your track time, communicate, and complete tasks on the move.
10. Google Meet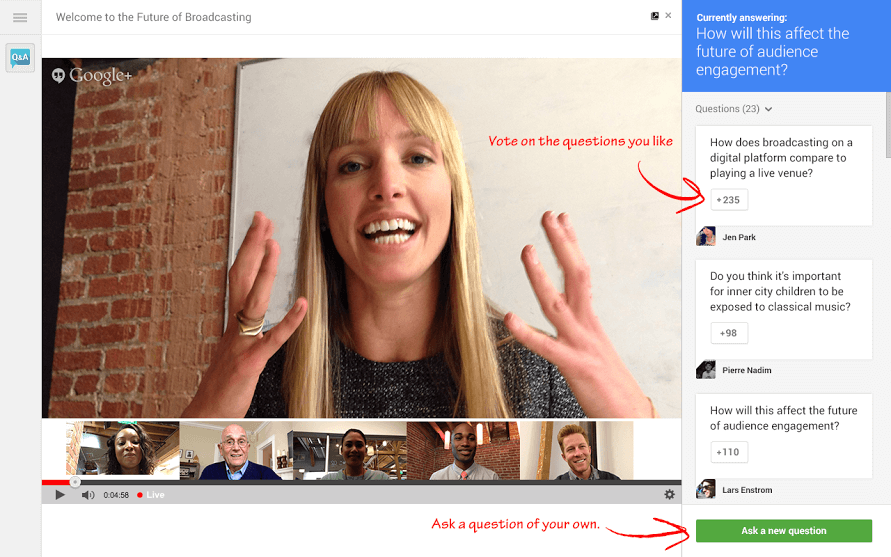 Google Meet is a communication solution that allows users to stay in touch with clients and teams globally. The application works with the other Google applications and will enable you to present, collaborate, and live stream meetings to 100,000 viewers at one time.
What's interesting about this tool: Google Meet can be used across all devices and also comes as a Chrome extension.
Read more: 12 Proven Tips for Effective Meeting Management
11. Every Time Zone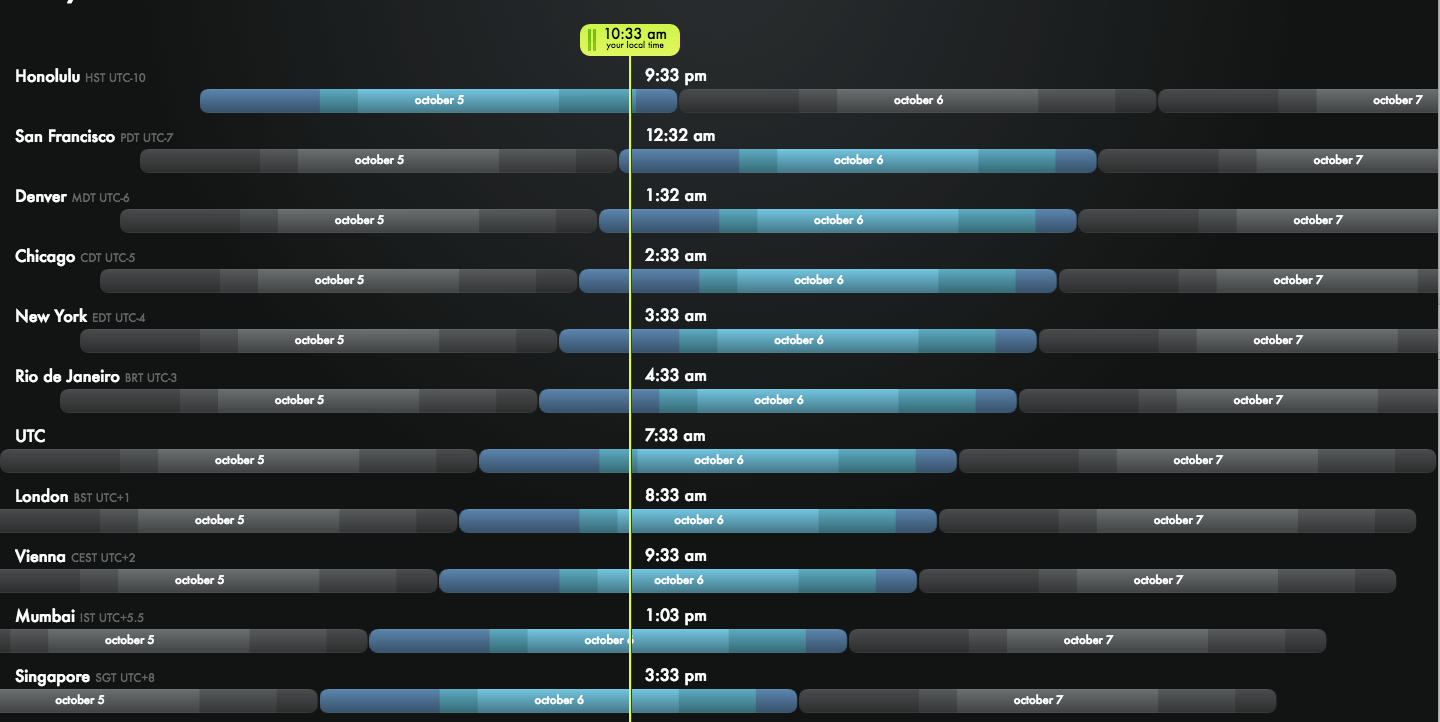 Every Time Zone helps you coordinate time slots across oceans and continents. Choose a time, and see where it lands in everyone else's day to gauge the right work hours.
What's interesting about this tool: This tool saves you from the headache of trying to figure out the best meeting time for all time zones, so you can easily collaborate with your remote team members and clients all over the world.
12. Slack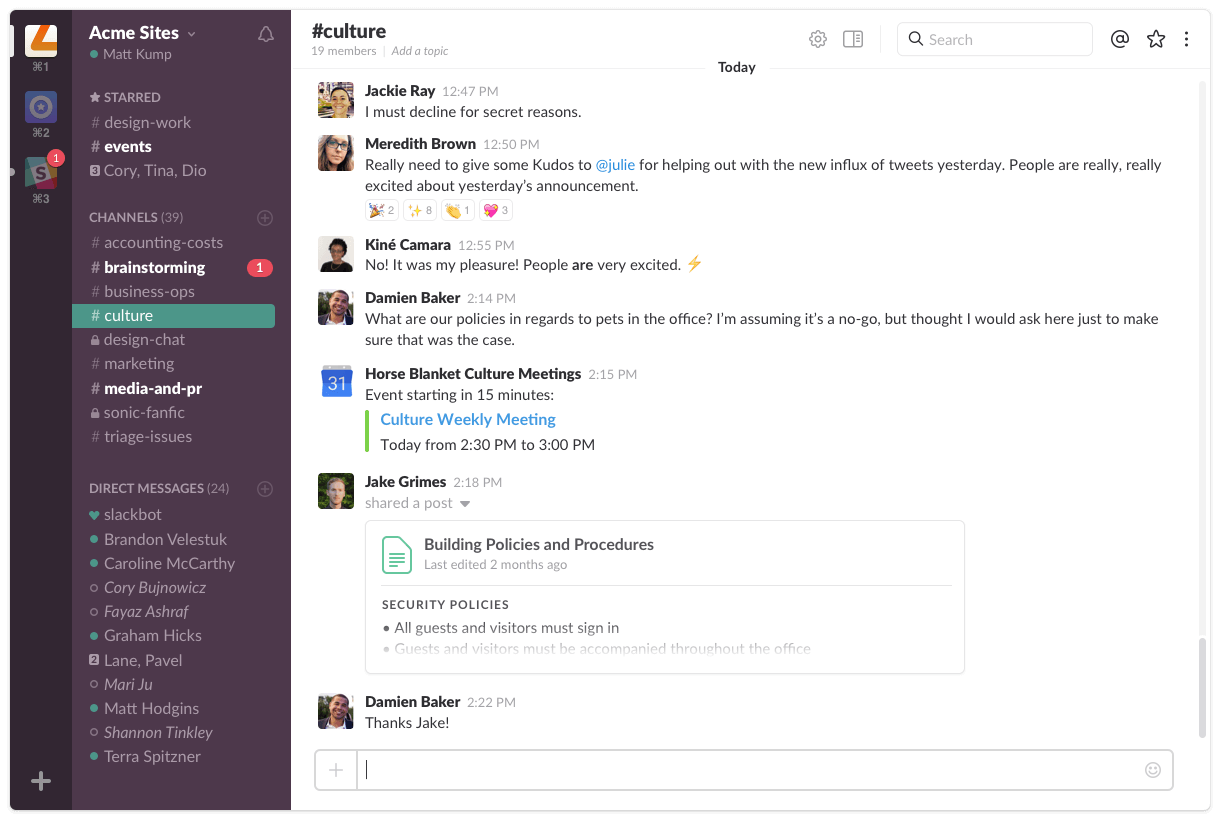 Slack brings all your work communication together in one place – it's the closest thing to a virtual office. It provides real-time messaging, archiving, and search for teams.
What's interesting about this tool: You can sync all your other tools with Slack, so you receive all your platform notifications in one place.
Read on: Send Slack messages straight to Scoro with Zapier
13. PukkaTeam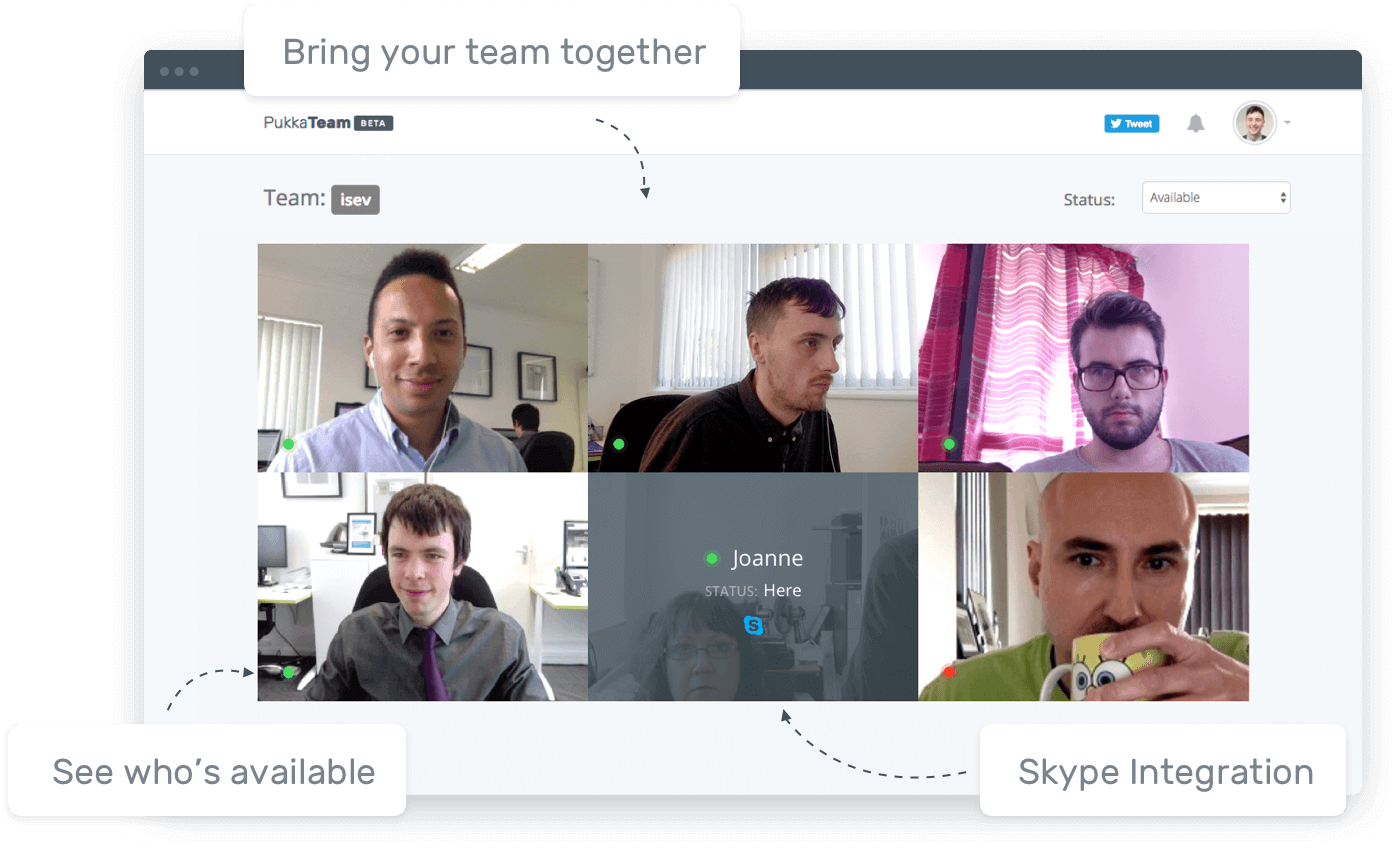 PukkaTeam is the virtual water cooler – a video calling tool that helps you stay in touch with your team by taking a screenshot of everyone every few minutes (or only when you feel like it). This way, your colleagues can quickly see when you're not available. It might seem like a strange tool, but PukkaTeam is less about the official communication and more about creating a kind of visual connection with the people you spend your whole day typing with.
What's interesting about this tool: This tool enables you to see when your colleagues are busy (on the phone) or away (not at their desk), so you can better time your requests to allow more productivity and fewer interruptions.
14. Dropbox Business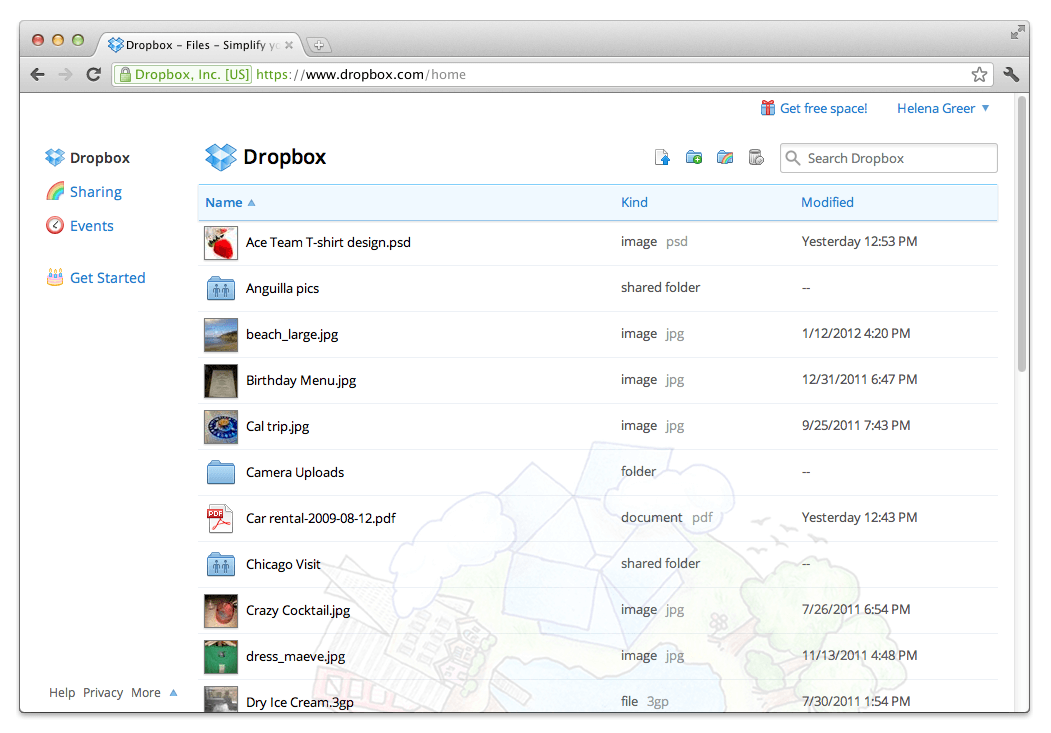 Dropbox Business is a smart workspace where teams, tools, and content come together. It keeps your files safe, synced, and makes it easy to share anything.
What's interesting about this tool: Dropbox Business is trusted by over 300,000 business teams worldwide for its industry-leading file sync, collaboration, and extensive administration and security features.
15. Jell

Jell is like a social network for virtual technical teams. It offers one central place where team members can stay up to date with each other by sharing daily plans, accomplishments, challenges, and long-term goals.
What's interesting about this tool: In Jell, you can set goals at every level of your organization and view them all in one place. Whether you use annual or quarterly goals, everyone can track their progress and share results in one place.
16. GitHub Wiki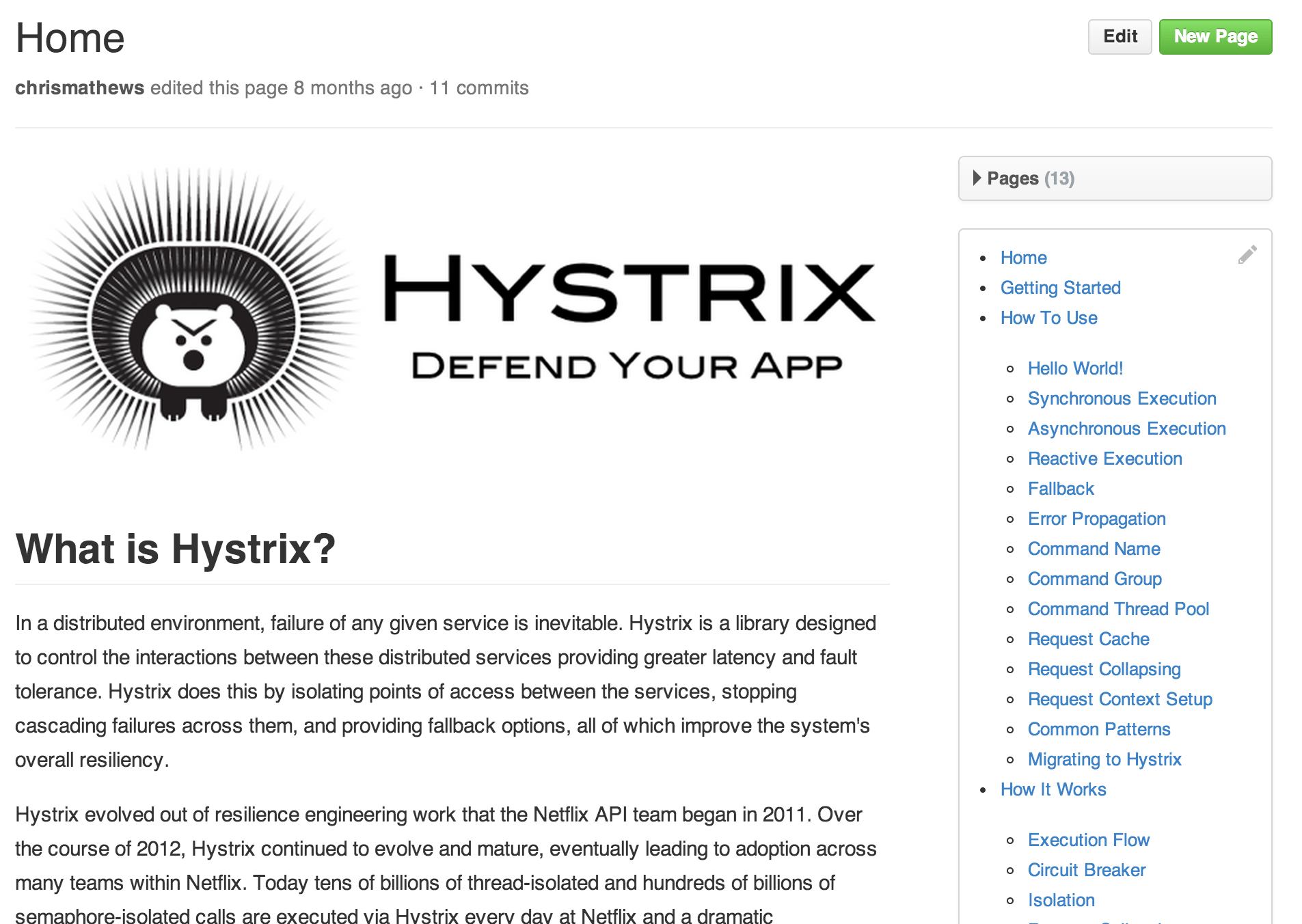 GitHub Wiki is a place in your repository where you can share long-form content about your project, such as how to use it, how it's been designed, manifestos on its core principles, and so on. It's a helpful resource for new employee onboarding.
17. Evernote Business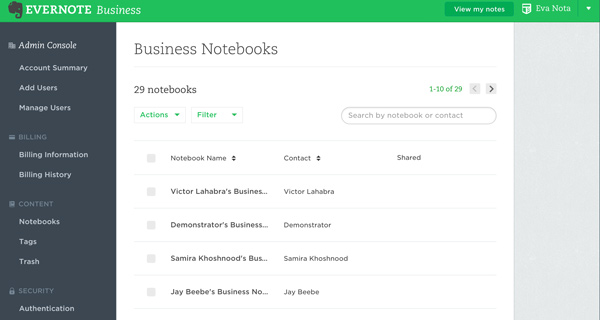 Evernote Business is similar to the note-taking app Evernote, but it makes it possible to share your ideas with a large team. This team collaboration tool resembles a huge virtual whiteboard that lets everyone contribute their ideas and knowledge.
What's interesting about this tool: Evernote Business lets everyone contribute their best ideas in a matter of seconds. Later, the entire team can review the topics using the presentation mode.
18. Trello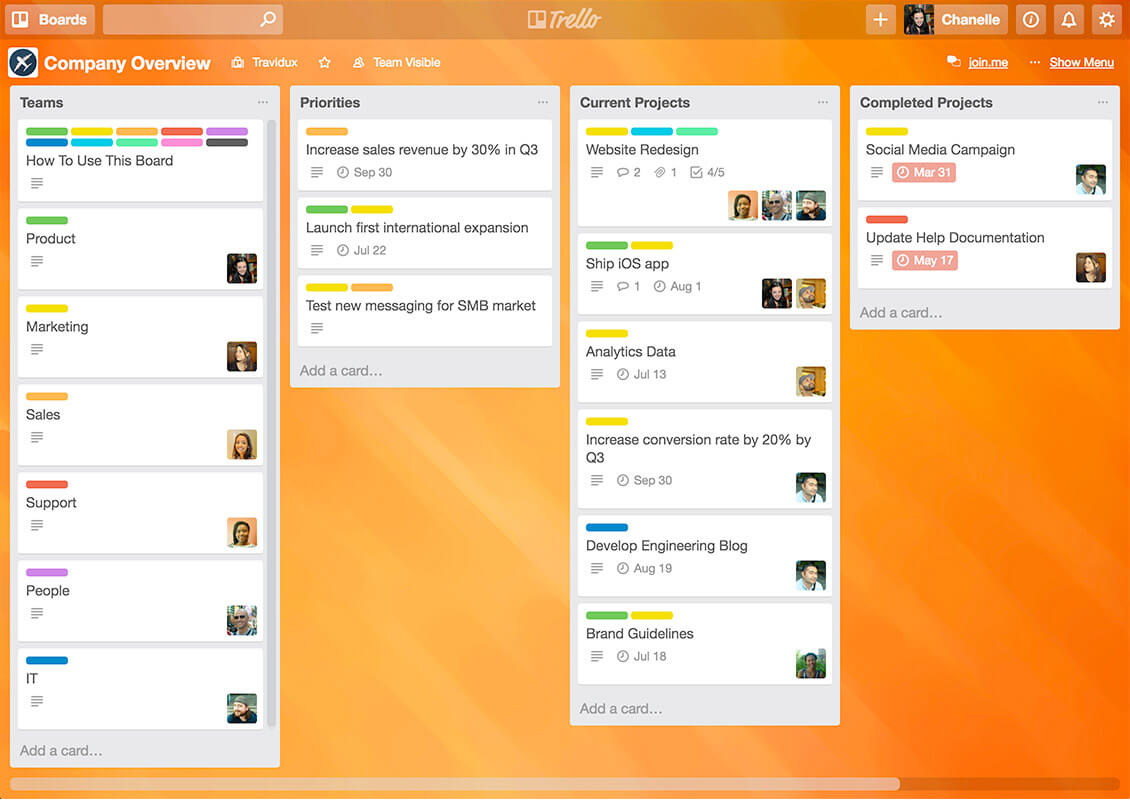 It's important to keep the flow of information about what's happening individually, on a team, and in the company transparent and available for everyone. Trello gives your team a perspective on all projects – from HR to marketing to IT and beyond.
What's interesting about this tool: From startups to Fortune 500 companies, Trello is the most visual way for teams to collaborate on any project.
Check out this Trello alternative!
19. Bubbl.us
Mind maps are great tools for a brainstorming process, making them even more valuable for remote teams. Bubbl.us lets you easily create colorful mind maps to print or share with others.
What's interesting about this tool: The user interface of Bubbl.us is designed in a way that it reduces distractions and increases focus.
20. Toggl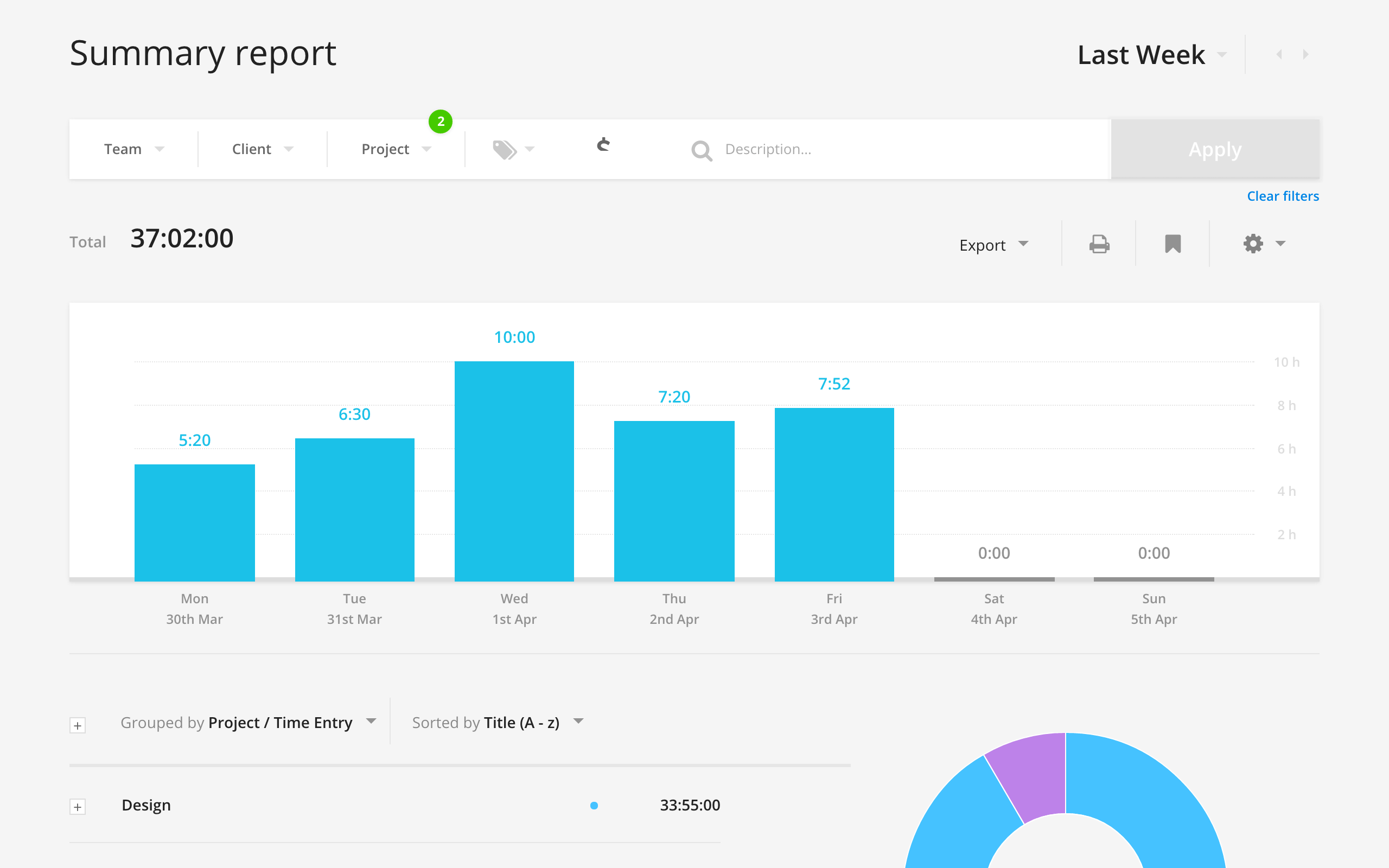 Toggl is a simple online timer with a powerful timesheet calculator. It will boost your team's performance by measuring the actual time spent at work, with the possibility to assign different tasks or projects to each period.
What's interesting about this tool: Toggl integrates seamlessly with your favorite productivity tools.
Read on: Employee Timesheet Software for Efficient Time Management
21. Freshdesk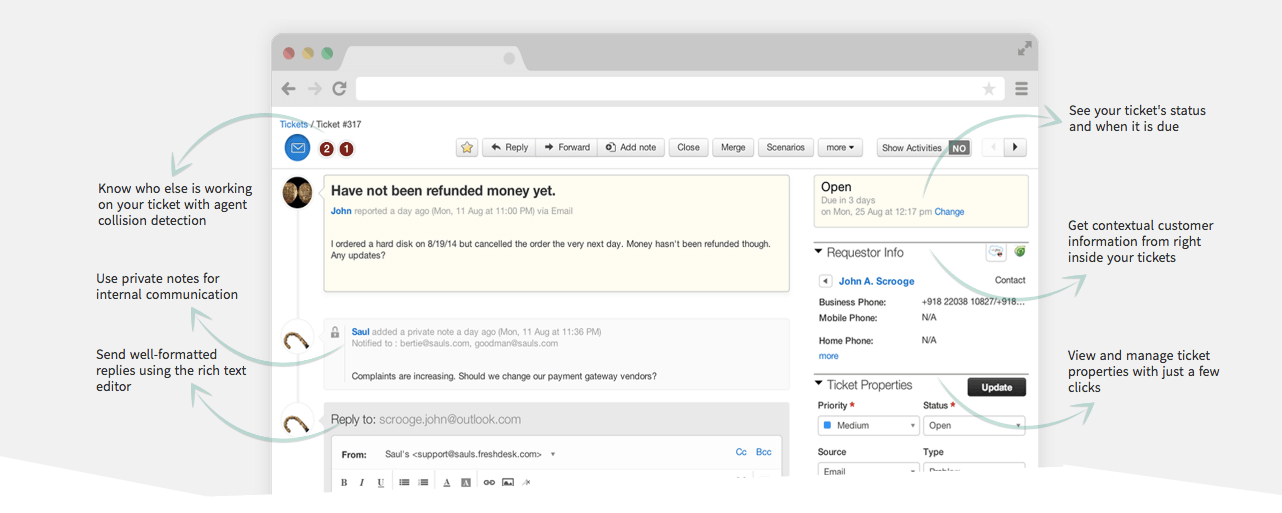 One of the greatest benefits of having a remote support team is the fabled "24-hour coverage". Freshdesk, a cloud-based customer support software, will allow you to have just that, with emails handled by employees in London, Tallinn, Helsinki, or a handful of other places where your team lives and works.
What's interesting about this tool: With Freshdesk, agents can loop in teammates for discussions right inside tickets and can retain visibility into tickets even if another team is currently working on it. Teams can also split the tasks involved and work on them in parallel.
22. Quip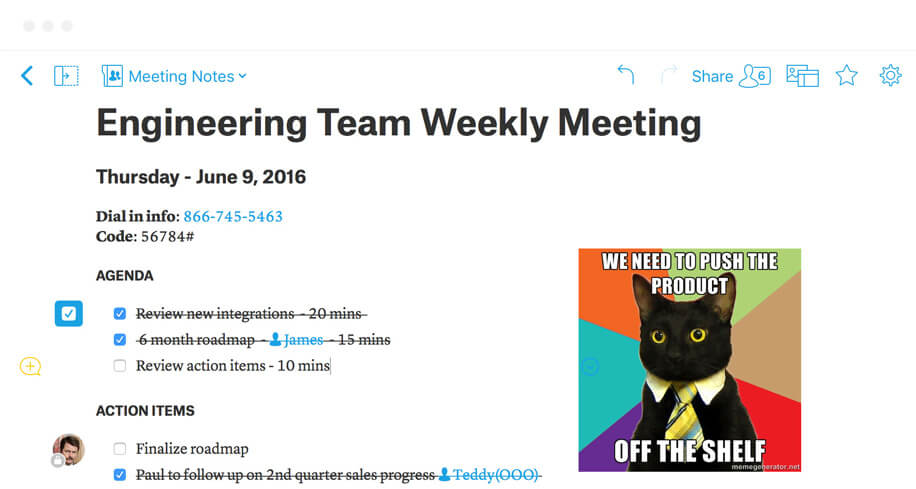 Quip is a real-time document sharing and editing platform allowing your team to share and work on public documents. It offers a helpful notification tool – just mention someone in the document, and Quip will ping them.
What's interesting about this tool: Quip makes it easy for a new team member to quickly catch up as the conversations are also displayed alongside any materials.
23. GoToMeeting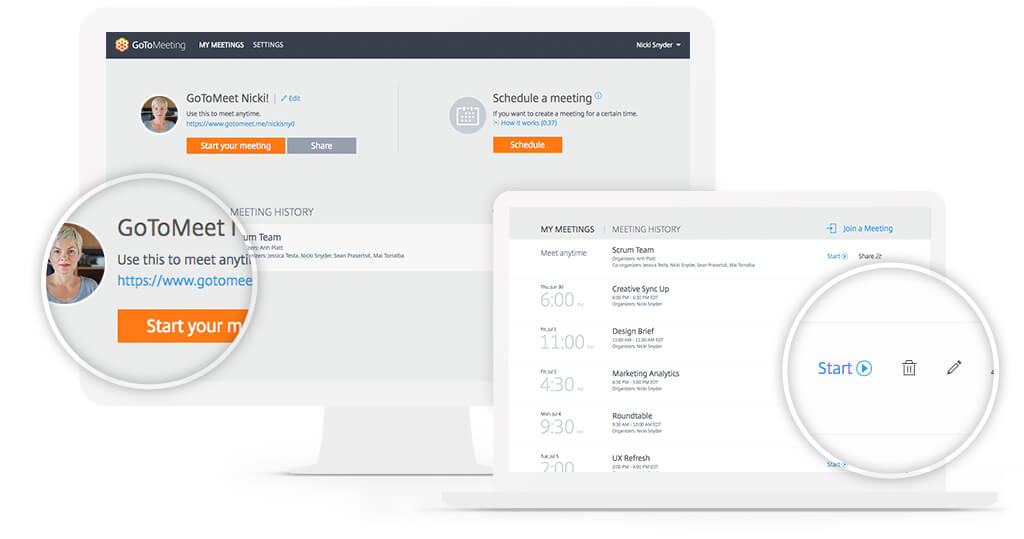 GoToMeeting is the go-to software for reliable online meetings. Screen sharing is easy, and the call quality is excellent!
What's interesting about this tool: GoToMeeting offers many nifty features such as Voice Commands and Commuter Mode that allow you to collaborate, whether you're on the go or work from home.
---
The list was long, but to sum it up, you have two choices moving forward:
Try to combine various single-feature tools into an integrated team management system.
Use one comprehensive collaborative work management solutions, which already provides you all the features you need.
Each business is unique, and thus it's difficult to say which one is a better option in your case. But from our experience, when your team is working in different locations, it's best to keep as much of the information in one single place. This way it's easier to make sure that every team member is on the same page – whether they are working from the office or working remotely.
Further reading: