Work management
Remarkable Pros and Cons of Professional Services Automation Software
Automating business processes can help you increase your company's output, and will ultimately save you a lot of time. A significant upside of Professional Services Automation (PSA) is that it can be implemented in all key business departments, from sales and HR to marketing and management.
Even though business automation can help your company a great deal, there are also several disadvantages that you might need to overcome, or at least, take into account. But first let's take note of the advantages and see which processes can be easily automated, to run the company more smoothly.
Generate Leads and Increase Efficiency by Automating Marketing Activities
The main reasons a company would want to automate marketing activities are to increase the overall efficiency of this certain department and lead marketing and sales teams with a single vision.
Since there are multiple types of customers and consumers, and each of them needs to be approached using different marketing channels, automating campaigns, and drip emails will give your marketing department some room to breathe.
Given how great role social media plays in modern marketing strategies, this is one of the fields that automation can benefit the most.
While some software applications are stand-alone and can be installed on the desktop, and mobile platforms, developers often go the extra mile and offer their tools as a SaaS (Software-as-a-Service). Regarding social media marketing, one of the processes that can be easily automated is posting updates to social networks.
There are plenty of platforms that you can use to schedule social media posts way ahead of time, for example, Buffer.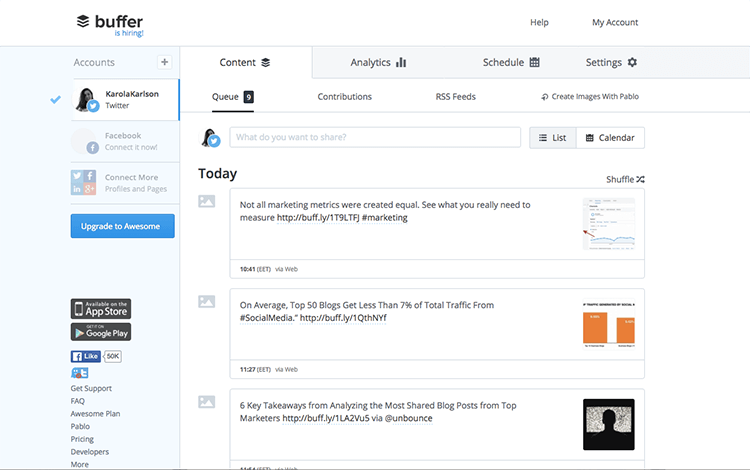 Social networks represent one of the most important channels for disseminating information about your company and product. The prospect of your posts going viral should determine that you give social media the attention it deserves.
E-mailing and replying are two other marketing tasks that can be easily automated using software. Last but not least, marketing departments can use professional services automation software to streamline entire campaigns.
In the long run, you'll notice an increase in marketing ROI, and can track conversion rates and leads more accurately and in detail. On top of that, your company will gain better insight into what your customers need and what drives them to react the way they do.
The ultimate goal of automating activities across your marketing department is to get leads from the top to the bottom of your marketing and sales funnel. That includes approaching the prospects through different channels (e-mail, social media, etc.) and turning them into sales-ready leads with less effort from your team.
Automate HR Processes to Save Time while Handling Employees' Needs
As with the other business processes that can be automated, HR optimization is typically achieved using various types of software. One of the first HR-related tasks that you can automate in a company is granting employees the ability to add or edit their data on ID cards by using IT equipment and speed software.
HR managers can set up time-tracking software so that they don't have to spend many hours each week going through employee time-logs. Moreover, the timesheets can be automatically sent to payroll and be used to bill customers. All this is possible due to efficient PSA software implementation.
Managing time-off requests with software enables the HR department to focus on the things that cannot be automated. It is also possible to automate processes that eventually empower your employees. Thus, they can submit their travel requests, expense reports, and apply for internal training effortlessly, in a few clicks.
Using software that helps with subsequent retrieval of the information and ensures that there isn't any troublesome overlapping in schedules, enhances team collaboration and builds a foundation for an optimized business.
Automated management can improve everyone's workflow
When it comes to automating management processes, there are numerous aspects that you could benefit from, including:
Fast customer service
Product planning
Inventory management
Streamlined order tracking
Interaction across the entire supply chain
Since PSA help to store all client information and communication history online, this data can be accessed and interacted with simultaneously from different locations, sometimes from entirely different parts of the globe.
The one thing that all types of PSA tools have in common is the "Set It and Forget It" approach, meaning that once you've taken care of all the activities that can be automated, there's no need for regular maintenance.
If you're buying automation software, rather than developing it in-house and fully customizing it to accommodate your needs, make sure to keep it up to date to benefit from the latest features, and to get any bug fixes right away.
Read on: 19 Best Invoicing Software to Save You Time and Money
Possible cons of professional services automation
While PSA usually benefits every company implementing it to their workflow, some problems that might arise.
Marketing automation will eventually help you save a lot of time, but to implement it properly, you will need to invest time, money and human resources, none of which is a resource that's easy to come by.
On top of that, keep in mind that professional services automation can't fix everything, and in the end, the whole process depends on your team's ability to set it up.
These are the only major disadvantages you might stumble upon in the process of automating your activities, but once you're past these, you can sit back and enjoy the results.
Conclusion
The upsides of Professional Services Automation usually outweigh the cons by far, but you need to analyze each aspect carefully, to conclude whether it is possible and desirable to include automated processes in your company's workflow.
See which departments could benefit the most from automation, and decide whether investing time, money, and human resources into automating parts of your business and work would be worth it.
Everything about your business, one click away