Product
How to Create a Perfect Business Dashboard With Scoro
One of the most beloved features in Scoro is the dashboard. You can add literally anything you want to monitor to your Scoro dashboard – all the way from sales and marketing to projects, financials, and work performance.
With Scoro's dashboards, all important key performance indicators (KPIs) are always just a click away. And the best thing about it – everything can be tracked in real time.
Studies suggest that a better analysis of insights improve a business return on investment by 10–20%, and drive an average profit growth of 14%. However, gathering data and reporting can take up a lot of time. Scoro's dashboard helps to automate this by showing insights in real time, so you can make better decisions faster.
We wanted to bring the best practices of creating a perfect business dashboard to all our blog readers and users so that you can build an informative KPI dashboard.
Not much of a reader? Watch this 1-minute intro video – it will give you a thorough understanding of what the Scoro dashboard is, and how to set it up:
P.S. If you'd like to try how Scoro dashboards work but aren't currently a Scoro user, you can get a free 14-day trial and check it out now.
Let's start with the basics and move on to a step-by-step guide to creating your personal KPI dashboard.
What is a business dashboard?
A business dashboard collects, groups, organizes and visualizes KPIs – company's important metrics, providing a quick overview of business performance and expected growth.
See the complete list of resources that help to understand business KPI dashboards.
KPIs are measurable business metrics that evaluate factors crucial to achieving company goals and maintaining growth. Put in plain English: you can add numbers such as monthly new leads, completed projects, paid bills, monthly recurring revenue, etc. to a visual project dashboard and track these numbers to see how your business is doing.
How do dashboards work in Scoro?
Scoro's dashboard uses the data that you have entered into the system and displays it in a perfectly framed and visual way. You can customize your Scoro dashboard to show the relevant information and KPIs by using result metrics, ratio metrics, widgets, and graphs.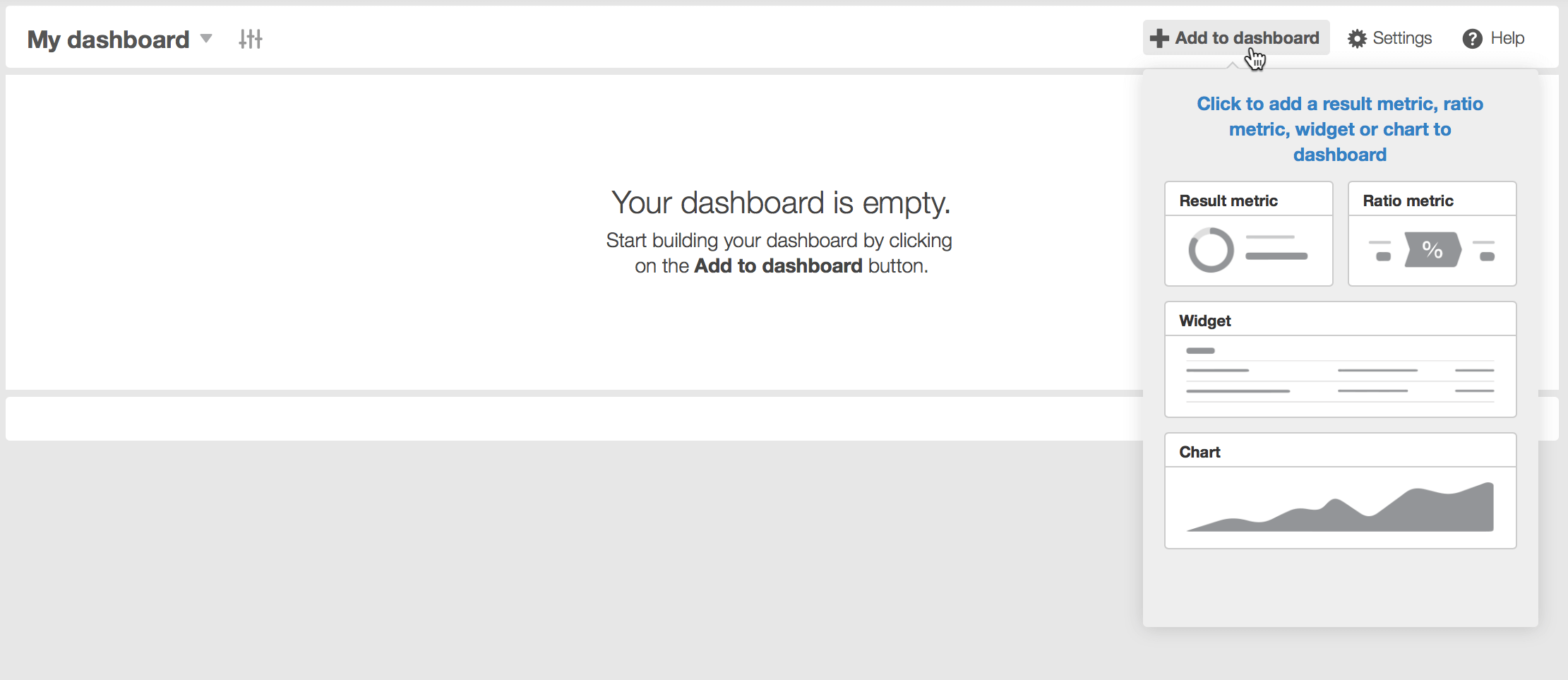 Result metrics display numerical data, for example, the number of monthly new leads, project costs, outstanding invoices, the sum of weekly quotes, etc.
Example of a result metric: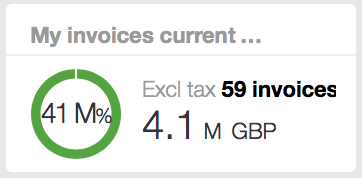 Ratio metrics allow you to calculate the ratio between two important markers.
Here's an example of a ratio metric, created almost the same way as a result metric: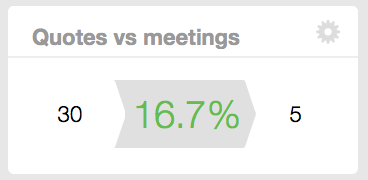 Widgets display your data in a list, for example, you can add lists of active projects, upcoming events, clients in debt, etc. to your dashboard.
Example: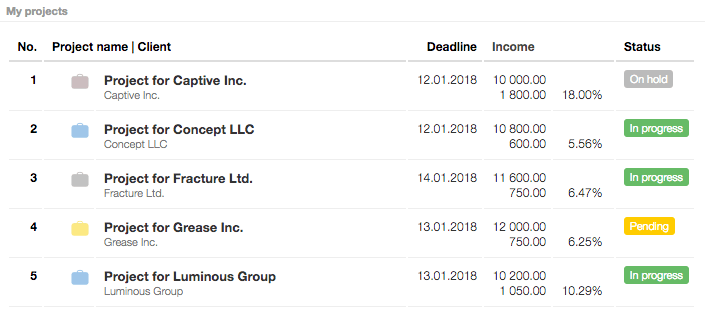 Charts are, well, charts. You can add graphs and charts to your business dashboard and see the growth or decline of particular indicators, such as monthly recurring revenue.
Examples: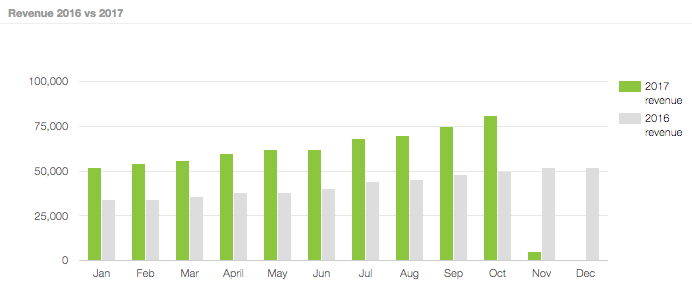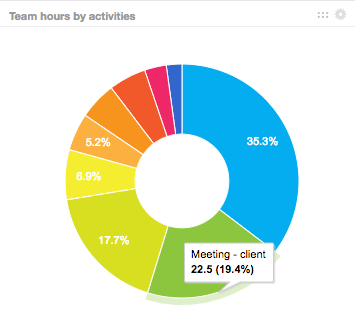 After you've customized your Scoro dashboard, it will look something like this: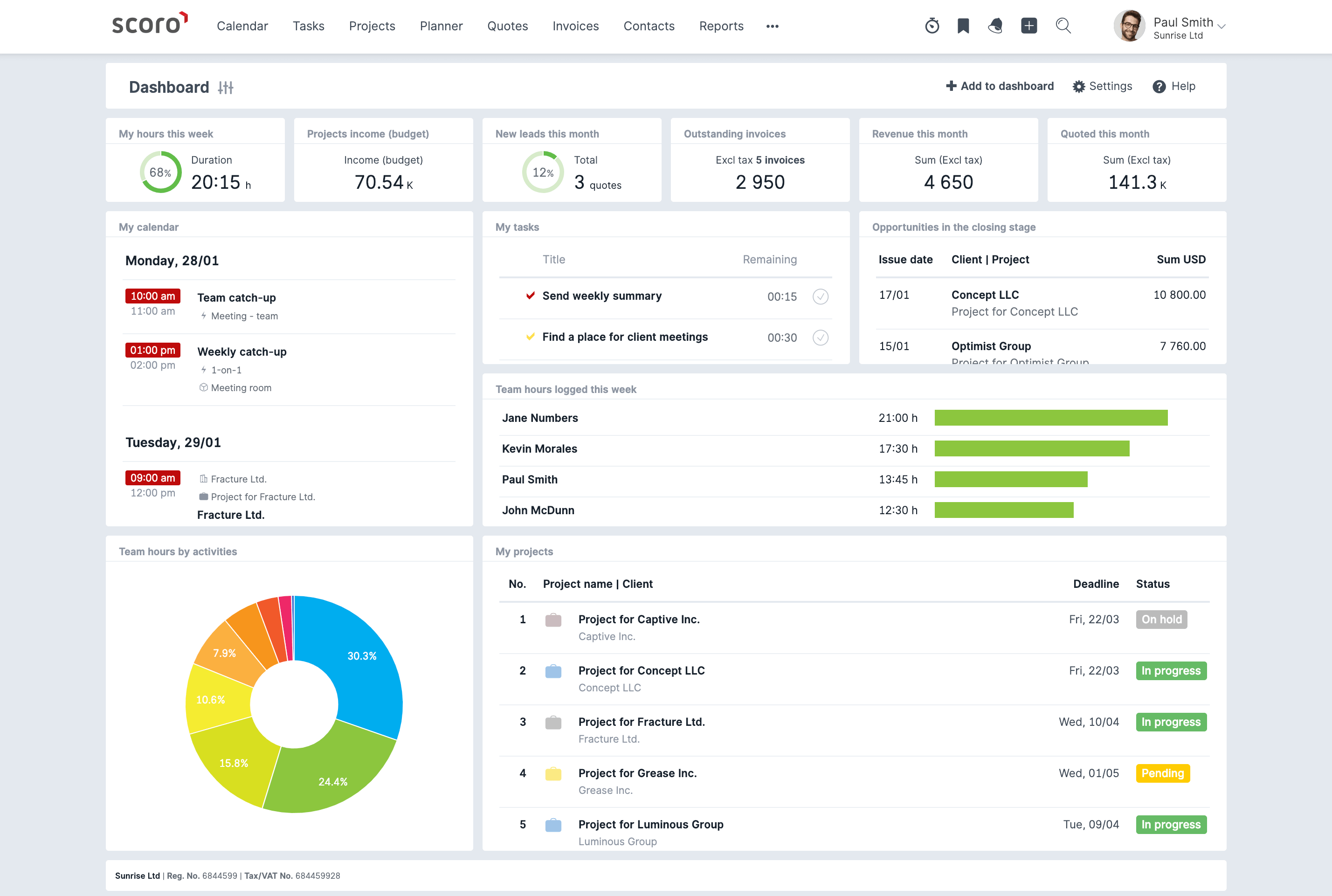 Which widgets, metrics, and graphs to choose?
Let's assume for a moment that you're still new to KPI dashboards and aren't quite sure what data to add to your dashboard. As mentioned before, you can add three types of visualizations to your dashboard: metrics, widgets, and charts.
Metrics
Metrics signify business KPIs, such as sales conversions, budget deficit, monthly new clients, etc. Take a look at these three articles to see over 70 different KPIs (metrics) to measure:
Widgets
Widgets display your data as lists. They're great for viewing your upcoming calendar events, projects in progress, tasks with upcoming deadlines, etc.
Charts
Charts are visual graphs that show your company's financial performance, completed work broken down by activity types or users or new achievements in sales and customer acquisition.
Cool hacks you didn't know
Multiple dashboards
In Scoro, you're never limited to a single dashboard shared with the entire team. It's quite the opposite – you can create multiple dashboards for different purposes. To give you a few ideas:
Executive dashboard – this dashboard is meant to be used by the company's leadership. It might include various performance metrics as well as an extensive set of financial KPIs and charts. The data on the executive dashboard is often too sensitive to be shared with a large team and is used for company-wide performance measurement.
Team dashboard – every business department or project team can create a KPI dashboard that's shared with all users. The team dashboard can include data about worked hours, completed projects, upcoming meetings, weekly or monthly targets, etc. Whatever you'd like to share with your team.
User dashboard – Yeah, it's exactly what you think it is. In Scoro, every single user can create a personal dashboard and customize it to their liking. A user dashboard can display information about their specific work assignments, upcoming meetings, task lists, work performance, etc.
KPI dashboards can also be created according to their purpose. For example, companies often create sales dashboards, marketing dashboards, project management dashboards, etc. You can do the same!
Benchmarking and goals
Whenever you add a new metric to your dashboard, you can set a benchmark to it, meaning that next to the numbers on your dashboard, you can see an arrow indicating growth or decline. Moreover, you can choose how you'd like the data to be presented. For example, for the metric of "leads in the sales pipeline", you can decide to see the total number of leads, the average deal size, margin, sum of all projected profits, and more.
See how this works?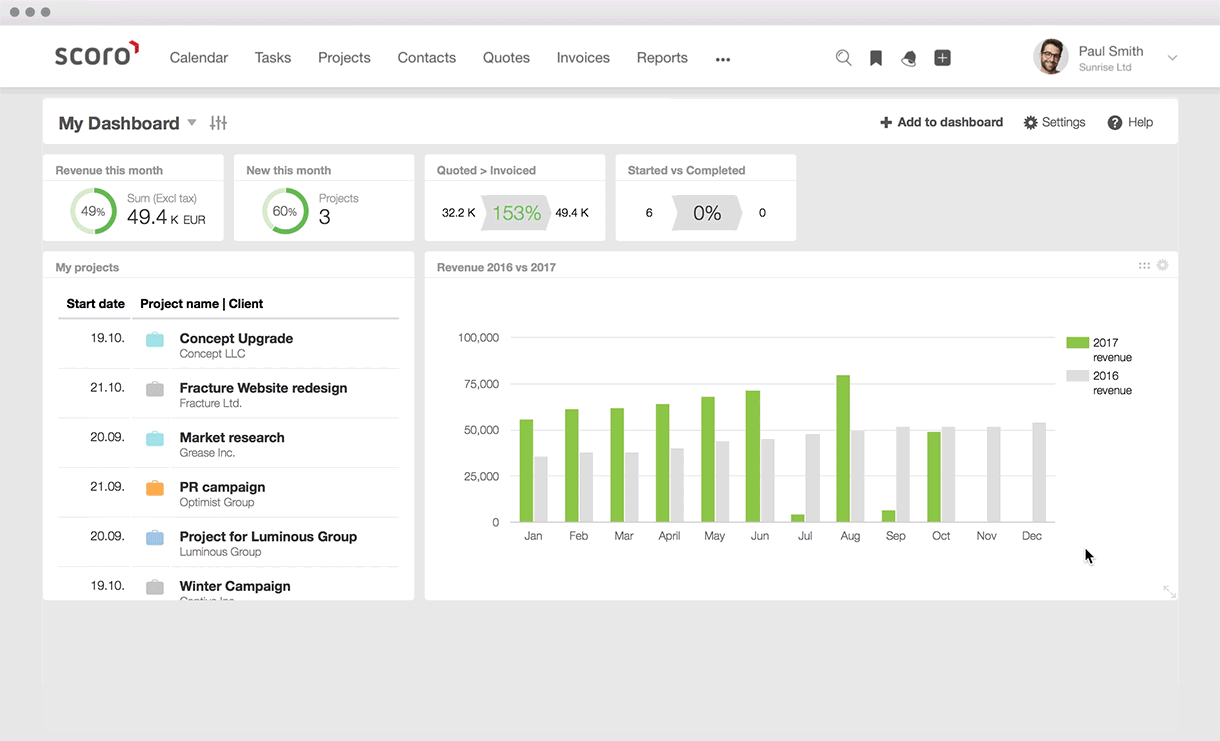 How to create a dashboard in Scoro?
To create a dashboard, go to your Scoro site and click on the Dashboard sign.

You can then choose to:
1. Create a new dashboard from dashboard library
Our Dashboard Library allows you to create a personalized dashboard in seconds. In just a few clicks, you can add:
Company overview dashboard
This dashboard includes all the vital metrics and charts about your company.  With this dashboard you can:
Oversee every aspect of your company's performance on one dashboard.
Display important KPIs such as planned work, upcoming meetings, crossed budgets, etc.
Customize your dashboard with unlimited widgets, metrics, etc. to track every KPI.
Integrate Scoro with your currently used software to track and monitor all your data in one system.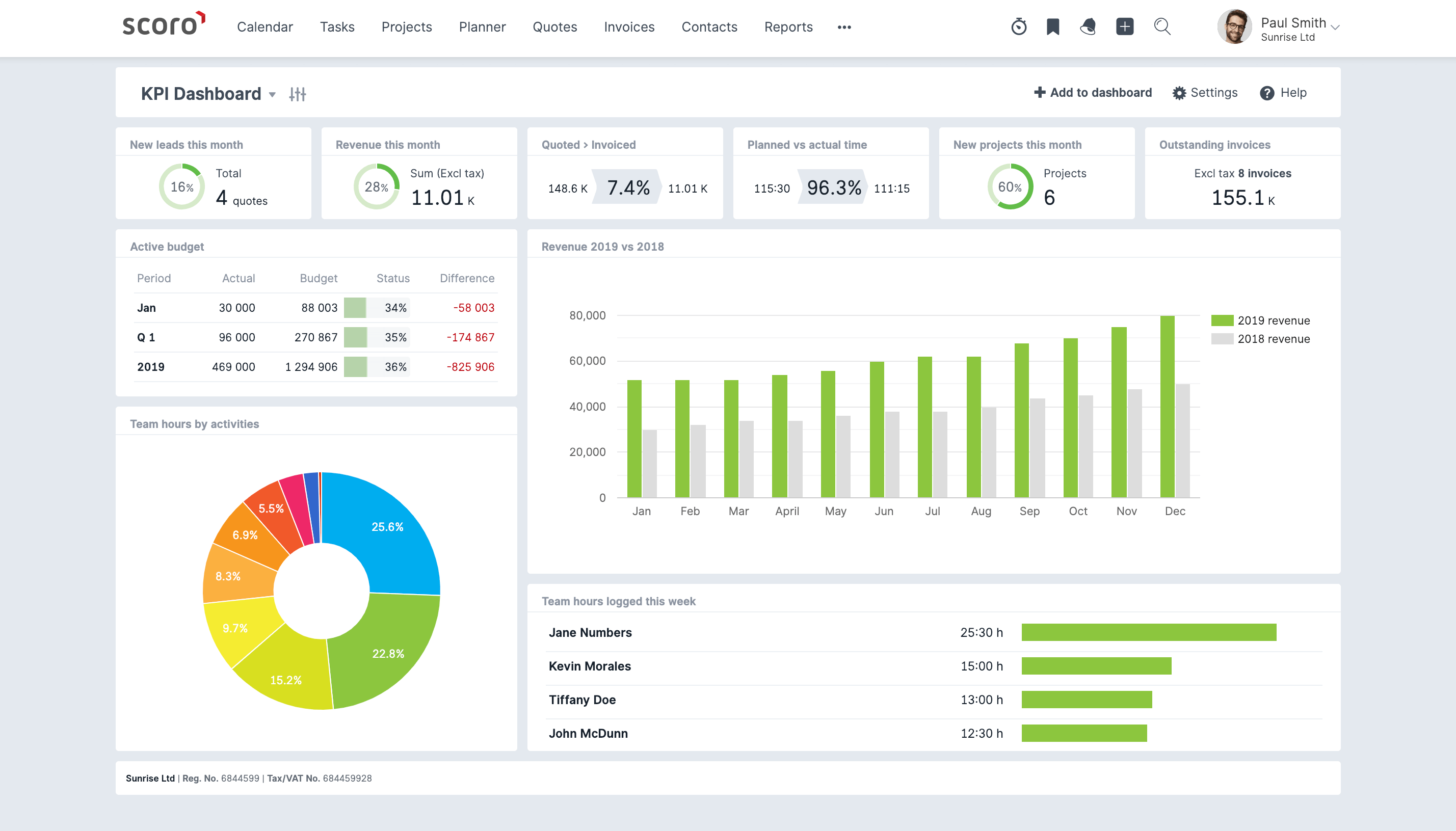 Productivity dashboard
This dashboard allows you to track the output of your entire company. You can:
Keep track of your team's important KPIs such as current projects, upcoming meetings, crossed deadlines, etc.
Get an overview of who is working on what and track both actual and billable time.
Set realistic deadlines with a simple work planning tool that lets you schedule everyone's time hour-by-hour.
Manage everyone's schedule in a shared team calendar.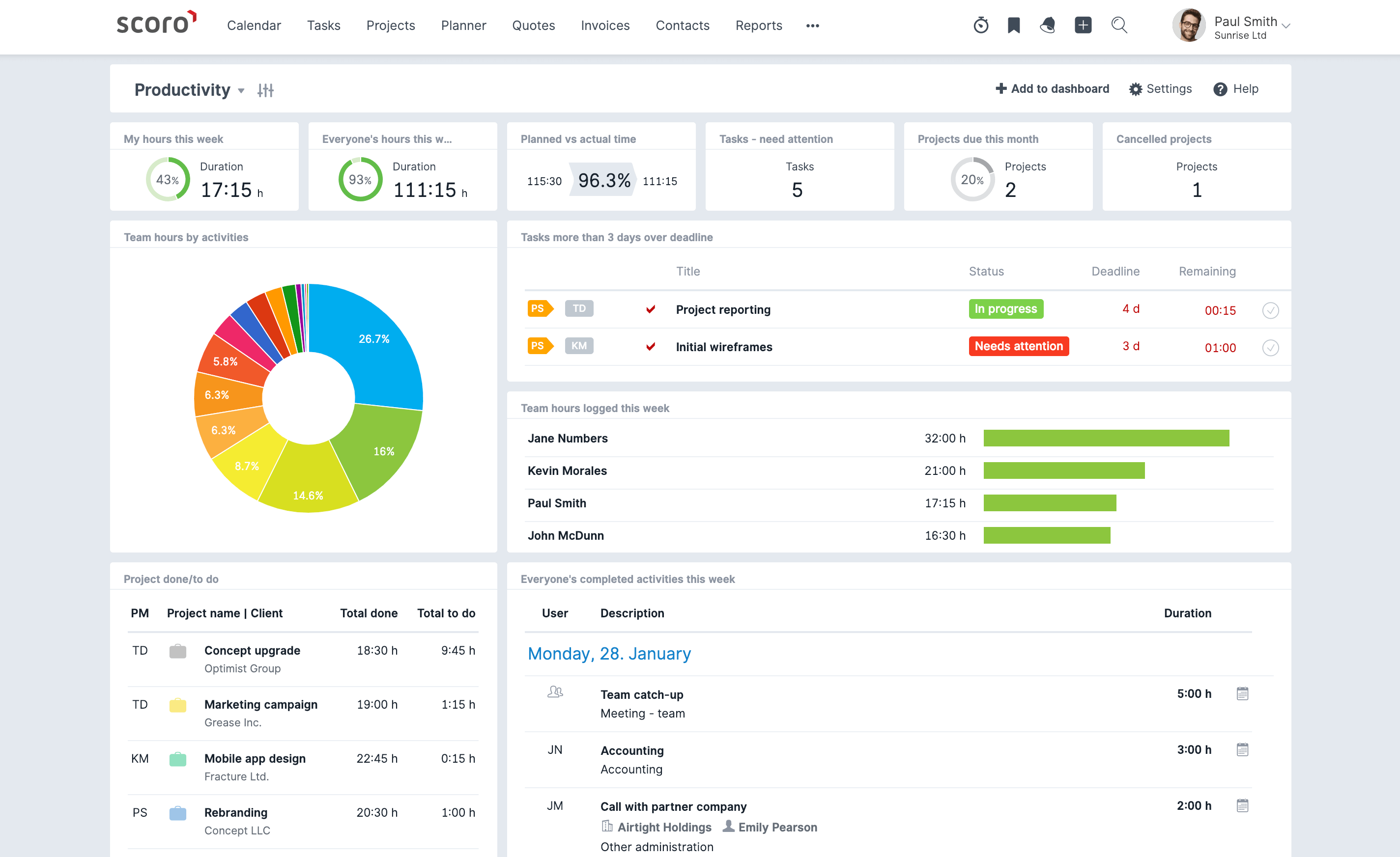 Sales dashboard
How is your sales team doing? This dashboard will tell you. You can:
Oversee every aspect of your team's sales performance on one dashboard.
Compare several budget scenarios against actual revenue, costs or profit and get forecasts based on scheduled invoices and booked deals.
Display all the important data such as sales results month over month, team's leaderboard, budgets, etc.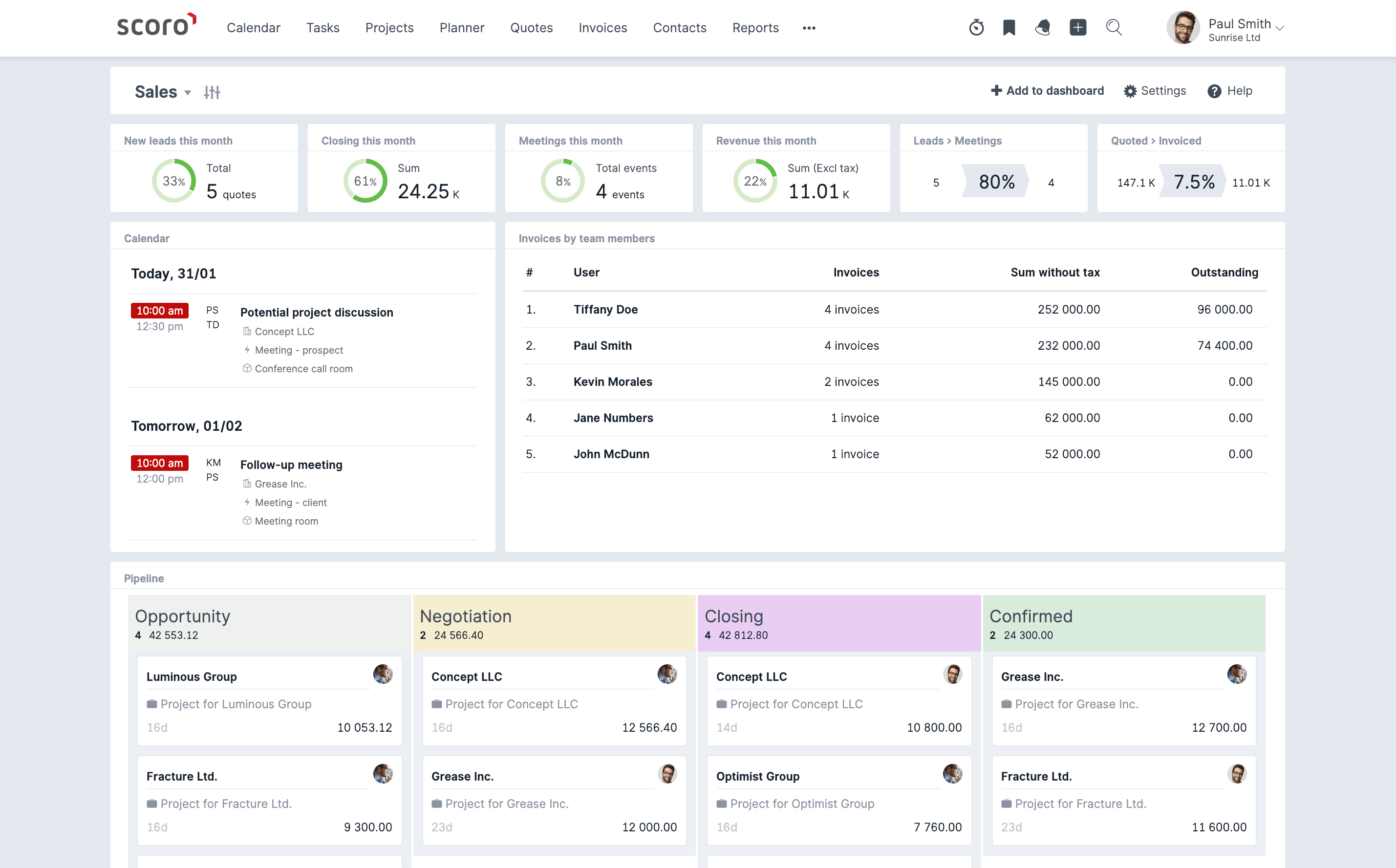 Financials dashboard
Everything you need to track your company's financial success. You can:
Stop shuffling between spreadsheets and multiple tools, and find important data in a few clicks.
View real-time financial reports on sales, quotes, and orders.
Create a separate budget for each project and track it against actual income and expenses.
Integrate Scoro with your accounting software to keep your financial data up-to-date and get a complete overview.
Compare two periods to see trends over time.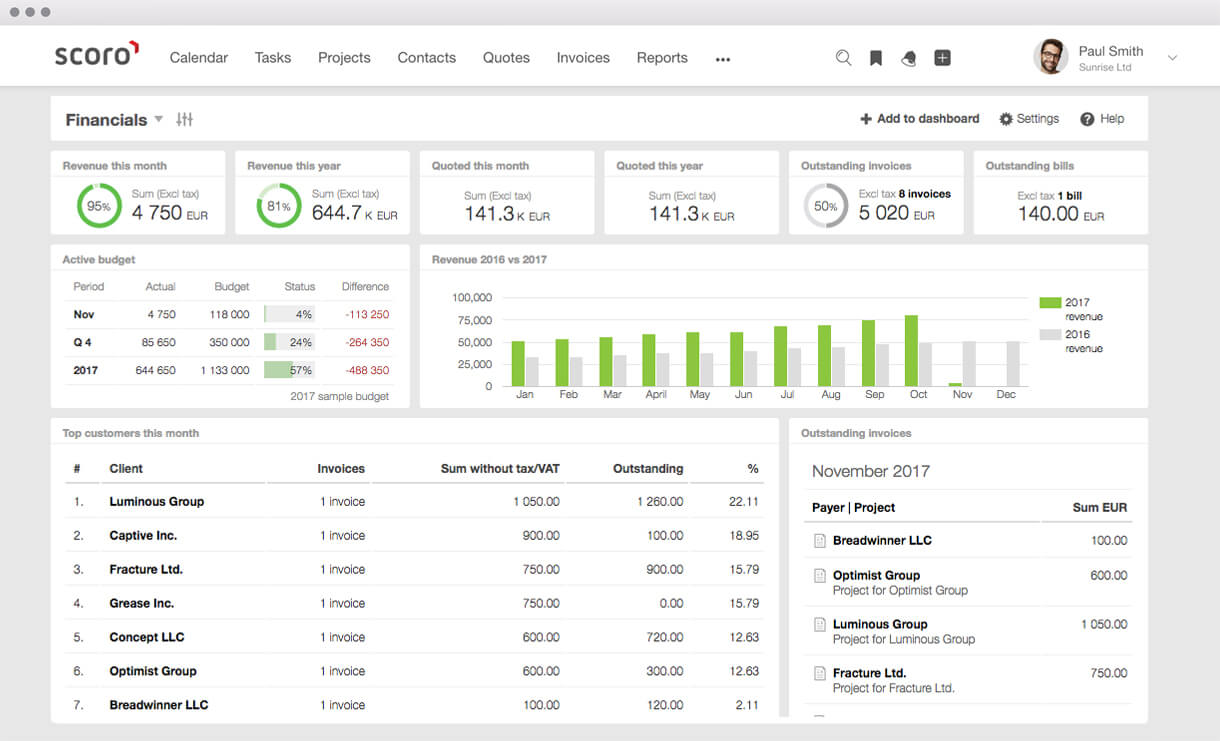 2. Just create a new dashboard from scratch
After you've clicked on the sign "+ New dashboard", a configuration box will open. First, give a name to your dashboard. You can also choose whether you'd like it to be shared (the entire team has access to it) or leave the box unchecked to create a private dashboard. If you check the box "Default dashboard," it will become the dashboard you see on your Scoro site's home page.
Read on: Scoro Help Center – Step-by-step Custom Dashboard setup instructions
What else should you know about business dashboards?
The way your data is displayed on your dashboard depends on the amount of information you insert to Scoro's system or import from other tools (Scoro has many built-in integrations to create an automated data flow).
Here are some useful tips to remember:
You can configure your dashboard anytime, add new metrics, widgets, and charts, and drag-and-drop them to rearrange the order.
You can change the size of your widgets by moving your mouse over the lower right corner of any widget in the dashboard configuration view.
Don't forget to add benchmarks and deadlines to your widgets to make your dashboard more actionable!
Make a copy of a shared dashboard to create quickly a new dashboard that you can modify to your liking.
As you can see, building a perfect dashboard isn't rocket science. You can easily create one for yourself by following the steps described in this guide, or by using instructions on our Help Center. If you'd like to try how Scoro dashboards work but aren't currently a Scoro user, you can get a free 14-day trial and check it out now.