Work management
21 Best Online PR Tools (The Ultimate List)
THE PUBLIC RELATIONS INDUSTRY is constantly changing and evolving, even more so in the digital age. Social media is rapidly taking over the print media, and as the influencers have moved online, that's where the most action takes place.
New media channels appear daily, and old PR methods just won't cut it anymore. Whether you work in a PR firm or an in-house public relations department, the message is clear: to benefit from the flood of information, you must step up your game and take advantage of all the amazing PR tools available.
We have compiled an ultimate list of paid and free PR tools every publicist should consider in order to plan, execute, manage, monitor, and analyze their PR efforts like a pro.
What are PR tools?
PR software tools are designed to help streamline day-to-day public relations activities – such as drafting press releases, billing and invoicing clients, and pitching to contacts. The main premise of online PR tools is to free up time for you to focus on what's most important, automating all the small manual tasks and increasing efficiency amongst your team.
Benefits of digital PR tools
While PR professionals have a number of manual tools and tricks up their sleeves, working on spreadsheets and paper can get a little messy – and there's always the risk of losing important client information. Online PR tools, on the other hand, can store and secure all your information within one central location, reducing the need to toggle between different apps.
The great thing about PR software tools is their versatility. Depending on which tool you choose, you can also get access to a range of other useful features that can help you better manage your overall business.
Some of the other popular benefits of digital PR tools include:
Foolproof data documentation (i.e., easily enables PR professionals to store files and retrieve them when needed)

Budgeting solutions

Collaboration tools to facilitate communication between team members within PR agencies or between PR professionals and their clients (i.e., video-conferencing solutions, in-app messaging features, and file-sharing)
How to pick the best online PR tool for your needs
With so many different options on the market, picking a PR tool for your business can seem a little nerve-wracking. When doing your research, consider your budget and the following factors:
The level of security

The kind of customer support available

The kinds of tools and features available

The set-up time and ease-of-use 
You can also score online customer reviews to get a better idea of what each tool offers, and any possible limitations. Some PR software systems may even be able to offer a free trial, which will give you a chance to try out the tool first-hand without needing to make a financial commitment.
Below, we'll be taking a closer look at the best PR tools available. Since there are so many different aspects to PR, we've broken down the list into eight main sections: Management & Collaboration, Planning, Writing, Design, Reaching Out, Monitoring, Analysis, and Presentation.
List of the Best PR Tools for Management & Collaboration
Better manage your PR agency and bring collaboration to the fore with these top digital PR tools for management and collaboration:
1. Scoro
Scoro is one of the top PR tools on the market, combining everything from project management and team collaboration to billing & invoicing – so you can manage your PR agency more efficiently from one central location.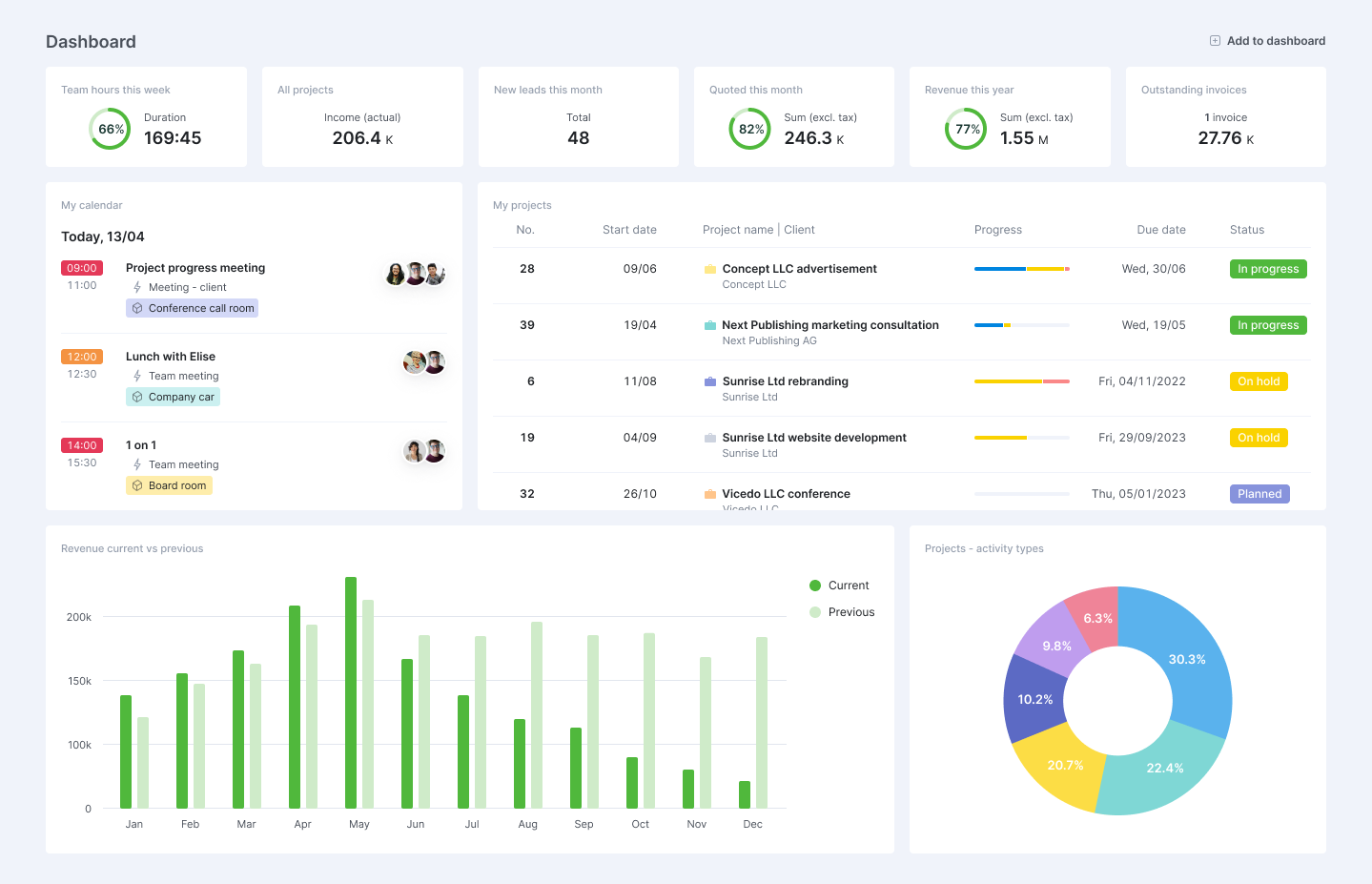 Top features:
Overview of each client and influencer with linked projects and communication history

Task management, to-do lists, notifications, and reminders

Budgets & invoicing

Detailed reports in real-time

Integrates with your favorite tools
Pricing: From $26 user
Try our 14-day free trial today!
2. Mustr
Mustr is a media relations tool designed to help you and your team organize your network of journalists and bloggers, enabling you to focus on nurturing and building relationships with them.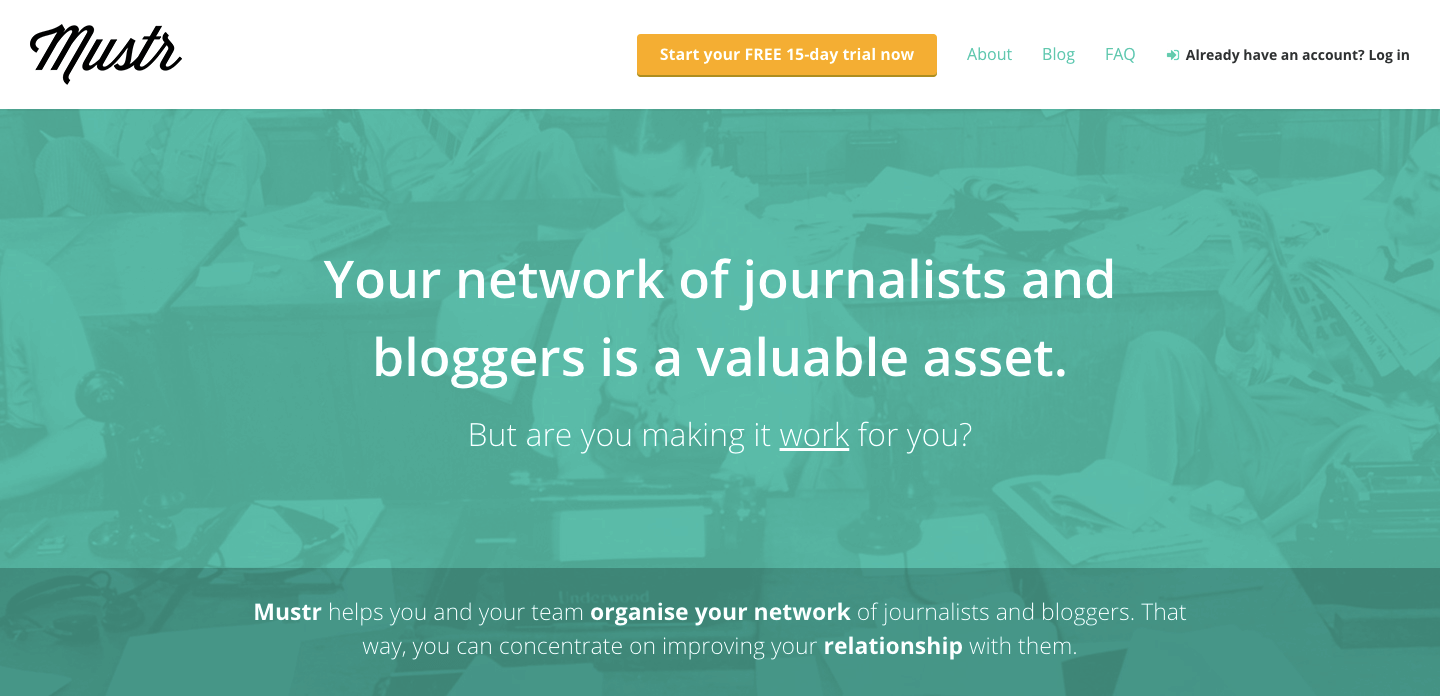 Top features:
Know who your friends and detractors are in the media

Target the journalists and bloggers you need with your PR campaigns

Keep ownership of your media and blogger database, even if you work with an agency.

E-mail press releases with high-res images and attachments.

Have access to your network of journalists and bloggers at all times.
Pricing: From $54/month with a free 15-day trial.
3. Prezly
Prezly helps corporate communication teams speed up their workflow with a platform for newsrooms, contact management, and outreach.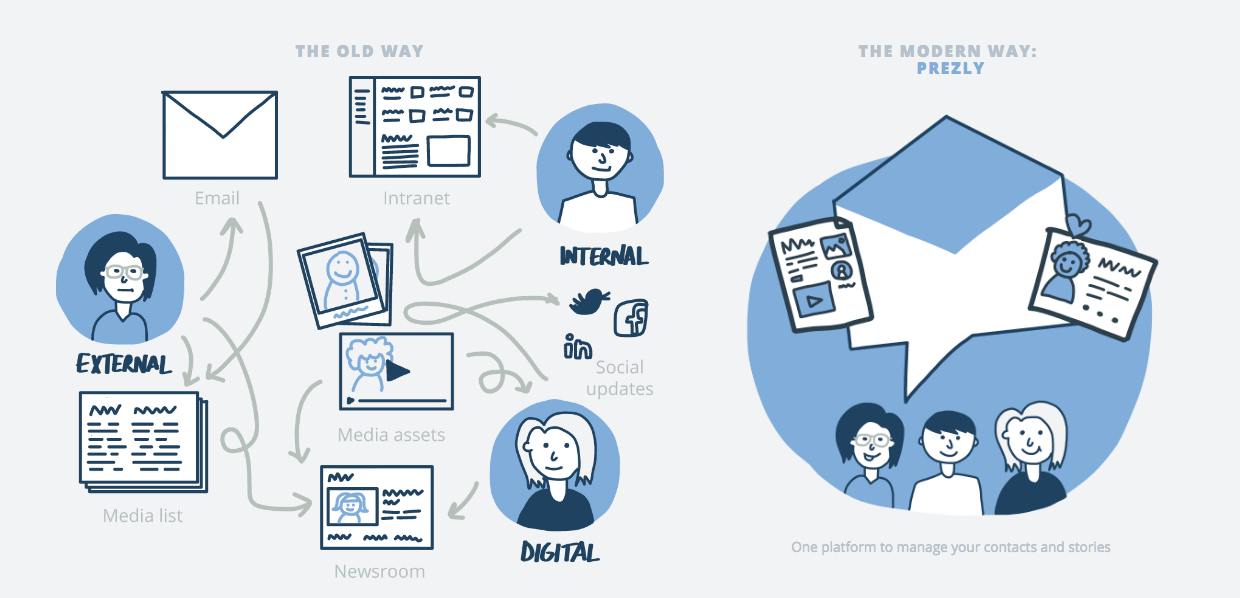 Top features:
Get to know your brand's stakeholders with a CRM made for PR

Get better results and reach stakeholders quickly with custom multimedia emails.

Create slick, attractive, and functional online newsrooms.
Pricing: From $150/month.
4. Cision
Cision is a full-featured public relations tool, featuring a database of over 1.6 million journalists, influencers, and editorial contacts. The platform also provides advanced distribution, tracking, and analyzing features to make sure you never miss a mention or fail to prove the value of your agency's PR efforts.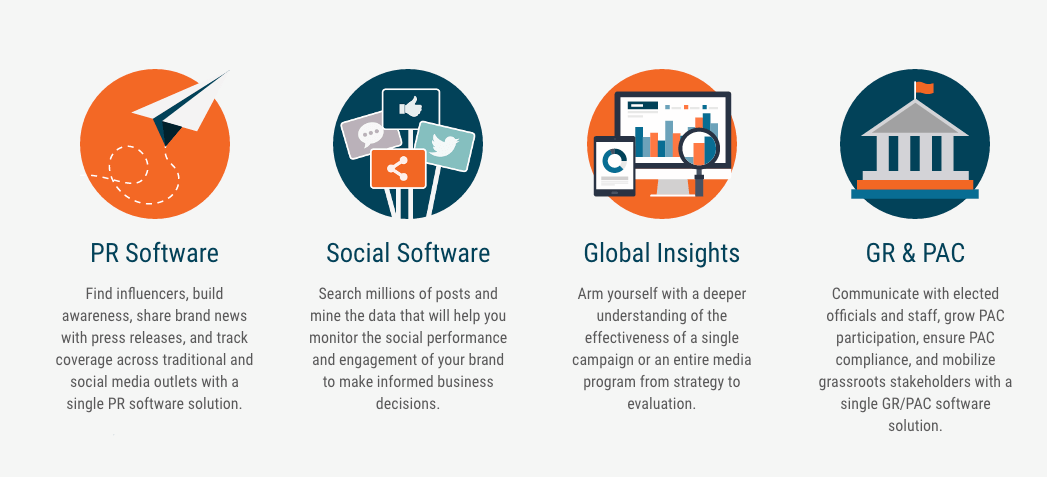 Top features:
Access to in­-depth media profiles

Monitor digital, broadcast, and print outlets

Send press releases via web, wire & email

Gauge effectiveness with real­-time reports
Pricing: Upon request.
Tools For Planning PR Campaigns
Prepare for PR campaigns and get access to relevant insights with these top PR tools for planning:
5. Answer the Public
AnswerThePublic is a search listening tool with one purpose – understanding the questions people have about a certain topic.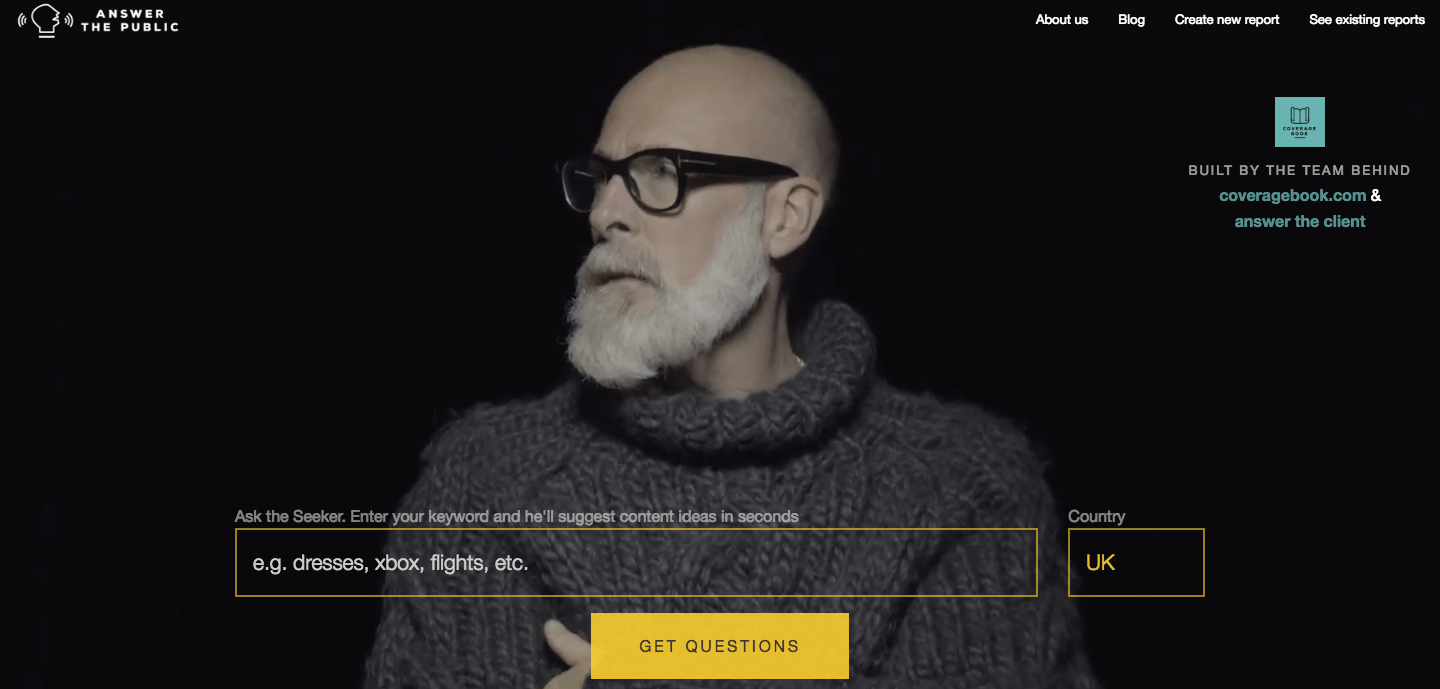 AnswerThePublic works by visualizing what questions and queries people have around a certain topic, enabling you to gain a better understanding of what the media – and your audience – are interested in.
Top features:
Search for questions related to a keyword

Find out which questions people are asking on Google

Filter by country, popularity, type of question, or preposition
Pricing: Free
6. Mashfeed
Mashfeed is a social-media-focused PR tool that enables you to create collections of popular feeds and hashtags from social media sites such as Instagram, Facebook, and Twitter.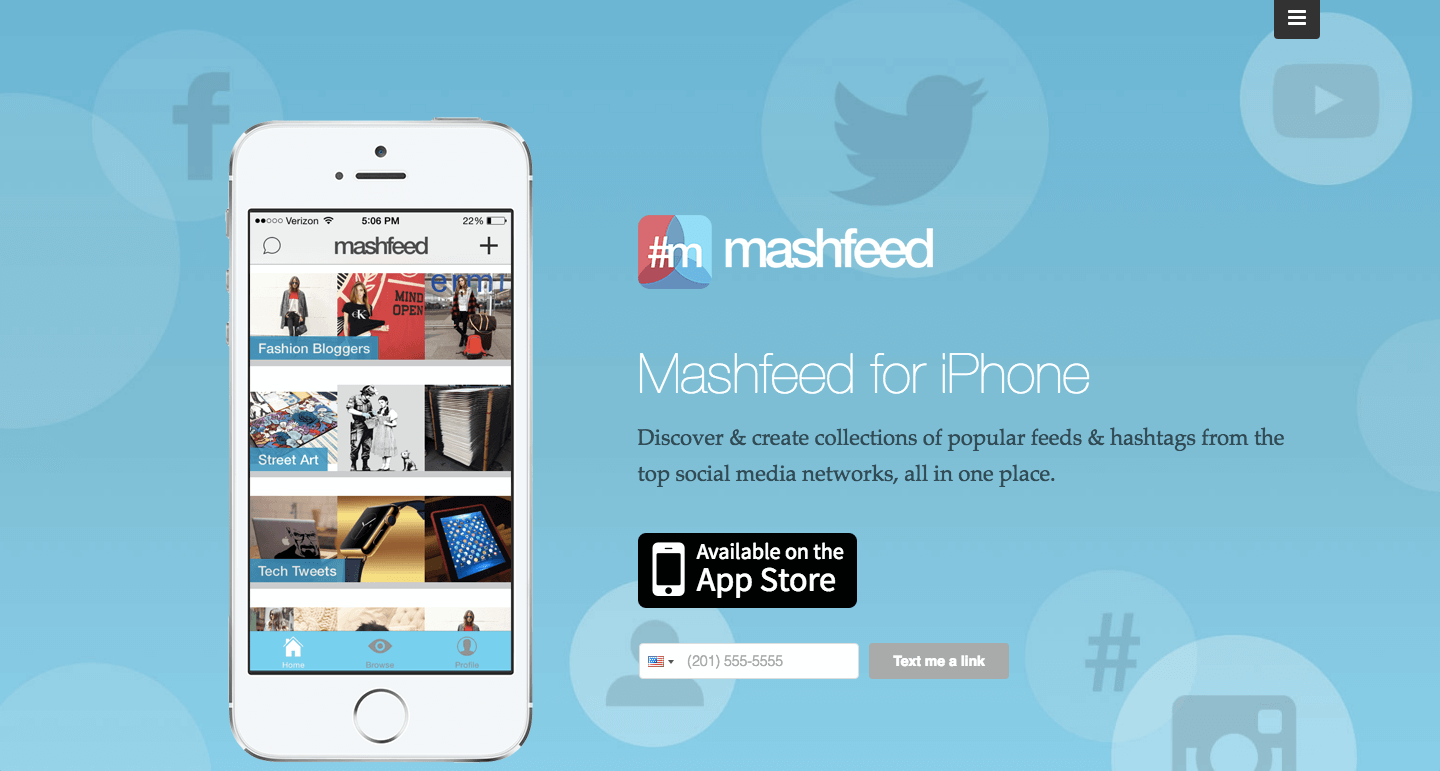 Top features:
Create your own collections that include your favorite feeds from Instagram, Twitter, YouTube & Facebook (even the ones you don't follow).

Browse through thousands of quality collections created by other users when you are looking for new content

Track all of your campaigns across social media in one place through collections that include relevant hashtags and keywords.
Pricing: Free
7. Meltwater
Meltwater is a media intelligence tool for strategic planning, connecting you with your audience and offering solutions to measure the success of your campaigns. The tool also helps you stay on top of real-time editorial, blog, and social media conversations, and extract the insights you need to understand and drive brand perception for your PR agency.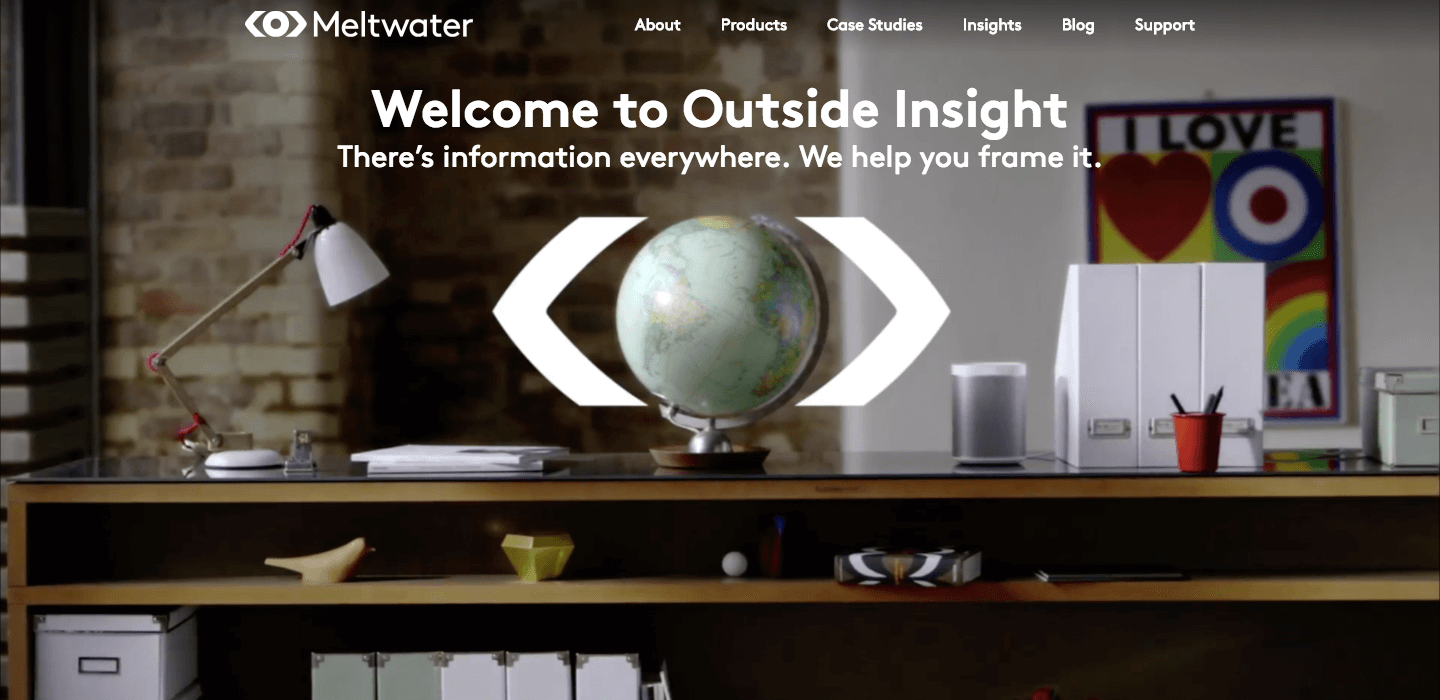 Top features:
Track your brand, your competition, and relevant news in real-time.

Discover news, media contacts, competitors, trends, and more.

Build and maintain meaningful relationships, whether you're connecting on social or distributing press releases to targeted influencer lists.

Analyze which campaigns worked and which ones didn't.

 Build dashboards to measure success.
Pricing: Pricing on request
8. BuzzSumo
BuzzSumo is designed to help you discover content that your audience wants to engage with and identify influencers to reach out to.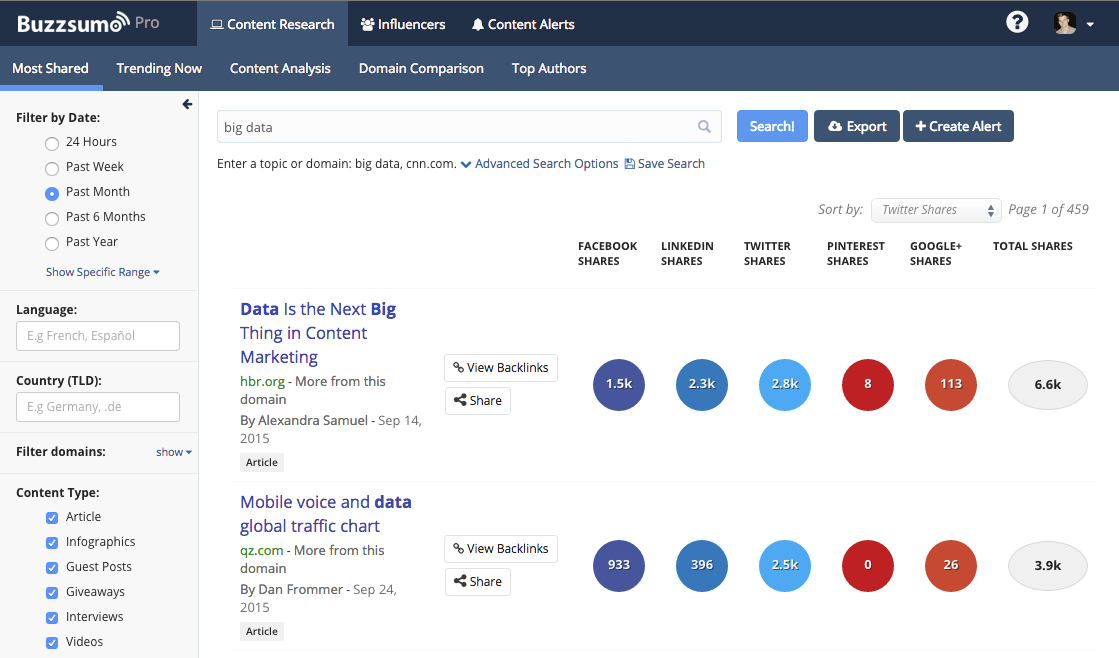 Simply enter a topic into the search bar, and BuzzSumo delivers recent top articles on the subject. 
Top features:
Analyze what content performs best for any topic or competitor

Find key influencers to promote your content

Break down each person's influence by domain authority, the number of followers, and more
Pricing: From $99/month
Tools For Writing PR Campaigns
Draft tip-top press releases and outreach messages with these public relations tools designed specifically for writing.
9. Hemingway App
Hemingway App is an interactive editing tool that calls out grammar errors, the use of passive voice, and improves the overall readability of your writing – ideal when drafting outreach messages.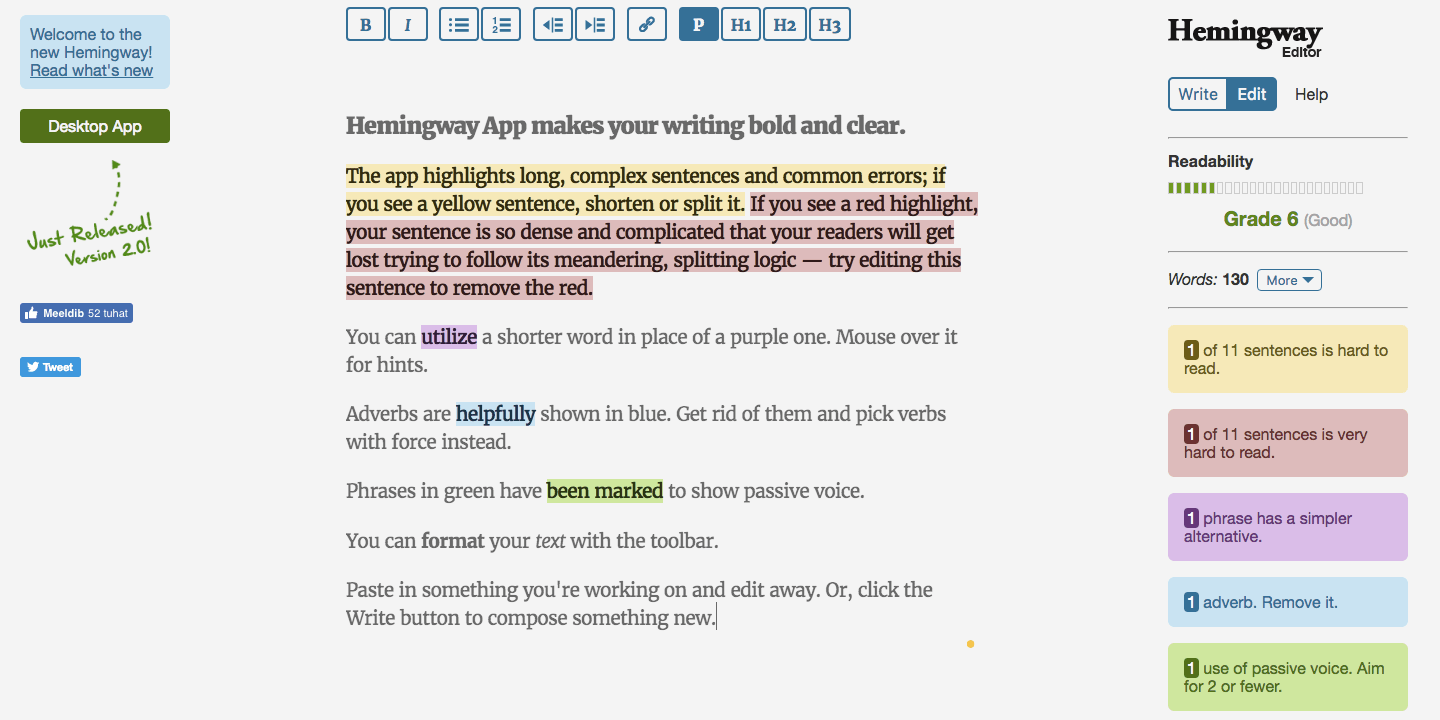 Top features:
Highlights long, complex sentences and common errors

Helps with conciseness and suggests more descriptive words

Calls out "Readability" with a dedicated grading system
Pricing: Free. Desktop version $9.99
10. CoSchedule Headline Analyzer
The Headline Analyzer will score your overall headline quality and rate its ability to result in social shares, increased traffic, and SEO value. Chances are, if you have a catchy headline that speaks to users, your outreach message will get a click!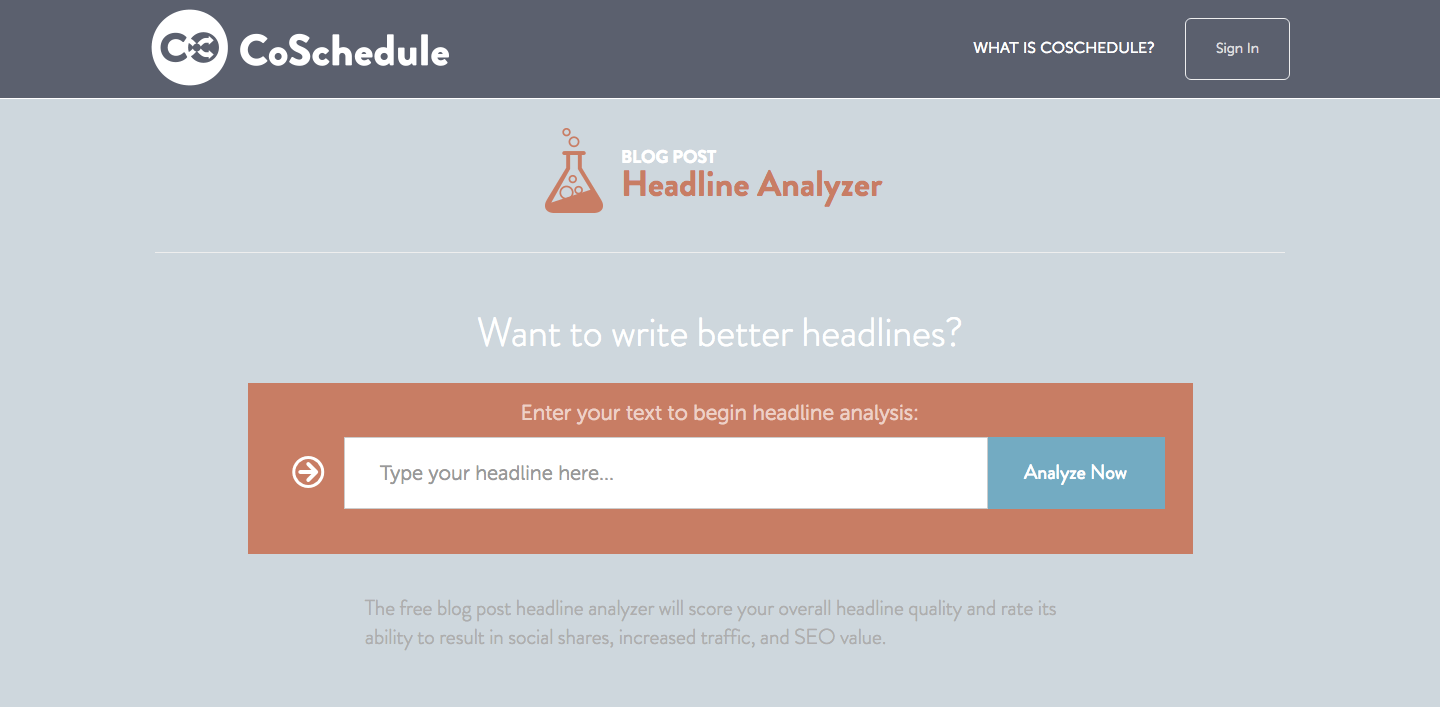 Top features:
Measure the quality of a headline or subject line

Preview how it will look like in an email
Pricing: Free
Design Tools For Your PR Campaign
Create beautiful graphics for your PR campaigns with these online PR tools created with design in mind.
11. Canva
Canva is a simplified version of Adobe Photoshop and InDesign, helping PR professionals and graphic design enthusiasts generate social posts, blog graphics, Twitter headers, Facebook ads, and more.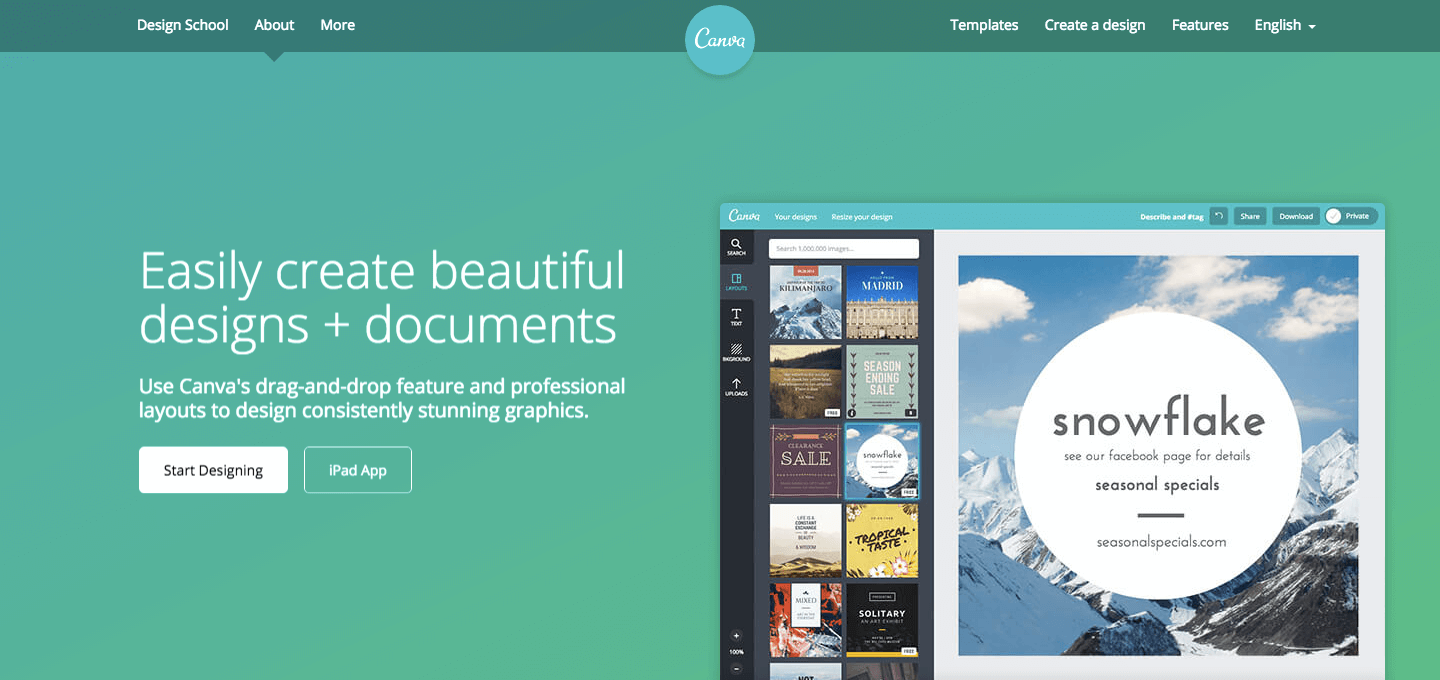 Top features:
Choose pre-designed templates or create one from scratch

Create beautiful flyers and Facebook ad designs

A library of more than a million icons, fonts, and photos
Pricing: Free & paid from $9.95/month
12. Pexels
Pexels is a free, CC0 License (to be used for any purpose) stock photo resource of beautiful photos from various categories.
Top features:
Find free photos for both personal and commercial use

Modify, copy and distribute the photos if needed

All without asking for permission or setting a link to the source
Pricing: Free
PR Tools For Reaching out
Create sparkling pitches with these outreach tools.
13. Pitchengine
Pitchengine allows you to take control of the presentation of your pitch. Upload your images, video, and embeds into Pitchengine, choose a style that fits your content, and Pitchengine optimizes it for the best presentation on desktops and mobile devices.

Top features:
Create a beautifully designed pitch with no design skills needed

Optimize your pitch for the best presentation on desktop and mobile devices

Embed the pitch on your website or blog 

Track the pitch and learn what type of messages receive the most engagement
Pricing: Free with ads, ad-free starting from $79/month.
14. MailTrack.io
MailTrack.io is an extension for Gmail that enables you to quickly scan whether your messages were opened and how many people read the email within your normal inbox interface.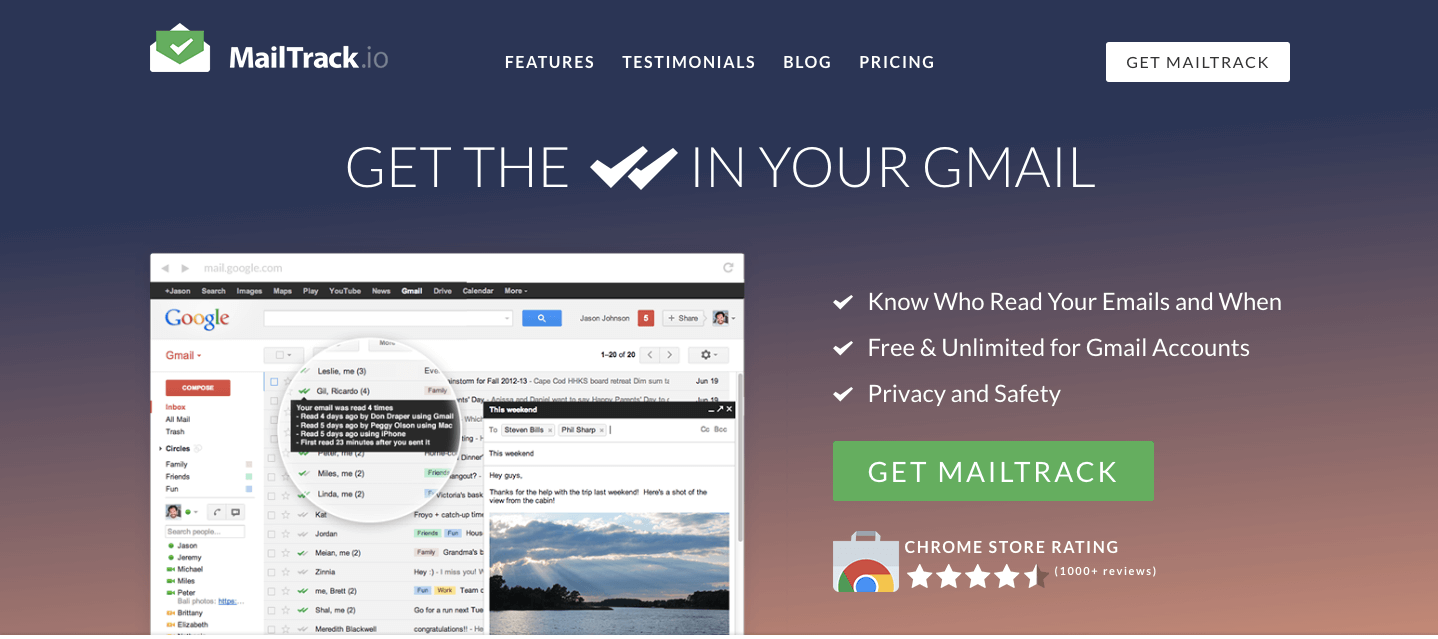 Top features:
Know who opened your email and when, even among multiple recipients.

Real-time desktop notifications.
Pricing: Free with MailTrack.io signature, a signature-free version from $4.5/month.
15. Followupthen
FollowUpThen is a simple email address reminder tool that alerts you when you need to send an email response to someone. Use it to set up to-do lists for others, send reminders to yourself, and clear clutter from your inbox.

Top features:
Schedule the right information to appear at exactly the right time – contact info, links, boarding passes, etc

Use a response detection feature to make sure your email doesn't get lost

Scheduling automatic reminders for as many as 15 people at once.

Delegate tasks, or automatically follow up only if they don't respond

Placing one FollowUpThen email address in the 'BCC' field is all you need to schedule a follow-up reminder
Pricing: Free & paid from $2/month
16. Email Hunter
Email Hunter finds email addresses across the web via the company's website domain.

Top features:
Just enter a domain name and find out the available emails on that domain

API for developers
Pricing: Free & paid from $49/month
17. HARO
HARO (Help a Reporter Out) provides journalists and PR professionals with a robust database of sources for upcoming stories and daily opportunities – enabling you to secure valuable media coverage.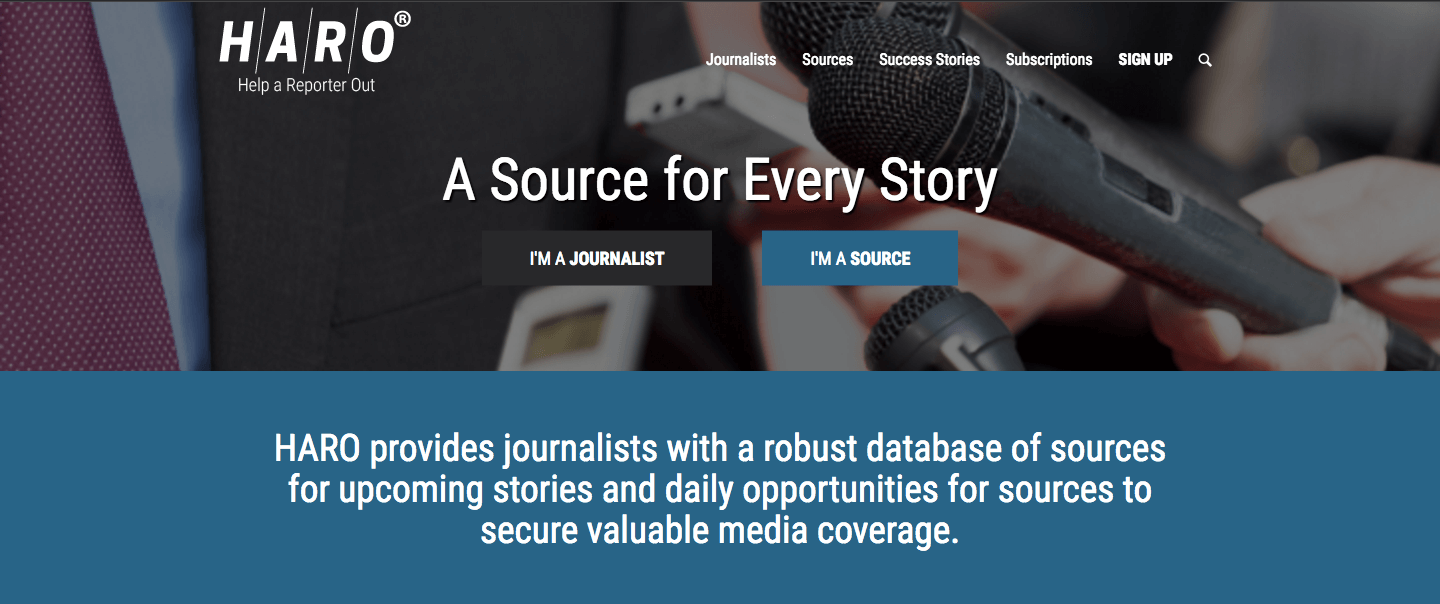 Top features:
Get query emails broken down by topic/industry in your inbox 3x a day
Pricing: Free & paid from $19/month
18. Anewstip
Anewstip is a PR tool designed to find relevant media contacts from the world's largest database, indexing more than 200 million news articles and 1 billion tweets from more than 1 million media contacts.

Top features:
Search for relevant media contacts by what they have written or tweeted

Monitor news articles & tweets from global media influencers

Build media lists to organize all your media contacts

Reach out to relevant journalists with personalized pitches
Pricing: Free
Tools To Monitor Your PR Campaigns
Track the success of your PR efforts with PR software tools designed to help you better monitor your campaigns.
19. Mention
Mention is a monitoring and social media tool that lets you monitor social mentions and sentiment to better understand how you, your client, and your competitor's brand is being talked about and perceived online.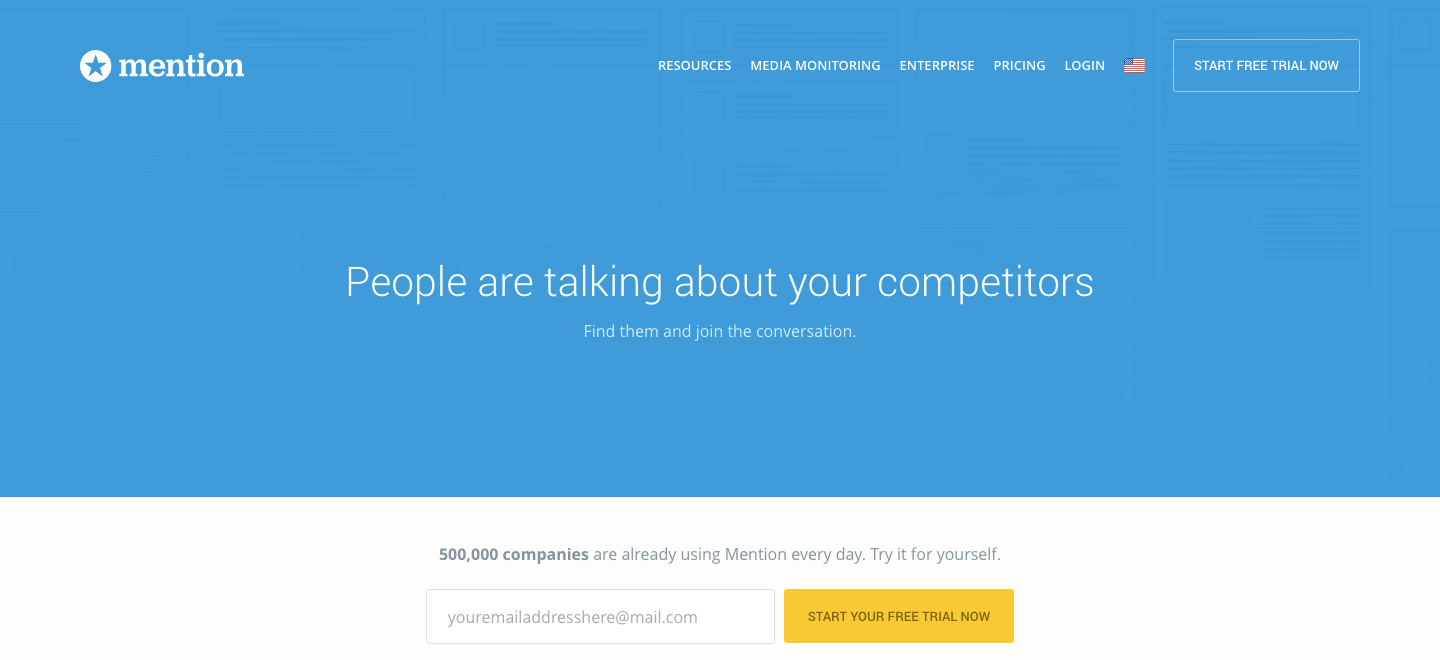 Top features:
Monitor keywords in real-time

Identify influencers

Track and analyze your performance and easily create a report

Assign tasks and share alerts to your colleagues within the app
Pricing: From $29/month
Tools To Analyze Your PR Campaigns
Dive deep into your PR campaign's data – and get actionable insights – with these PR analysis tools:
20. Sprout Social
Sprout Social is an all-in-one social media management platform that analyzes awareness & engagement across all social channels, compiling data from every major social network and unifying business metrics to make data analysis easy and clear.

Top features:
Cross-channel campaign measurement

Competitive analysis

Hashtag & keyword tracking
Pricing: From $500/month & some free resources
Tool for PR Presentation
Easily create coverage books with these presentation tools:
21. Coverage Book
CoverageBook is a PR software tool that compiles your PR reports and press releases into beautiful coverage books within minutes – so you can showcase your talent to clients and managers alike.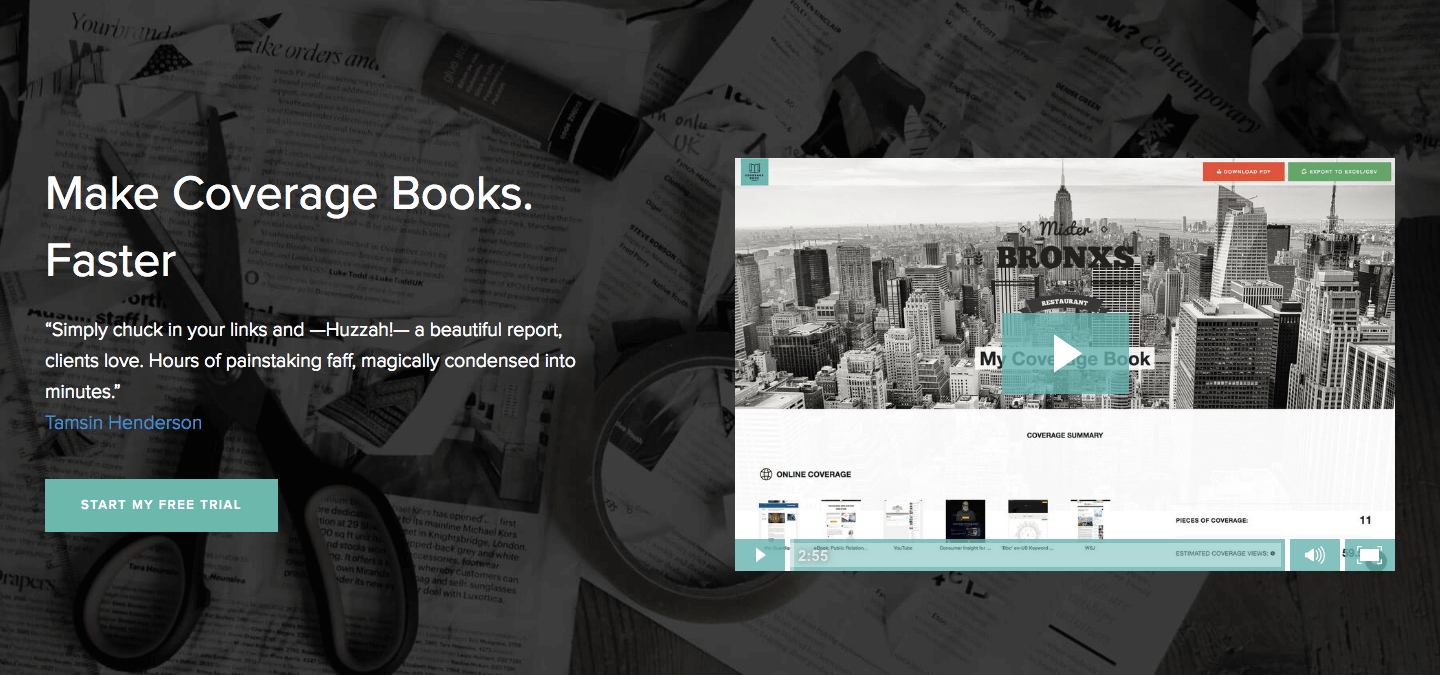 Top features:
Collect and present media mentions

Upload offline coverage or simply input the URL of the article and Coverage Book will create a screenshot

Dashboards that show combined views, shares, and inbound links from your recent PR campaigns
Pricing: From $99/month with a 28-day free trial
In case you need a quick recap, here are all the tools
Management & Collaboration: Scoro | Mustr | Prezly | Cision
Planning: Answer the Public | Mashfeed | Meltwater | BuzzSumo
Writing: Hemingway App | Headline Analyzer | Canva | Pexels
Reaching out: Pitchengine | MailTrack.io | Followupthen | Email Hunter | HARO | Anewstip
Monitoring: Mention
Analysis: Simply Measured
Presentation: Coverage Book
Everything about your business, one click away