Work management
How to Implement Business Intelligence (Even if You Think You Don't Need it)
In the past, business intelligence (BI) was a privilege of large enterprises who could afford to maintain teams of IT specialists and data scientists.
But in the last decade, along with the software as a service (SaaS) revolution, the software has become not only more lightweight and powerful but also more accessible. It's a booming industry – the global revenue in the BI and analytics market is forecast to reach $16.9 billion in 2016. This is a clear sign that more and more companies are transitioning to modern BI platforms to gain insight into the business.
What is BI?
Business intelligence (BI) is a set of techniques or tools for the acquisition and transformation of raw data into insightful information for business analysis purposes. BI technologies provide historical, current and predictive views of business operations. The common functions of BI technologies are reporting, analytics, data mining, business performance management, benchmarking, predictive analytics and prescriptive analytics.
"Knowledge is power."
The famous quote by Sir Francis Bacon still holds true today. The data we create is gathered, sorted and diagnosed to find patterns that allow a business to make decisions that help to be more competitive. Data analytics has become increasingly strategic to most businesses so that every business process is now an analytics process and every professional an analytics user.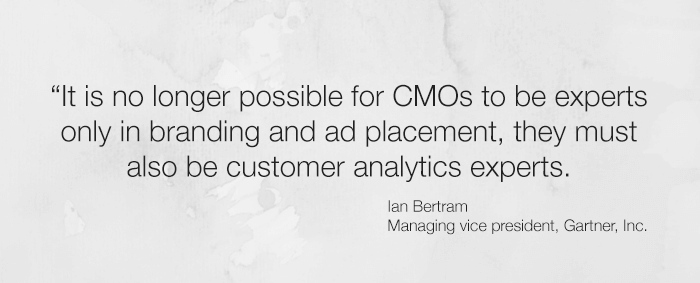 "It is no longer possible for chief marketing officers (CMOs) to be experts only in branding and ad placement," said Ian Bertram, managing vice president at Gartner, Inc. "They must also be customer analytics experts. The same goes for the chief HR, supply chain and financial roles in most industries." This means that BI tools are going to play an increasing part in how we communicate and do business.
However, becoming a data-driven small business isn't easy. Most small or medium businesses do not take the time to monitor their data, let alone analyze it – they are just too busy trying to make living day-to-day.
Read On: What is a KPI? (The Complete Guide)
Here's how to make the most of the data at your fingertips.

Start Simple
Complex records of data from multiple sources can be difficult to process and interpret into insights your business can use. Start with what you already have.
For example, look for spending/buying trends, which allow you to focus your marketing efforts. Your data may reveal that traffic dropped over the last couple of weeks while free-trial sign-ups continued to accrue. From there, you should dig deeper into channels or landing pages that are converting at the highest rate, and increase your bet on them. Understand your data and how it relates, then build on that knowledge.
Essentially, BI involves an iterative approach to slicing and dicing data to look for meaningful patterns upon which effective business decisions can be made. This makes it possible for your company to optimize its business plan and gain key competitive advantages, even from unexpected sources.
Read on: Business Management Trends You Should Quit in 2017
Understand Your Customers
To make customers stay with you, you must respond to or even forecast their needs. Gaining and maintaining a base of loyal customers is of particular importance to small businesses – retaining a client is much cheaper than attracting a new one. BI helps to gather data about your customers' behavior and analyze it to make effective business decisions.
Online games site RummyCircle faced a problem of lacking response from a significant portion of players beyond the first day even if they had deposits on the site. It was then decided to motivate players sitting on the fence to return to play. The company performed Predictive Analytics with Data Mining on the customer data and came up with the list of players who they named Fence Sitters and Enthusiasts. The Fence Sitters were then provided with a 200% bonus incentive if they return with the offer valid only for a day. The campaign worked, and over a period of two months, an ROI of 62% was achieved.
Read on: All-time Best Hacks for Business Optimization and Analysis
Collaborate in Real-time
Access to online dashboards means that everyone involved will always have the needed, up-to-date information, on the fly. No need to engage an IT team and wait until they analyze the data and generate a report. It's an opportunity for businesses to save some money without sacrificing the quality of the analysis.
Nothing makes a business plan less effective than basing it on last year's numbers. Doing so is like writing a work of fiction – last year's numbers no longer exist. Current data analyzed on assumptions of what future conditions may unfold will have the best chance of successful implementation.
Read Your Future
Excel sheets do an excellent job storing and arranging information for data analysis, but they will only tell you what you already know.
How would you like to know "What will happen tomorrow?"
BI is a smart tool that will help you reveal tendencies in your past performance that could otherwise go unnoticed. You can identify significant trends in your data with the potential to unlock new growth opportunities. By analyzing your past performance in context and trying to understand the factors that influenced the best or worst results, you can discover the key to future growth.
Read on: How to Use Your Business Data for Smarter Decisions
Implementing Business Intelligence
If you're convinced of the value of BI for your company, ask the following questions:

What's your objective?
What are you hoping to achieve by implementing BI?
Do you want to boost sales or improve customer satisfaction?
Do you want to be more efficient with your operations or your workforce?
Understand your priorities and create a long-term plan for your business, only then can BI systems help you reach your objectives.
What Do You Have?
BI is all about data, and you probably have accumulated lots of it. Once you've got an idea of the area you want to address, consider what information you are collecting right now, and what could be easily obtained with the right systems in place?
One of the primary functions of BI is to pull together data from different parts of your business and analyze it. So consider what kind of data you have available to feed in, as that will likely drive the results.
What Do You Need?
Lastly, it's time to make a more concrete decision on what your business needs.
If you've decided to focus on
Do you want something that integrates all your existing data and produces charts and reports showing you who's performing best? Or do you want to identify new information sources and better ways of measuring employees' performance?
Do you prefer a cloud-based system, software as a service, or a software package that you install and run yourself? Do you want something to integrate with your existing systems or something that replaces what you already have?
If you're still not sure whether to implement BI, see this infographic on how to become a data-driven company.
Rethink the System
As you can see, acquiring BI for a small business doesn't necessarily mean going out and investing in enterprise-level BI software. By starting small, you can begin to understand what types of data sources can best inform your business decisions.
However, to get the full benefit of modern BI and analytics platforms, leaders must rethink most aspects of their current IT-centric, centralized analytics deployments. Once you've got a clear understanding of what you need and whether you're ready to implement it, you can start taking your first steps in the world of BI.
To find a BI software that benefits the entire team and gains everyone's support, follow this Roadmap to Finding the Right Software.
Everything about your business, one click away