Product
Essential Hacks to Apply to Your Calendar and Task View
Did you know that Scoro is full of amazing features and hacks that empower your business management? Master these tips and tricks for Scoro's calendar and task views to make your work more efficient and discover new ways to enhance your productivity.
1. Calendar invites
Did you know, that scheduling customer meetings and proposing multiple time options can be done in just a few clicks? Instead of bouncing emails back and forth with the client to find a suitable meeting time, send them a calendar invite with multiple dates and time options and let them choose the most suitable time.
To send a calendar invite in Scoro, go to the Calendar and click on Select time slots in the top right corner of the calendar.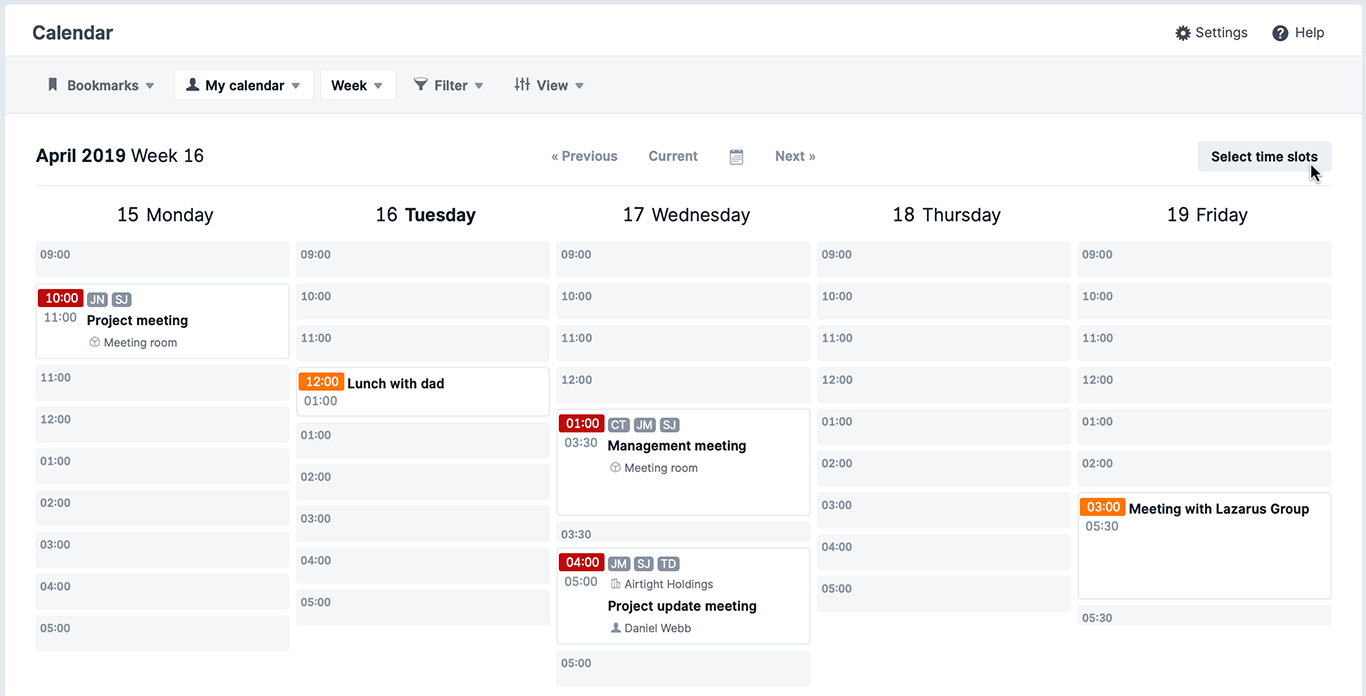 Pick multiple date and time options, choose the people to invite, the location, etc. and click on the blue button Save and propose times down below.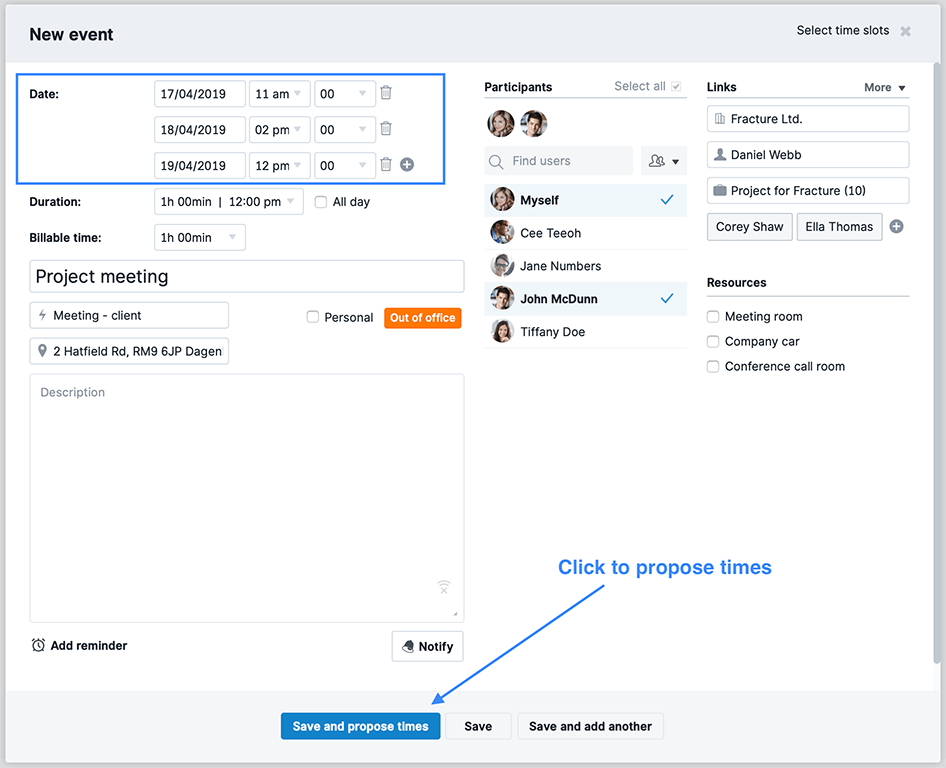 Now a calendar invite with a personalized message will be automatically forwarded to selected recipients. After they've confirmed the suitable time, you both receive email confirmations and the meeting will appear on both of your calendars no matter if you use Scoro, Gmail or Outlook.
2. Recurring tasks
We all have tasks that we have to repeat after a certain period of time. It might be the invoicing at the end of each month, or a work report your boss expects every Monday. There's no need to create the same task every week when you can have recurring tasks popping up automatically.
Benefits of recurring tasks:
Repetitive tasks are created automatically and you just have to mark them as done
You're constantly reminded to finish a weekly or daily task as new ones show up
Deadlines remind you of upcoming due dates
To create a recurring task in Scoro, go to the Task list and click on Recurring tasks. You will notice a dark gray button + New. Clicking on the button opens a window where you can set the preferences and the frequency of the automatically generated recurring task.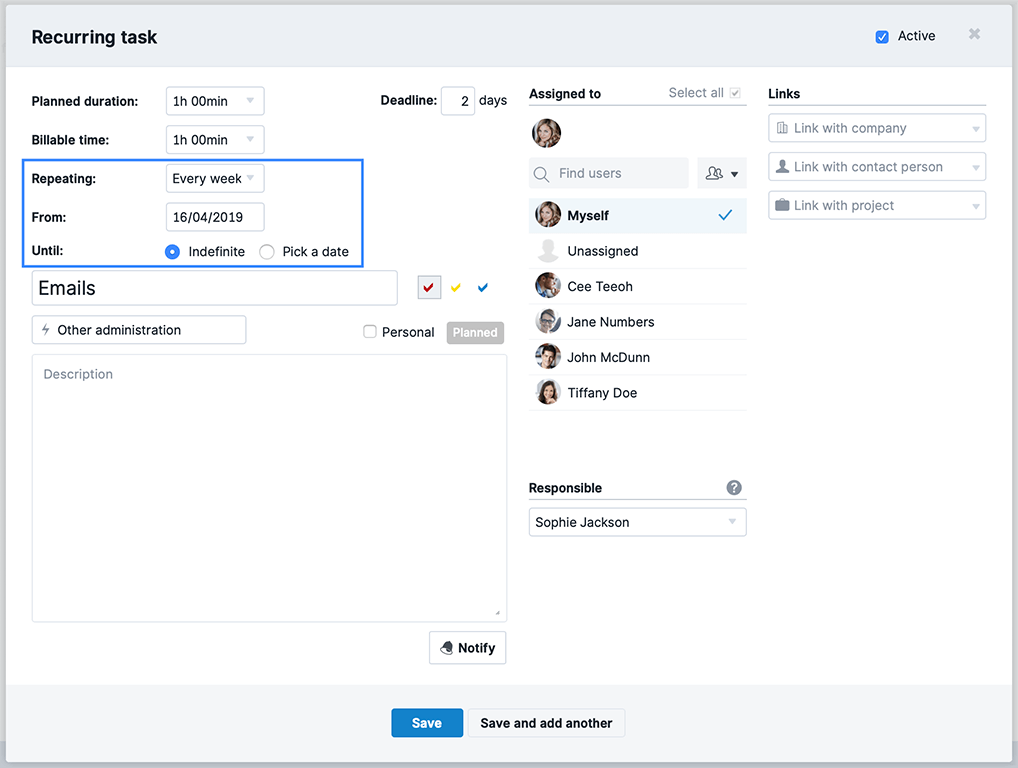 By clicking on Save you have created a recurring task that will appear in your task list as often as you've selected it to. All you have to do is finish the assignment and mark the task done.
3. Time entries
The best thing about time entries is the fact that you don't need to create a new task every single time you complete the same activity – you have the ability to add time entries under one task.
You can also use time entries on tasks shared by multiple people. Create a task and add time entries for different users under that task. Every time someone completes a portion of that task, they can mark their time entry as done. This way you'll have a complete overview of how much time everyone spent on that specific task.
To add time entries in Scoro, go to the Task list and click on the time entry icon.

Or click on a task to open it, and you can see Time entries at the bottom left side of the page. By clicking on the button Add, you can create a new time entry.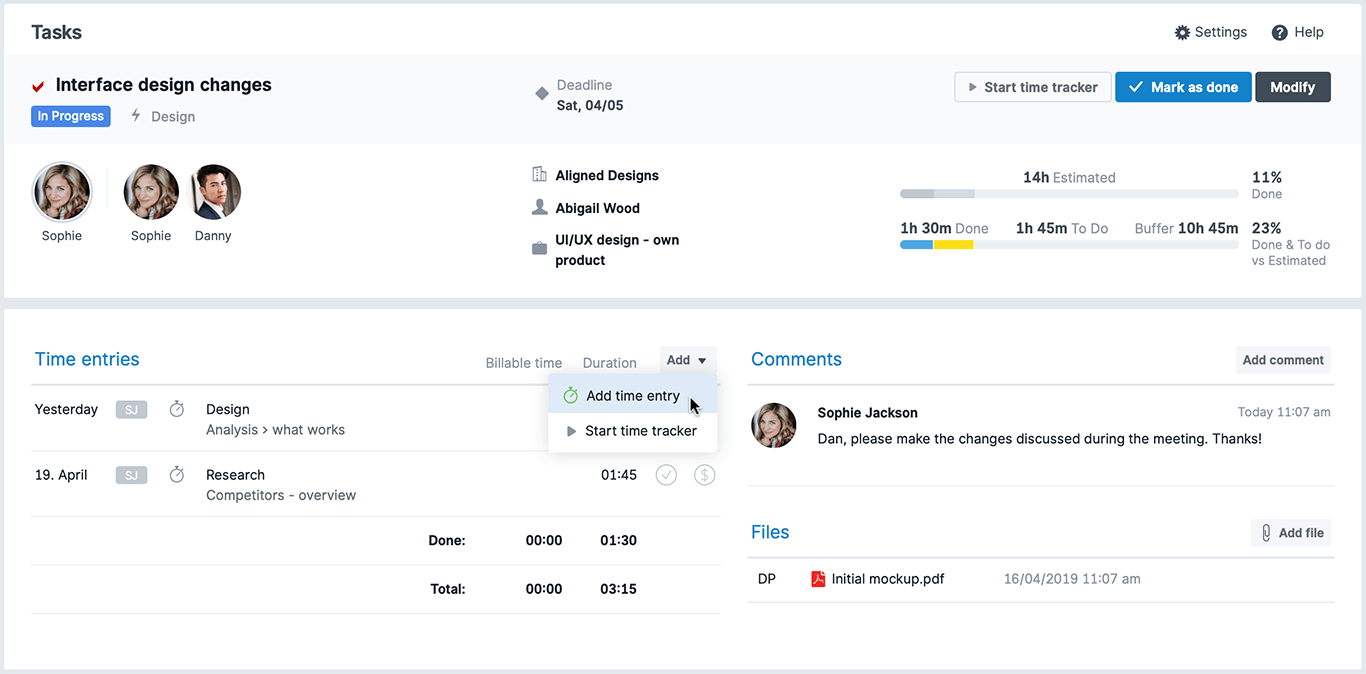 Should you use time entries or recurring tasks?
Time entries work great with:
Little tasks that you handle multiple times every day – it would take too much time to create the same task 5 times a day.
Demanding tasks that take multiple days to finish – you can add time entries to record your activity and monitor the total time spent on the task.
Tasks that multiple people work on – every time someone finishes their part of the task, they can add a time entry or mark an already existing time entry as done (but not mark the task as done as others continue working on the same task).
Recurring tasks work great with:
Tasks repeating every day, week or month – if you need to finish the same task say every Wednesday, add a recurring task for it to automatically reappear to your task list each week.
Repeating tasks that you tend to forget – create high priority recurring tasks and add a deadline to be reminded of the task when the due date is getting near.
4. Assign tasks to multiple people
That's a proven technique that lets you skip creating the same task multiple times for team members working on the same tasks. When creating a new task, you have the option to assign it to a team, or select handpick the people that you need working on the task.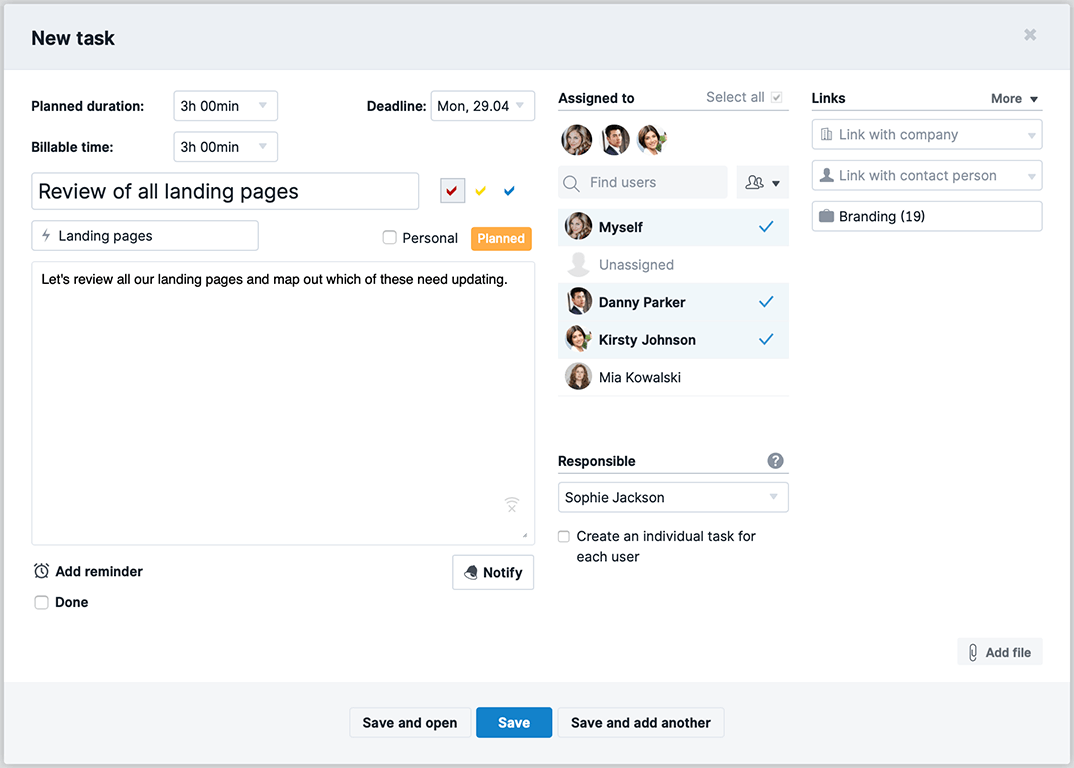 You can also manage your teamwork with projects.
5. Unassigned tasks
To make work management remarkably easier, you can use the Planner to schedule assignments for different team members.
When assigning project tasks to team members, leave some generic tasks unassigned at first. These tasks appear in the project detailed view, so it's easy to remember they need to be completed in a coming project phase. When one team member finishes their tasks before others, you can take the already created unassigned task and assign it to them. This way you can use the full potential of your team and assure that everyone handles equal workload.
Learn how to motivate your team and achieve project goals.
6. Drag and Drop
Did you know that you can use drag and drop in nearly every view in Scoro? Go to your Task list and drag more urgent tasks to the top of your task list. Use drag and drop in your Calendar to effortlessly change the time of a meeting. Or better yet, schedule tasks as events in your calendar.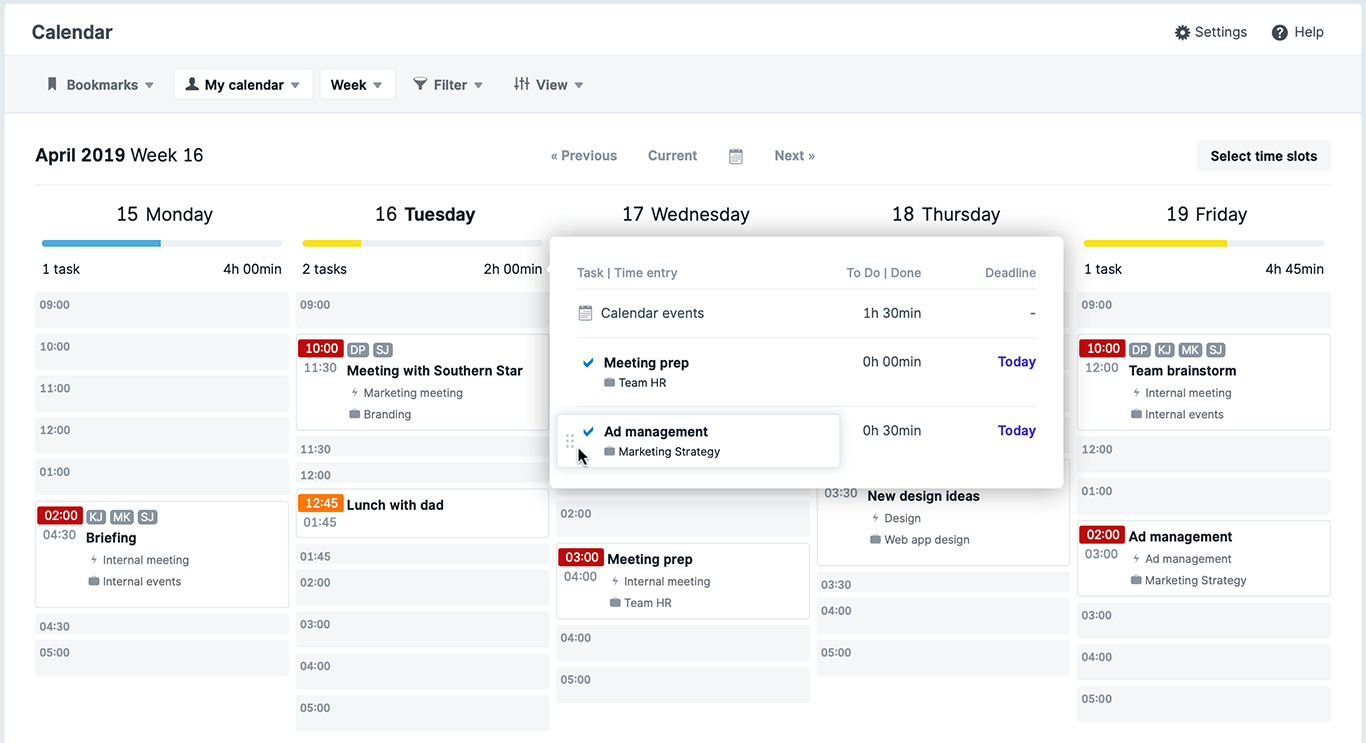 The most awesome benefit of dragging and dropping lies in task management. You can drag and drop the tasks between different columns and lines on your task board to manage tasks side by side and visualize progress, as assignments move from one status to another towards completion.
Also, you can apply the drag and drop feature while managing your sales pipeline to move deals between different sales stages, from a new lead to a paying customer.
7. Design your workflow by similar tasks
There are tens of tasks that we need to complete during a busy workday. There's a little productivity hack to make the most of your time and work more efficiently – tackle similar tasks in a continuous flow. It saves you hours of your time as your brain can focus on similar activities and doesn't need much time to re-evaluate the situation.
You can organize your tasks in the Task list by selecting one or multiple activity types. Or organize your task board by projects, users or statuses. Read more on how to use different filters all over Scoro to customize your lists.
Note that you always need to insert these differentiators and categories when creating a new task, otherwise you're unable to organize your task list. The more links you add, the better.
8. Customizable dashboard
You can work wonders with Scoro's dashboard and build a perfect KPI dashboard to get a quick overview of your company's performance. Add important KPIs, benchmarks, ratios, your calendar, task list, budget details and much more to your dashboard to get a quick overview and access all the data in a few clicks.
You can build a KPI dashboard from the ground up to reflect all the information that's important to your business or select a ready-made dashboard from our library. Read more on how to set up your perfect dashboard.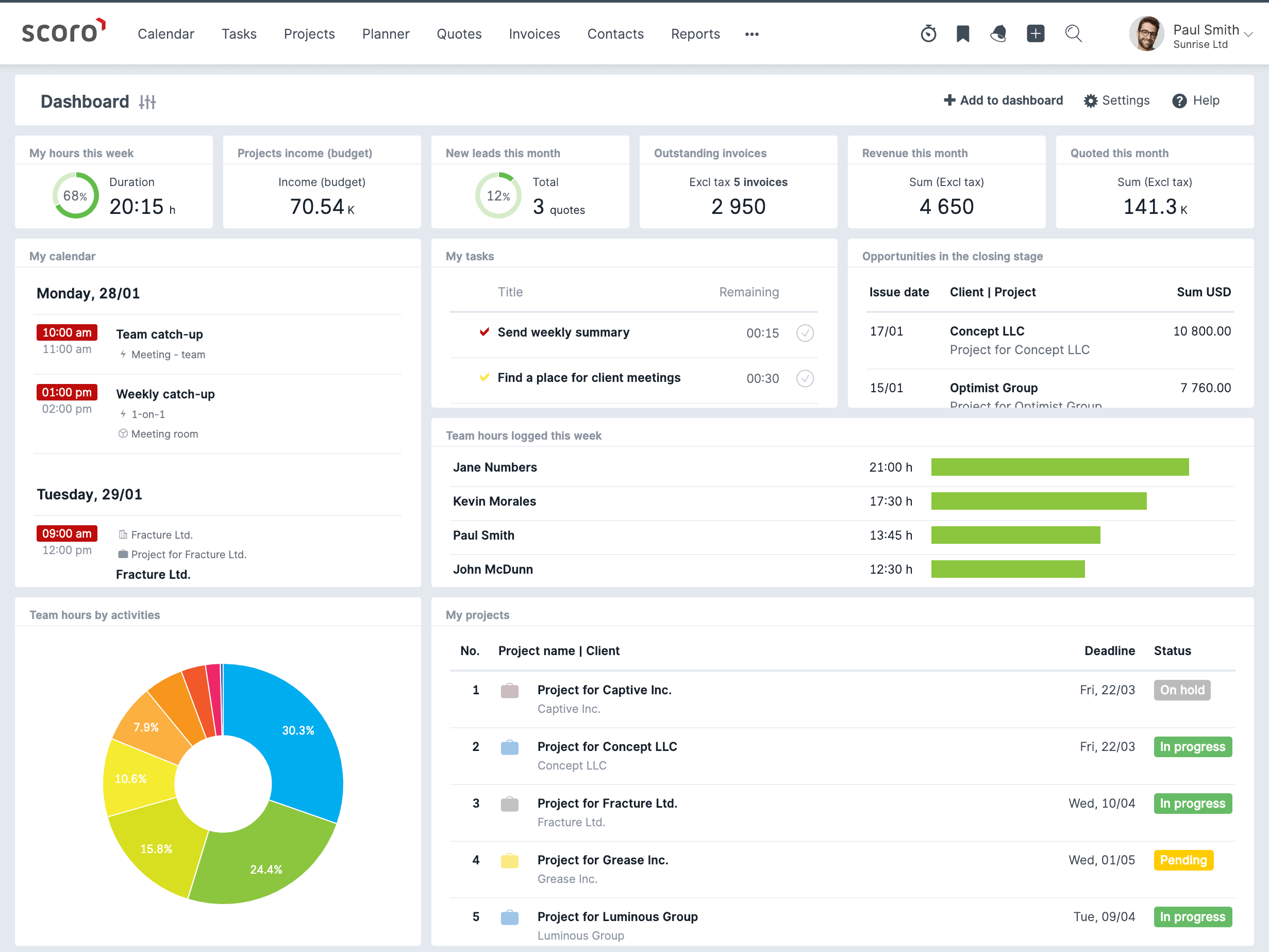 9. Change your custom views
When you go to your Task list, you see your tasks lined up by priorities. Would you prefer to only view the tasks on a certain project or organize your tasks by deadlines? You can choose between numerous parameters to create the perfect view according to your own requirements.
Save your preferred view as a default view to have it automatically displayed the next time you open your task list.
You can create custom views for all Scoro's lists, be it your calendar, invoicing, projects, contacts, reports or something else.
In addition to filtering different lists based on standard data, add custom fields to your site that help you get exactly the data you need out of all views – seriously, you need to try it!
10. Custom field-based reporting
You can hack and improve your business reports by adding custom fields to your tasks and calendar events.
Add additional information to each task by selecting previously created custom fields, and get customized reporting.
Or apply custom fields in recording the sales process. For example, you can add custom fields that show whether a cold call was successful or not. Later, you can find the successful calls in the work report and decide how to move on with these prospects.
You can also use custom fields to organize your customer profiles and get comprehensive reporting on their industry, size, preferred language, etc. Finding the right differentiators and indicators comes with some experimenting. You can access and create custom fields on your Settings Panel by selecting Site settings > Custom fields.
Learn everything about creating and using custom fields.
All the tips and tricks listed in the article really take a couple of minutes to master and return remarkable benefits to you and your team. Give Scoro's special features a try and you'll soon notice how your workflow's becoming increasingly more and more efficient.
Craving for more knowledge? Just browse through our Help Center.