Work management
Digital Transformation – The What, Why, and How
Although digital transformation influences all aspects of the society, this article will focus on the impact on businesses. In this 7-minute read, you'll understand why digital transformation is not just a buzzword and how your business could benefit from it.
WHAT IS DIGITAL TRANSFORMATION?
DIGITAL TRANSFORMATION is the profound change in a business's activities, processes, competencies, and models to fully leverage the opportunities of various emerging technologies with present and future shifts in mind.
In translation:
Using less pen and paper, and more online tools and applications.
Having fewer archive rooms, and more storage space in the cloud.
Worrying less about being connected, having an overview and getting quicker answers, and more about data security, technological trends and combining an integrated technology system for your business.
Complaining less about the useless software solutions on the market, and more about having overwhelmingly many tools and apps to choose from.
The definition has evolved
The digitalization started already 30 years ago with computerizing various processes and creating the first digital networks. According to Moore's law – the growth of technology is exponential, so it is harder and harder to keep track of emerging technologies.
A decade ago, companies were mainly focused on data mining, search technology, and virtual collaboration. The word "digital" used to be synonymous with "IT" and associated with very specific technical tasks and maintenance. Nowadays, a company's digital strategy practically drives the growth, goals and opportunities for the whole business – from marketing to sales to HR. Executives are talking about artificial intelligence, machine learning, and the Internet of Things.
The term "digital transformation" will continue to change and evolve. There will always be new and smarter ways to get work done and improve your business. What does it mean for executives? Investing time, energy and money into choosing, implementing, integrating and updating company-wide software is a necessity.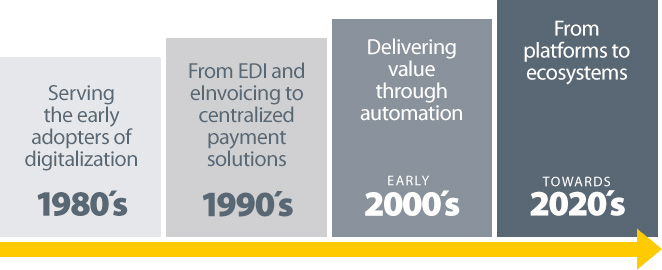 Digital IQ
Digital transformation not only includes updating a company's technological systems but also constantly evaluating and improving your team's competencies and skills. The latest Digital IQ survey by PwC, which polled 2,216 executives, found that only 52% of executives find their organization's digital abilities strong – this is the lowest percentage over a decade. Meaning – nearly half of companies say they don't have the digital skills needed.
This might indicate that companies are starting to embrace and realistically understand how much digital transformation influences their goals and results, and thus acknowledging their weaknesses. In addition to investing in software and tools, executives find it even more important to invest in their people, research and innovation.
WHY SHOULD YOU TRANSFORM YOUR BUSINESS?
Competing in the tech race
Only 33% of executives in the 2007 Digital IQ survey said their management was focusing on digital – that number has doubled to more than 68% today. While executives have started to recognize the importance of the digital transformation, technology has also accelerated at the speed of light, making it more difficult for businesses to keep up with the trends.
Business vs product vs customer
Digitalization is influencing every aspect of our daily lives. Here are the 3 main ways you can leverage technology business-wise:
Use technology to support your business processes and functions, boost productivity and team collaboration.
Develop new technology and integrate emerging fields of study into your product such as automation and machine learning.
Improve customer experience with highly personalized communication, connectedness, and constant and accurate support.
Seven most important benefits
Depending on the software you choose and the implementation success-rate, the most relevant benefits could be:
improved team collaboration, communication and productivity
enhanced data processing, analytics and reporting – resulting in calculated and data-packed decision-making
up-to-date and mobile access to company-wide information
ability to constantly analyze and optimize business processes and activities
reduced costs thanks to optimizing business processes and automating recurring tasks
more time and resources to focus on improving the customer experience
faster adoption of changes in customers needs and the competitive landscape
If implemented and leveraged successfully – this will all lead up to business growth and increase in revenue.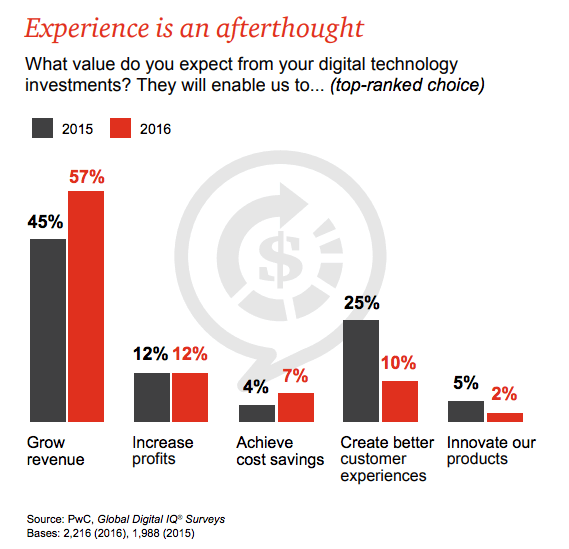 HOW TO SUCCEED WITH DIGITAL TRANSFORMATION?
The first and foremost step would be to integrate proper software and tools to fully support your business processes. When the foundation has been laid and successfully implemented, you can start planning the next phases – either improve the customer experience or use new technologies to develop your product. But let's start with the basics.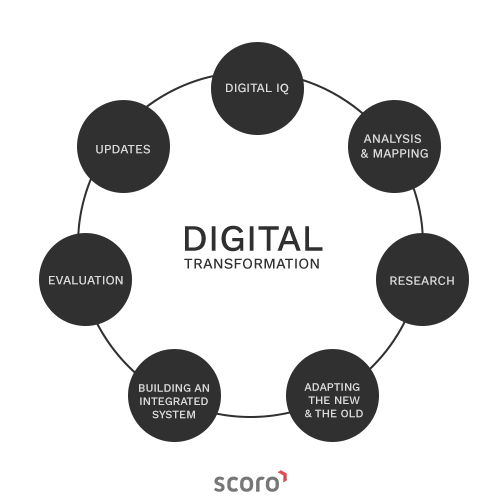 1. Aligning your company culture and team's perception
Any tool is useless without a goal, a process, and a wise master. While implementing new software, it's necessary to make sure every user in the company knows how to leverage it. Moreover, with supporting and incentivizing continuous learning, improvement and innovation, business leaders will make adapting to change a lot easier for their employees.
Read on: Artificial Intelligence: Mind-Boggling Future Predictions in 2018
If using any tool and software is perceived as an additional unnecessary chore to daily work, you might want to start the digital transformation with raising the digital IQ of your team. Simply investing in tools isn't a substitute for innovation-oriented leadership. If you have made sure your team's knowledge and capabilities are compliant with the planned changes – go ahead to the analysis phase.
Read on: How Data Can Help Understand How Your Employees Work
2. Analysis, research and future-proofing
"Why do we need to transform? What exactly do we need to transform? And how will we do it?" The need for change we already explained and the reasons tend to be quite similar across industries. The strategy of change must come from the company by thoroughly mapping and analyzing your current business processes, activities and tools, followed by research of available solutions on the market.
While choosing the best tools and creating a plan, keep in mind – the future starts tomorrow and will run over you like a train with no brakes. A good software solution serves you well now, a great one will help you be prepared for the challenges to come. A tip: read the feature update track record, the roadmap or the vision of every software you test. Of course, a strong digital IQ will be of great help in choosing the right solution for your business.
Read further: Top Takeaways From The Adobe 2018 Digital Trends Report
3. Connecting the new and the old
In every company, there must be a way how things are done and business is operated – be it a very well-thought-out system or not as much. Fact is, you have some workflow in place. You are either using pen and paper, spreadsheets or multiple simple(-ish) applications to get work done.
As the world is always changing, you can't be expected to renew your business software every other month. That said, you will be expected to adapt and add new layers to your old system, and time to time throw some of them out. To make your life easier – there are software providers with constant product updates, excellent care and training programs. You just have to choose one.
4. Building an integrated and comprehensive system
The average SMB uses about 14 different business tools. Google, Apple, Uber, and other enterprises use more than 100 tools, applications, and extensions. Using this many tools might be justified if you are a large company, but this still leads to high costs, scattered data, a time-consuming setup and integration process, unproductive time management, and an inadequate business overview.
If you have extremely detailed business processes in place and know exactly when and how to use each tool, you might relieve these issues a bit. Still, it is safe to say that the future of business management lies with comprehensive management software solutions, which already provide numerous features and act as a control hub for your entire business.
5. Writing down principles for evaluation and updates
As said, a great software provider will keep their services updated and relevant. This means you will have more time to focus on your business. Nevertheless, this does not mean you can take your hands off the steering wheel and let technology flow its course. Setting an annual (or semi-annual) digital evaluation process will help you be assured that your business and your team are on track with the latest opportunities technology provides.
DIGITAL TRANSFORMATION WITH END-TO-END WORK MANAGEMENT SOFTWARE
End-to-end work management software transforms and streamlines crucial business processes by integrating processes and procedures that help an organization increase efficiency, centralize data storage and accessibility, utilize assets and resources, decrease time loss and optimize business performance.
A more straight-forward explanation – integrating a number of different features into one easily comprehensive system, and creating a control hub for your entire business workflow.
Included features:
Choosing a comprehensive solution over several single-feature tools will save you a tremendous amount of time – in the setup phase and even more in the long run. You do not have to worry about pulling and pushing data from one tool to another, nor having an adequate overview of your business. Most end-to-end solutions also allow you to customize the system to fully adapt to your needs and current workflow.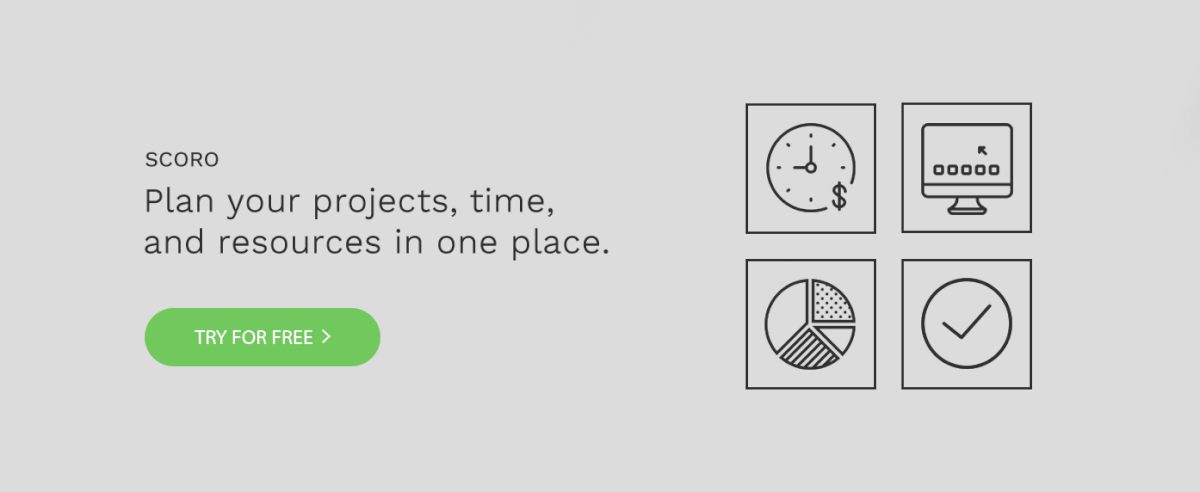 Read on: What is Work Management? The Ultimate Guide
CONCLUSION
Digital transformation has been a rapidly evolving process over three decades. The definition has changed throughout the years and will continue to do so – from data mining and basic online communication to machine learning and Internet of Things. The business software market has been dominated by single-feature tools and clunky outdated enterprise systems. The extending complexity of the future will demand a rise in holistic business management solutions, which are robust, yet easily customizable and agile at the same time.
To stay competitive, make sure you are investing in both – raising your team's digital IQ and implementing modern technological solutions. The benefits can be quite extensive, from boosting your efficiency and decreasing costs to being able to focus on growth.
So, don't get hit by the express train of digitalization – hop on and see the benefits yourself!