Teamwork
Business Hacks Part 2: Business Optimization and Analysis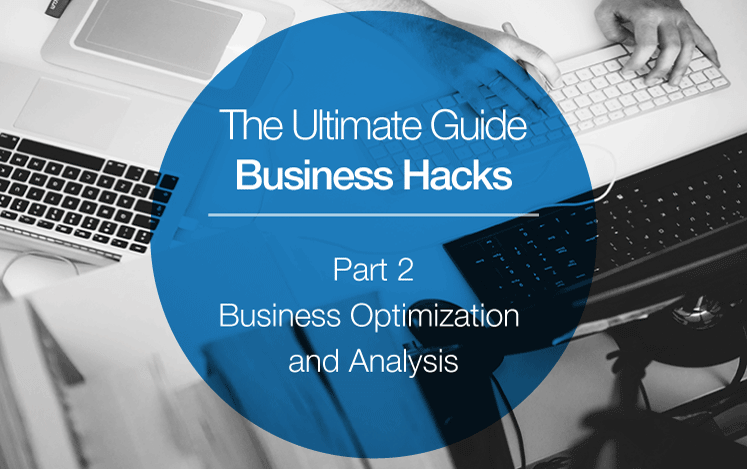 This is part two of our 3-part business hack blog series. Join our newsletter to get noticed about further tips and hacks:
Part 1: Basic Life Hacks Applied to Business
Part 2: Business Optimization and Analysis (You're reading it right now!)
Part 3: 20 Actionable Growth Hacking Techniques
Grab a free ebook on 50 Business Hacks to improve your business skills and increase profit.
No matter how great your business idea is, it won't develop into a multimillion company unless you work for it. There are many basic rules to keep in mind and dozens of amazing techniques and shortcuts for business optimization that lead to higher efficiency.
Take this journey with us and we will present you the most awesome hacks for business that pave your way to success in life and business.
16: Build sales funnel sensitive landing pages
This is quite a specific business hack and returns a huge benefit for your conversion rates when implemented the right way. Sales funnel sensitive landing pages are designed taking into account the journey of the customer. Websites get visitors from different channels like social media, Google ads or SEO. They all look for specific information and that's when the optimized landing pages come to play.
Tip: Create at least 5 different landing pages depending on the channel or customer specifications (returning customer or not) and see your conversion rates go up.
Answer these questions before designing a new landing page:
Where do your visitors come from (source/channel)
Do they intend to buy, try a free trial or gather basic information (sales funnel stage)
What are their interests and needs (buyer persona)
How can your company help them (unique value proposition)
Have they visited the webpage before, have they done a free trial (past engagement)
17: Measure the right metrics
There are hundreds of metrics and KPI's that analytics software allow to monitor. Track analytics that actually matter to your company and check them only once a week.
For example if you run a catering business, the rate of new and returning customers is really important to you. Get a sales tracking dashboard to access all your important KPIs in a few clicks.
Here's a list of metrics to track:
Churn rate (rate of customers who stop using the service)
Monthly budget growth/decrease
Conversion rates (how many free trials turn into paying customers – you might need to improve your user experience if this rate is low)
Organic traffic growth (shows your SEO and social media marketing success)
Number of returning clients (ensures your product/service is valuable to customers)
Only track analytics that matter to your business analysis. And check them once a week.
Want to dig deeper? See the list of 12 business KPIs every company should know.
18: Use as few software solutions as possible
This is the ultimate business optimization hack – you have to find the right software for managing a company. Managers often use over 5 different business management software solutions. The sad thing about this is that they only use 10% of the software's features and capabilities.
Look for software like Scoro that unites all the features you need for managing the business. Read more about the features you need for managing your business.
If you've been using spreadsheets to manage all your important data, it's time to find an Excel alternative to implement daily business processes more efficiently.
19: Optimize the work environment
Where do you work most effectively – at your desk, sitting on a couch or staying at home? Does music increase your productivity? Learn to know your most effective working conditions and create a workspace that responds to all those requirements, leading to higher productivity.
Some ideas:
If you work with data and design programs, get yourself a monitor for higher visibility
Make sure everyone has enough coffee and tea to keep them productive
Go to office early in the morning as it's silent and you're more likely to get things done
If noise distracts you, use earplugs or listen to music
20: Look into your competitors' strategies
Nobody gets far without thoroughly understanding their industry. Competitor analysis should be part of business optimization and strategy implementation. Monitor how competitors set prices and what features they offer with each paid plan. See their social media strategy and biggest clients and try to understand their strategy. This knowledge can be used when drafting and adjusting your own prices and value proposals.
21: Send paid traffic to targeted landing pages
Not many companies are smart enough to take advantage of this awesome business hack. Instead of directing all website traffic to your home page, build targeted landing pages based on the place in the sales funnel the customer's in.
Landing pages can include:
Industry specific landing pages
Landing page for returning customer
Landing page for free trial sign up
22: Measure ROI
ROI (return on investment) shows how much money you spent on achieving a certain goal. Businesses always measure the ROI of ad campaigns – how big was a cost-per-click and how much did acquiring a new customer cost. But there is so many other processes that the ROI can be measured and later used for optimizing business. For example hiring new workers or offering free transport for goods.
Example: A B2B business selling online project management software did a Facebook ad campaign that targeted creative agencies. The overall cost of the campaign was $12.5k and the time spent by employees (10 hours). The company got 477 new free trial sign-ups that converted to 347 new paying customers. This means that acquiring a new customer cost them $36 USD. Their average lifetime value of a customer is $35 so the campaign will not be repeated anytime soon.
Always keep in mind that ad campaigns can also serve as a method for increasing awareness and making people talk about your product. It will return benefits in long term.
23: Outsource and delegate
Whether there's a need for a good-looking infographic or product texts, sometimes it's not necessary to hire an in-house designer or writer. Professional freelancers finish their projects on time and they're more experienced than most young writers that ask a lower salary but may return a poor result.
Websites for hiring freelancers:
24: Use Anchored Pricing
Human psychology leads us to strange decision making processes. According to Daniel Kahneman, author of Thinking, Fast and Slow, one of the most common practices we use to make our decisions is context.
For example, a $4 chocolate bar seems cheap relative to a $12 Swiss chocolate. But if you'd go to the supermarket and see the same $4 chocolate next to $1.50 chocolate bar, you'd find it expensive. When optimizing prices for your business, think about human psychology and how certain price tags can increase the buying rate.
Business hack: How to use anchored price:
On the pricing page, highlight the highest price first as other paid plans will seem cheaper compared to the first one.
Use price $199 instead of $200 as the former is anchored to a reference of $100 and the latter of $200. Only one dollar can make a huge difference.
25: Stop having meetings
Business leaders and managers spend at least 20% of their time at meetings. Try cutting the number of weekly meeting to half and see how it works.  Another great business optimization hack is to have at least one meeting-free day each week when you can focus on the most important tasks without distractions. Also, turn out your mobile phone while you work, emails can wait at least until the evening.
Learn more about simple Alternatives to Business Meetings.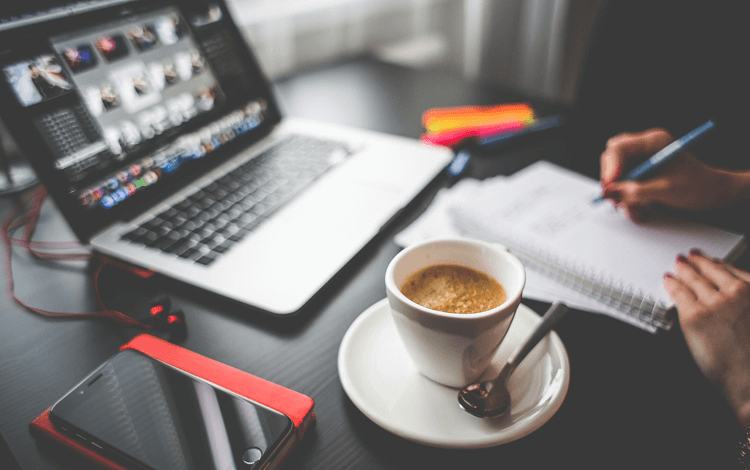 26: Automate Processes
Automating simple processes saves hours of time and allows to skip repetitive and monotonous tasks. A modern business software lets you automate basically everything – email distribution, sales, reporting, you name it. Whenever creating new documents, use previous ones as a template.
Learn how the best time billing software can help you automate and optimize parts of your work process.
27: Prioritize tasks
Sometimes the list of tasks in hand is just too long to finish it all in one day. Start each day listing 3 most important tasks that have to be completed at any cost and below these write all other upcoming tasks grouped by the priority. We in Scoro use three different colors to mark tasks based on their priority – the most important are red, medium priority tasks have a yellow marker and green symbolizes tasks of low priority.
28: Use tools for everything
There's no business activity that can't be accomplished with the help of an online tool. Creative project management, invoicing, scheduling meetings – all these tasks are facilitated when using software.
Check the list of 12 Productivity Tools That Save Time.
29: Stay focused
During a busy day in the office staying focused often gets challenging. There are a couple of business hacks to stay more focused:
Block distracting websites, use Self Control to do it
Open email only once every 3 hours
Monitor the time spent online with Rescue Time
30: Ask for customer feedback
Gathering and analyzing customer feedback is the best way to understand you customers and find out when there's room for improvement. It also helps to optimize the work of the sales team to return higher conversion rates and improve the user experience.
How to ask for feedback:
Send email surveys to existing customers
Offer something in return for feedback, e.g. -20% discount
Keep the survey short, no more than 8 questions
Ask questions with multiple answers or ask to rate a product or service from 1 to 10
Always ask for explanation WHY the customer answered a certain way
31: Map user behaviour
Mapping user behaviour on a webpage can show where their attention centres and what interests them most. Install heat mapping software to your website to get an overview where customers click. One of the best ones out there is Crazy Egg. Based on this information, you can move relevant information to high-traffic areas and improve the conversion rate.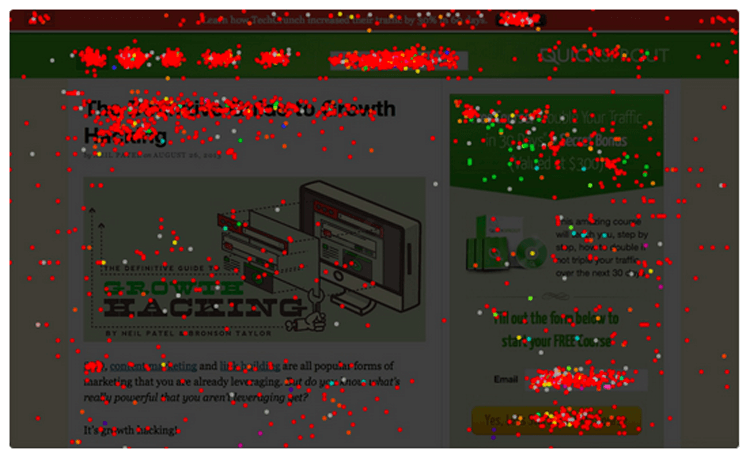 32: Stop multitasking
Instead of struggling with parallel tasks, implement them in series. Spend morning hours working on more demanding projects like writing or drafting a strategy and utilize after-lunch hours for responding to emails and attending meetings. Whatever works the best for you.
Learn more about How to Form Good Business Habits.
33: Establish the rule of 20% time
Many successful enterprises use this rule to motivate employees and promote innovation. Have everybody work on their own creative projects 20% of time and see how many innovative ideas people come up with. Another benefit of this rule is that creative and ingenious people stick with your company and never feel pressured to leave.
Make the 20% time rule a guide in every executive level. 
34: David Allen's 'Two-minute rule'
Have you ever wondered whether to postpone implementing a small task or execute it right away? Here, the two-minute-rule hep to make the decision. Whenever a new task comes your way, if you could do it in less than two minutes, do it right away. Otherwise, add it to the tasklist. It has increased our team's productivity a lot and the rule doesn't require any special dedication or learning to start utilizing it today.
35: Flexible working hours
Business optimization can be taken even further when each and every employee has the best working conditions that turn them productive.
Companies that trust their employees to work whenever they feel most effective yield higher results. It does require some extra monitoring to see if everyone finishes their tasks on time. When one team member works 6 hours a day and another 9 hours, it doesn't mean the former is less useful to the company. Quite the opposite – people who finish the job faster are more effective and work smarter.
Try flexible working hours and remote workspace for one month and see whether it has a positive or negative effect on your business.
Want more? Read how to optimize your business for accelerated growth.