Work management
12 Best Browser Extensions for Higher Productivity
EVERYBODY does it. You sit down at your computer and swear to be productive. The next thing you know, 6 hours have passed, and you've been wasting at least half of your time checking social media and online news.
Luckily, there's an increasing number of browser extensions that help to make our days more efficient. From inspiration to soundtracks to productivity boosts – these tools will change your time management for good.
An interesting fact that came up when doing the research is that Chrome users are much more blessed with awesome browser extensions that Safari users. So, if you're looking to increase productivity, consider switching to Chrome when working on demanding tasks.
Here's a list of the best browser extensions that help you get through the day with fewer distractions and higher productivity.
1. Noisli – ignore the background noises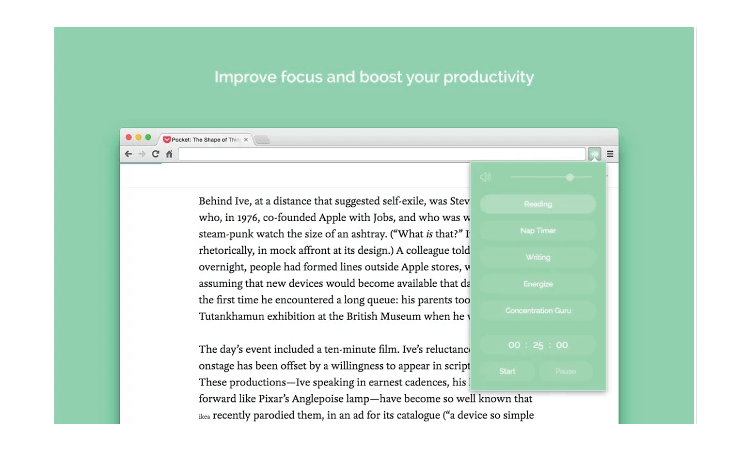 How many times have you lost your attention because of the background noise in the office?
With Noisli, you can create a quiet personal space in a moment's notice. It's a go-to browser extension for office workers, freelancers, creatives, writers, and programmers – for anyone who gets distracted by the surrounding noise.
Use Noisli to play background sounds like rainfall, fire crackling, birdsong or even thunderstorm, and use the calm atmosphere to increase your focus in the office or at a café. This extension has a built-in timer and text editor which will efficiently help you concentrate during your working sessions.
Noisli is available in Safari, Chrome, and the web.
Get Noisli here.
Read more: 23 Incredibly Good Ways to Stay Focused at Work
2. STRICT WORKFLOW – block out every single distraction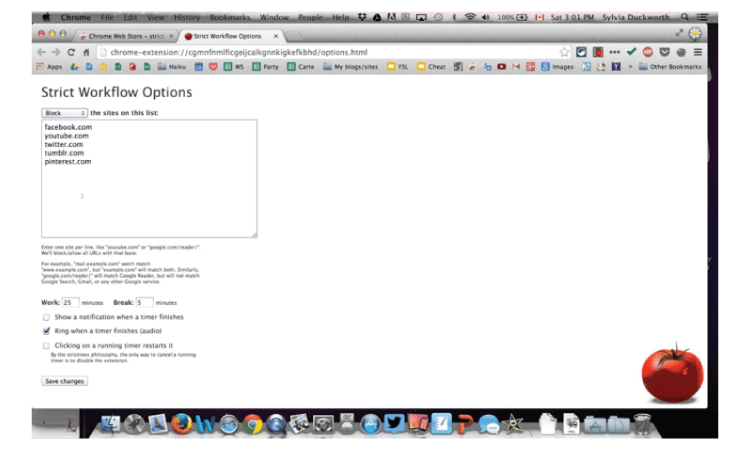 Strict Workflow was clearly inspired by the famous Pomodoro technique – you work for 25 minutes and get a 5 minutes break. After that, you repeat this timing until everything's done.
With Strict Workflow, you can set a 25-minute work timer for efficient work, and by clicking on a 5-minute break timer, you can use your earned pause for relaxing.
How can a timer make you concentrate on work? The extension comes with pre-configuration, blocking all the popular websites. So no more checking Facebook when you should be working. You can personalize the app by whitelisting and blacklisting websites that kill your productivity.
Available in Chrome. For Safari, use Self Control. Firefox users can add the Leechblock extension to their browser.
Get Strict Workflow here.
Read on: 29 Business Automation Hacks to Save 8+ Hours Every Week
3. MOMENTUM – a moment for yourself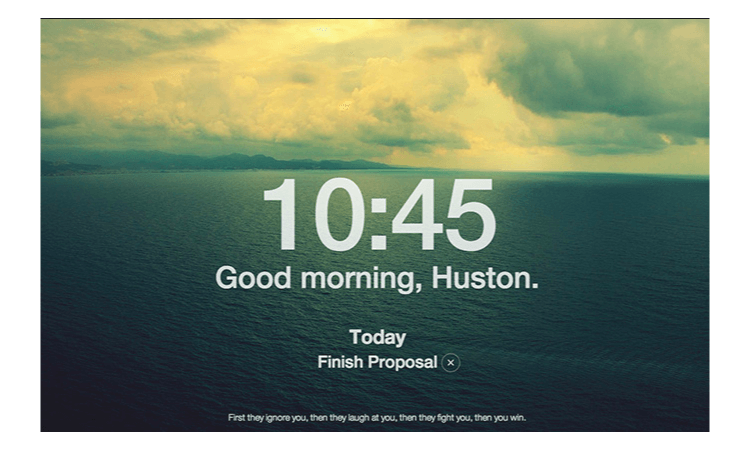 Wouldn't it be nice to be constantly reminded of our daily goals and the work that needs to be done? Momentum does just that with a special inspirational touch.
Every time you open a new tab on your browser, a personal dashboard with an inspirational quote, your to-do list, and weather data shows up. This gives you a moment to reflect on your actual goals and focus on what's important.
Being constantly reminded of your achievements and goals makes your day a lot more productive.
Available in Chrome and Safari.
Get Momentum here.
Read on: 8 Cures to Regain Your Productivity at Work
4. STAYFOCUSD – limit the time spent on distracting websites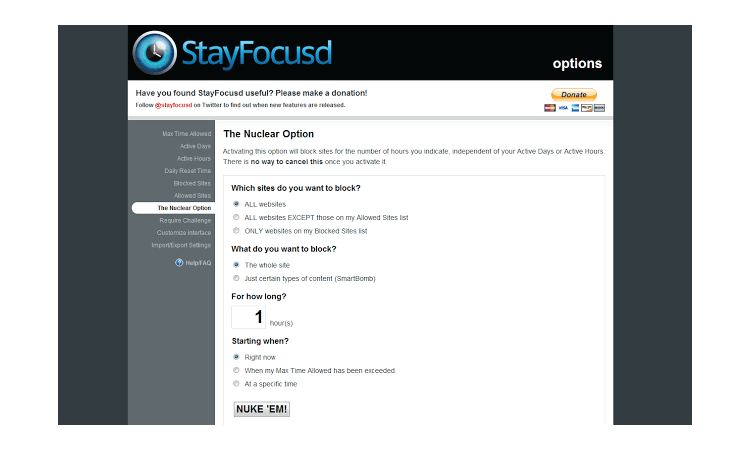 It's incredibly easy to get carried away when reading a fascinating article or sharing a Facebook post. Time just flies by.
StayFocusd leads you to higher productivity by restricting the time spent on unproductive websites.
Every day, you can set a time limit that you're allowed to spend on distracting sites, and when the time's up, the app starts blocking your way to these websites.
High configurability allows you to block entire sites, specific subdomains, specific paths, etc. and select different permissions for each day and parts of the day.
This extension is only available in Chrome. For Safari, try SelfControl.
Get StayFocusd here.
Everything about your business, one click away
 Read on: Myth-busting Productivity Experiments That Will Change Your Habits Forever
5. LATERBOX- save your ideas and notes for later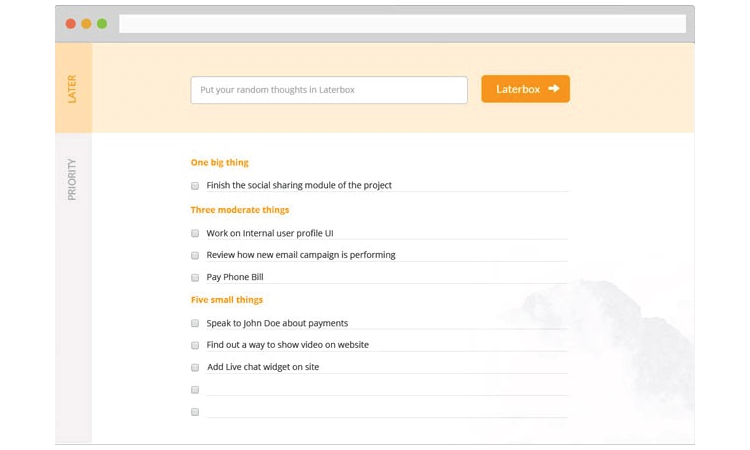 We all get tons of great ideas while working on demanding tasks.
We also get reminded of small important things like something we need to buy on our way home.
Instead of breaking your attention by taking notes, quickly type the thought to LaterBox's browser extension.
LaterBox works as the collector of your ideas. You enter all your ideas to a little box, and later in the evening you'll receive an email with all the little notes you've written throughout the day.
This leaves so much more time for work, and helps to keep you focused on what's important. Never again will you forget small things that you might need later.
Available in Chrome and as an Android app.
Read on: 18 Best Time Management Tools Reviewed
6. ANY.DO – always remember what needs to be done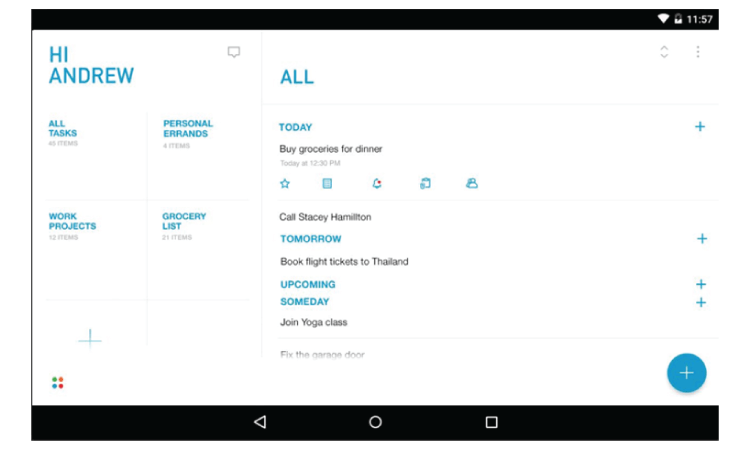 Any.do started as a popular web app and has become a browser extension for helping people increase their daily input and outcome.
Any.do works as a to-do list, allowing you to write down reminders, meeting agendas, tasks, and notes – even while browsing online. The browser extension synchronizes with the iPhone and Android apps, giving you quick access to your to-do list.
Available for iPhone, Android, as a Chrome app, Chrome extension, and the Web.
Get Any.do here.
Read on: 10 Hacks For Never Missing a Single Deadline
7. POCKET – beat the fear of missing out
How many times have you stopped working, and started reading an interesting article that you accidentally found?
Pocket lets you save all the interesting websites (and articles) in one click, and gives you access to them anytime. Stop losing out on productivity because of the fear of missing out on the latest news and trends. No great article gets lost, and you can focus on your work.
Also, try Instapaper and Evernote extensions for similar purposes.
When you add Pocket to Chrome web browser, you'll be able to see popular article suggestions on your home page. This might either be distracting or serve as a great method for taking a quick break from your work.
Pocket is available for all major devices and platforms including iPad, iPhone, Android, Mac, Kindle Fire, Kobo, Google Chrome, Safari, Firefox, Opera, and Windows.
Get Pocket here.
Read on: What If Companies Managed Time as Carefully as They Manage Money?
8. TIMEWARP –be constantly reminded of distractions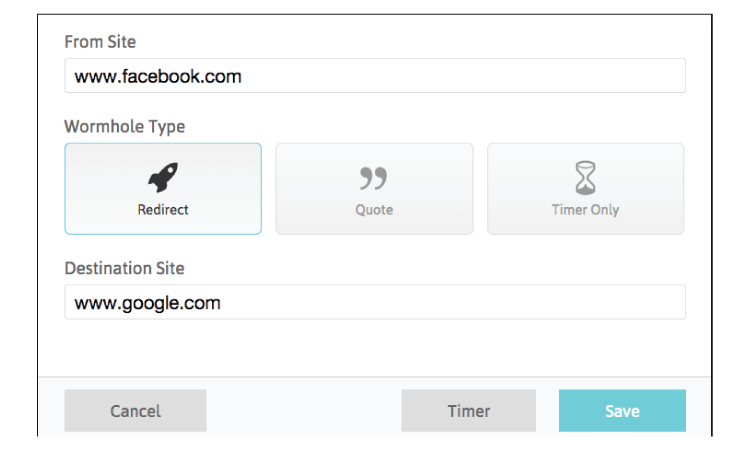 What about a tool that constantly reminds you about procrastination? Timewarp does just that.
Each time you enter a distracting site, Timewarp directs you back to a more productive site.
For example, you can set up a "wormhole" for each time you go to Facebook. Instead of opening the URL of a distracting website, you'll be redirected to your pre-selected website.
Moreover, you can set up this extension so that each time your enter a link of a social media website, you'll be led to Google Docs or Wikipedia instead. You'll waste a lot less time on unproductive websites.
You can also let the extension show you motivational quotes, redirect you from distracting pages, or display the time you've spent on certain sites today.
Available in Chrome.
Get Timewarp here.
Read on: 40 Productivity Tips Used by High-Achievers [Infographic]
Read on: 19 Ideas for Setting and Reaching Your Goals With OKR-s
11. ONE TAB – avoid cluttering your browser tabs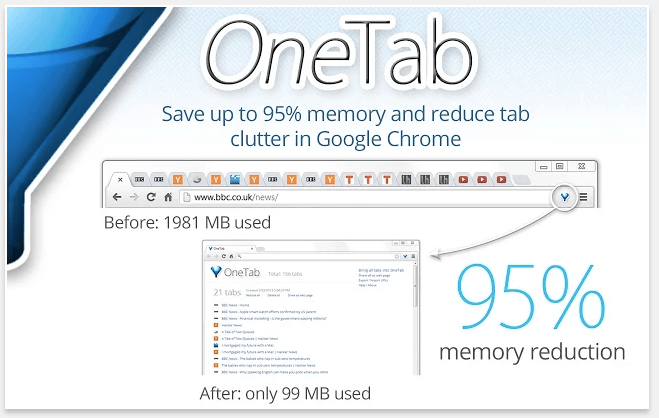 Unless you're using a powerful computer, opening lots of browser tabs will use up a lot of memory and makes your computer slow.
Whenever you find yourself with too many tabs, click the OneTab icon to convert all of your tabs into a list. When you need to access the tabs again, you can either restore them individually or all at once.
By bundling multiple tabs with OneTab, you'll save up to 95% of memory because you will have reduced the number of tabs open in Google Chrome.
You'll be surprised by how much time faster browser loading speed can save.
Available in Chrome.
Get OneTab here.
12. EXTENSITY – access and manage your browser extensions in one place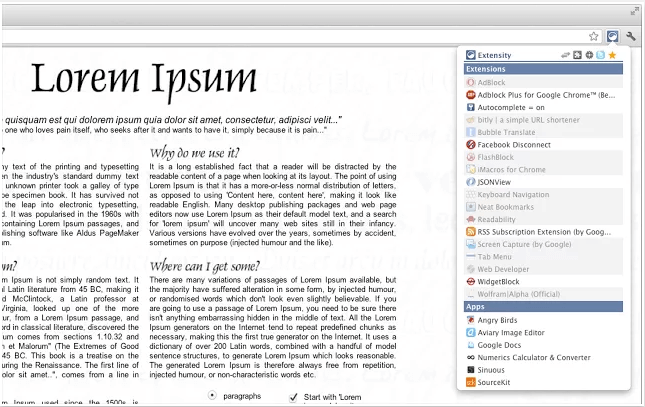 When the number of your browser extensions starts to get overwhelming, Extensity comes to the rescue. It allows you to manage all your extensions and switch them on or off in a single click.
By creating a quickly manageable list of all your browser extensions, Extension gives you a complete overview of activities running in the background. Stop wasting time on finding the extension settings, and increase efficiency by using multiple browser extensions at a time.
Available in Chrome.
Get Extensity here.
As you can see, there are so many great browser extensions out there, just waiting to be added to your browser for increased productivity.
You may not be interested in downloading all of them at once, but pick one or two, and give them a try. Once you start seeing good results, you'll know it's time to get more.
Read more: 14 Productivity Tools That Save Time and Energy
Everything about your business, one click away