Work management
37 Best ClickUp Alternatives & Competitors
Nothing spells success like full utilization of an organization's resources; financial, human, technology, or even time. Project management using the right software is a big step toward achieving results.
ClickUp is a well known option for a manager, developer, or anyone seeking to get things done. However, ClickUp may not meet all your needs as an organization, and there are several alternatives to choose from for your work management.
1. Scoro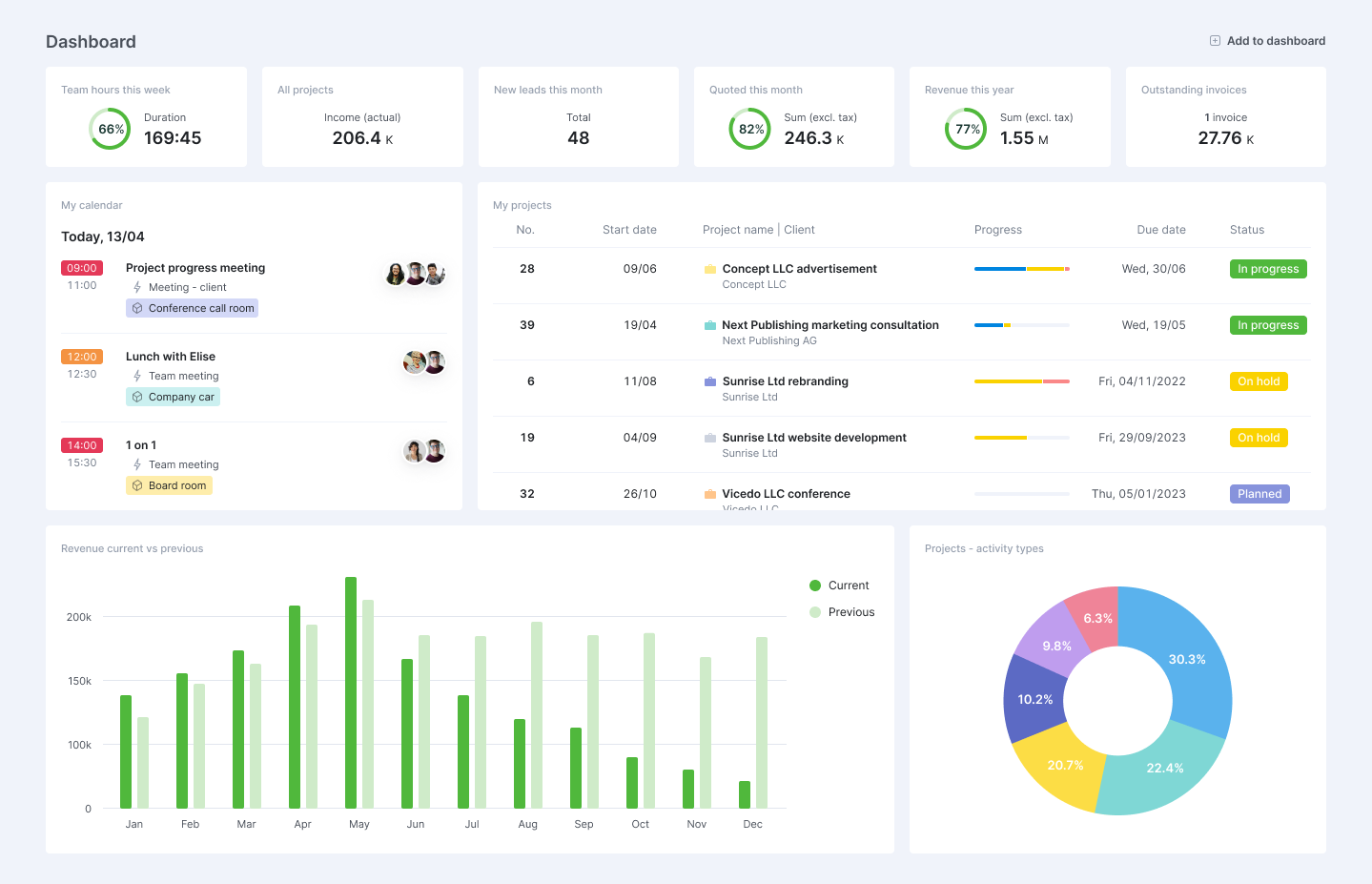 With Scoro, you can plan and track performance, manage finances, and work with multiple currencies and clients worldwide with ease.
Top features
Access to project data in one consolidated space or application eliminates the constant shift from one site to another.

Simplified project supervision by enabling project and time management through tools that allow for real-time progress assessment as an organization. This could be how much time employees spend on a project, how many resources are utilized per unit time, profitability, income, and expenses.

 Simplified quoting and billing. The organization has data and real-time logged information regarding the projects; therefore, processes such as compiling billing invoices are more straightforward and have high credibility.

 Reporting is abridged and detailed because progress is recorded from the start to the end of a project. One can get an overview of tasks planned for the day and what is completed.

 Communication between the team and the management is smoother as with Scoro; you can access all your employees, therefore, smoothly delegating tasks.
Pricing
Rates for using this software vary with every plan. The Essential plan goes from as little as $26 per month, the Standard plan, the Pro plan, to the Ultimate package. The rates increase with an increase in the number of users. A 14-day free trial for interested users.
Try Scoro's 14-day free trial.
2. Workamajig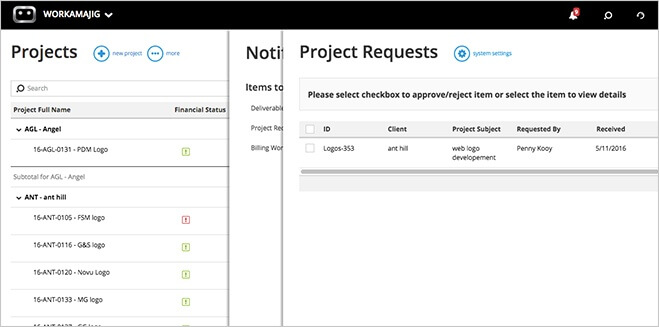 Workamajig is generally designed for creative agencies and is unique because it automatically creates a working schedule once the project details are fed to its templates. The software that integrates AI technology comes up with a result-oriented program and enables optimized utilization of time and workforce. This is achieved by clearly stating the individuals involved in each step and the project's timeline. Workamajig is very suitable for extensive teams.
Top features
Scalable and flexible automated work schedules. One can adjust the schedule as the project progresses to profit the company's calendar that may be specific to your organization.

Project request is organized by skill; therefore, relevant personnel is notified once a client describes the project.

Once the project is approved, the project is created, scheduling, budgeting, and assigned duties.

Proper delegation as each team member has a clear view of their tasks in the "My Tasks" widget.

Communication is effective as the company receives feedback internally or from the client. This, together with other collected data, allows the company keeps track of its progress.
Pricing
Just like Scoro, payment is dependent on the size of your team. However, what stands out is that the rates decrease as the number of users increases.
3. Nifty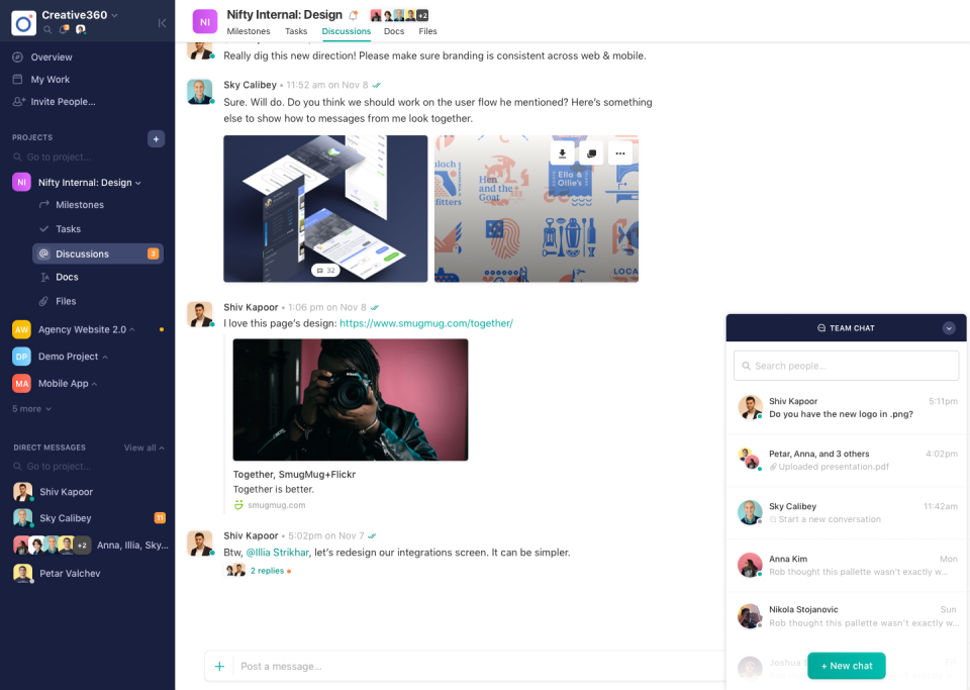 Nifty is designed to inspire productivity through features that allow you to organize, manage and prioritize tasks with great detail.
Top features
TimeLog allows keeping track of your employees working on their various assigned tasks.

Team chat feature that allows you to communicate with your team members

Milestone-driven progress that keeps the team inspired

The calendar view lets you quickly overview the pending tasks or tasks in progress. You can also customize my calendar that is only visible to you and any person you allow

Quick actions feature that enables you to create tasks in a second

Ability to import data from an external tool
Pricing
Nifty has a free testing package from which you may upgrade with as little as $39 to the $399 unlimited package.
4. CMAP
CMAP is also a project management tool you should consider for efficient work management.
Top features
CMAP comes with a job cost calculator feature known as Free Estimator Templates that can be customized to fit your organization's requirements. If you need to quote in a different currency, choose from rate cards in foreign currencies, including supplier costs, and add third parties to your quote.

Centralized contact database that gives access to potential clients within your line of work

CMAP provides a 360 view of clients, including a breakdown of past, present, and future projects and performance data that highlights how successful your projects are

Microsoft Outlook integration, a popular functionality from the web app, allows you to access opportunities without ever needing to leave the comfort of your inbox.

Customized reports according to the needs of your company where customers receive the Direct Data Access service, opening a whole new world of reporting possibilities
Pricing
CMAP has four packages; starter, growth, Pro, and Enterprise, each plan with more advanced features than the previous one.
5. TeamGantt
TeamGantt is one of the most extensive projects management software and is said to have over one million users, with established brands like Netflix, Nike, Uber, and Amazon being some of its users.
Top features
The manage people tab feature enables you to add or remove people from your account. You can limit how much access they have to your information.

Edit project schedules in the grant chart to suit the availability of your workforce.

Access an online chat platform for you and your team members if you are seeking a centralized working space

This software stands out because it allows you to know when your team can take on new work or new clients without causing unnecessary workload.

You can use the time tracking feature My Tasks screen, where your team members can view their tasks and start on them or access the project time tracker from anywhere within the app by clicking on the global timer button in the navigation bar.

Plan projects with a single click. Project managers can easily view and schedule people and resources within your Gantt chart.
Pricing
TeamGantt comes with a free, standard, and advanced plan. The free plan is more limiting, with the standard plan starting from $19.
6. TrafficLive
TrafficLive is all about accessibility and an easy user experience
Top features
Customizable visual dashboard that gives a clear vision of how many hours were assigned to a workflow

Get the complete visibility you need to manage people and projects profitably.

Earned value and cost management software allows firms to control and report project costs.

Scheduling software that identifies acceleration options and assesses risk at every project cycle step.

Offers a talent management solution that helps organizations gain workforce visibility and improve new hire quality.
7. Taimer
Time is a cloud-based system that allows you to manage your projects, task, teams, and customer collaboration from a centralized space.
Top features
Taimer CRM systems enable users to access many client contacts and manage them.

Efficient communication through the Taimer messenger app allows you to share materials related to the projects well, facilitating seamless communication between you and your team or your Taimer CRM.

An in-built automatic timer that enables you as an organization to optimize your time by allocating time to project efficiently

Integrated within Taimer are other office management tools such as Office 365 Calendar, OneDrive, Google Calendar, HubSpot, and Xero.

Invoicing software and the expense management system allow you to streamline approvals, bill clients, and guarantee fast payment and steady cash flow. You also get to capture all the receipts of all transactions you make.

A sales pipeline manager allows you to track your leads sales activities, manage deals from a central space, and integrate other applications into your project management.
Pricing
Time has three payment plans, the sales CRM, project management, and enterprise, with monthly rates starting from as little as 13 Euros to 26 Euros. For each plan, there is a free 14-day trial
8. Paymo
Paymo is a project management system with built-in direct invoicing features and time tracking software. It is oriented towards creative agencies and consulting firms, small, medium-sized, or large enterprises.
Top features
It is a cloud-based system to means that it is accessible from a web browser on any device

Has an in-built time tracking system that enables you to track how much time you or your employees spend on tasks

It has a direct invoicing feature, such as automatically sending recurring invoices by cloning them to save time, so you don't have to start from scratch every time you bill a client.

Customizing your invoices to fit your organization's setting or automatically generating invoices by turning timesheet data into an invoice and making adjustments manually, in just a few clicks.

Can assign multiple tasks all at once
Pricing
Paymo comes with free, small-office, and business packages; the business package goes for $15.79 for large teams.
9. Citrix Podio
Podio, project management software suitable for all business sizes, comes in handy where project data scheduling and visualization are mainly concerned. It is a cloud-based system that any device can access on any browser.
Top features
Users can create custom applications that enable customize them according to their needs as an organization.

Visualizing features that enable you to envisage your team's progress

Users can integrate different applications on their own through the Podio open API that enables you to connect to other services

Users can add their clients to their platform to maximize customer engagement

Users can easily track the progress of the project and update clients on the same through the user interface
Pricing
Podio has the Free, basic, plus, and premium package, with the basic package and premium going for $7.20 and $19.20, respectively.
10. Favro
Favro is the project management and collaboration tool for organizational flow.
Top features
Ability to build a flexible view with multiple teams or planning boards in one place

Favro comes with built-in support for Kanban or Scrum and is heavily customizable.

Integrations such as Dropbox, Share life, campaign, and Google calendars allow you to align to your calendars.

Real-time collaboration for remote work

Ability to build compelling reports that some data from your team and projects for data-driven decision-making in your organization
Pricing
Favro comes with the lite plan for $10.2, the standard plan for $13.26, and the enterprise plan for $25.5 monthly.
11. GanttPRO
With GanttPRO,
You can access all the projects you work on at the "my tasks tab," where you can create a clear visualization of the allocated projects and show a clear connection between every one of them

The team and resources section displays all team members and resources. Here, you can add or remove people and limit access to the people you invite to your account.

An auto-scheduling feature allows you to automatically recalculate the duration of a project and reschedule where necessary. The automatic estimation mode automatically changes the course of a task immediately after changes that will interfere with time spent on a job are made.

Automatic job cost calculation; therefore, you can get the cost estimate for the entire project with a simple click.

The workload section allows you to see all tasks and resources allocated to each project and plan accordingly. It is very much applicable when working with multiple projects.
Pricing
Pricing varies with the number of users. There are the individual, team, and enterprise packages, with the team being the most cost-friendly plan for as little as $8.90 compared to the individual plan that goes for$15 monthly.
12. EasyProjects
This project management tool seeks to ensure functionality.
Top features
The activity center that displays all projects you are working on is customizable to fit your priorities. It shows the project's importance, completion date, and competition percentage.

A financial feature that allows tracking of expenses and resources in their projects

Summary report section that allows you to get an overview of who worked on which project and the amount of time they took

Resource loading simulation system, you get to choose the team you want to work with

The custom forms module allows companies to automate their intake processes by allowing for new projects or requests submitted outside Easy projects.
Pricing
Easy projects have the team and enterprise plans, the former going for $24.
13. VOGSY
With VOGSY, you can access the work breakdown structures to help you organize the project teamwork into manageable parts. This will help deliver services in a smooth and predictable version while staying profitable.
Top features
Enables you to break down your project into parts called outcome-oriented deliverables

You can create tasks and assign them to a resource efficiently

Import project data or information to VOGSY from other sources

Keep track of every client and deal, create quotes and build SOWs on your soft-booked projects.

Track planned hours versus availability using VOGSY interactive resource scheduler and curb bench time or over-bookings.
Pricing
VOGSY has four plans: free, lite, full, and super. The plans have monthly charges of $11, $23, and $35, respectively.
14. Projector PSA
If streamlining delivery and enhancing resource utilization while maintaining project profitability, then project PSA is what you need. As a team manager, you enjoy the real-time visibility needed to drive scalable and sustainable growth.
It is most suitable for software companies, IT consulting firms, and business management consultancies.
Top features
Integrated with Projector PSA are other work management tools such as Jira, Microsoft Dynamics, and Slack for improved efficiency.

Uses Analytics to make prospects as well as automatically predict budgets to improve delivery

Invoice tracking ensures that the time worked is well accounted for to avoid proceeds leakage.

Modeling out time off and workload by using utilization data.
Pricing
The team, professional, and enterprise payment plans with Projector PSA, with the former and the latter going for $15 and $30, respectively.
15. BigTime
It is primarily directed toward engineering, legal, or IT services. It is web-based to means it is accessible on any browser. It also has applications that can be downloaded by both mac and windows operating systems.
Top features
What stands out with BigTime is that its time tracking service is secured. Users can control what is visible and what is not and to whom

Expense tracking from a dashboard view gives clear information on reimbursable, mileage, or even expenses

Allocation wizard on BigTime syncs resources with projects based on the budgeted hours and resource availability

A utilization dashboard where project managers can see where resources are allocated and the timeline involved. This feature ensures proper resource management.

BigTime will enable online customization payment with whichever methods clients prefer.
Pricing
Priced per user per month and is billed annually. There exist three plans; express, pro, and premier plans—all going for $10, $30, and $40, respectively.
16. HarmonyPSA
CloudBlue PSA offers customizable home pages containing notifications and pinned cards such as Kanban boards that provide at-a-glance status information across various projects.
Top features
It enables you to automatically track your revenue and related costs combined with the cost of time spent on each task.

Simplified visualization features

Customer account tracking enables rapid discovery of poor-performing accounts, allowing you to take necessary action in time.

Complete documentation of all the terms and conditions of service and engagement, meaning the order form is a fully described contract.

CloudBlue PSA's ticket routing and parsing rules enable you to facilitate auto-mapping to contract, trapping support time correctly.
Pricing
There is the monthly SaaS, annual SaaS, and the annual on-premise plan, with the annual SaaS charging $65 monthly.
17. Screendragon
Screendragon is suited for global marketing teams to improve work processes. It aims to improve process excellence in all aspects of an organization. Screendragon seeks to enable customers to configure the software to suit their business needs. Screendragon also aims to improve accountability and a sense of responsibility among team members.
Top features
Plan efficiently through integrated systems where you can share, store files, and collaborate with the team

Real-time managing system where all project stakeholders update their timing in one system hence curbing slow non-productive work

Connect using the virtual meeting feature

Availability of information in one centralized place makes accessibility easy; therefore, new team members can easily be on-boarded
Pricing
Screendragon comes with a per-user per month cost and a once-off initial set-up and training fee. More precise information is given once you create an account with them
18. PlanviewLeanKit
PlanviewLeanKit looks to make project management smoother by utilizing simplified visualization tools such as custom categorization labels and Kanban Boards and integrating other management tools for a strain-free experience in management.
Top features
Project management templates that simplify the set-up process

Risk management feature that enables you to identify and process bottlenecks in time to ensure that risks to delivery are addressed instantly

Integrates with your existing enterprise applications

Bring your team together in one place in a convenient and a cost-friendly manner

Share real-time progress using cards with custom categorization labels that represent different types of work
Pricing
PlanviewLeanKit solution offers a single pricing plan per user per month billed annually from $20.
19. Productive
Top features
Productive allows you to monitor the state of your budgets, profit margins, and amounts left for invoicing in real-time and keep a global outlook of your project budgets, be it fixed price or hourly price budget.

Flexible billing service that allows you automatically create invoices for recurring customers

Choose a view that is to your liking and appears simple enough

Automatically track invoiced amounts by generating invoices using tracked time on billable services.
Pricing
Productive has payment plans that can accommodate various users' budgets. It has the standard plan, premium plan with one user, and enterprise plan with more than a hundred users. They range from $12 to $20 and more than $20 for the third plan.
20. Synergist
Synergist is project management software that enables a company that drives efficiency in service delivery using several; features such as quick quoting from scratch, time tracking, or project scheduling templates to help with accuracy and accountability.
Top features
Multi-currency support through an intelligent invoicing process that enables you to work with multiple currencies globally all at once

Efficiency-oriented scheduling that enables you to view a resource availability for a given project and provide information on when an individual or department is overloaded

A pipeline management system that will enable your organization to maximize its outputs by quickly predicting prospects

Email management feature that helps you keep a traceable log of your email communications between your team and your clients

Improved capture of all costs and resources, including time, purchases, and expenses used in the project

Integrated accounting features such as Sage and Xero for simplified work in any accounting related tasks

It is accessible to both androids and iPhones
Pricing
Synergist comes with the core, full, and timesheet users whose pricing varies with the number of users.
21. Runn software
Like other project management tools, run software is designed to help in planning, especially when you are working with multiple projects. Run software is startup-friendly, so this is for you if you start your enterprise.
Top features
Ability to track staff capacity on a given project

Roles that you need for every project

It gives a shared view of every step in the project

Easily adjust and update schedules in case changes come up, and the effects of the change are shared in real-time.

API that enables you to connect to your other working tools without the hustle
Pricing
With Runn, there is the startup, pro, and enterprise package, with the startup package going for free.
22. TimeHero
TimeHero is the go-to place for planning your tasks and achieving efficiency in your workspace.
Top features
The home screen allows you to get a simple overview of upcoming tasks, the status of projects in process, the progress on each task, and the workload of each member.

Show team option allows you to view your teams' calendars to create harmony where priorities are concerned.

A simplified way of assigning tasks; all you need to do is to mention a teammate to give them a job, and their calendar is modified accordingly.

Tasks activities field or the in-app chat platform allows you to upload files and interact with your teammates on work matters.

Enhanced customer engagement as you can invite outsiders into the project work where you can limit their access

Automated reports through the automatically logged workload report and timesheets for accuracy.

Connect to other tools such as slack, Zappia, Gmail, etc., and use keyboard shortcuts to get quick access
Pricing
The basic, professional, and premium package is $4.60, $10, and $22 charged per user per month, respectively.
23. Float
You get a smoother path toward proper scheduling, resource management, and project planning with float.
Top features
Schedule view where you get to add team members and assign them tasks.

It has a filtering feature that can be used to generate a customer port.

Change the capacity of team members as either full-time or part-time, dependent on the number of hours they work

Use different themes or job codes for each task for easy identification on the calendars

Email modifications that allow you to send your employees their hours for the week

Modify the calendar to suit your organization's dates
Pricing
The resource planning package includes $6 per user per month, resource planning + time tracking, $10 per user per month, and the plus pack with advanced management tools for $6 per user per month.
24. Hold
Hold is a work management software mainly designed for the small business management that allows you to manage every aspect of your enterprise all from one place.
Top features
Create and send personalized invoices to your clients and receive payments quickly by synchronizing your bank details to this software

Automated bookkeeping and integrated accountant services

Connect tasks to invoices and keep track of the profitability of each project

Digitize important employee information for easier access and credibility where clients are involved

Interact with customers in a virtual and exclusive space
Pricing
Hold offers the following: free for beginners, basic, standard, advanced, and premium that range from 25 Euros to a maximum of 159 Euros monthly rates.
25. TimeLog
TimeLog is the software where project management platform where time tracking, resource management, expenditure assessment, and billing clients are concerned.
Top features
Apply templates in project creation from naming the project, customer engagement, and recruiting team members

A resource planner helps you determine who is available and who is not for the project.

Instant overview of hours and expenses and use a preferred template

Set hourly rates for the team and add time budgets for the project

Time tracking feature through the Live timer

Accessible via an application and any browser with a simplified overview to track progress through an overview of the budget, expenses, as well as improvement from each employee
Pricing
The time is mainly for tracking only and is free, starter, growth, professional, and enterprise. The packages go for 10, 20, and 40 Euros, respectively.
26. Meisterplan
This platform has a straightforward user interface that allows you to track every step in your project portfolio. With this, you should be able to track workloads, such as whether every team member is working on the correct tasks without straining.
Top features
Allows you to modify and refine the project information as work progresses

Project Portfolio Management solution that automatically records and modifies areas affected by where you make

Configure roles, skills, organizational structures, and project fields as well as to your business needs

Such project requirements such as the resources assigned to it

Milestones modification by displaying individual Project phases in different colors to give you a clear vision of where you are as a team
Pricing
Meisterplan comes with the basic, pro, and premium packages going for €6500, €9000, and €25800 charged annually, respectively.
27. Workbook
The software is exclusively built for agencies and in-house teams that deal with resource and project management. The workbook makes managing projects, people, and finances easier.
Top features
The client portal allows you to share Gantt charts; task progresses, project briefings, and files. Clients get to add jobs and comment on the progress of the project

Quickly create tasks and progress set up where you can get custom colors or icons for easy recognition

Assign members to tasks from a backlog and quickly drag the employee to the list, and it is done

Generate price estimates and bills with ease as you can keep qualitative information regarding a task

Easy management of complex tasks as the project manager can engage members on all steps involved to put the project together
28. Hive
Hive seeks to ensure every minute is accounted for and utilized through several features such as their timesheets focus mode.
Top features
Hive is famous for its timesheets and the ability to allow real-time tracking of your employees' performance. This feature also helps keep track of resources used in a project per unit time. It is also great for team results management as one can see what an employee is working on at a given moment.

Focus mode lets you keep distractions at bay by putting off any notifications from other applications or websites you have visited.

The portfolio urgency view shows a preview of all pending tasks and their urgency. This feature enables users to plan accordingly when allocating or working on tasks.

Project action templates for repeatable steps to cut your work in half.

Work is personal

Integrate calendars such as Gantt, Kanban, and the summary views of your projects.
Pricing
Hive payment plans vary with the number of users. The Hive solo is free, Hive teams for $12, and hive enterprise is undisclosed but costs more than hive teams.
29. Otto
Otto is a project management software that looks to simplify productivity in these eight aspects: sales, marketing, support, finance, operations, and the product itself.
Top features
It is integrated with other service providers. You can use no-code integrations to unlock data from marketing, finance, support, sales, and product into a single customer profile to reveal essential actions to your business.

Ortto's powerful audience segmentation allows you to target audiences based on any combination of information; hence the organization has access to its prospective customers.

Otto is keen on collecting data to enable your team to make data-driven decisions through AI systems.

It is a B2B platform that enables you as an organization to qualify segment leads, automate sales communications and tasks, and track your customer's every move.

Easy to create customizable workflows s as your organizational settings dictate
Pricing
With Ortto, you get the campaign, professional, business, and enterprise plan. The payment plans are $29, $99, $299, and a negotiable enterprise plan. The plans come with 14-day trials.
30. Upland PSA
This is a cloud-based software that offers solutions to companies that allow you to have access and collaborate with your team and customers around the globe.
Top features
Proposal automation and customization that enables you to harmonize sales and delivery to improve project outcomes

Financial management dashboard that lets you monitor business performance for profitability and accelerate customer billing

Knowledge management enables your team to optimally and strategically allocate resources to the right project based on capacity, cost, and availability.

Deliver more profitable services with professional services automation (PSA) software that streamlines project execution and improves collaboration.

Leverage integrations, project templates, and notifications to ensure successful project delivery
31. Dynamics 365
This software seeks to unify all aspects of a project-based service and connect your team. The team can access information and analytics they need to deliver projects in time across all boards, be it sales, marketing, finance, or supply chain, among others.
Top features
Integration with Microsoft teams and other project management tools

Ability to Prioritize projects and schedule and maximize time and expense tracking with a simple management dashboard

Create your custom applications with the Microsoft power application

Forecasting and pipeline visibility, therefore, increase the chances of accurately scoring projects

Optimize project economics with costing, budgeting, invoicing, and revenues recognition
32. Function Point
This software enables you to manage projects, track time efficiently, and adjust budgets, ensuring that work is evenly distributed and projects are completed on time and under budget.
Top features
Use FunctionPoint CRM system for marketing agencies to gather deep acumens into your sales pipeline.

Centralized communication by having all your communication in one CRM software, allowing you to easily communicate with potential clients as they progress through your pipeline

The CRM for agencies allows you to create two estimates for internal use and a simplified version to send to clients.

Customize your estimate based on service type and sync your schedules with your calculations.

Blend your rates or charge by the staff member, allowing for accurate estimates every time you invoice the client.
Pricing
The pricing here is wholly dependent on the number of users. There are packages for as few as five users and fifty users.
33. Forecast
This business management platform enables companies to drive business performance by efficiently managing projects.
Top features
Customize your workflow to fit your needs as an organization

Simplified overview of every step to a granular level

Share live reports with your team, stakeholders to achieve transparency through each phase

Easily add, label, add and edit descriptions of the project and remove projects

The activity log gives room for users to add comments and upload files
Pricing
The forecast has two packages, the lite for $29 and the pro for $49.
34. Runrun.it
Runrun is a solution for achieving efficiency and proper workflow in your organization's team.
Top features
Assign tasks effectively through an interactive Gantt view that enables you to determine whether or not a person has availability for new demands visually and simply.

Use our AI-enabled widgets to track time invested in a task or a project.

Access a team of consultants and support system in just one click

A centralized workspace enables you to access all communication, decision-making, and files in one cost-effective platform.

Project and task templates ensure standardization and progress as planned. Get notified on projects that are almost due from the AI, making it easy to decide what to do next.
Pricing
The free package is limited to five users, the business plan going for$8 and the enterprise package going for $25.
35. MeisterTask
This tool provides you with simplified access and combines several advanced features.
Top features
Customizable spaces where you can set the layout to your liking. You also get to choose what to see and what not to see.

MeisterTask is unique. Here tasks are assigned one by one, which means that only one person can be posted a job at a time. This gives it a neat and straightforward view.

Time tracking feature

Agenda area where you get to enjoy a private workspace. No one can view this section apart from you.

Pushpin icon that allows you to keep track of your upcoming tasks productively

Ease of use in creating and interpreting reports while saving the data as well
Pricing
MeisterTask has the free basic package and the pro, business, and enterprise payment plans.
36. Kimble
Kimble is context-sensitive that will help you bridge the gap on time approval, expenses, and milestones all in one click.
Top features
Engagement dashboard that allows you to preview your organization's financial performance. You can manage budgets or revenue estimates.

The project governance center enables you to report and manage all aspects of delivery governance, such as risks, assumptions, issues, etc.

Milestone manager tracking and reporting milestones

Geo-location functionality to suggest an accurate timesheet for you while on the move

Optical expense recognition feature that enables you to capture expenses easily.
Pricing
Kimble's pricing is tailored to an organization or individual's needs.
37. ProjectWorks
Designed to unify every tool required in service delivery to improve efficiency to give your organization an edge. It looks to ensure resources are assigned accordingly.
Top features
Timesheets that play a role in

Complete tasks on the move through its mobile accessibility feature

A clear view of invoices to follow-up won performance

Receive notifications on a range of activities such as a paid invoice, or feedback from customers

Easy management of performance, track skills and certifications, and store HR data that can be used for future referencing

Available reports that enable you to track performance
Pricing
Using ProjectWorks does not come with any charges
The above-mentioned work management software is top and ensures you as a company delivers. Make your choice!