Work management
14 Best Quoting Software to Help You Win New Business in 2023
Quoting software can increase your sales team's productivity, impress your clients, and ultimately help you win new business.
So what is the key to winning that new business? Besides various factors such as pricing, product and service quality, marketing and branding, etc. – it is the sales process that plays a major part in sustaining business growth. All the way from the first 'hello' and building relationships, to the initial business offer, following up and closing the deal. The entire sales cycle requires excellent and swift communication with a personalized approach.
Quoting software streamlines and automates the proposal and request for proposal process for sales operations. Today, common integrations include CRM, e-signature, accounting, e-commerce software, etc. – all this makes the entire sales process much more efficient.
The benefits of quoting software include the ability to quickly generate professional and impressive business proposals and sales quotes. The kind that is designed with winning business in mind. Quotes and proposals can be generated in multiple file formats and easily shared through multiple channels. The formats include dedicated proposal landing pages, which get approved approximately 18% more likely than traditional proposals.
Essentially, quoting software allows you to spend more time on your clients, and less time on paperwork and proposals. And that approach will definitely win you more business. Here are sixteen quoting software that will help you on the way.
1. Scoro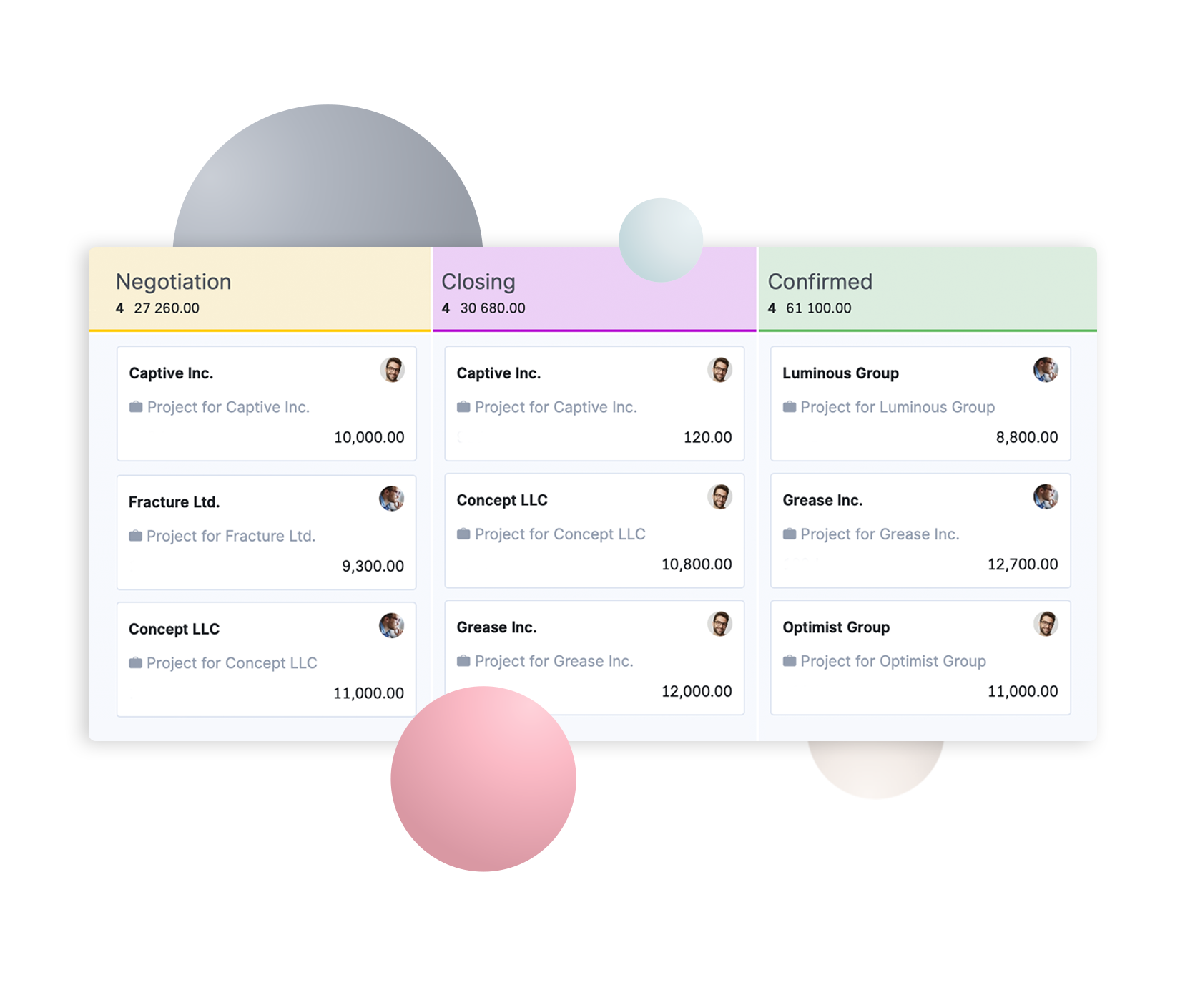 Scoro is a faster, easier, and better way for quoting and billing for your products & services. Instead of using five different tools to send quotes, manage contacts, and handle billing, you can just use one powerful quoting software. Impressive proposals and quotes can be created in just a few clicks.
Top features:
Quoting automation
PDF export
CRM
Sales pipeline reporting
Billing automation
Reporting & dashboard
Project management
Work management
Highly customizable
Wide range of integrations available

What's interesting about this tool: Get a complete overview of a client or supplier on one page – from the first "hello" to the final invoice. This includes contact details, linked files, communication history, linked projects plus all quotes, orders and invoices. In fact, Scoro gives you the tools to manage every aspect of your business – projects, clients, quotes and invoicing. Instead of switching between spreadsheets and emails, you'll save countless hours by managing everything within a single solution.
Pricing: From $26/month per user. Try Scoro free for 14 days
2. Qwilr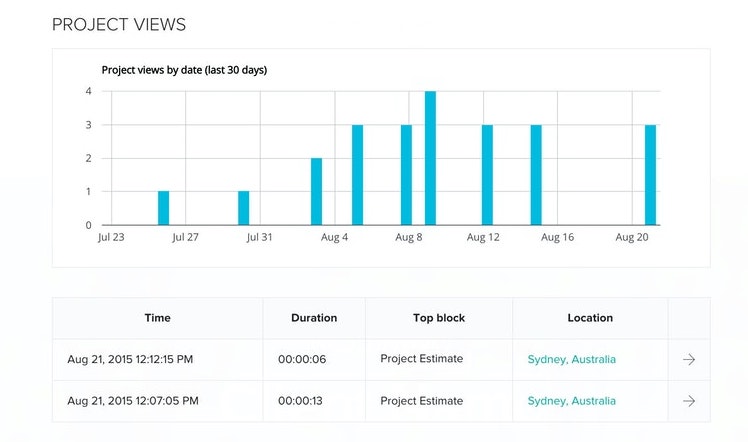 With Qwilr, you can replace your PDF proposals, quotes, and presentations with interactive & mobile-friendly web pages. The pages plug into your systems and are as easy to build and reuse as they are beautiful.
Top features:
Customized styles and fonts
Analytics
Custom web pages instead of documents
Free templates
Free stock images and videos
Quote acceptance
E-signatures

What's interesting about this tool: You can track and analyze how your sales and marketing material is browsed. Be notified when your document is first viewed, see how many times it was viewed & what sections your clients actually cared about.
Pricing: From $22 user/month. Free trial for 30 days.
3. DocSend
DocSend is a content management and tracking solution that helps sales and marketing teams be more efficient. With DocSend, you can see when, where, and how people engage with your sales documents. That allows you to keep the conversation going, from the initial pitch to closing the deal.
Top features:
Advanced document tracking
Manager insights
Teamwork and collaboration
Document control
Remote presentations
Custom branding
Training and support

What's interesting about this tool: Instant notifications alert you when a prospect engages with your content so you can provide timely and relevant outreach. You can find out what matters most to your prospects with page-by-page analytics of your presentations and other content.
Pricing: From $10/month per user. Free trial for 14 days.
4. Bitrix24
In addition to quoting capabilities, Bitrix24 offers tools such as CRM and project management. Bitrix24 quotes and invoices are fully customizable and come with powerful tools, like multiple currency support, taxes, automatic numbering, product catalog, and email marketing.
Top features:
CRM and quoting
Reporting
Calendar sharing
E-mail notifications
Sales funnel
Workflow and task reporting

What's interesting about this tool: Bitrix24 can be used as an online service (Cloud version, SaaS) and as a 'box' product (Self-hosted version, i.e. installed on your own server). Depending on your business nature, company size, and requirements for an intranet solution, you can choose between the flexible Cloud subscription plans, or develop a custom intranet project using the Self-hosted version.
Pricing: Free and paid plans from $39/month.
5. PandaDoc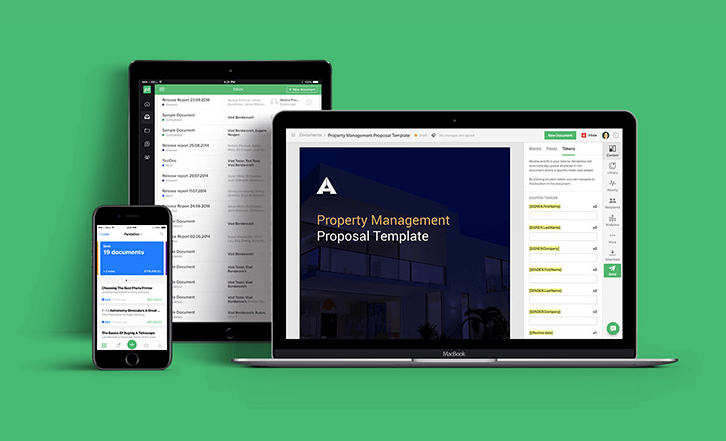 PandaDoc is a document automation tool that delivers higher close rates and shorter sales cycles. Custom-made proposals can be made in minutes.
Top features:
Unlimited docs & e-signatures
Document analytics
Custom branding
Pricing tables and product catalogs
Integrations with CRMs and other tools
Manager approval workflow
Auto reminders

What's interesting about this tool: PandaDoc's document analytics make it easier than ever to track the progress of every quote. Once you've sent a quote to a client, document analytics show you when a customer opens, views, and signs.
Pricing: From $19/month per user. Free trial.
Read on: New Software Onboarding – The What, Why, and How
6. Nusii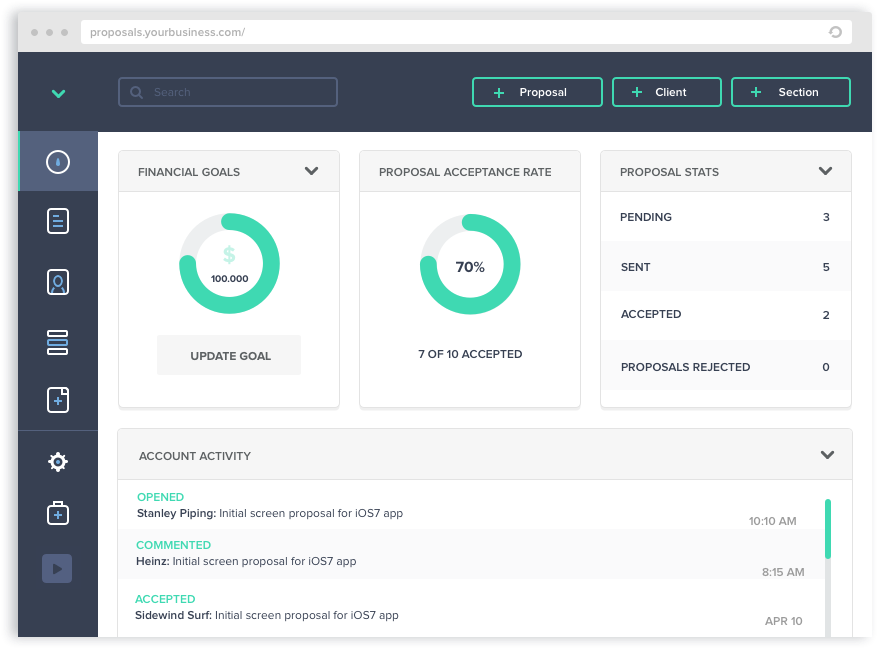 Nusii is an online quoting software created for creative businesses. It's got the right features to help you get beautiful proposals out the door fast.
Top features:
Professional proposal templates
Notification system
Quotes tracking and analytics
Online signatures
What's interesting about this tool: Once you and your team are happy with your proposal, hit send and Nusii will keep track of it, 24/7. The moment your client opens it, you will be sent a notification, making sure you're always in the loop.
Pricing: From $29/month per user. Free trial for 15 days.
7. Loopio

Loopio is a proposal and knowledge management software tool that empowers sales, marketing, proposal teams, and subject-matter experts to manage company knowledge and collaborate on client requests.
Top features:
Library & response templates
Automation
Project canvas
Single sign-on
Content splitting
Collaboration

What's interesting about this tool: You can build a 'request for proposal' response library, tag and categorize content, and then Loopio's automation engine pulls from your library to auto-populate a proposal.
Pricing: on request
8. Bidsketch
Bidsketch quoting software used by freelancers, consultants and agencies. Bidsketch allows you to create, electronically sign, and track professional-looking client proposals.
Top features:
Design templates and reusable content
Optional upselling
Landing pages
Automated new client workflow
Online signatures
Single centralized location for client information
Notifications
Compliance
Domain customization

What's interesting about this tool: Bidsketch allows you to create customized client landing pages. The client can then view, approve, export, and comment on their proposal quickly to help users stand out as a professional and make interaction with clients more convenient and organized. Another interesting feature is the optional upselling. You can grow your revenue by marking specific fees as optional and giving clients the option to accept them when viewing a proposal.
Pricing: From $29/month per user. Free trial for 14 days.
9. Osmosis
Top features:
Questionnaires for streamlined proposal process
Quotes and proposals
Custom branding
Document signing
Activity stream

What's interesting about this tool: Quotes and proposals are presented as a customized web page that can be exported as a PDF.
Pricing: From $19/month. Free trial for 14 days.
10. Quotient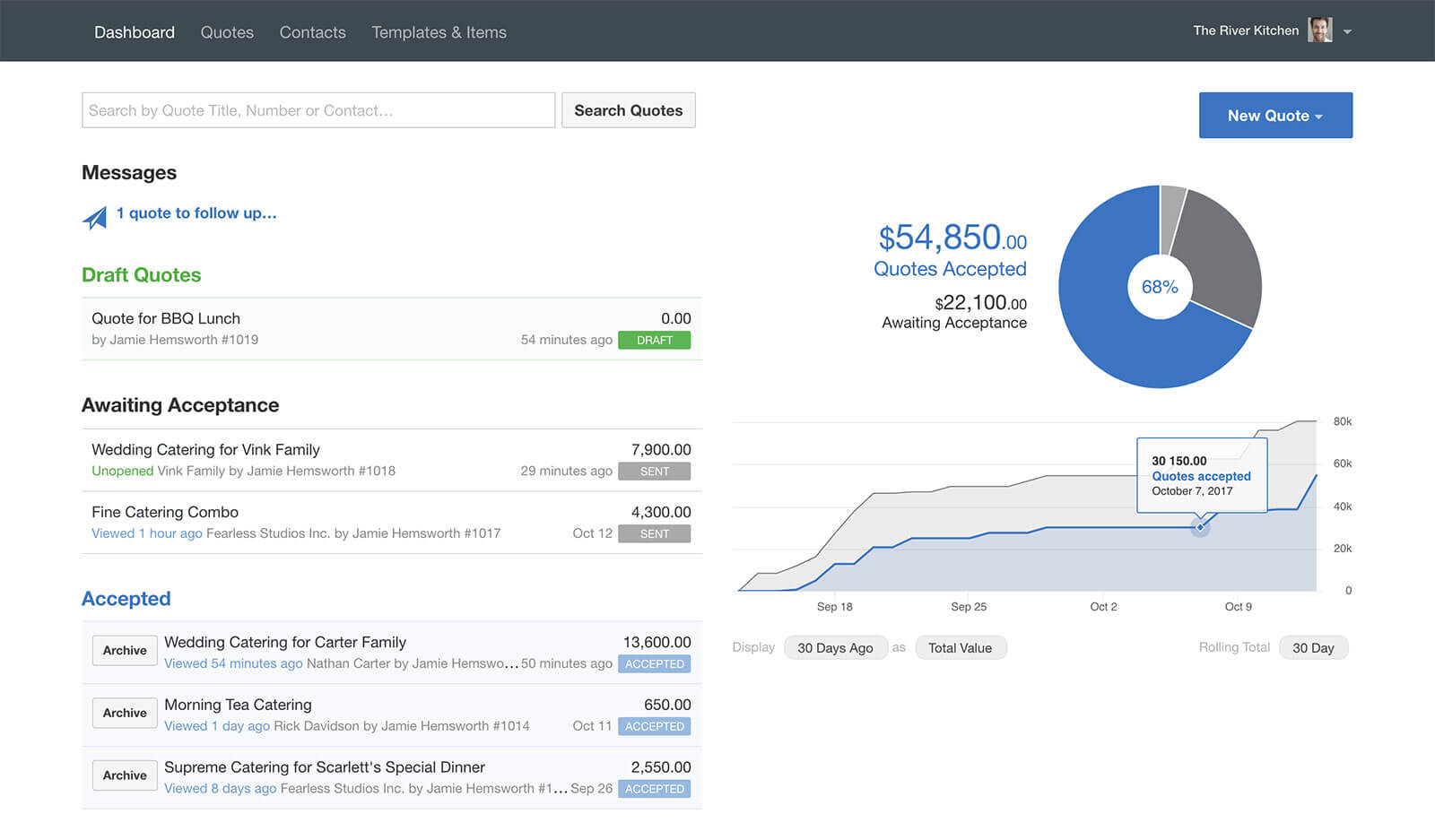 Quotient is an online quoting and proposal software that serves a general purpose. Therefore, it appeals to a wide range of businesses which are involved in direct sales.
Top features:
Dashboard
Cost price and margin
Follow-ups
Templates
Automatic quote expiry
Confirmation emails
Quote opening/viewing tracking
One click quote acceptance

What's interesting about this tool: Features such as auto-completion, image and file attachments and template saving make the quote creation process more efficient. Quotes will be archived in the system and can be searched using keywords.
Pricing: From $20/month per user. Free trial for 30 days.
11. Mosspaper
Mosspaper is a mobile-friendly quote and contract management system that offers small businesses a platform from which to create, sign, track and accept quotes and contracts. With paperless approvals, electronic signature capture, and payment integration, Mosspaper aims to deliver a simple quote and contract management solution.
Top features:
Centralized data management
Predictive data analytics
Invite and manage users
Simple payment process
E-signatures
Customer collaboration
What's interesting about this tool: Besides quote and contract creation, Mosspaper allows users to track and manage contract payments. From Mosspaper's centralized platform, users can send payment requests to customers, review outstanding balances, and collect payments. Through integration with Stripe, users can directly accept secure international payments. Mosspaper also enables users to gain business insight through predictive data analytics and an activity dashboard.
Pricing: Free and paid plans from $19/month. Free trial for 30 days.
12. Proposable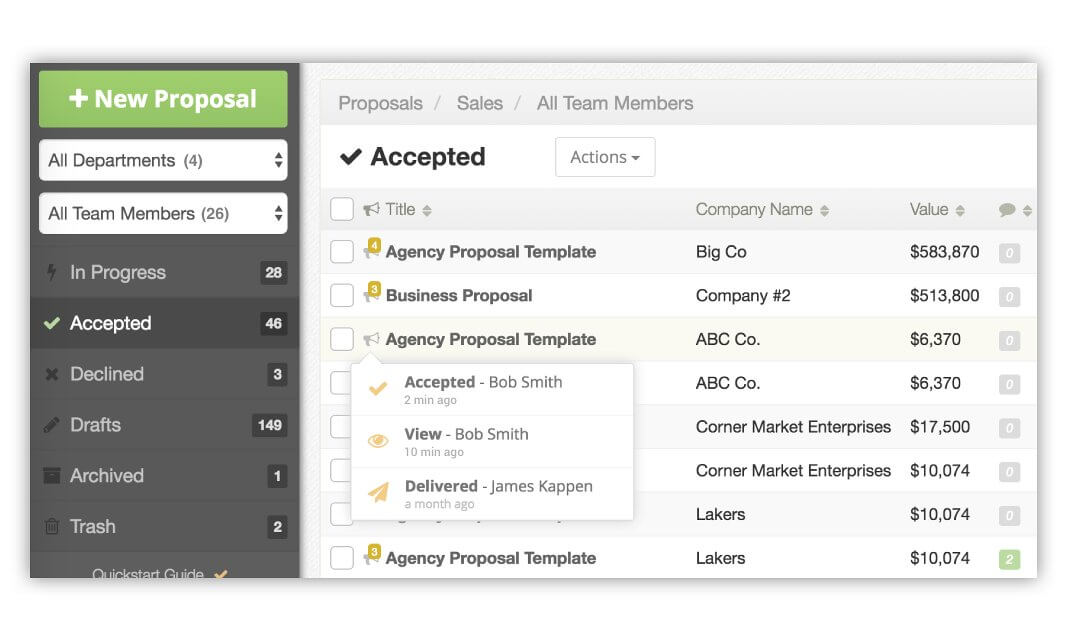 Proposable is an all-in-one cloud proposal software for smart & efficient sales proposal creation, delivery, and closing.
Top features:
Drag-and-drop builder
Content library
Flexible estimates
Proposal analytics
E-signatures
Sales pipeline reporting

What's interesting about this tool: Proposable has drag-and-drop creation tools, email and SMS notifications for when documents are viewed, and analytics for getting a better understanding of your sales pipeline. It also includes an estimate framework to make this part of the process less painful.
Pricing: From $39/month per user. Free trial for 14 days.
13. Odoo
Odoo encompasses sales and project management in a single tool. Polished quotes can be created in minutes. Predefined products, price lists, and templates help your sales team work more efficiently.
Top features:
CRM and quoting
E-signature
Project management
Sales Management
Reporting

What's interesting about this tool: Odoo is available in 23 languages and serves almost all geographies around the world.
Pricing: Free and paid plans from $14/month.
Read on: 14 best Odoo alternatives.
14. Socket
Socket simplifies your sales quoting process by bringing all of your product and quotation information into a single place that's easy to manage.
Top features:
Quote and proposal automation
Lead management and reporting
Tracking and analytics
Simple website and CRM integration

What's interesting about this tool: Socket utilizes a world-class data center to ensure our software is always blazing fast, reliable, and secure.
Pricing: From $49/month. Free trial for 7 days.
The choice of software really depends on your business nature, company size, type of clients and staff, workflow, and sales processes. Keep testing new solutions until you find the most suitable one!

Read on: