Work management
18 Best Infographics for Improving Your Productivity in 2022
THE DIFFERENCE between regular people and high-achievers is that successful people plan their time more wisely.
You only have 24 hours, 1,440 minutes, and 86,400 seconds each day.
Up next, you'll find 18 of the best infographics on productivity that will help you achieve more in 2019!
Scoro
Have you ever wondered why you constantly fail to complete your daily to-do list?
Although an average workday lasts for 8 hours, we actually work a lot less. Our days at work are full of distractions that take up to 40% of our workday. Emails, meetings, online browsing, commuting, and procrastination are your worst enemies when trying to get things done.
Here's an infographic that shows exactly where you lose the time at work, and shares actionable tips to plan your time more wisely.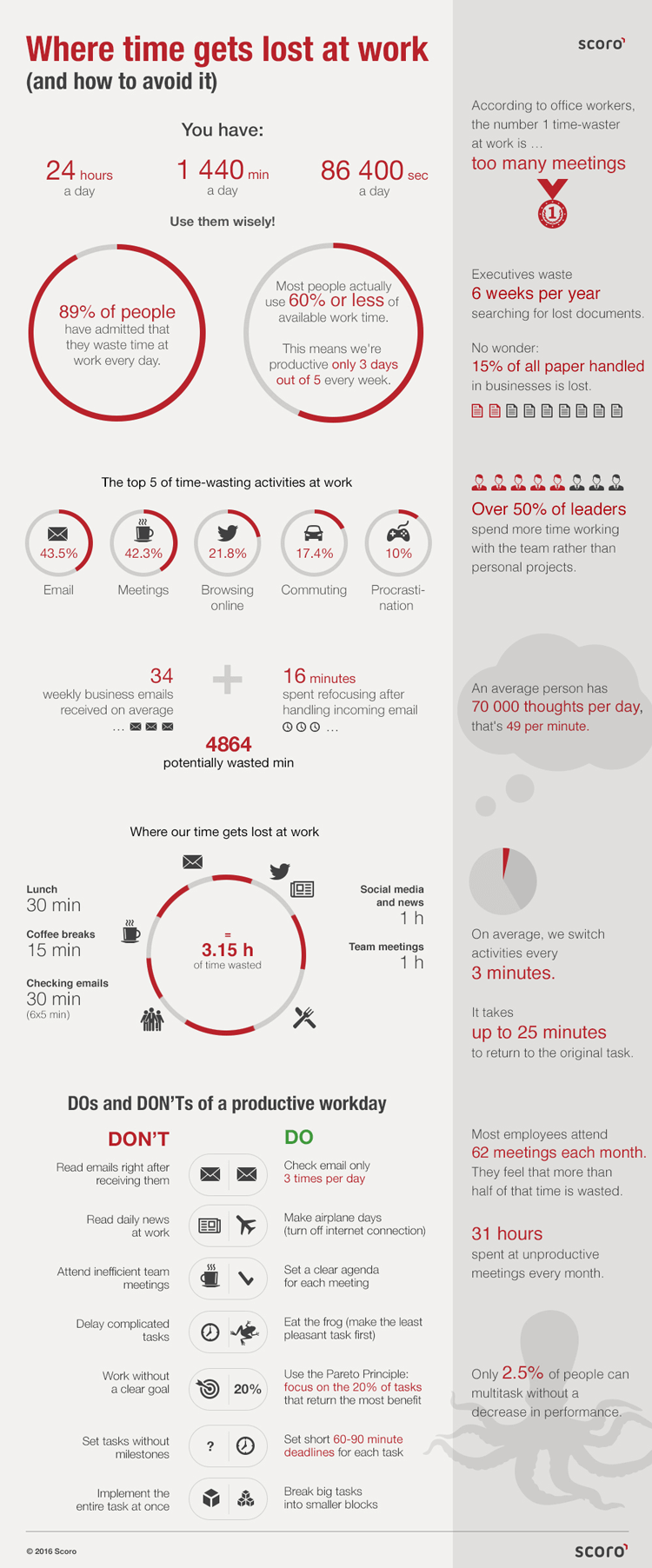 2. How Successful People Start Their Day
SleepyPeople.com
Successful people from Steve Jobs to Mark Zuckerberg all have distinct morning routines to help them get prepared for the day ahead.
Read more: 12 Proven Tips for Effective Meeting Management
Whether it's going to the gym, reading the paper, or enjoying a cup of coffee, most of us have things in our morning routine that we rarely skip.
Learn from the morning routines of high-achievers, and improve your pre-work routine.

Read on: 12 Best Browser Extensions for Higher Productivity
Alive With Ideas
We all have those periods when our brain has completely locked in all the great ideas. But the work still needs to get done, right?
If you're looking to be more creative in 2019 and learn to achieve the state of flow whenever needed, here's an infographic that will help. The team from a creative agency shares their top hacks to maintaining creativity and coming up with fascinating ideas.
You'll want to apply these tips to your work as soon as you've read them!
Read on: 8 Cures to Regain Your Productivity at Work
iCraftopia
Not everyone can fit the cut-and-paste mold when it comes to time management practices.
From the Creative to the Professor – the best time management strategies are effective when they are designed to fit your individual personality.
Find out which time management practices fit your personality.

Read on: 15 Cult Business Blogs Everyone Should Read in 2019
Hassle
We're normally juggling at least ten things, and that's not a good thing…unless you're a professional juggler – in which case, that's awesome, and you should just keep on doing what you're doing!
It's an all too familiar situation – you spend all day catching up on emails, attending meetings, and chasing down deadlines – leaving no time for your health, fitness, and sleep.
Luckily, this infographic collects 26 of the best apps to help to streamline every aspect of your work day – which can send your productivity through the roof and leave you with more time to focus on the important things in life.
Check out the apps below and get downloading!Read on: How to Apply the Grit Psychology to Your Work

Read on: How to Apply the Grit Psychology to Your Work
6. 40 Productivity Tips Used by High-Achievers
Scoro
89% of people admit they waste time at work. However, there are people who manage to be more productive and get things done. Want to know their secret? They have tried tens of productivity hacks and found out what works the best.
If you'd like to spend 2019 more productively, apply some of these 40 productivity tips to your daily routine.

unum.co.uk
Workplace wellbeing is now increasingly at the forefront of employers' agendas. However, health doesn't just extend to the body, and employers should also take into consideration mental well-being, most notably how employees deal with stress.
This infographic visualizes how to combat stress effectively; from breathing techniques, ideas on what to eat to give yourself a boost and how to relax during downtime. Arm your employees with everything they need to wave goodbye to stress.

Read on: 18 Best Time Management Tools Reviewed
12 Keys
All high-achievers have this one thing in common: They know how to avoid bad habits.
If you are unsuccessful at breaking the loop of repeating bad habits, they can cross the boundary into becoming an addiction.
This infographic introduces some of the most common habits and addictions, and the average number of days it takes to form a habit. Learn to identify and break your bad habits before they start damaging your productivity!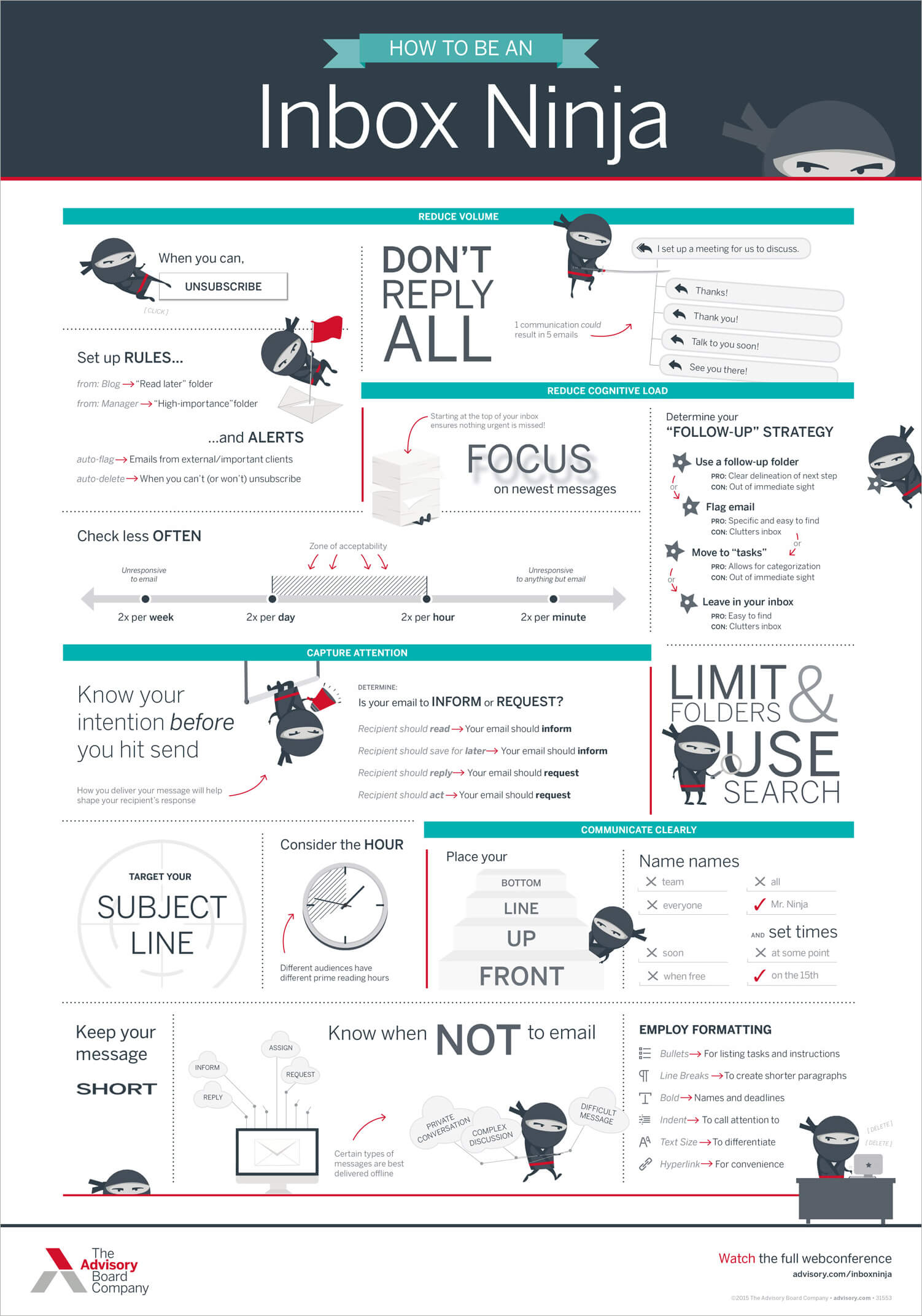 Catherine's Career Corner
Not only can a heavy workload be tiring, but it will also drive you to work longer hours than you would like. Worse than this, a very heavy habitual workload leaves you little time to deal with emergencies that come up unexpectedly.
How do you deal with a heavy workload at work and not get stressed?
While there is no snappy magic to reduce your heavy workload, follow these simple steps and say goodbye to the heavy workload in 2019.

Redbooth
Managing client projects is easier when you have structured processes in place.
If you haven't yet given your project management process some thought, now's the time for getting started. Identify possible issues long before they become problems, stay on top of all of your documentation, and keep your projects running smoothly.
Read more: 9 Daily Tasks Proven to Cost Your Business Money

Entrepreneur
Great mornings don't just happen. They're planned and nurtured. It's about creating a routine that works; that keeps you inspired and not just wired.
The moves can take some adjusting but will put you in the company of some of the most successful creatives and leaders working today.
This infographic pulls together research from sleep experts and productivity thought leaders to help you not only take back your morning but add hours to your week.

Business Insider
We've all been there: You wake up psyched to take on the workday, and by the time you go to sleep you feel like you've been totally unproductive.
What happened?
Maybe it's not a question of what you did, but of when you did it.
To help make sure that never happens again, we checked out the scientific research on the best time of day to do pretty much everything. Read and start crafting the perfect schedule.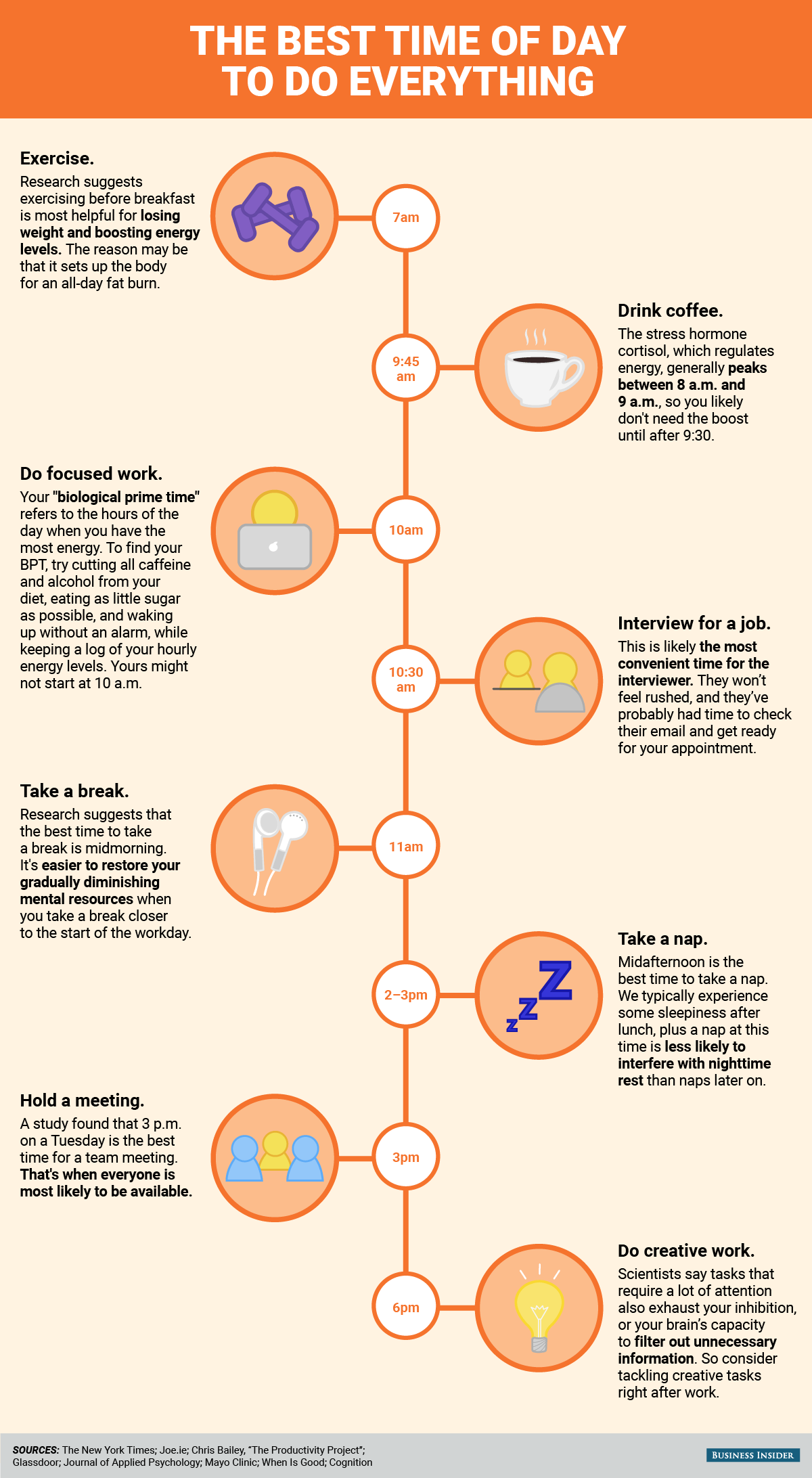 Scoro
Overdue tasks, time-consuming meetings, unanswered emails, overwhelming to-do lists, lack of focus… Sounds like your regular day at work?
There's a cure to all of these problems, and it's… More time!
Sadly, you can't use a magic wand and stop the time for the next 12 hours. However, quitting bad habits like checking the inbox 30+ times per day and switching tasks every 3 minutes, can save you multiple hours every week.
Here's an infographic that helps you work smarter, and resist the distractions stealing away your focus.

Alive With Ideas
Efficient teamwork is the cornerstone of every successful business.
However, with the emergence of email, collaboration tools, and hundreds of spreadsheets, it is easy to lose track of an effective company culture.
Bring the productivity back to your teamwork by following these simple yet effective tips for improving every aspect of your organizational culture – from the right language to a well-defined structure.

Webhosting.co
Here's a simple way to work more efficiently – ask your boss for another screen.
Working on multiple screens is beneficial for several reasons: you can open more than one windows and spend less time switching between the browser tabs and tools.
Check out the research-based tips below, and learn to reduce your multitasking and boost your output with multiple screens.

Meetin.gs
47% of people say meetings are the biggest time-waster in their day. With that outlook, it's not surprising that people are often hesitant to commit to sales calls and meetings.
There are simple ways to improve the quality of your business meetings and it starts by finding out what makes your meetings unproductive in the first place.
Master the art of efficient meetings, and save hours of time each week!

Made.com
Working from home is great…IF you actually work.
Many freelancers and remote workers are struggling to get their work done at home. Sounds like your daily struggle?
Luckily, there are some simple ways to boost your productivity in the home office, from the right lighting to color psychology. Check out the very best tips and turn your home into an office in a matter of minutes!