Scoro
12 Quick Tips to Get More Out of Scoro (Beginner Level)
Scoro is a pretty amazing tool when it comes to customizability and cool in-app productivity hacks. We bet there are countless shortcuts and undiscovered features in Scoro that you haven't yet heard of.
There's nothing we love more on a sunny day than a hack to make us more productive.
We've collected 12 tips and hacks that our team uses day-to-day when working with Scoro. And you can benefit from these too! The article will take approximately ten minutes to read. You'll end up saving hundreds of minutes.
1. So many filters
Whenever you go to any view (tasks, projects, companies, quotes, etc.) you can filter the list in millions of different ways (this is not a joke).
The Filter button opens a whole cave full of treasures for you, and allows you to customize the view according to your exact needs.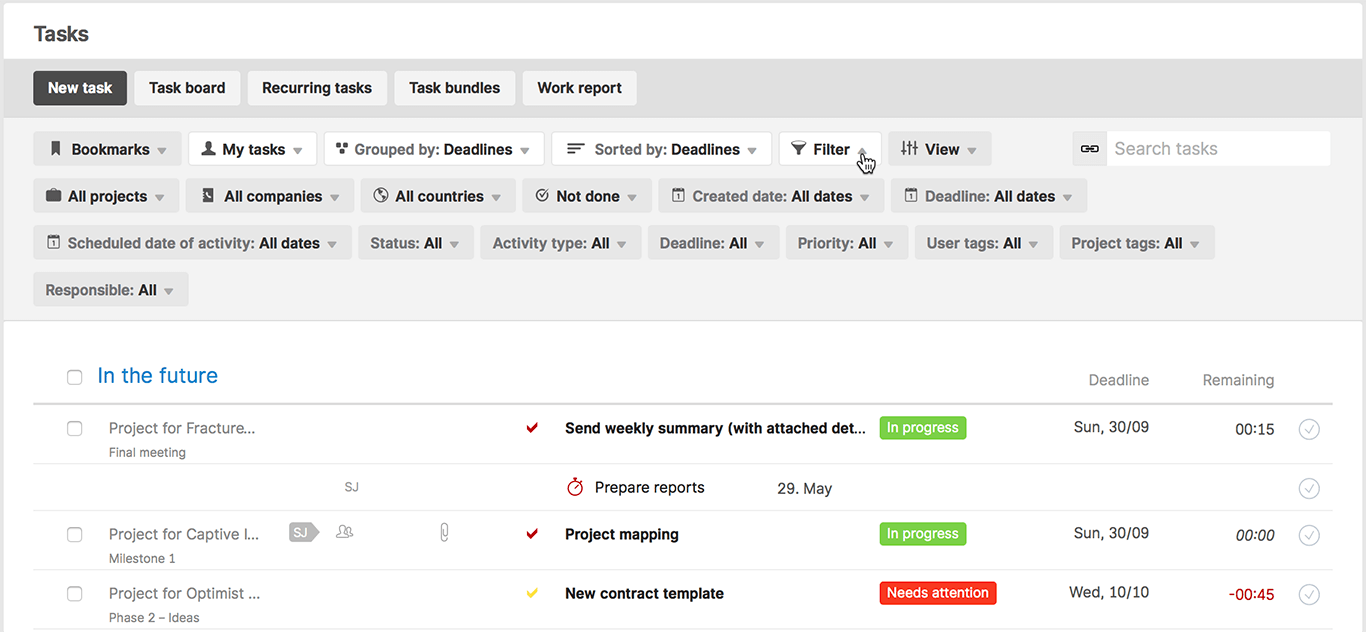 You can use this trick in pretty much every view, be it tasks, projects, quotes, companies, etc. or the detailed work report.
2. Sort your lists
Have you ever wondered how to arrange your projects in the list view by their start date, or your client list by their account creation date?
Here's the easiest way to do it. Simply click on the name of the column on top of the list. You can see which items are clickable by hovering your cursor over the column names.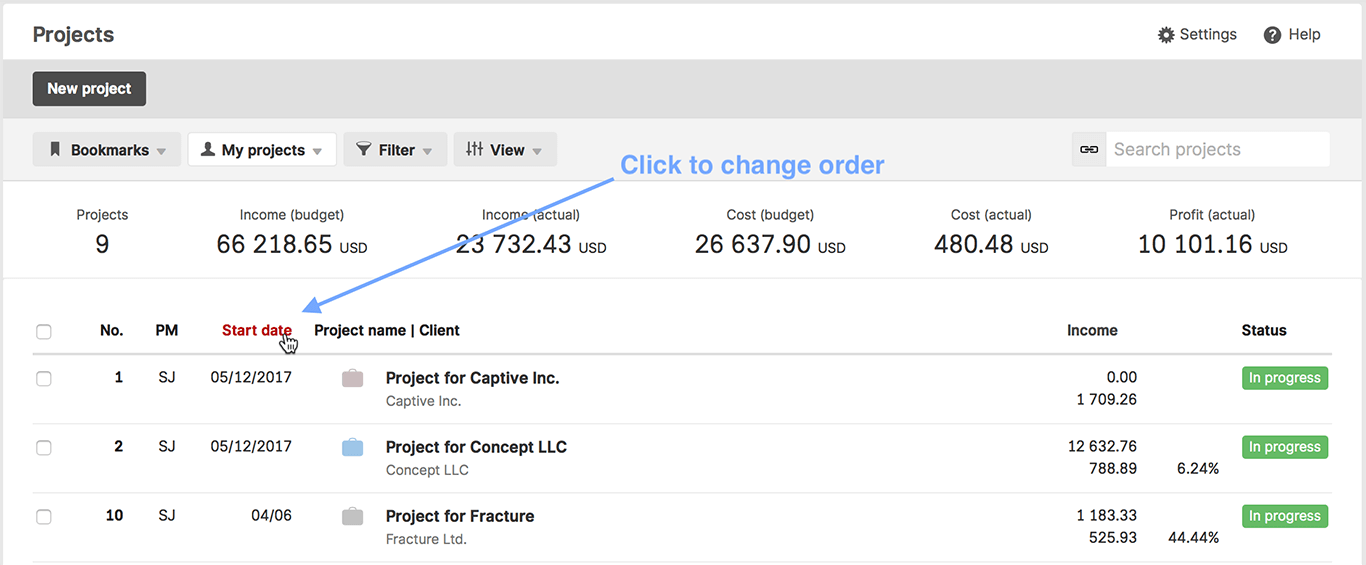 As you click on the column header Start date, all your projects are ordered according to their start date.
If you want to sort your client list by reicent activity (let's say), first click the View button and tick the Activity column to show up in the list view. You can drag and drop the order of the columns shown in the list.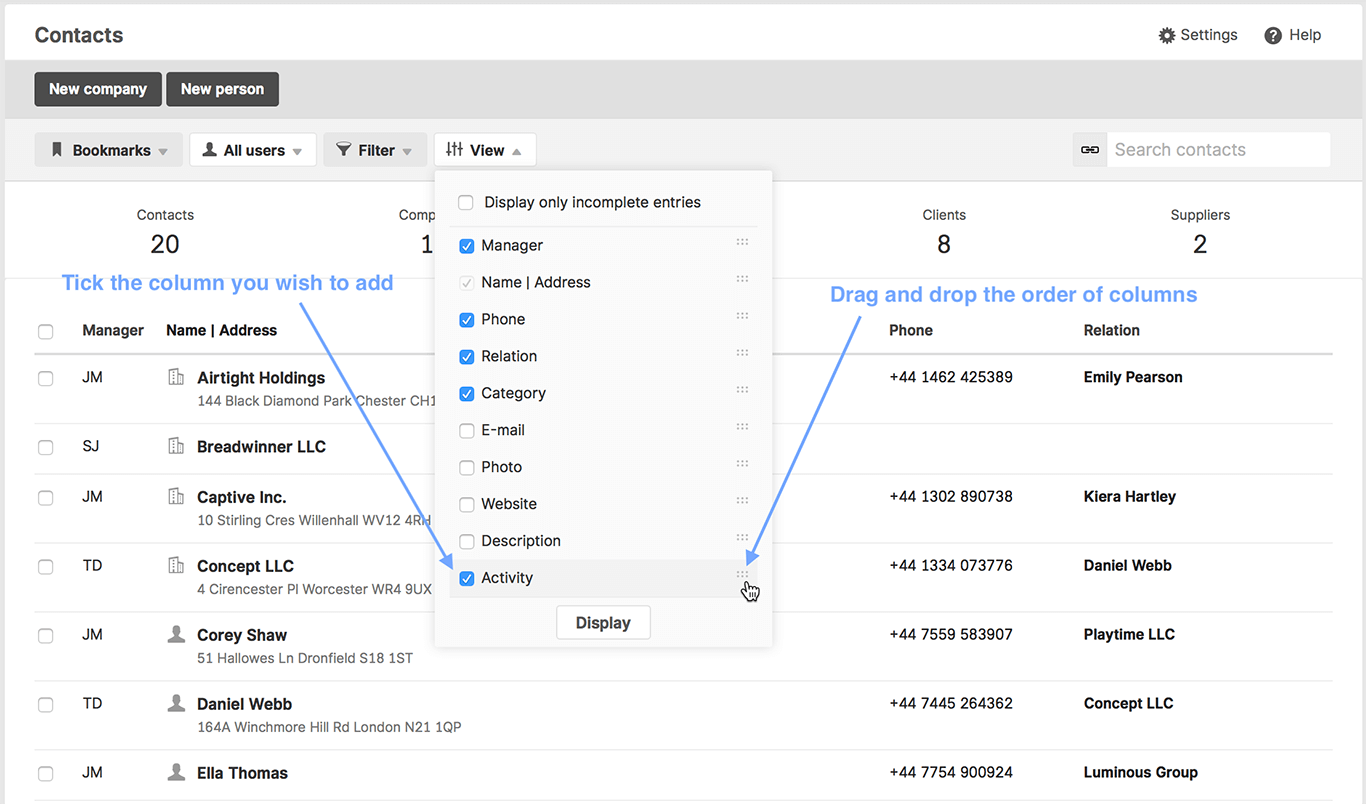 Now the column is added to the list view. Click on the name of the column to sort the list by activity.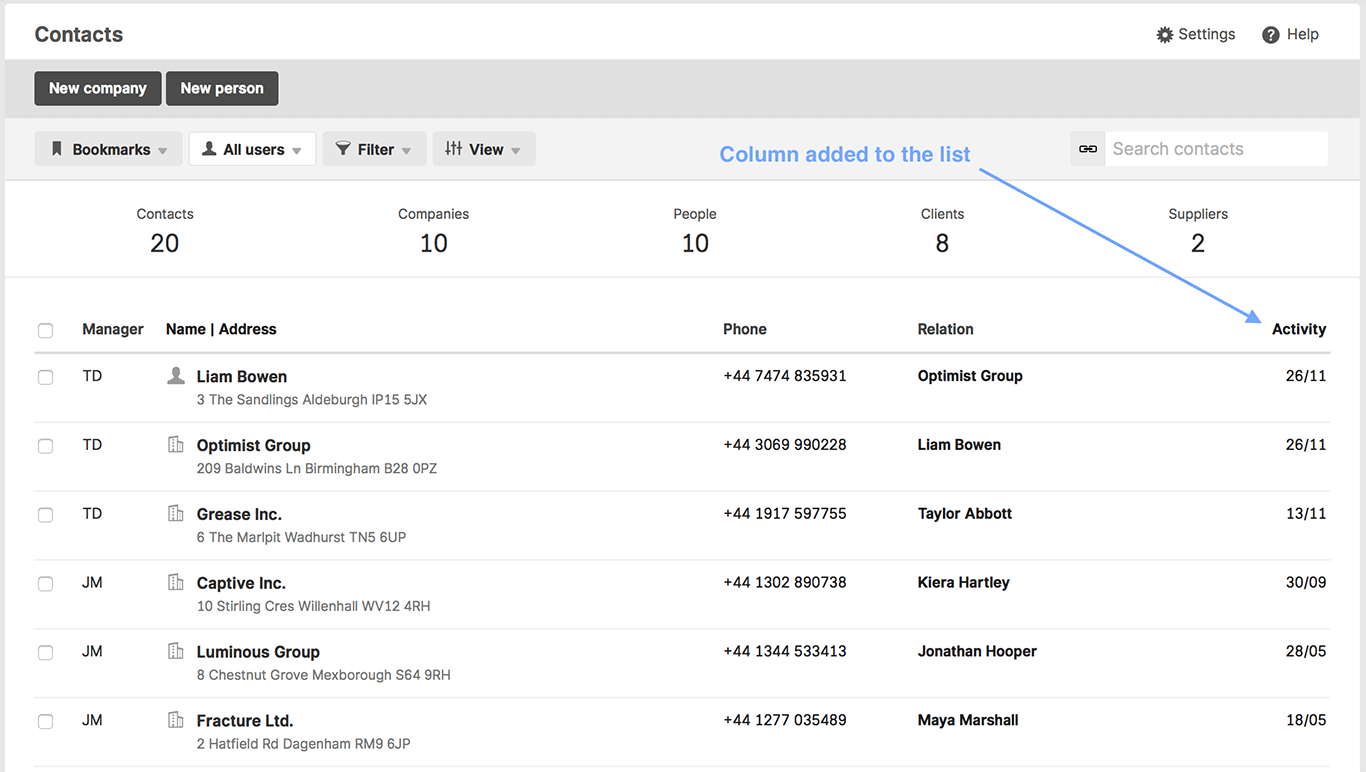 3. Add custom fields to list views
If your company uses custom fields in Scoro (extra information you can add to your tasks, projects, clients, etc.) you can filter any list or view according to your needs. You can also add custom columns to your lists. There are so many possibilities (you never even imagined exist in Scoro!) with custom fields that you just need to explore.
Read all about custom fields and how to set them up.
Here's an example with a custom field Lead source that enables to define clients by their lead, and therefore help you plan your marketing activities better, for example.
To filter a list by an already existing custom field, you simply need to click on the Filters button and pick the relevant filter. For example, we filtered the companies list by the filter Lead source, more specifically Digital advertising.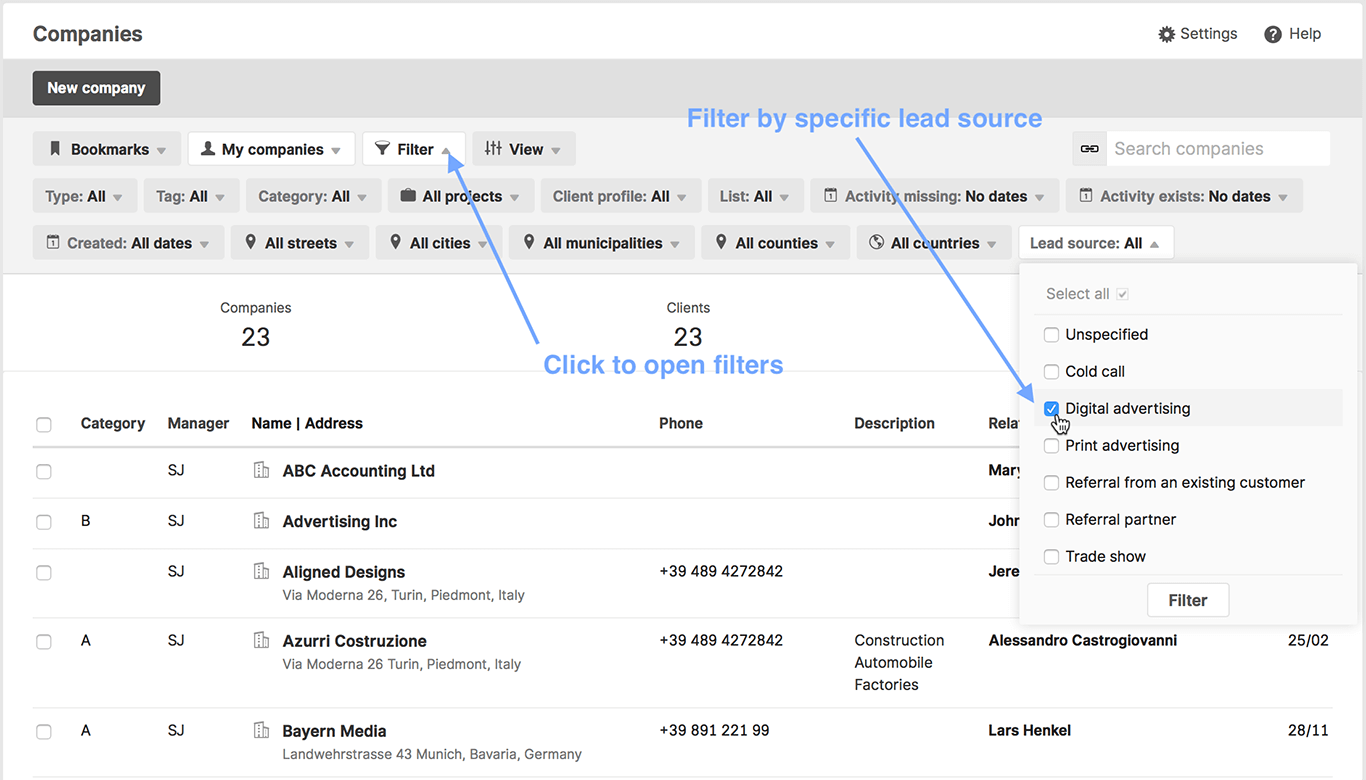 To add a custom column to your list view, click the View button and tick the suitable viewing option. Just click the name of the column to sort the list.
Remember this hack whenever you organise and filter your lists. It will make your work so much easier!
Read on: How To Manage Your Company's Resources With Scoro
4. Bookmark anything
Alright. We learned how to filter lists in more comprehensive ways. But wouldn't it be nice to save these filtered lists, so that you wouldn't have to set all parameters manually the next time you want to see that list again?
In fact, you can save any filtered list as a bookmark and quickly access your favorites by clicking on the Bookmarks icon in the header menu.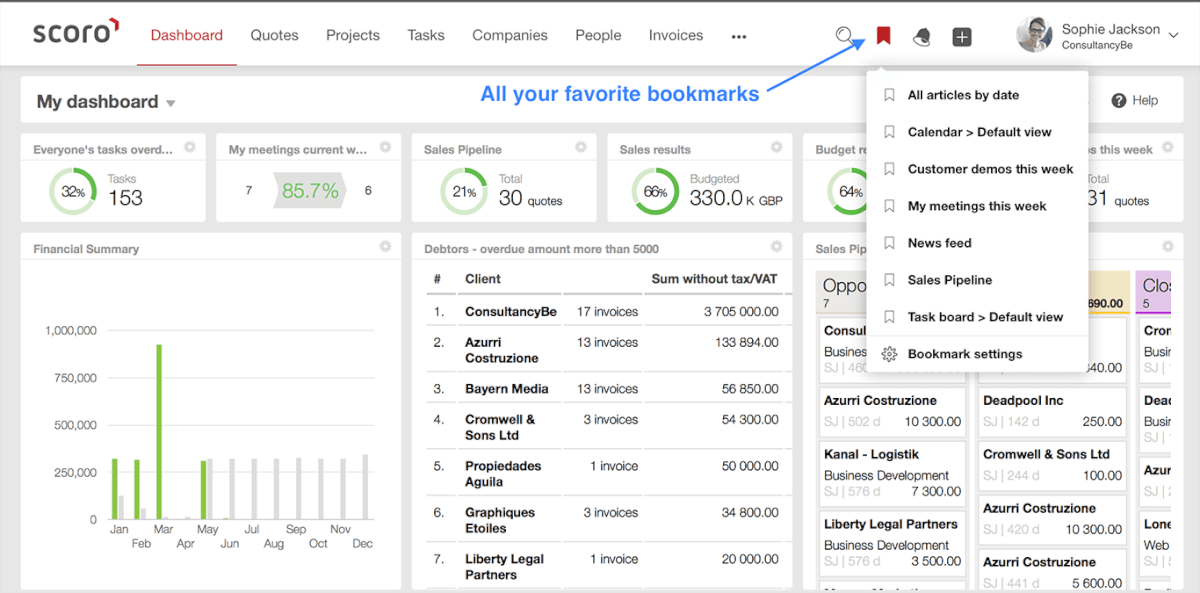 To save a filtered list as a bookmark, select the filters you'd like to apply. Next, click on the Bookmarks button and select Save as bookmark.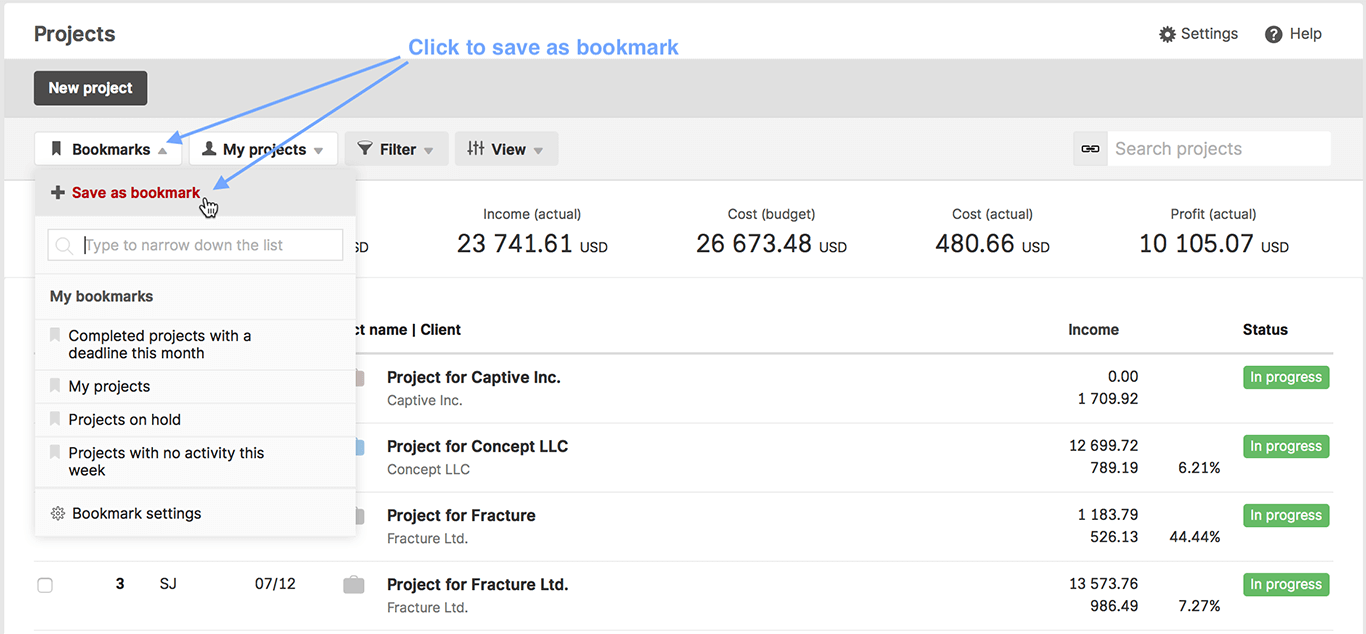 Your new bookmark will appear next to others My bookmarks (shown above). You can also use bookmarks whenever you open a view, e.g. Tasks, Projects, etc. by simply clicking on the Bookmarks button and choosing an already existing bookmark.
You just learned how to save yourself a coffee-break-worth-of-time every day.
5. Default views
Is there a bookmark or specific filters that you often apply when working with a list? Maybe you'd like to see your clients filtered by their size or country? Or how about your task list filtered by projects instead of priorities?
To access your preferred view more quickly, set the filtered view as you Default view.
As you save a filtered task list as a Default view, every time you open the task list, you'll see a list filtered by pre-set parameters. To set a filtered list as a Default view, filter your list, click on the Bookmarks button and select Save as default view.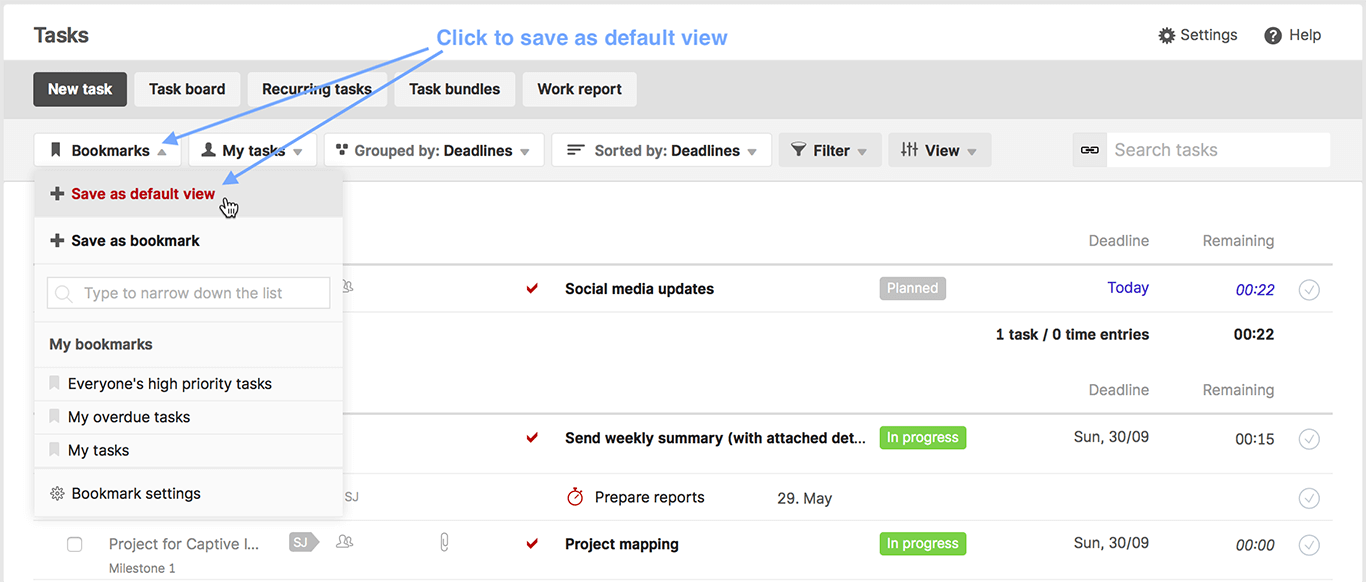 6. Quickly add a new task, event and more
If you're one of those Scoro users that go to the Task list to add a new task, or to the Calendar to add a new event, you need to hear about this tip!
You've probably seen the small + sign in the header menu of your Scoro site. By clicking on this icon, you can quickly add any type of new entry, e.g. a new task, company, quote, etc. no matter where you are in your Scoro site.
As you select New task, a window will pop up where you can fill in all data needed and create the new task. Easy as pie, right?
Tip: You can also add tasks while being in other views (in contact, project, quote, or other similar view). In this case, the task is automatically linked to the relevant data.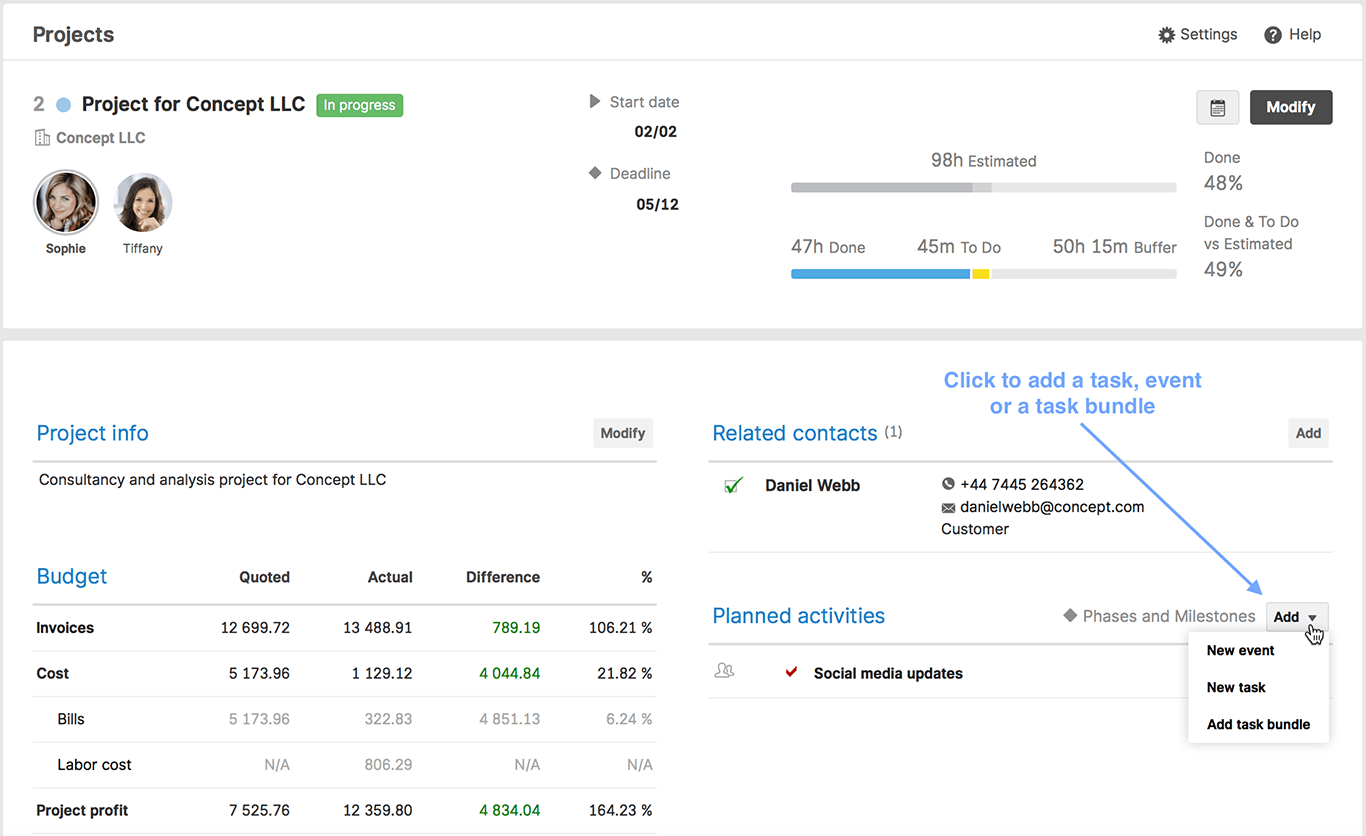 Tip 2: You can also add a new task from the contact list view. Just hover your cursor over the company name and a small + sign appears. Click to add a new to task (or event) that's automatically linked to that company.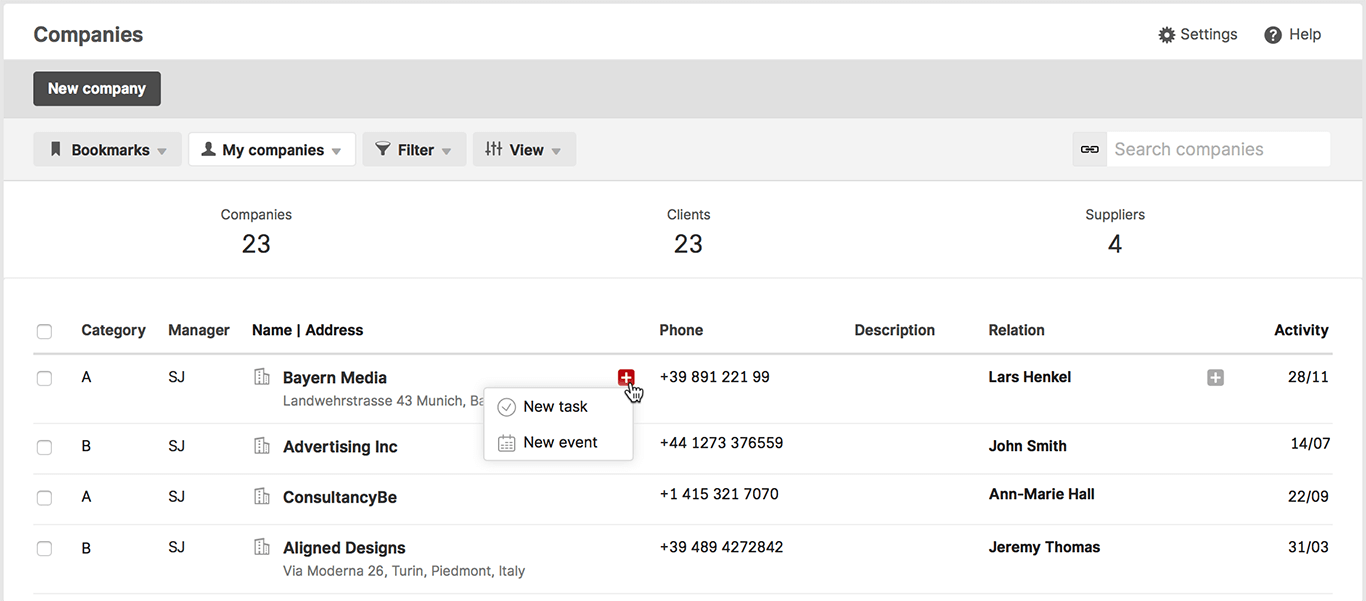 7. Add another task
Here's a tiny bit of advice that you can apply when adding multiple similar tasks in a row.
In case you haven't noticed, there's a Save and add another button in the task creation box.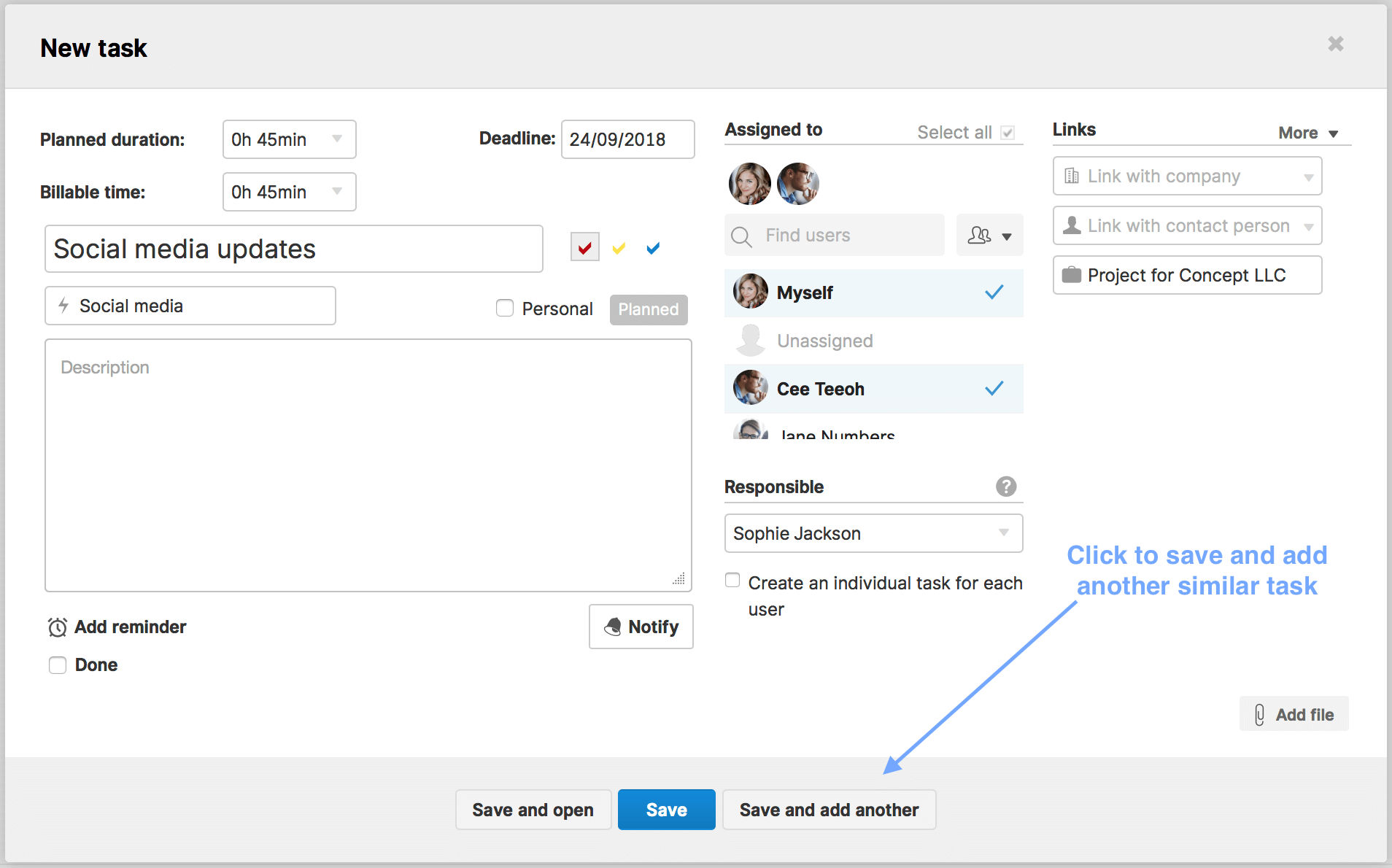 Clicking this button saves the current task and opens a new window for adding another. But this time, some fields (activity type, and relation with a person, company or project) are already filled in for you.
Tip: As you send a quote to a client, you can select Add another task and add a reminder for yourself to check in 3 days (for example) whether the client has approved the quote.
The Save and add another button works like magic when you need to add many consecutive tasks with similar activity types, linked to the same project, etc.
8. Assign one task to multiple users
Sometimes, the task is too big to tackle it alone. To assign a task to multiple users, just select the relevant users. This way, a proportion of the task is added to each assignee's task list. It's easy for each task assignee to log their work-time under the same task, and to quickly get an overview of the task's progress.
As you create a task and assign it to multiple users, make sure to notify them as well. As you check the box Notify, Scoro will automatically inform all the involved users.
Note! You can also add an identical task to each user's task list. Just tick the box Create and individual task for each user before saving the task.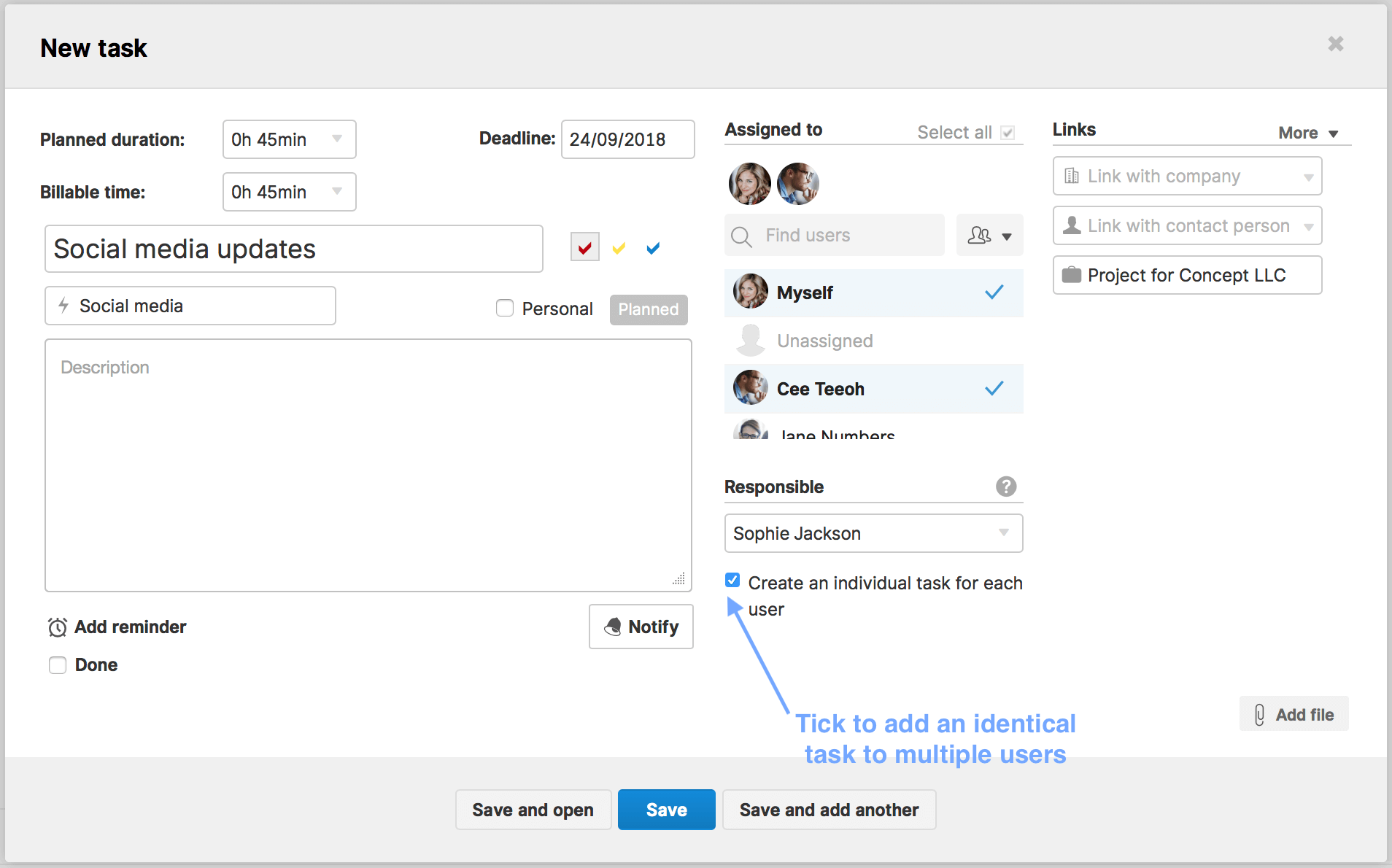 9. Log your meetings under tasks
This option comes handy when a part of the task is having a meeting with the client. It's easy to log the time spent on that meeting under the task and quickly get an overview (and if needed, charge the customer for) all project-related activities.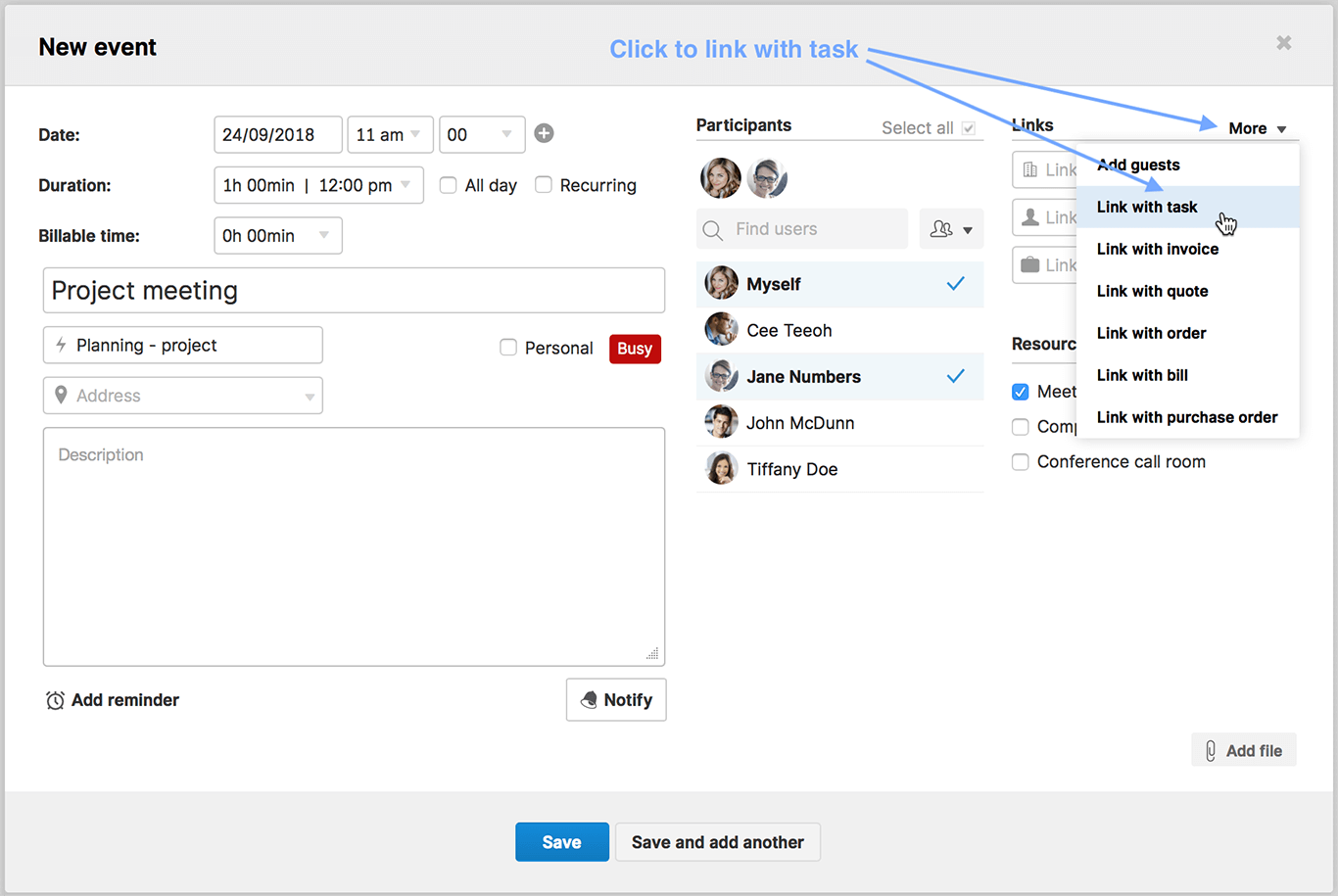 Read more on logging tasks under events.
10. Add default task settings
Working on many different tasks can become tiresome if you have to constantly add information to the system. To make your life easier, there's an option to set a default planned duration and priority for all tasks.
This means that whenever you open the task creation box, there are a pre-set duration and priority already in place. Many spared clicks equals a coffee break, right?
To set default values for your tasks, go to My settings > Calendar and tasks and select your preferred default priority and task duration. Don't forget to hit Save!

Also, save even more time and, instead of adding tasks to Scoro manually, send any email as a task to your task list via Smart inbox.
11. Presentation mode
This tends to be a bit of a hidden gem, and can be very practical for viewing wide lists with many columns. Just click on your name in the upper right corner of your site and select Presentation mode from the dropdown.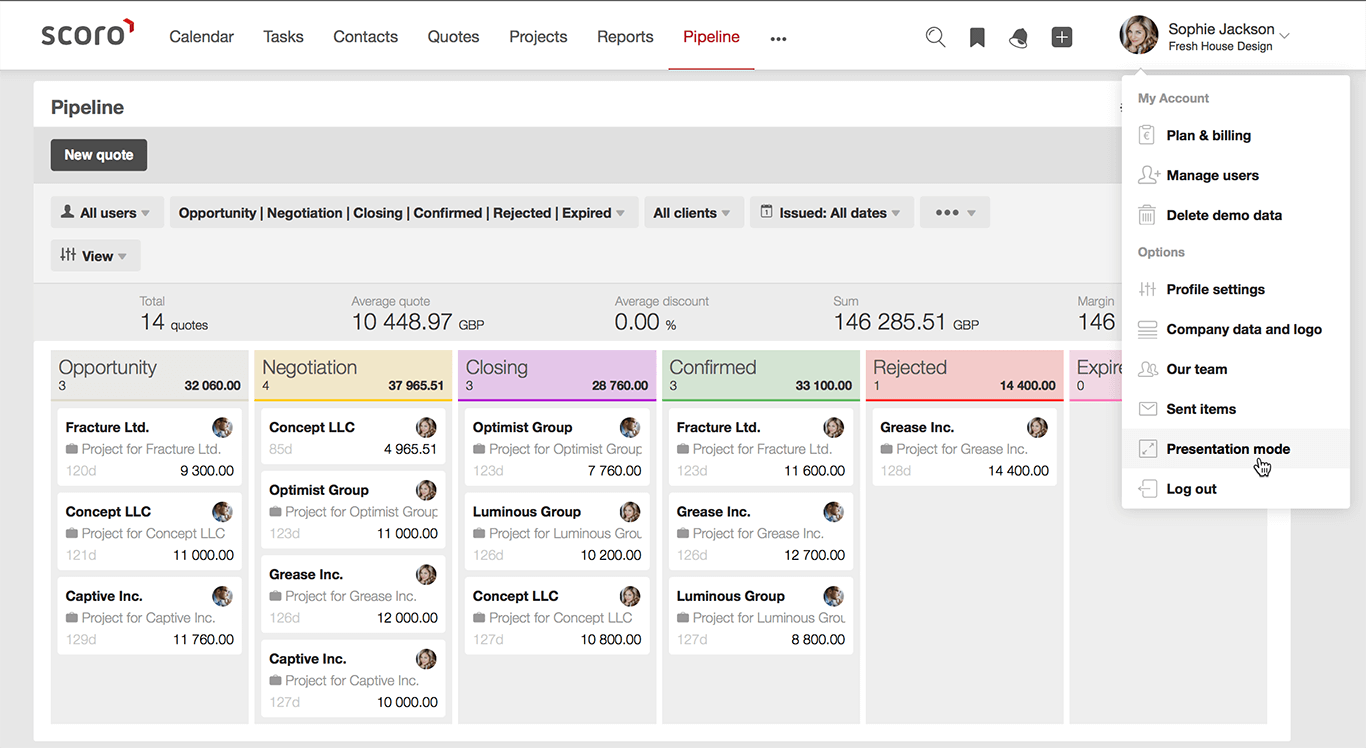 The really cool thing about this view, though, is that you can set up automatic data refreshing. Click on the Settings icon and tick the relevant option. This way you're always up to speed on what's going on with your business!

12. Scoro app
This one's actually the most important. Download the Scoro app from the App Store or Google Play Store and have access to your tasks, projects, contacts and more when and wherever you are. Make sure to set up notifications on your device, so you don't miss out on anything while on the move.
Notifications on iPhone: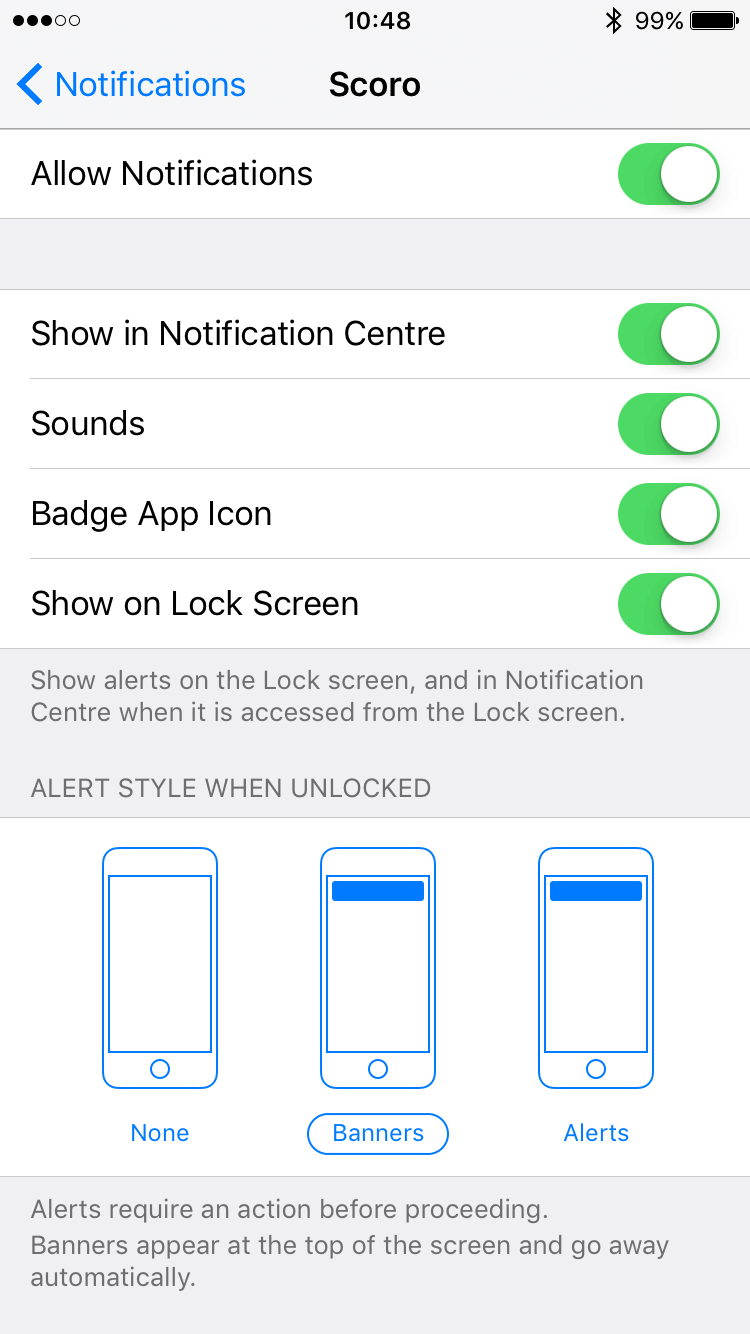 Notifications on Android: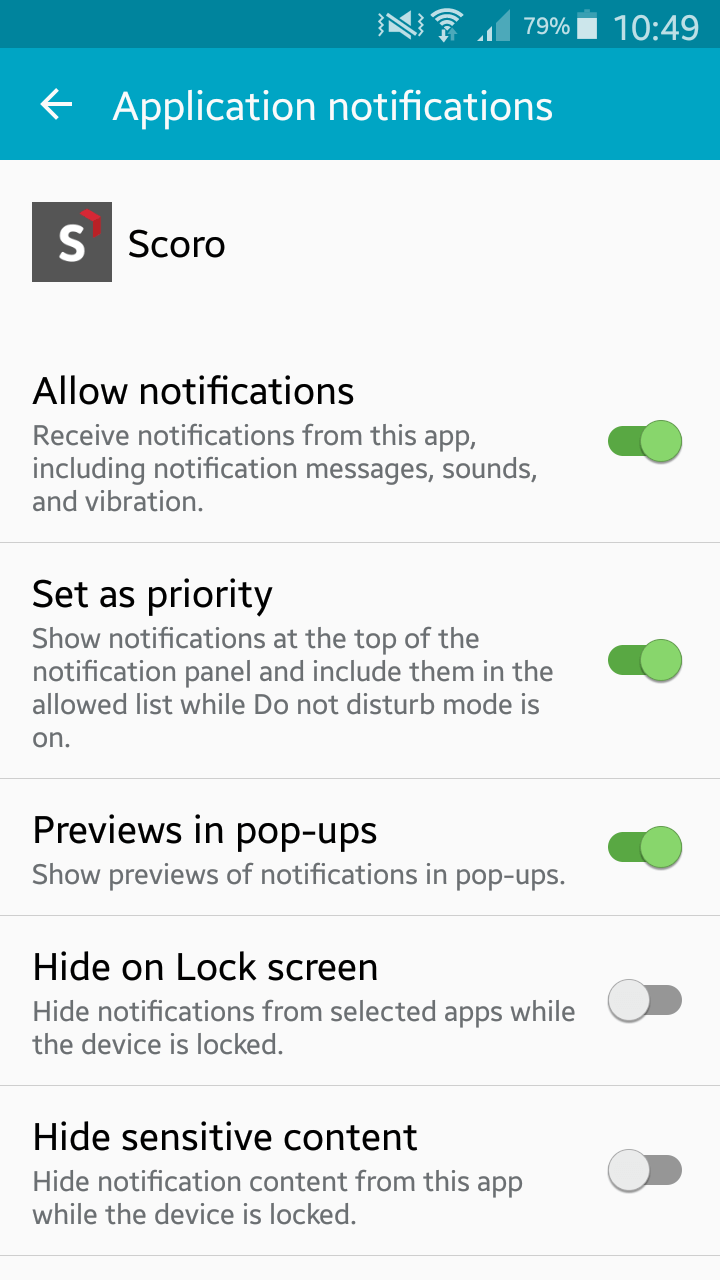 Alright. There's quite a lot of new information to process, so we'll leave you to explore all the possibilities Scoro has to offer.
Maybe there's another hack that you recently discovered and would like to share with other Scoro users. Do not hesitate to leave a comment and share your ideas!
Want more?
See the 10 more Scoro tips for calendar & tasks and learn how to set up a perfect business dashboard in Scoro.