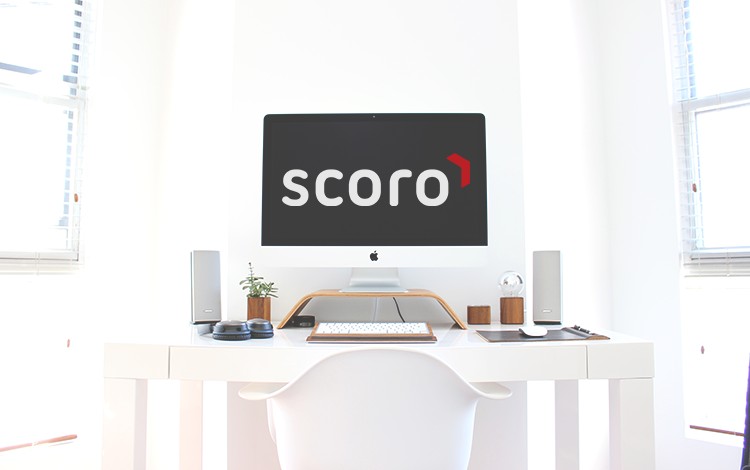 Project management
12 Quick Tips to Get More Out of Scoro (Beginner Level)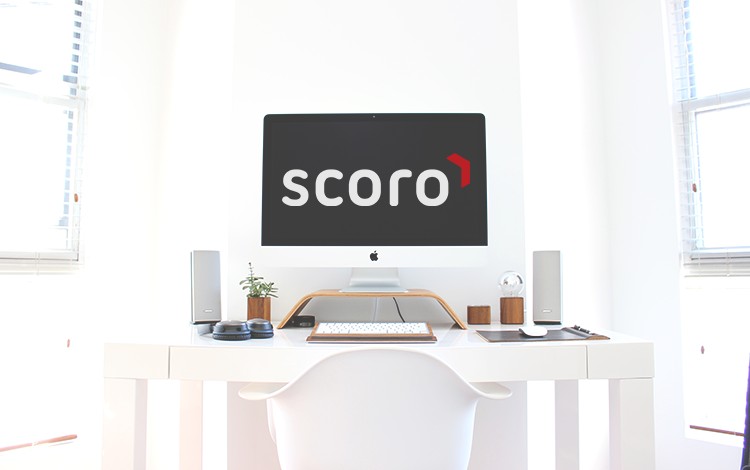 Scoro is a pretty amazing tool when it comes to customizability and cool in-app productivity hacks. We bet there are countless shortcuts and undiscovered features in Scoro that you haven't yet heard of.
There's nothing we love more on a sunny day than a hack to make our work more productive. Just kidding! On second thought… you can never know.
Anyways… We've collected 12 tips and hacks that our team uses day-to-day when working with Scoro. And you can benefit from these too! The article will take approximately ten minutes to read. You'll end up saving hundreds of minutes.
1. One-click login
Did you know that you can log in to Scoro even faster?
By creating a sign-in link and turning on the one-click login option, you can access your Scoro site without signing in multiple times per day.
Simply go to Settings > Profile and scroll to the bottom of the page. Find the One-click login option and click on "Create a new link".
As you use this link to access your Scoro site you'll always find yourself automatically logged in. Make sure to bookmark this darling!

2. Add Scoro icon to your smartphone
As many people use Scoro on their smartphones, we decided to make life a tiny bit easier for you.
You can add quick access to your Scoro page to your home screen by following these simple steps.
Android: Open your mobile web browser > go to your Scoro page > click on the menu on the right corner of the screen > choose "add to your home screen". Et voila! You'll now see Scoro icon on your home screen!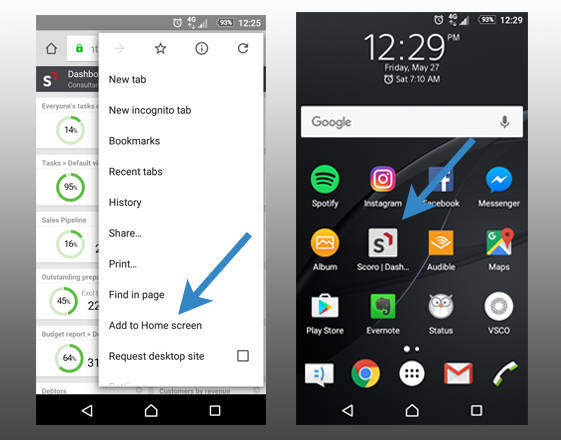 iPhone: Open your mobile web browser (only works in Safari) > go to your Scoro page > click on the arrow-like icon on the bottom of your screen > choose "Add to Home Screen"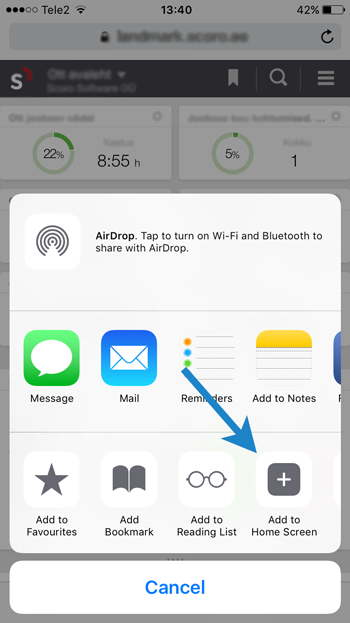 3. The Meatballs menu
Whenever you go to any view (tasks, projects, companies, quotes, etc.) you can filter the list in millions of different ways (this is not a joke).
The three little dots in the filtering menu will open a whole cave full of treasures for you.

As you click on the three dot icon, look what happens.

You can use this trick in pretty much ever view, be it tasks, projects, quotes, companies, etc.
4. See more custom fields on the list view
If your company uses custom fields in Scoro (extra information you can add to your tasks, projects, clients, etc.) you can make any list or view highly informative.
For example, when looking at your Companies list, you can see lots of additional information about a company's representatives, last activity date, etc.


But if you want to see even more information?
That's actually pretty easy. You simply need to click on the icon next to the three-dots-menu. Here, you can choose what information you'd like to see on the same row with a company.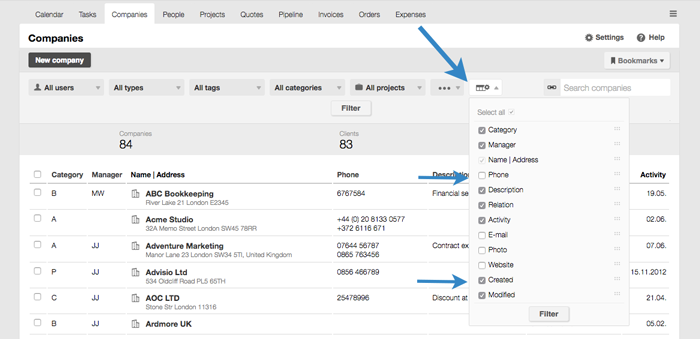 For example, we opted to see the email, creation date, and some more fields,  and now they show up in the list.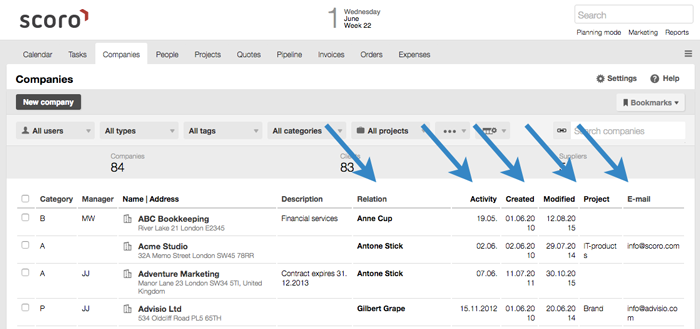 Remember this hack whenever you organize and filter your lists. It will make your work so much easier!
5. Sort your lists
Have you ever wondered how to arrange your projects by their start date or Client list by their account's creation date?
Here's the easiest way to do it: Simply click on the name of the column header on top of the list. You can see which items are clickable by moving over your cursor.

As you click on the column header "Start date", all your projects are ordered according to their start date.
If you want to filter your client list by the creation date, first add the "creation date" tag to show up on the list view and then click on it to arrange the list.

6. Bookmark anything
Alright. We learned how to filter lists in more comprehensive ways. But wouldn't it be nice to save these filtered lists so that you wouldn't have to set all parameters manually the next time?
In fact, you can save any filtered list as a bookmark and access these by clicking on the Bookmarks icon in the header menu.

To save a filtered list as a bookmark, simply select the filters you'd like to apply. Next, click on the Bookmarks button and select "Save as a bookmark".

Your new bookmark will appear next to others in your Bookmarks menu (shown above). You can also use bookmarks whenever you've opened a view, e.g. Tasks, Projects, etc. by simply clicking on the Bookmarks button and choosing an existing bookmark.
You just learned how to save yourself a coffee-break-worth-of-time every day.
7. Default views
Is there a bookmark or specific filters that you often apply when working with a list? Maybe you'd like to see your clients filtered by their size or country. Or how about your task list filtered by projects instead of priorities?
To access your preferred filters more quickly, set the customized bookmark to be the Default View.
As you save a filtered task list as the Default View, every time you open the view again the Tasks, you'll see a list filtered by pre-set parameters. To set a filtered list as Default View, filter your list, click on the Bookmarks button and select "save as default view".

8. Add a new task, event, etc. more quickly
If you're one of those Scoro users that go to the Tasks view to add a new task, you need to hear about this tip!
You've probably seen the small "+" sign in the upper menu of your Scoro site. By moving your mouse to this icon, you can quickly add any type of new entry, e.g. a new task, client profile, invoice, etc.

As you select "New task", a window will pop up where you can create the new task. Easy as pie, right?
Tip: You can also add tasks while being in other views (on a contact, project, quote, or invoice page). The task will automatically be related to the same contact, project or invoice.
9. Add another task
Here's a tiny bit of advice that you can apply when adding multiple similar tasks in a row.
In case you haven't noticed, there's a "Save and add another" button in the task creation box.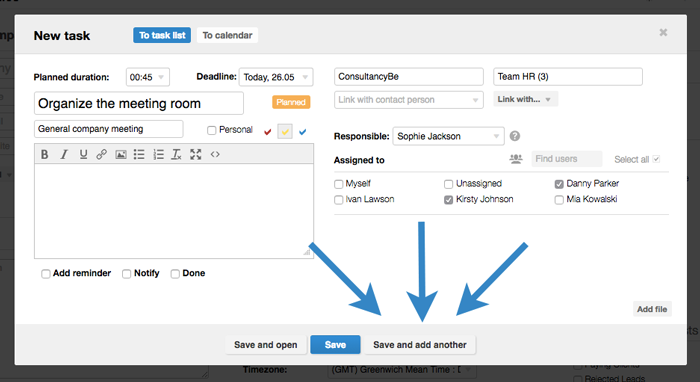 Clicking on this button saves the current task and opens a new window for adding another. But this time, some fields (activity type, and relation with a person, company or project) are already filled in for you.
Tip: As you send a quote to a client, you can select "Add another task" and add yourself a reminder to check in 3 days whether the client has approved the quote.
The "Save and add another" button works magic when you need to add many consecutive project tasks with similar activity types.
10. Assign one task to multiple users
Sometimes, the task is too big to tackle it alone.
To assign multiple users to the task, open the task creation box (see point 6) and move your mouse over the people icon.
See what we did here?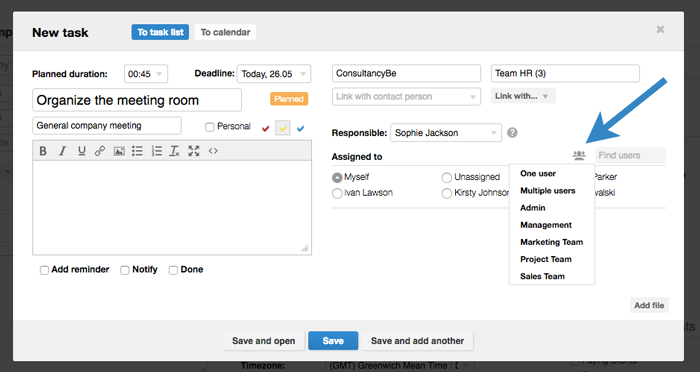 By choosing "Multiple users" you can tick the boxes between the people's names you want to receive a new task.
As you create a task and assign it to multiple users, make sure to notify them as well. As you check the box "Notify", Scoro will automatically inform all the involved users.
Remember: Assigning a task to multiple users means that each person will receive a separate task.
11. Use time entries for collaboration
What if you want multiple people working on the exact same task, to track their time in a more effective way?
Have you ever heard of time entries?
To create one task with multiple contributors, create a new task (don't assign it to anyone but yourself). Next, add planned time entries below the task and assign each time entry to a different person. Don't forget to uncheck the "done" box.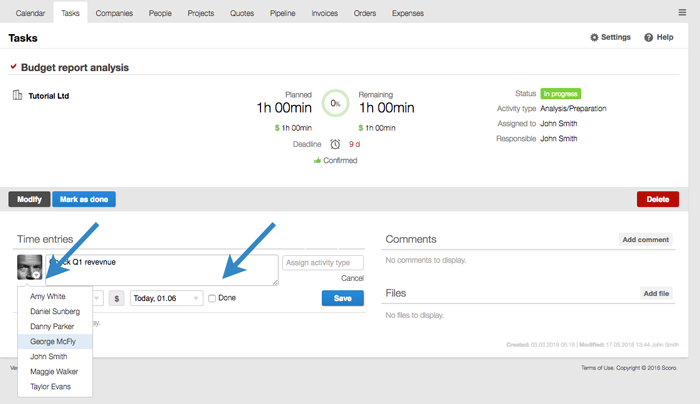 After you've created the time entries for all participants, you can assign the task to another person so that it won't appear on your task list.
12. Add default task settings
Working on many different tasks can become tiresome if you have to constantly add these to the system. To make your life easier, there's an option to set a default planned duration and priority for all tasks.
This means that whenever you open the task creation box, there are a pre-set duration and priority already in place. Many spared clicks equals a coffee break, right?
To set default values for your tasks, go to Settings > Calendar and tasks and select your preferred default priority and task duration. Don't forget to hit "Save"!
Alright. There's quite a lot of new information to process, so we'll leave you to explore all the possibilities Scoro has to offer.
Maybe there's another hack that you recently discovered and would like to share with other Scoro's users. Do not hesitate to leave a comment and share your ideas!
Want more?
See the 10 more Scoro tips for calendar & tasks and learn how to set up a perfect business dashboard in Scoro.