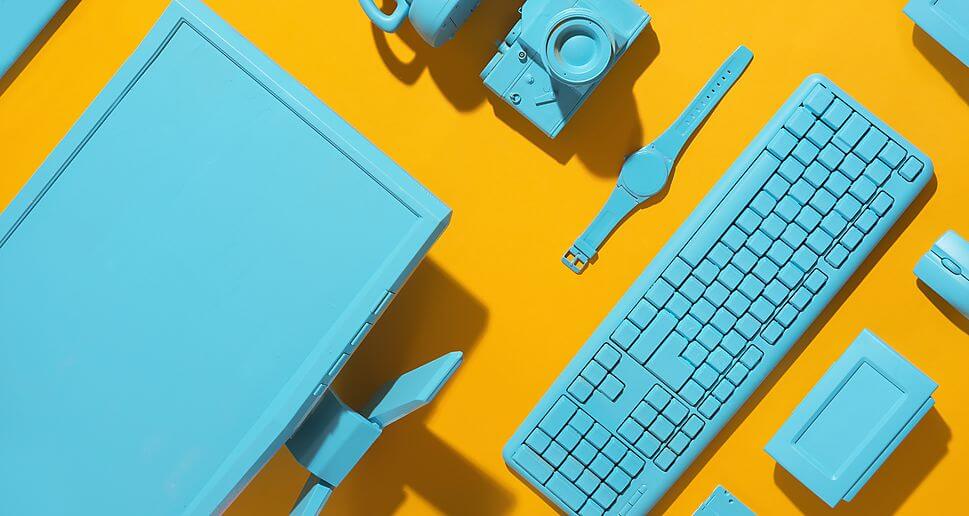 Innovation, Work management
6 Practical Tips For Improving Your Team's Digital Skills
With digital transformation being a top priority for most organisations, the digital intelligence of your team is the key to striving in this age of technology. By definition, digital IQ is the measurement of an organization's ability to harness and profit from technology. It also represents the mindset that unlike many technological influences, we still have control over how we shape the human experience in our businesses. We can develop a flexible, sustainable approach to innovation in an era of constant transformation. That's why it's essential to empower your team with respective knowledge.
Read more: Digital Transformation – The What, Why, and How
The challenge is – there will always be new and smarter ways to get work done and improve your business. According to Moore's law, the growth of technology is exponential, so it's getting harder and harder to keep track of emerging opportunities and improve your skill set accordingly. Secondly, there are still people, who aren't able or fear to see the tremendous benefits that using new digital solutions could bring. The latest Digital IQ survey by PwC found that the number one barrier for successful digitalisation is lack of adequately skilled teams.
While some of your applicants might still highlight MS Office and Outlook proficiency in their resume, in 2018 we are way past computer skills. The total list of modern digital competencies would be too long to compile, as today it's "digital everything". But to give you some examples of what your business might require:
cloud-based business solutions
digital business operations management
digital team, work and time management
communication and collaboration
remote work collaboration
cybersecurity and privacy
information and data literacy
programming
solving technical problems and errors
user experience and human-centered design
digital marketing
analytics
real-time tracking and reporting
e-learning
The list goes on, but not to get your head spinning – the first and foremost action is to give your team the daily tools they need to succeed, be more productive and get better results. This means combining a seamlessly integrated and fluent digital system, which will also be a supporting foundation for the even more significant changes in the future.
Although new technologies, such as Artificial Intelligence and Virtual Reality, are changing our businesses already today, we can't take three steps at a time, right? Industry leaders are paving the way in these fields, but according to a survey by PwC, most companies are still catching up with cloud-based solutions.
This means there's a chance you have a huge gap between your team's:
current skill set
vs
the skills actually needed today
vs
the future competencies you already need to be preparing for.

Here are 6 practical suggestions

to make the transition from computer skills to advanced digital competencies as successful as possible.

1. The management mindset and leadership style will make it or break it
This is a principle everyone knows, but too many tend to forget. Fortunately, leaders have started to grasp the importance of digital – only 52% of 2,200 surveyed executives rate their digital IQ as strong. The lowest percentage over a decade translates into a fresh perspective and realisation of their abilities and knowledge. Nevertheless, this is a good thing. Being aware and realistic is the first step to success.

The second step is to take action – assess your current situation. Does your team use any sophisticated digital tools for their work, or is it rather spreadsheets, notes, and lots of email folders? Maybe you have gone a bit further and implemented some simple tools, such as Trello or Pipedrive. Still, do you have an overview what's going on in real-time, or are you struggling? Take some time to see which digital solutions are currently on the market, what are your strongest pain points, and what would you achieve once you have the best tools.

I dare you to dream big! It is possible to increase efficiency by 100%, and more. For example, a Consultancy agency in London is saving 240+ hours per month, only by using the right software.

2. Understand your team and align new technologies with their needs
Before you start deciding on any digital tool, make sure you understand how your team currently works. Ask their feedback on what would make their workflow more efficient and smooth. Unfortunately, making the right choice is not easy. The risk is adding annoying chores and the burden of creating double-entries into multiple systems.

Brainstorm with your team and write down all needed feature sets and criteria the software should fulfil. Also, take notes for benefits and the end result you want to reach. Is it saving on costs, faster project delivery, better communication, better overview, or something else? The more clarity you have before-hand, the easier is to try out different tools and make a final decision.

3. Understand your business needs and align digital strategies with your goals
As mentioned before, the list of possible digital opportunities is needlessly long to fulfil it all. Start with tools for business management and collaboration – take your work and data into the cloud. You have the input from your team, now it's time to map out your business processes. Of course, as a manager or executive, it's important to have a holistic approach – how could you integrate software into all the levels and teams in your company? And make it operate fluently?

This is already a great challenge because there are so many single-feature tools (which are great in a niche), but too few comprehensive business management solutions. The overwhelming multitude of various tools on the market is a blessing and curse at the same time. Look for providers, who:

offer quality support in all phases – consultation, implementation (onboarding), and after;
offer a free trial period;
have good recommendations;
have multiple updates and new feature releases per year;
do not try to impress you with low pricing.

Read more: How to Find the Best Software That Suits Your Needs

4. Explain the benefits of business tools
Although you have taken your team's input into account, a 100% satisfaction is not statistically possible. Brainstorming is fun, but breaking out of old habits – not so fun. It is much easier to stay in current routines than to overcome the learning curve. It's especially unmotivating to do something just because you're told so with no reasoning behind it.

As simple as an explanation will help – tell your team why it's important to use this new software and how it will benefit them. The support and guidance of Onboarding Specialists will also assist your migration and make sure your team has everything they need to get started. That leads us to our suggestion number 5.

5. Conduct a proper onboarding when implementing new software
A great tool is useless in the hands of a fool. Research shows that when team onboarding is done correctly, it leads to better performance levels and higher job satisfaction. Onboarding in other terms is new software training, which is a 2 – 6 weeks long project to get your whole team on the same page and set up. With more advanced software, definitely think about including Onboarding Specialists, who know the software inside out and will configure it to your needs.

Read more: New Software Onboarding – The What, Why, and How

6. Set a strategy for continuous online and offline training
When you have a proper digital business management and team collaboration solution in place, it's about the right time to start planning for the future. You have now "caught up" with the competition, but you want to get ahead of it, correct? Putting together a 3-year training program might seem a good idea, but hold your horses.

Unluckily, technology is evolving at such a rapid pace, that modern Human Resource Managers find it hard to compile very strict training plans. The team members are often much wiser regarding upcoming trends in their speciality, but often lack the time and motivation to take up something new. You should ask yourself (or the management) how to incentivise digital initiatives in my team? How can we integrate learning & work to cultivate a continuous learning process? This is a question you have to figure out with your team.

CONCLUSION

Digital competencies no longer entail only computer skills, such as sending emails, creating Word documents, and doing simple web search. To strive in this era of technology, teams need advanced technical, analytical and digital collaboration skills. And business managers need smoothly integrated business management tools to have control and a real-time overview.

Nearly half of business leaders say that their teams lack the necessary knowledge, yet find it crucial to raise their digital IQ. Awareness and management initiative is the first step to transformation, followed by mapping out current processes and workflows, finding suitable digital tools to support them, and most importantly – engaging the team. Find a way to integrate learning into daily or weekly work routines, and motivate your team to take the initiative for broadening their digital knowledge.