Product
November 2023 Version Update: New Project View and Revenue Forecasting Options
Our November update is here to spice up your fall in half a dozen different ways. From a revamped project view to some light revenue forecasting magic to more serious custom field access control – there's something here for everyone.
See what's new in Scoro!
New Project View
With this update, we're giving you early access to our brand-new project view! We are breaking up the data-heavy single-page view and organizing all project-related information into tabs instead. Focus-based tabs make it easier to concentrate on one aspect of the project at a time. This also leaves more space for each section, making the view less cluttered.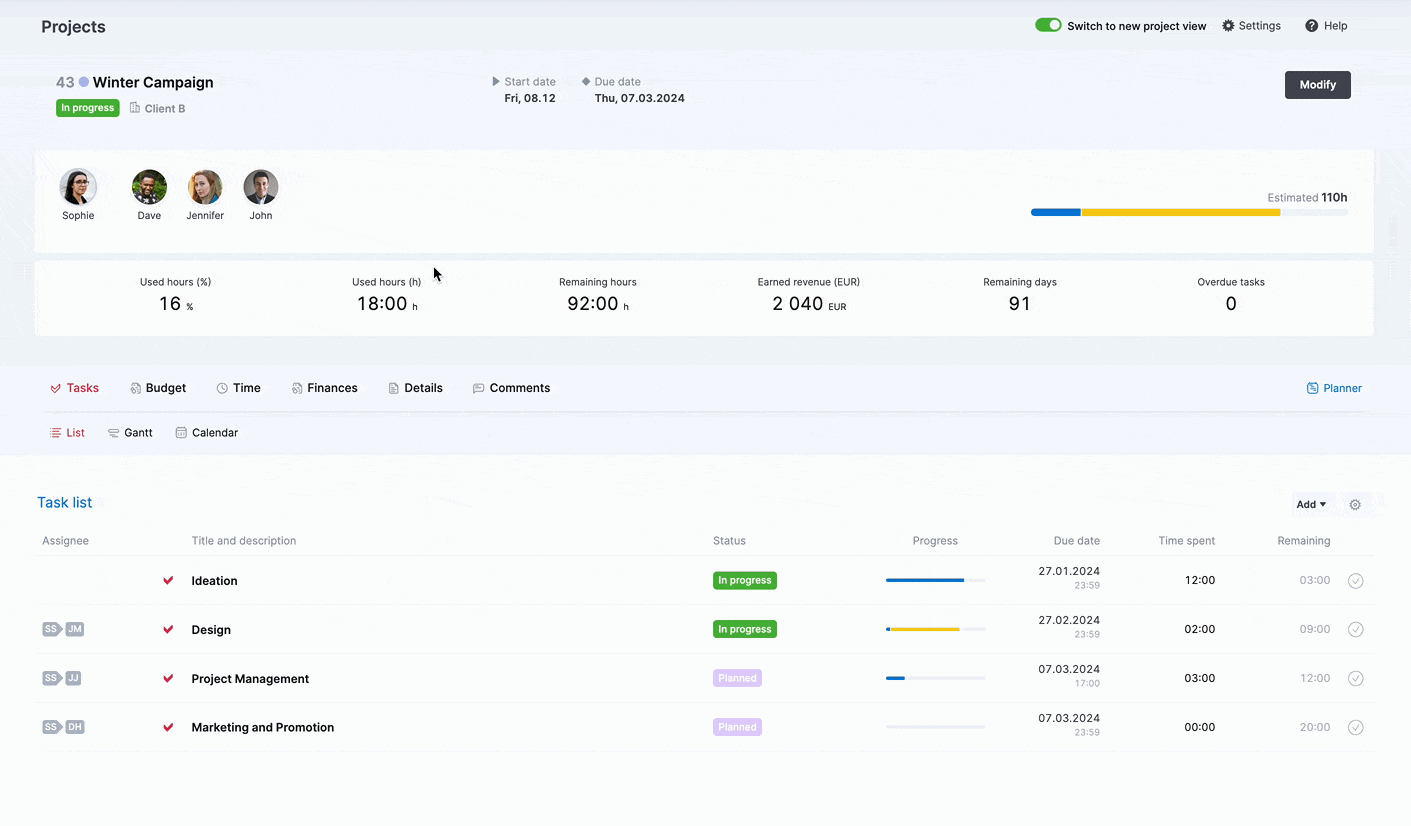 The tabs contain exactly the same data you used to see in the single-page view:
Tasks:

holds all task and event-related information as well as the Gantt chart.

You now see a full task list with important key indicators, such as task progress, status, and deadline. To hone the focus further, filter out only done or not done tasks using the gear icon in the top right corner.

Use the newly integrated Calendar subtab to schedule, modify, and track project-related events with greater ease.

Budget:

focuses on budget insights. It's home to project charts, the Quoted vs Actual table, and the profit tracker. The exact data you see depends on how you've set up the budget. You can also find a brand-new Revenue section here that unlocks the first revenue recognition and forecasting options. More about it below!

Time:

keeps track of all completed time entries and past events with relevant labor cost and billing information.

Finances:

combines together all the financial documents, such as quotes, invoices, bills, etc.

Details:

contains all project-related information, such as the description, project tags, related contacts, and files. Custom fields also have their very own well-deserved section now as there's more space to go around!

Comments:

is home to all project-level discussions. Simple as that!
Psst! We also tweaked the progress bar and merged the two trackers into one to make it more compact and easier to read.
Enable the Switch to new project view toggle in the top right corner to try out the revamped view and share your feedback!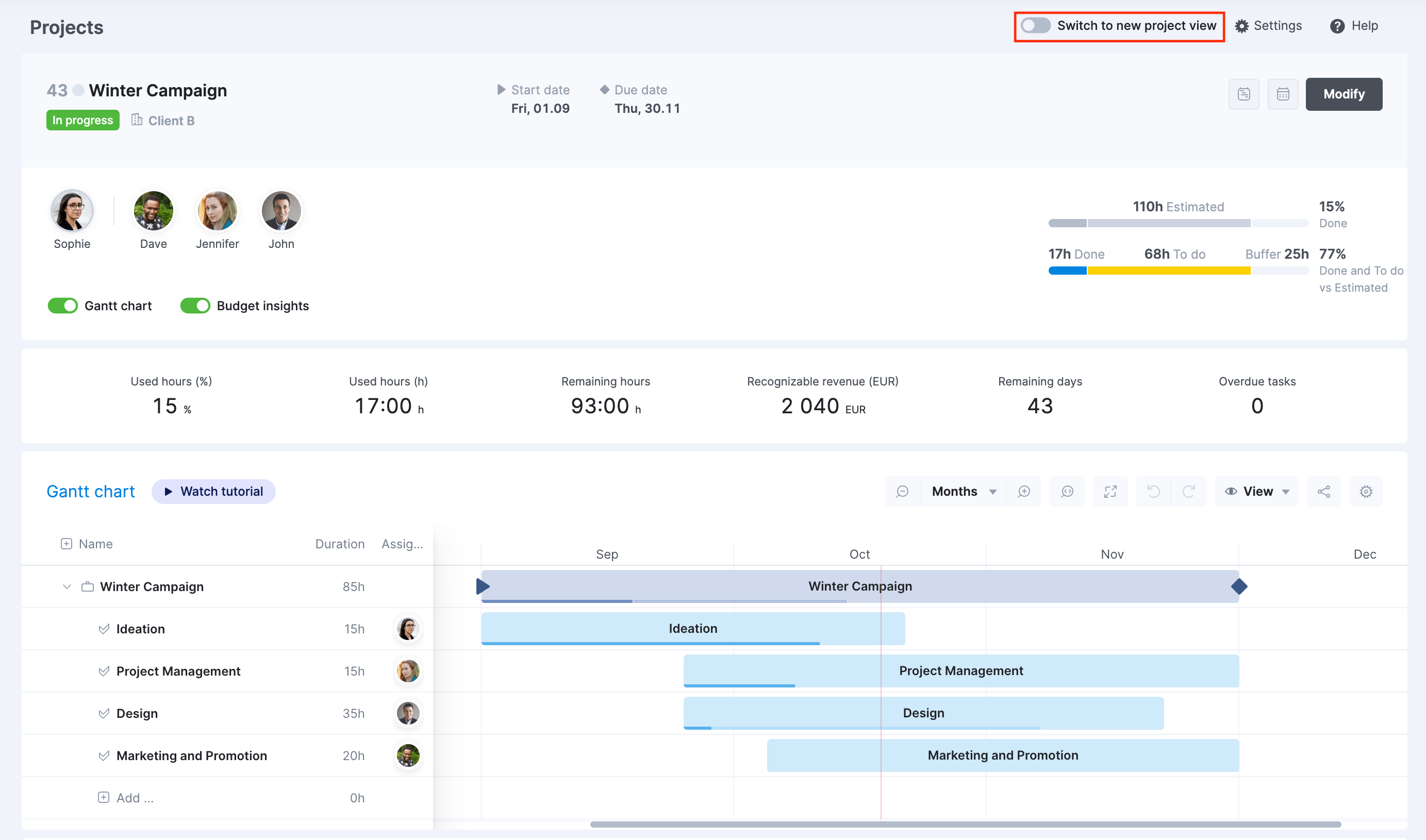 Revenue Recognition and Forecasting
We've also started laying the foundation for detailed revenue forecasting options in Scoro to help you comprehend the future of your business. As a first step, you can now manually recognize and forecast revenue on a project level. Navigate to the Budget tab in your project view and open the Revenue section. If you've set up a monetary budget, Scoro will distribute it equally across the months and suggest some initial numbers for you. To recognize revenue, simply fill in the fields with actual committed or forecasted sums.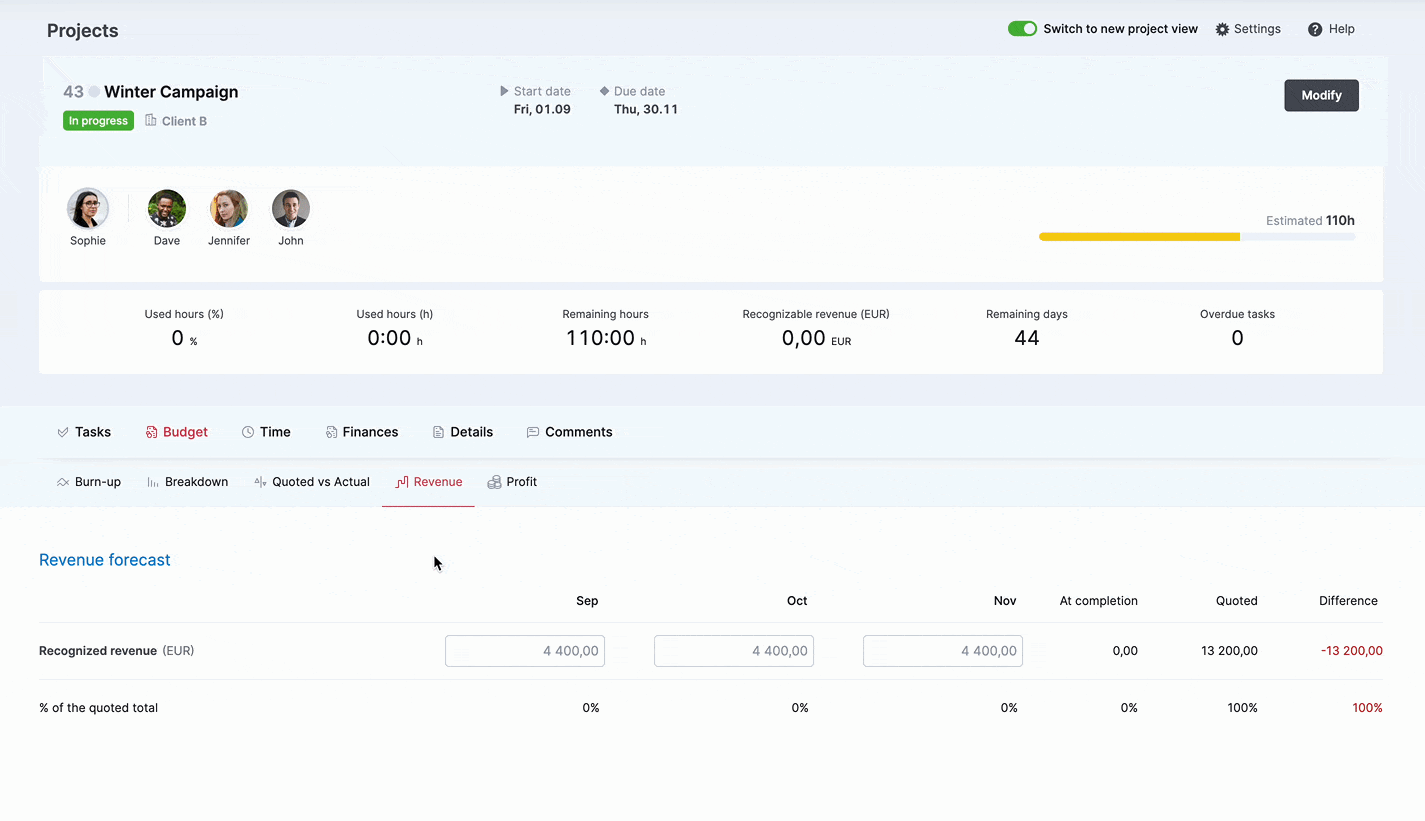 This project-level data will feed into the new Revenue report, which you can find under Reports > Financial reports. The report tracks manually recognized revenue across all projects, month by month, to provide quick insights into your company's financial outlook.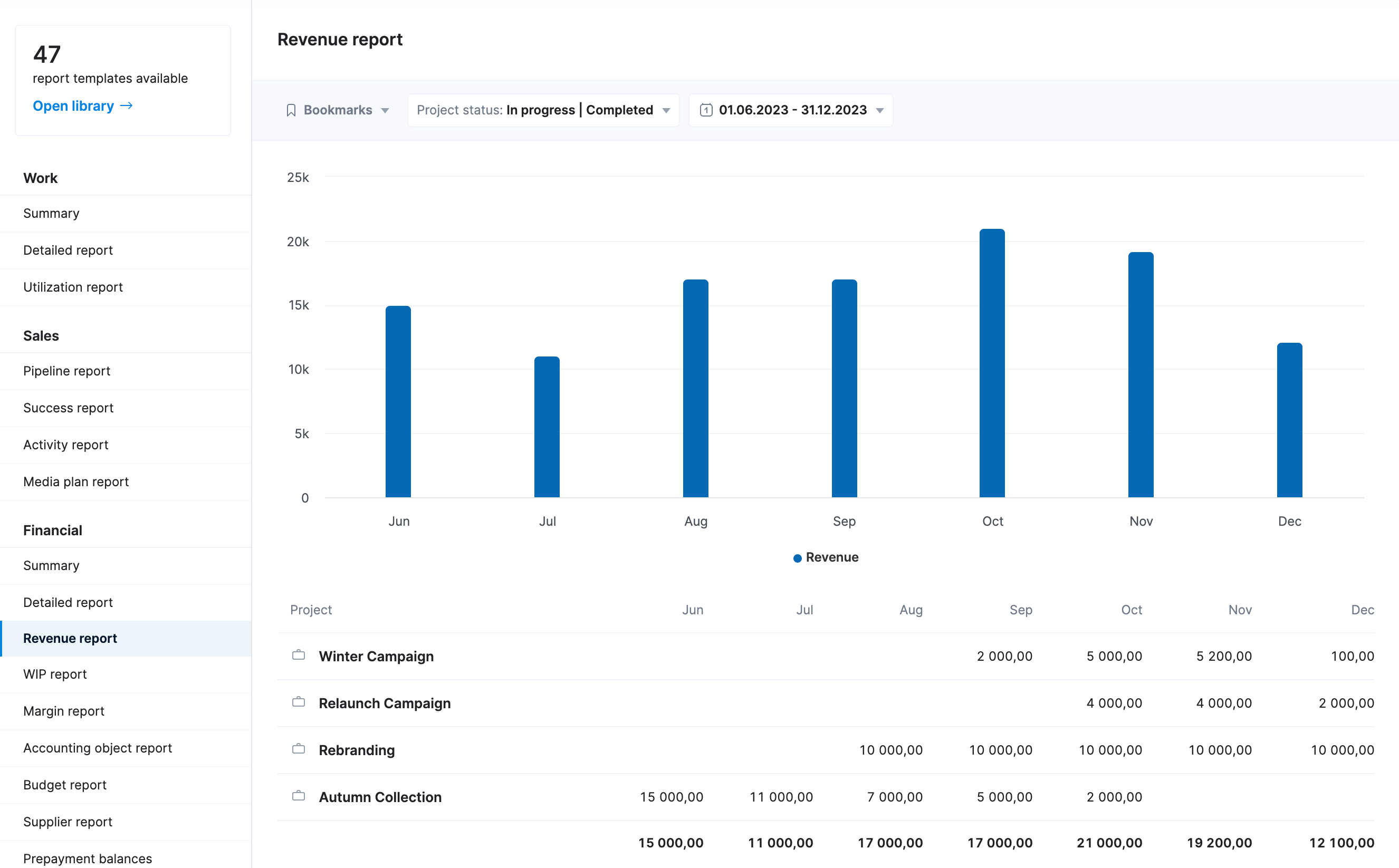 This is just the first edition of the Revenue report. Its end-goal is to combine revenue data from pipeline deals as well as ongoing projects to help you assess your company's performance with more confidence – do you have enough business lined up, are you hitting your growth targets, do you need to hire more people, etc.
Access Control for Custom Fields
Custom fields are one of the many ways in which you can fine-tune Scoro to your specific needs. Now it's also possible to limit access to custom fields and make them visible only to certain team members. To do this, tick the Limit access box in the custom field modify view, then select the user(s) or dynamic user groups(s) who should have access to this field.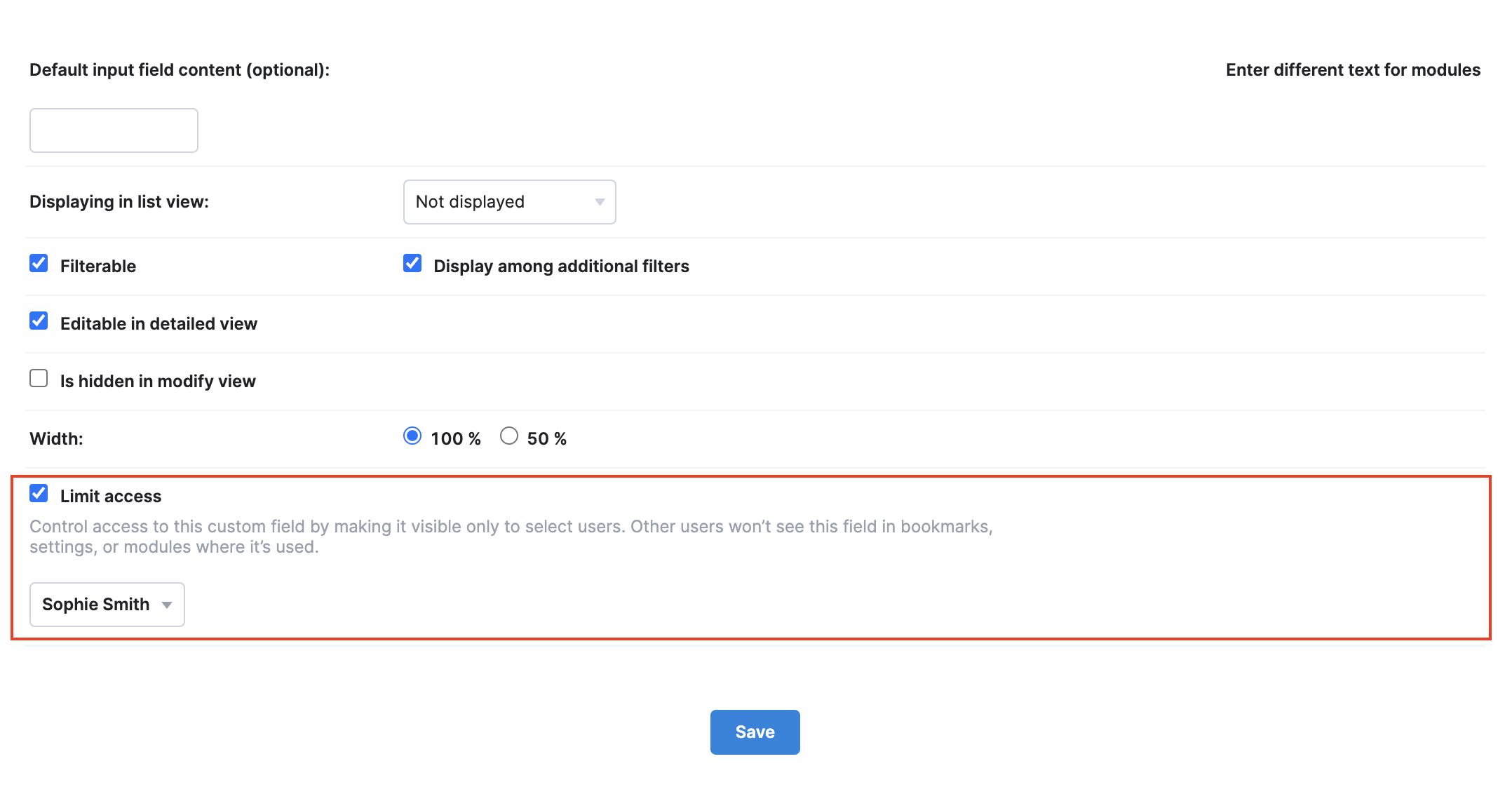 Other users won't see that field in any bookmarks, settings, or modules where it's used. For that same reason, restricted custom fields cannot be set as mandatory fields.
Comments
Display order of comments. Now you can sort your comments from oldest to newest or vice versa in any view in Scoro. For example, if you get added to a conversation mid-discussion, you can sort the comments from oldest to newest to see the full context. If you are already up to date and interested only in the newest replies, sort the comments from newest to oldest for quicker access. Scoro will always remember your latest preference across views.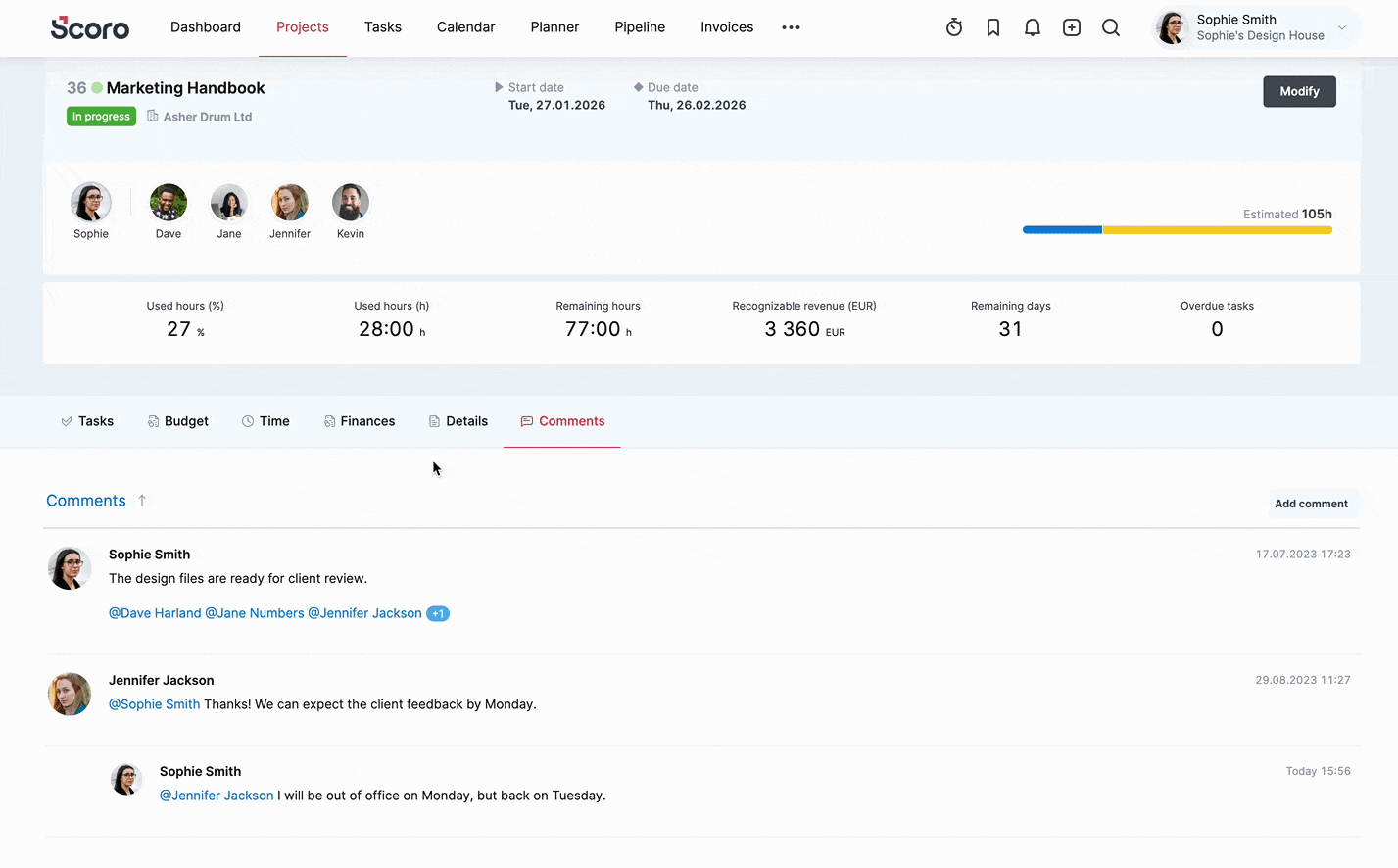 Default email notifications about comments. Admins now have the option to enable email notifications for comments by default. When enabled, all site users will have the 'By email' box ticked automatically whenever they tag others in comments. This is a convenient solution for companies whose internal processes call for email notifications whenever someone's input is needed. Head to Settings > Site settings > Comments to activate the setting.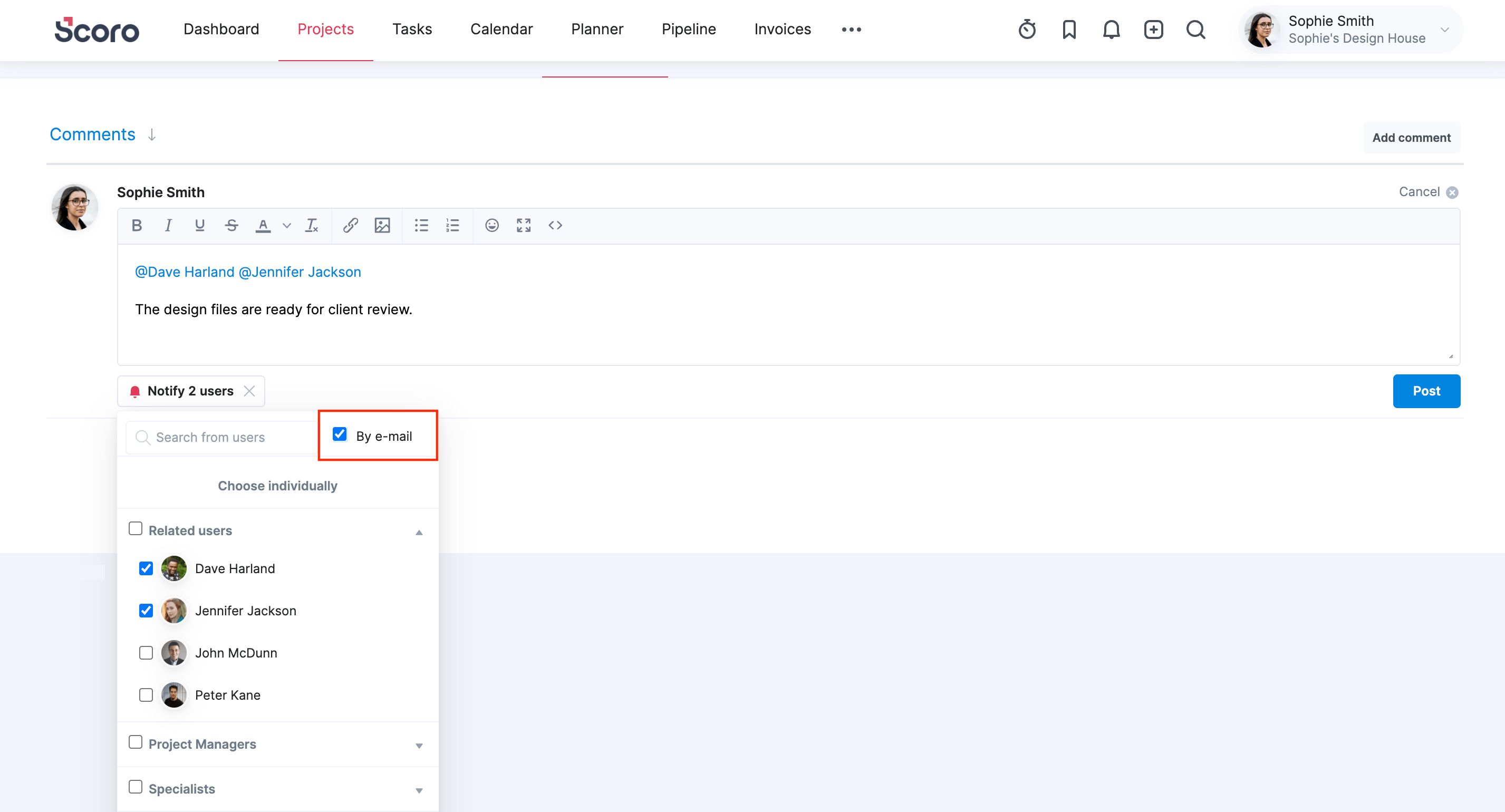 Other…
Navigation between recurring events. You can now quickly navigate between recurring events with just a click of a button. Use the arrows next to the calendar icon in the event view to jump directly to the next or the previous event. It's a real time-saver – no need to manually browse through weeks or months to find the next session when you want to modify it or even just check the date.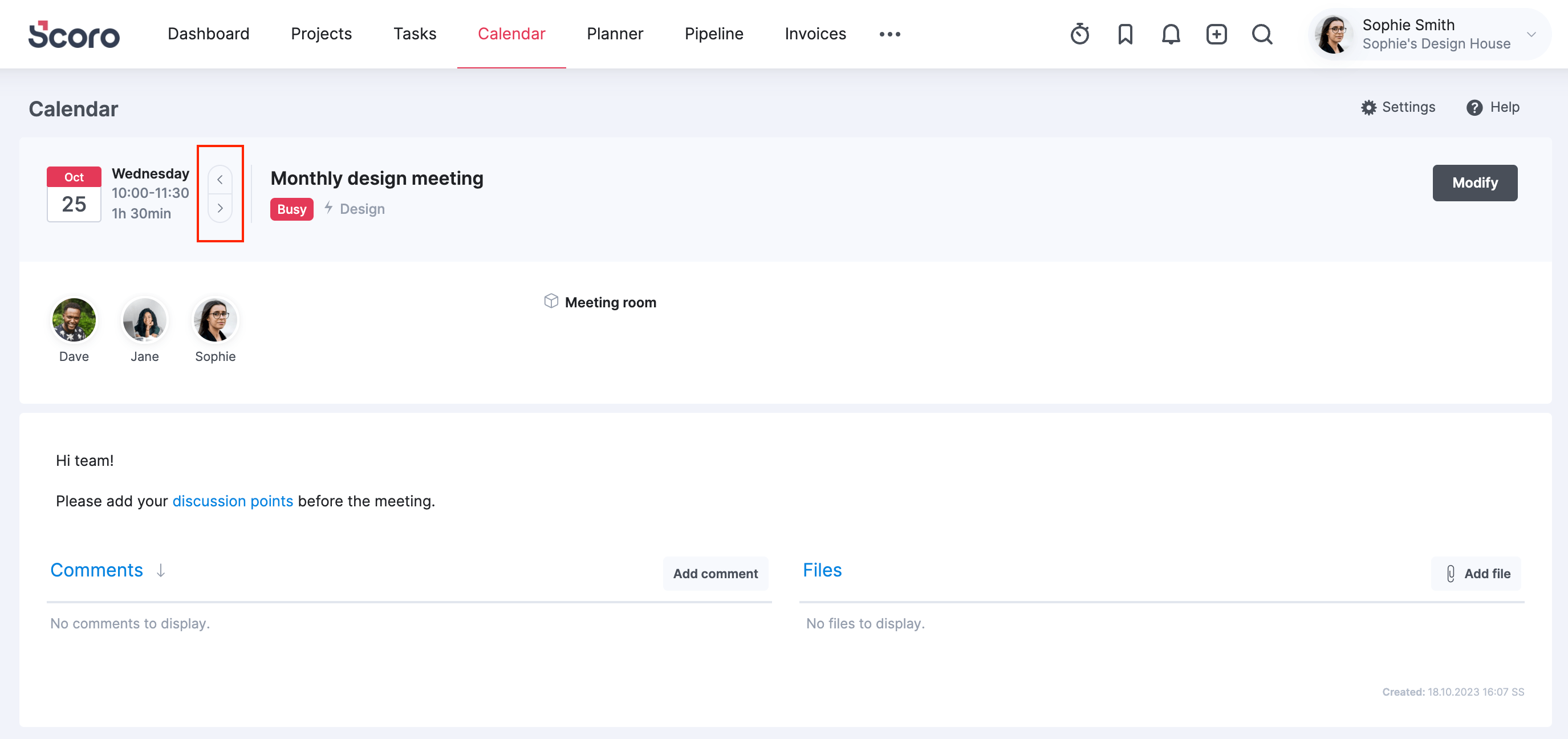 ---
We're working on…
Sage Intacct integration.

Seamlessly sync invoices, bills and payments between Scoro and Sage Intacct to ensure data integrity and maintain a real-time overview of finances in both systems.

Revenue forecasting.

Forecast monthly revenue already in the sales phase. Get a full picture of your company's financial outlook thanks to a revenue report which combines pipeline deals with ongoing projects.

Wishing for your improvement ideas to come to life on your Scoro site? Send us feedback.
❗Not to worry, if your Scoro site hasn't been updated yet, the update is rolling out gradually over the next few weeks.
We do our very best to make Scoro better every day, so we appreciate your feedback. Let us know what you think at [email protected].
Want to learn more tips to use Scoro to its full potential? See these guides: