Product
September 2021 Version Update: Improved Time Management
September update is all about tweaking our main work and time management features, improving their usability even more. Without further ado, here's what we've done.
Gantt chart
Task status. Add the status column to the left side of the chart to conveniently keep an eye on task progress.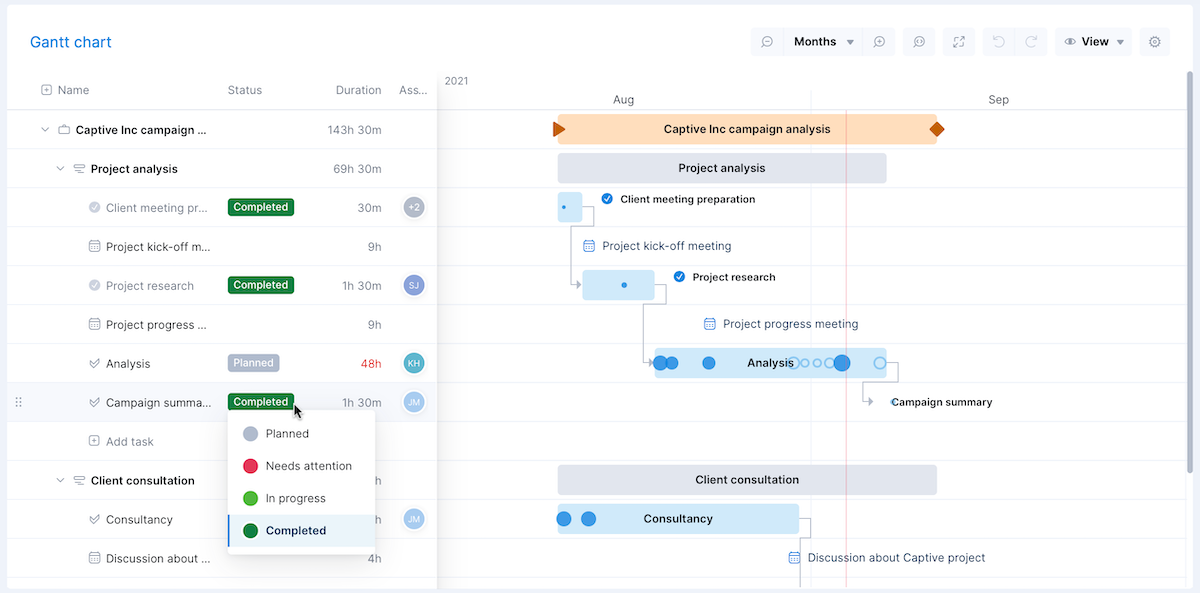 Overdue tasks. Easily notice unfinished tasks with due dates in the past (or if any task is overtime) highlighted in red on the chart to quickly tackle them and get back on track with the project.
Timesheet
Done tasks. Until now, all tasks on the timesheet looked the same, so there was no way to quickly tell whether a task was already done without opening it. From now on, completed tasks are greyed out and listed at the bottom of the timesheet (in the order they were finished). This helps to keep the focus on the tasks that actually need your attention.
By default, your timesheet displays only the tasks with scheduled or done time entries. To display all tasks related to you, click the button View options and select the option Show tasks with no time entries.
Bookmarking. Like other views in Scoro, the Timesheet now includes bookmarking capabilities. Just select your preferred filters and save the customized view to quickly open it again whenever needed.
Planner
Due date. When scheduling a task, the Planner now shows you whether the task will be finished on time. The table turns orange when planning time entries to a later time than the task due date. This helps to prioritize work and get everything done in time.
Other…
Custom modules: Rearrange your custom board
Whether collecting and analyzing various data or managing your work, you can now easily rearrange items on your custom board using drag and drop whenever needed.
Detailed reports: Group totals
There were some inconsistencies in displaying subtotals for different groupings in both the Detailed financial and work reports. We've now gone over all possible reporting options and added subtotals to the reports and dashlets (based on these reports) used on the Dashboard.
Projects: Profit in list summary
The summary bar in the project list now includes information on project average profitability. Decide which information to display in the list summary by customizing the View.
Zapier integration
When creating custom Zaps to automate your everyday workflow, you can now search users by email. This helps to check whether a user with the stated email actually exists in the system, but also to define a different owner than yourself (by default, you would be the owner) for an item (a task, project, invoice, etc.).
---
We're working on…
Planner improvements.

Instead of deleting already scheduled time entries one by one when plans change, adapt quickly and easily remove or reschedule time entries in bulk. Group tasks by users or phases, for example, to plan assignments according to your workflows.

Custom features. Build your own custom lists and board views, allowing you to collect and analyze the data specific to your business.
Wishing for your improvement ideas to come to life on your Scoro site? Send us your feature request.
❗Not to worry, if your Scoro site hasn't been updated yet, the update is rolling out gradually over the next few weeks.
We do our very best to make Scoro better every day, so we appreciate your feedback. Let us know what you think at [email protected].
Want to learn more tips to use Scoro to its full potential? See these guides: