Product
Christmas 2021 Update: Usability Improvements
Our recent updates have been all about improving Scoro's usability – fixing and adding features that make using Scoro an even better experience. To wrap up the year on a high note, here's what's new in Scoro.
Reporting
Work report: Added export options. In addition to getting a complete overview of all your done activities and events, you can now take further action by exporting the "% of total" and "% of utilization" fields from the Detailed Work Report. 
Simply go to Reports > Work > Detailed Report, select all the activities you wish to add to the file, and an additional bar will appear with the option to export.  
Calendar
Conference call link in calendar view. With hybrid working models and online meetings being the new norm, it is logical to save some time and clicks by having the necessary info right where you need it – in the event window. 
You can now add your conference call or event link to a dedicated field in the event modify view.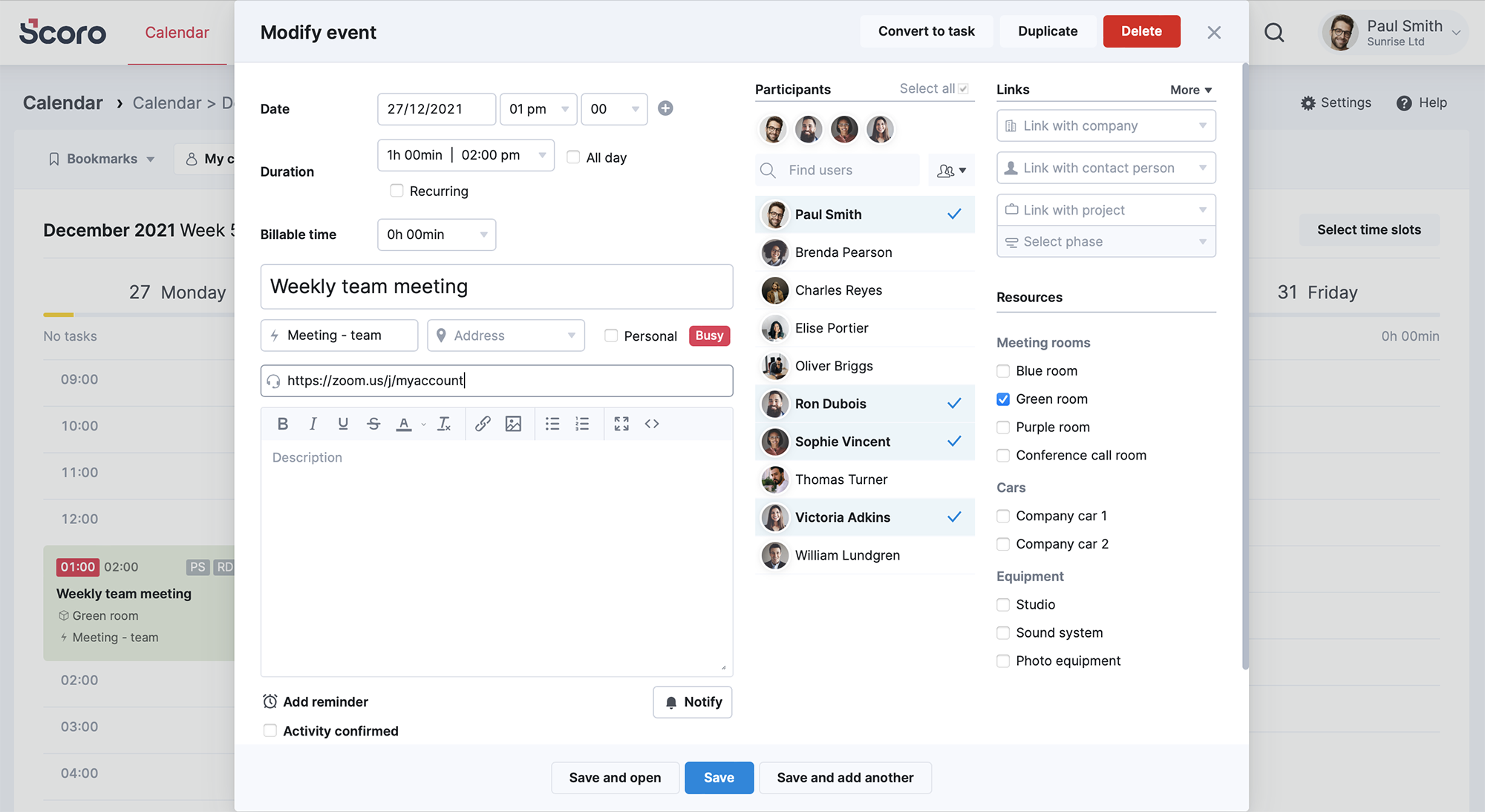 Once added, it is visible next to other essential event data and is fully clickable both from the calendar event view or when hovering over the event details in the general Calendar view.
Other…
Pipeline
Formula custom fields. By default, the closing probability rates in Scoro are based on the quote status, predefined for each stage of your pipeline. 
To improve calculating custom probabilities and make sales predictions even more accurate, we've now enabled the PHP and formula custom fields in the Pipeline and Pipeline report.
Shareable URL-s
Scoro's address bars now work as shareable links. While previously only shared bookmarks could be distributed, from now on, you can easily share links from various Scoro views, with all filters applied automatically.
Summary bar
Until recently, Scoro's summary bars displayed numeric and monetary value in granular detail. We've now made it possible to configure how you like to see your numbers: as exact values or rounded-up figures.
---
We're working on…
Utilization report improvements.

Get a more accurate and smarter overview of your team's availability and workload with the help of forecasted utilization. Additionally, take advantage of multiple filtering options enabling you to filter out different activity types, user or project tags, and project statuses to understand utilization on an even more granular level.

Individual time allocation. Instead of splitting time equally when assigning work, divide tasks into individual chunks between team members to accurately budget and track each team member's utilization.
Wishing for your improvement ideas to come to life on your Scoro site? Send us your feature request.
❗Not to worry, if your Scoro site hasn't been updated yet, the update is rolling out gradually over the next few weeks.
We do our very best to make Scoro better every day, so we appreciate your feedback. Let us know what you think at [email protected].
Want to learn more tips to use Scoro to its full potential? See these guides: