Product
September 2020 Version Update: Reintroducing The Planner
Each of us has exactly the same amount of hours in a day, making time a resource in which we all are truly equal (not like money or talent, for example). Yet some teams are able to achieve notably more with the time we have – mostly thanks to careful and smart planning of our most valuable resource. With the updated Planner, planning and allocating your team's time is easier than ever. See for yourself!
Planner updates
Continuing on the path of taking work planning to the next level, this time, we're adding a couple of new ways of splitting different tasks to the Planner.
In addition to planning your team's work-time by simply dragging and dropping tasks to the Planner exactly where needed, you can split longer tasks in different ways to fit them into your team's schedule with ease. To plan tasks based on the availability of your team, simply fill their unscheduled work-time with the selected task, or distribute the task to cover a specific time period (from day x to y). In a case where you need to tackle critical tasks ahead of already planned activities, just squeeze in the more urgent ones and postpone everything else.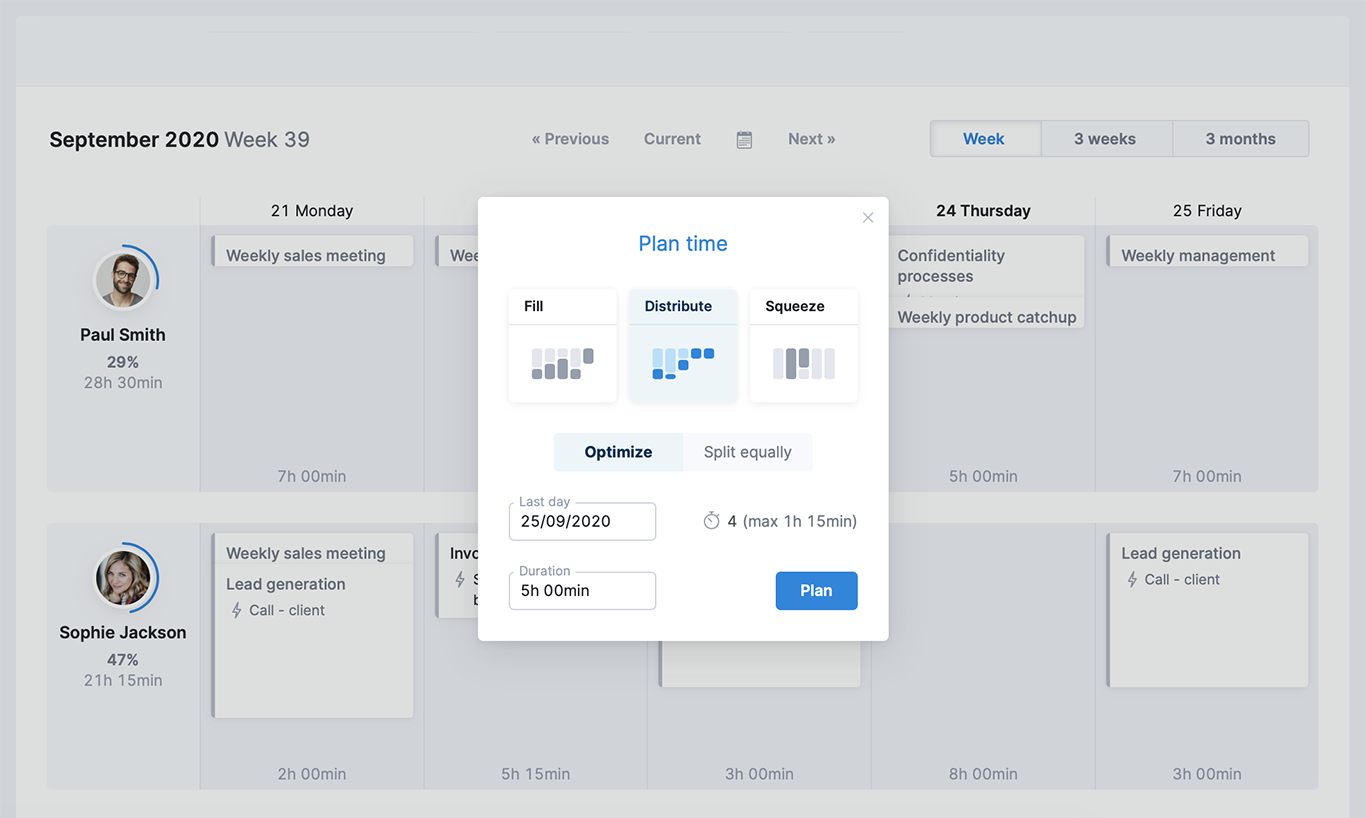 We've also changed the logic behind unassigning time entries in the Planner. When dragging and dropping a user's time entry from the planning side back to the left-hand menu, the user is removed from the task (if they don't have any other scheduled or done time entries under that task). When using the bin icon to delete a time entry, the entry is removed from the task as it is with dragging-dropping, yet the user remains as a task assignee.
Until now, when creating new tasks using the Planner, the mandatory fields related to tasks were left unnoticed. This has now been fixed, so if adding certain information (like an activity type or project) is a must in your team when adding new tasks, this rule must now be followed regardless of how new assignments are added to Scoro.
Ready, set, plan!
Smaller, yet important updates…
Forecast of expected income
With scheduled invoices, you can predict the future. No really, you can easily view the forecast of expected income based on the long-term business deals with regular invoicing. The filter for adjusting the list of scheduled invoices is now a bit more visible and sits right after the user filter, so it's easy to switch between the regular list view and forecast.
Margin in Detailed Finance Report
When the input "Margin in period" or "Quoted margin in period" is chosen for the Detailed Finance Report and the report is grouped (not viewed as a list), you can now see the average margin for each group right underneath it (for example, to compare the margin of similar services provided by different suppliers). Just a tiny, yet important addition.
Custom data in Detailed Finance Report summary
In addition to the usual options, you can now pick and choose which custom data (number, duration, money, and formula type of custom fields) you'd like to see on the summary bar of the Detailed Finance Report. First, add the needed custom fields to your site (if you haven't done so already) and tick the option Show in summary bar for each of them. Then simply decide, which ones to show in the summary by clicking View > Summary bar in the report.
Save and open an event
The same functionality you've been able to use with tasks is now also available for events. To quickly touch up, add comments, files, or more links to an event right after adding it to Scoro, there's now a Save and open button in the event modify view. With one click you're taken to the event detailed view where you're able to make whatever changes needed. Note! This option is only relevant to regular, not recurring activities.
(Un)linking events and tasks
In Scoro, it's easy to log time spent on a client meeting (just one example) under a specific task and include that amount of time when billing the client for your services. Until now, unlinking these events (for example, due to human error) was a bit inconvenient. Now, when linking an event to a task in the event modify view, you can simply click Unlink to remove all relations between the two activities and start from scratch.
What we're working on:
Quote to multiple purchase documents. Compile a single quote to your customer when offering services provided by various third-party partners. Then, when creating purchase orders, or already adding the relevant purchase invoices to Scoro as bills, create all purchase documents from the original quote with just a couple of clicks.
Customer portal. Grant customers access to your Scoro site to collaborate on projects, allow them to review quotes and other sales documents, get feedback on assignments, and so on.
Gantt chart. Plan and manage projects in one all-inclusive view, where project phases and tasks are dependent on one another. In addition to tasks, see and plan meetings and other project-related events right there in the chart.
Not to worry, if your Scoro site hasn't been updated yet, the update is rolling out gradually over the next few weeks.
We do our very best to make Scoro better every day, so we appreciate your feedback. Let us know what you think at [email protected].
Want to learn more tips to use Scoro to its full potential? See these guides:
Top 20 Questions We Get Asked About Scoro
12 Quick Tips To Get More Out Of Scoro (Beginner Level)