Product
Feb 2020 Version Update: Improved Billing, Pipeline And Planner
With winter slowly but surely losing its power and daylight growing stronger by the hour (we didn't know we could rhyme!), we're ready to release a fresh new version of Scoro. This update includes quite a few essential improvements to our existing features to simply make them even better. In addition, we're continuing with numerous UI and UX updates – making Scoro more consistent and logical, interlinking related settings, automating workflows, adding new icons and so on.
Creating a bill from a quote
Until now there was a middle step when creating a bill from a quote – you first needed to create a purchase order from the quote and then compile a bill from it. Now, you can skip this action and turn a quote into a bill right away.
Just click the button Use data on quote to … in the quote detailed view, then push Create Bill, and you're done.
Updated Pipeline report
With the Pipeline report, it's easy to keep an eye on your sales funnel and forecast future sales. In addition to the estimated sum of quoted services by different sales stages, you can now track your sales funnel based on quoted margin (if active on your site), the number of quotes issued and the custom fields (filterable number fields) used on quotes (e.g. Monthly fee, Number of users, etc.).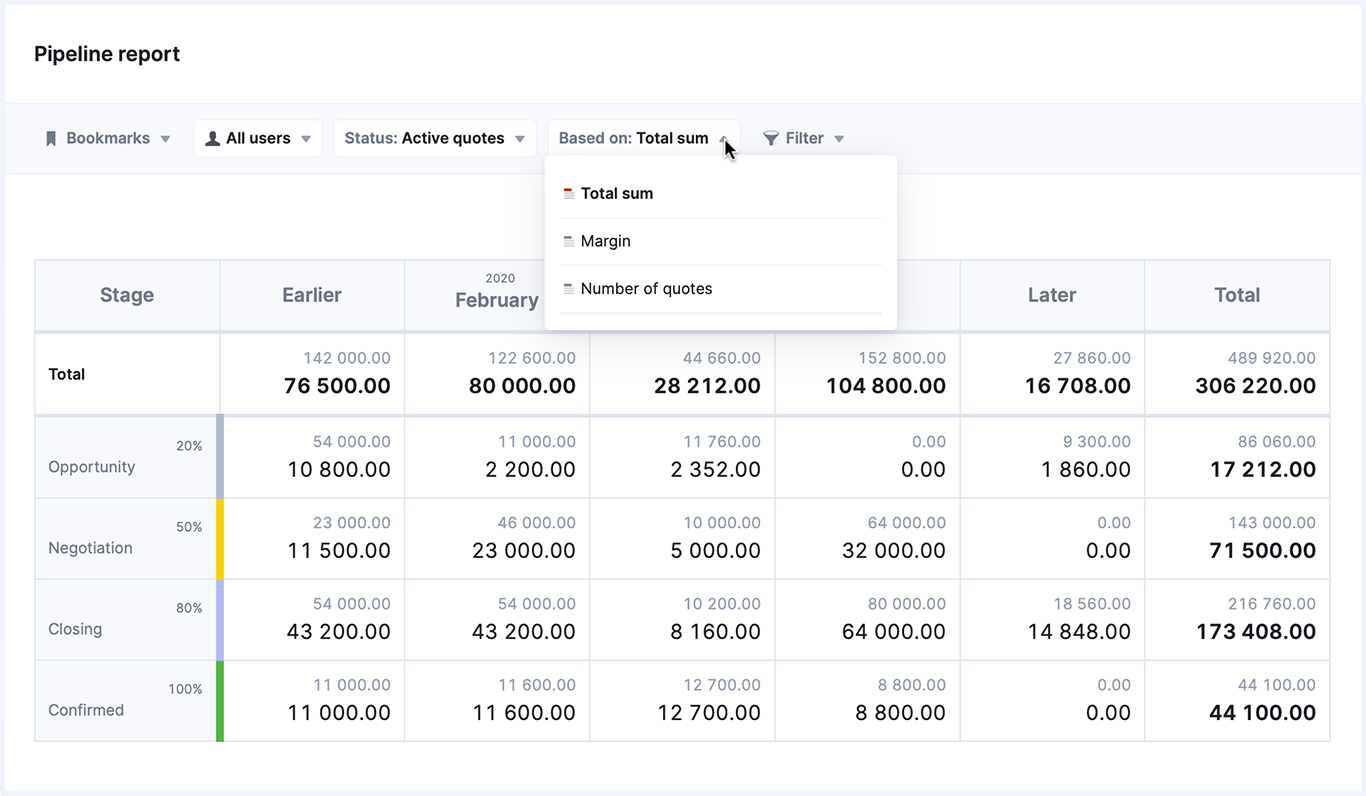 The first number on each row indicates the actual value (the actual number of quotes, actual quoted margin or total sum). The second number shows the probable value, the estimation for each sales stage. Just click on it to get to the filtered list of quotes for detailed information on the related sales deals.
Planner improvements
Unassigned tasks and time entries. When scheduling a time entry in the Planner, then changing your mind and dragging the time entry back to the left-hand menu, the task now acts as it should and is marked as unassigned. The task stays unassigned until the very last minute of it has been assigned to a team member.
More filters. We've added the same set of filters already used in the task list also to the Planner. This makes planning and scheduling tasks even more convenient.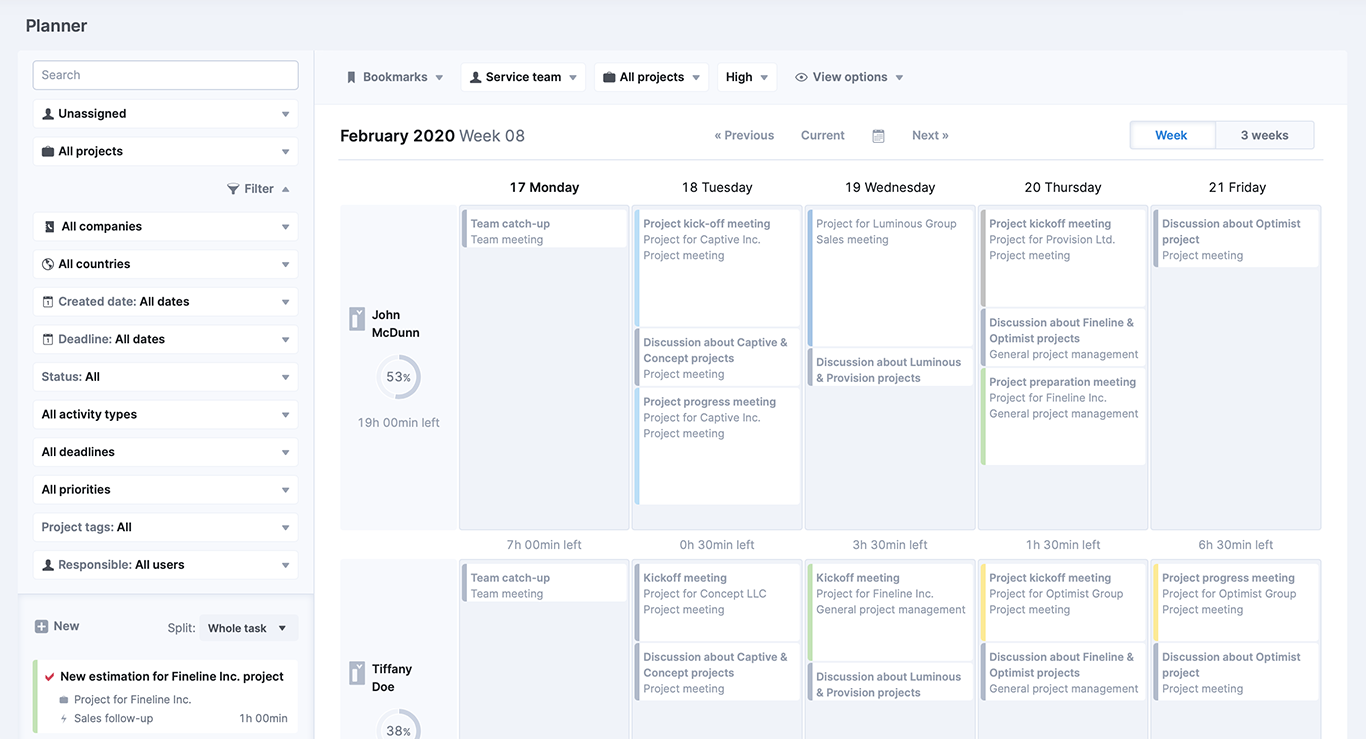 More updates…
New view options for the Pipeline
You can now see the summarized value of the quotes in each pipeline stage to get a quick overview of possible revenue or profit (or a custom value based on a custom field) for different sales phases. You can choose whether this number is based on the total sum, margin or some custom value of the quotes.
Click on the View button and use the option Status summary on header to display the relevant option in your pipeline. To pick which data to display for individual quotes in the pipeline, customize the view by clicking on the Quote data button and selecting the options relevant to your needs.
Compact view in the Quoted vs Actual table
In the case of projects with many phases, each consisting of numerous activities, the Quoted vs Actual table can get pretty lengthy. We've improved the usability of the table by adding an option to collapse quote subheadings. This way you can get a better overview of the project as a whole. Whenever needed, just open the relevant section to see the details.
Task scheduling in the Calendar
You can easily schedule tasks as events in the calendar to book a specific time slot for an assignment. Until now, when dragging and dropping a task to the calendar, Scoro automatically created an hour-long event of the task. Even, if the availability of the user was already exceeded for that day, resulting in overscheduling. This was illogical, so we've changed this behavior a bit. From now on, the user's availability is taken into account when scheduling a task in the calendar. For example, if the remaining duration of the task is 2h, but the availability for the user is 30 minutes, in case of dragging and dropping the task to the calendar, the event is scheduled for those 30 minutes only.
Contact-related planned activities
When planning activities related to different customers, it's now quick and easy to get a complete overview of everything planned and done by jumping to the already filtered task list with one click. Just open the contact detailed view and click on the Planned activities heading. You're automatically taken to the task list, with all the needed filters already applied. Yet, it's easy to customize the view and apply various filters for a more detailed overview.
A warning when deleting a credit note with receipt attached to it
To make sure important documents aren't just deleted from the system, creating mismatches in financial data, we've added a confirmation step before being able to delete a credit invoice.
Notification about unsuccessful login attempts
To ensure that Scoro users and their data is well protected, users now get a notification email when someone attempts to log in to their Scoro account from an untrusted device three times in a row without success. When receiving this notification, we recommend you to change your Scoro password right away to secure your account and all the important data on your site.
Searching for myself in the user filter
Until now, Scoro users were able to look for themselves from the user filter in any view (e.g. search for projects related to them) only by typing in their own name. Now, in every user filter and user selection (e.g. task modify view) all over Scoro, the first person in the list is always you, making it easy to filter items related to themselves, quickly link themselves to an event or reassign tasks, for example.
Reply all in comments
In addition to manually selecting or tagging (with an @-sign) the users you wish to notify with your comment, you can now just click Reply all under the comment to tag and notify everyone in the thread. Simple as that!
Project number column in sales and purchase document export files
We've added the project number column to all sales and purchase document export files. This way, the export file gives you an overview of which project the documents are linked to.
Zapier updates
A new version of Zapier improvements has been launched. This version includes:
Syncing time entries to Scoro from another app. Easily add time entries under already existing tasks or create new ones.
Adding comments to tasks or projects in Scoro. For example, push your Slack messages to Scoro as comments to add important information from any discussion under the relevant tasks or projects.
Uploading files and attaching them to tasks or projects in Scoro.
Sending new bills from Scoro to another app or vice versa.
Read more on how to automate your workflows with the help of a few simple zaps.
Xero/QuickBooks integration: Action buttons re-design
From now on users can easily see if the (invoice, bill, contact) sync between Scoro and Xero/QuickBooks has been successful or if there have been any issues. The different colors on the quick-action button indicate the state of the sync and, if needed, you can click on the Show errors option for more information.
Red – an error occurred, data not synced.
Yellow – data synced, but with an error.
Green – successfully synced with no errors.
Gray – not synced.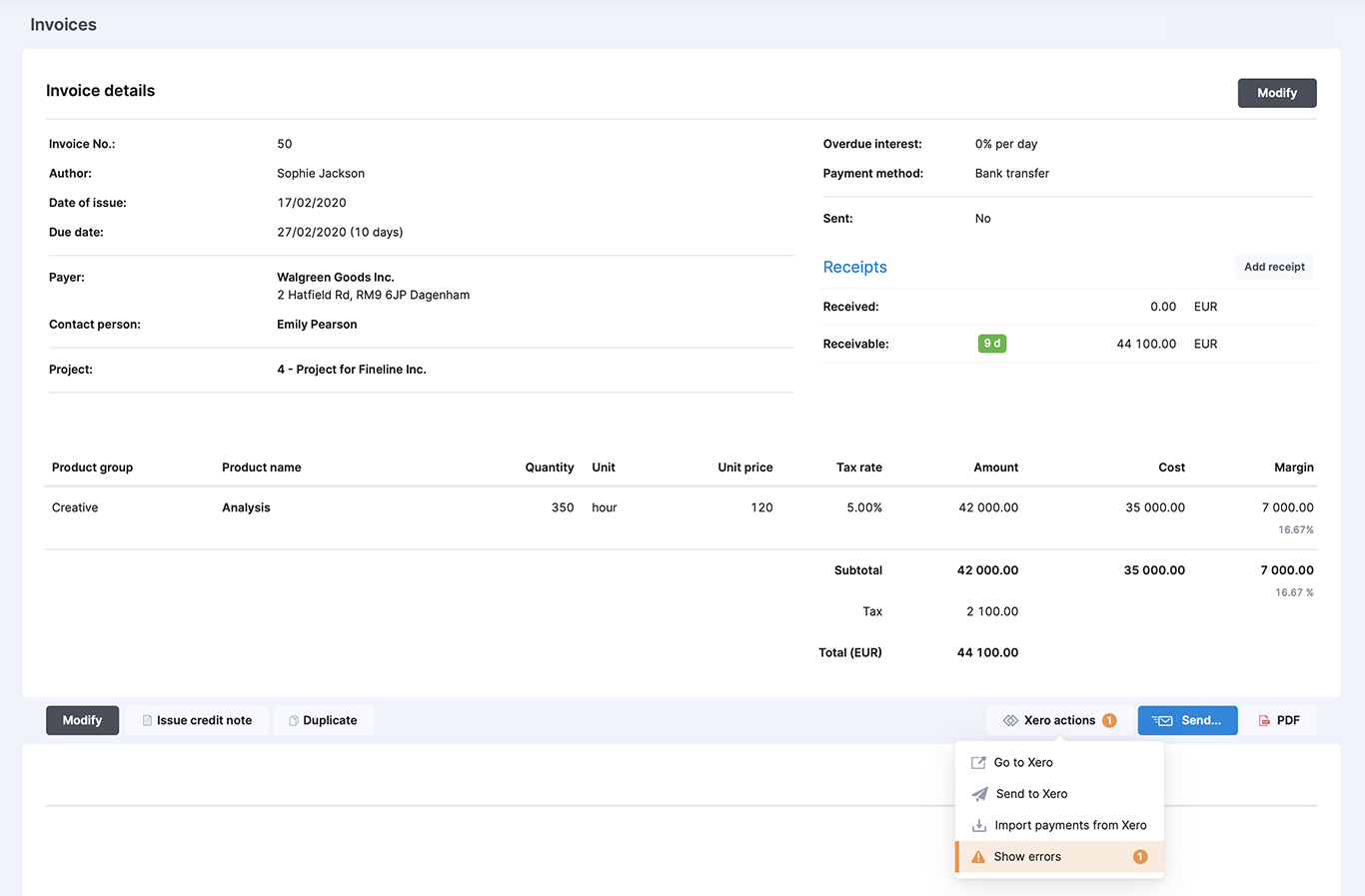 Coming next:
Expenses. In addition to purchases, effortlessly manage different work-related expenses in Scoro and reimburse them with a couple of clicks.
We're working on:
High-level planning. Use weekly or monthly planning for lengthier projects or make plans for future projects to stay one step ahead. Plus, select a custom period to easily assign longer tasks.
Customer portal. Grant customers access to your Scoro site to collaborate on projects, allow them to review quotes and other sales documents, get feedback on assignments and so on.
Gantt chart. Plan and manage projects in one all-inclusive view, where project phases and tasks are dependent on one another. In addition to tasks, see and plan meetings and other project-related events right there in the chart.
Not to worry if your Scoro site hasn't been updated yet, the update is rolling out gradually over the next few weeks.
We do our very best to make Scoro better every day, so we really appreciate your feedback. Let us know what you think at [email protected].
Want to learn more tips to use Scoro to its full potential? See these guides:
Top 20 Questions We Get Asked About Scoro
12 Quick Tips To Get More Out Of Scoro (Beginner Level)