Work management
7 WorkflowMax Alternatives for Agencies & Consultants
Xero will retire its project management software product, WorkflowMax, on 26 June 2024. 
This means it's time to look for a reliable WorkflowMax replacement.
This guide will dissect some of the best WorkflowMax alternatives for agencies, consultancies, and professional service businesses. 
What To Look For In A WorkflowMax Alternative
Not all tools will work for you and your team. But when evaluating each WorkflowMax alternative, consider the following criteria:
Feature set:

the tool should offer the same features as WorkflowMax. It should integrate project and task management, scheduling, time tracking, quoting, invoicing, and reporting.

User-friendly interface:

your team will likely use the tool daily. It should be intuitive and easy to use for everyone.

Reporting and analytics:

look for a tool that can give you project and business insights, including profitability, margins, and resource utilization.

Integrations: You're likely using a few other tools in your stack. Calendar, accounting, and email tool integrations should be standard.
7 Alternatives to WorkflowMax
Here's our list of some of the best WorkflowMax alternatives out there:
Scoro 

Productive

Wrike

ProWorkflow

Workfront

Zoho Projects

Float
Now, let's explore them in detail.
---
1. Scoro
Scoro is an all-in-one work management tool built for creative agencies, consultancies, and other professional service businesses.
You can easily track the progress of projects individually or across the entire portfolio.
When you open a project, the summary bar gives an instant overview—you can see start/end dates, team members, time tracked, and revenue earned.

The summary bar helps you to understand if you need to take action to keep the project on track or address any issues.
For example, suppose the hours logged are already close to your original time estimates. 
In that case, you may need to speak to the client about the scope or additional fees to complete the work.
Scoro also lets you quickly compare quoted numbers vs actuals.
How?
Click "Budget" and then "Quoted vs. Actual.":

This will give you a project overview that looks similar to this:

The "Quoted vs. Actual" tab within each project gives you an overview of:
Actual spend per service vs. budget

If you're within the remaining hours budgeted

If completed work has been invoiced and paid

Current profit margin to guide pricing and time estimates for future projects
You can also use the "Time" tab to see hours logged for each team member and how much that is costing you in labor:

Between the summary bar, the Quoted vs. Actual table, and Time tracking, Scoro gives you end-to-end visibility into project workload, schedules, finances, resource allocation, and delivery performance.
You can also use the "Pipeline" dashboard for lead management. Leads can be marked as "Opportunity," "Scoping," "Proposal," or "Confirmed":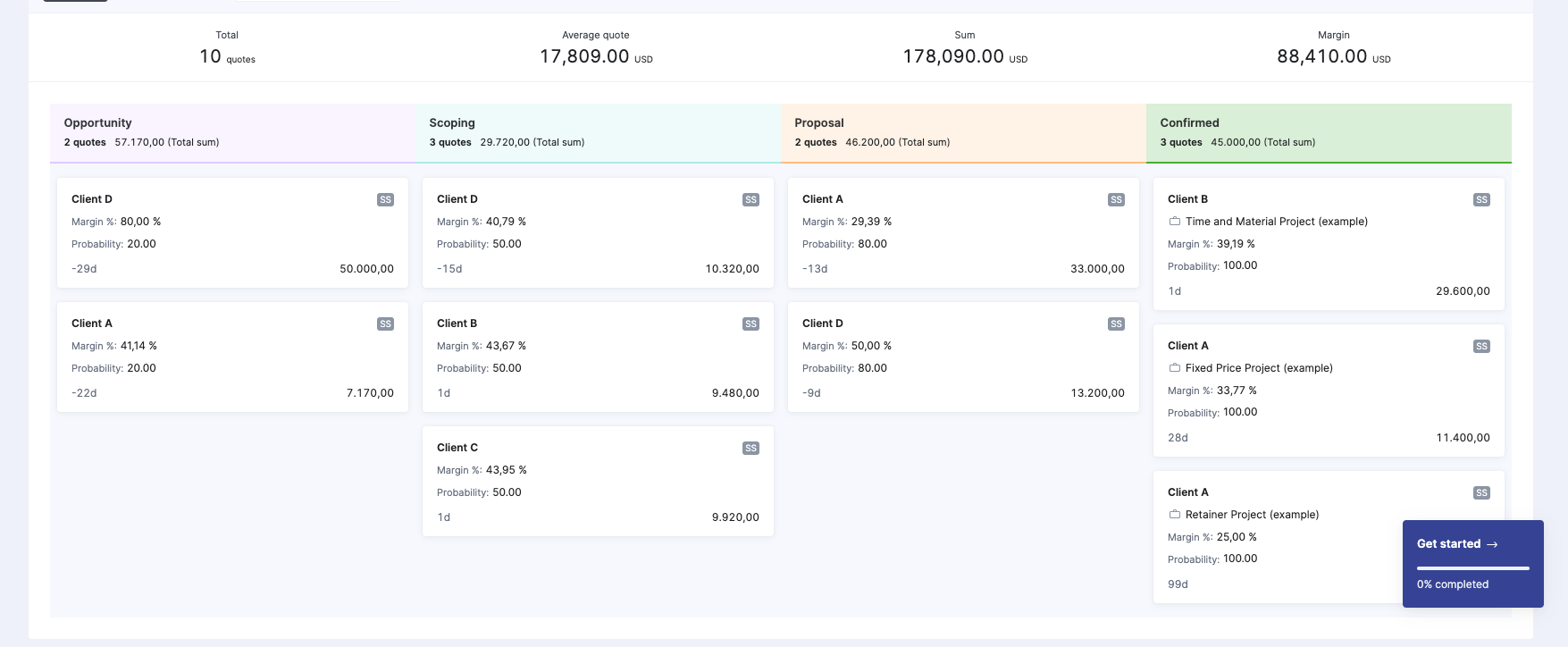 Quotes can then easily be turned from quote to project in just a few clicks.
Some of Scoro's key features include:
Client contact and lead management

Retainer functionality for recurring client work

Time tracking software functionality for billable work

Invoice scheduling and reminders, with pre-set templates 

Quoting and budgeting for cost estimation and budget management

Detailed reports on project progress, finances, and team utilization

Team collaboration, resource scheduling, and management
What We Like
There are nearly 50 report templates available that help you analyze your business from various aspects – from utilization and productivity to pipeline and profitability.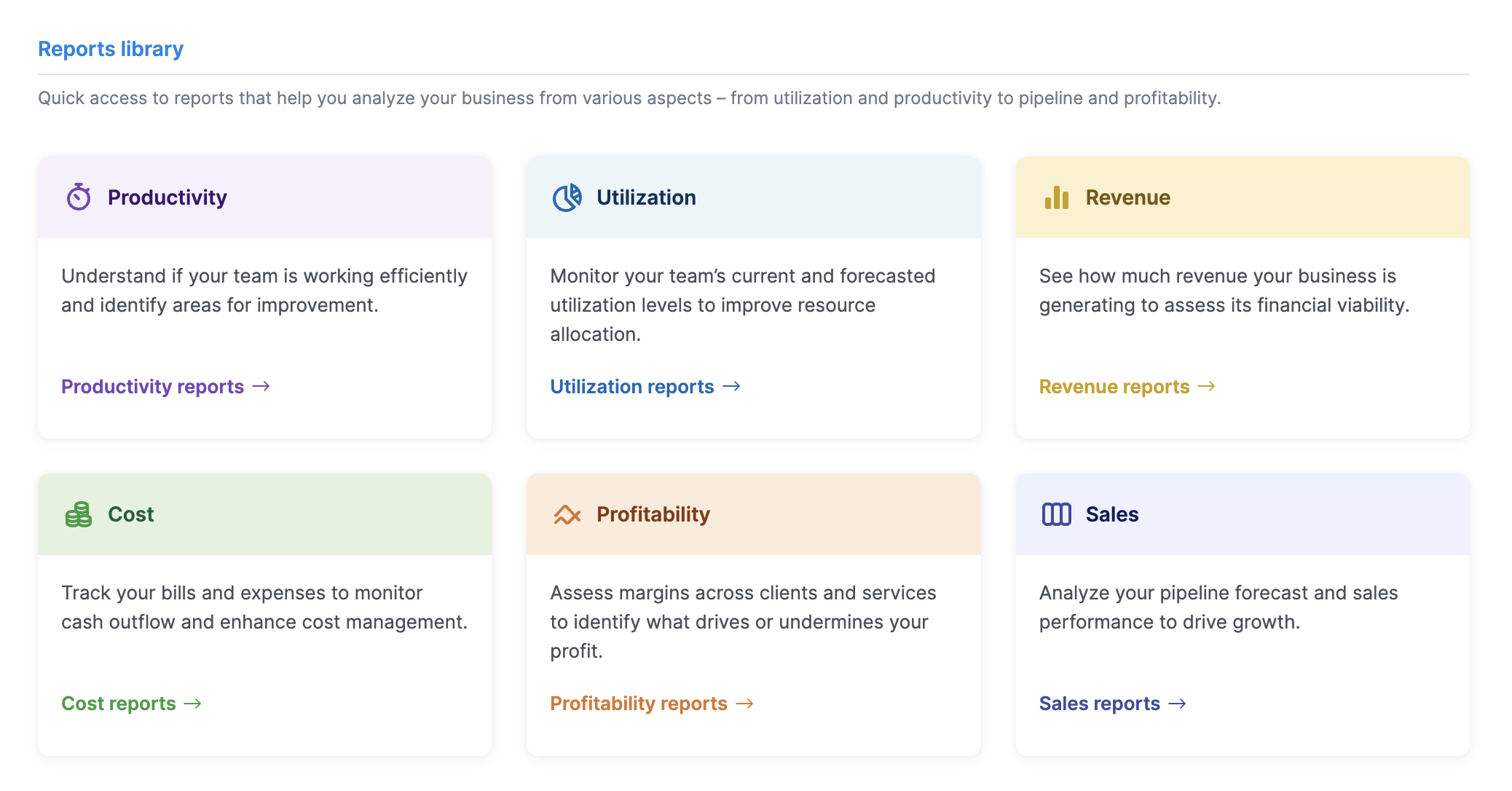 If you click on "Profitability," you will be able to create financial management reports that analyze profitability by clients, projects, and services:
For example, let's say you want to know what type of projects generate the highest margin for your business.
The "Profitability by projects" report will show you:
The total revenue generated for each project based on issued invoices (Income column)

Expenses incurred by the team during project delivery, such as supplier bills (External cost)

The internal cost of delivering the project, including staff time (Labor cost)

Profit from each project by deducting the delivery costs from the invoiced amount (Project profit)

This lets you easily spot clients with the highest ROI. These are the relationships you should invest in growing through upsells or expansion into new projects.
Integrations
Scoro integrations include tools such as Gmail, Outlook, Google Calendar, Quickbooks, and Xero.
Pricing
Scoro has three paid plans: 
Essential: $26 per user/month

Standard: $37 per user/month

Pro: $63 per user/month

A two-week free trial is available.
Everything about your business, one click away
2. Productive
Productive is an all-in-one agency management platform that combines project management, resource planning, budgeting, billing, collaboration, and reporting in one solution.
Similar to Scoro, you can create your custom dashboards to get insights into your work and projects using their widget library: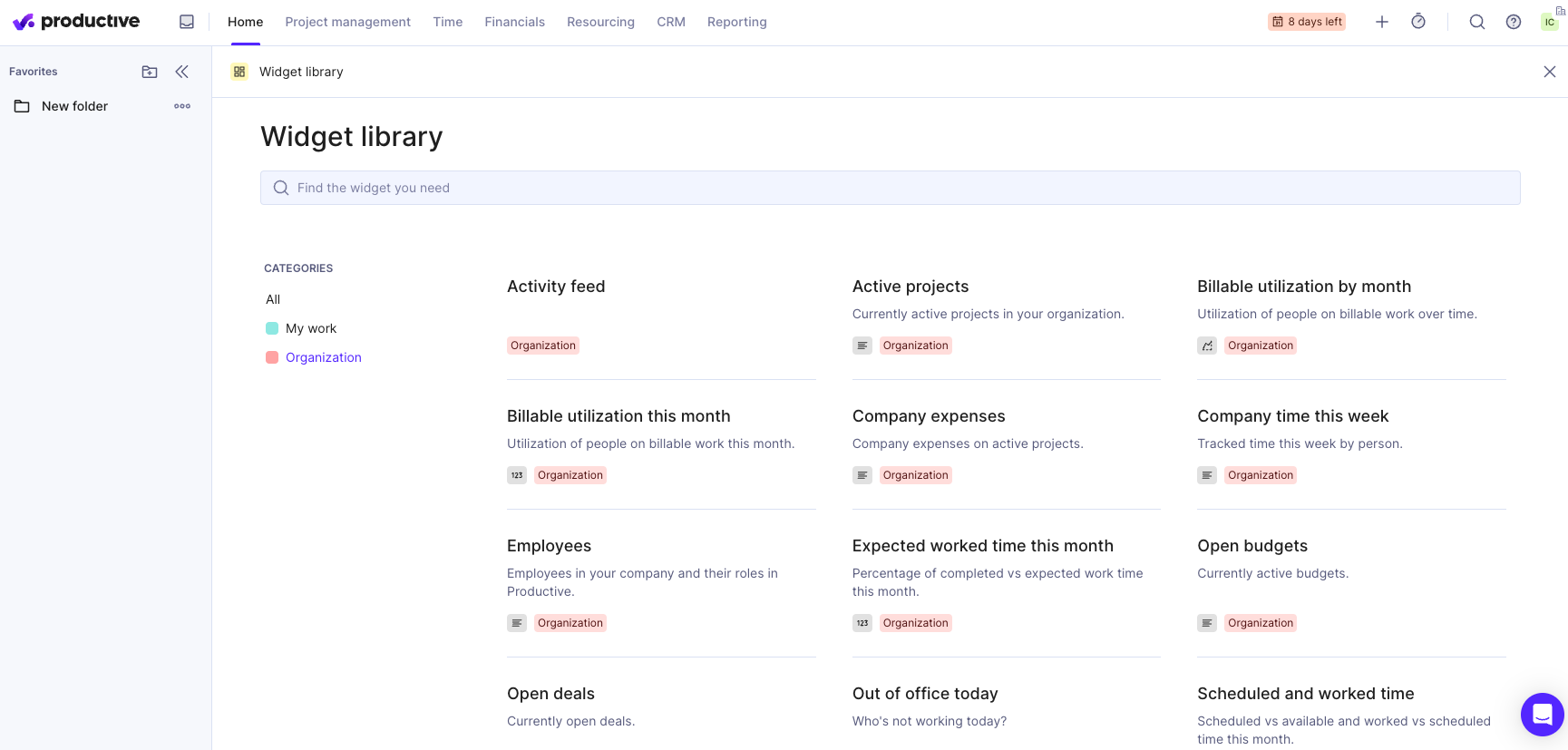 The widgets give you complete control over what you can see. This means you could create a custom dashboard that looks similar to this: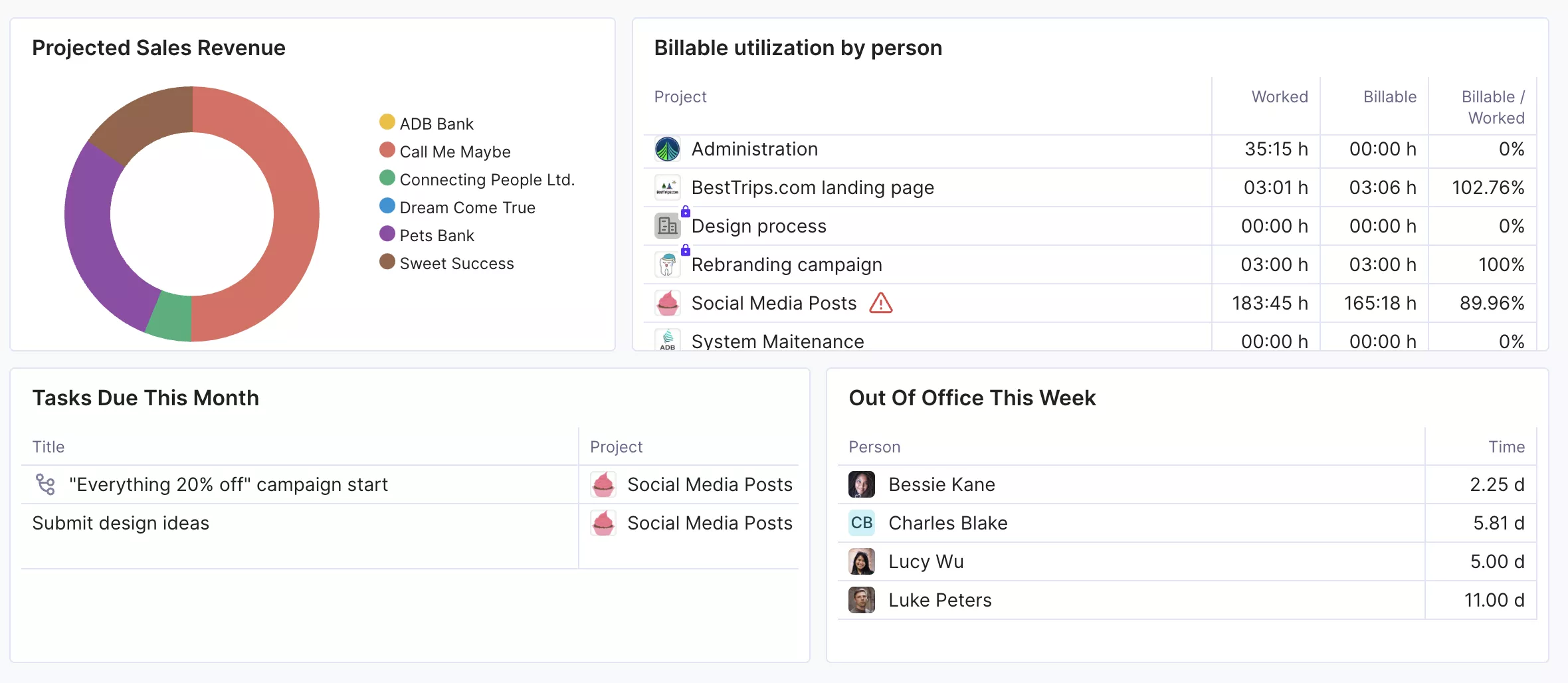 Configuring the dashboards to your needs makes it easier to track the metrics that matter most and react faster to what the data reveals.
What We Like
Productive lets you create project documents right inside the platform.
To create project documents, hover over "Project management" in the navigation bar and click "+" next to "Documents.":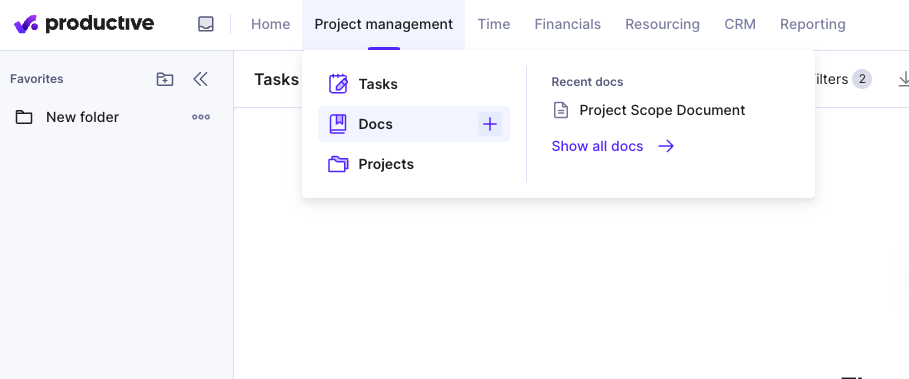 This will open a new editable document:

For example, you could create a project scope document to define goals and stakeholders, a product requirements document to align with specifications, or a risk register to track ongoing issues.
The ability to draft and store project documents directly in Productive keeps all information centralized and connected.
Integrations
Popular Productive integrations include tools such as Jira, Xero, Google Calendar, and Slack.
Pricing
Productive has three paid plans: 
Essential: $9 per user/month

Professional: $24 per user/month

A two-week free trial is available.
However, you'll have to sign up for their "Ultimate" or "Enterprise" plan to get the most out of Productive.
3. Wrike
Wrike is another good WorkflowMax alternative. It is an all-in-one project management solution that helps teams organize work, manage projects, enhance collaboration, and accelerate execution.
The platform has all the features you'd expect from a modern project management tool, including:
Project dashboards to prioritize and visualize tasks

Proofing and approval tools to eliminate miscommunications and delays

Reporting tools to build real-time reports and analyze results

Interactive Gantt charts to view and manage project schedules
For example, here's what the interactive Gantt chart looks like: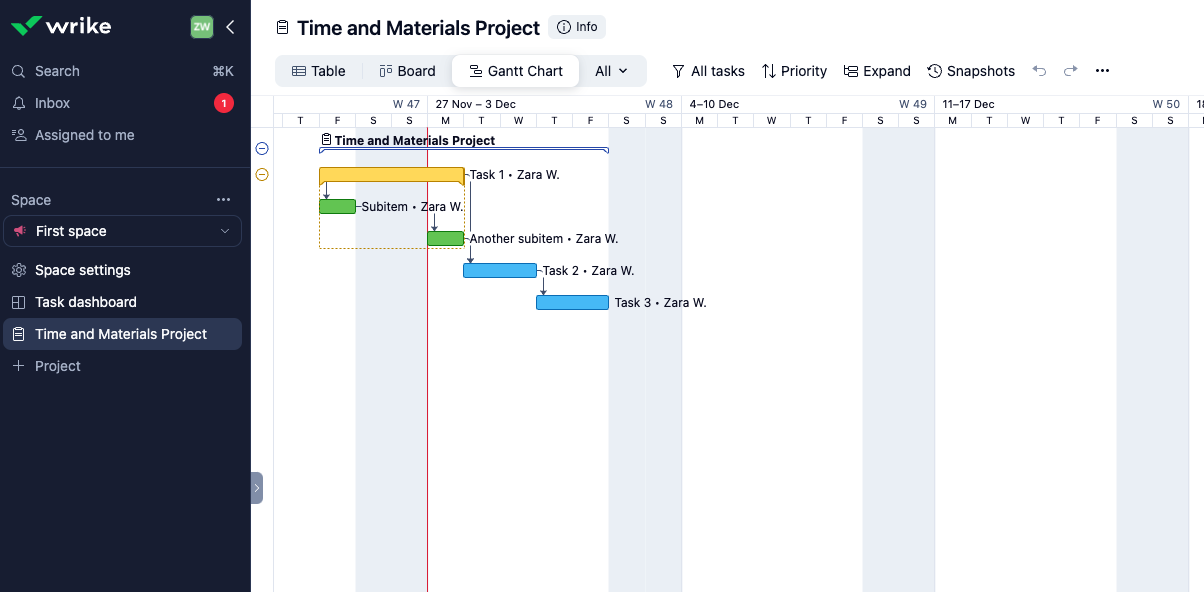 Prefer a Kanban board?
Click "Board," and you'll instantly see tasks laid out on a Kanban board:

Or click "Table" to see your entire task list with "Status," "Due date," "Impact," and "Budget" immediately visible:

This level of customizable views for tasks and projects will help you and your teams configure the fields and layouts that best fit their needs and workflows.
What We Like
The inbox layout for task notifications with tabs for "Incoming," "Sent," and "Archive" looks similar to popular email tools. 
This makes it intuitive to navigate and understand for most users.
You'll receive notifications when you're assigned tasks, mentioned, shared with, comments added, etc.
Clicking an Inbox notification displays a preview pane of that task's details: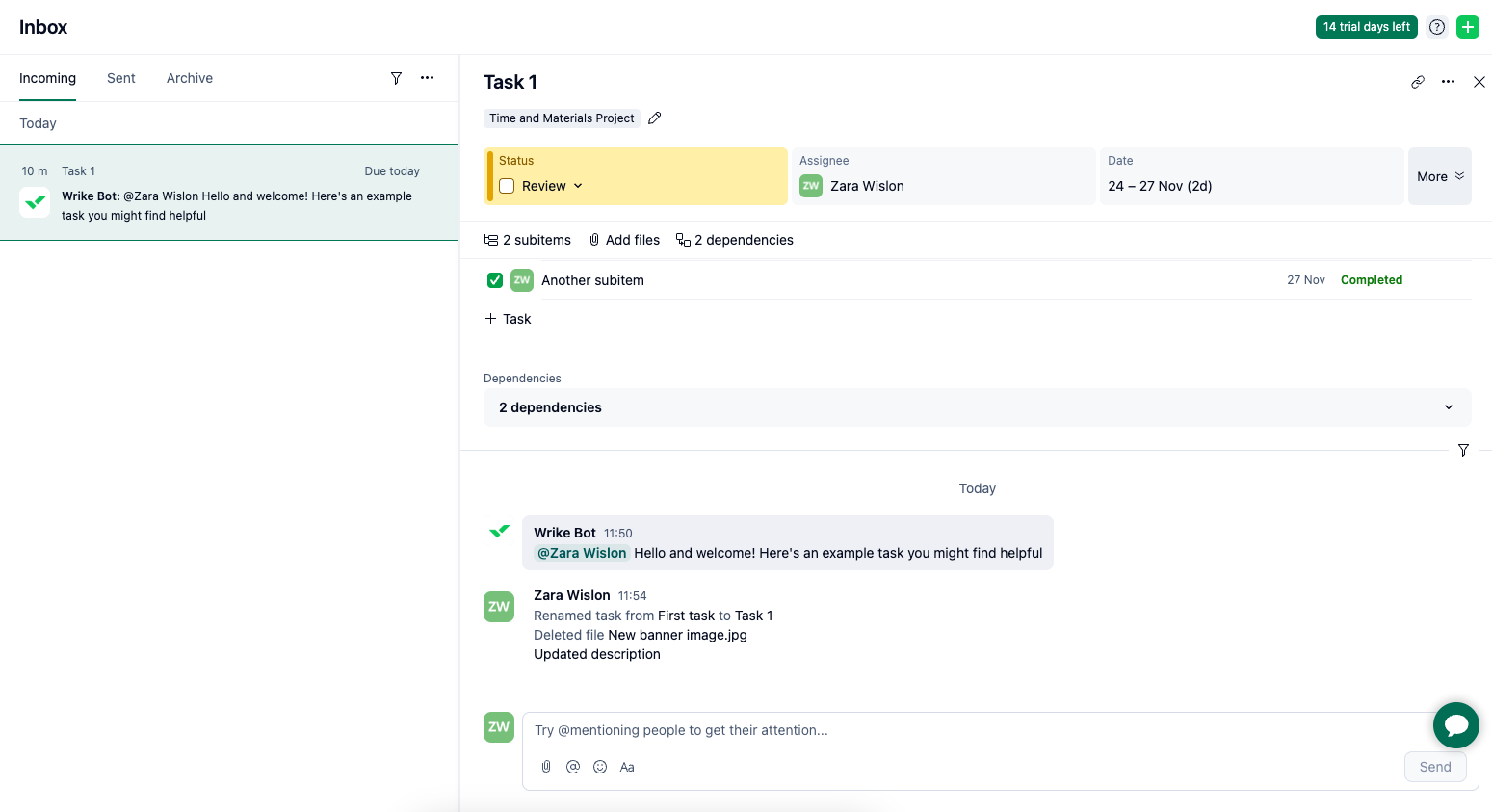 You can then easily mention someone else on your team to let them know there's an update about a specific task: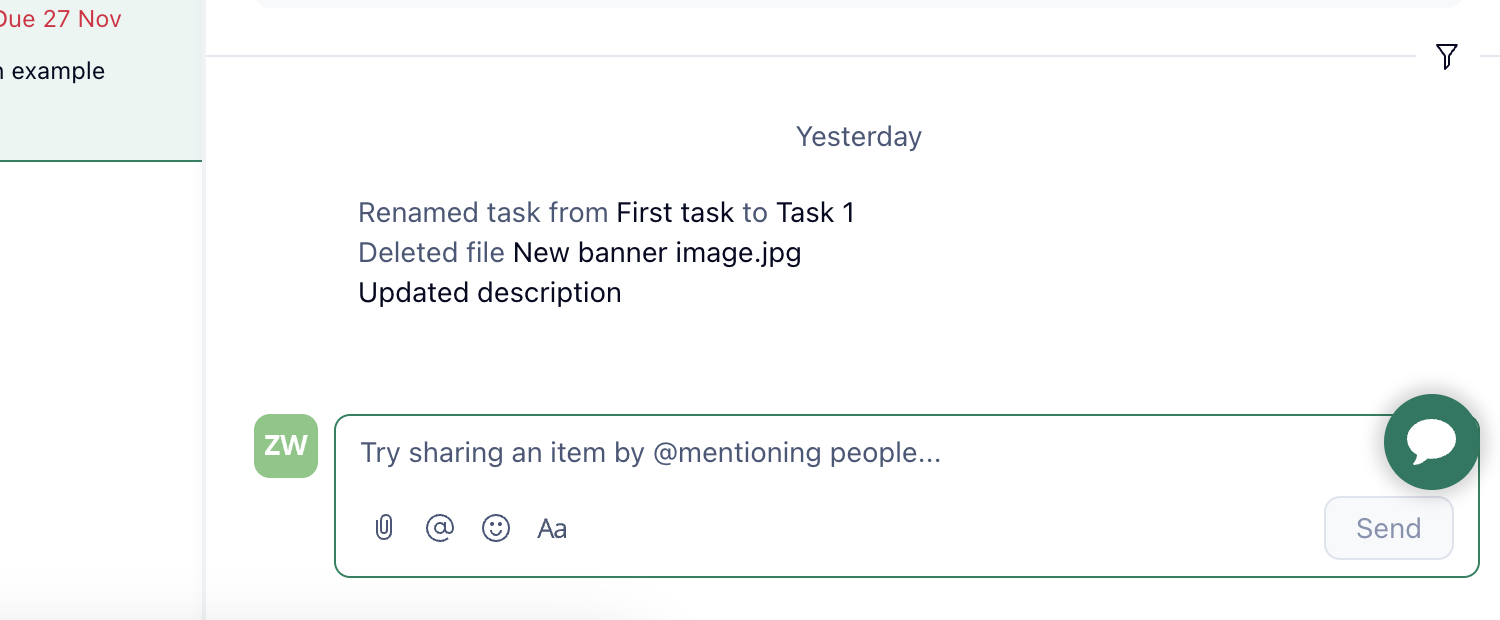 This notification system should help you and your team avoid clicking back and forth between items and should streamline your workflows.
Integrations
Wrike integrations include tools such as Miro, Salesforce, Google Sheets, Slack, and Gmail.
Pricing
Wrike has three paid plans: 
Free: $0 per user/month

Team: $9.80 per user/month

Business: $24.80 per user/month
A 14-day free trial is available.
4. ProWorkflow
ProWorkflow is a project management tool built for managers and staff to plan, track, and collaborate on client projects.
The dashboard for each project is similar to other tools on this list in that it will help you quickly understand if the project is on track to stay within budget.

Each project can also have a task list, which allows you to see the budget, time allocated, and time spent on each task.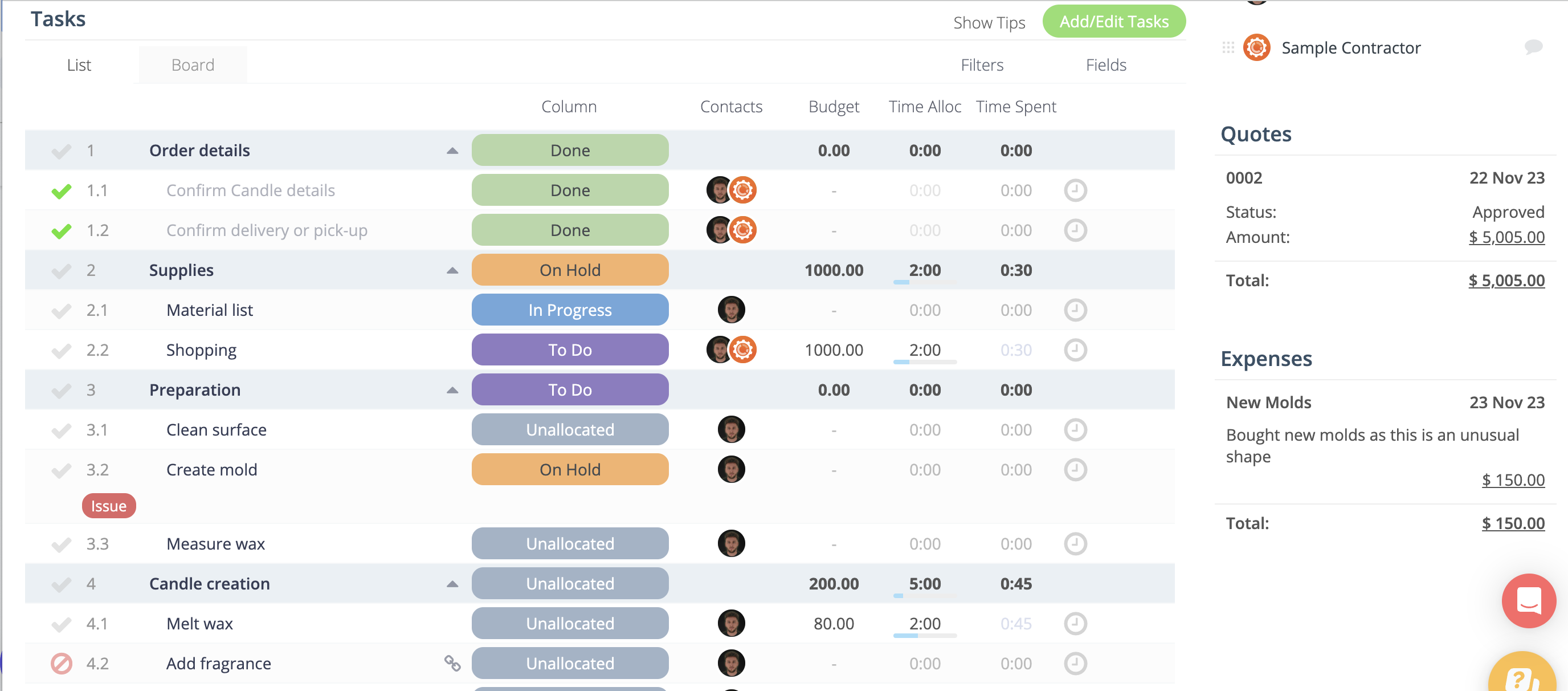 ProWorkflow also has features you'd expect to find in WorkflowMax, including:
File sharing

Time tracking

Budget tracking

Customizable reports

Quoting and invoicing 

Contact management
What We Like
ProWorkFlow provides three convenient ways to create invoices:
Quotes: Convert any approved or unapproved quote into an invoice with one click

Projects: Generate invoices directly from project tasks and tracked time

Client Work: Select a date range and bundle projects into one invoice per client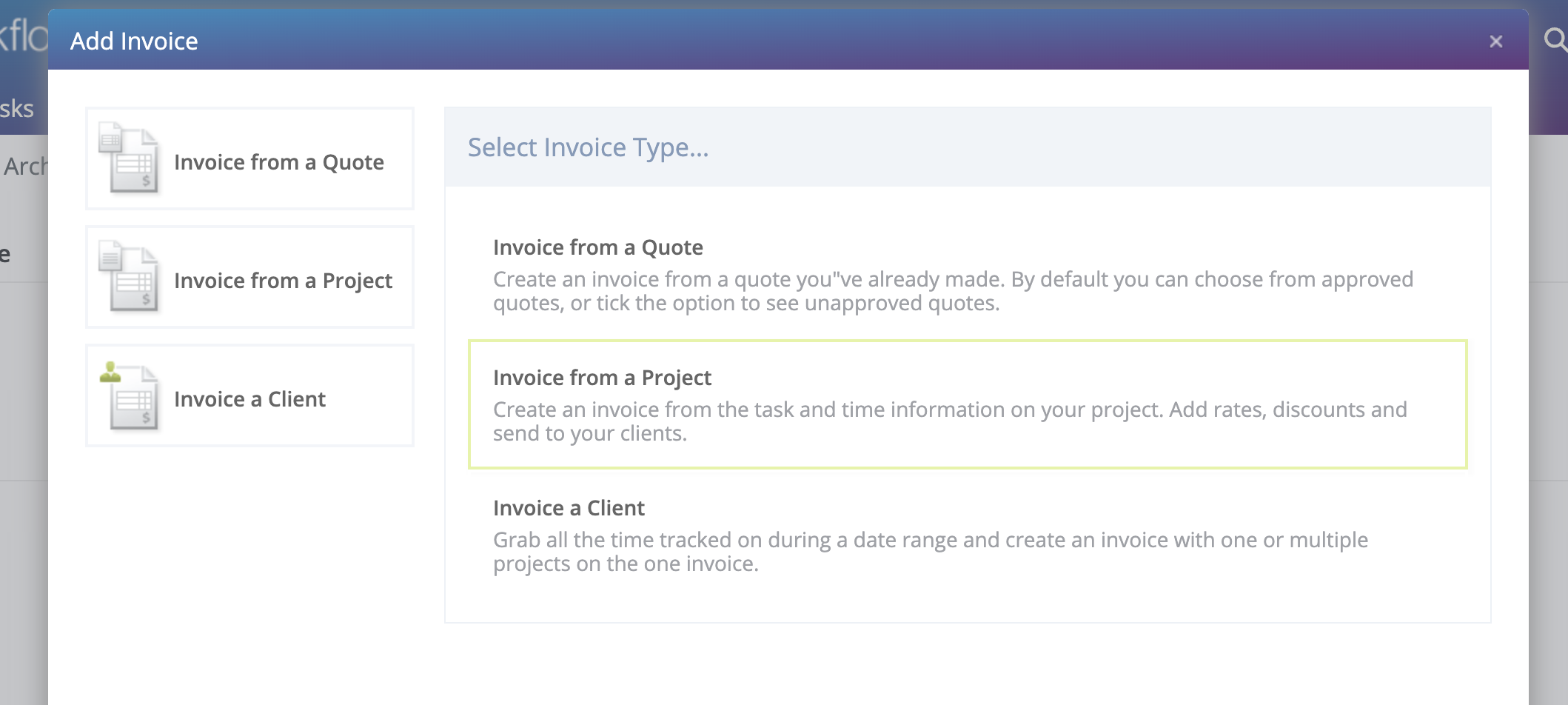 Invoices pulled directly from system data on quotes, tasks, and work logged means you'll get paid exactly for what work was completed.
Integrations
ProWorkflow integrations include tools like Quickbooks, Xero, Dropbox, and Google Drive.
Pricing
ProWorkflow has three paid plans: 
Professional: €18 per user/month

Advanced: €27 per user/month

Enterprise: price available upon request
A 7-day free trial is available.
5. Workfront
Adobe Workfront is an enterprise project management tool created to help teams manage the entire work lifecycle in one place.
Its project dashboard is similar to other tools on this list where it will show you info such as:
Task duration

Planned hours

Start and due dates

Percentage of completed hours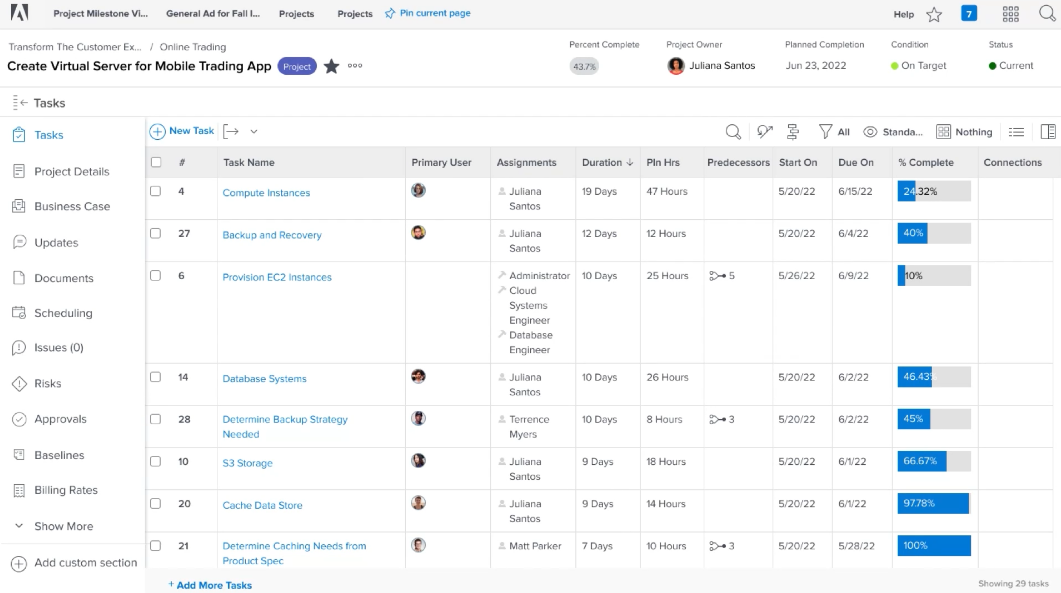 You can also change the task view into a Kanban-style board to better visualize the status of each project task: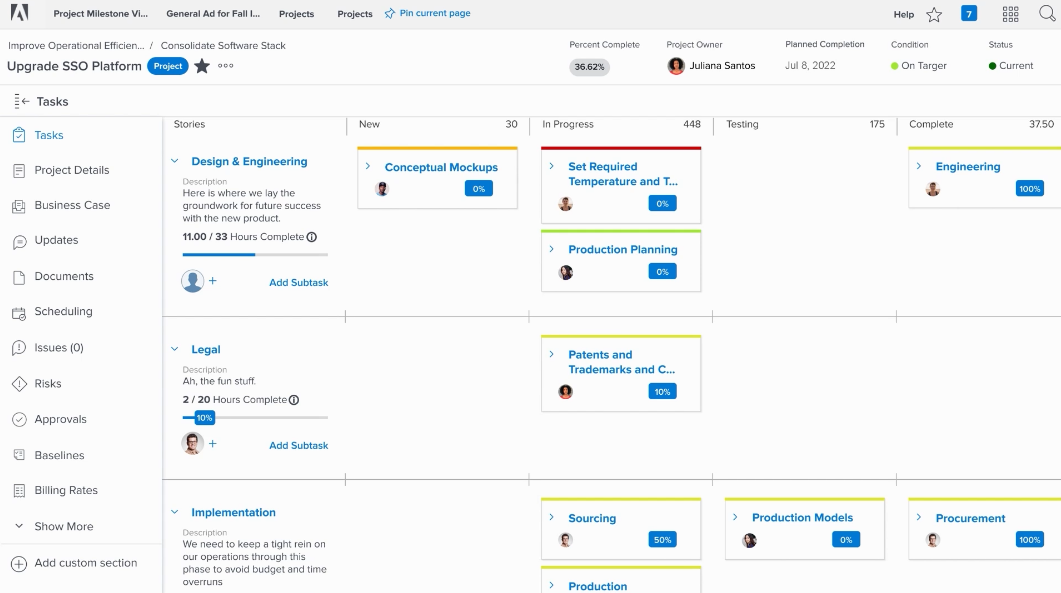 What We Like
Workfront has a "Portfolio Optimizer."
It's a tool for evaluating and comparing complex projects assigned to a portfolio to prioritize them and generate the most value for your business.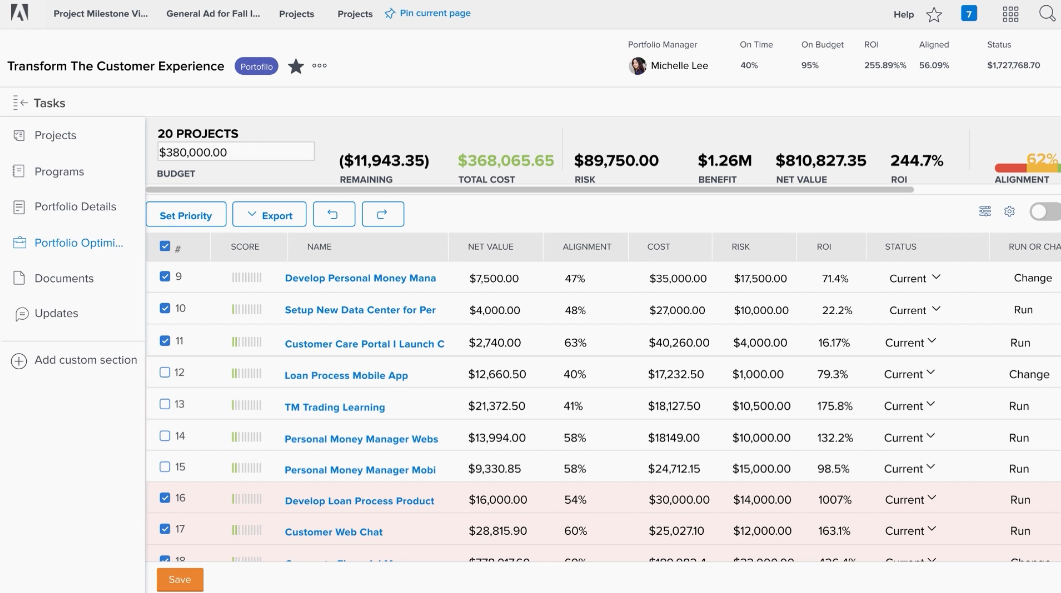 The best part about this feature is that each project has an ROI percentage: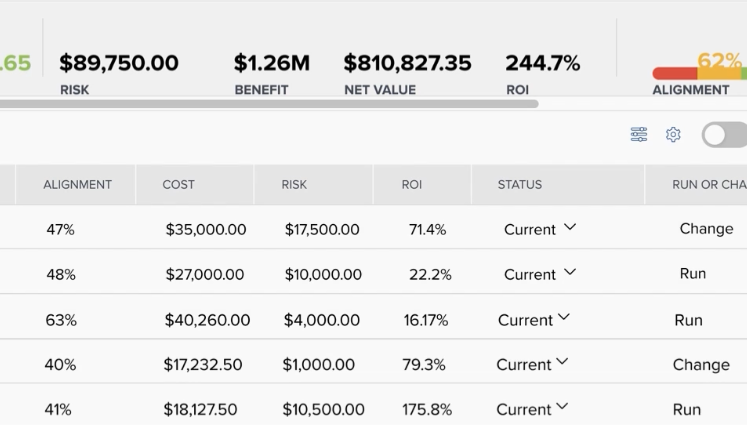 The Portfolio Optimizer calculates an ROI percentage for all your projects put together.
First, it adds up:
Total Revenue: This is all the money you expect to earn from your projects

Total Cost: This is all the money you'll invest in your projects
Then, it compares the two:
Total Benefit ÷ Total Cost x 100 = ROI %
For example
Total Revenue: $500,000

Total Cost: $200,000
ROI = ($500,000 ÷ $200,000) x 100 = 250%
This means for every $1 you put in, you can take out $2.50. 
A higher ROI % means your projects overall give you more bang for your buck. You can then use this information to compare the profitability of your project portfolio month-over-month or year-over-year.
The Portfolio Optimizer gives you data to make better decisions about what projects to take on in the future.
Integrations
Workfront integrations include tools like Adobe Cloud, Dropbox, Google Drive, Teams, and Slack.
Pricing
Workfront has three paid plans: 
Select: price available upon request

Prime: price available upon request

Ultimate: price available upon request
There is currently no free trial available.
6. Zoho Projects
Zoho Projects is a project management platform built to plan projects, track work efficiently, and enable collaboration for dynamic teams.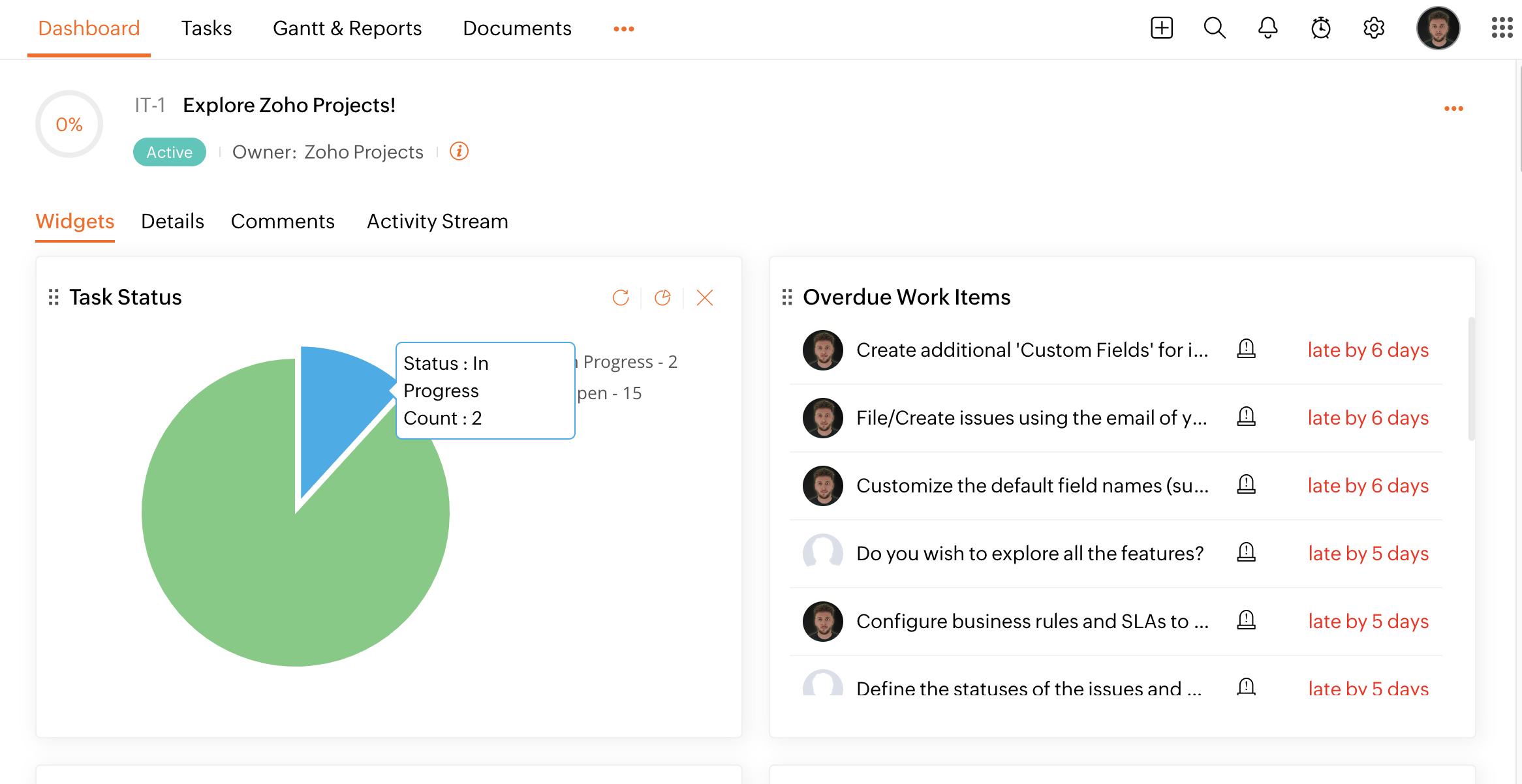 Some of the key features of Zoho Projects include:
Gantt Charts to help you visually build project plans and track task schedules

Timesheets to track time worked and integrate with Zoho Invoice for billing

Task automation to create workflows to streamline repetitive processes

Tailor dashboards, forms, and layouts to match business needs

Mobile apps to manage projects on-the-go from iOS and Android devices
What We Like
Zoho Projects lets you set dependencies for unscheduled tasks. Any unscheduled tasks appear in a separate Gantt column:

Although the exact timeline is still TBD, you can click and drag to connect tasks that will eventually follow one another. 
This makes the later scheduling easier when firm dates finally get attached to tasks.
Integrations
Zoho Projects integrations include tools like Google Calendar, Teams, Gmail, and all Zoho Apps.
Pricing
Zoho Projects has three paid plans: 
Free: $0 per user/month

Prime: price available upon request

Ultimate: price available upon request
There is currently no free trial available.
7. Float
Float is a tool that focuses on resource management, project planning, scheduling, and time tracking for teams and organizations.
The main dashboard inside of Float is the "Schedule" dashboard: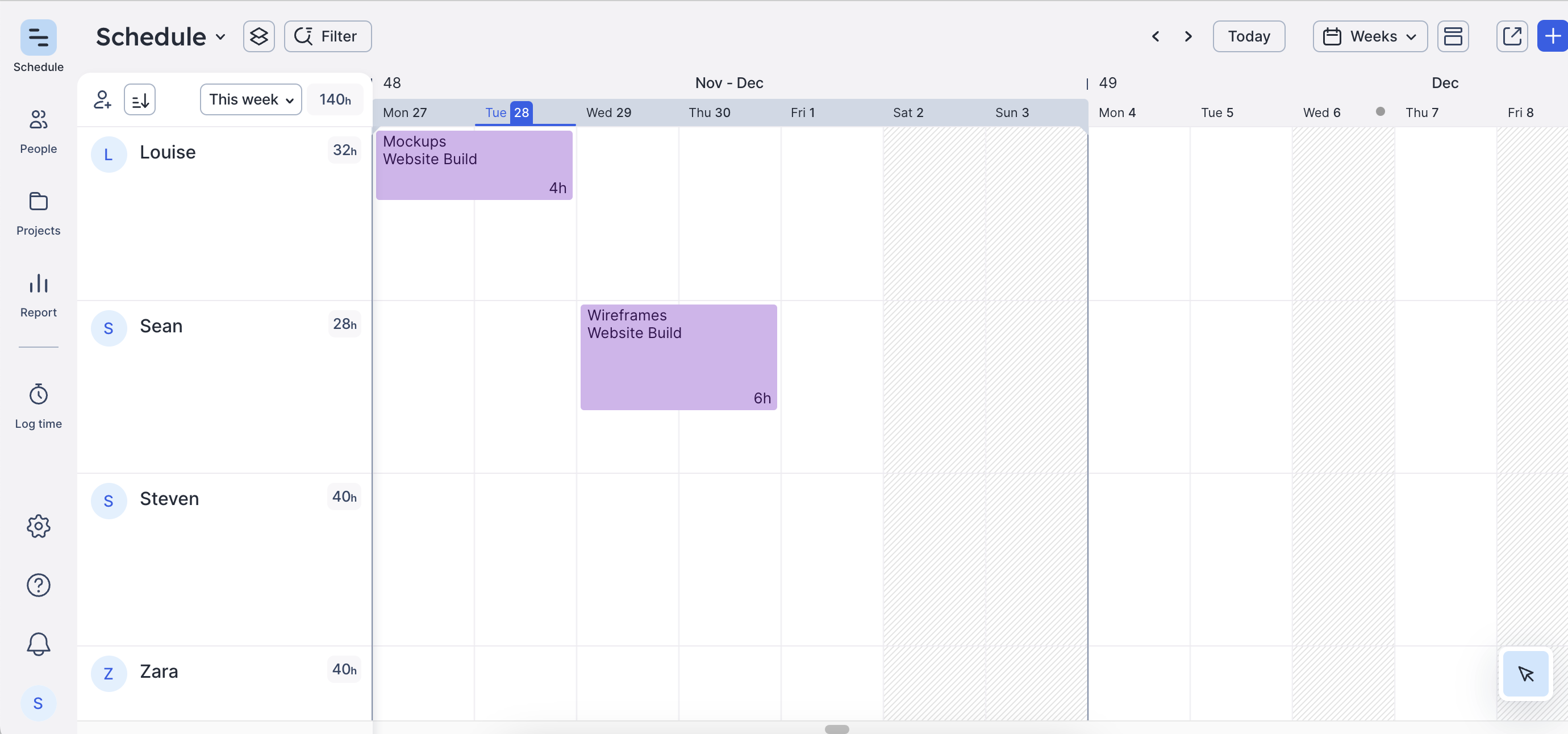 Tasks can be added for each team member by clicking a day to create a single-day task or clicking and dragging to select multiple days for a multi-day task:
When adding a task, a task window opens for selecting or creating a new task and allocating the number of hours needed to complete it: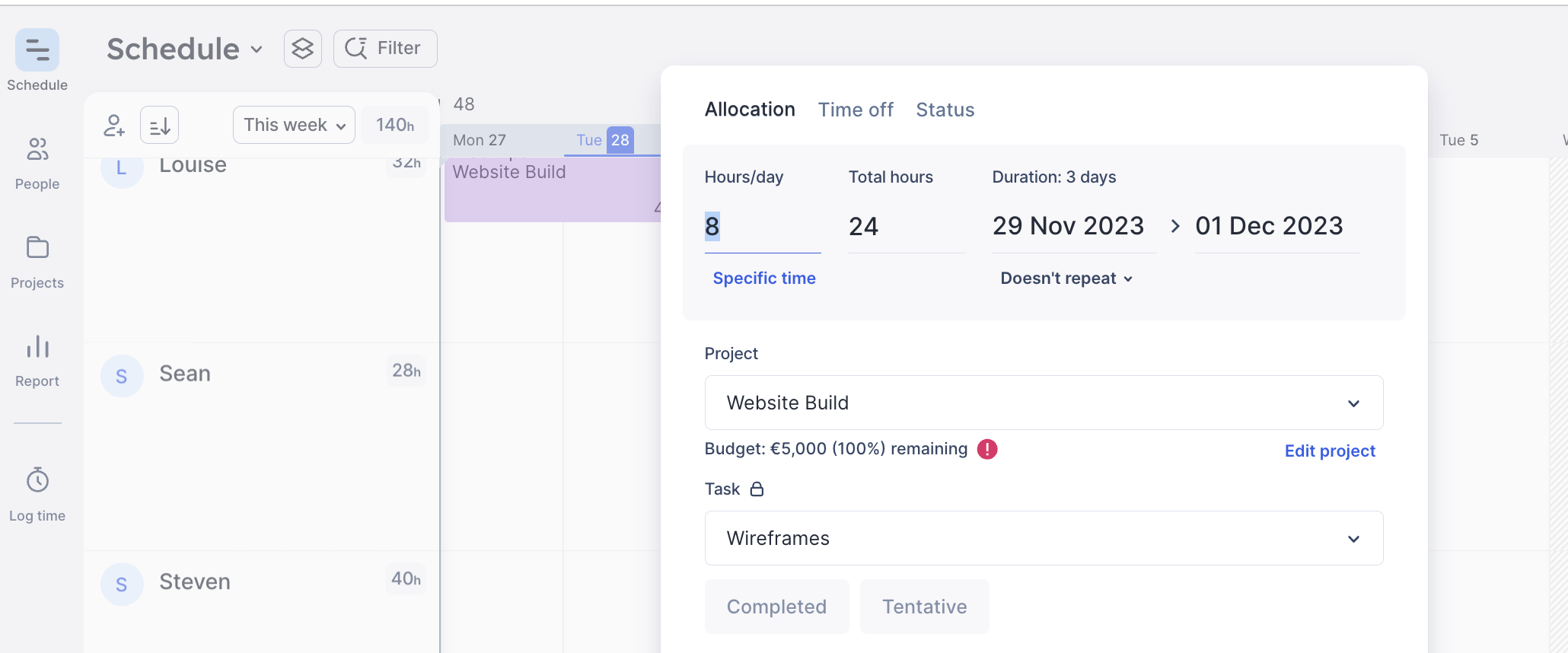 By seeing task assignments mapped to peoples' schedules, it's easier to prevent over or under-allocation of work.
What We Like
As tasks are added to the schedule, Float automatically updates each team member's remaining capacity.
For example, adding an 8-hour "Website Mockups" task across two days and a 12-hour "Wireframes" task across two days will decrease the total hours left for those assignees that week based on their configured capacities.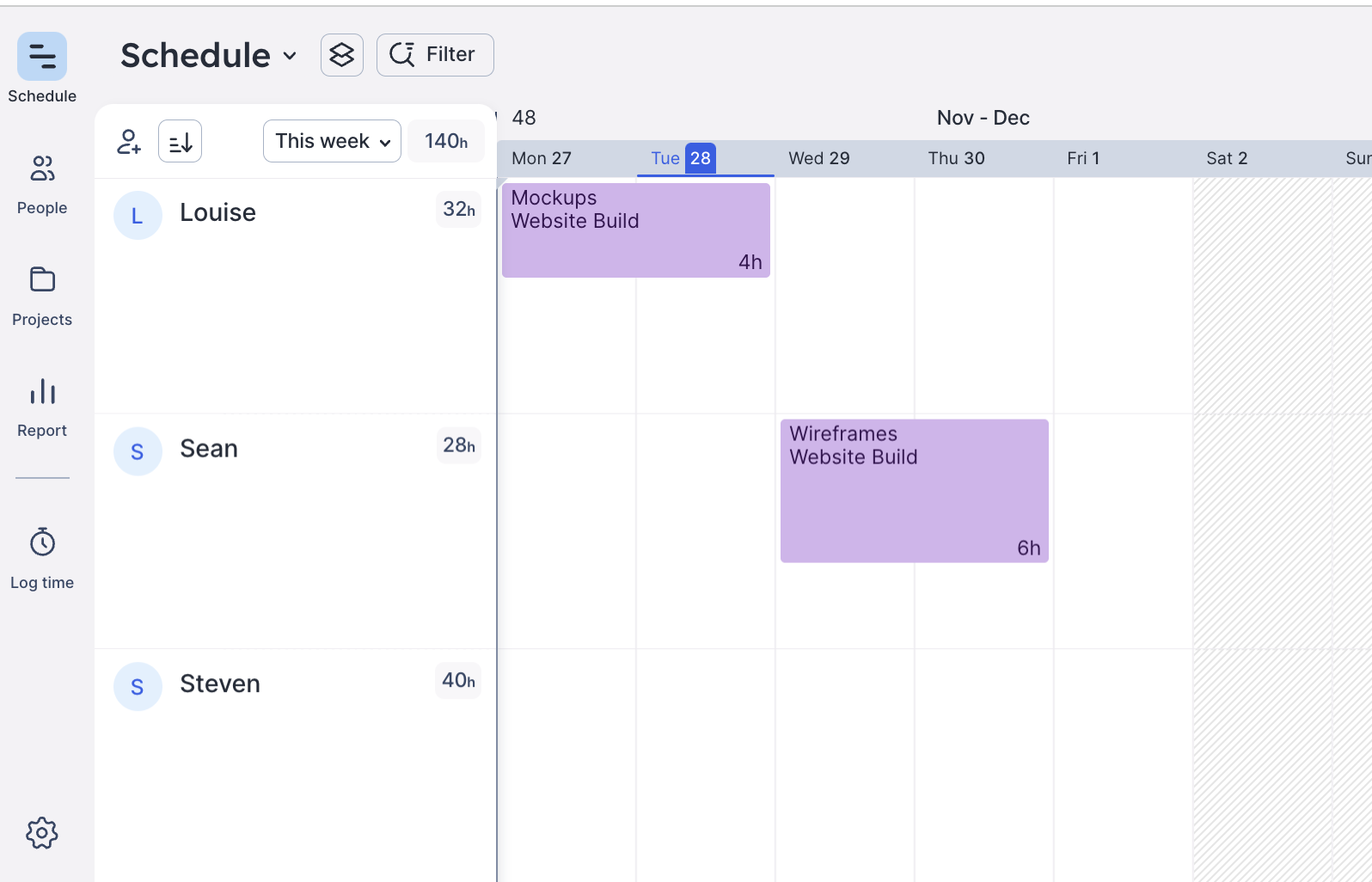 The schedule makes it easy to visualize work allocation and remaining availability across the team.
Integrations
Float integrations include tools like Jira, Asana, Trello, Google Calendar, and Slack.
Pricing
Float has three paid plans: 
Starter: $7.50 per user/month

Pro: $12.50 per user/month

Enterprise: price available upon request
A 30-day free trial is available.
What's your WorkflowMax alternative?
And there you go, a list of seven contenders for the best WorkflowMax alternative. 
As you evaluate replacements, prioritize ease of use, data visibility, and seamless workflows. Take advantage of free trials to let your team test each tool firsthand.
Everything about your business, one click away