Product
April 2016 Version Update: Work Report Filtering and Email for Bills Only
With each version update, Scoro becomes a more powerful tool for reporting and data management. In version 16.1 we focused on detailed reporting and simplified settings.
1. Lock up the invoices
To keep your finances under control, we created a new setting that lets you lock invoices so that they can't be edited.
Here's how to lock invoices:
1. Set up a user role and give it the right to lock invoices.
To do this, go to Settings > Administration > Features & Permissions. Next, change the Modules & Permissions of a specific user role, e.g. Management.
2. Enable the locking setting in Settings > Sales and Finance > Invoices/Expenses.
3. Set a date – all of the invoices that have been created prior to this date will not be open for editing when the setting is saved.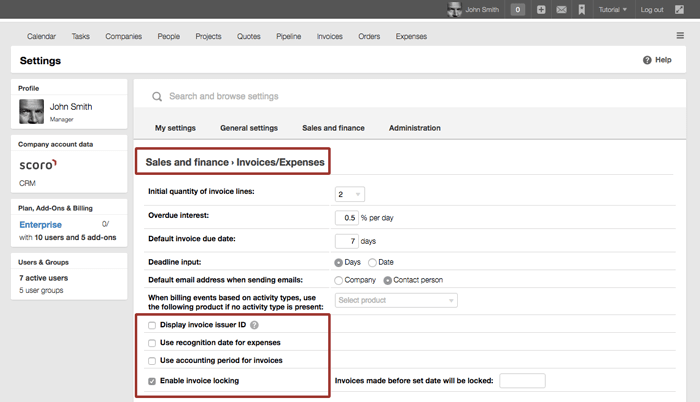 For the users without the access right, that is. Surely, the accountants will now have a better time keeping track of all your invoices.
2. A designated e-mail for the bills
From now on, the invoices will be automatically sent to the address that has been marked in a Company profile on the field 'E-mail for invoices'.
You can fill in the field 'E-mail for invoices' as you go to Companies view and click on a company profile.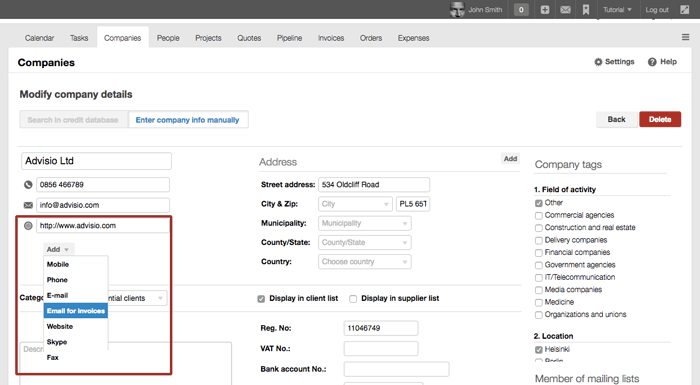 3. Filter the work report by activity statuses
The detailed work report just got more detailed. It now has a combined status filter for calendar events and tasks.
In a few clicks, you can filter your work report based on events in the Busy status and/or tasks in the Done status., etc.
You can also filter out Planned and Done time entries.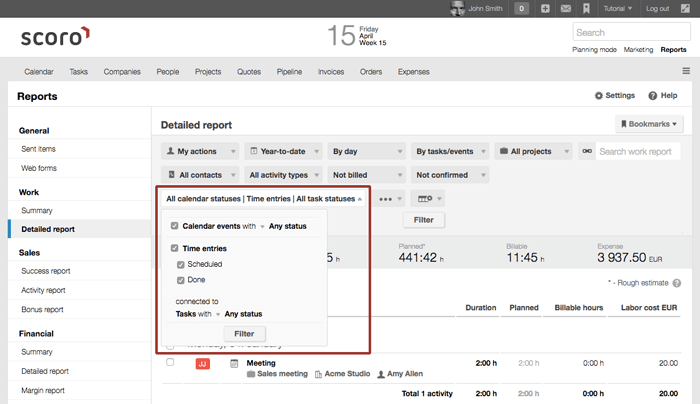 4. Accuracy is the key in the Tasks view
The Tasks view became more informative – you can now keep track of how much of the planned time has already been used and what remains.
In the time entries section, you can see the sum of all the time spent.
Just open a task and be informed about everything you need to know.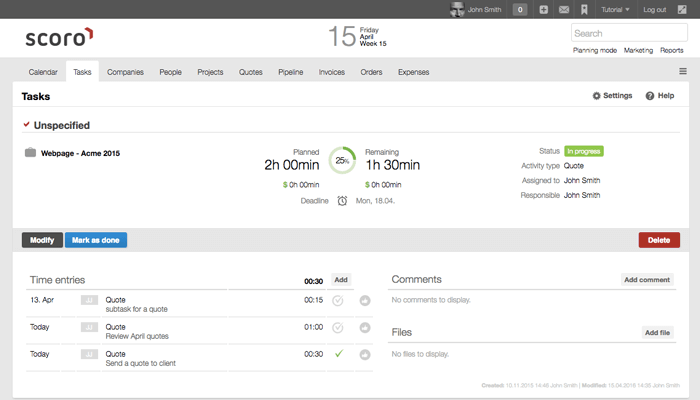 5. All settings in one place
In the last version, we combined the admin panel with the rest of the settings – and we didn't stop there!
To make things even better, the dashboard settings are also now under the general 'Settings' button.
Click on the Settings button in the top right corner of your Scoro page to add widgets to the dashboard, change the currencies used on your site, or configure your menus.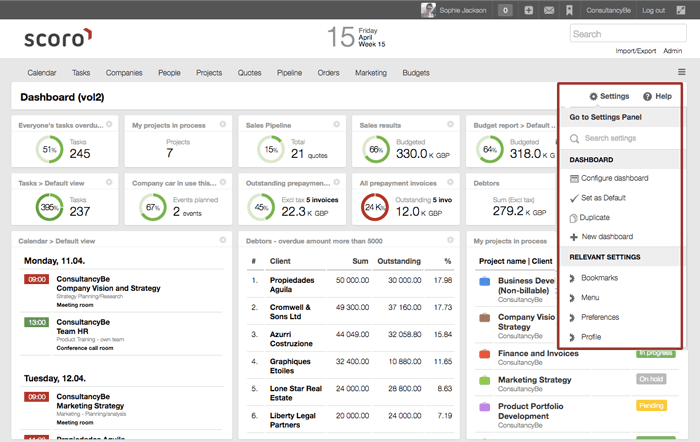 Smaller updates
You can now filter your tasks, invoices, clients, etc. by previous, current and next quarter.
When changing a project's status to Completed, you'll get a notification if there are any uncompleted tasks. You can mark them all done or move them to another project via this notification.
You now also get a notification about the uncompleted time entries, when marking a task done. By closing a task, you can also close the time entries.
The registry code of a company and the ID code of a person are now customizable columns in the contacts module.
Coming soon
An even handier import/export module
More intelligent reporting
Improved time management
Although we give our best for the transition to the new version to be as smooth as possible, please let us know at [email protected] if you're noticing any issues with the update.
Moreover, feel free to leave a comment to ask further questions or share some ideas and tips with other readers.